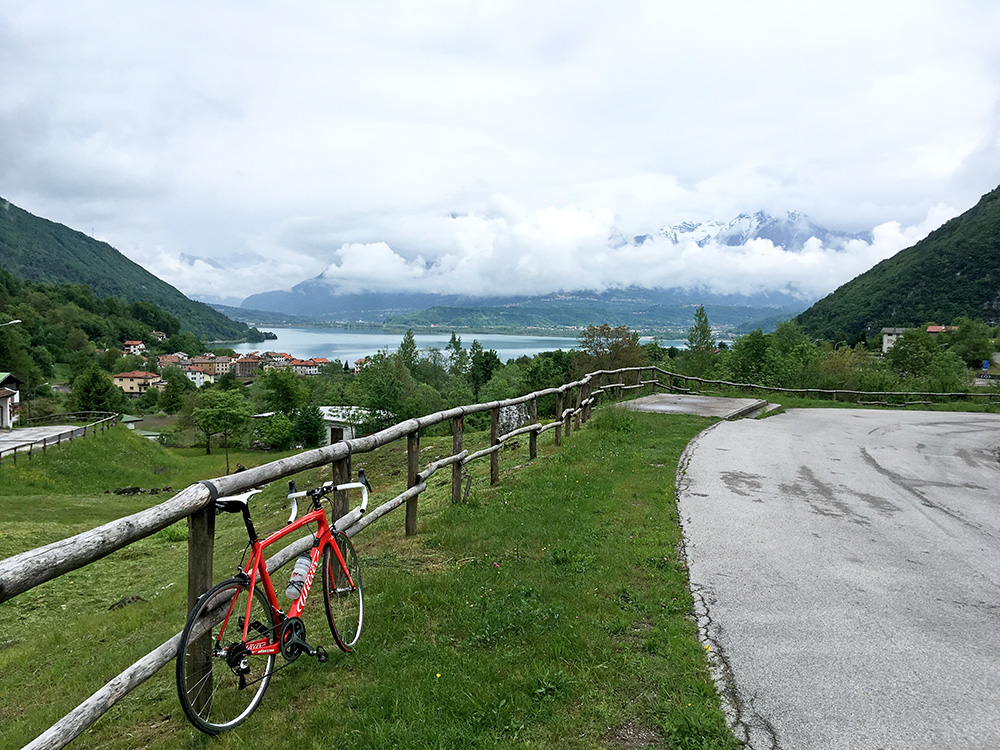 Gloomy weather in the morning, but luckily the rain had stopped and I was hoping to escape the bad weather suggested for the area also on this day. I took the comparably easy road to Belluno over the Sella di Fadalto (487m) from Vittorio Veneto (136m), but with still 350hm it was a longer climb than I had thought. There were a few raindrops, but was lucky so far. Here is the nicer view down the north side.
I had originally also planned to do a climb up in the mountain behind the lake to Rifugio Dolomieu (1502m), but had to cut all but the more essentials of the shortened route now. So I continued to Belluno (first time I been into the city) and got my tyres properly inflated and bought another tube. Now it was sunny and warm and like Summer weather. When I got down to the start of the valley up to Agordo and the central Dolomites at Ponte Mas (375m) I stopped to buy coca-cola and also a coffee to put on sun cream, which then looked like a good idea, but in short time not so much so.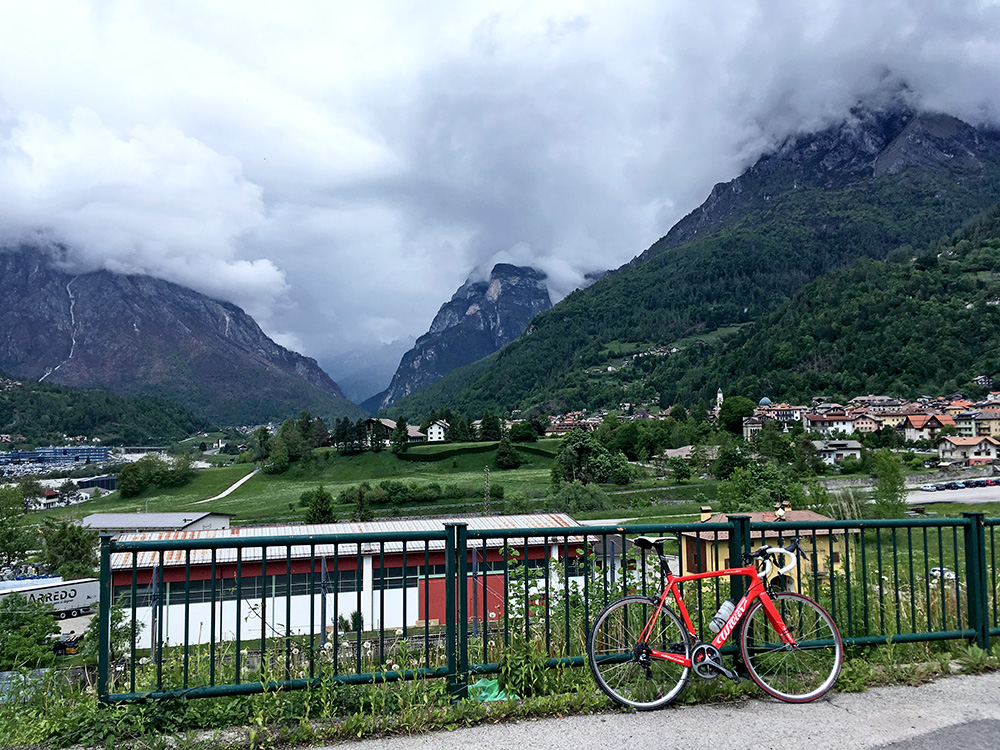 I felt good and thought I better get going now to get somewhere. The weather soon looked all the more gloomy as I continued up to Agordo and I noticed it looked like the weather was terrible in all directions except where I went up. However, once I got up to Agordo, I was met with the views in the photo here and even if it looked nice, it also did not look too good for any mountain climbing ahead. I at once ruled out a local climb here planned to Malga Framont (1590m) and just continued straight ahead to Cencenighe Agordino (770m). On the way there it got really cold and the weather shifted to a more Winter-like experience.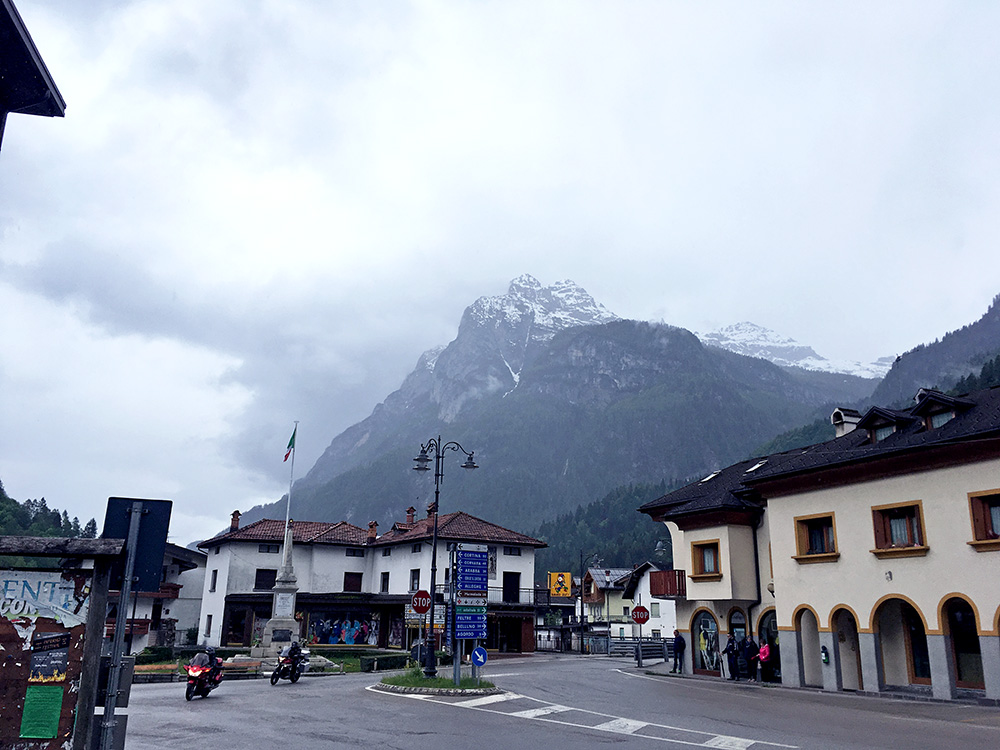 It rained, but very little in Cencenighe Agordino and I was on the way to Falcade. It looked bad in every direction though and I could not make out whether to continue straight away or not, but decided to stop at a bar to get another coffee and get a bit warm again and see which way the weather went in (if at all). I guess I waited almost an hour, but the weather was the same. It sort of stopped raining though and could not stay there forever, so on my way I was up toward Falcade (to the left in the photo).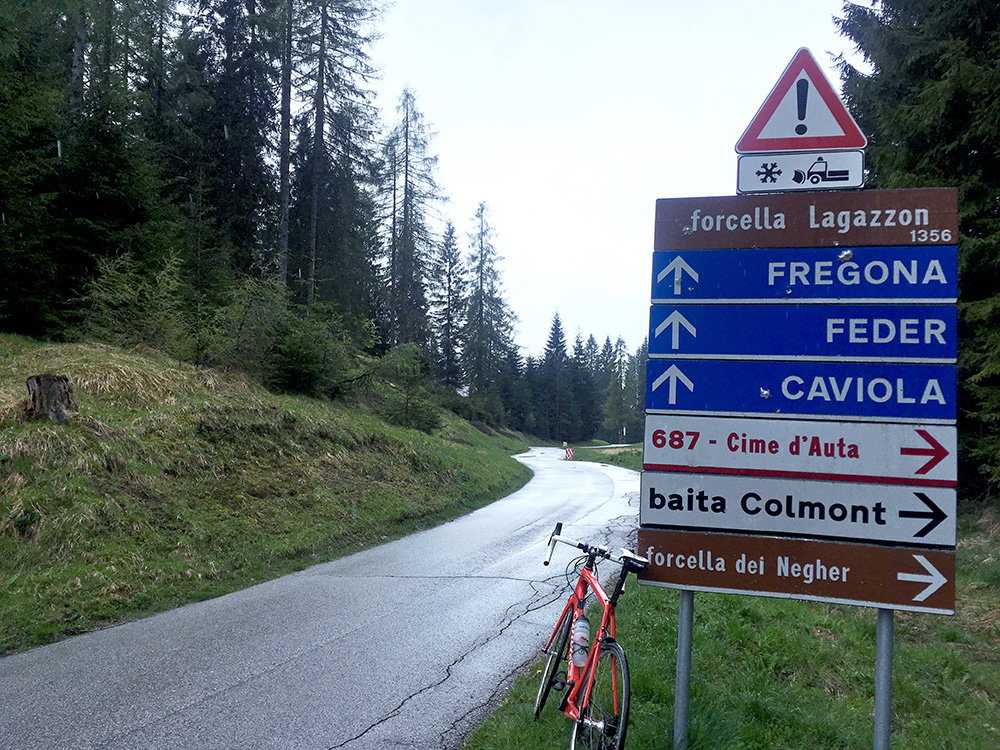 One reason for taking that road was to visit a pass on a side road, which was the highest pass in the Dolomites and around that I had not been to before. At Celat I turned off the main road (now dry) up the first road and took then the shortest straightest/steepest road up here and then went up through Toffol on a very steep road, but the alternative main road might be similar as it does not look much longer. It was steep all the way up to Forcella di Lagazzon (1358m), but the rain started again just a few hundred metres before the pass. Still stopped for a photo.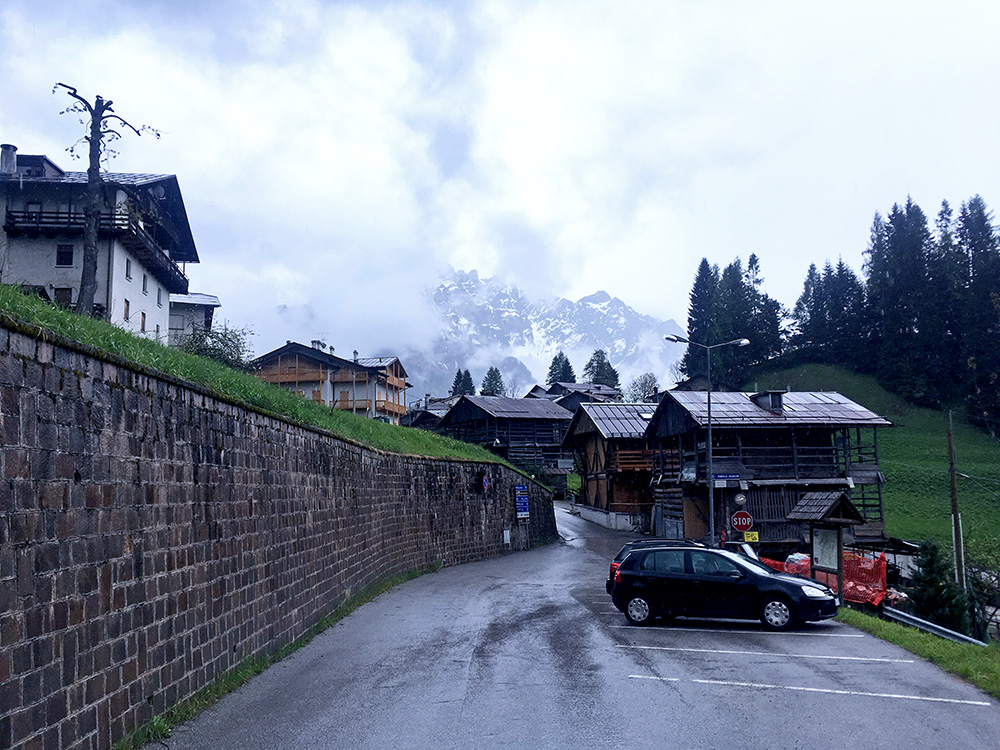 Then down the other side and even stopped once for a photo here, not sure why as it was so cold I could hardly move my fingers and it was heavy rain here, even though it doesn't quite look like it in the photo. The rain also increased even more after the photo.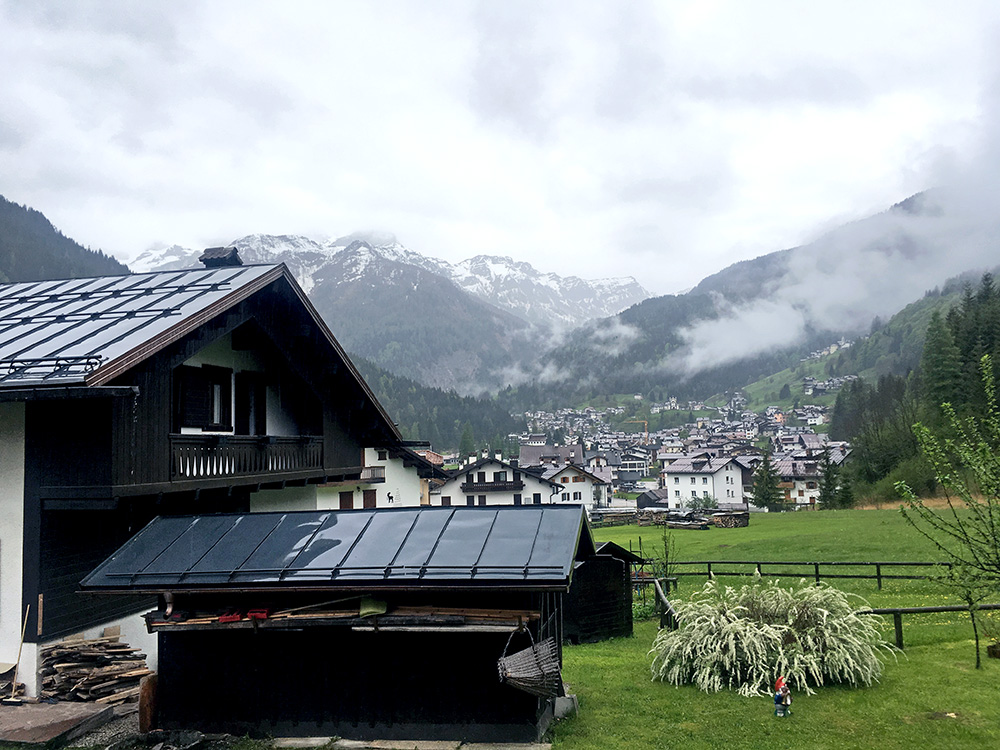 It continued to rain and it was very cold up in Falcade. I tried to find a warm café or restaurant, but very little was open. Got back in the village and stopped at the only obvious bar in the centre and got coffee and think it took over an hour before I was not freezing so much any longer. The weather did not improve at all during the maybe two hours I stayed there. It was a constant medium to heavy rain all the time. Before I left I asked if they knew of any place to spend the night in the village as I had not seen any and the place suggested earlier by someone was not open. The lady had no idea, but then came a man taking over the work there and he knew (if I remember correctly) that there was an albergo just up the road from the bar nearby and the old lady there had a room and it was a good place in every way (there were other guests as well). Last photo was from the room and you might understand why I did not continue up the mountain in heavy rain. Albergo Ombrettola – much recommended!