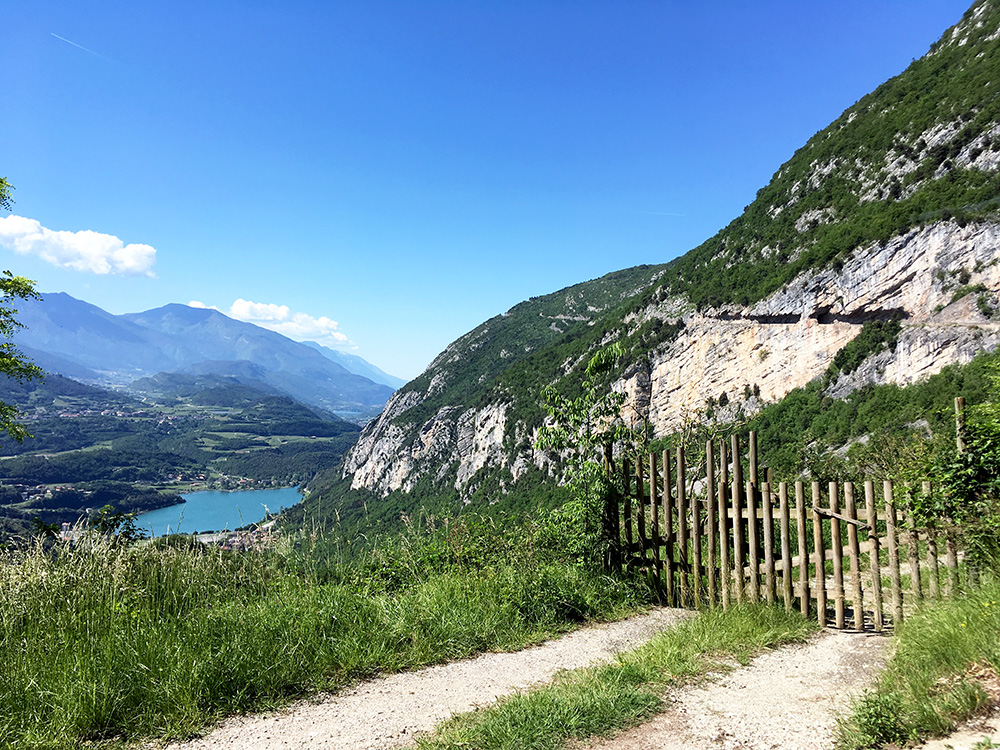 Today I had two main climbs I wanted to do and maybe most of all on this tour. So, I was lucky the weather stayed good today. First I found out about the road from Vezzano (388m) to Malga di Gagia/Monte Gagia (1495m) or Monte Gazza as it seemed to be called locally (but not on the technical maps, where it earlier also was called Malga di Gaza and Monte Gaza) and wondered why I had never heard anything about this climb before and could not find much about it on the world wide web at all. It seemed very nice and turned out to be one of the best climbs anywhere near the Lago di Garda/Trento/Rovereto region.
An even longer and more demanding climb would be to start at Sta Massenza (259m) or really at the turn-off from the main road to/from Sarche at Due Laghi (247m). I went down that way, but as I came from above the start in Vezzano made more sense. Here I am after a short climb from Vezzano to Lon looking down over the Lago di Santa Massenza. On the right you see the cut out road going up the mountain. The road is one-way and so a sign in Lon says clearly so people do not go up here in the hope they could down somewhere else. The road basically goes to Ranzo, but it also goes to Margone.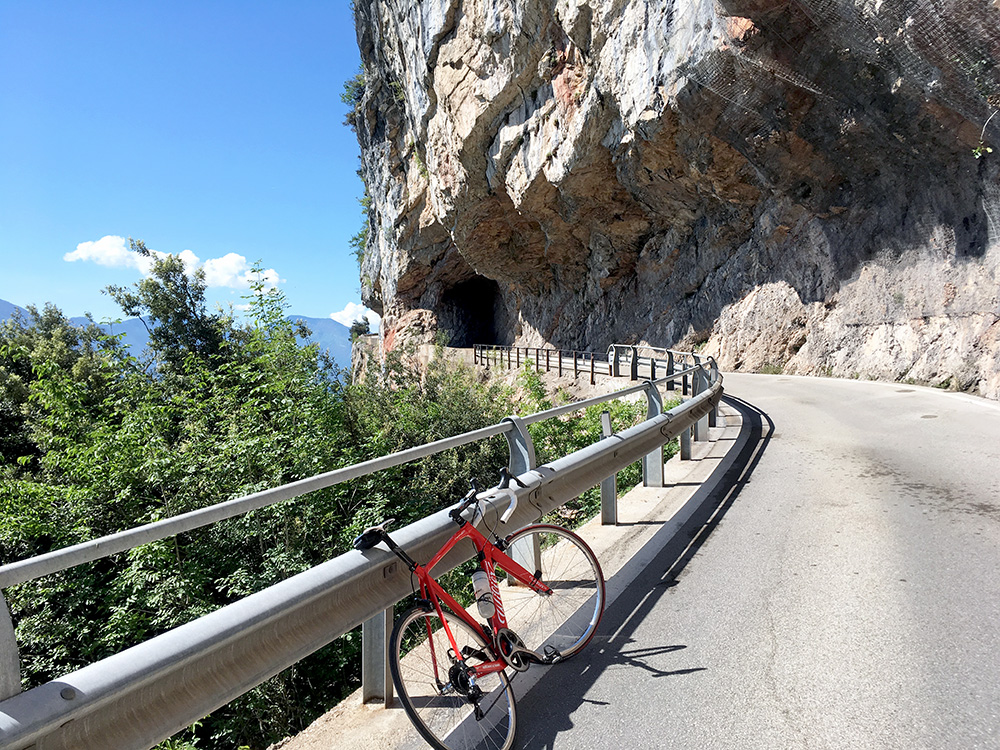 Near the highest point (easy climb up there) there is a turn-off for Margone and a surprisingly wide and good road goes up steeply to Margone, which is a very small nice village with just a handful of houses (maybe there is a restaurant open sometimes and there has been an albergo once upon a time at least).
One just follows the main road (or short-cut) up through Margone and follows the now much more narrow road continuing. At a small parking there is a sign saying it is a private road, but just to continue. Here the steepness starts and the surface is less good, but all fine. The road is very narrow and there could be other cars going up and down as some people go up here for paragliding, but also for walking. I did not see any other cyclists going up here, but believe it is at least a fairly popular way for some mountain bikers (noticed a sign for mtb route to Monte Gazza in Margone).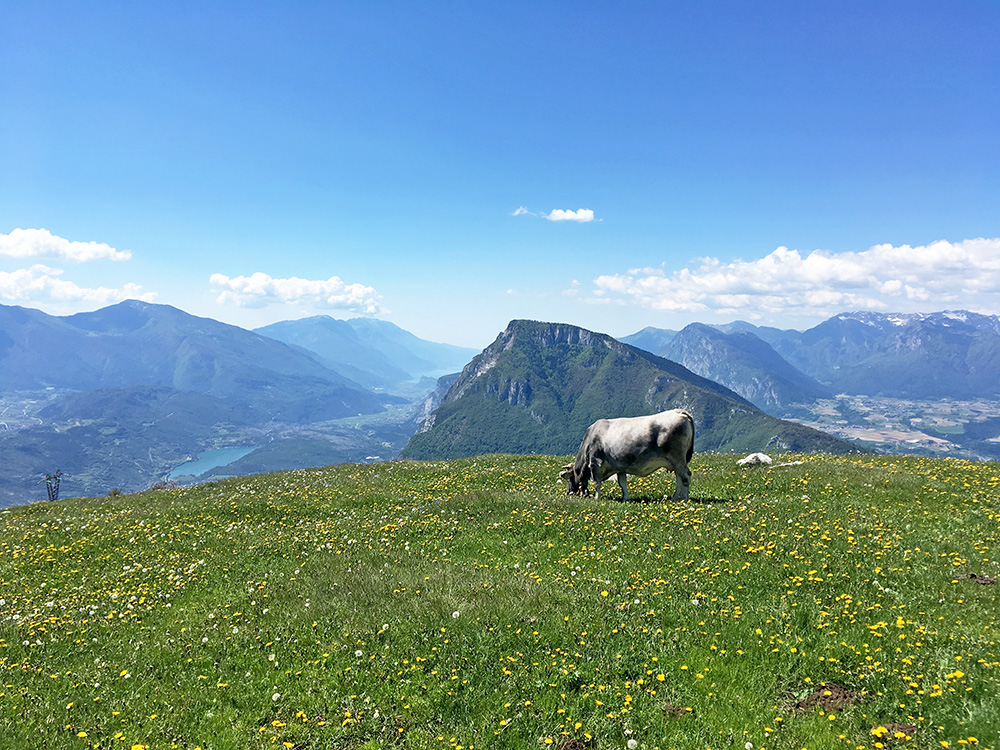 Despite steepness that is mostly around 15% I got up to the end and another tiny parking. Unfortunately there were simply nothing much to see just there as the views were mostly hidden, but I noticed the concrete-enforced steep ramp going up and thought I better walk up a little to get a better photo. I walked just a little and the scenery improved a lot, so I continued up the end of the ramp and then a little higher and that really made a difference – really worthwhile even if you go up with a road bike (you need a little rest anyway).
As you see here you can see all the way to Lago di Garda, while at the same time looking over the Ponte Arche area. One could go a bit higher for maybe even better views, but the track does not go much higher here before you will loose the sights. This was clearly good enough for me and less than 10 mins walk (only up from the first trees seen in photos below).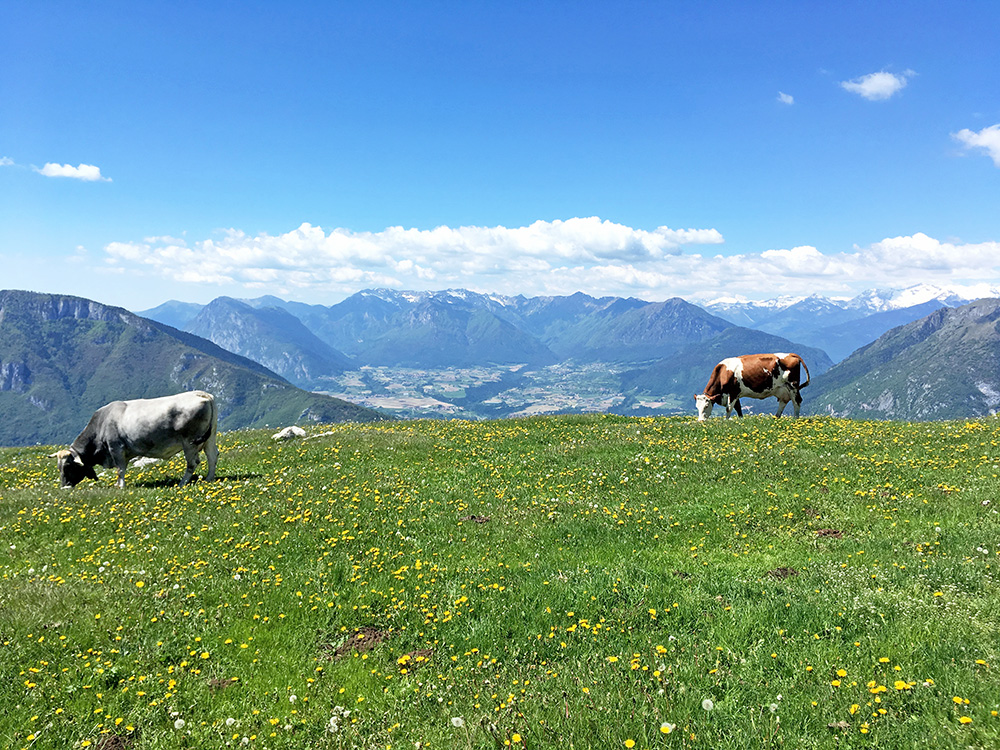 The Ponte Arche area with two cows!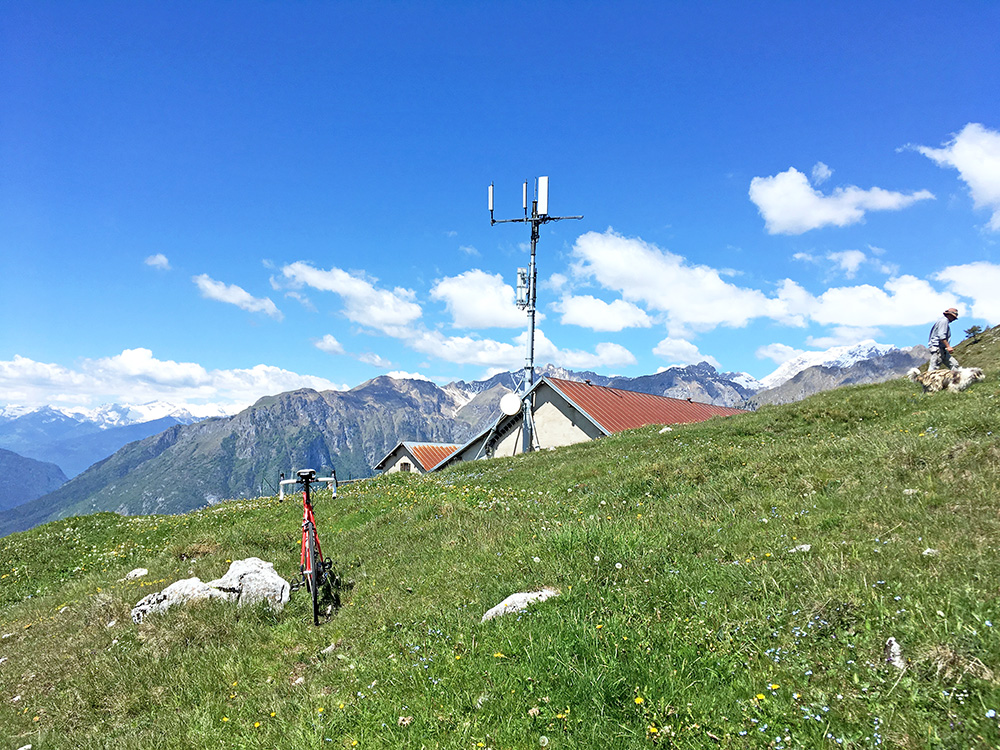 Malga di Gagia, my bike, a walker with his dog and nice mountains.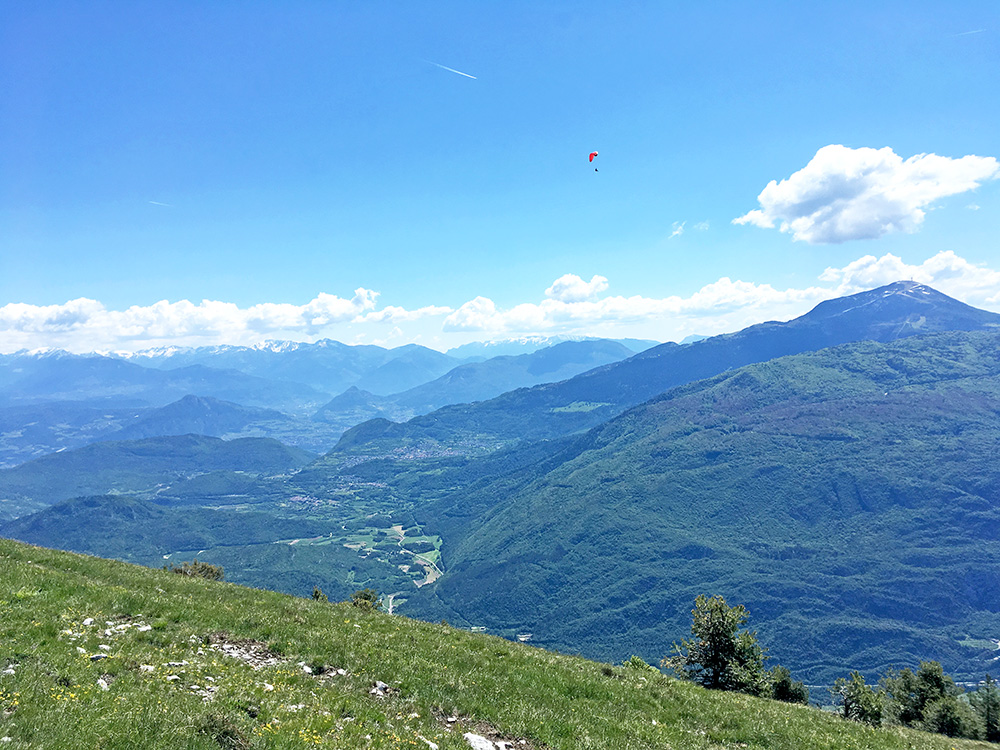 A paraglider and looking up from where I came, and the Monte Bondone.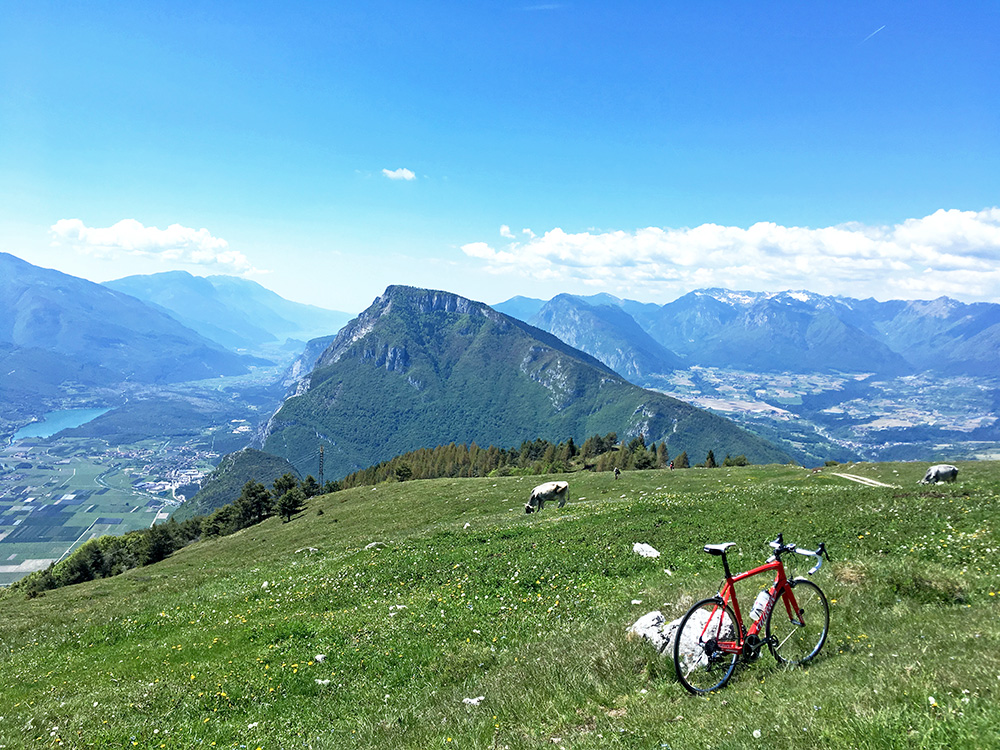 Same view as the first but added a cow and my bike, and the track.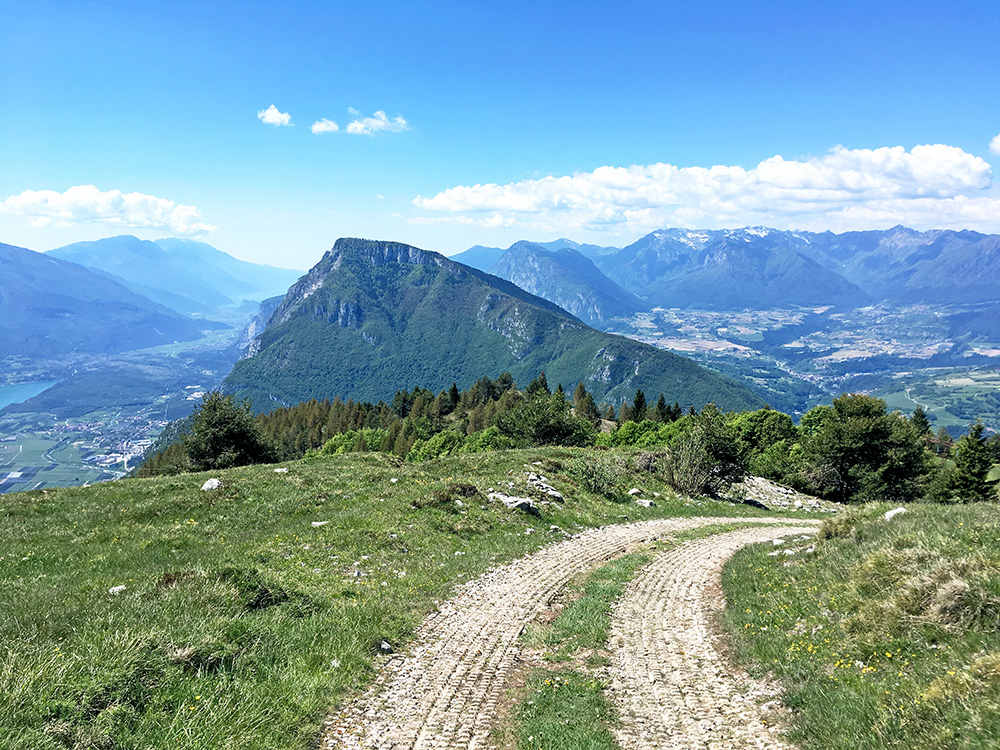 The concrete ramp up here is likely borderline case even for mountain bikers as it is very steep (like 25%) and not really possible (not for me at least) with a road bike.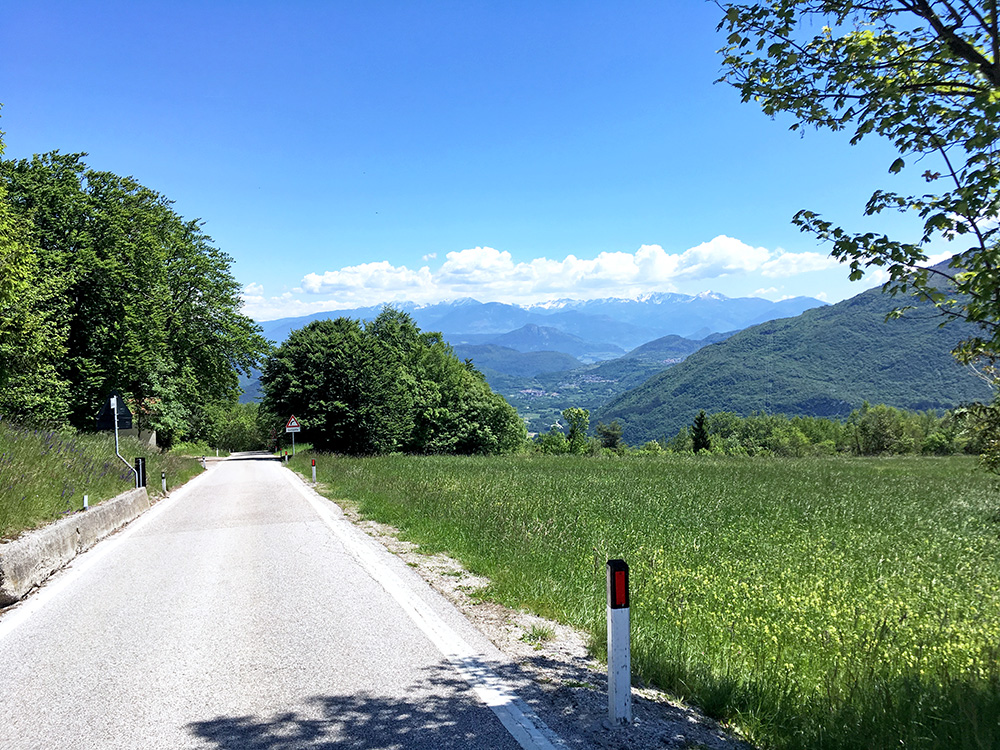 The views from the road here comes across a bit surreal to me, as the area really does not look like this (it looks here just like a sweet road down a valley). Just after the sign the road is like 14%. This is the Margone road (maybe a vehicle every hour or so in rush hours).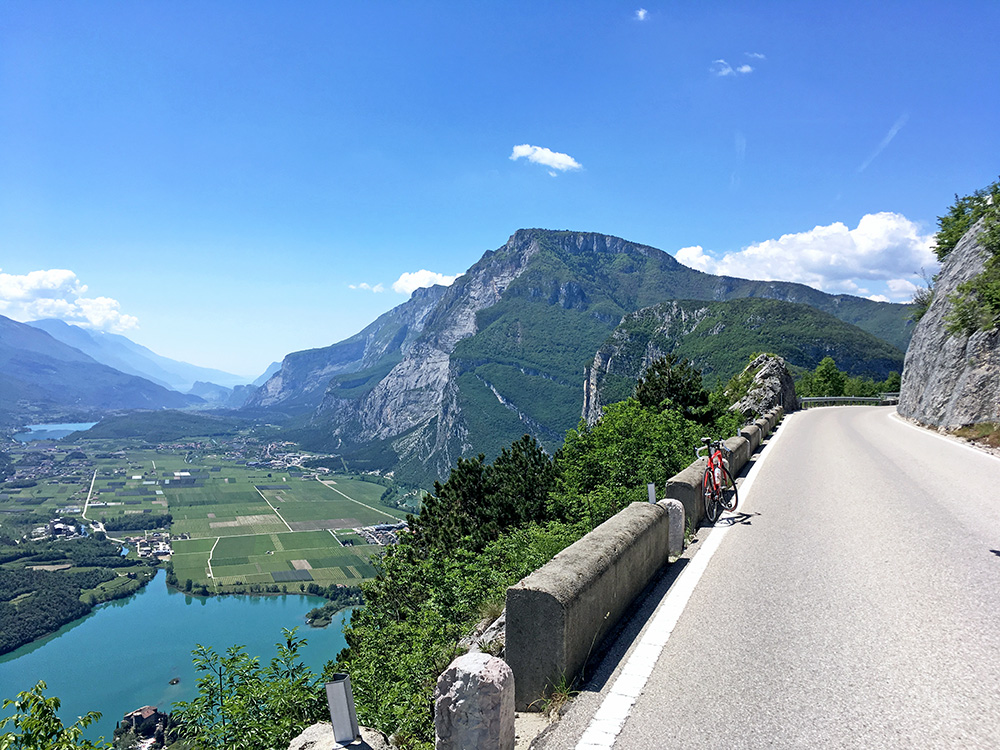 Down at the exact high point on the Ranzo road (think it goes up a bit more in Ranzo before it ends).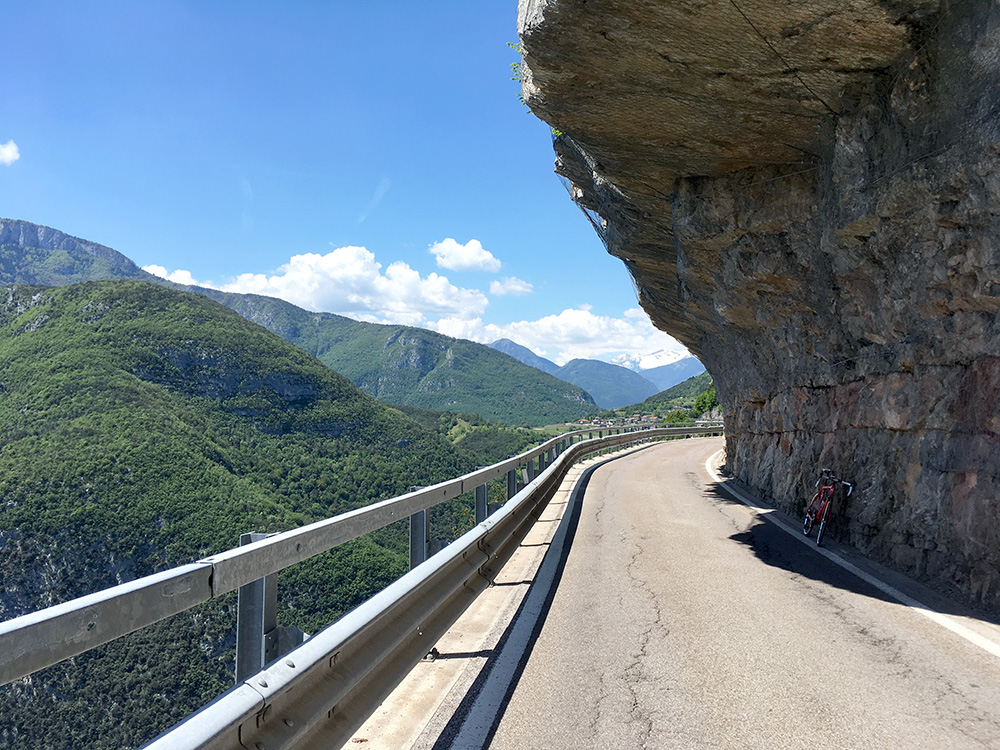 And had to go and get a glimpse of Ranzo even if I turned around here. I think most road cyclists going up the road just goes to Ranzo and that is by all means a fine destination too!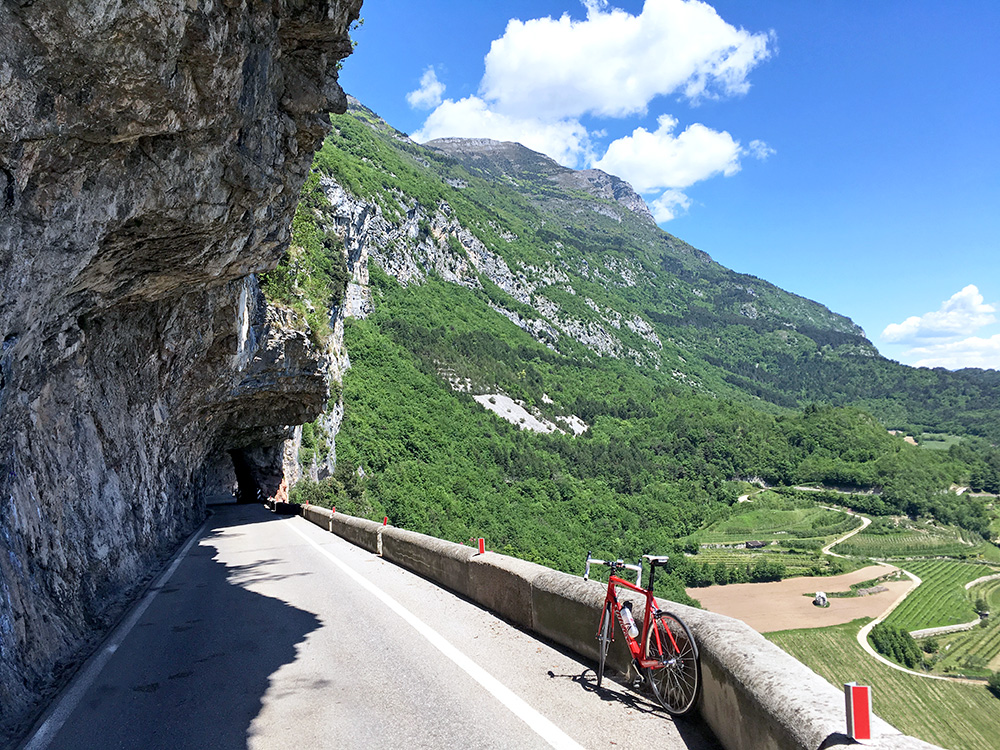 A last view back with the tunnel shown in the first photo. The road seen going down ahead could be possible to use for the Sta Massenza climb, but it is partly a gravel road though, so better to go via the next road (I took the main road through Fraveggio, but I guess one might be able to climb the direct road to Lon also, which is probably fairly steep).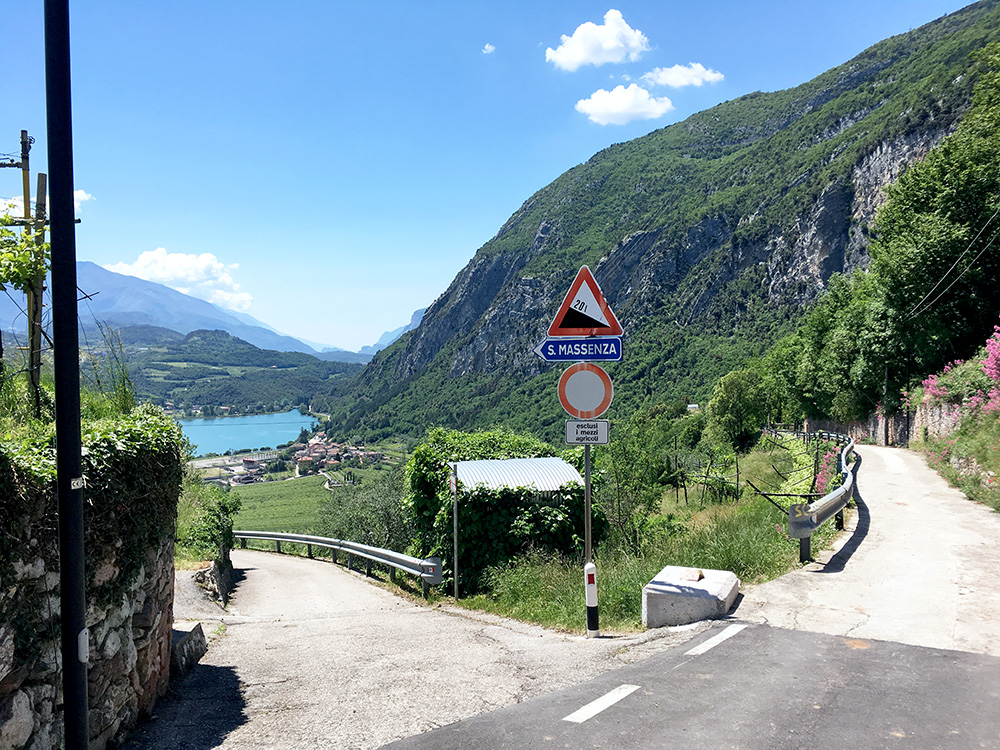 The road down from Fraveggio is very steep as you see here, but it is not so long. Traffic is generally not allowed through here, but no problem other than the steepness with a bicycle.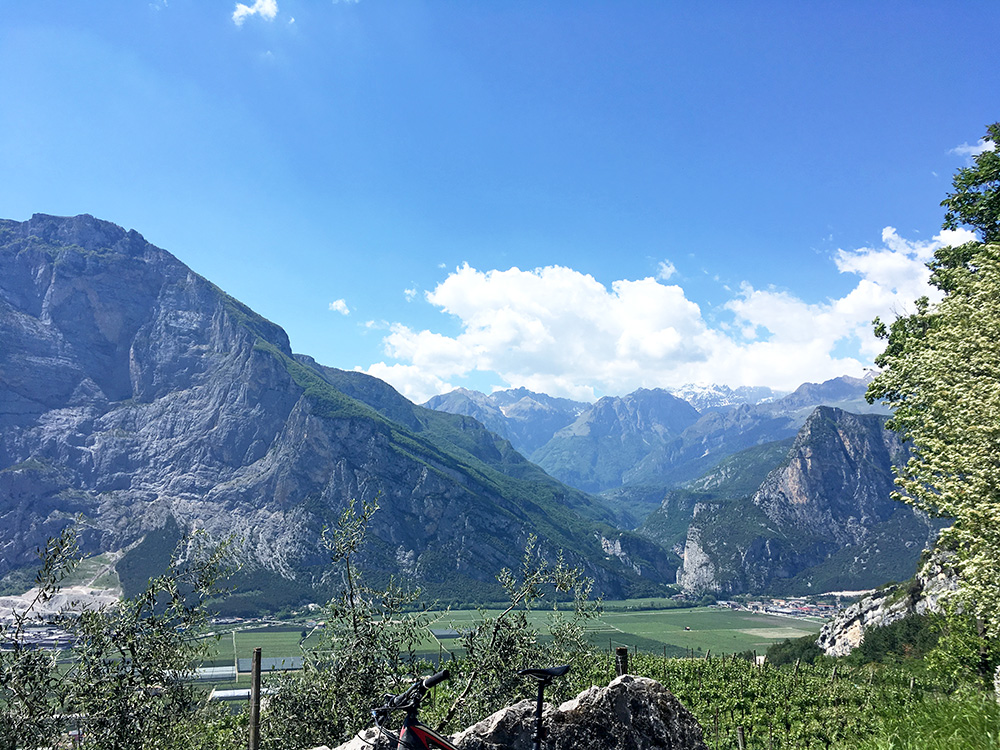 I continued to Sarche and stopped for an ice cream where I have been before when I stayed at the hotel at the crossing in the centre. Also bought a coca-cola in a nearby shop before taking off again across the plain to Ponte Oliveti, but I already again stopped in Pergolese as I guess I needed to see a toilet and also wanted a coffee. Very nice little café with a very old lady there and seemingly totally non-touristic even though in a popular touristic area (I think at least).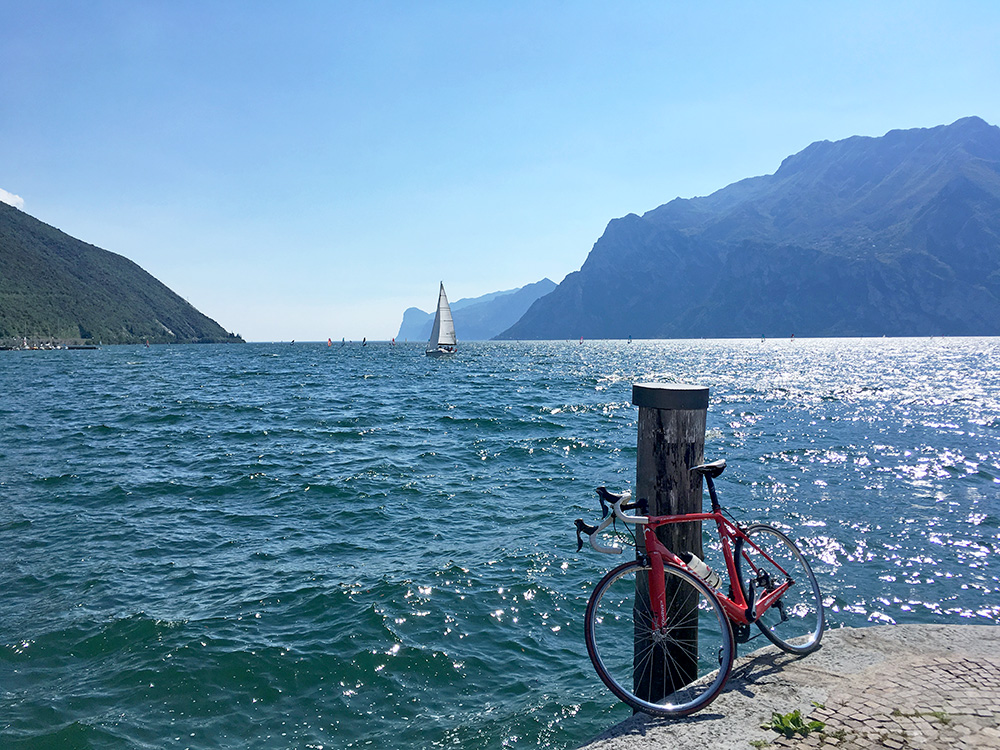 So now I had enough of stops, but just some hundred metres ahead I would have another stop. I had a flat yet again on the next mini-climb to a pass I found a pass name for on the Trentino toponymy map: Crós de Mónt (507m) (not mentioned anywhere else that I know of). The photo above is back toward Sarche from that pass.
Very hot, but now it was very easy over Passo di San Udalrico (585m) and then just straight down to Torbole by Lago di Garda. I had originally (again) planned to climb from near this last pass up to Malga Campo di Drena (1373m), but as I could see the place (more or less) from Monte Gazza/Gagia it was not so exciting to climb now, so left it for another time. I had also spotted an interesting "short-cut" up here, but also that for another visit (and one should come here from the other direction).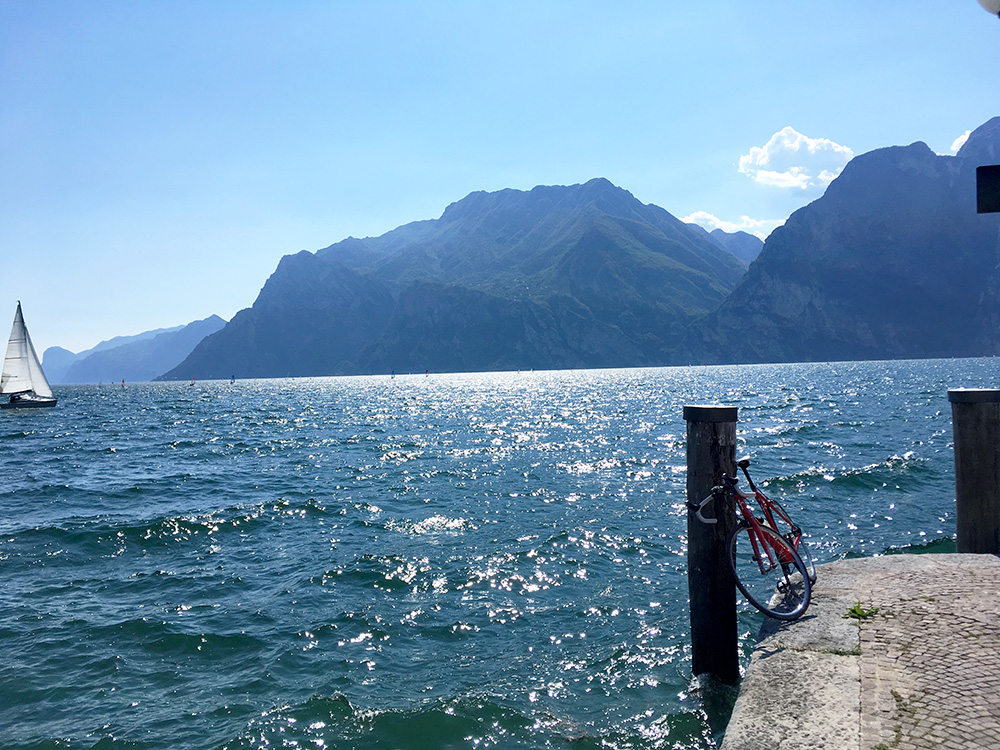 I bought a tube at the first little place I saw so I had a reserve tube – bad, heavy china tube expensively, but as it was Sunday I thought that maybe there was no other shop open. However, if there is any bicycle shop in the world open on a Sunday, it would be right here in Torbole, and so I noticed later on.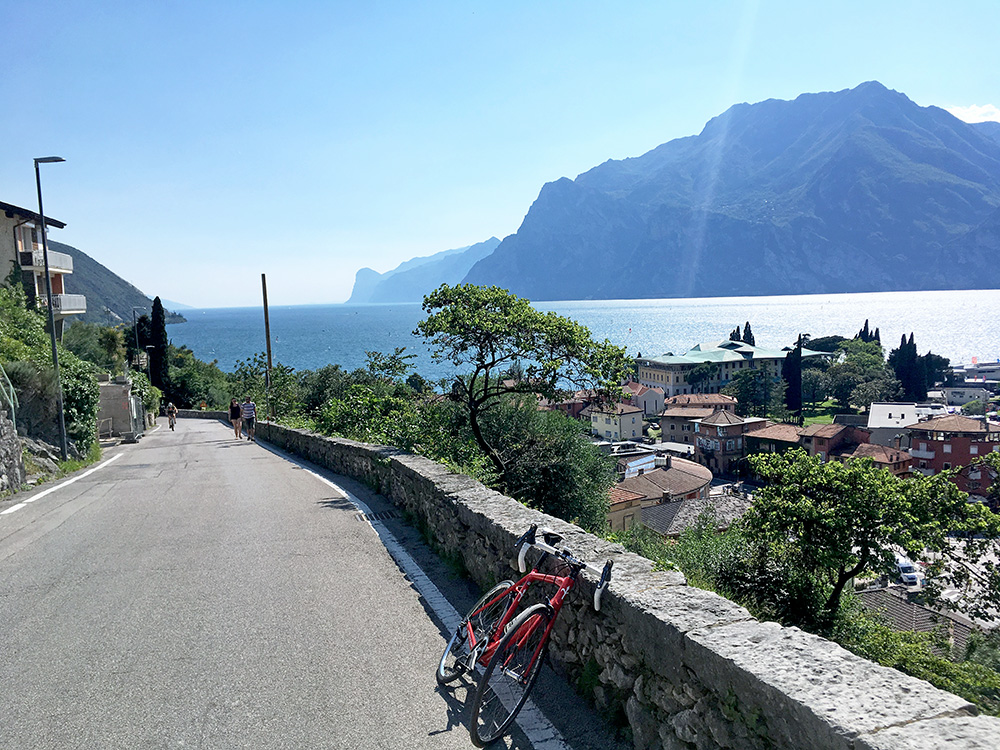 Got two seaside photos and liked my placement of the bike. Could not leave it for long as it was a bit windy. Then got an ice cream from a sour lady, as the nice man in the store diagonally across later pointed out to me ;-). Then it was up the old road (they no longer like cyclists on the main road from here to Mori, but I once again skipped that prohibition (does not make much sense for fast road cyclists and it is not a motorway and only there should restrictions ever be for cyclists – never taken the bike path on my maybe 5-6 visits now over the Passo San Giovanni/San Zoam (272m) – I guess I hate bike paths more than car drivers do).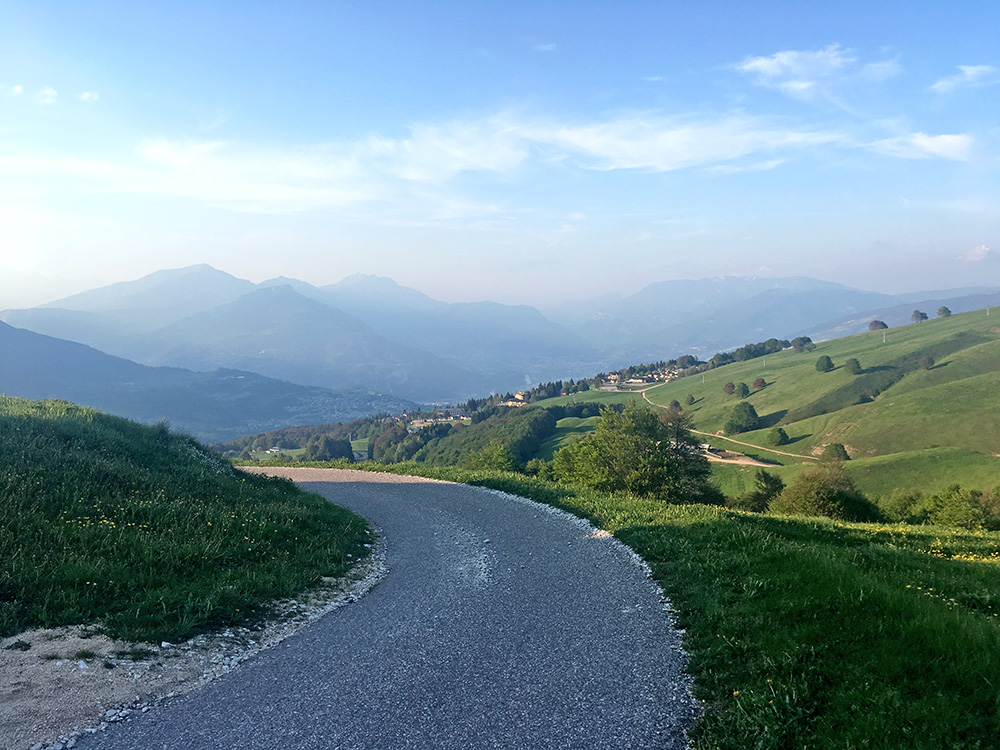 It was slightly longer than I remembered over to Chizzola (168m) and the start for the last climb for the day. I filled up water and started on the same road I climbed not so long ago. I knew it is steep the first 3 km, but this time I would turn off and climb up directly after that on a road I had meant to take on my previous visit.
I had previously planned to climb directly from Corné to Prada for the steepest climb, but it does not really make the climb shorter and did not want to gamble on having to walk again because it would be too steep (it looks very steep in Google street view which has climbed the ribbed concrete road), but maybe never above 20% (will have to check it out another time). The direct climb also does not give any resting before continuing fairly steep on, but it is then easy the last stretch to Prada. Also the climb up from Prada to the Polsa ski resort is a rather easy climb. Here I am far above Polsa in the photo looking back.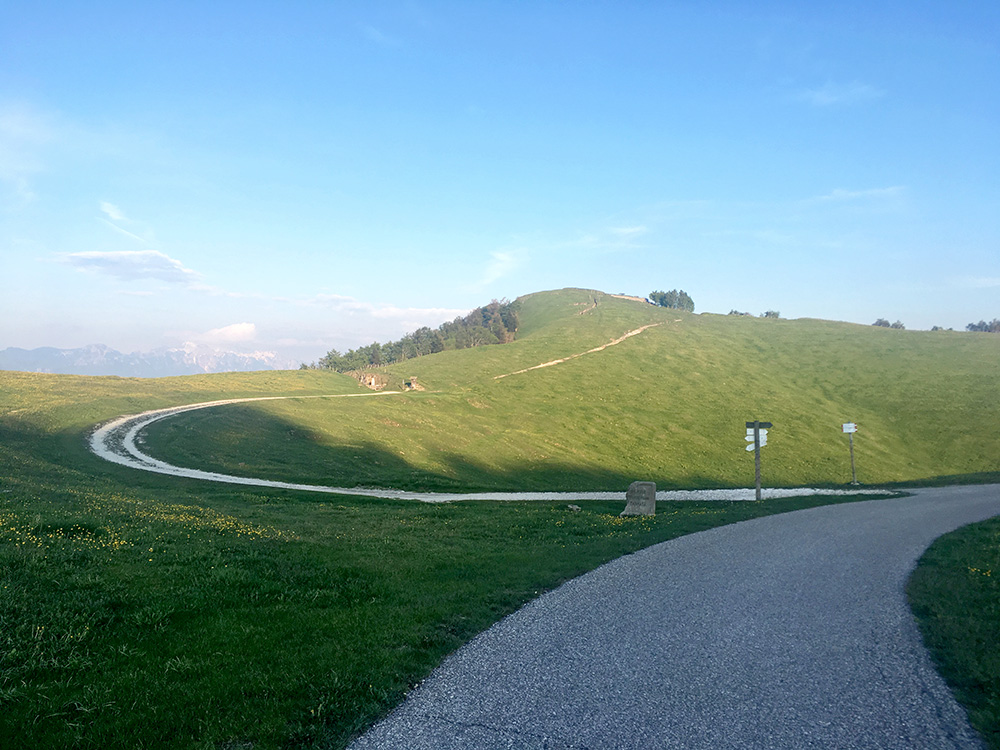 I wrote later that day on Facebook: "Then in extreme heat down to Chizzola where I found the water tap where I took it easy again as I knew from before that the climb up from there is not easy. 3 km at ca 12-13%. Then up to the next village it was also around 10% for a similar length. Then I had real ache in my feet and even though the road to Polsa was relaxing it was hell with the feet. At Polsa I was surprised the road I wanted to take was normally sign-posted for."
The road from Polsa is unfortunately gravel for 1 km and even if flat it was not as good as I had hoped for, but rideable with care. As the small road starts to climb up the other side of the valley it is all asphalted again to the top. Always looking after passes, it was easy to find the pass Bocca d'Ardole, but irritatingly enough it is not the place seen in the photo here (I knew that).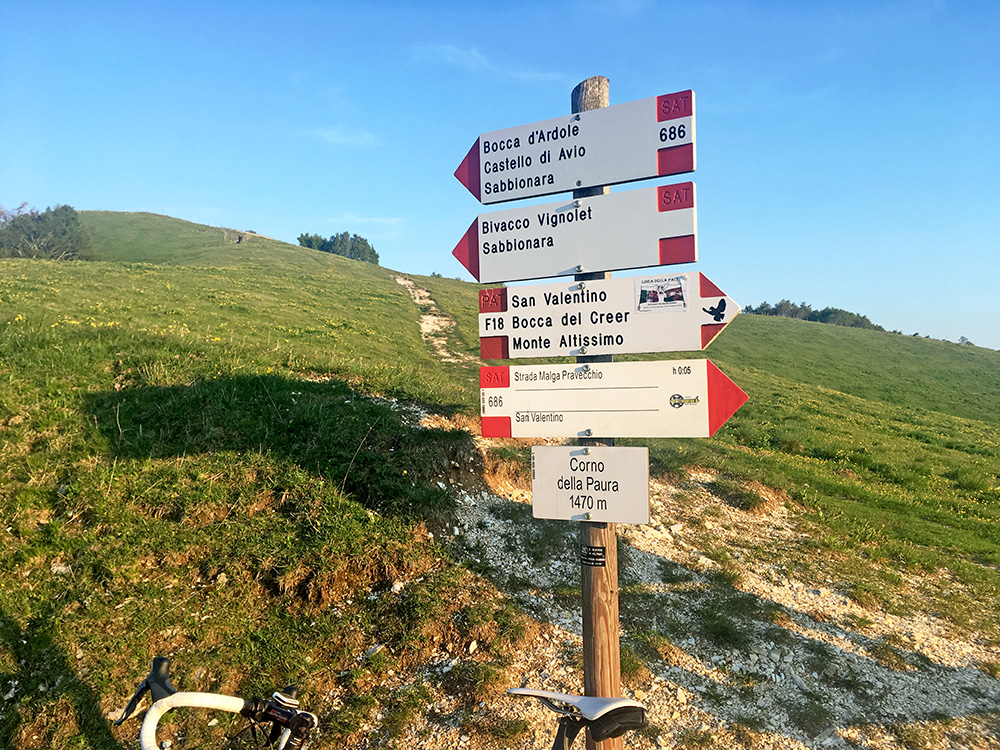 I went over to that place out of curiousity and since the main road was rather flat here anyway. Corno della Paura (1470m) this place was called (but Crono usually means mountain and this is a passage, which is kind of odd, but maybe named after the hill behind there).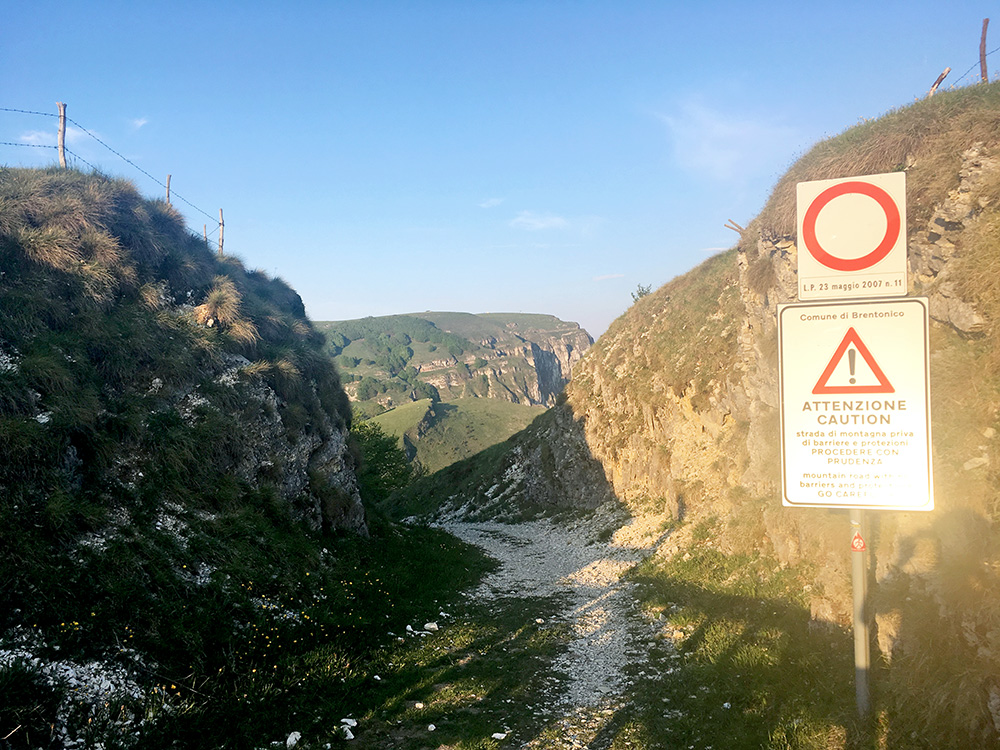 The Bocca d'Ardole is a short but difficult stretch down from here and it was not inviting to walk down and then back up again in cycling shoes, so only took a photo over the gap down where that pass is located.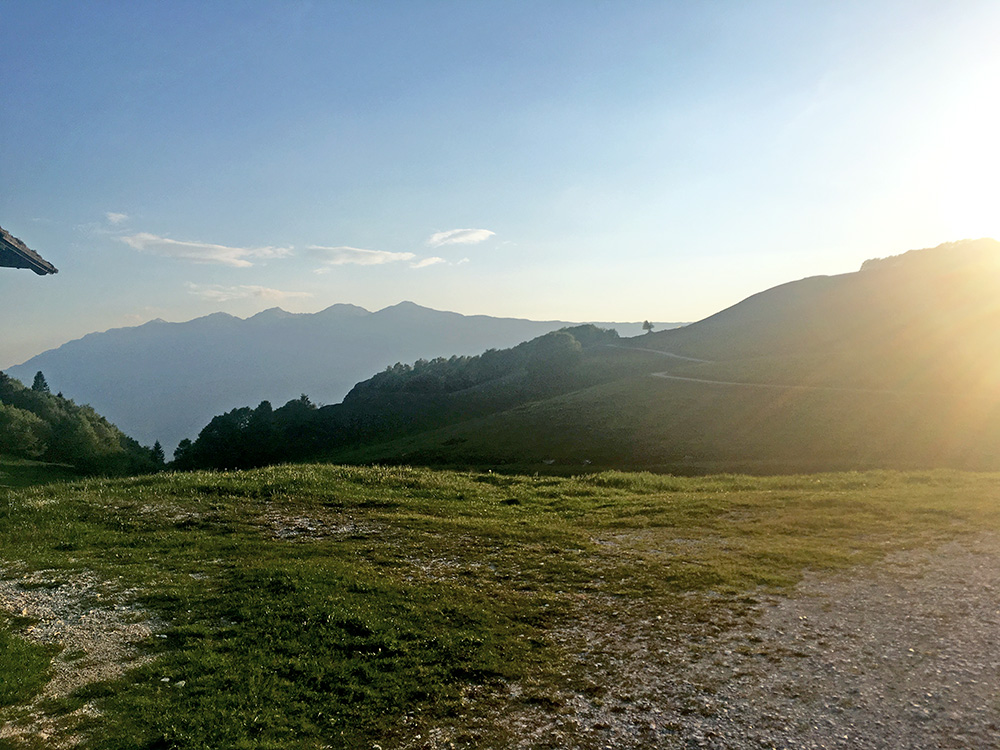 The road climbs on and now we come to one of the more dramatic road sections in this part of the Italian Alps.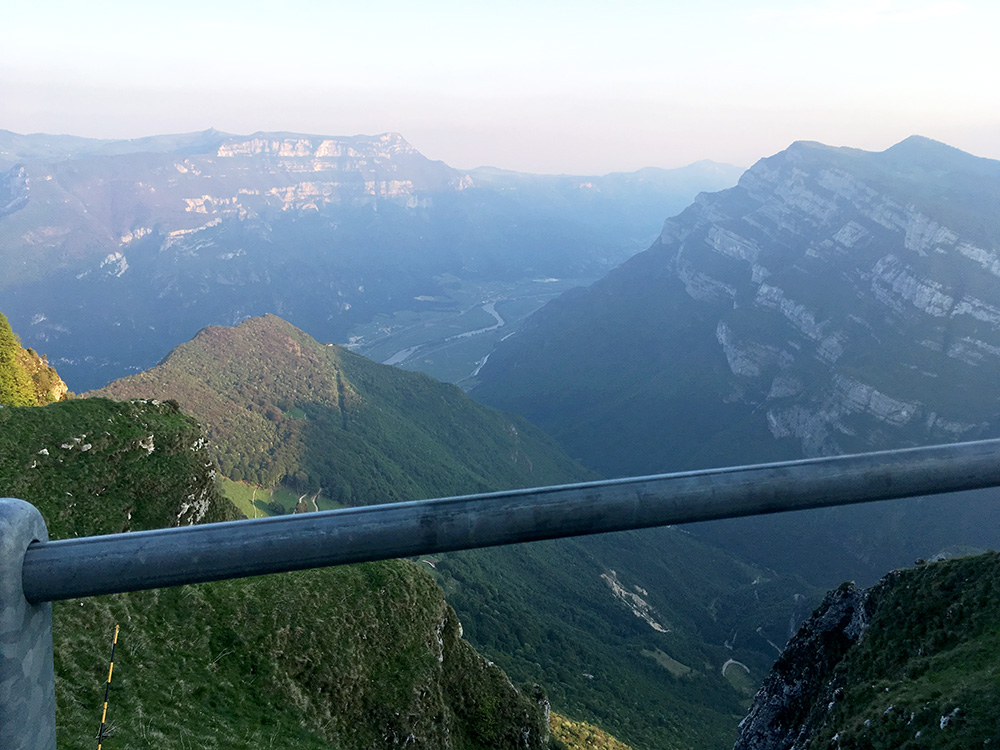 Fairly hilarious views here down toward Avio from where one could also climb up (and also a climb I still have not done).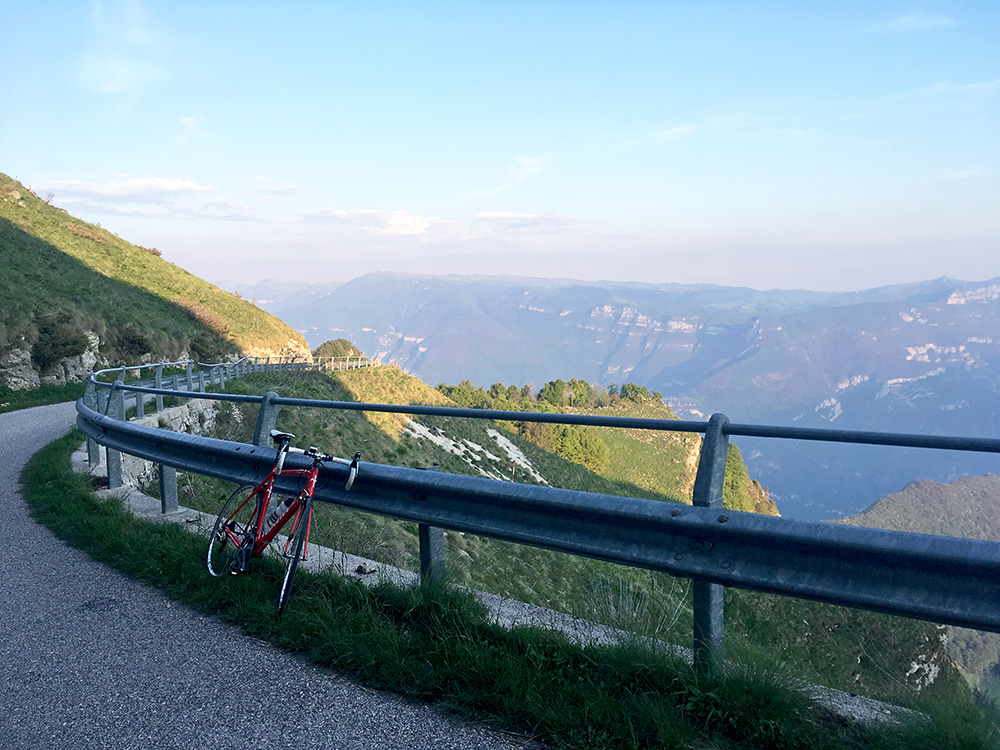 Looking back again just before the high point of the road over the Vallagarina/Lagertal to the Lessinia mountains.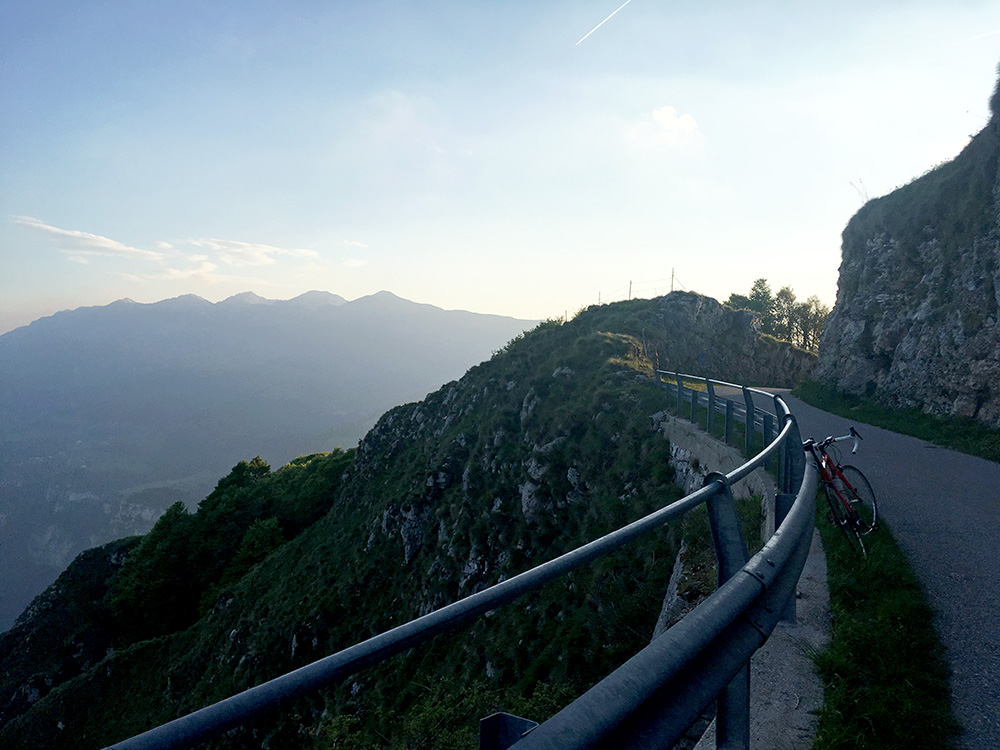 Then looking forward to the carved out little passage on the Pravecchio road to Colme di Pravecchio/Cólme de Pravèc', which I also found a pass name for on the Trentino toponymy map: Bochét de Postemóm (1515m) much to my delight as I have never seen it mentioned elsewhere, but hopefully this will be the name more commonly associated with this pass. This must be one of the best climbs in the Alps (esp. if they had asphalted the missing paved parts).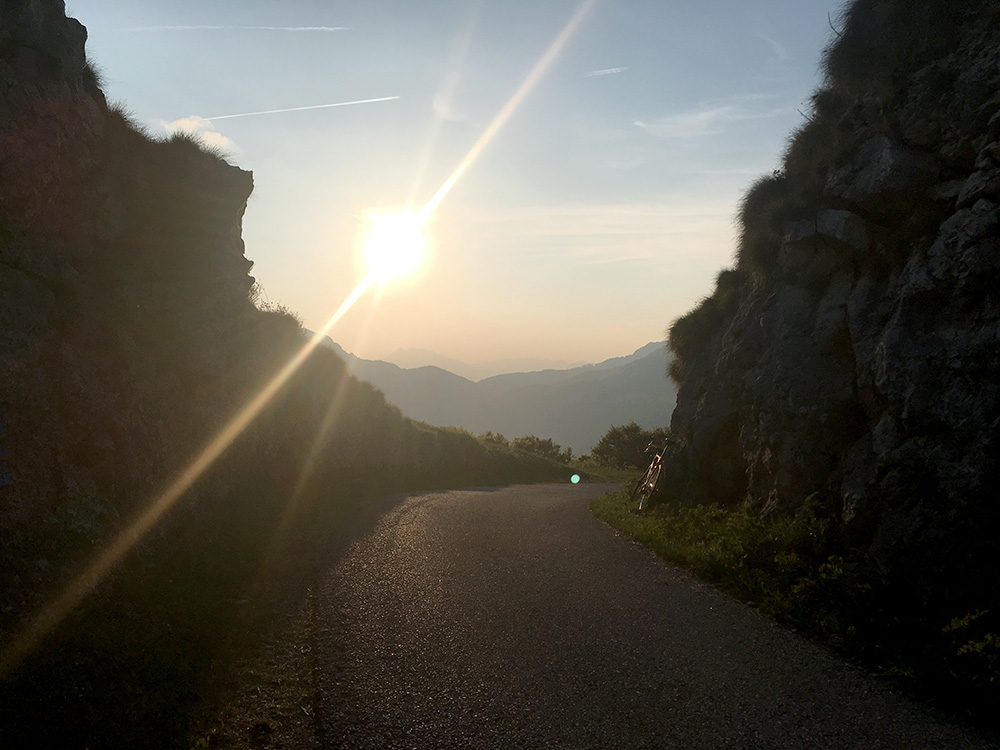 At the pass itself one has views over the Monte Baldo ridge and also the ridge on the other side of the Lago di Garda.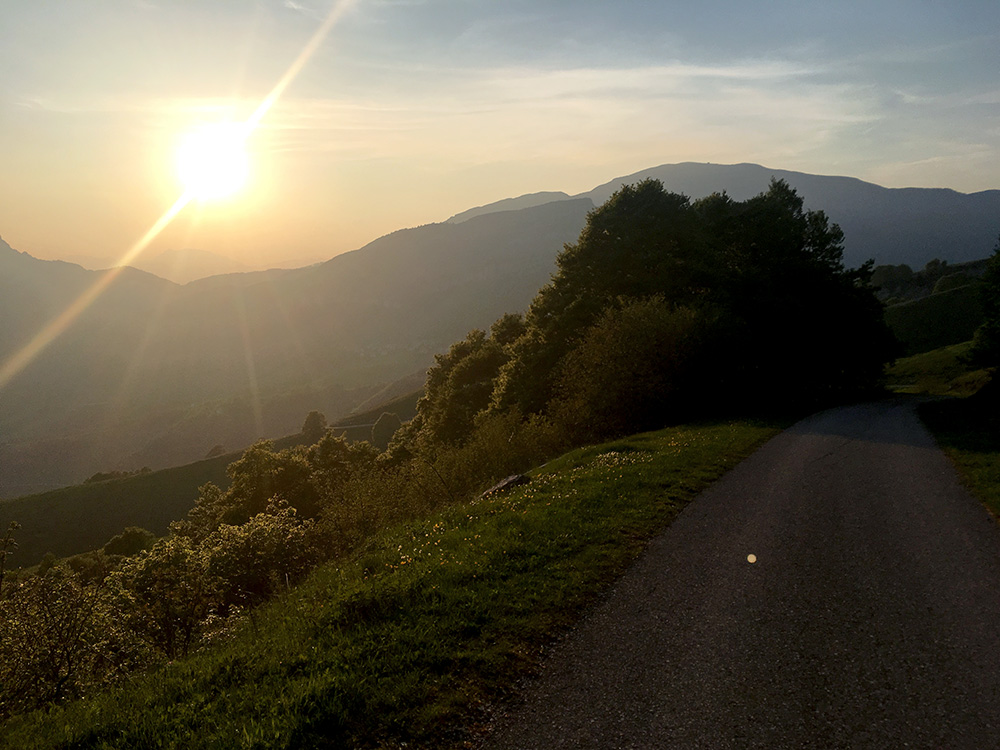 Very nice up here in the evening sun!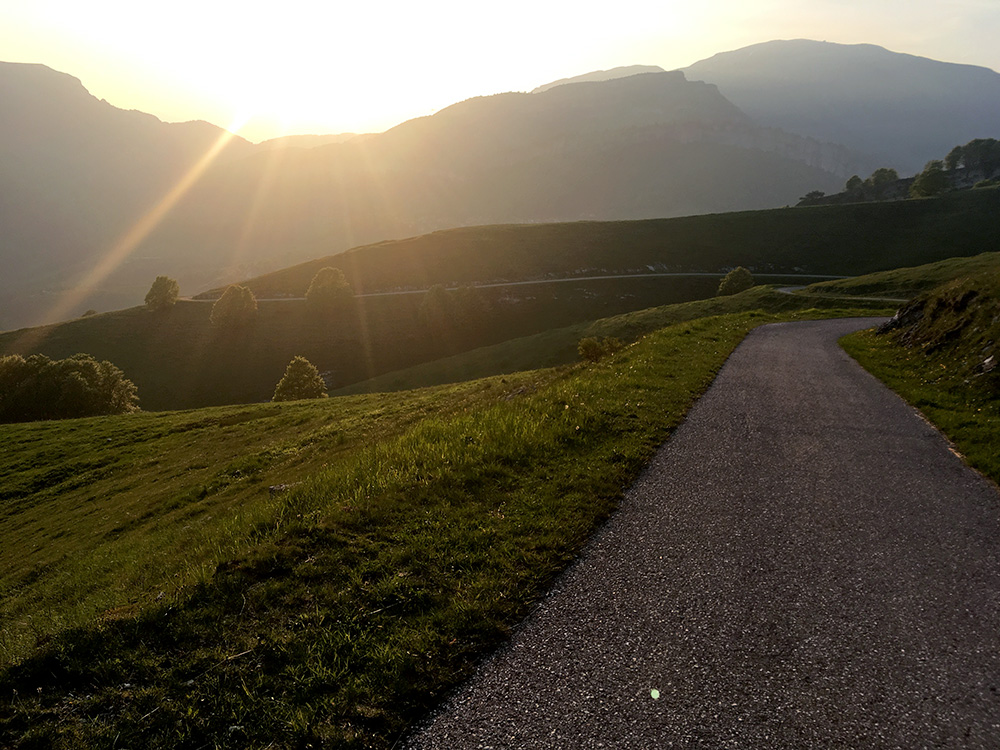 One more view of the very inviting road down. Now if was not for 800m missing pavement where it was even slightly worse gravel than before and I even walked the last matres just to be sure to get down safely … . But even with 1.8 km of gravel this climb is a must for any road cyclist visiting the area, I think.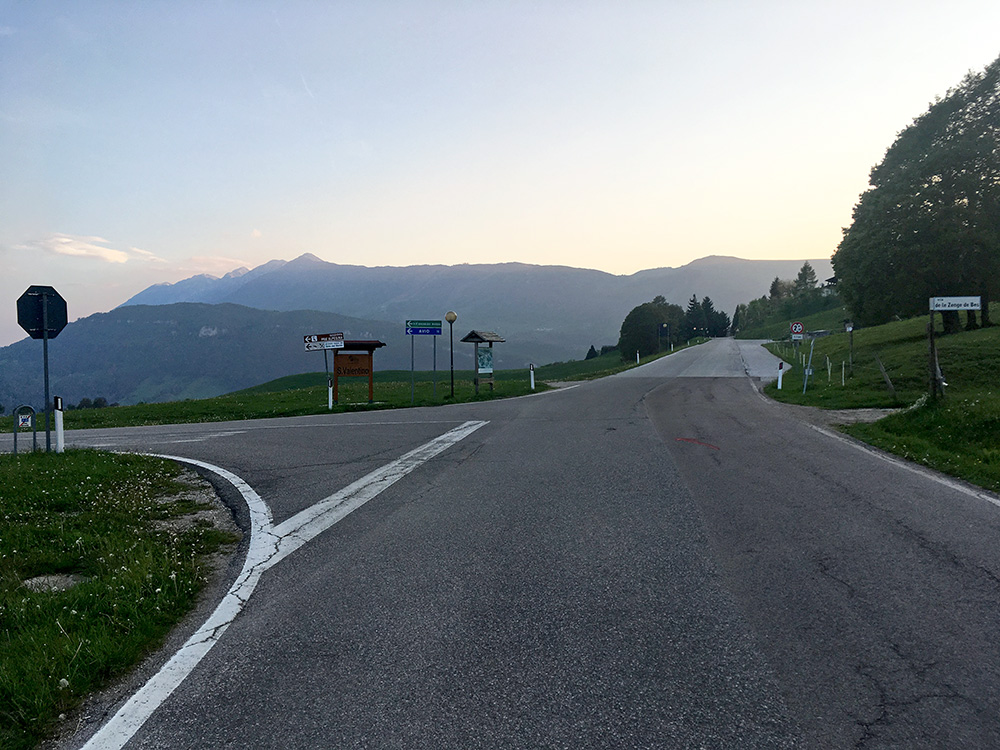 Down at Passo di San Valentino/Passo de San Valentim (1314m) where I have been at least two times before now it was time to find a place to stay at for the night. It started to get cold now, so I wanted to go down quickly, but there is a little climb up again to San Giacomo on the way down.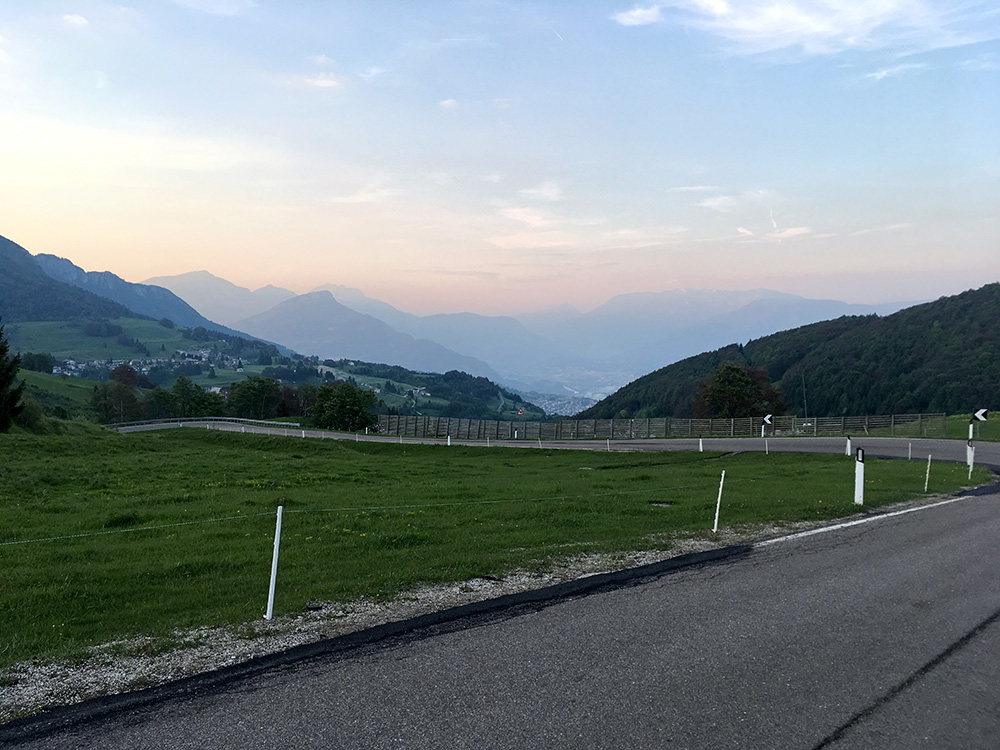 San Giacomo (ahead in the photo here) has a prominent hotel and I stopped to ask for the price, but it felt a bit too expensive for me (and the place) so I continued ahead down to Brentonico, where I had studied for places to stay at beforehand and I had noticed a bed & breakfast in my search and managed to find it near the church. It was not open but there was a telephone number and a lady that answered. She told me to stay at another place nearby and it turned out to be a very good choice. I then went to have a pizza at a nearby nice restaurant. A successful day.