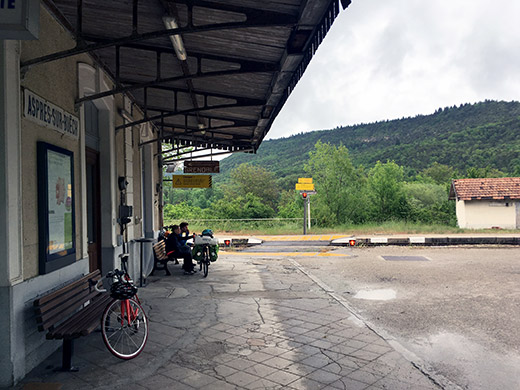 Well, the last day was a misery in every way, unfortunately. It started with rain, which sort of ended and I was lucky to just reach Serres before a torrential rain started. I had to wait drinking coffee for quite some time. I had already figured out that I would not be able to climb the Col de Gaspardon (1433m) as planned (and it would have saved me a long detour in the Summer tour if I had managed to do it this day). But soon I was about to be short on time catching the planned train back to Chamonix, via Grenoble, Chambéry and Annecy.
Luckily the rain faded a bit and I took off in a very moderate speed to stay as dry as possible on the way to Aspres-sur-Buëch and luckily it was just flat or slightly uphill (not nice driving downhill in rain and having to brake). I got to Aspres-sur-Buëch in time and had enough time to get tickets and had time to buy some cookies and something to drink for the travel (and jar of honey for my mother). Took a last photo at the station and off we went on a nice train ride to Grenoble (at first).
Cleaned my bike a little with some paper and messaged my sister that all had went well and that me and the bicycle was fine and on schedule to get back in time for dinner in Chamonix for evening.
A dirty man came on the train with some excrements on his clothes and it smelled worse than the usual homeless people, but no big deal – we arrived fine in Grenoble and I just had time to get on the next train to Chambéry.
In Chambéry I had to wait an hour for the connection to Annecy and cycled around the town in light rain trying to find a café, but found nothing as I apparently went in the wrong direction. On the way back I eventually went into a café de Paris and soon was on my way with the train to Annecy.
The train moved slowly (very much so and it was getting fast behind schedule for no obvious reason since the train was mostly empty) and stopped gently at every stop. Eventually we arrived in Annecy and I got up to go off. there were only two other people in the same wagon. The train stopped at the station and I tried to get out but could not open the doors. Then suddenly the train started to move again and then rammed right into the stopping blocks at the station so the others were thrown away but managed to stay on their feet, while I was holding the bicycle and with the open wagons there was not much to hold on to, so I could not maintain balance and fell over the bicycle and landed unfortunately with my ribs against the carbon saddle so I broke maybe two of them (the doctors that I visited at home thought there was no reason to x-ray them even though it felt a bit more bad than at other times when I have fractured ribs before).
I managed to get up on my own and only a shortly afterwards realised I must have broken some ribs and was not very happy as it was now only one month away before I had booked my ambitious Summer tour in the Alps. Had to wait almost an hour again before the next train to Le Fayet/St-Gervais-les-Bains and Chamonix. Walked around the dirty quarters near the station in Annecy (otherwise a nice city) in light rain but found no place to stop at so walked back to the station to complain a little at the information desk, which I should not have done as I eventually got into quarrel with gendarmes that wanted to bring me to prison and threatened me in several ways. Luckily they did not break any more bones and eventually let me go on to Chamonix after repeatedly telling them I was sorry for my behaviour.
Got back to Chamonix all fine and the train operator to Chamonix was very nice. Went to a really bad restaurant in Chamonix (not many are good there as they have problem keeping good personell working there for the irregular periods when the business is booming). Oh well, a bad ending, but everything worked much better when coming back a month later even if I could not cycle a metre until then and people were more friendly in France again, they even let me into the country. Positive thing was that my bicycle was not damaged and I could leave it with my sister until I came back which saved a lot of the anticipated hardships of bringing the bicycle back again with broken ribs.