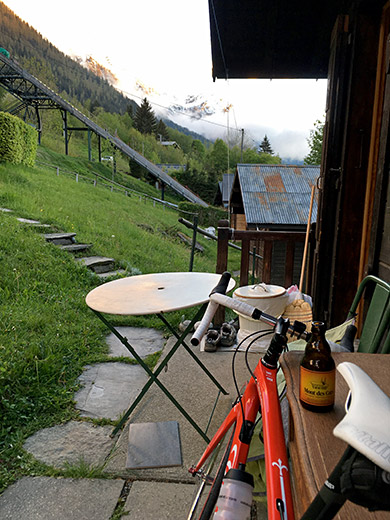 This late Spring (end of May) I made a little tour including the classic Nove Colli gran fondo race and some Appenine climbs and also some Alps cycling again. It was 1438,82 km for 9 days (159,87 km/day) and 24770m up (2752m/day).
The main intention was to take part in the Nove Colli event that I had never done before, but also wanted to visit some more of the few +1400m Alps passes I had left to climb (and completed later during the Summer tour). And I also wanted to visit some more BIG climbs while away.
The photo here in the morning of departure up the mountainside in Chamonix at my sister.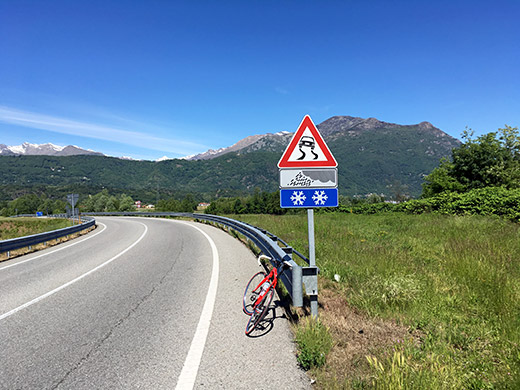 In the morning of the Friday of May 20th I went up for breakfast in Chamonix and my sister and boyfriend had accepted to give me a ride through the Mont Blanc tunnel down Aosta so I could catch a train to Ivrea (in Piemonte). They drove me all the way down to Aosta and despite being a bit late having some slow going through the tunnel, we got to Aosta just in time for me to get a ticket and get on the planned train. I said goodbye and was going to return a week and weekend later to Chamonix again.
Here I have got out of Ivrea and turned off toward a climb that had ben left a little apart from other Alps pass climbs above 1400m still on my list of to-do climbs. I was going to meet for dinner with friend Gabriele Brunetti not far from Cesenatico & Cesena (where I was taking the train to) later in the day for dinner, but had wanted to stay on the way to do this climb to Colle Pian del Muli (1443m) as it was along the way by train to Cesena. The pass is up the mountains to the right hand side in the photo (and not in the middle as one might think).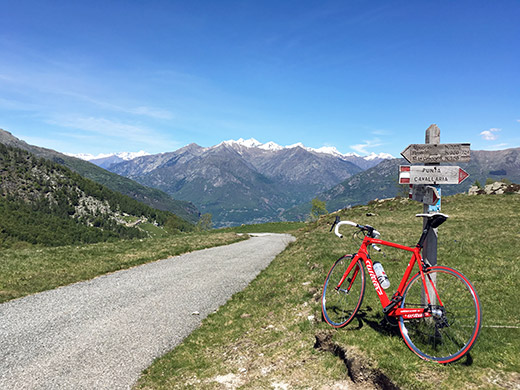 Eventually, after taking the wrong way, but more direct way to Alice Superiore via a very small and sometimes steep road from Fiorano Canavese, I got to Brosso and final section up to the pass, which is the really hard part. It took a little while before I found the correct turn-off behind the village, but then it was really only one obvious way up. The asphalt is not always perfect and there are some drainage gullies to handle. I had not remembered quite how steep this road was, but soon got aware of that. It was the first climb for the season so of course it felt a bit tougher then also. The climb is like 12.6% on average for 4.5 km according to the salite.ch profile of the climb from Brosso.
There are nice views along the road and the narrow road is not much used, so it was a lovely climb. Here I am at the top looking into Aosta and possibly it is the Monte Rosa mountains to Switzerland in the background. The road down the other side soon ends and there should only be a track going down further, probably not useful with a road bike, otherwise the climb would have been a lot more popular. The other side features a hilarious climb that is even harder up to Vallone di Scalaro (Alpi Gugliasco/Muande) (1845m) that I climbed in the Summer of 2013.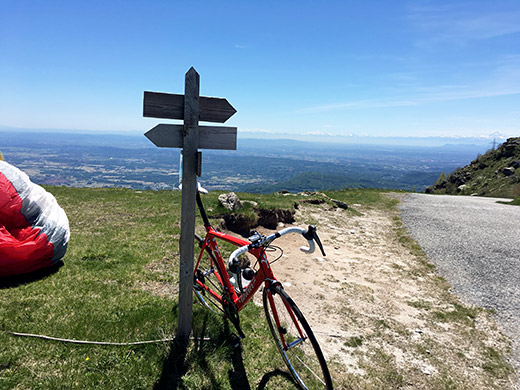 Originally I had hoped to climb up Lago di Teleccio (1924m) (another tough climb in the area) this day too and go to Cesena on the Saturday, but Gabriele wanted me to be there on the Friday, so I changed the plan and might go there another time instead.
Here is the view down the side I was coming up – no mountains there nearby as this is just at the edge of the Alps.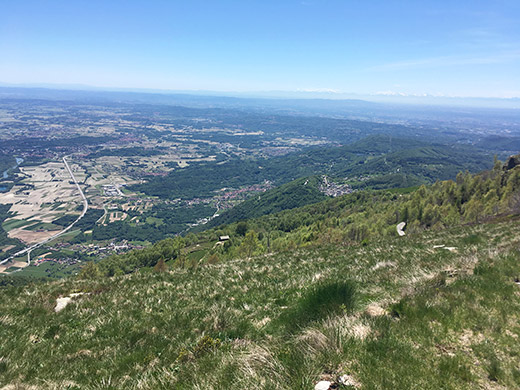 From down there on the plain I was coming up earlier in the day. It had taken some time to get up here an I had not been stressing as I had thought I had enough of time to catch the planned train from Ivrea, but now I was not as sure about that any longer as it was not a very quick downhill ride from here (at least not at first).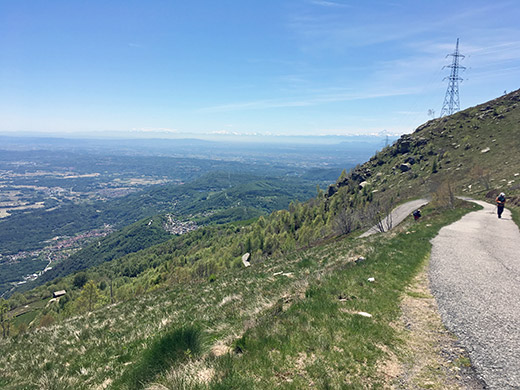 Here the last steepish serpentine up to the pass and some people glide flying from up here walking up.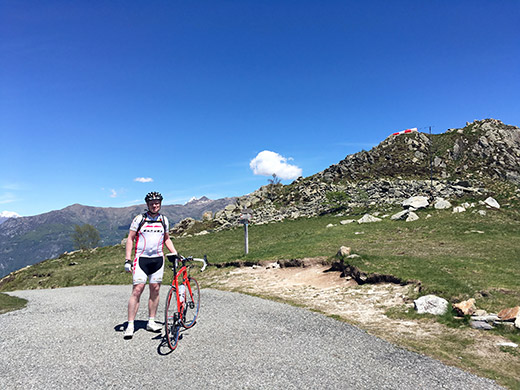 One of the guys packing down his equipment took a photo of me and I asked if I could join them down in their big mini-van as they were about to leave and thought that maybe I could save some time. It was okay and I rolled in the bicycle, but they did not understand much of what I said and it turned out they soon stopped again to pick up more people and then I realised I better get cycling down, so only got one kilometre with them to no use.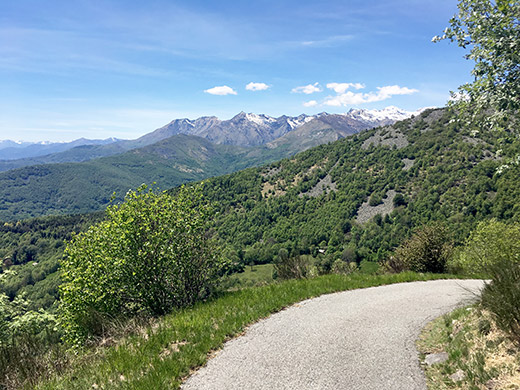 Had to go carefully down the first steep part and stopped for one more photo and then hurried on as well as I could. I decided to take the easy and good road to Lessolo via Alice Superiore and even if it was longer it would likely be faster and I had no time took check the maps any longer, but I had taken that road in 2013, so sort of knew it. I really went down as fast as one possibly could and was amazed at myself, but also slightly worried. In no time I was down to Lessolo, but it had still taken quite some time esp. earlier on and it was still long to Ivrea.
I went in like 40 km/h most of the way, but as I was closing in on Ivrea I realised I would likely miss the train and stopped in the hope of getting a hike down to the next station at Chivasso (or to a station on the way there). A man I passed by on his bike stopped to ask if I had problem with the bike, but said no and could not quite explain why I stopped. Tried for a little while to get a hike, but it was not my lucky day there, so soon decided to go to the Ivrea station as fast as I could in the hope that maybe the train was too late or that I could take another train to catch up with maybe. Also realised I was on the wrong side of the town anyway. After chancing on some wrong roads but rather quickly realising it I eventually got to the station some 10-15 mins too late and of course the train had left and there was none until an hour later or so, with which I could not catch up with the pre-booked train from Milano and on.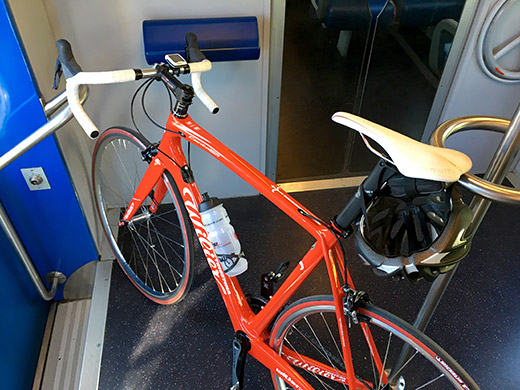 After some quick thinking I decided to ask a taxi driver outside the station if he had any good idea of what to do. He said he could take me to Santhià and thereby short-cut the train (had to change train in Chivasso to Milano, but there was not long time between them). But the train via Chivasso went in a triangle to get to Santhià, while we could drive there straight ahead, so we could catch up and so we did. It costed me 60 euro as it was a somewhat long ride, but new train tickets would have costed me more and I would have missed the dinner with Gabriele, so in the end it was the best I could do. Should have hurried up a bit more early on and not stopped for coffee in Fiorano Canavese (but it was a nice old-fashioned café) – oh well, the ever-optimistic me.
Here a photo of how to park your bicycle on some Italian trains! Quite perfect I must say as people can get off and on and through the train without much problem and no risk for the bicycle to fall if fixed properly with the helmet. In Milano I had to somehow find some plastic bags to wrap around my bike to get it on the quick train to Cesena as it was not allowed for bicycles unwrapped. Got one sack from a cleaner at the station and stole one empty from where one was supposed to throw litter in it. That would have to do. It all went fine and no one really asked much about it if memory serves me right. Sometimes they do not even check tickets, but sometimes they can be difficult and you never know. All went fine and I got to Pisignano out in the countryside ca. 16 km from Cesenatico and Cesena where I had booked a bed & breakfast and Gabriele soon showed up too as promised. Had a shower and off we went to a restaurant in Castiglione di Ravenna and had a nice dinner (fish and wine) with Gabriele and a friend of his. We were both going to take part in the Nove Colli race on the Sunday. Gabriele had managed to pick up my race bag for me, which was lucky as it would have been stressful for me on the Saturday to try and get there in time while also completing the planned ride for the Saturday.