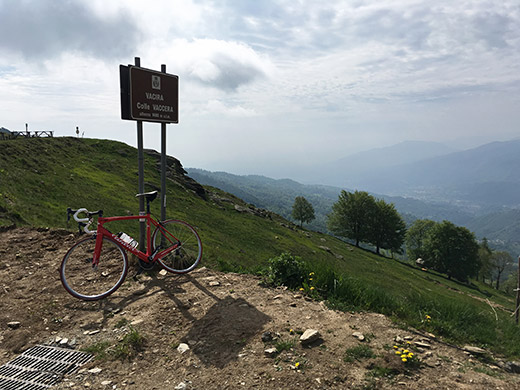 The reason for going to Torre Pellice was to visit the then highest paved Alps pass left to visit in all of the Alps – the rather obscure Colle Vaccera (1465m). Otherwise I have now been to the area a couple of times and done many other climbs (like Rifugio Barbara Lowrie), but there are of course more climbs left, but none as high pass roads.
There are several ways up the first part of the climb to Colle Vaccera, but I tried to take the shortest/steepest one. It is the old road to Angrogna and starts on a small narrow road (via Angrogna), just a bit earlier (from the east) than the main road up there. You cross another road into Baussan and then it soon becomes quite steep up to where you meet a bigger road. There is now new Google street view images from after my visit already available (June 2016). When up on the bigger road, you just continue ahead into the valley until the next road taking off to your right. There is actually a sign saying Vaccera there and from here it is just to take the road going up when there is a choice. In the photo the pass sign just as I reached the pass.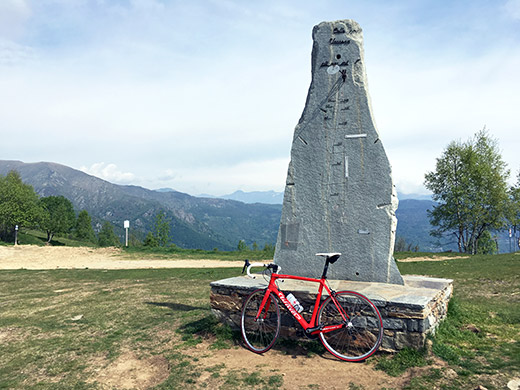 The last 20-30m to the actual pass is gravel and the road down the other side does not look good enough for a road bike, so unfortunately only a one-sided pass for us road cyclists. The rear side of the pass sign says Angrogna/Ëngreúnha (so apparently also here they recognise local names as in many other parts of Italy these days). The pass sign says Vacira/Colle Vaccera (1480m), so maybe 'Vacira' is another pass name or maybe just a local name for the locality not really naming the pass as such (often these things are not clearly separated and why should they be?). The monument here says Colle Vaccera (1461m).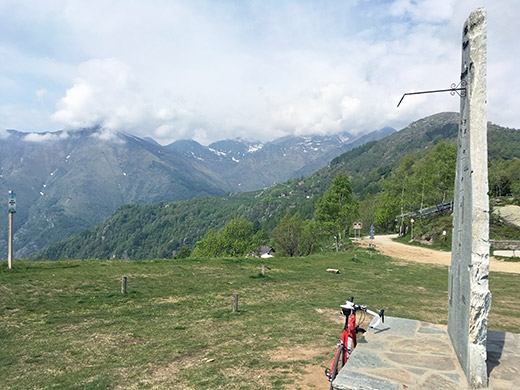 Very nice views from where the monument is placed and thus had to take a few photos, here looking back from where I came up.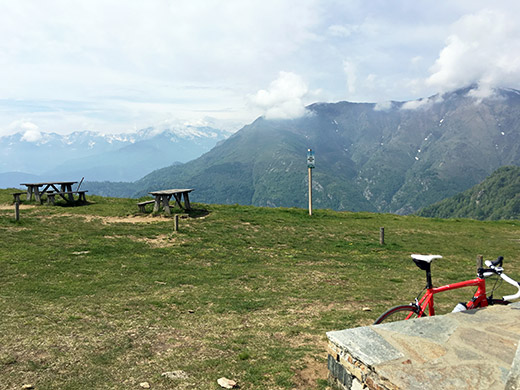 Here I look across the valley up to Angrogna. One could climb up the other side there too, but the asphalt ends lower.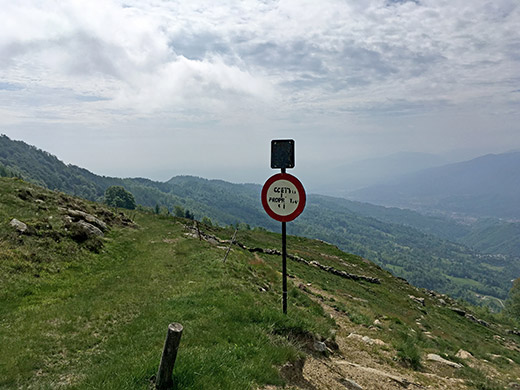 An alternative road back down? Do not think so. It also looks oddly non-steep down there, which is not quite the truth, but part of the road only descends gently as there is a somewhat long stretch going into the valley after the initial rather regular climb, and that part is gentle for sure before teh last little part up where it climbs more regularly again. It is not a very hard pass, but it of course depends on how hard you push on.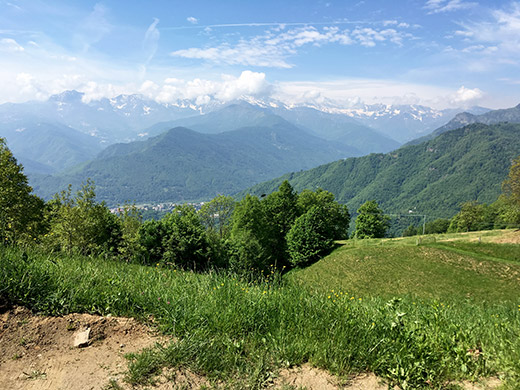 Many nice views on the descent and this is after passing through a wooded section with a less good section of the road.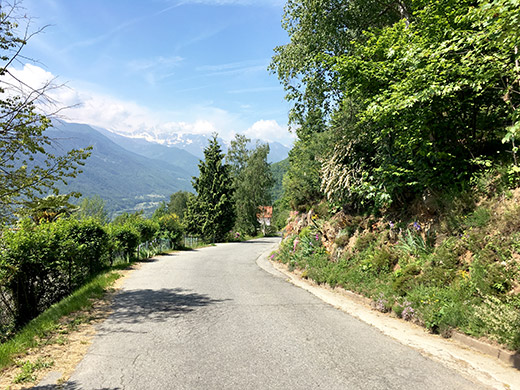 Quite nice here just above Torre Pellice also, looking up the main Pellice valley.
This pass was far away from other passes left to visit, so now we had to take a long ride to get near the next passes of interest, which really are mostly now in France. So down I went on the usual road along the mountains toward Cuneo. Stopping in Saluzzo (357m) first again for a coca-cola and something quick to eat by a Pasticcheria on the main Corso Piemonte road, that I then continued along through the walking area in the centre. Then down to Busca and I stopped again as I needed to see a toilet and wanted a coffee also. Then took the wrong big road south and then back toward the mountains again in a triangle to Caraglio. Before getting down to Borgo S. Dalmazzo I found the short-cut road to Roccasperva, which goes a bit up and down. I was close to a car on the first descent, but all went well.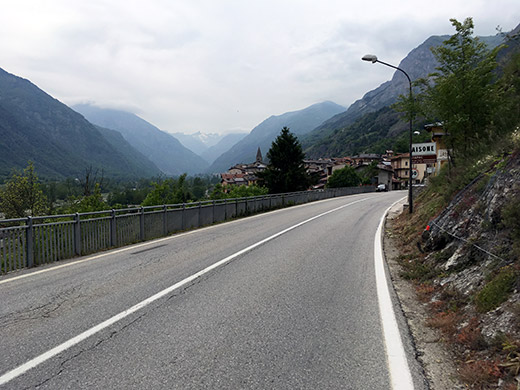 Up again on a road via Castelletto that seemed a bit wrong from my memory, but it was right and soon went down to the main road up to Demonte and Vinadio. I kept to the main road to Demonte which I had not taken before. Demonte is the start for the climb to the impressive Colle dei Morti/Fauniera (2481m), but not my way now.
Next up I came to Aisone and I stopped for this photo and the weather started to look less good. Hard to tell from the photo and being there what the weather might be for the rest of the day, but I had this valley to climb, so whichever way I was going nowhere but ahead. I was also looking forward to escaping bad Italian roads (so much different from earlier years when I always looked forward to escape the French roads and get into Italy). The roads before Saluzzo was to be used by the Giro d'Italia the day after I went there (or possibly two days after), but they had not fixed some bad parts of the road where I basically had to cycle in the middle of the road. Apparently not all roads get fixed for the Giro either these days. The photo gives a sense of impressive task ahead and so it felt, which was nice. Time was running away, but I just need to go on. I stopped a last time in Vinadio where I have stopped before when climbing up the Colle della Lombarda/Col de la Lombarde (2350m), which is also quite impressive from Vinadio. I had a local cake which was not so good and a big soda.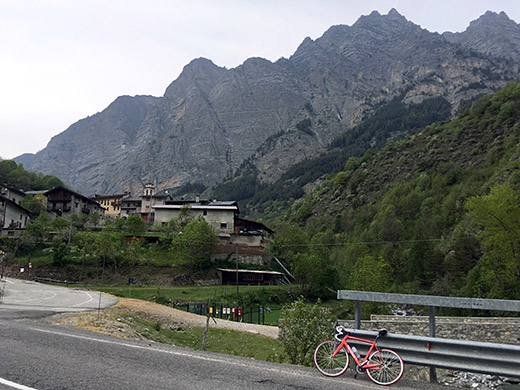 The climb ahead is going up to Col de Larche/Colle della Maddalena (1991m) and this is not a very hard and steep climb, but it is a long one and I did not really see any cyclists up the road this afternoon. This pass is also not allowed to be cycled over on a stretch down on the French side, but as there are no alternatives when arriving there I think it is few cyclists that obey this, but it is good to be aware of this so one could judge for themselves (I was however climbing that side also once and had no problems so I was not worried about that).
The road only slowly starts to climb and the photo here is from the first more clear climbing section up the pass (Pontebernardo), where the mountains are closing in on you. For a steeper climb one could climb on a steep road up between the houses in that little village, but I was lazy and took the good road around.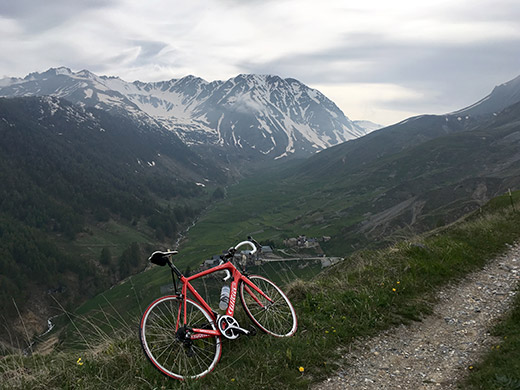 Eventually after a bit more flat road and some climbing up a few serpentines, I came to Bersezio (1618m) and now I had thought to go up a side road here, which seemed a bit of less than smart choice now when the clock was getting late and it was around 18:00 and I still had a pass ahead to climb and then to find some place to stay at for the night, but I was curious about this climb and wanted to do something more interesting this day, so up I went on a small road to Ferrere/Ferieros. This was an exciting road with varying quality, but no problem really.
It was getting a bit chilly and the weather was slightly gloomy still, but the road was charming and the scenery got very nice as I reached the turn-off for Ferrere. Here the road is asphalted down to the village that looked rather abandoned for the season, but maybe not totally. The other road at the fork here (see photo further down) is a gravel road/track continuing up the mountain toward France, but eventually turns into a footpath before reaching France, where one comes out not so far from the famous Col de la Bonette. I did however continue a bit on the gravel road as I had noticed a pass located not far ahead along this road and over 2000m height. Unfortunately the track was not that good initially so I dismounted and walked up like 800m to the pass which took 15 minutes. Here is the first photo from that track up to the pass above Ferrere.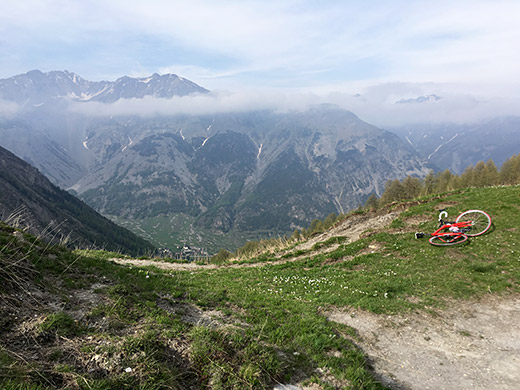 Here I have reached the Colletto di Ferrere/Ferieros (2044m) and found no way to have the bicycle stand up at the place for a photo. Here I get a glimpse down to Bersezio where I started the climb up here and now it looks rater far away even if it is only 5.6 km up here.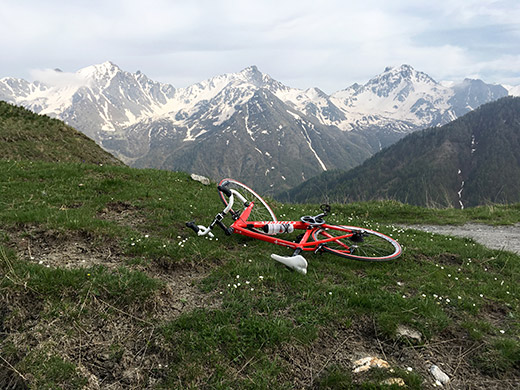 Here I look back across to the high mountains above the road up to Col de Larche/Colle della Maddalena.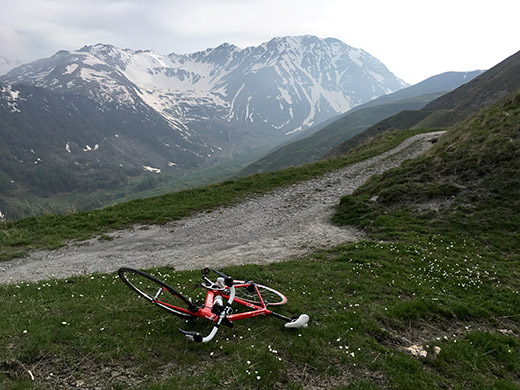 And here I look ahead up the mountains toward France.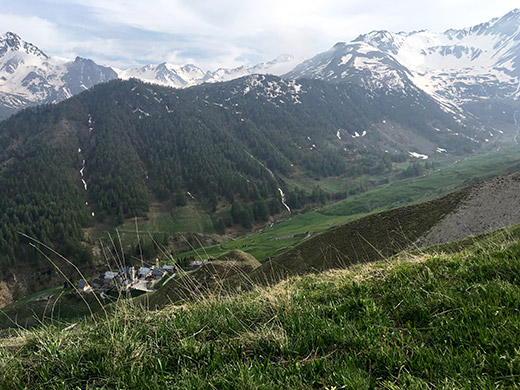 Here is a glimpse of Ferrere and the French border mountains to the south.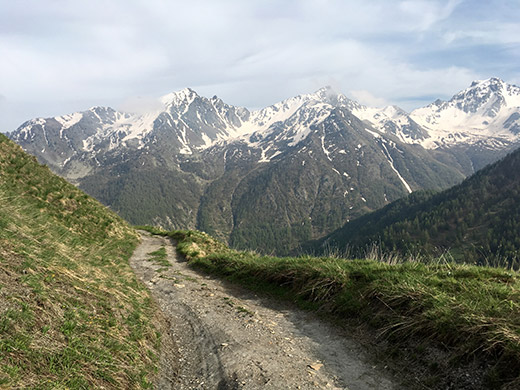 Here is a view of the track and up here it was sort of possible to cycle on, but it was a short stretch so not much time to save.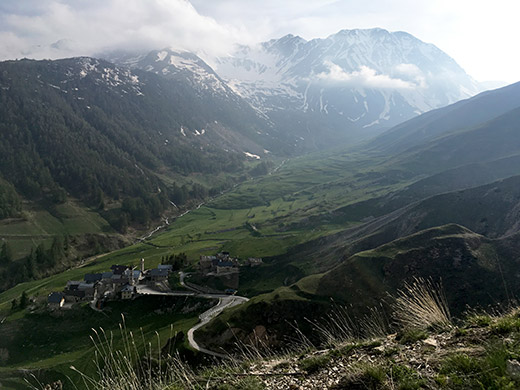 Here is a better view of Ferrere looking up the valley to France and now the weather started to get better all of a sudden, so wanted to take more photos. Now it was very nice up here.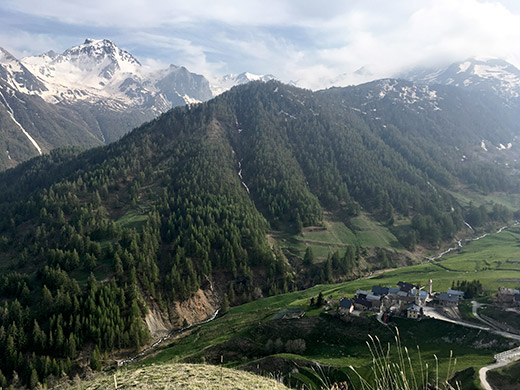 Thus another photo and I could not decide which of the two to use, but the first above looks nicer I think, but this one also shows a higher mountain and clearer view of Ferrere.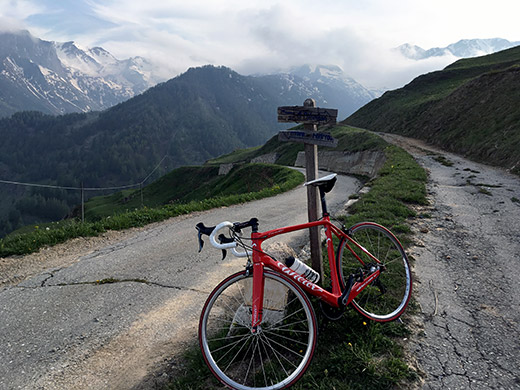 Finally back at the road fork and one of my favourite photos from this little tour.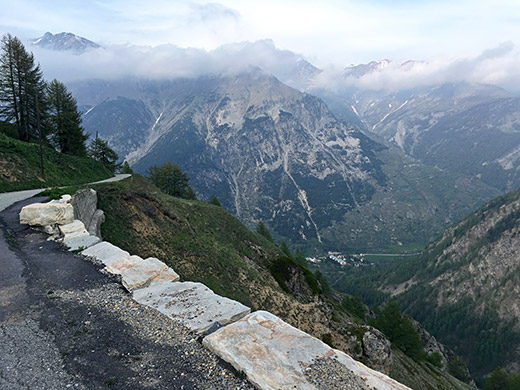 This is the type of road where they do not put up any warning signs as it is dangerous enough so you will know it anyway! Very nice road.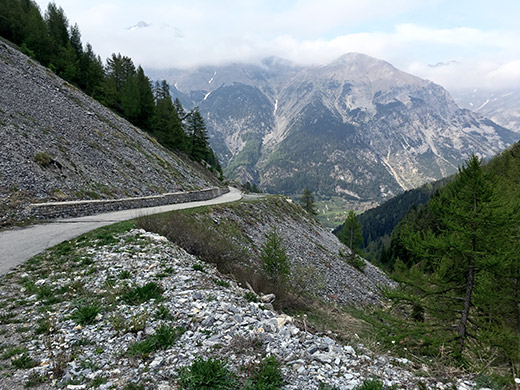 Here is a good section, but there could be stones rolling down the mountainside here.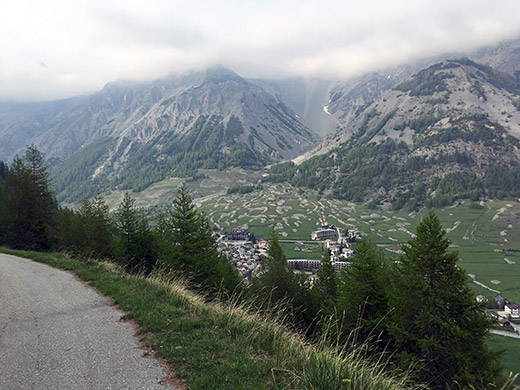 Here you can see the strange stone heaps up the mountainside from Bersezio.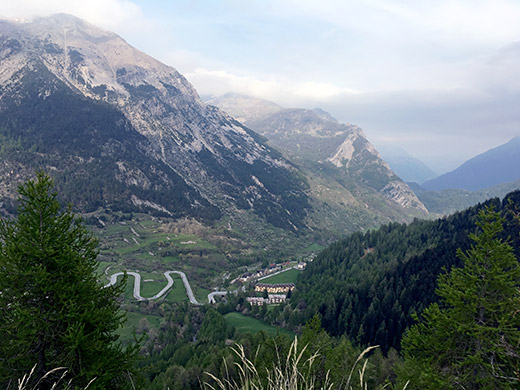 Before coming back on the main road I had a photo down the valley with some serpentines up to Bersezio.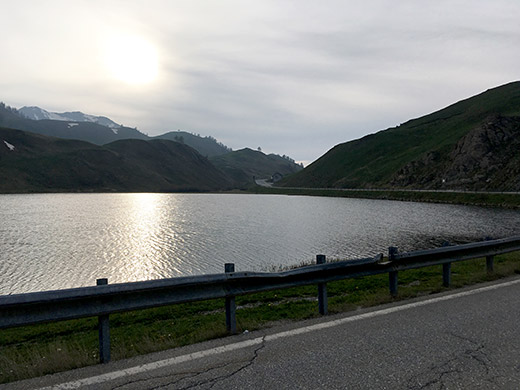 It was still a bit of a way to go to the Col de Larche/Colle della Maddalena (1991m) via Argentera (another dead (for the season) village) and then a last set of nice serpentines to the pass area. Here I am up at the pass on the Italian side and it is a really nice and lonely evening here just before 20:00. Not exactly any cyclists around.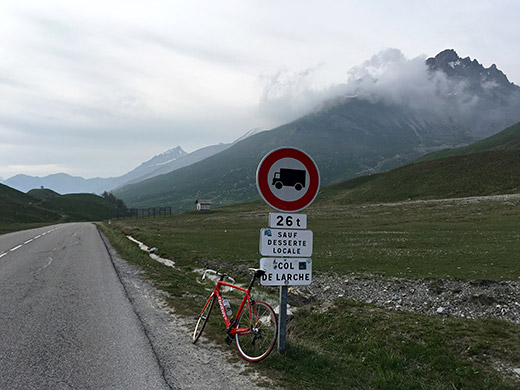 Down over on the French side and the only little pass sign I found this time here. Quite nice luckily on the French side too, but a bit chilly in the evening on the descent. I went somewhat fast down to Larche where I had planed to stay the night at first, but it looked gloomy and cold and the main hotel was closed, but I knew there should also be a cheaper gîte/auberge, but did not want to stay up here and it felt like a good idea to get a bit ahead even if late, but it was downhill so no big problem. No I had to pass by the forbidden zone and it has a large sign so even fast road cyclists could catch sight of it ;-). I noticed later that there was indeed a lot of perforation on the road from falling rocks and even had one car honking at me, but likely not for driving there against the rules, but for avoiding the holes in the tarmac. It could be dangerous, but they should rather say you go there on your own risk than just forbidding cyclists altogether which makes little sense.
I looked for a place on the way down to Jausiers, but found nothing that looked open. In Jausiers it turned out that some places were also closed, including one gîte I had stayed at a long time ago on my first passage over the Col de la Bonette. Luckily there was another gîte just a bit further down (I think it was another one). I was too late for eating at the place, which otherwise would serve dinner (do not understand any of those gîtes as they only seem to be open when you do not need them). Anyway the man was nice and there should be breakfast and there was an open restaurant in the village.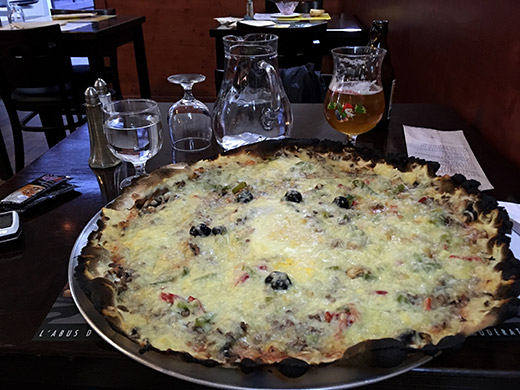 The restaurant was open late so no worry there and it was more of a pizzeria. I had a great pizza and certainly the biggest pizza I have ever seen in France! Quite impressed and they also got good Belgian beers, so a nice welcoming to France and I had been lucky again. The Giro d'Italia would pass by here in two days and I was wondering how come they did not have any more people at the gîte and the man was wondering the same, but likely there would be more people the next night. I think some people at the restaurant was somehow related to the Giro as they talked about cycling.