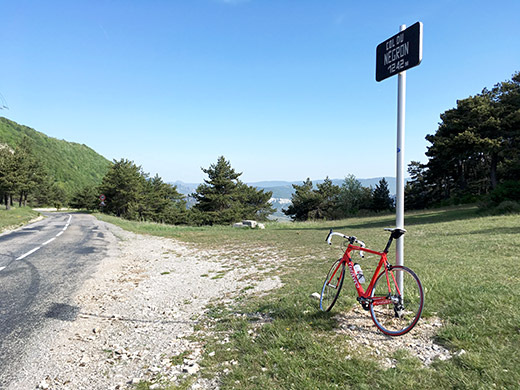 From Les Omergues it was a short distance to the Col de la Pigière (968m) pass for the straight road ahead west. I turned off here to climb over Col du Négron/Col de Valaury (1242m), which is a nice little climb on this side, but a rather dull and long slowly raising road on the south side.
This is not the fastest and closest way to Sault, but nice to collect yet another decently high pass in the area.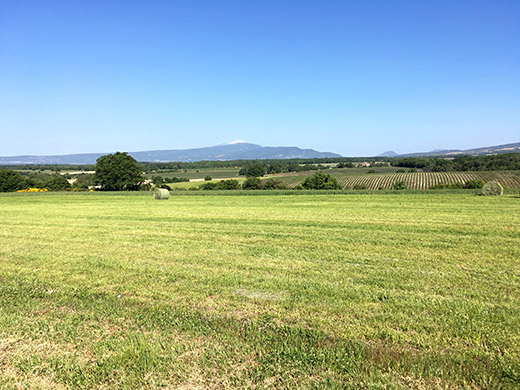 In this photo I am somewhere around Revest du Bion, where I got the first glimpse of Mont Ventoux and it indeed looks rather remote from where I am. Still a bit to go. I continued to Sault and had a coffee before continuing. I only climbed Mont Ventoux once before and then from Malaucene in 2008. But did not want to climb from Sault as that is the least exciting and least demanding of the three climbs up there, so over to Bédoin.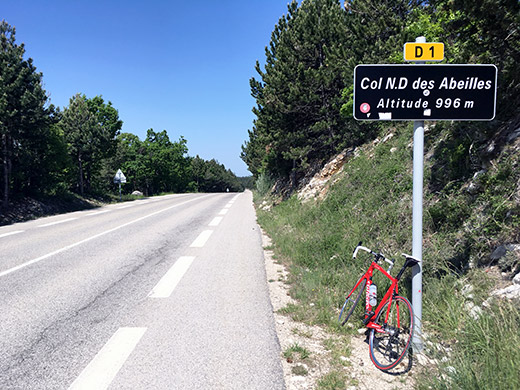 The road to Bédoin is not exactly flat and involves climbing the Col de N.D. des Abeilles (996m). Stopped in Bédoin again to prepare with a coca-cola and cookie or something such at a patisserie.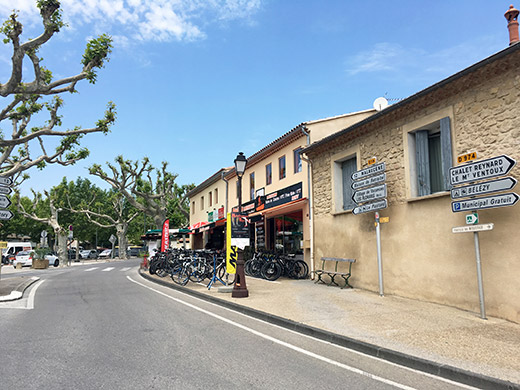 Here at the famous Bédoin start. One could take a slightly shorter road up not far from the start, but it is not a big difference and the road is small and awkward, so decided to just take the normal road. This time I glanced at the clock to see roughly what time it may take to get up, but did not properly time it. But it was 1h 45mins or possibly 46mins. I was up at around the same time or a bit faster from Malaucene in 2008. I wrote 1h30mins there, but really did not look at all that time, so it could have been the same time (at least it was between 1h30mins and 1h45mins) and it is about the same climb, but maybe the Bédoin climb is slightly harder.
According to salite.ch the Bédoin climb is a little longer but slightly less steep and less hard, but the Bédoin is very flat at first, while the climbing starts quickly at Malaucene, so hard to tell, but both are roughly the same and the salite profiles is not the same as the truth about the relative difficulties of climbs and should be taken with a grain of salt. Generally they tend to undervalue length of climbs, which could well prove harder than steepness, but there are so many factors and salite is better than most other attempts to compare climbs. The salite.ch Malaucene profile and here the Bédoin profile. The heights are also a little wrong there.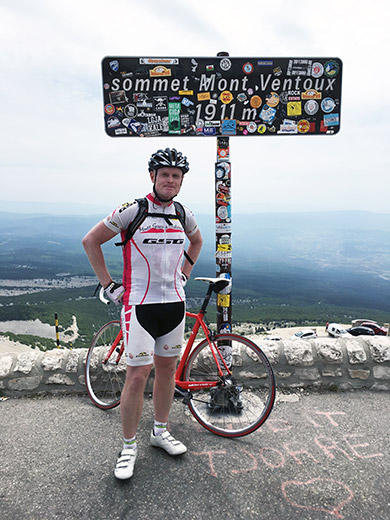 I went a bit slow at the first part, but then got a bit more into the climbing a bit further on and pushed on harder. While climbing the Malaucene climb I talked a Danish rider for some part, so have a chance to improve on my times up there from both places, but am also getting older, so maybe not. Anyway the climb is a bit hard up through the woods, but did well there and that stretch is not so exposed to the sun. A Dutch facebook friend might have seen me going up as he was going down there the same day.
Higher up on the last part to the mountain another guy caught up with me and I hanged on to hime for a while, but for the last kilometre I had to let him go ahead. Said hello to him at the top again. Exchanged photo with another guy at the top, where there is always people getting photos all day long in fine weather.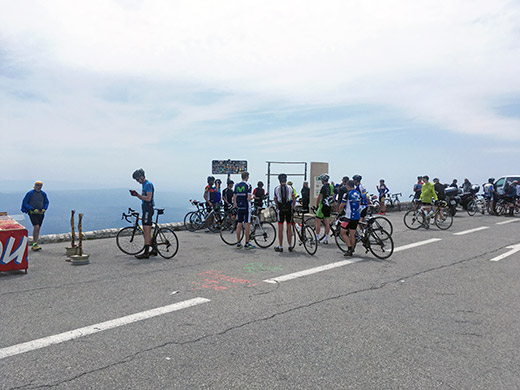 It was a nice day and many people up here as it was a Saturday. I fooled around for a while taking some more photos and trying to document things differently from my last visit. As you see here I was not the only cyclist up here this day, but likely there was even more cyclists up earlier in the day.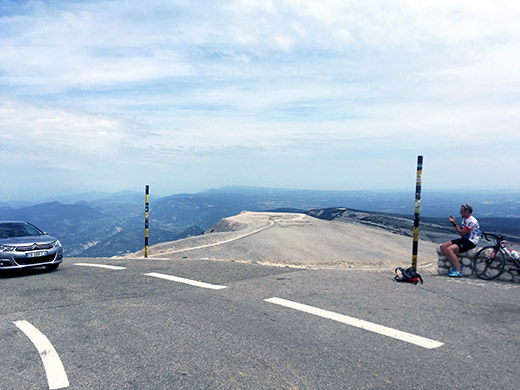 Nice views back down east from where I started this morning.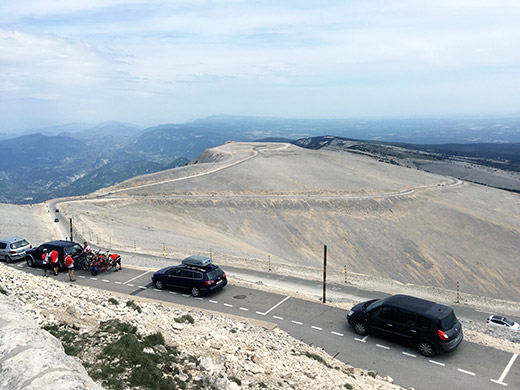 I could not decide which of the two photos with similar view to keep so posted both here.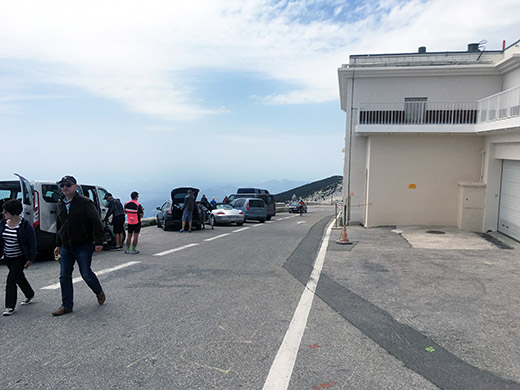 You are supposed to go down this way and not up (one-way), but like the guy coming up there I also went up that way as it is the shortest when coming from Bédoin and Sault. Standing here at the highest point open to access and it is below 1900m contrary to popular belief – Mont Ventoux (1898m) from my best approximation using different sources and measurement techniques (could be +/–2 m).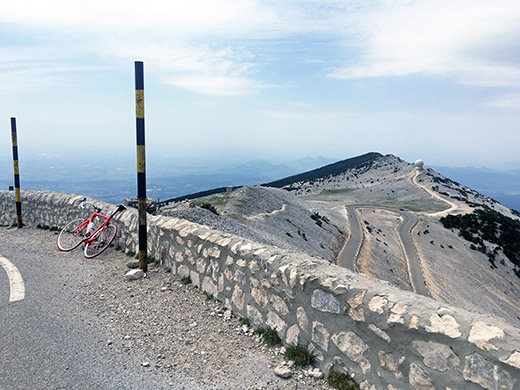 Looking west down over the road coming up from Malaucene. Not any high mountains to be seen in this direction as Mont Ventoux is the remotest last mountain out west of the Alps.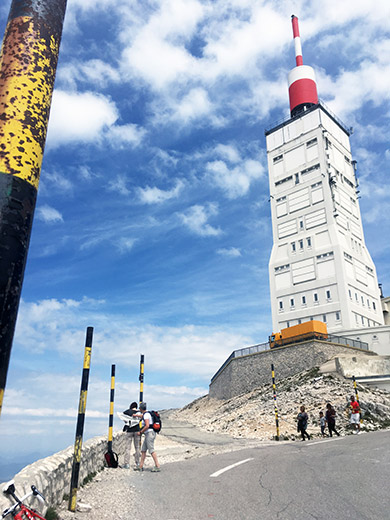 The Mont Ventoux twoer in close-up.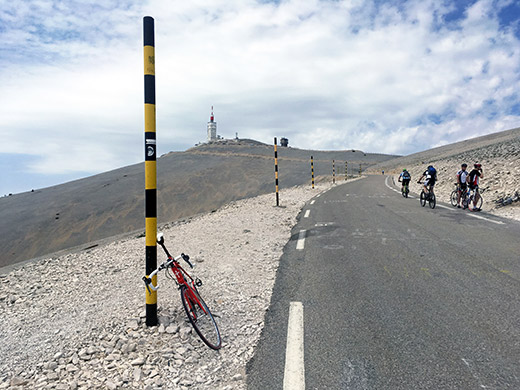 Stopping on the way down, below the Col des Tempêtes (1829m) pass here, by the Simpson monument that I somehow missed seeing on my previous visit (maybe just enjoying the views instead on the way down). Simpson died here on a stage in the Tour de France a long time ago now as virtually all cyclists know.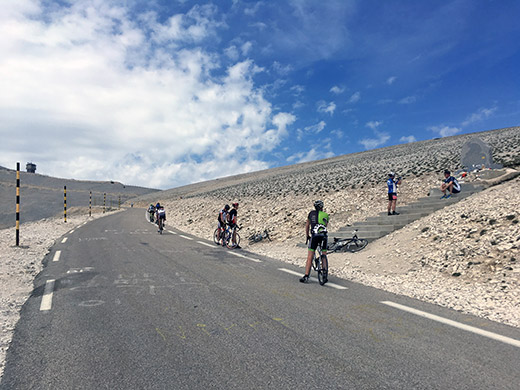 And here the actual monument.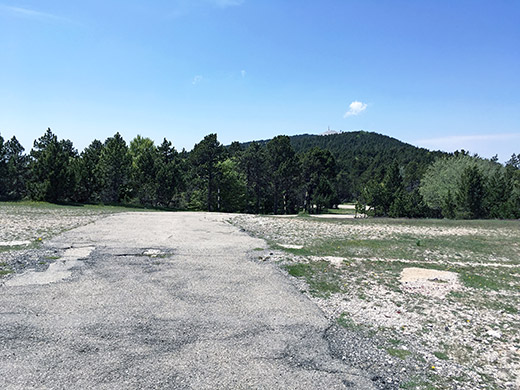 Now what brought me to Mont Ventoux again was actually only partly to climb it also from the other classical side, but also since one of the highest as most remote of the Alps passes I had missed to visit on my previous travel here (at which time I did not think I would also go after all +1500m passes). Pas/Col de la Frache (1575m) was actually higher than the previously mentioned Colle Vaccera and Col du Fanget, which I forgot.
This little pass is at the top of an obscure side road up from the road from Sault. Probably only of military function and the road is closed off to motorised traffic early on. It is a bit steep, but not very and rather short. The road ends just above the pass at around 1580m from where this photo was taken and the only place where you can see Mont Ventoux from up here.
A nice relaxing ride back down to Sault now and another stop to have a beer and ice cream, I think.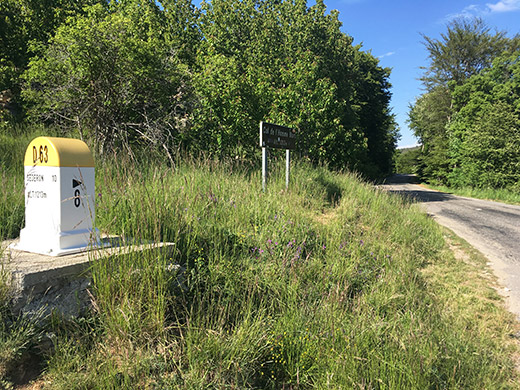 I was not really anywhere over with the cycling this day and had to get going. I continued to stick to my plan and cycled up to Col de l'Homme Mort (1211m), which despite its moderate height came across as more of a climb than the Col du Négron would be from the south. Still it was quite easy. Only saw a mountain biker on the road here.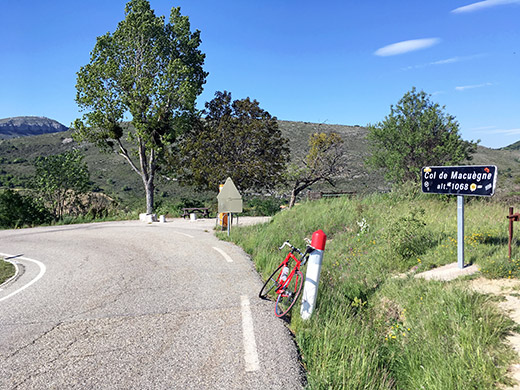 It was a nice road over Col de l'Homme Mort, but it was nicest on the north side and especially when you get down to the crossroads at Col de Macuègne (1068m).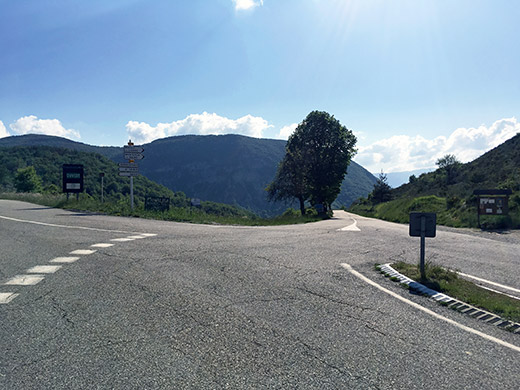 Here looking west at Col de Macuègne and the road on the north side of Mont Ventoux.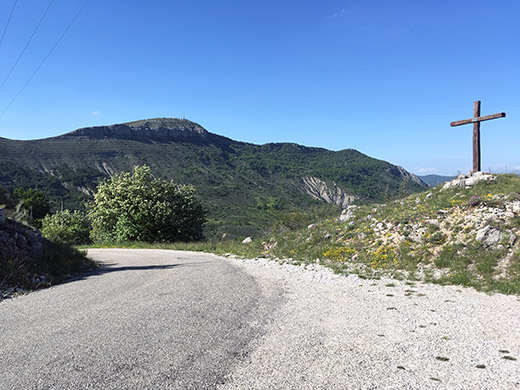 There is a small road going off just on the east side of the pass up to an astronomy observatory. They have signs of the planets with descriptions along the road. I mostly went up here to a supposed pass called Col de Bays (1125m), which might not have a proper pass name, but the Club des Cent Cols recognises it. Did not pass by all the planets in the solar system, but several of them and did not continue up to the observatory and the road for the last part up there might be rather steep (so it looked in the distance at least).
Now I had a long descent and turned off north to Séderon (797m), where I stopped a last time this day before the shops closed to have a coca-cola and an apple. A nice little village and now I had to make up my mind if I really had time to take a long detour just to get over the Col de Perty as I wished to have climbed also. It was around 18:00 now and the road around and over Col de Perty was long and involved quite some more climbing. Still I thought I was close to the end of this little tour and the weather was fine, so why not try and make the most out of it, so I hope for the best and tried to keep a steady speed. First out west I came over the almost invisible Col de Mévouillon (889m). After yet a long stretch I came to the nice area of Saint-Auban-sur-l'Ouvèze, where I went around the mountain and started on my way back east.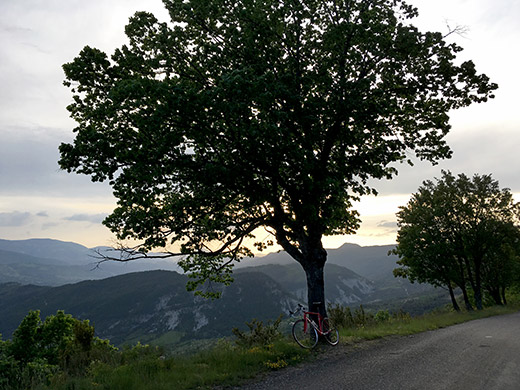 The D65 east is a long-winding road that is very little used. Just before the final climb one reaches a first pass, Col de la Chapelle (868m), and I filled up water just before here at the last houses on the way up to Col de Perty (1302m).
Col de Perty is one of the higher passes in the area and marked as scenic on the Michelin maps which there are good reasons for. I think it has been important historically also. Very nice serpentines to cycle up in the late evening here as you can see in this photo rather high up (well, you do not see the serpentines, but see the views are nice!.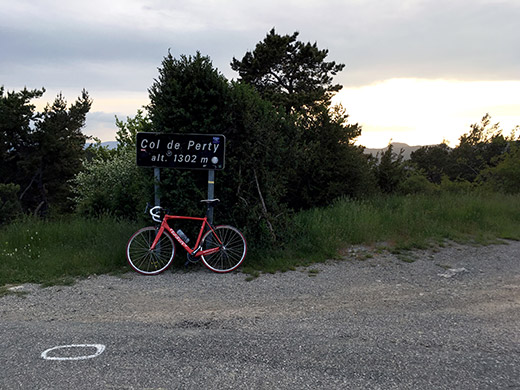 Finally at the pass and still it is not dark.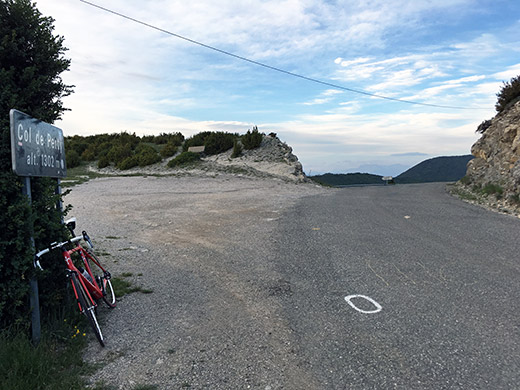 Another photo looking over the pass.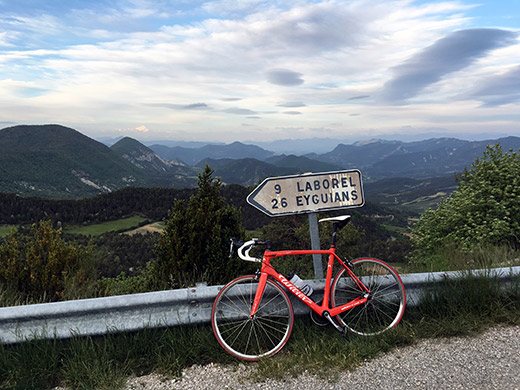 And here the views east from the sign you can glimpse in the photo above. Looks very inviting even if a bit lonely. Now it was just to hurry on down and try and find a place to stay at for the night. I first saw a hotel which I had thought was the one I had tentatively planned to stay at, but it looked closed so I continued and it turned out it was an earlier hotel than I had thought. I actually later found the hotel I had seen while searching for lodging in the area beforehand and did this whole day actually almost exactly as planned, which does not happen often.
The hotel, Le Céans in Les Bègues was a quite good hotel with very good food and beer. It was not so cheap though (not expensive either by French standards), and sometimes one have to pay a bit more and it felt worth it as it also was the last night out cycling on this trip. A very successful and nice day this, quite contrary to the last next day.