It took a terrible time before I eventually left off from Bolzano in the morning. I was away at 9 a.m. but then decided to go down to the city and have a little look on a few things. I went into the tourist information bureau and took some pages of accommodation around the area I was heading for (nothing that I needed, as it turned out, as I had to amend my plan again later that day). Then I also decided to visit a bicycle shop and thought that I perhaps needed to change my red foot cleats for the shoes. However, I needed to get some new screws (which was really what I needed most anyway), but as everywhere screws fitting for Sidi shoes are not easy to come by anywhere in the world (next time I will not buy Sidi for this simple reason). The man in the shop misplaced one of my own screws and could not find any good substitutes, but eventually it seemed like the new cleats were sitting all right and I went out of town, only to notice that they had not been fastened properly (which is no good). First I thought to forget about it, but then I noticed another shop just nearby where I had stayed for the night (which was on my way out of town) and got some help there and they also had some perfect screws (but not enough to replace all …). So almost two hours of the wonderfully sunny morning got screwed, so to speak. Now I was desperate to get going!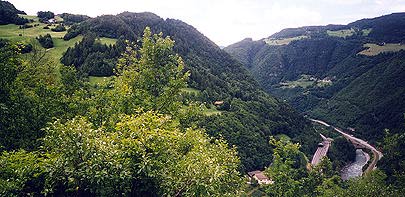 Today was going to be the GREAT dolomite mountains tour and I first planned to go up the Sella pass via Castelrotto and St. Ulrich/Ortisei. However my map was not quite clear here and mislead me so I missed the first road up to Castelrotto from Bolzano and instead went the quite boring main road following the motorway in the direction of the Brenner pass. After a while I understood I missed a very nice road up there in the mountain beside me and was determined to take the next left …. I came upon an old and extremely small railway station (abandoned since ages it seemed like) with a sign reading Stazione Castelrotto and beside it was a wooden covered bridge leading across the river and up over the motorway. I do not think it was possible to drive that road with any kind of car, but apparently it went up to Castelrotto (as some people in car parked by the main road told me). I went up there and it turned out to be the steepest road I ever travelled in the 7 days. Every turn of the pedals was a fight as if it was for life (it was for not falling) and I was going in less than 6 km/h upwards. It should be noted that even though I had been wise enough to put on a new cassette (12-27) I still had 42-52 on the crank and it would have been better with 39-52 really. But up the mountain roads it usually was enough with 27-42 as the easiest position of the shifters. It is hard to tell what the real percentage of the inclination of the road was at. I could swear the signs were often wrong and often there did not appear signs where it was evidently steeper than on places with signs. I would think this little road up to Castelrotto had an inclination angle of around 20-25% and it was also a very bad road. The only place where it was actually flat was at the only house along the road. However, you WILL have to stop for the dog there anyway. He made it totally clear that I could not just drive by and get away with it, so it took a while before he finally permitted me reluctantly to proceed. It is amazing to see people working in those steep hills, that are full of apple trees everywhere you go! Maybe grapes here and there too. I had read that many people had died working at places like this and it is not very surprising. Wuthering heights, indeed!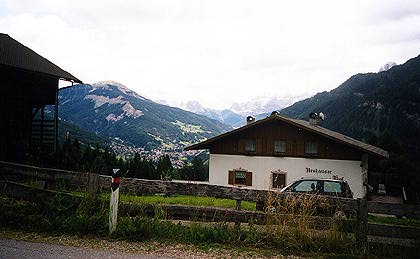 Finally I got on the bigger road up to Castelrotto – only I mistakenly went down back in the direction of Ponte Gardena/Waidbruck and descended like 200-300 meters before realizing the harsh truth. Then I tried to get really fast up to Castelrotto to perhaps find an open shop there before such closed at 12.30, but I was a few minutes too late and anyway did not see any shop. I now went the right way up in the direction of St. Ulrich, only it was more uphill than I thought. The reason for this was that there is a pass height on the way there. I think it is called Panider Sttl. (according to a much more detailed map) and is 1443 meters. You should know that Bolzano is situated at only 262 meters, so it is like a 1200 meters climb, which is pretty much. Some people only think of the height of the passes, but it is really how many meters you climb that ought to count (and to some degree how steep it is or the "average steepness"). Well down (as it was) in St. Ulrich the weather suddenly had become very cloudy and the rain was threatening. I had a Meraner wurstel and a coke at a square in town.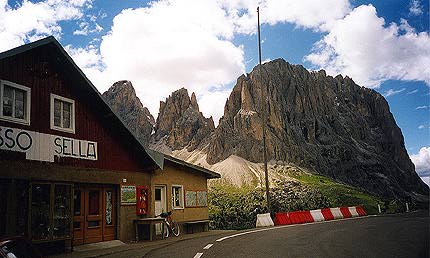 At last I was really heading, delayed and already a bit tired, toward the truly great dolomite pass Sella. It was indeed a tough climb up there (I think), though I realize it is steeper from the other side up (but it is also shorter on that side). I now got a real taste of what to expect ahead of me in the days to come. There is a lot of constant pressure on the pedals, that most people are not used to unless they are professional cyclists (which I am absolutely not – I have never taken part of a competition or joined a bicycle club, even though I have now begun to give it some thought). (I bicycled around the next biggest lake Vättern in Sweden this year for the first time and there was over 15 000 other people taking part in that amateur exercise to go those 300 kilometers. I was indeed in very good shape then and was happy to get in at 9 hours and 2 minutes, thus being among the 60 fastest :-).) But I was determined to reach Sella without stopping on the way and so I did. It was at least as beautiful up there as I had imagined and it was now sunny a very sharp sunshine (I should have put my sunglasses on earlier, but first did it on the way down Sella). I bought a few soft drinks and a cake at the passage had a photo. They almost always have some open eating place at the top of the big passes! Sella is located at 2244 m. I soon realized that I should hurry on and get my yellow rain jacket on me and get on my way. It was very warm on the way up to Sella, but up on the pass heights the winds blow across the mountain (or meet, it seems like) and it could get very chilly at the heights. I soon realized it is common practise to stop at the top of each pass and take on a wind/rain jacket. It could get very cold on the way downhill. On the way down Sella I met hoards of road bike cyclists who had apparently been given a vacation there by their team – how nice of them! They had a bus in the slope. One of the first said something to me, but (perhaps thankfully) I do not understand much italian – must have been some nasty comment on taking the easy way or something ;-). It is both cool and cold to go down those serpentine roads! One thing I did not think so much about before going to the dolomites – it is actually somewhat physically (and mentally) demanding to go down the passes as well because of the heavy use of the brakes and the precision and tenseness that is required at all times (sometimes it is better to stand up in order to be in better control of the bicycle), if one wants to go down as fast as possible. One has to be totally in focus and fully aware all the time.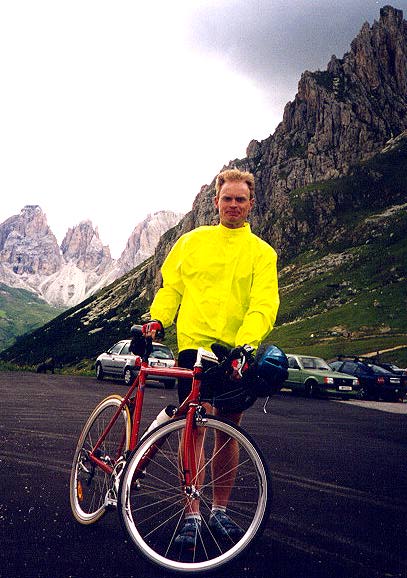 After a while I reached the way going up to the Pordoi passage. There I could see Canazei below me (a tourist village at 1465 meters). The road up to the Pordoi was an easy climb on the Grosse Dolomiter Strasse as that road is called – it is the main tourist road in the dolomites. Despite that this was a Saturday in the Summer I did not think it was so very much tourists there, so I was happy. It is clearly one of the most wonderful roads in northern Italy and it is also extremely good paved (an Italian I met later thought that perhaps that road was paved anew every year – I asked about it as I later came to understand how often they have to repair those mountain roads who are so vulnerable to the extreme conditions up in the Alps). At Pordoi I remembered that I should really try and find someone to take a photo of me, so for the first time here is a photo of me (another version could be seen by clicking the photo). The Pordoi pass is at 2239 meters.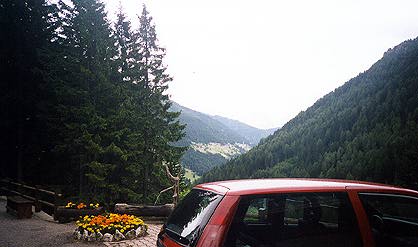 Down Pordoi I tried to go really fast but the road was deceptively good so I was close to driving off it. I was also trying to hurry down as I noticed rain was on the way and it came faster than I expected. I got terribly cold in the rain and was shaking and simply had to stop after a little while. I stopped by a small shop that was like an oasis: it was so amazingly quiet there and everything was orderly placed and all fruits looked perfect (and tasted so too) and no visitors. The shopkeepers only spoke german, I would believe … – people up there apparently do not see themselves as Italians, but rather as Tyrolese (I may be wrong, I did not ask). I took a photo outside the shop (and yes, someone just arrived in the car that came in the way for the photo). You can also see a little wooden "thing" there – when I asked if I could wash my hands somewhere they turned on water in that #148;thing". (My sister later commented that it is a usual thing up in the Alps.)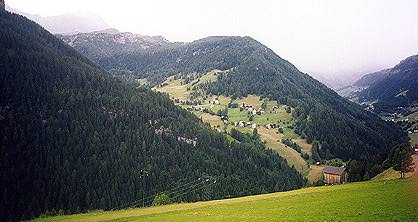 The weather suddenly where better again and the road was dry within a short distance. On the way down toward Pieve di Livinallongo it was really beautiful and there I also caught sight of the highest of all the dolomite mountains – the Marmolada at 3342 meters. The dolomite mountains are surely spectacular even if one has seen them in pictures before they still impress very much when seen in actual life. No wonder these mountains are also a paradise for mountain climbers. On my next photo you could actually see one of the wonderful views I had on this road and perhaps glimpse Marmolada (it is only seen as a very weak shadow above and beyond the other mountain tops here). Just after Pieve di Livinallongo (it must have been) I turned in on a smaller road going south to the road going closest to the Marmolada (the Pso di Fedaia road). But I did not take that road (which goes back to Canazei, but instead went down via Alleghe (979 m) (a terribly well-situated tourist village, that probably have the most impressive dolomite mountains enclosing of all villages up in the Dolomites). I went down to Agordo (611 m) (this is the main road down to Belluno/and then straight down to Venezia), as planned. I stayed there and had another pizza, which was now already my favorite cycling food. That pizza place stays in mind as the most "italian" of all restaurants I visited. (Yes, I know, I just spoke of Tyrolese etc. – but such things also change as fast as the weather up there.) No one understood a word english and everyone was talking loud as if they were at home; some locals were hanging outside; kids were running around inside; people looked curiously at you; and everyone seemed to know each other somehow. It had now begun to rain a little again (but it soon stopped).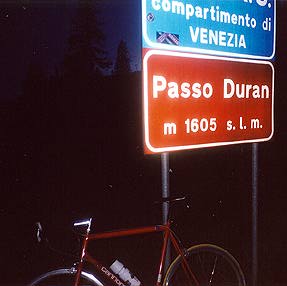 Now, I had to make up my mind as to whether I should go further along the planned route or stay over the night in Agordo. It was now close to 8 p.m. and the twilight were just announcing itself. The totally ridiculous original plan was to go at least to Cortina D'Ampezzo (the famous Olympics game town) that day (actually I had even planned to go to Misurina or Toblach/Dobbiaco) – get a look at a map and you will write me off as an idiot for good. However, I did decide to go over the Passo Duran (vaguely remembering having read that the dolomites looks best at sundown). I had to work hard to keep myself warm while going up to the Duran pass. The road was normally steep and it was very quiet. When I had climbed the most part of the road the landscape behind me opened up and I realized how beautifully situated Agordo also was – I saw that even upon arriving there, but now it was even more clear. It was so extremely beautiful up there I hardly wanted to look in front of me. I got the feeling that I now understood the charm of fantasy literature and that views like this must have been what inspired such literature. This was actually the most beautiful road I went on during the seven days. I was really happy I did not decide to stay in Agordo! (Though I felt a bit sad to have to leave such a wonderful place.) The last photo for the day is at the pass height at 1605 meters (as you see). On the way up I saw some of these "mountain goats" warning signs and here was the only place I met some of these animals in the street, who got terrified and ran away quickly. I saw the sun in the highest mountains tops on the way up to Passo Duran, but by the time I was up there it was almost totally dark and down from the pass it was totally dark and mostly forests around way. I also did not have any front light on my bicycle as I did not expect I would get much use of it and wanted to save the weight (I had a back light, which proved to be valuable in all those tunnels that are dark, but there were thankfully no tunnels on this road). I was lucky and it all went fine, but I was close to run over a dog n my way down. I could not see the dog which was rather light in color against the road that also appeared light in the night – I only noticed the dog (running towards me) because the owner was yelling at it to come back to him. At 10 in the evening I arrived at Forno di Zoldo, where it was a bit chilly and went into a two star Pension Hotel to get a bed to sleep. I am not so sure it was a good decision to stay there, but I figured I would not be able to have all night trying to find a place to stay and this chap only could offer me a 4-bed room for 70,000 lire (what I also paid at most and at three other places, all incl. bath and breakfast, but still a bit expensive, I think). I trying to argue against him, but he said "but if four young people happen to come in here I could get much more for that room" – a funny guy (rather "older german speaking man") … . I had a big beer (Franziskaner) and also an ice-cream at the two open (?) places in the little village and then went to bed. It was in fact no more than around 155 kilometers I went that day (though it surely seemed longer) – but this was also the shortest distance I went in any of the days. However, I did not climb four pass heights any other single day. Next day is Day 4.
Day1 – Day 2 – Day 3 – Day 4 – Day 5 – Day 6 – Day 7