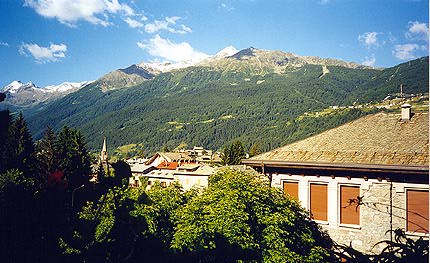 The last bicycling day! I was now beginning to feel that this was normal: to go up in the morning and have a steady breakfast and go cycling over high mountain roads all day long. The breakfast was good (they put both a pot of hot coffee and a pot of hot milk on the table, which was just what I needed, plus a lot of bread and marmalade). For fruit I had to go down to the city and I also had not sent any postcards, I now realized. It takes time to find good postcards, buy stamps and then write postcards! I think it was around 11.30 before I finally got on my way up to the Gavia pass. Bormio is a really nice little city, like so many others up in the Italian mountains. Bormio is located at 1125 meters height.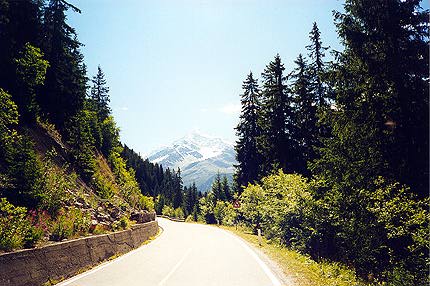 A sunny morning again and good weather all the day (just like the day before). I thought it was not so difficult to go up to the Gavia pass, but it might have something to do with getting used to these long and steep climbs. I also learned from the italian the day before that the Gavia road had been paved since two years back all the way (something I was not totally sure on after reading about it elsewhere). The steep part begins at Sta Caterina Valfurva (1738 m). Before this I took the photo just beside here and it is apparently the Punta S. Matteo mountain top (3678 m) one sees here (it looked much better in real life!). I was a very beautiful road to go up and it seemed so nice and still – it was difficult to really comprehend I would be in Milano later in the day. Just behind the corner where I took the photo, cows were walking up a terribly small path in the terribly steep hillside – I wondered if they would lose balance and fall down on me if I called at them.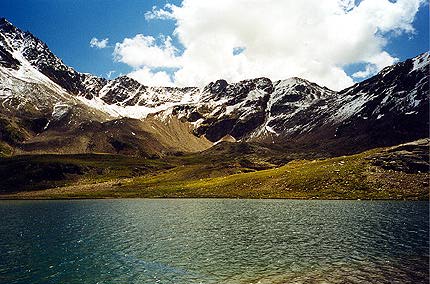 There were a few cars and a few road bike cyclists on the road. I had always winked a little at other cyclists I met, but well at the top of the Gavia pass I realized that it was now foolish as there were so many cyclists there that I have hardly ever seen so many at one place (unless it was a race). I believe most of them only went up to the Gavia pass from Ponte di Legno (on the other side of the pass). The first photo here up near the Gavia pass is the only photo I took while continuing to cycle (I was not sure I could take a decent photo while cycling and had not wanted to take a chance on that before or did not think of it – otherwise I could have taken a photo of the nice serpentine road up to the Stelvio pass without getting off the bicycle (though it might have been dangerous)).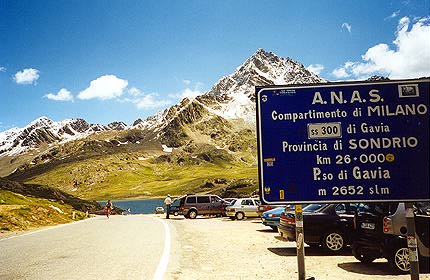 I reached the Gavia pass a bit earlier than I thought and took another photo there – the last photo and a fitting ending photo perhaps (there were nothing much to see later on). The Gavia pass is at 2652 meters height. It was a somewhat irritating road down to Ponte di Legno as I did not like the continuous bumps that the cut out (in the asphalt) rain draining grooves (?) produced. Here I let some other cyclists get away from me (as I am always trying to be somewhat nice to my bicycle and I was keen of getting to Milano that day). It was surely good that I had changed my back tire before this trip, which greatly reduced the chances of having to fix a flat tire on the way (which is also no good to get on the way down a serpentine road). Anyway the road down was after all okay. It was a bit steeper on the way down to Ponte di Legno, I think, but it was also shorter. Ponte di Legno, at 1258 meters, is actually situated higher than Bormio. On the big road down to Edolo I could almost sleep while wheeling down there in an even speed of just above 40 km/h on average. It was 20 km where it was only once needed to push the pedals a few turns. I tried to rest my head in my hand with the elbow on the handlebars … . Down in Edolo I tried and find a place to stop and buy something to eat, but it was a very sleepy town and I did not notice anything. I proceeded right down via Breno, Lago d'Iseo (on the upper side), Bergamo and straight to Milano.

I stopped on the way down to Breno at a cycle shop and now finally got my shoe fixed again and I also got some good help in taking the right way from Breno to Bergamo (one should choose the smaller road down to Lago d'Iseo). In Breno I only had a small ice cream (no shop open, I suppose) and then I went to the bank to change some more swedish money as I had begun to run out of the lire now. However after having to wait in line for 30 minutes the bank could not exchange the very common bill, due to some oddity in their computer system that they could not understand and I had to go and now all other banks had meanwhile closed down in all Italy. The banks in Italy are really extremely bureaucratic (almost like in France, where it is really almost ridiculous to try and get some help), maybe that is another heritage from their fascist past history, I do not know (the banks in Sweden try their best to be as unhelpful as they possibly can too, but maybe things will be better in this area when people begin to manage their money and bills over the Internet and when new businesses steps in).

Well, now I were beginning to get a bit tired and after Breno it was almost flat all the way until Milano. I went quite fast now as I had lost some precious time in Breno and the traffic became more and more heavy the closer I got to Bergamo. There is always a lot of other cyclists (always road bike cyclists) on the roads in Italy it seems like – I met plenty of them despite the heavy traffic on the road. I stopped briefly again in Bergamo and bought a one lite Pago juice to get some fuel to help me get all the way to Milano. The road from Bergamo to Milano (the straight one) is, yes, really STRAIGHT! At a few places one could not see it bent in any direction as far as one could see. The closer I got to Milano the more I felt the ache in my back and feet, and the last 30 kilometers I had to change between sitting and standing up continuously to cope with it. I was cycling into Milano just when it begun to be dark and turned on the back light at 9.00. At 9.15 I was at the hotel, took a shower and put on my travel clothes and wondered what had happened to my belt – it really was such a dramatic change. In the week to follow I guess I regained some weight though. I went and two pizzas that night. I cycled around 215 kilometers that last day.

Then I had to go and pack my bicycle to be ready to go up at 4.30 in order to catch the first airport bus at 5.20. I was not in bed before 2.30 and was really uncertain if I should be able to come up that early, but it all worked out fine. I was home in Sweden by lunch time.

Day1 – Day 2 – Day 3 – Day 4 – Day 5 – Day 6 – Day 7