As always, perfectly sunny weather in the morning! I had breakfast at the Pensione in Forno di Zoldo and the odd man owning the place told me I could not sit where I wanted and I could not take of the cereals from that table and so on, but soon I was off anyway. Bought some fruits at a local fruit and map/book shop. They do not eat much bananas in Italy (apparently people from Sweden eat extraordinarily much of them). But they had great fresh fruits of many kinds and it was good to eat some before beginning the journey.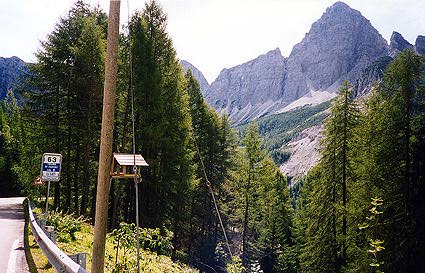 It was actually the same road I was going to continue on that went over the Passo Duran pass. It was very nice and and it was a very normal pass road up to the Cibiana pass (not very difficult), perhaps a little more forest than usual. (The road is marked as very steep and dangerous on my map, but I had already begun to not take the map too seriously (even if it was very helpful of course).) The Cibiana pass is at 1530 meters. Another thing that you should take notice off when bicycling up in the dolomites is that you ought to look at the road signs – if they mark out a curves to come ahead, it could often be rather valuable information even if you do not go as fast as the cars (for which they are there for of course). But the signs are not always correct and should not be trusted too much either. (Just like the map.) The road down from the Cibiana pass to Cibiana di Cadore was not very good and suddenly it was unpaved for roughly 100 meters, where I did not have a chance to stop the bicycle in time. It is usually not dangerous to go on unpaved roads even with road bike bicycles – you just have to stay cool and avoid the worst obstacles.
Then I continued up to Calalzo di Cadore where there were hundreds on sheep out on the main road. It was rather tricky to get past them, but I got through much earlier than the cars so I basically had that side of the road for myself for some time later on. The worst thing is that the road gets all yellow-brownish and the tires too :-). The plan now was to make a first stop in Vigo di Cadore, that I hoped to reach before the shops closed at 12.30. But it turned out that Vigo di Cadore (that was last place to stop at for a long time considering where I was heading) was a pretty dead little place and I was not too happy about that, but then I noticed some people walking with bags as if they had been somewhere buying something. Just a few hundreds meters after Vigo di Cadore appeared Laggio di Cadore and here there were many shops and a very alive little city, but this was not marked out on the map, strangely enough. So I had plenty of things to eat: pastries, cookies, fruits and an italian big Coke (San Pelegrino). A very nice little town that I suspect very few tourists from outside Italy ever comes by.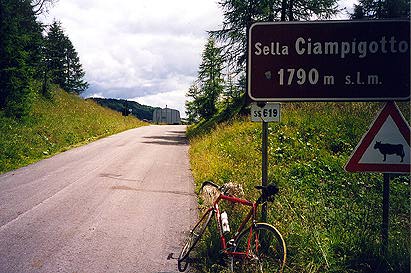 Now I was going to go up to a pass I was not certain to get by. Actually, I first now when I write this down quite understand the map – I thought the map was wrong previously here. I thought I would miss (just with some meters) two passes on this way: Forcella Lavardet (which was what direction signs hinted at down in Laggio di Cadore) and Sella di Razzo (which one passes if one intends to go to Sauris di Sopra (and that area that I read should have some interesting things to see)). However, I surely reached a pass on the road to Val Pesarina and that pass everyone has to pass on the way to Laggio di Cadore from the east. This pass is also the highest of them, but is nonetheless not marked out on the map nor mentioned on any road signs. It is the Sella Ciampigotto pass at 1790 meters. On the photo you also see one of those cow warning signs that appears here and there on high pass roads where cows walk around freely. I actually saw passed by some cows at another place, but cannot quite remember where now. This was the last photo I could take on the film I had in my camera and that day was Sunday, so I was a bit worried I would not be able to document some of the further things I should pass by later on that day. I asked at the eating place at this pass but they told me to try down in Pesarina (which was a totally dead place it seemed) (yes, they had a restaurant even here, though it was pretty much in no man's land – there were very little houses and villages nearby – but inside this place it was more full of people all eating and talking in high voices as if it were some kind of party going on in the middle of nowhere. I left the party and proceeded down Val Pesarina where the road through the forest part was not very good again. This road was marked as beautiful on my map ( I had tried to plan in as much of such road stretches as possible, but here I was not very impressed (maybe it was partly because the weather was now very cloudy and it was slightly chilly now.
Now I was going to take a road over from Comeglians to Paluzza, but the road sign was deceptive and I went up several kilometers in the direction of Sappada before I realized that I should have taken off to the left earlier on. The road sign at the main road does not mention Comeglians, but only Tualis and one other place, but only hundred meters on the way it all becomes clear, where one turns to Comeglians and before getting into the little village there is a sign reading 'Austria' announcing where a very tiny road could eventually take you ;-). (One could also go over Tualis, but it is a bit longer). This road was rather uneventful and I got a little shower of rain on the way. It seemed like the way over Tualis would have been nicer. Then I was down on the main road going to Austria via the Plöckenpass or down to Tolmezzo. However, I had a third possible alternative route in mind. On my map (not on all I saw) there was an interesting road going from Paluzza to Paularo (this part was on most maps), but it then continued to Pontebba. In Paluzza (a very boring place) I did a clever thing in obtaining a film for the camera after having asked at petrol station where they gave me no hope – I got the idea that maybe a local pub could perhaps have such a thing and yes there where three Kodak rolls laying forgotten on a shelf!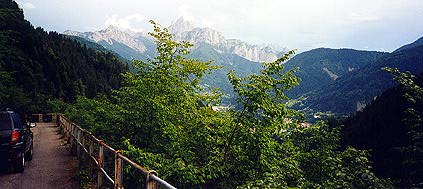 On I went to Paularo. The road up from Paluzza was indeed rather steep and it is very much like a pass road. At the summit I met the only other cyclist that day since down at Tai di Cadore and said hello, upon which he said 'Hei' – I suspect he was from Austria. Then down to nicely situated Paularo (648 m) where it was damned hard to figure out which road to take to get to Pontebba. There were a lot of people living there it seemed like, which is kind of odd as it is almost isolated up there near the high mountains that is the border to Austria. (Strangely I got the feeling people were not so friendly there, but maybe it were only some local youngsters there that gave me some odd glances.)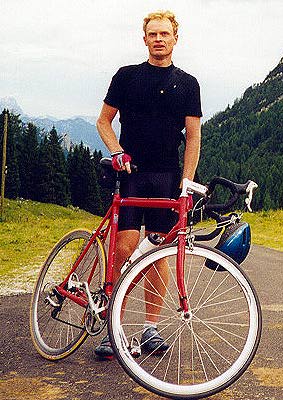 There were no suggestions on my map that there should be anything abnormal about this road, it was only unfortunately not so straight and I had up to that time still had thoughts on going to Austria that day over the Pramollo/Nassfeld pass. According to the original plan today I was heading for Lienz in Austria (but I had no such thoughts any longer for this day). However, soon my thoughts on Austria were to become nothing but a distant dream. The road was from the beginning very steep and tough, only to become more so the further I went on the road to Pso Cason di Lanza and Pontebba. There were many of those Madonna figures along the road that one could find at odd locations on most pass roads (I am not quite sure what they are for), but thought maybe some one had died there of exhaustion or something – it made sense. When I after some really tough climbing thought I was close to the pass height, the road suddenly begun to run downhill again (I thought that they had perhaps not set up a sign properly on this road for the pass). Now the road was better (it was rather bad and dangerous at some places earlier). Then suddenly it begun to go up again and now it was even more steep and it was straight and continuously steep for several kilometers – I would think it was like 18% on average (constantly) and it was clearly the toughest climb I had had thus far on my trip. When I finally reached the pass height I was very tired, indeed (as one could see on the photo where I stand with a half-opened mouth). I could not believe afterwards that I actually found someone to take a photo of me up there, but there were a few cars going up and down to the pass from Paularo. The pass height is 1552 meters, but still it was approximately as tough as going up the Stelvio Pass I thought. Now I no longer thought I had a real chance of getting to Austria before the dark would arrive. I had been going up to the Cason di Lanza on 8-10 km/h on average and it had taken quite some time thusly. (If you click on the photo you get a zoomed out view.)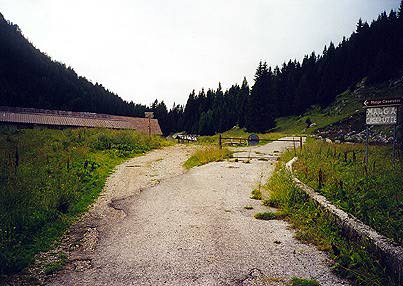 Now, I thought it should be nice to go down to Pontebba and see when I would be there and if it would be totally impossible to go to Austria or not. Was I wrong? Here was Hell waiting for me, almost literally (only it was not hot but terribly cold). If I had known what awaited me I would have went back down the same way I came, but after having had so much trouble reaching Cason di Lanza, and knowing how difficult it would be to try and follow my original plan in some way if I went back, I were not going to go back unless I was forced to it. Thus adventure lay ahead …. The road soon begun to get really bad and almost all paving disappeared as I tried to document on the next photo here (but somehow the photo makes it look almost nice). It was just when I had passed by a road block saying the road ahead was closed! (The photo is up in the way I was coming from.) After taking that photo it only was 100 meters before I fell of the bicycle rather badly (though in very slow speed) and landed in the very sharp stones on the unpaved road and got very bloody on my left elbow (the brake handle were bent (but I adjusted it later)) and then just 50 meters later I fell again (this time on my head, but got less hurt that time). I now realized why I had been falling (it could be almost anything the way the road looked, but) – they had (even on the way up to Cason di Lanza) small long grills (right word?) in the road for draining out the water from the road in order to minimize the damage of the water on the road (which was a joke here, but) and these grills had openings which were like made for parking your road bike bicycle in. They looked too small to get the wheel down in, but they were not and they were just long and deep enough to make it inescapable to fall with the bicycle in going straight over them. So from then on I exactly diagonally over them each time. Now the worst rain that I almost ever have experienced came down on me. The mountain side there is extremely high (like 1000 meters straight up in an angle of 60 degrees or something) – just imagining the road stay there without damage from stones falling down is ludicrous and so it was (well it should just be that the stones were coming down on me too, but they did not do that this time). I had to take shelter from the rain for a little while and take on my rain jacket (even though I did not want it as I was very bloody and had not brought any plaster to wrap on). Then I continued down (there were a few houses up there and they had cars but I do not understand how they got there or why they lived there …). I said to myself when I saw the river beside me "which is which" (where I was going with my road bike looked like a miniature of the rocky river next to me). And then the road was actually no longer possible to use at all – I had to walk (only 50-100 meters) and even that was difficult there. Later I passed by a camp with a lot of young people hiking up there in the woods (they looked at me as if they had seen a strange animal getting by, anyway that was the feeling I had). Well down in Pontebba it was almost beginning to get dark and I had no wish to try and continue further (I was simply not up to it). Down there the roads were dry and everything calm and the map in town also did not note anything odd with the road over to Paularo. I took in at a cheap place in the central part of the little town and the owner just shook his head when I told him which way I had arrived over. It was actually a good place (even if very unassuming). (I could even wash my bicycle in the morning there.) I had a pizza (of course) and some beers etc. That day I cycled 164 kilometers.
Next day is Day 5.
Day1 – Day 2 – Day 3 – Day 4 – Day 5 – Day 6 – Day 7