I left from Gothenburg, Sweden very early the day before my first cycling day in Italy. The air flight to Milano went very well and after waiting for some time at the Malpenza airport I could collect my bicycle and take the bus downtown Milano. After checking in at the Hotel I was rather tired and went to sleep for two hours. Then I thought I should have a look at the bicycle to see if it was in one piece (I do not have a hard suitcase for the bicycle). At first glance it appeared to be alright, but then I looked a bit closer and found that part of the frame was broken – it was a bit of a shock to me. Fortunately it was the part where the rear derailleur is fastened and on my Cannondale frame that part is possible to replace, which I now realized was a really good feature! However, I only had 2-3 hours to find a replacement and when it was only one hour left I had still not managed to find a single person in Milano knowing of a bicycle shop (and I thought I was in the country of road racing …). Well, I went into another little Hotel and the porter there knew of a nearby shop and to my amazement that little bicycle shop had all kinds of such parts (I do not think they stock such things in any shops where I live …). I also bought a new back tire, which I was really happy for later on. So, I was still on schedule!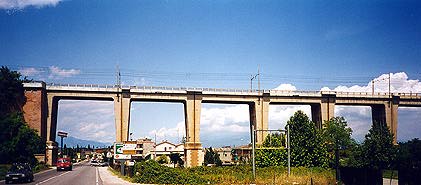 First Day: I was bit late in getting off in the morning (like I was practically every morning thereafter also) and had to bring my stuff (the travelling clothes etc.) to another hotel where I should stay on the night I was coming back as I could not get the same hotel. There I also got some directions on how to get out of the town in the right direction. I did not have a very helpful map of the outskirts of Milano and was told by some cyclists I met early on that I was on another road than I imagined. It turned out that those german tourists were wrong, thankfully. It was a hot day and much traffic (as always, it seemed) on the roads on the flatland outside Milano. The roads are rather small, but in good condition (for the most part). I went the road going the most straight way to Bréscia. Chiari was the biggest village on the way there and the place where I did my first mistake in choosing direction. Not so big perhaps, but I did some not so clever choices of roads to take, before I eventually were on the road I planned to take (when I was on the way out of Bréscia). After Bréscia I suddenly saw a lot of other road racing people. There were a bunch of around 10 people going past me in around 50 km/h and trying to save some wind by going behind a car truck of some kind. (I was not quite in the mood to go at that speed then. I was more looking for a place to stay and drink something or eat.) This early on I had not realized that it was not a great idea to go on the bigger roads and on the way down to Lago di Garda I went through a terrible tunnel where I almost could not breathe (at least it was lit, which is not often the case in Italy). (Usually one is not supposed to take the bicycle through tunnels like that in Italy, but I did not pay much attention to that.)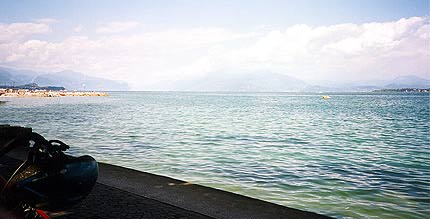 At last I was catching a glimpse of Lago di Garda – my first goal for the trip. All the way from Milano one see the mountain tops in the distance, looking rather inviting as it is hot and dirty down there in the flat land. I went down to Desenzano and on the way there I took my first picture of a huge bridge (railway bridge, I think), beyond which the mountains was getting closer to me. I thought that was like a symbolic gate to the mountain region and as such a good real start for this trip. (The mountains are very hard to see on the photo, though … .) Down in Desenzano I had an ice-cream and soda by Lago di Garda (2nd photo) (then I had been cycling for over 150 kilometers that day). Then I proceeded on the road close to the south side of Lago di Garda and continued to Verona, where I had planned to have dinner. Oh sure! Just that I had forgotten that there is no way to get anything to eat at dinner time in Italy (which I think is around 5 p.m.). So despite that Verona is a nice city if you do not mind going with a race bicycle across long stretches off stone-paved streets, I was not quite in the mood to be overly happy then. I turned back eventually (after searching for an hour for something to eat without any success) and passed by a really bad-looking McDonalds place which was open, but that was not what I came to Verona for. Instead I went on a much less trafficked road back to Lago di Garda (via Bussolengo – this is really the way you go to Lago di Garda from Verona). Almost back at Lago di Garda some pizzerias had begun to open and I stayed at the first place that was open and had a good pizza. Then I also noticed that I was almost black on legs and arms after all the dirt that had glued to my sun cream during the day. I also noticed that I had not applied the sun cream skillfully enough and had some serious burns just above the socks on my legs (socks slip down a bit while riding and bicycle pants slip up a bit – something to remember!!).
After this I felt in better shape again and now had a pleasant downhill ride to Lazise by Lago di Garda. From there the road went close to the Garda lake all the way up and the road was nice and it is really a very tourist filled place – look out for tourists walking in the middle of the street! (They should have tourist warning signs by the road side there!) Then I basically went as far as I could before it was beginning to get dark and I got too tired to continue.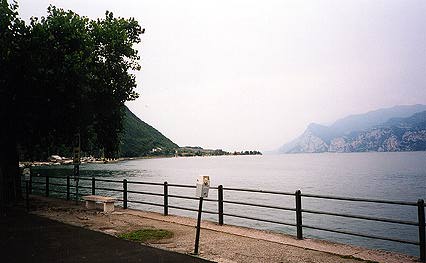 I had first planned to go to Riva del Garda at the top of the lake, but that was before I planned to take a trip to Verona also. Now I stopped just before I reached Malcesine (the road sign that I had been looking for, since I thought it was located more south by the lake). (I noticed the road sign just behind the the next bend of the road when I was taking a night walk later.) It was a terribly good place I happened to choose – clearly one of the nicest places along the Garda. The view from my room (which was not very expensive and had the best quality of all during this trip in Italy, despite being a one-star place) was stunning! I did not take a photo at night because my camera is no good for it and in the morning it was not perfectly clear weather. I had a look over the Garda from my balcony and of one small little island. It was very nice to see all the lights up in the mountains on the other side of the lake at night and it was really nice to walk by the lake. I also went up in the mountains a bit at night, but it was a bit scary in the dark and the "roads" up Mount Baldo was so steep I have never seen anything like it – I almost had to walk on all four …. The mountains around Lago di Garda was tallest just uphill of where I stayed – impressive! The last picture here I took shortly after passing by Malcesine on my way to the dolomites on Day 2. The first day I bicycled 235 kilometers and it was the longest in terms of kilometers.

Day1 – Day 2 – Day 3 – Day 4 – Day 5 – Day 6 – Day 7