I got up decently early as I knew I had a tough day ahead of me. Even though no place was above 400 meters height this day, it would be long and on boring roads and very hot. For some reason I did not take much care about finding the right way out of Pamiers and went wrong and thus I did not get out of Pamiers before 10 in the morning anyway.
All went well even if I noticed it got hotter and hotter all the time. There were some nice gigantic yellow fields of sun flowers on the road to Mirepoix. The road was very flat and it went rather fast. The last part down to Carcassonne (where I again think I took the wrong road, even if I never got completely convinced of which way I had been going) went extra fast and I was going at around 36 km/h on average.
I had a pizza in Carcassonne and the proceeded out of the city on the road I had partly travelled before past the huge fortress. The road out of Carcassonne to nearby Trèbes was extremely good and Trèbes seemed like a nice place where people stopped by with their boats going up the Canal du Midi to Carcassonne and further. However, the red marked road continuing to Béziers was very narrow and one-directional at certain places and almost not possible to cycle on with a road bike due to it rough surfacing. As if that was not enough the temperature showed constantly 40 centigrades in the sun (it was like 31-32 in the shadow, but there were no shadow here around). I got into a petrol station to get something cold to drink on the road when I thought I would give up if the road continued like this for long. Happily the road unexpectedly and for no apparent reason just got much better after this. The road was long, boring and hot.
There were a lot of wineyards along the road and some people sold fruit on the roadside. Well in Béziers, at last, I found another of those Lidl shops that I found in St. Girons the day before and I bought some fresh water there and more. I went out of Béziers rather fast and got on the right road down to Agde. At first this was a rather trafficated road but somewhat nice as it went alongside Canal du Midi, but then it looked more and more and like a heavily trafficated motorway with nothing worth to see along the road. I was, however, going to get out to the beach! I had noticed there was a long road running out on a small strip of land against the sea from the Cap d'Agde up to Sète, and this would not be terribly much longer to go up to Montpellier and probably much nicer I had thought.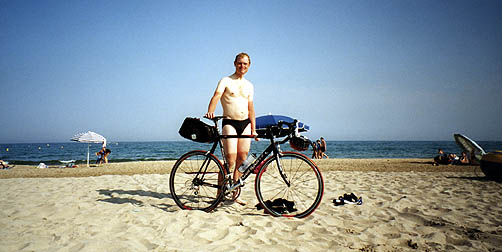 It went really nice when I finally reached the beach, even if I thought I had been cycling for a very long time from Béziers to get here. After cycling along the seemingly endless beach with people along the beach at all places and cars parked everywhere, I finally jumped of the bicycle and got down to the beach and asked some people to ahve a look at it and throwed myself in the water. This was great!! I was very happy when I cycled away also, feeling very refreshed and stood up cycling for almost ten kilometers – mostly in order to dry up. Just by the very touristic Sète I was passed by by another bicyclist and raised the speed. From there into Montpellier I was going at close to 40 km/h on average and was in the city at eight o'clock.
I found my way back to the hotel without looking at the map amazingly. Well there, there was a young man telling me the hotel was fully booked and that they had no records of any booking under my name!! I could not believe it was true and almost broke down. I asked him to contact the lady running the hotel, but he first said he could not get hold of her and then tried to telephone her. I was simply waiting for him to get hold of her and eventually he did and everything was cleared up, thankfully.
I had a walk in the city, but I was rather tired. I had some thai food and got home. I packed the bicycle down at once before I went out on the town. The day after I took the airport bus and everything went well on the journey home.
Day1 – Day 2 – Day 3 – Day 4 – Day 5 – Day 6 – Day 7 – Day 8 – Day 9 – Day 10 – Day 11