Today I was going to see the Tour de France, but I did not want to go straight back up to Luz-St. Sauveur. After all I wanted to do some cycling. I had asked an italian and an argentinian (both of which lived in Spain that I had bounced into at a shop yesterday evening at Argelès-Gazost) when they would think that one had to be in Luz-St. Sauveur to have a chance of being able to bicycle up to the finish at Luz-Ardiden (the end station for the Tour's visit to the pyrenées this year). They thought it was around 13:00 and they were probably right there. Anyway, I knew I would be able to see the Tour even if I could not get to the finish at Luz-Ardiden (I could always see them down in Luz-St. Sauveur).
When I started out in the morning (around 9) I went in the opposite direction and met hundreds of cyclists going up to Luz-Ardiden (talking about going ones own way … ). I stopped and bought some bread and some breakfast and then I went straight west out of the city until I almost reached a place called Lestelle-Bétharram. I here turned into a really extremely small road over to the road leading up to Col du Soulor – this little road was so small that there were even grass growing in the middle and then I went off on a wrong road up to a quarry (now I know the french word "carriere") and had to go back again. The road up to Col du Soulor was really badly surfaced, but the road was very lovely for the wonderful nature around. The road split up into two roads at a few places with each one one-directional. When the real climb began, the mountains ahead looked very spectacular. I met only a few cyclists here and they apparently had no plans to see the Tour de France this day.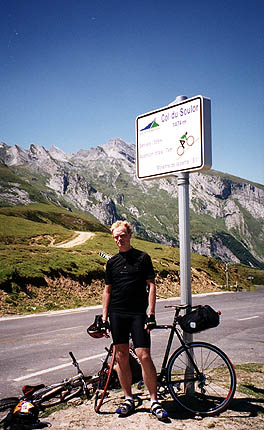 I nearly had to stop on this climb once when the road was filled with sheep, but there were already a woman out of her car moving them away and I could pass on. I met two americans at the top who just arrived on their mountainbikes from Argelès-Gazost and they had a photo of me. It was damned hot this day!
A very nice road down from Col du Soulor to Argelès-Gazost. Now I was heading to see the Tour de France at last. I was hopelessly late. I had not been up at Col du Soulor before 13 o'clock and now there were almost no one cycling up to Luz-St. Sauveur any longer. After a while I met occasional cyclists coming down from Luz-St. Sauveur shaking their heads as if to say that it was no use trying to get up to Luz-Ardiden any longer. Well, I had no other plans for the day, so I thought I should go as far as I could and try to see the Tour cyclists somewhere. Up at Luz-St. Sauveur it was so crowded it was just enough space on the road left to cycle on (with all the parked cars – it seemed like there were no end to all the cars that went there and all vehicles involved in the arrangement). Well in Luz-St. Sauveur I thought I should stay there – it did not seem to be possible to get any further and there were policemen telling you not bicycle (strange why they should be so tough on bicyclists, one would have thought the event was somehow for cyclists after all). I walked and bicycled down the road that was leading up to Luz-Ardiden when I after some time reached the beginning of the climb which was totally closed off by police to cyclists. One had to park ones bicycle there in order to be let up the road (and many were walking there (from their cars I suppose)). However, I was not happy with this and decided to see if I could climb up with my bicycle behind a house. It was really steep, but I got up and someone stopped by the roadside and helped me up also. I saw some other people below following my initiative! Then I started to bicycle again and got by a large Dutch group of people who were very caught up with things and ran and pushed me up a hundred meters :-).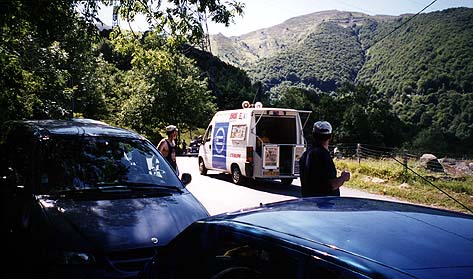 Soon there were more policemen at each curve that ordered me of the bicycle and when they were out of sight I cycled a little again and so on. I began to talk a little with a spanish man involved with doing the same as me. Neither of us really thought we would be able to get to the top in time and it was no big thing any longer – the whole road up to the top was like a party. We eventually stopped when it was like 5-6 kilometers left to the top – this was at a good place with a double-curve and the first place where one could see up to the top. It was still very, very hot and I was lucky to get a whole 1,5 liters water bottle from a nice french family (seen below). The spanish man who together with a bus load of people from the Basque or northern Spain had went here in order simply to see their favorite Laurent Javier (? from the Kelme team anyway). He explained a couple of things for me and it was nice to learn something from someone living with this cycling-culture down in Spain. He knew a lot about the cyclists and were personally friend with at least one more than his favorite. He walked out and gave his favorites a little push and a good word on the way.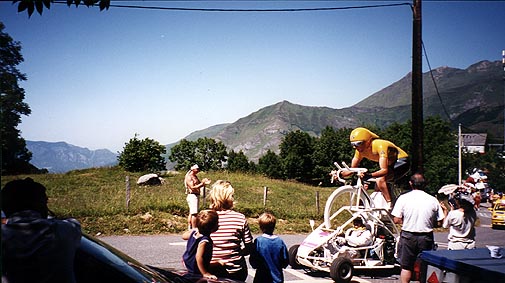 First came the long caravan (an hour before the cyclists) with all kinds of vehicles and they were throwing out a lot things for the kids (advertising material of all sorts) and now I really understood it was a general festive event for all the family. It was an odd mixture of people up there: a spanish man on the other side dancing around half-naked; people singing french folk songs; some nice basque people; some french ordinary families; a group of politically profiled baskian youngsters waving ETA and Che Guevara flags – these last and many more just were I was (at least) were big fans of the all-basque Euskaltel team and they were very lucky this day.
My photos may not have been so very great this day and I only had four photos left to take before I had to get a new film. The first photo is of the first car in the caravan (but I realized a little too late that I wanted a photo of that – it is in front of the white van), which was a very nice old car in grey with a policeman with an old uniform (I think) and smoking a pipe or maybe the policeman was later – now I am not quite sure). On this photo you can also see the spanish man I was talking with (he is the left one). There were a lot of funny vehicles and I had a photo of the cyclist vehicle. It was now I realized I had only two photos left … .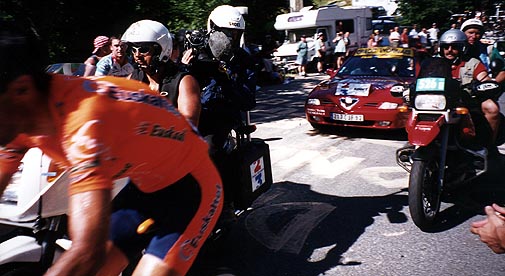 So, here he was – the leader and winner for the day – Roberto Laiseka, but he was going headlessly fast for me … . I had to go so far out on the road that I was nearly run over by him. – It would just had been a great headline: "photographing swede wanted to have a good photo of the winner Laiseka, who fell and lost the race" – that would surely had been very popular around there … . I was beeing slightly more cautious when photographing Roberto Heras (?), Lance Armstrong and Jan Ullrich. I never took a photo of Bellini, who were just between Laiseka and the Armstrong group.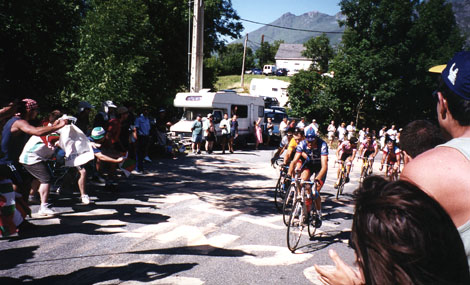 It went decently fast down to Luz-St. Sauveur again. When arriving south of the village there were hundreds of cyclists that all had to stop – they were letting down the Tour cyclists on a smaller back road (that I somehow did not think of existed earlier, but I believe it was also closed off when I arrived there). After they let us go it was a race down the valley more or less. It was rather funny and for a long time there were always someone getting past you and I had to raise the speed several times. This kept going on basically until short before I was back (speedily) to Argelès-Gazost were I decided to stay for the night, thinking it was probably easier to get a bed now that I was so fast down there (anyway I got a bed at a cheaper place I had noticed the day before and which was full then). The little hotel with only one star was one of the better places I stayed at during the trip. Very sweet and very good in all ways. The lady in the hotel said something about fireworks in a park that night and although I thought it was probably a small event in this little town, I just happened to be close by when they started and it was perhaps the best fireworks I have ever seen (I know the french are pretty good on this from before – I remember I was in Biarritz on the 14th of July back in 1987 and I know they are good in firework competitions).
Day1 – Day 2 – Day 3 – Day 4 – Day 5 – Day 6 – Day 7 – Day 8 – Day 9 – Day 10 – Day 11