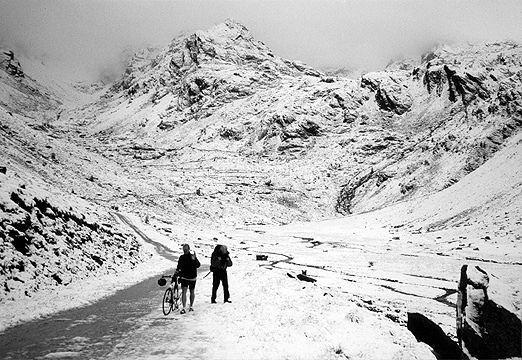 Well, I had decided to try and conserve energy and keep myself as warm as possible for the night (which was very much up to the ways of the winds). It was terribly difficult to get some rest in the uneven and stony mountainside. I could not go to sleep, but I also could not allow myself to go to sleep as that would be very dangerous as I could have possibly turned over and not be able to stop myself from tumbling down the mountain. It was really bitter knowing full well that it would be horrible to lay down here for many hours, even though it initially was no big problem (it was not so cold and it was rather calm winds).
Every now and then I opened my eyes to look around to try discern whether it could possibly soon be less dark so I could get on. At one time I simply had to sit up because it hurt so much to be laying in the same position. Eventually, I noticed that I could see the stones around me slightly better and knew that the morning was arriving at last. I just decided to wait half an hour more.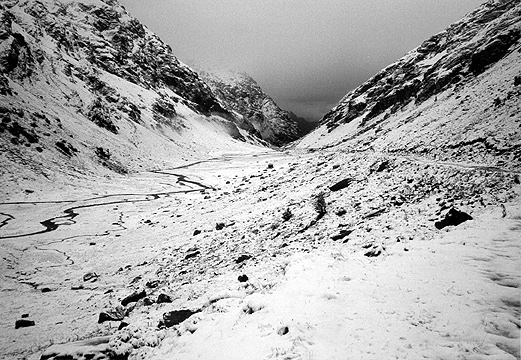 Then after just ten minutes I felt a light rain began to fall on me and I got almost shocked and knew at once that there was only one thing to do now and that was to get the hell out of there as fast as possible and that there would be no other way than going back, if even that was an option considering how difficult it had been the day before to go up that way. I at once got up, stumbled down to get my bicycle and dragged it with all my might up to Port de Rat again (it was really tough and I understood I was a bit weakened). When I reached the top (only 75 meters or so, but steep and slippery) I understood this would not be my day either. – It started to snow heavily and I could hear lightening coming closer. Thankfully I now clearly could see the yellow marks on the French side and know I had to get down as far as possible before the marks would be covered or I would not able to find my way (it was far from obvious of where to go … ). I also had to hurry on down as it would be increasingly dangerous to try and get down at all. Most normal people in this situation would probably just have thrown their bicycle down the mountain, but I could not do that as it would have ruined my new bicycle and my whole trip. I continued to exert maximum effort at trying to get down somewhat fast while not doing anything very dangerous. It sometimes could take minutes to just figure out how to get past a certain passage with the bicycle. At one point the lightening stroke down just a few meters away from me – I could see a big yellow ball just in front of me on the side. I could not really get impressed by the danger of the lightening and said to myself that it better has to come even closer if it should make me more despairing than I already was. My sandals and socks were now totally wet and cold and I did not any longer care much if I set my foot in water or not – it was better if it was a secure place were I could put my feet. Despite that I tried to go down as securely as possible I fell five times while getting down, but in all cases I did not fall very bad. I was very close to doing something I had been dreaming of up in the mountainside during the night – I was using my bicycle sometimes as a support and I was near once to fall over the bicycle and down the mountain, but managed to get the balance back at the last chance. I thought the snow would turn into rain if I only got down a couple of hundred meters, but the snowing just increased all the time and the water passages had much more water running than the day before. Just before I saw the road I could no longer see the yellow markings, but then eventually got down to the road anyway.
Back on the road again I knew that I had made it and would be able to at least get back alive. I could relax a little and could not held back a few tears, but then I felt better and told myself to just keep walking as I was very afraid that I would get real problems with my feet. I must have looked like the snowman coming down the mountain. While walking down the serpentine road, suddenly a huge mass of snow fell of my helmet, to my amusement. I had a decimeter snow on my bicycle computer.
Walking down the totally desolate mountain I saw all the waterfalls from all around the mountainridge combine into a now massive river and I could understand why they had warned people far below in the valley to take a bath in the river (but of course this was due to dam openings which I did not think of right then). I soon noticed the little tiny empty stone house down where the road evened out and up to where cows and horses had been going the day before. Coming a little closer I thought I saw some footsteps in the snow, but thought I must be hallucinating. But, soon I really saw a man standing next to the little house and wondered if that was for real … – what could he possibly be doing there. I had had no hopes of seeing anyone before Orrhys de Carla (the next house (inhabited) and camping site, 10 kilometers further down the road). I approached the man asking him if he was staying at the house. He was in very good spirits and said he was just about to prepare some breakfast for himself and his wife and asked me to join them! I could not pass up on that offer ;-) ! He and his wife (a middle-aged couple of wanderers from Holland) had been going over the Port de Rat from Andorra the day before and had set up a tent there. They had not been up for long as it was now around 8.30 in the morning, but they had woken up wondering what was so laying heavy on their tent and saw all the snow around them. The man had apparently seen me long before I saw him. The wonderful photos on this page was graciously sent to me by Helen and Willem. These people really saved me from getting any serious illness or problem! I do not know how to thank them enough – it is simply just amazing that one could meet the perfect people at the perfect time! They lent me clothes while giving me tea and breakfast and walked down with me later to the camping site where the very last campers were on their way home and asked them to take me with (as I could not bring myself together to ask for yet another extreme favor like that – esp. not since I saw it was four young people going in a very small car).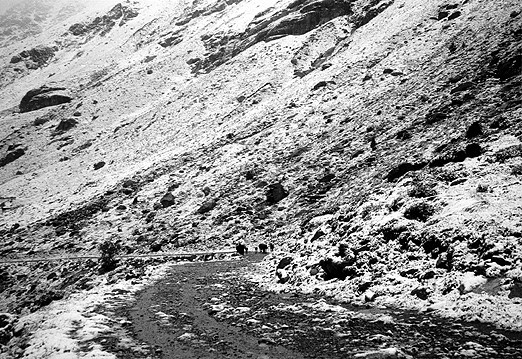 Coming from Sweden (like me) it was unbelieveable how nice people could be. I was sitting in the car waiting for them to pack the car wrapped in a blanket, when I realized that I had lost one of my bicycling shoes on the way down from the little stone shelter. The dutch man rushed away to look for it where we had met a dozen black horses who had been a little a surprised to meet us and stayed to examine us. He did not find it and I could not ask him to go all the way back of course. I said goodbye to the wonderful dutch couple and now met these four french young and very nice and funny people. Suddenly I had second thoughts about my lost bicycle shoe, thinking of how difficult and expensive it might be to get a new pair and thought I should really try and go looking for it myself. I tried to tell the young frenchmen this, but they thought it was insane and I realized while I stepped out of the car and noticed how I was shivering rather severely that they were probably right after all. I do not know how they managed to get all things into the car (not to mention the bicycle) – we were all sitting with heaps of things in our knees (I had the guitar etc.). (A girl in the back seat was unfortunate to have the cucumber jar in her knee as it was not securely tightened as we later discovered.)
I was just so happy and tired and the weather was also getting better. The road down from Orrhys de Carla today looked quite different from the day before and it was almost no longer possible to go there with a normal car due to the water draining of the road.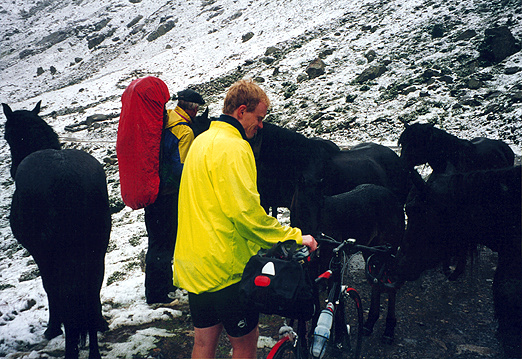 The happy five of us travelled down – apparently they had had enough of mountains for their holiday and now planned to go to the beach (Biarritz or somewhere) which the girls had wanted all the time. They were from some place north (Le Mans perhaps) and the guys had a music band playing french songs in a very french way – nice suitable music for the occasion that I asked them to put on (not that I understood what they were singing). I did not mind joining them as far as possible as I had in my original plans thought to be getting further to the west by now. However, it was not really fun for them to go in a hot dirty car for a really long distance like that with me and I happily agreed with them to be dropped off at Foix – damned, that was just were I had started the day before ;-) . However, I did not mention to you that I had one unfinished business in Foix – I had forgotten to leave back my hotel key and had it with me all the time. So, I now at three o'clock in the middle of the day stepped into the same hotel again and asked if they had a room for rent and asked if it was okay to take the same room that I had the key for already! They were a bit puzzled about not noticing that the key had been lost.
I went to bed at once, but had to wake up so I could try and catch an open shop where I could buy a new pair of bicycle shoes. So a little before seven I rushed out in the rain (now again) and slipped in the staircase outside the hotel and got more hurt out of that than on anything up in the mountains – oh dear … . I managed to get to a distant bicycle shop (a little bloody and a bit wet on the feet again) just as it was about to close down, but they did not carry shoes in my sizes (few does carry sizes above 43, 44 in France, so beware!). However, they told me there were a still further away supermarket (Decathlon) that sold shoes in such sizes and that I could get there in the morning (when this small shop were closed due to Tour de France … ).
Day1 – Day 2 – Day 3 – Day 4 – Day 5 – Day 6 – Day 7 – Day 8 – Day 9 – Day 10 – Day 11