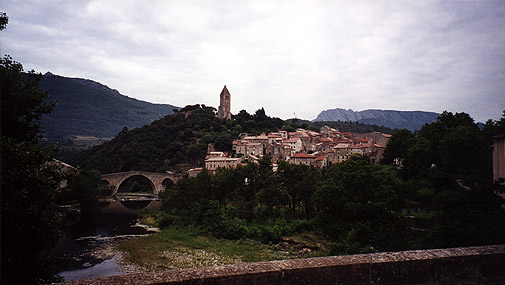 I started out from Olargues around nine or half past nine in the morning and it was slightly chilly before the sun managed to come through the morning clouds, which was nice. There were a peculiar smell in the air that I noticed at many other places later on also. – It smelled like tar, asphalt – maybe arising from the paving of the road – or maybe it was simply smoke from the houses in the valley. Anyway it was a charming road to go bicycling along this morning. It was marked as a 'red' road in the map and thus I thought beforehand that it meant it was a big and heavily trafficated road, but that was not quite so (though there were a few lorries, trucks and so). A bit after St. Pons-de-Thomières at a place called Courniou I turned off the main road and went on to a planned more odd road down toward Carcassonne (perhaps the fastest way to Carcassonne if one looks hastily on the map (but this road was small and had meny bends and ascents and decents)).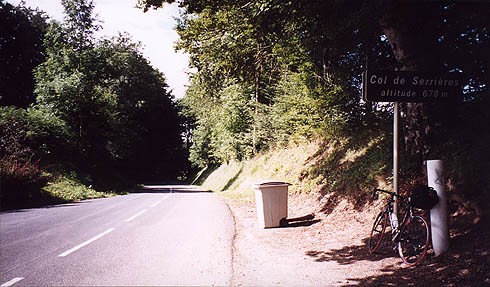 I think I met at least two other cyclists up here in these exciting roads, so apparently some others were interested in trying out bicycling paths other than more popular down in the pyrenées. But I guess people go bicycling all over France, so maybe there is no need to be surprised at meeting cyclists on odd roads. The road were going very much up and down, like for the rest of this day and even though I did not climb any passes higher than 1000 meters, I nonetheless had at least climbed over 2500 meters that day (probably more than 2528 meters which my HAC4 Ciclosport computer told me, as I noted in looking on a PC at home at some of the later days results that the heights had been somewhat "evened out" – probably because of natural fluctuations in air pressure and temperature that this (and any similar, I suspect) bicycling-computers does not handle well enough). I passed by a village with only three houses and wondered how small a village could be (well I guess we have small places like this at home too). The first little real Col (french for "mountain pass") that I came to on this trip was the Col de Serrières at the moderate height of 678 meter above the ocean level. It was still a lot of steady uphill road to conquer to get there and smaller passes like this could easily be underestimated, but this one was not terribly difficult. I had a photo and there was nothing much to see apart from the trash can – such are often placed on cols (as I suspect many people stop to eat at these places). It was a wonderful landscape before and afterwards though.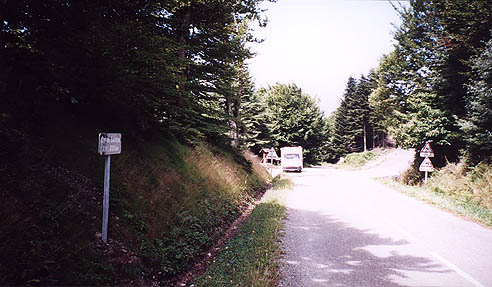 Between Col de Serières and the next pass – Col de Salette there were lovely views of the landscape (esp. at a place called Roc Suzadou, where I should have stopped to take a photo). Col de Salette was 886 m which is hard to see on this photo. The van just stopped in front of me when I should take the photo (bloody tourists … ;-)).
After Col de Salette the road was getting slightly more coarse again and even though I had planned to really take the most straight road toward Carcassonne, I changed my mind. I just passed by a road going right that I had originally planned to take as it was one of those more adventurous white coloured (in the map) single lane roads (the smallest coated, tarmacced roads there are). (The one I was going on was a small yellow road.) Well, I turned back and went up this narrow road since I thought it could not be much worse and it turned out not to be much worse, but still a little worse nonetheless – well, well … . It also turned out to be really steep at some points (this is typically something the map makers do not mark totally correct on these smallest roads – it was marked with one single-arrow, but was more likely a two-arrow road at the steepest part (around 10-14%). Here I found another col, which was not marked in the map – Col de la Croix de Sous, at 893 meters it was just a few meters higher than the Salette col. Down from there it was an obscure road, which was partly ridiculously bad, but just good enough to be able to go down on my road bike. It soon turned into a lovely landscape and there were some scattered houses and a few people along the road, but it was as if I was years away from any busy life up here in the idyllic sunny mountainside – people said 'bonjour' that I met on the way and I was happily wheeling down the long and winding roads.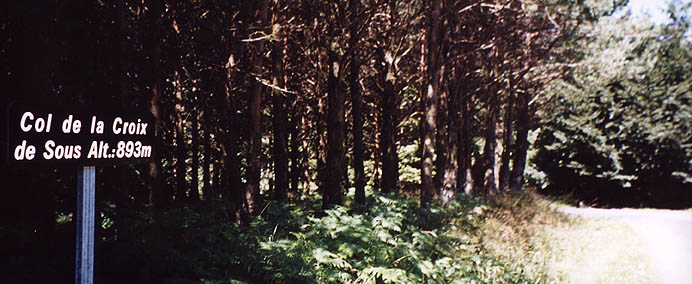 When the land flattened out somewhat I was near a village called Villeneuve-Minervois and I stopped for lunch at a countryside gourmet restaurant, thinking I should get something decent for lunch. It was good and nice, but also not so cheap for lunch (and later on I realized I had been spending a bit much on lunches and dinners). Soon thereafter I was out on a bigger road toward Carcassonne. The road was very trafficated and was also quite bad and it was now damned hot. At Carcassonne the temperature was slightly over 30 Celcius and it was blazingly hot and I got my biggest sun tan that day of all. I put on some sun cream in Carcassonne, but it was far too late. The only nice thing about Carcassonne was the nice rivers, channels outside town and the grand fortress in the middle of the town, which you can see on the photo here.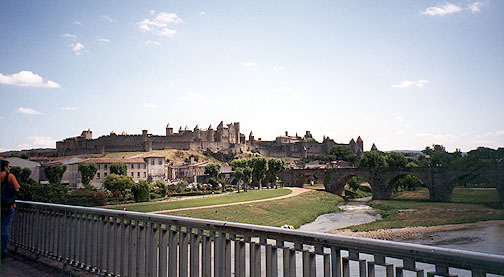 I had a hard time finding my way out of the town – it is odd how often that is so difficult … . I was almost out on the motorway to Narbonne before I realized I must have missed something. Now, looking at the map it does not seem so difficult, but well, it was. Maybe it was because I had decided to take a smaller road again (as per the original plan). This road were going parallel to the bigger (red) road going up to Limoux, but the one I went (over St. Hilaire) went over some big hills, while the other went down in the valley. (Partly very coarse road again, but at least the roads have very seldom any holes and other dangerous obstacles in them in France (at least apart from in the cities).)
I passed through Limoux and again began to go up a road that was getting slightly steeper for each kilometer I got on the way and I felt that I was beginning to get really tired. Lovely landscape again – somehow it here reminded me of England at times. Now there was another two smaller cols on the way to Chalabre. The first was Col de l'Espinas at 494 m and then there were Col de St. Benoît at 614 m. Well down in Chalabre I had to eat dinner and at once saw a sign telling about a pizzeria and followed it. That was weird – I went around this very small town for long time seeing new signs for that pizzeria that led me into a very small alley and I simply could not find the pizzeria. But I thought I had smelled something a bit earlier and returned slowly and saw a door without any kind of sign on not being closed and looked in – and, yes, there was the pizzeria (they served it out on an open terrace). They had a very odd pizza and I thought it must be Gascogne-style or something as it was served with nuts and honey, but it was quite good (and not so cheap – pizzas are almost luxury food down there I realized later on).
The day were very fast going to its end and I was really not very close to Foix yet. I was indeed not quite sure I would be able to catch up with my original plans and get all the way to Foix today. However, I did a surprise move (to myself only) in tactics and choose the biggest, fastest road toward Foix and just went on very fast. I really tried to use the roads marked as "scenic" in the map as much as possible. But the road via Lavelanet and Nalzen was the only road in that region that was not marked as being a nice road. But it was fast and good and I surprised myself by being in Foix a bit faster than I even optimistically had hoped for. It had only just become dark (again) when I reached Foix. I found a centrally located hotel (two stars, I believe). It was very close to the nice castle in the town. I tried to find a place to eat at, but it was too late so I had a beer and went to bed.
Day1 – Day 2 – Day 3 – Day 4 – Day 5 – Day 6 – Day 7 – Day 8 – Day 9 – Day 10 – Day 11