The day before had went rather well considering what had happened earlier. Now I felt very well again, but I had to figure out a plan of just how far I could possibly go to still be able to get back to Montpellier in time for the plane home. I had originally planned to criss-cross the Pyrenées from one side to the other and back again. Now I was forced to choose between seeing the Tour de France or reaching to the Atlantic coast – there were no satisfactory way of achieveing both these ends. I cannot remember exactly when I did draw up the final plan – I think it was this day. I decided to see the Tour instead of reaching the Atlantic coast (I could go there another time, if so). I do not like compromises like that, but circumstances forced me to. The trip for this day was rather straight-forward. I followed yet again the road that the Tour would go later – the same day in fact, for some part of the road.
It was very good weather and I really enjoyed going the road the Tour de France would do only a few hours later. There were a lot of people on the sides of the road cheering you on and a lot of other bicyclists also out cycling. On the way up to the cols there were hardly a free parking place anywhere. I did not see any swedish people at all, but then it is a small sport in Sweden and the only swedish hopes had not been selected by their teams to take part of the Tour this year. If you do not have the Eurosport channel in Sweden, then you would hardly hear about the Tour taking place at all.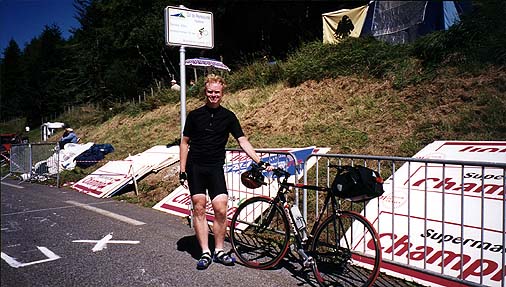 All went easily up to Col de Peyresourde (1569 m) as it usually do for the first col of each day. Here on the picture you could see one of those rather detailed signs that often appears along climbs up to many of the cols in the Pyrenées (the text is a bit small so it is only readable in the original photo I am afraid). It states how long the climb is and the minimum average percentage elevation angle there is on the stretch (I think) and more. I do not know why I look so stupid here … .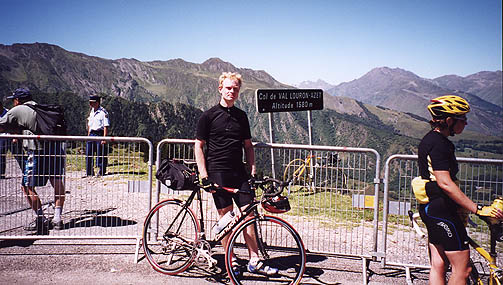 There was a nice road down from Peyresourde and I stopped and had a coke and an apple in a shop in (I guess) Armenteule. I soon was on my way up to Col d'Azet (1580 m) – it was blazingly hot so I was lucky I stayed by the shop before starting the second climb of the day. There were really many cyclists out now as the Tour de France was now only something like three hour behind us ;-). At the start of the real climb there were two italians who passed by me looking very serious and I again could not help but try to figure out just how good these chaps could be. I noticed they got slightly irritated by not be able to shake me off, although they at a few places got away from me a couple of meters, I simply did not give up and always catched up with them. When approaching the top I for some reason got some extra strength and just slowly raised the speed until they both had to give up and they stopped to shake hands with me at the top and a waiting girlfriend (of them) took the photo here. The average speed up this climb was around 14 km/h, which I think is rather good for an amateur like me. The Tour de France riders do not go terribly much faster really (maybe up to 18 km/h perhaps – do not exactly though).
This was a smaller road and, as often on narrower roads, it were very nice scenery around there, as you could see. It was a somewhat hilarious ride down to the valley below and I continued down the valley to Arreau where I had lunch. Now I had taken off from the Tour route for the day (they were going to Plan d'Adet – just across the valley from the Azet col).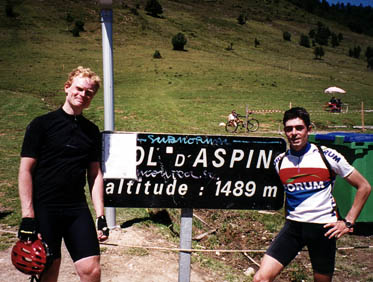 I thought I should now take it a bit easier and not compete. I started gently on my way up to Col d'Aspin (1489 m), but soon there were an englishman (from the Docklands in London) passing by me and I changed my speed a little and followed him. We were both raising the speed a little and it thus turned into yet another competition (with almost as many people on the side of the road as previously despite that this was the Tour road for tomorrow). Well, a bit easier than with the Italians I sprinted away from him at the top of the Col and we talked a little and had someone take a photo of us both.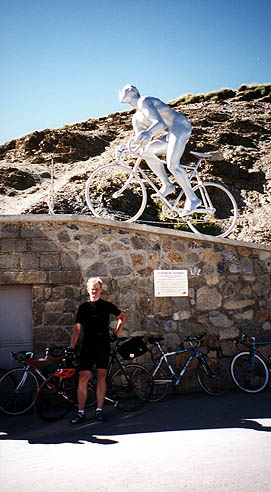 I knew this would not be easy for me at the end of the day, competing like this. I still had the highest pass both sides of which is in France (on a through-road) in the Pyrenées in front of me – the classical Col de Tourmalet at 2115 m. I stopped down where the road take off up to the Tourmalet and tried to prepare myself for the last challenge of the day. I knew it would be tough and it turned out just as I expected. Again there were two cyclists (germans this time) who passed by me that I tried to hang on to, but we split up eventually one of them after me and the other before me. However, when I thought I was close to the top, which I soon discovered was merely La Mongie, my last energy must have been consumed and now it was a struggle to simply get to the top without having to stop on the way there. I had to let the second german also pass me by (and those boring germans never said a word). There were a lot of people out on the road waiting for tomorrow and it helped me get up there. I also knew that I could really see the top as the end of the day, because going downhill will never be so much demanding one cannot make it. I was very happy when I reached the Tourmalet as you could understand.
Another fast ride down to Luz-St. Sauveur and then down to Argelès-Gazost, where I stopped for a while and I tried to find a place to stay for the night, but it seemed like it was very fully booked. As it was not dark yet I went further down to Lourdes and found a place to stay at. It was the cheapest place I stayed at and it was not worth it – some people were fighting in another room and tried to get into the shower when I was there. I had to ask for a towel and the bed was sloping diagonally, so I had to sleep at one end … . (I nearly did not get into the hotel at night either as I had not received a key and the lady running it had went to bed.) I was eating the best pizza on the trip down in this town anyway (at a place that looked really boring, but I noticed the menu was slightly better than most and they had a really good chief there. The town was very strange in ways, I soon discovered – it looked really shabby and there were roads of shops selling all things religious all night long it seemed like. Apparently the town is a very important gathering point for catholics from around the world and they have a procession led by catholics from different countries each day. Even when I went to bed there were some tourist train running in the night with religious tourists among the dark streets somehow showing places of relevance (I did not get what they were looking at though).
Day1 – Day 2 – Day 3 – Day 4 – Day 5 – Day 6 – Day 7 – Day 8 – Day 9 – Day 10 – Day 11