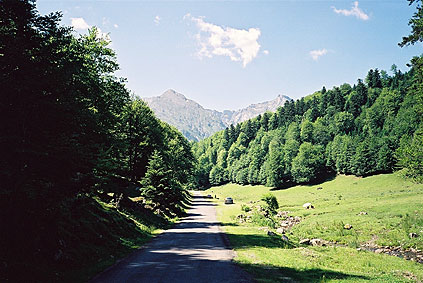 First full cycling day started out with a perfect sunny weather. I took the easy and direct route to Bagnères de-Bigorre from Lourdes. There I had some fruits (always good in the morning to get going). Then up to Ste Marie-de-Campan (851) where the climb for the Tourmalet starts, but I went up in the other direction toward Col de Aspin, but then took a road going off to the right at a little plateau and lake higher up. This small, but nice, little road goes over the Hourquette d'Ancizan (1564) and is a recommended alternative to the easier Aspin road. The road goes up rather high at first which proves to be a false summit and then descends again before rising to the actual pass.
I took a little grassy gravel road to the left just one hairpin bend before the pass and ended up at the nearby Hourquette d'Arreau (1538) where the photo of the terrible gravel road down is taken. Sure enough I did not take that road down, but returned to the nice asphalt road and went down the valley to Guchen (760).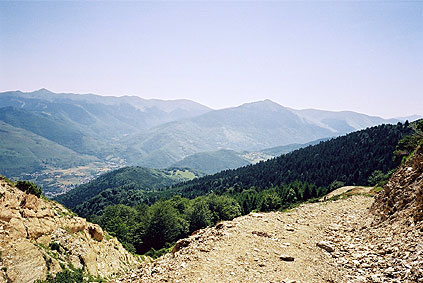 At Guchen I went south up to St. Lary-Soulan or just before, where I went through some very old buildings toward the very visible road cut into the cliffside on the right-hand side, which goes up to the Plan d'Adet ski station, which has also been a Tour de France finish a couple of times. The road also has an alternative ending, which is the Col de Portet (2215) and which is one of highest roads in the Pyrenees.
It all started out nicely, but I soon noticed it was extremely hot on the way up there and the road was quite remarkably steep at around 10% all the time. It is a very good and wide road, but the heat in the end made me really go into the wall (or as near as I have ever been of going into the wall). I tried to go somewhat fast up at first to escape the dead heat at the bottom and hope for fresher colder air higher up, but that was in vain. I really had to stop at the crossroads between Plan d'Adet and Col de Portet and I just stood there in a shadowy place hanging over the bicycle for some time before I decided that I should see if one of the bars up the Col de Portet road was open. One was sort of open and I had some cola and water and looked a little on the Tour de France, that had just started. Nice place.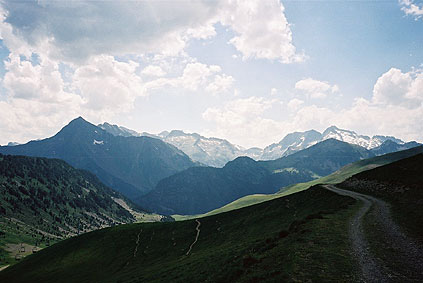 After this defeat I still did not accept to go back down. I was determined to go up to the Col de Portet as planned. The road up there is no less steep than before, but it is around 50% gravel now! So at the top I was almost as tired as when I had stopped before again! A real killer climb this! It obviously takes some time to get used to the conditions down in the mountains, when we have nothing at all like this at home in Sweden, even though I had tried to train for this … . (I was even part of a race (but in the second category) which also one of the few swedish TdF riders was in the weekend before going down to France. I was obviously not in his shape though ;-).)
Ok. The day was not supposed to end here, so I just had to bring myself together and try and look positive on things to come. Right back down to St. Lary-Soulan (795) and straight up to Col d'Azet/Col de Peyrefite (1580). This is a lovely road, normally … but they had just decided to resurface most of this side of the pass road and in the heat it was a rather messy road to climb and it is not very flat either (often around 10%). I went slowly to try and get some strength coming back to me and maybe it worked a little.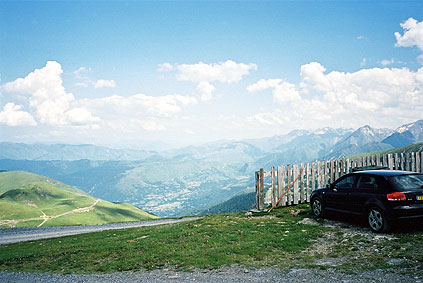 At the top I felt very exhausted again and wondered what would become of my great plans for the coming days. I just laid down flat in grass at the top for quite some time to find inspiration again and wishing the sun to lower a bit, I suppose. I took a photo over the next pass – Col de Peyresourde, while waiting for energy to return.
I had gone this way, but in the opposite direction in 2001, when I was here. It is rather difficult to avoid these passes if one wants to stay up in the mountains going west or east here around. This time I also went around the lake down at Loudenvielle, despite that it is clear from the map that I did not have to do so (I forgot to look at the map just like last time). But the lake is nice.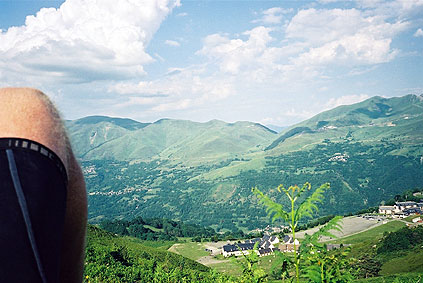 I could now climb the Col de Peyresourde (1569) more quickly since I had some rest at the Azet col and the sun was not as strong any longer. It was getting more pleasant again and I was rather happy and feeling fine again at Peyresourde. I had originally planned to go up Vallée d'Oueil and up on a gravel road to Port de Balès and Pierrefite, but it was getting late and I had a back-up plan of possibly going that way back (which I also could not find time for unfortunately).
My schedule for the first week until day 11, when I should be back at Lourdes to take part of the l'etape du Tour amateur race, was very complicated and demanding. The reason for this was that I intended to do all interesting passes in the whole of the eastern Pyrenées during these few days, including some unpaved pass roads, most of which I was later forced to drop from my plan.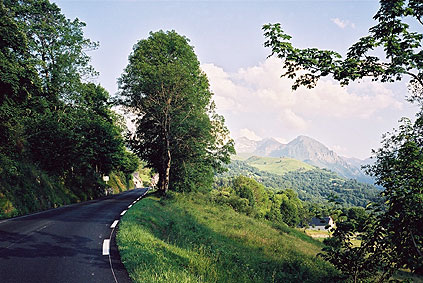 I went straight down to Bagnères-de-Luchon (625), where I tried to look up the place I had stayed at in 2001, but found it closed down now. I found a nearby place, but turned it down as I did not like the people and the price there. I found another shabby little hotel, but it worked out all right. I went and had a pizza at the Basque pizzeria I had visited in 2001 and was served by the same gay-looking guy (but nice). Had a beer somewhere, did the usual summing up of the day route and went over the next days route, went back to wash clothes and went to bed. (The usual procedure.)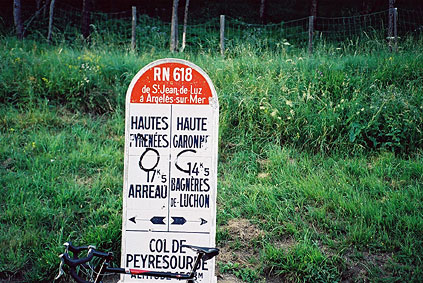 Day 1 – Day 2 – Next Day – Day 4 – Day 5 – Day 6 – Day 7 – Day 8 – Day 9 – Day 10 – Day 11 – Day 12 – Day 13 – Day 14 – Day 15 – Day 16 – Day 17 – Day 18 – Day 19 – Day 20 – Day 21 – Day 22 – Day 23 – Day 24 – Day 25 – Day 26 – Day 27