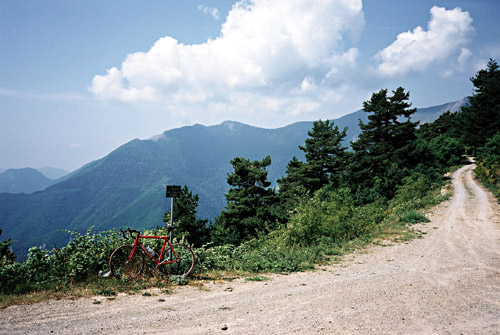 After breakfast I had a nice but chilly at first start from Casterino. I soon got down to the lower sunnier (warmer) valley. It is a very nice road up to Casterino (1546m), which was a delight to descend. It ends/starts in St. Dalmas-de-Tende (663m). From here it was the main road from the Tenda/Tende pass down the Roya valley. This road is awkward only on the French section (it starts in Borgo S. Dalmazzo in Italy and ends at Ventimiglia in Italy), though it mostly depends upon the narrow gorge here. There were also roadworks on this road now. Finally I got down below Fontan (424m) where a road takes off to Ste Claire (D40). This is a very obscure and narrow road which is somewhat flat for quite some time from the start, but then continues irregularly ever-steeply to Ste Claire (956m). I was looking for a gravel road that should go off up the woods on the left hand side, but I could see no trace of it up in the mountains and it was difficult to guess where it would start. After some ramps of up to 16-18% I was closing in on the end of the valley and when I saw the road taking off, I was in no doubt about whether it was the right one (there was only one going to a house earlier on). There were no sign, as expected. (Ste Claire should just be few hundred metres further up the asphalt road.)
I had not heard of any report on this road before and just hoped it would be good enough for my road bike. It turned out to be a very good and easy forest gravel road. Almost never any steep, but instead a bit long and with almost no good views. I met one car. The road ends or meets another road at a pass height – Baisse de Colla Bassa (1350m) from where the first photo is taken. From here on to the Mont l'Authion road I had expected a good gravel road (as it was the continuation of two other roads), but it was much less smooth here and I got a slow puncture/flat. I had to change the tube just as I reached the asphalted circle road at Authion. Later on I discovered that the real culprit might not have been the gravel road but the bad Pedros rim tape. As I stood there fixing the dusty wheel a park guard (this is exactly on the border to the Mercantour National Park, in which you are not allowed to bicycle (apart from the few asphalt roads going through or on its border). I also knew that one was only allowed to go the circle road up at Authion in one direction, but happily I already knew I was going to get in the right direction and as he showed me how to proceed, I just said "bien sur" or something such.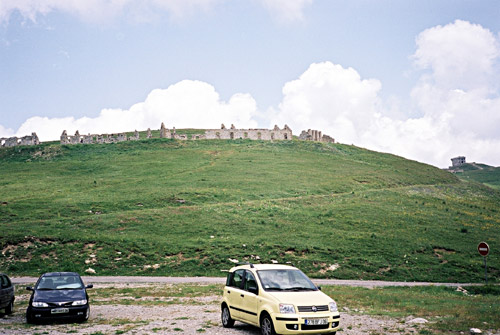 Mont l'Authion is famous for the military stronghold – ruined forts, bunkers and barracks that has been there for long. Germans were there during the second world war and held the mountain until a week before the war ended (more info in French). It is also the most southern road in the Alps to reach the height of 2000m (2043m). (There is a small unnamed pass between the two forts. On the gravel road from Baisse de Colla Bassa one crosses another two passes (without descents) Baisse de la Neggia (1627m) and Baisse de Caran (1707m).)
I descended the road and passed another two passes: Baisse de Tueis (1889m) and Baisse de Camp d'Argent (1737m). At the later pass there are perhaps three restaurants and I stopped at one of them for a sandwich. Then I descended to the crossoads at Col de Turini (1607m) and just as I reached this well-known pass I had a new puncture and now had no more spare inner tube (I always have only one extra with me). But I had one extra patch and glue as an extra security and now I really needed it. However, I discovered that the bloody Pedros rim tape had drifted from the center and exposed the tube to the sharp edges of the spoke holes in the rim and that was the reason for the flat (probably also the time before). I carefully adjusted the rim tape, but I had noticed already when I first attached the rim tape that the glue was not good and that it was difficult to fix properly, but though that it would fasten under pressure from the inflated tube, but alas no. I carefully patched the tube and did my best to fill the tire with air. (I have a 65 gram Barbieri carbon pump, which is good.) I then continued feeling rather uneasy about the prospect of what would happen the next time. Lesson learned!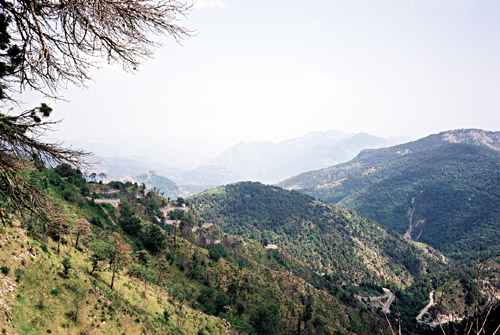 There are three alternative roads and a rough road more than the one I came from to choose among here. Only one is almost flat and that one I took to Peïra-Cava (1450m) (as planned). I had originally planned to stay here for the night, but it was probably fortunate that I did not manage to get here as I saw no place here around that offered any accomodation (and if there was, it would probably have been more expensive than in Casterino anyway). After a while I reached another crossroad at Baisse de la Cabanette (1372m), where I descended on a spectacular serpentine road (third photo is taken at the start of this descent). Unfortunately I was rather frightened of a new puncture and was going very carefully down (also less air pressure than usual does not make one feel better when descending on such roads).
Then I took a small road over to Col de Braus (1002m) and on the way passed by Pas de l'Escous (1008m) (where one starts on this road); Col de l'Orme (1005m) (shortly after with a very visible sign); Col de l'Ablé (1149m) (at the height of this nice little lonely road); Col de l'Agrée (1040m) (some 250m down a gravel road just before joining the Braus road – the sign is visible from the asphalt road). I visited Col de Braus already in 2002 and it was a hard and very hot climb then, but now it was easy as I only had a few hundred metres to cycle to the pass. From here I descended to Sospel (338m) passing by Col St Jean (642m)
I stopped in Sospel and went into a grocery shop and bought fruits, snickers and Coca-Cola (maybe something more). It is a very busy village well situated where several roads meet. I was looking for a bicycle shop and even asked someone about it, but it oddly seemed like they did not have one there (should have been rather ideal with many cyclists passing by there). I continued toward Col de Brouis (879m), but turned off that road toward Olivetta and Italy. This road was more varied and interesting than I had suspected. It was very dry and hot here though. One first climbs up the Col de Vescavo (478m) and then the road get smaller and goes down and then up to the border (where the road is very narrow). The border is the next pass – Valico di S. Michele/Pas de Becche (370m) (which is most known as 'Olivetta'). This is the lowest pass between Italy and France. Just after the pass I felt relieved as I was again greeted by much better roads. I also feel slightly more comfortable with Italians (maybe it is because it is slightly less expensive there ;-)), but I also understand much less of the Italian language.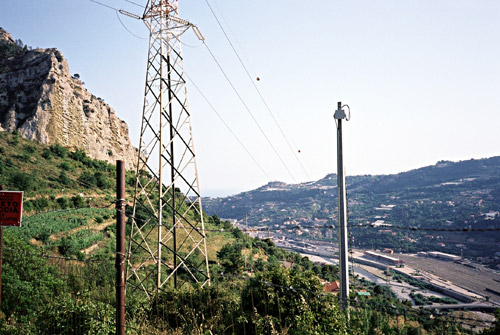 After a short descent to the main road down through the Roya valley, that I had cycled on in the beginning of the day, I continued down to Ventimiglia by the Mediterranean Sea. Quite a detour! I had intended to climb up the mountain to the west just before reaching Ventimiglia, but I decided to see if I could find a bicycle shop and get a new rim tape and a new inner tube. I found a not so well-equipped shop in the start of the city from the way I came. (I was asking for some other, but I did not find anyone who knew of another. I think he had an inner tube and I got a plastic rim tape (but later on found out that it was for MTB sized wheels). Most importantly I could inflate the tire to appropriate pressure again. (I just realised that 'tyre' could be the right spelling too, depending on if I choose brittish or US english, so now I have it mixed here, as I have tried to adhere to brittish otherwise – I hope this will not make you tired! :-))
I went back the same way and took the absolutely first road up the mountain ridge to the west that there is. (There should be one more possible road further up the Roya valley (just 2-3 km onwards).) This road is easy to miss as the sign is tiny and the road is very narrow directly from start. A sign says Ciáixe and the road climbs with an average of around 15% the first 2 km and then more moderately for the last kilometre to the top. Quite steep, that is (max is around 18%)! (Profile)
At the top I took off on the very narrow lane to the nearby tiny Madonna della Neve church. I thought that maybe I could use this road as a shortcut down to the ridge road a bit down the other side of the ridge. But I had to return and descend to that road, which is a very nice little road which continues almost level until a first crossing to the second road climbing up from the Roya valley (Sella Nord del Monte Baraccone (396 m)) and then continues to another crossing with a road coming up from Val Nervia and Dolceacqua (La Colla (479m)). The ridge road continues and eventually becomes a gravel road and climbs steeper up toward the higher mountains separating France and Italy. I turned off at La Colla and went down a very smooth road to just above Dolceacqua (70m), where I turned up the Val Nervia main road and stopped shortly at Isolabona for something to drink. Plenty of cyclists were on their way home from trips up the mountains and I was obviously the only one going toward the mountains this late.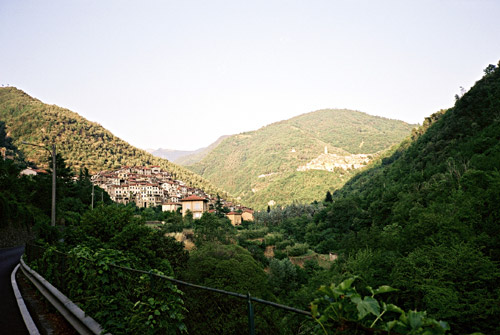 I think it was at 19 p.m. that I left Isolabona (106m) and headed up the next pass. I had originally planned to take right here up to Passo Ghimbegna (898m) and then take the road over Croce di Praesto (1505m) (the highest road this south in the area), but I soon figured out that I would not be able to get over this last road before the dark and decided to try and get over the Colla di Lángan (1127m) to Molini di Triora (460m) instead. As the Lángan pass is rather low, I did not quite appreciate how long this climb would be. It is after all a climb of over 1000 height metres! Thus as big as any other ordinary mountain climb in the Alps. I felt good and there was almost no traffic at all and the road and views were quite good.
I was up at the top just as the sun went down and hurried down to Molini di Triora wondering if there would be any place to stop at for the night as this road and area looked VERY lonely. I went into the small village of Molini di Triora and asked at the first best hotel (a one star hotel at the centre). They seemed busy there, but I got a room and was promised something to eat at a fair price. I took a quick shower and changed to my shirt and shorts and went down and got something to eat and red wine to drink. I did not dare to ask what I would get as they seemed tired and was shouting at each other (the old mother sitting down screaming at her son and looking like she was about to throw out all the guests – just realised I was in Italy for sure ;-)). I just got some odd tiny things on a plate that tasted good, but I did not know what it was and hoped I could get something more. After a while the nice busy man came in with a big plate of delicious pasta with meat and mushrooms. I even got some dessert. The food alone was worth the 40 euro I paid for the room, dinner and breakfast. It seemed like some wealthier people turned up here also for good food – Italy can be quite a value for the money at times. When I took the shower in my room, which was very good on the whole, I detected one reason why this would be a one star hotel (rather than a more appropriate three star one) – the door to the shower and toilet was not possible to close as the toilet was in the way!! :-) – Where else in the world would you expect to find such a mistake accepted??