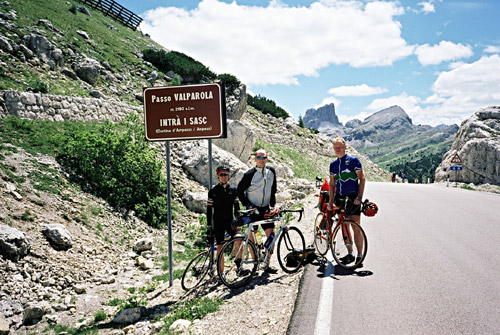 I met my friends again at the breakfast table in the morning. Ola and I decided to get out cycling with the other guy, Fredrik, who also joined us at the Gran Fondo Marco Pantani at the start of the tour. I came up with a tour plan that they could agree to and that made it possible for me to at least visit one of the passes on my wish list.
We had splendid weather and now it was perfect temperatures up at the first pass – Passo di Valparòla/Ju de Valparola (2196m), unlike the cold weather in the evening before. We stopped and had some photos and even met some other Swedes cycling in the area. There were plenty of cyclist around warming up for the Maratona dles Dolomites two days later.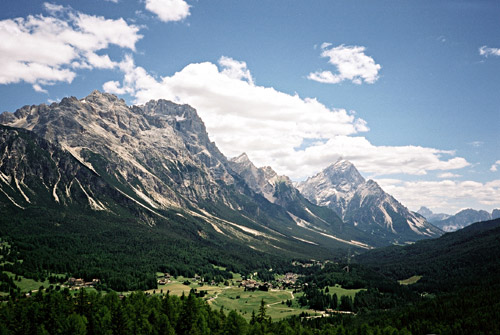 We rolled by Passo (di) Falzárego/Fouzargo (2105m) on the way down via Pocòl (1506m) (where we again met some Swedes, I guess we must have met nearly all Swedes down here this morning) to Cortina d'Ampezzo (1211m). The roads are very fine and it is not very steep down to Cortina. I got a good photo on the way down.
We stopped for a café visit in Cortina and then went up the next pass – Passo Tre Croci/Són Zuógo (1805m). It is moderately steep up this side, but not more than around 10%. I am always slow after eating and also stopped to adjust the gears a little and let my friends go ahead, but as usual I wake up after a while and eventually had to wait for them at the top (always fun!). I had a fierce competition with the old man in the little Piaggo (?) vehicle seen in the photo at the top of this pass (just below on this page). The only thing on his moped bed was his walking stick.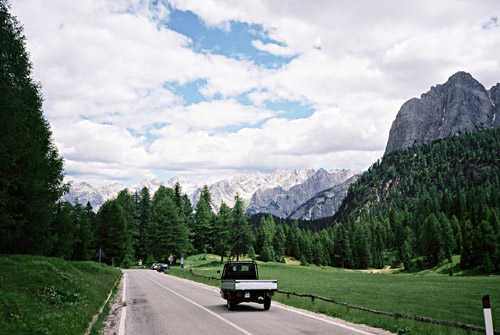 It is a very short way down to meet the road that goes up to Lago Misurina and the Misurinapass (1759m). At Misurina we stopped and discussed whether they would still want to get up to Drei Zinnen/Tre Cime di Lavaredo that I had suggested they ought to do that day. But they were bit worried it would be too much for them this day and that we might not be back in time. My own plan was to get up an alternative (less of a first choice) road toward Monte Piano as there is a pass on the way that I had not visited before – Forcella Àuta/Alta (1984m). They decided to look in the shops and have something more to eat while I insisted on doing the climb meanwhile (I told them to buy a sandwich for me).
I hurried away, not wishing to have them wait a long time for me to come back. At the entrance of this road to Monte Piano is a road block and a sign saying it is not open to any vehicles (apparently they blocked general access to this road around 1997). I decided to ignore this, when a man with one of the jeeps licensed to drive there just happened to turn up. He pointed out that it is not allowed for bicycles. I asked what the reason was and he said it was very dangerous and almost impossible to use the road with a bicycle. I said that was not a problem with me and that I would like to see for myself. He did not argue further and I went ahead.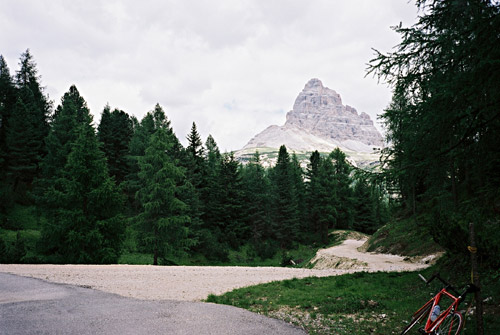 At first it was rather flat and fine, but then there were some parts of the road where the asphalt was gone (the first stretch was longest and lasted for perhaps 300 metres). No problems thus far. Then I came to a crossroad which was a bit confusing as there should not be any crossroad according to maps, but the road that took off here was obviously a new one. I decided to take the old one ahead. The old road had been severly damaged here and there along the way, but was always cyclable with some gravel parts. Then there were some very steep asphalt ramps, but I could handle them too. I had heard the last stretch to the top should be very steep (around 28%), but I decided to stop at the pass and return there as the others were waiting for me – otherwise I would have liked to go up to the top and enjoy much better views from there. There are also some remnants from the first world war to be seen at the top area.
It is an organised tourist business to take people up in jeeps to the top and this is apparently why they built the new road which I now saw met the old road at the pass height. In the photo this new road looks like it is a gravel road, but the asphalt starts just where you cannot see the pavement so well. I was not sure if it would be a good idea to go back down that way, but thought it could be more interesting. I waited a while and stopped a jeep coming up asking about that road. The man (another than before) said that this is the only way to take, the other is too dangerous (well, I did not notice and families with children were walking on this all too dangeros road). But he told me to look out for jeeps coming up at full speed that would not stop for me! – All right, I got the idea that they did not want cyclists fooling around there.
I took the "only possible road" back. However, this was an insane suggestion – well he noted that he did not believe it was safe to cycle down there either! The new road has thick layers of gravel on a very good asphalt pavement and has ramps of 29%! Only the wheel tracks from the jeeps was possible to cycle in, but it was so dangerous going down on the asphalt that I had to keep one shoe out for emergency and at one place I had to walk. On a flat section it was a bit gravel again before turning over a lower pass Forcella Bassa (1880m) and meet up with the old road again. (There might be a third pass along this new road if the road traces the old mule track/path that had went up this way earlier according to the Tabacco map – Forcella de Mèdo/di Mezzo (1908m). It could not be many metres away from the new road anyway.)
After a bit rougher little expedition than I had imagined, I met up with the friends again (who was not really envious of me ;-).) Full speed (after I finished the sandwich) down the gently falling road to Toblach/Dobbiaco, which is also a pass – Toblacher Sattel/Sella di Dobbiaco (1221m). I had a hard time here keeping up with Fredrik down this bit and was not too interested in spending a lot of effort on pedalling down this slope.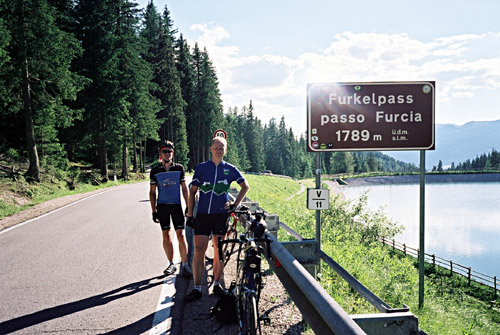 Then it was my turn to keep the tempo up down to Valdaora di Mezzo (Mitterolang) (1047m). Now they were not interested in stopping again, but I thought it was time for another ice-cream and Coca-Cola. They took off after waiting a while claiming that I would anyway catch up with them later on. I gave them some extra time and then started on my way up to Furkelpass/-sattel/Passo Furcia/Jù de Furcia (1759m). I knew the pass was steep on the other side, as I climbed that side back in 2003, but did not remember it was quite as steep on this northeast side. I went slowly in the beginning and then went faster as I got closer to the top, but it was very steep (15% here and there) and I am usually not that fast on really steep climbs because of not being the lightest guy around. So they had managed to reach the top just before I arrived, oh well ;-).
It is slightly dangerous to go fast down the southwest side as the road is good and it is around 15% with sharp hairpins down here. I was close to going a bit too fast down here. Still we had some climbing to do from Zwischenwasser/Longega (1005m) to La Villa/Stern (1421m) and my friends were apparently still fresh and gave me a hard time up there. I explained, you are out training for the race, but I am just out cyclotouristing you know!
This evening we (all four) had dinner together at a very busy, but good, pizzeria in Corvara. I ordered a lasagne as a starter and a pizza for the main course, and then had a dessert.