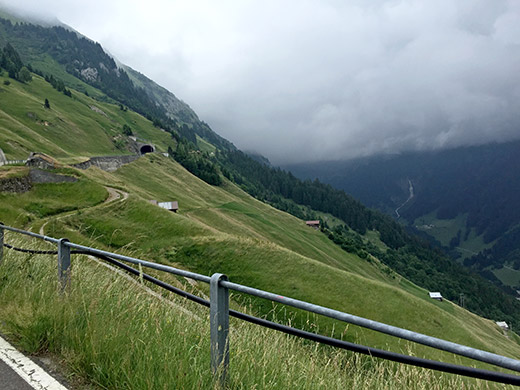 It was clear from the start in Bürglen (560m) that today would not be as sunny as usual, but no rain and lower temperature was certainly nothing to complain about. I cycled up to Spiringen (923m) and already wanted to stop, but no open shops here so just filled up some water and decided against taking the higher and slightly short (hence slightly harder) road to Klausenpass (1948m). Hoping to find a shop in Unterschächen (999m) instead (after a descent from 1043m – the higher road has an even bigger descent along the way).
After searching high and low in the tiny village of Unterschächen, I did indeed find a rather hidden grocery shop (much like in most Italian villages where they never have signs for their shops). Got a Coke Natural (or Green, Life or what it was called –) – it tasted like air bubbles scented with Coke flavour. Nice to be able to sell bottles of air, but not much of a thirst killer. Guess the bottle itself must be the only thing that actually costs something in production. A boy outside the shop complained that it was 'langweilig' in the village and guess he didn't have any friends to play with … .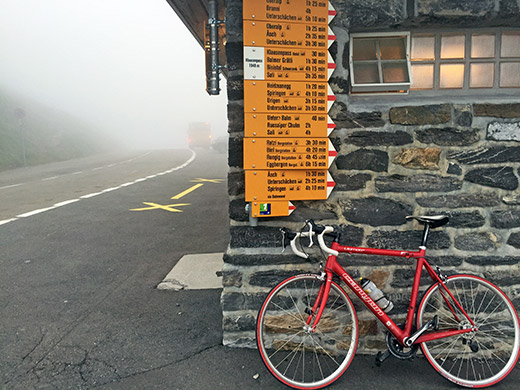 The road climbs a bit more steadily from Unterschächen and above is the view ahead to Klausenpass from far above the village. The road is not very steep though, but then longer instead. I climbed this pass already in 2004, but it was hellishly cold and bad weather then. This time I had hoped to take some nice photos from the pass in good weather, but alas, it is apparently difficult to find good weather around here.
It was a bit cold at the pass, but after climbing up there I was still warm. There were light rain in the air as I came to the pass and the clouds lay thick on the east side.
I went down in good speed to try and get as far as possible before encountering more heavy rain, but I did not get long before it started to rain much more. Then it started to get dirty on the road surface due to many cows in the area walking over the roads. This I remembered from 2004 too, but then luckily was going uphill here. Now I had to be careful descending and didn't want to go fast in their rain with cow dung on the road for obvious reasons, so had to slow down and got a bit cold, but just kept going steadily down through the valley (Urner Boden) to Linthal (662m), where things were fine again.
I continued down to Glarus (472m) where it was finally dry on the ground again even though the rain was hanging in the air. I stopped at a kebab bar in the centre and had a kebab and soda – it was so good I almost got tears in my eyes. Cycling really helps the appetite!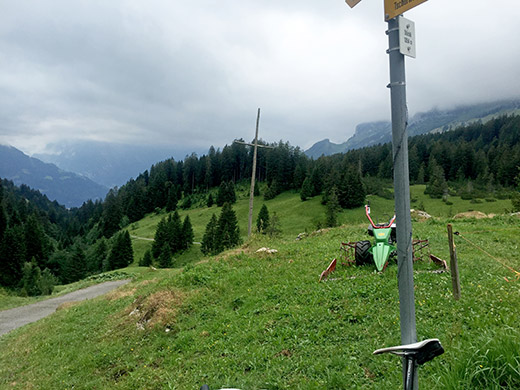 Then down to Näfels and to Weesen (423m), where it was already time for another quick coca-cola and yoghurt, before the climb to Amden (908m). Here I again stopped for a coffee (no principles left apparently about not stopping on climbs …). Even more, I cheated by leaving my back-pack at the café for the next part of the climb to Hinter Höhi/Raa (1450m). I promised to be back before they closed, but was not helped by taking the wrong road first to the very end of it at Stöckli (1354m), which is in the photo here. The last ramp was steep, but otherwise an easy but obscure road seemingly only built for one little farmhouse there.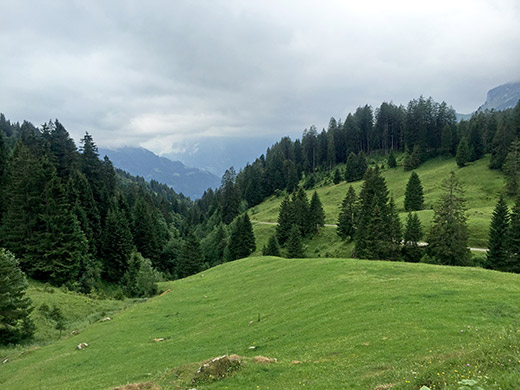 One more from Stöckli (not sure why I kept both, but maybe could not decide which was best, but the above was best … ).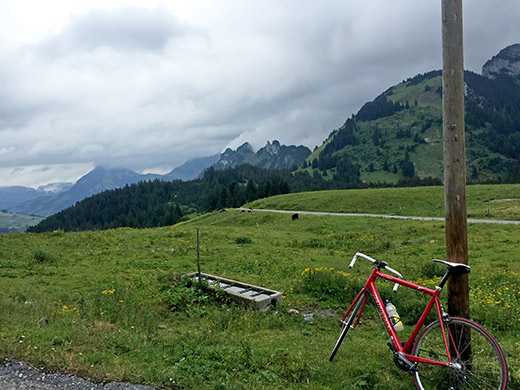 The rain is just about holding off for the rest of the day, while it looks really gloomy up the valley of Glarus and Linthal, which was very visible all the time on the climb up to and above Amden. The road to Hinter Höhi/Raa is indeed quite steep, but also nice. Raa is the farmhouse just above the pass where the asphalt road ends and where this photo was taken.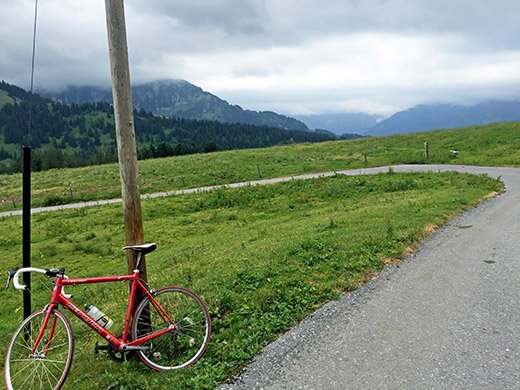 Here is the view to where one comes up (the road goes in the wrong direction here first).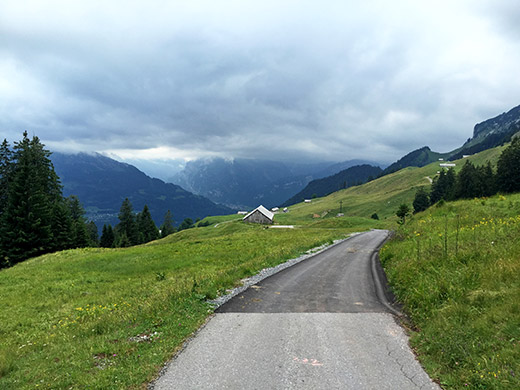 Great views on the way down from the pass and a bit below here I took the alternative road up/down from Amden. One has to be a bit careful on the roads here … that are narrow and not without traffic.
One more coffee in Amden and on I went up the next pass that I had been to before coming from a path on the other side (as I took the false road up that side). Thus I did remember there was one section on this road on the Amden side that was quite steep. The turn-off for the road to Vorder Höhi (1537m) looks unlikely to be the correct road when coming from Amden and there is no meaningful signs, so check your map! The road here is very narrow and goes straight and almost flat into a narrow valley and so continues until one comes to a toll booth (not sure if it is in use). From here to beyond the trees in the photo here, the problematic stretch starts and looking from the pass (in the photo) it does not seem to make much sense in them drawing a road up there. It seems much more logical that the main road would have gone via Arvenbüel, but there is only a gravel road going that way as far as I can make out. It is a twisting section and around 20% or above it at the end (120m up in 900m), but I fighted my way up and then it is relatively easy going to the pass.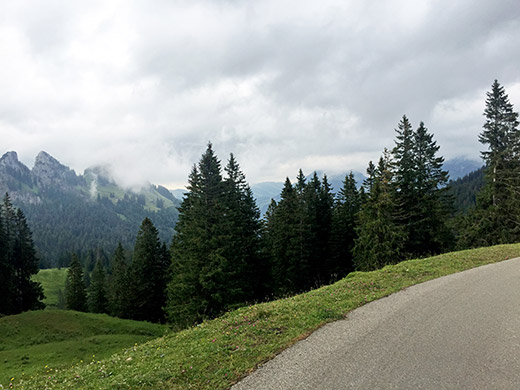 Here is the view down the other side near Chalt-Gräben (1498m) (which looks more like a pass than Vorder Höhi (but for all purposes one could regard them as the same pass).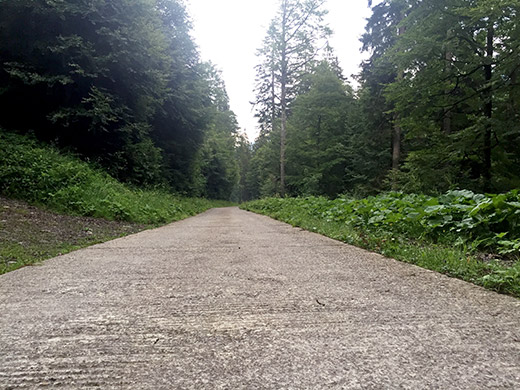 From Chalt-Gräben starts the (in)famous, for road bikers, concrete stretch down to Starkenbach (891m). This "washing-tray" concrete pavement lasts for a few kilometres almost to where the road flattens out near Starkenbach. It is quite unproblematic to cycle on though.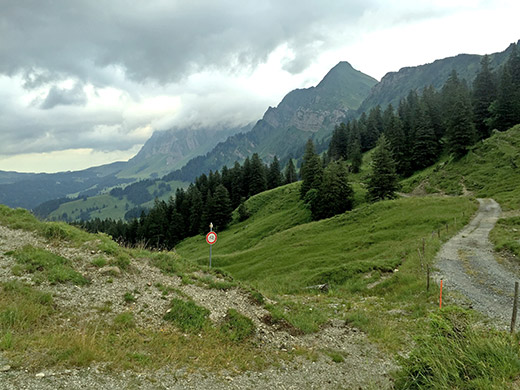 It was getting late, but I wanted to have done one more climb before bedtime. I went down to Stein (838m) and looked for a hotel, but the only one I could find was closed (for good or only this day). Had hoped to find a place to stay at for the night and leave my backpack at for the final climb. Anyway I continued on the climb up to Risipass (1459m). A 619m climb, but a rather steep one. Still the steepness was rather even and it was a nice climb in the evening on a mostly solitary road. The road down the other side is best left to mountain bikers.
The last couple of metres to the pass is gravel and had to climb over the electric fence in the photo here to get a photo of the pass sign with the bicycle (left it out here anyway). The photo above is the view on the other side and here I am looking back to where I have to return.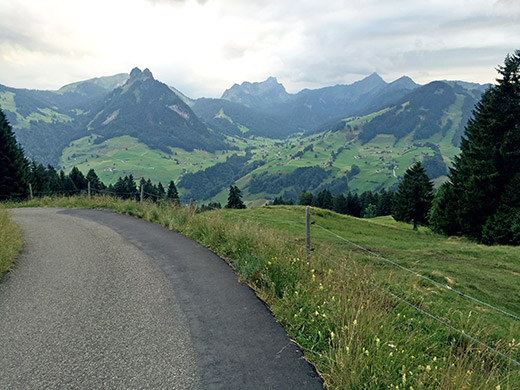 The typical view along this climb. Yet another +1400m asphalted pass done! Further down I had a flat on the front wheel, but had no problem stopping. I was not terribly happy this late in the day to have a flat while I still had not found a place to stay at for the night, but just to take it easy and change the tube.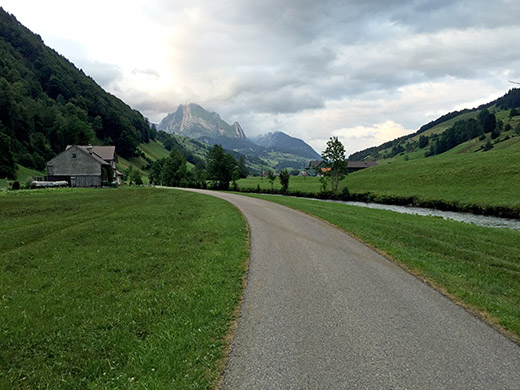 Down in Stein I looked one more time for a place to stay at, but no luck and went back to Starkenbach where I saw a restaurant by the Vorder Höhi road. They did not offer lodging either, but advised me on a good hotel in Alt St. Johann – I went over on a smaller road on the left hand side of the valley and along this road it is the first hotel one comes to. Gasthaus zum Schäfli was not so cheap, but it was still quite good and I can recommend it. They had the best rösti I have eaten, though oddly only one rösti with egg (I had one with mushrooms and no egg).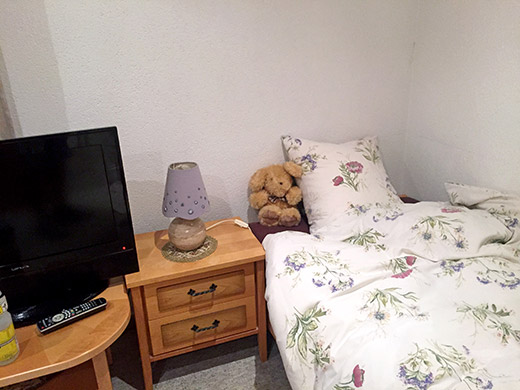 Hard to complain when you get your own teddy bear! Best was that it was a popular place locally, with locals have breakfast there, which is a good sign and nice people at the hotel.