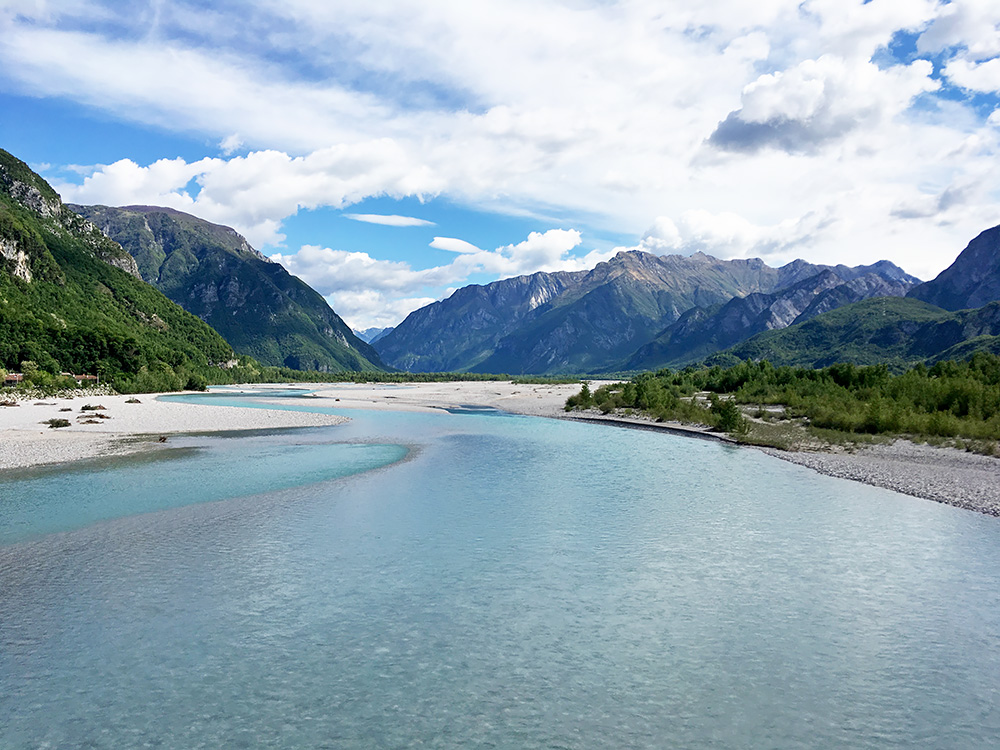 The sickness had almost left me now and I started to feel rather normal again. This day was going to be the day I had planned for the first day, but had to change my plans to do the higher climbs earlier as the weather was better then. Only problem today was that the chain was skipping regularly and quite annoyingly, but not all the time, mostly just on the flat, which was where I would be cycling most of this day … and a long day it was going to be.
The same way down again via Venzone and Gemona del Friuli, where I crossed over to Braulins on the Ponte Braulins (photo). The forecast had said rain even on this day, but I think I had none. When I left it would start to be better weather again.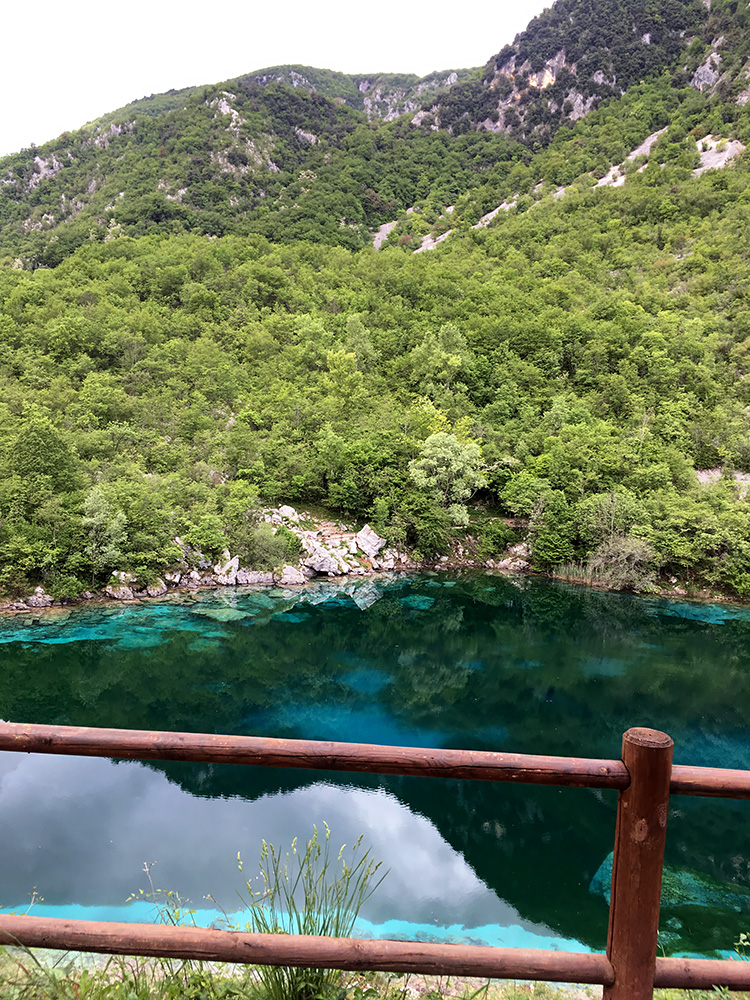 The road from Trasaghis down to Flagogna is probably very popular with cyclists and it is a nice road with not so much traffic. I met a few cyclists. When crossing a little hill along the way one comes by the nice Lago di Cornino in the photo.
The road ahead was rather hilly and with some road choices so I had to stop now and then to consult the map.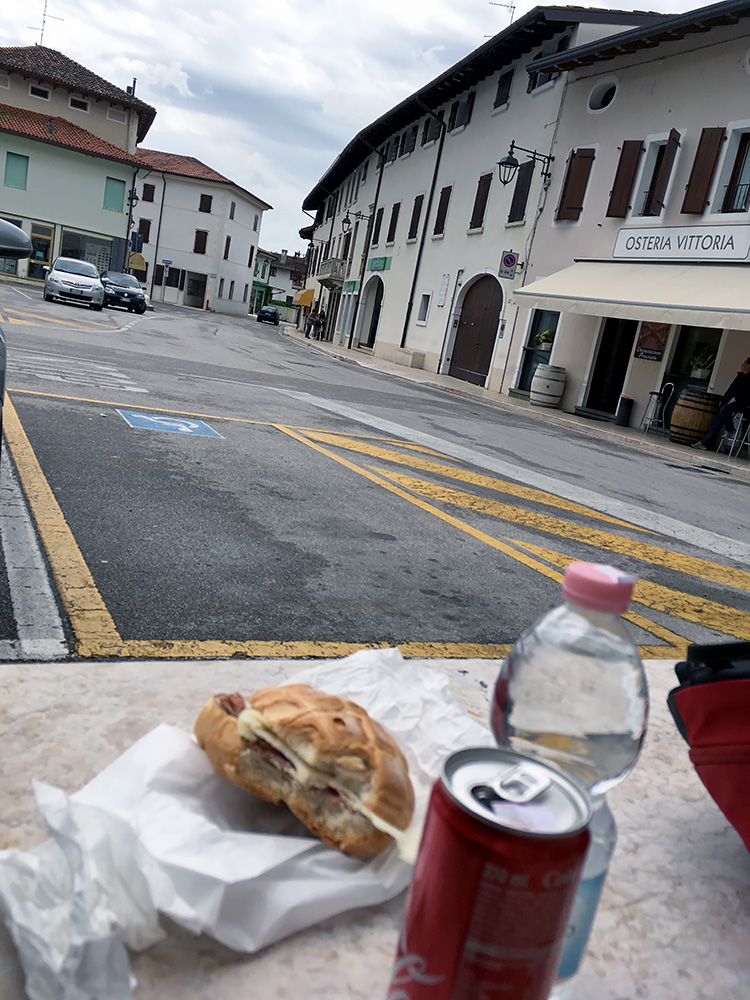 The road went via Valeriano to Maniago, where I was looking after some place to stop at, but suddenly I was out of the village and decided to continue. When I came to Montereale I saw a little Despar shop and stopped for a lunch break. My favourite type of lunch stop with a sandwich with local cheese and some salami and a coca-cola.
It was cloudy now, but still no rain. I then followed the normal Aviano road by the foot of the mountains that goes to Conegliano or Vittorio Veneto.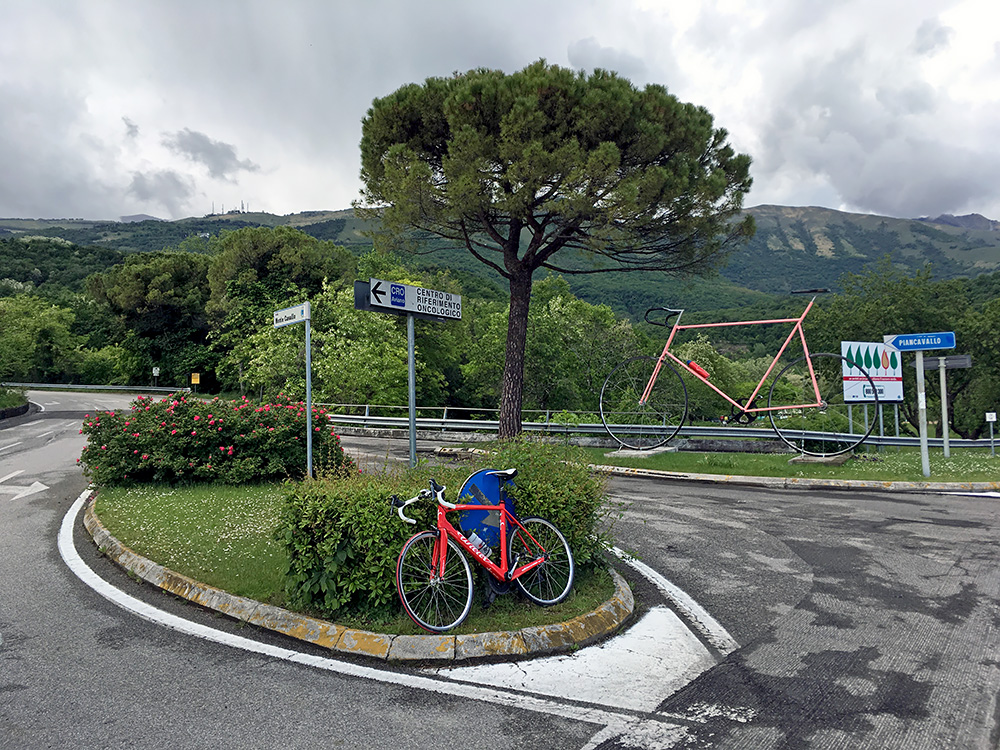 I stopped at the turn-off in Aviano for Piancavallo to take a photo of a big pink bicycle put up here ahead of the giro d'Italia arriving here later in the month. I went up this road in 2010 when I stayed the night up there.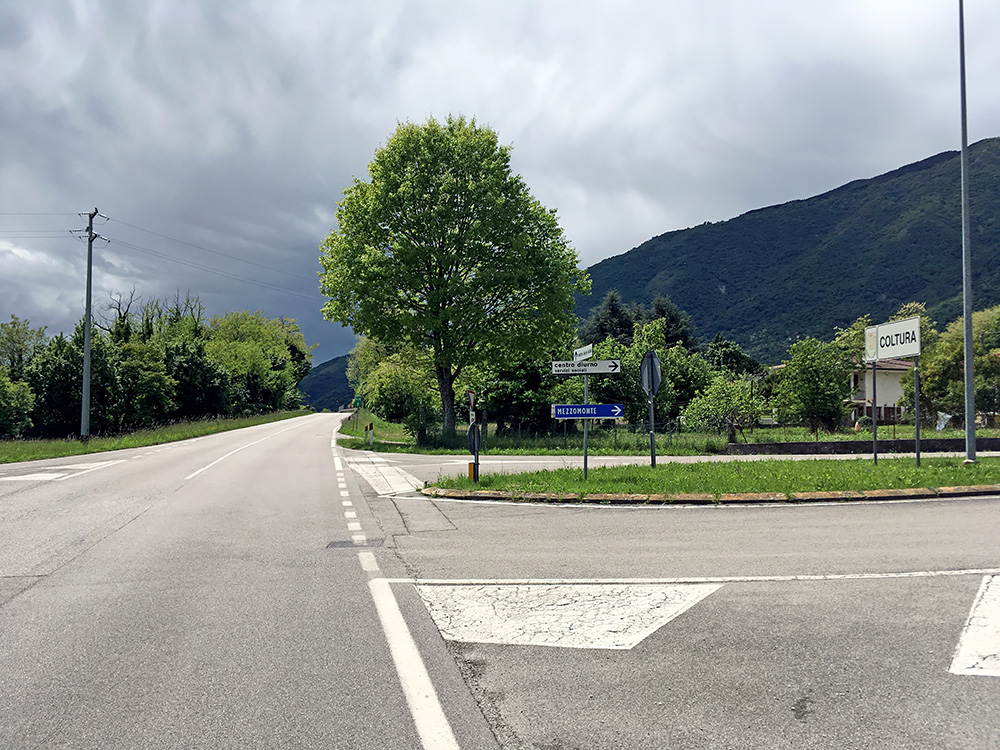 At Coltura-Polcenigo (57m) there is a turn-off again up the mountain sign-posted for Mezzomonte (which means halfway up the mountain, which is sort of true). In the photo here you see the bad weather ahead at the border to Veneto, but luckily I had no plans to go further in that direction and I was pretty far away from Moggio now as it was.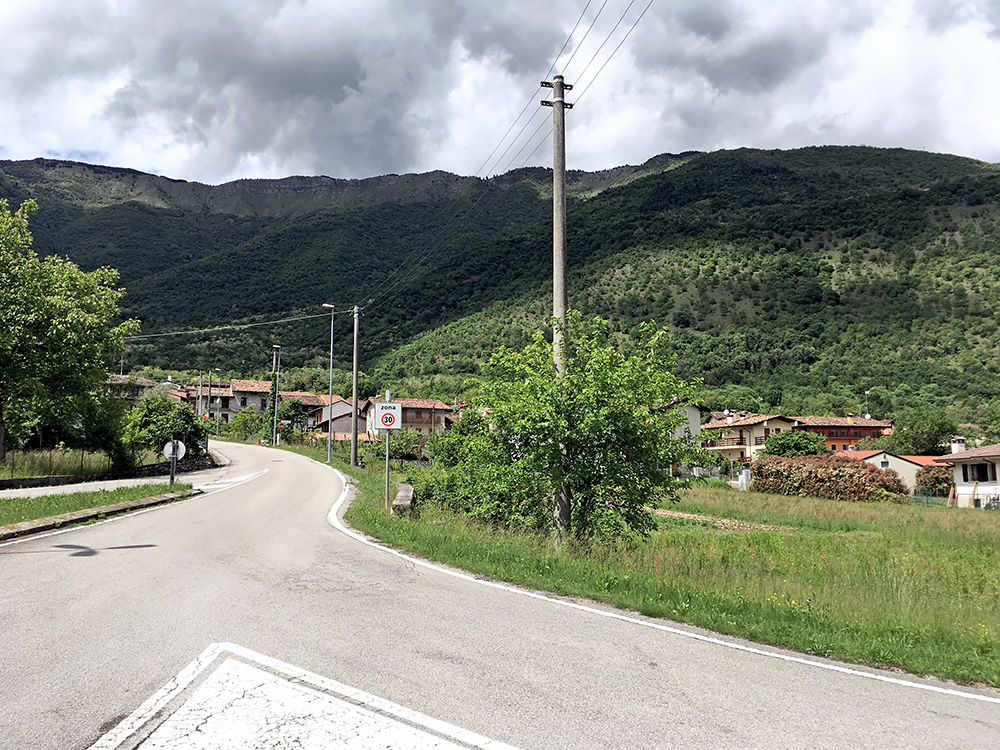 Up the mountain the weather looked better, but the bad weather could well move in on me on the way up there and I actually thought it would, but luckily I was wrong. Mezzomonte was not my destination – there is a small paved road that continues up and this goes much higher than the Piancavallo road, it also starts lower and is much steeper.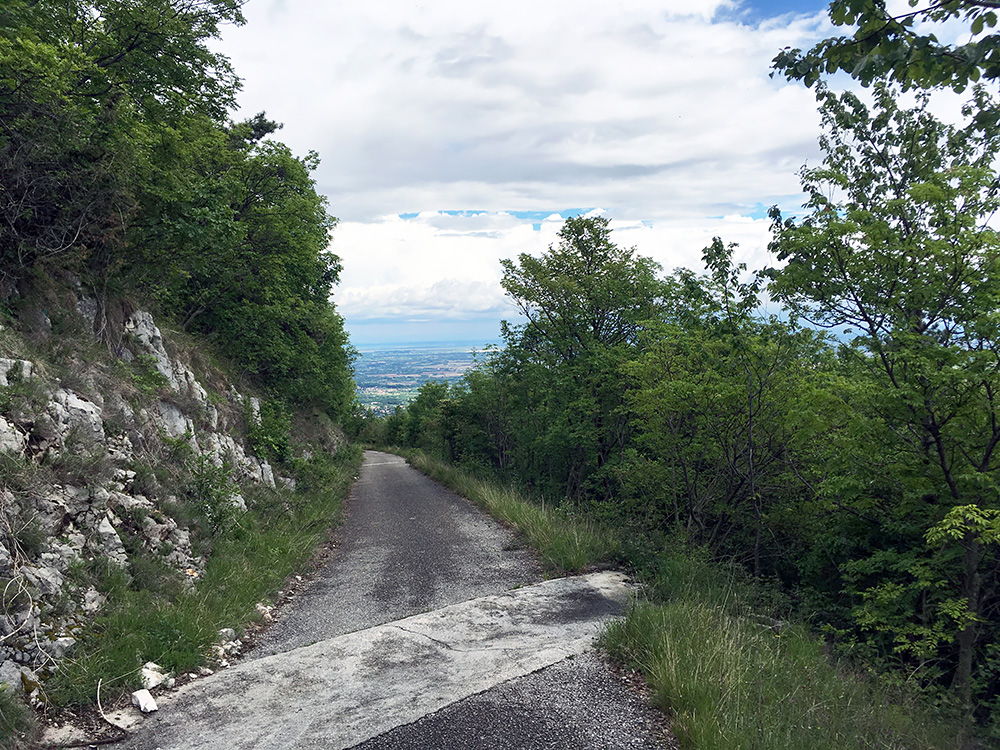 I filled up water in Coltura and in Mezzomonte I found the narrow road before entering the village that continues up the mountain. At first I was a bit unsure as it looked even more narrow and local than I had expected, but there was no good choice to go wrong on.
I felt slightly uncertain as I started out on this lonely road as there would not be much up above for a long time and also not sure with the weather. Just at the start I passed by an old woman and funnily enough you always understand old people even if my Italian is hopelessly bad still (have never really attempted to learn Italian, but should probably have done so, but I am bad on languages in general). She said one should not go alone up mountains like this and a little unnerving as I was thinking the same. Still this would not be new to me so one I went. Soon stopped for this photo on this nice early section.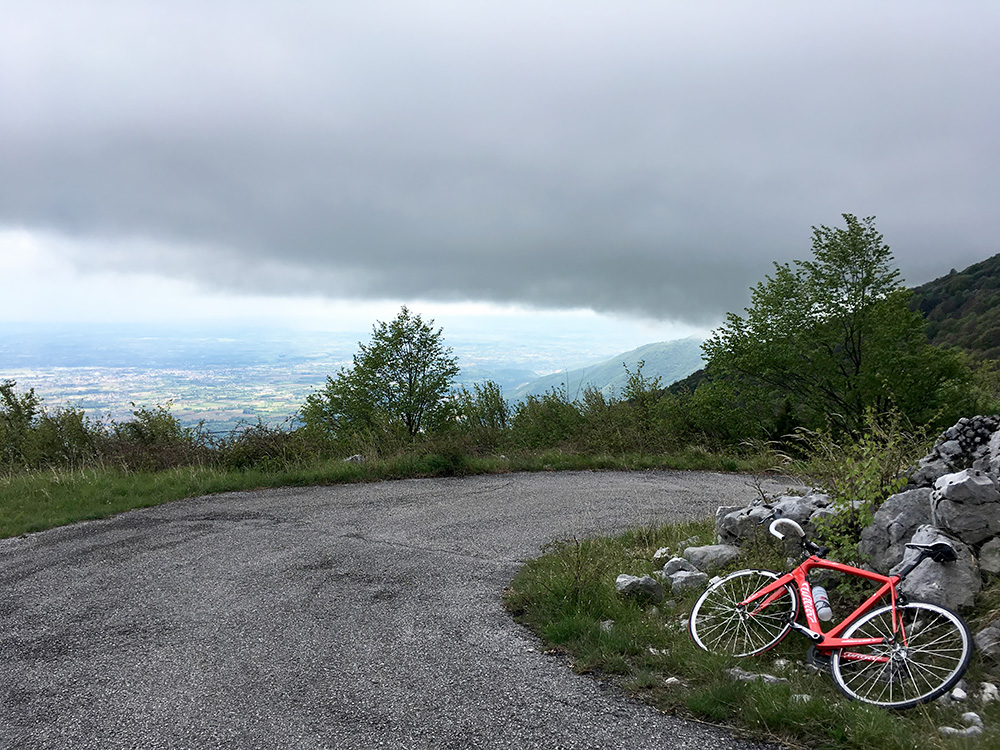 The road is a bit washed out here and there but still remarkably good for the little use it seems to have. It seems to continue forever twisting its way up in ways not easy to guess from below. In the photo here I am half-way up from Mezzomonte and stopped as I was closing in on thick clouds above me (that did not seem to lay so low at the start). Still you see that the bad weather weakened and was not coming closer. It actually looks like the sun had returned mostly down around Caneva.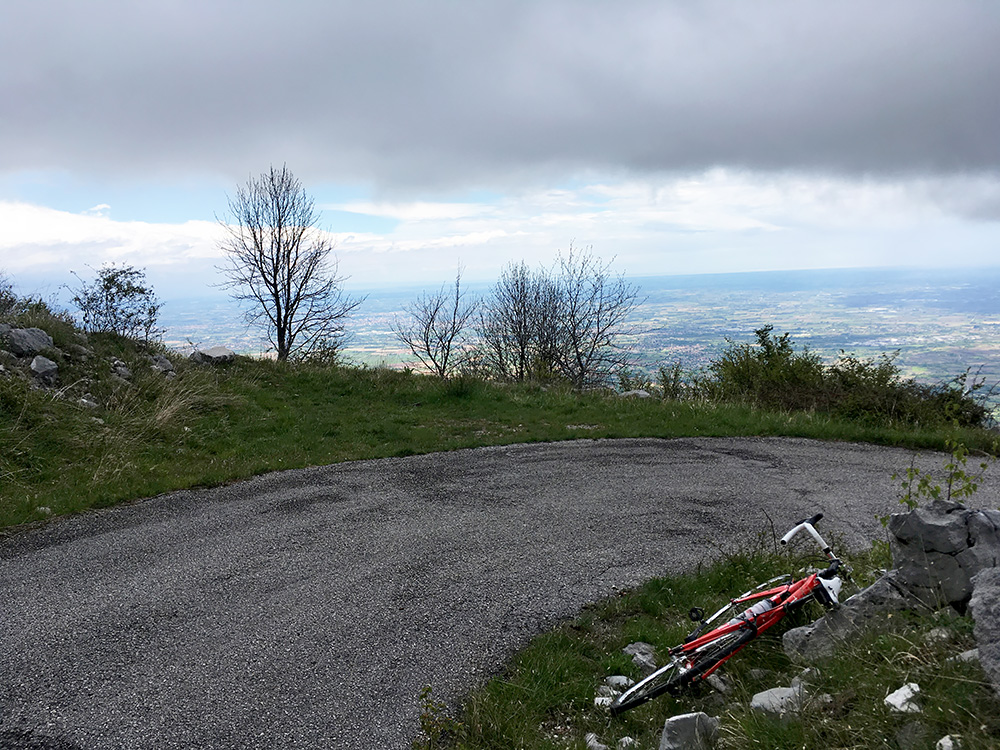 The weather was even better down toward the sea as seen here. I noticed later I could have stopped also a little higher on a similar curve like this. Now as I entered the grey landscape it started to get cold, but that was not much of a concern for now as I soon encountered some steep ramps and the last of them was a tough long concrete over 20% (maybe 23%) and it was just about I made it up. Eventually one arrives at a crossroads and here the road was no until recently paved, but it is now perfectly paved in both directions.
I went a little in the wrong western direction to see if it ended within sight, but it continues for some time and not sure if you now can reach the asphalt road up from Caneva over Passo Crosetta (1119m) to Piano del Cansiglio all on asphalt (the previous gravel road should have been a bit too rough for a road bike from what I have heard). I had heard that the road east up here to Piancavallo had all been recently paved though and so I went east and the road continues up here for some time.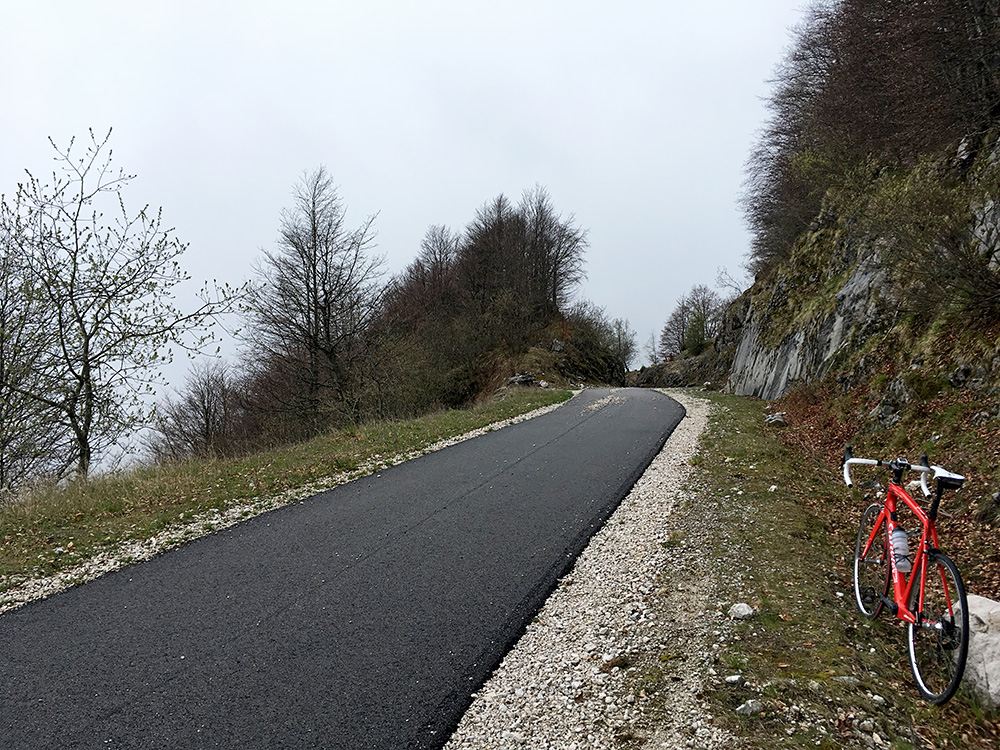 The views up here should be really great if the weather would have been good enough, but not today. You can see how it looks from the highest point along the road on Google street view (before the road was paved).
I met two walkers up here, but no one else. The road looks great, but there were quite some stones on it and also it has some rather nasty (for a road bike) drainage gullies with big stones with a bit sharp edges. So not as smooth a road as it could have been but at least now possible with a road bike and there not so many as great climbs as this, so all the reasons to be happy here.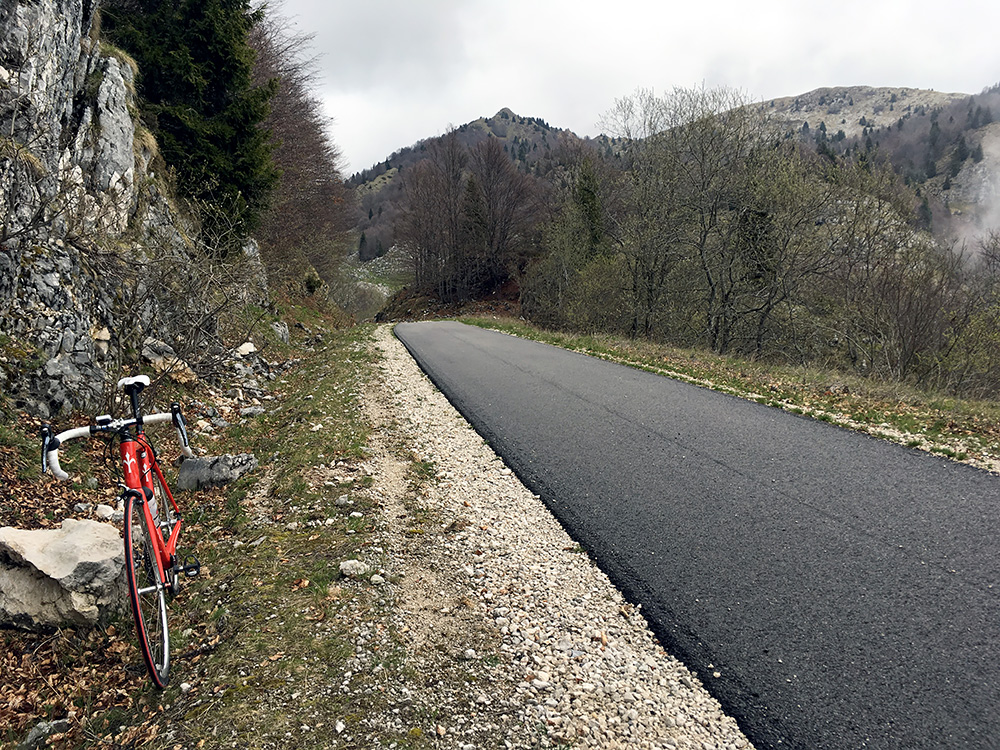 I had some views but only of the local areas. It was also quite cold now and this road does not quickly descend. The climb from Coltura (57m) to Casera Fanghi (Piancavallo) (1549m) is almost 1500 height metres (1492m) and this makes it the longest paved climbed in all of Friuli. Panoramica delle Vette (Monte Crostis) (1982m) "only" has 1421 height metres! I call it Casera Fanghi (as that is closest named locality on the technical map at the high point of this climb, but that house is destroyed, but the mountain area above is called 'I Fanghi', and at salite.ch it is referred to as Val Friz (Valle Friz), after the next casera (not destroyed)).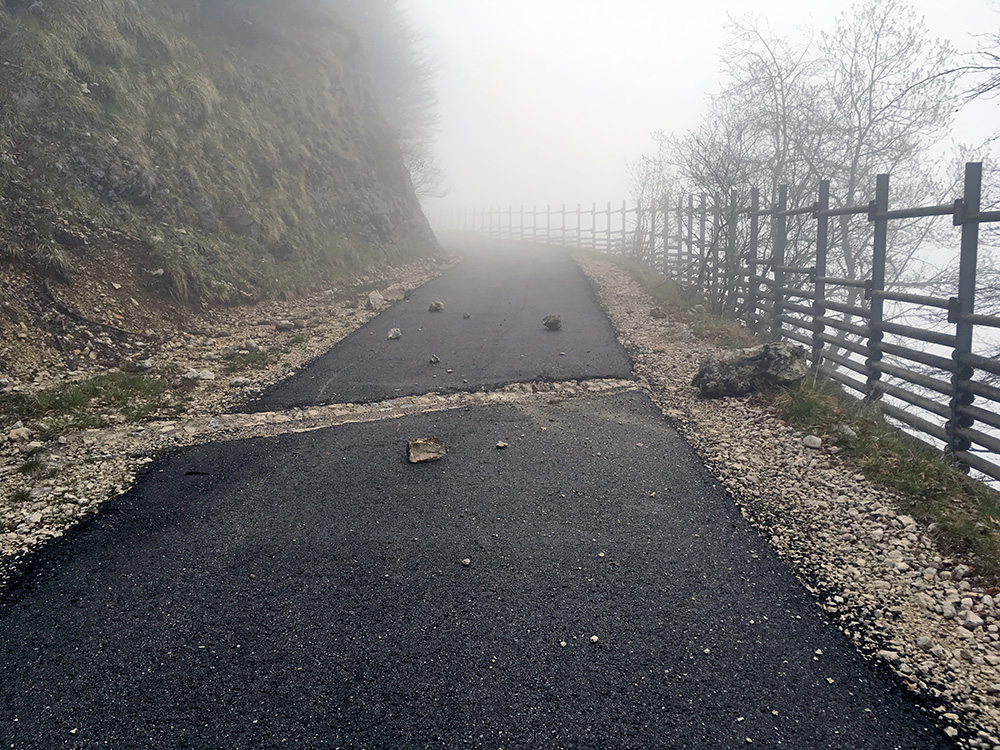 A photo to give a sense of the mixed feelings about the road, but I am sure it is likely cleared up a bit better in the summer. This drainage gully was not the worst – there are wider ones later on.
I put on the wind jacket and continued.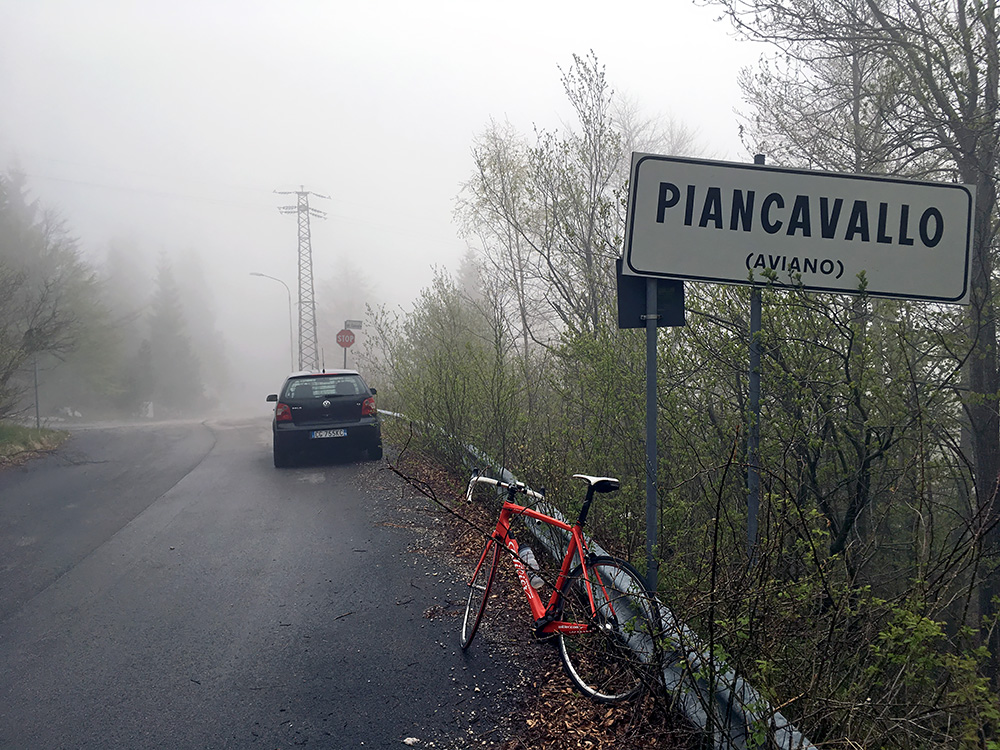 Finally after a boring climb again I reached Piancavallo. This photo had to be enough for this visit. The weather cleared up as I reached the unnamed pass here in the upper parts of the ski resort. I was very undecided up here if I should take the easy road down to Aviano or go over and down to Lago di Barcis which would likely be a longer ride before warm weather would be back, but it felt like an anti-climax to go down to Aviano so I went down to Barcis. I was also not clear if that would mean I would get back too late, but decided it could not take much longer time and would be more fun.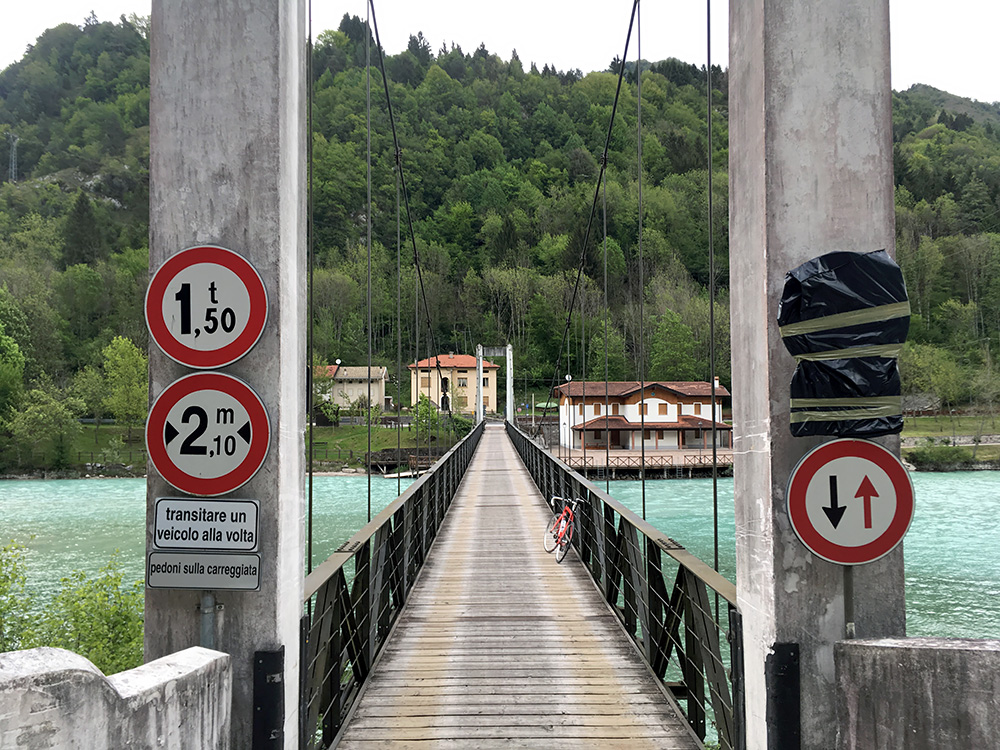 It is a fun road to descend to Barcis and it did not take so long before it got a bit warmer, so was happy I went down there. Also the weather was not bad down here either. Here I am down by the bridge over the lake where I have been before.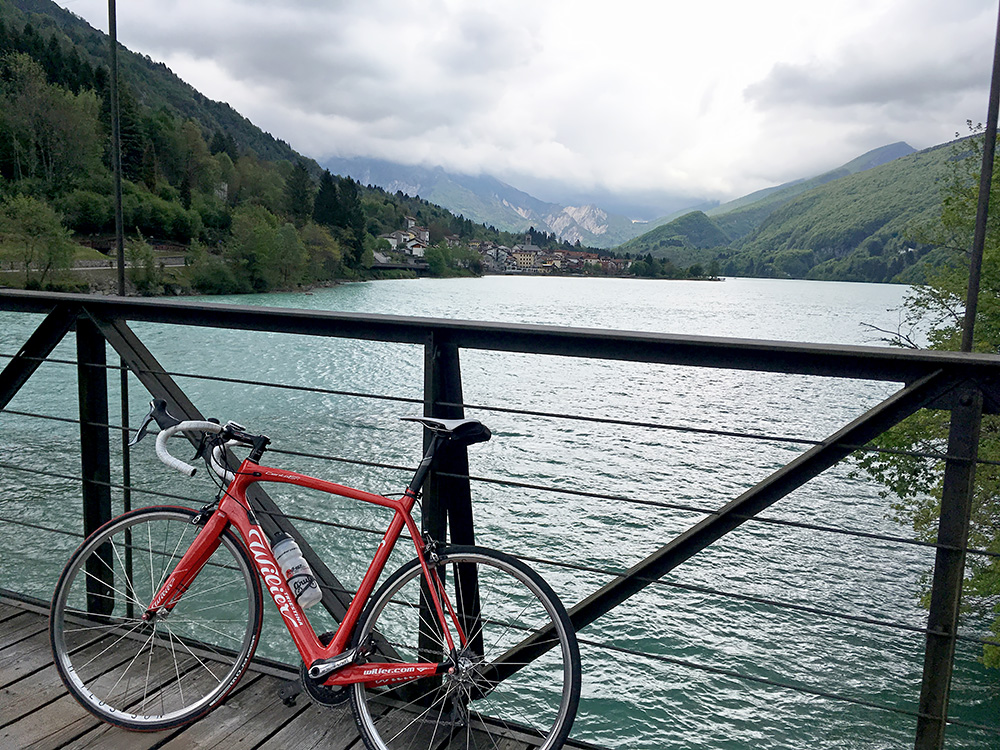 It is a nice location. The only problem is the that the old nice road is not open for traffic from/to Maniago/Montereale and the main road is a slightly unclear if they want you to bicycle on with a long tunnel. One could always and preferably reach the area from the east via the Forcella di Pala Barzana (846m). From the west one comes from Longarone over the Passo di Sant'Osvaldo (828m) on a nice road.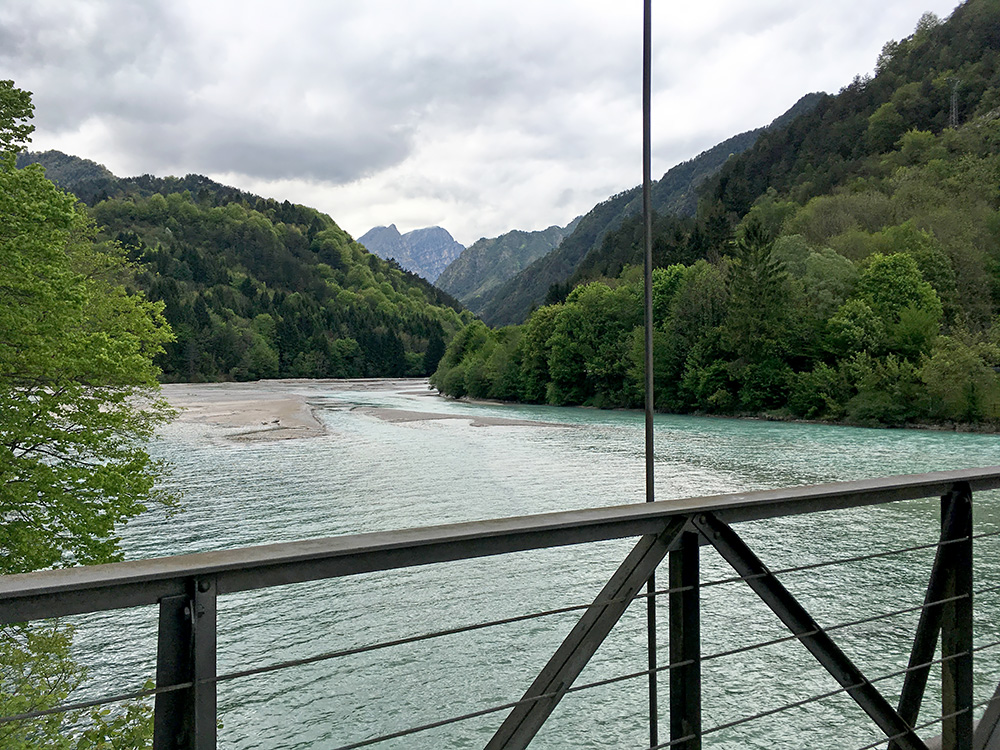 Here looking up in the direction of Longarone. Thought about stopping again, but now I just wanted to get down to Maniago and warmer areas. I took the long tunnel down and was soon in Maniago. Saw some hipster Americans cycle with three-wheel bicycles and other odd bikes "blocking" the traffic in now busy Maniago, but guess they were soon out of the area. I went on as I was a bit worried about not getting back too late.
It was a long way back on the same roads. In Trasaghis I made a short-cut over a walking bridge I had noticed on the map, but it was not really faster. I stopped at the bar in Trasaghis for a quick coffee and to tell them at the B&B that they could expect me to be back around when it was starting to get dark.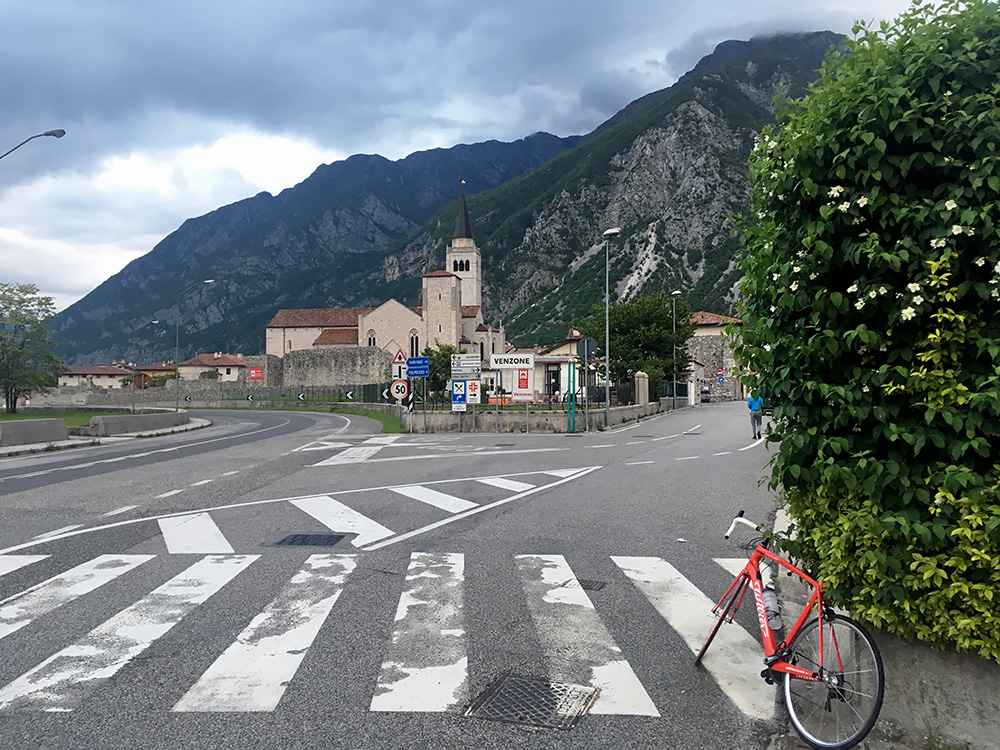 Passing by Venzone a last time I stopped on the main road for a photo.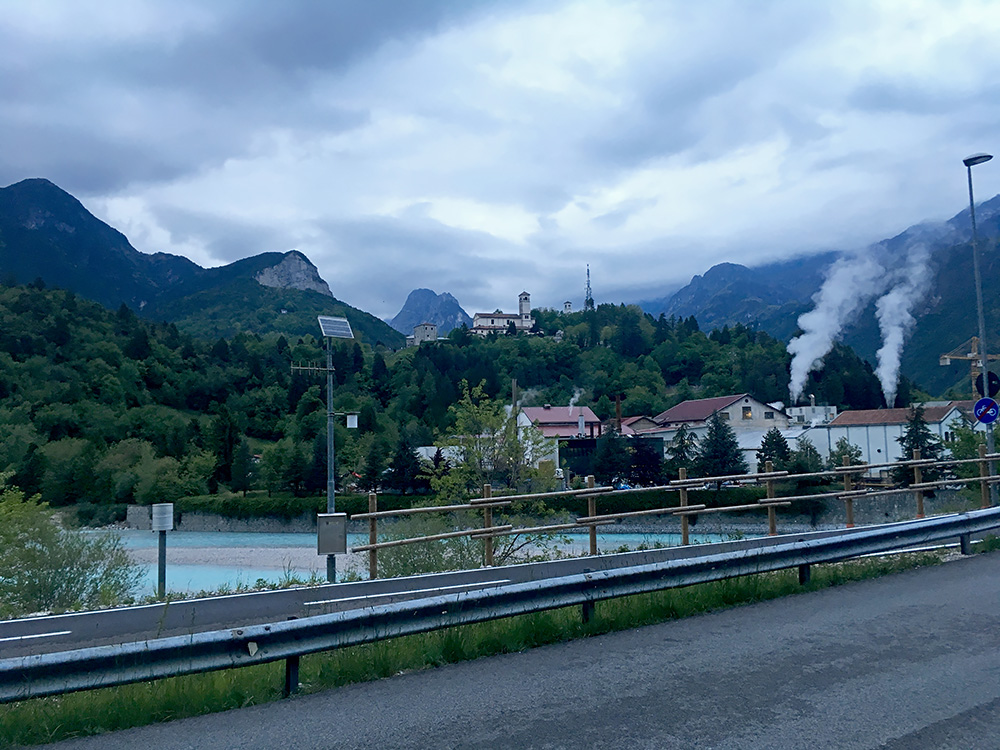 Had to take a last photo of Moggio in the late evening too. Liked that view of the famous church and smoking chimneys of the still operating paper factory here. All ended well and slept a bit longer the next morning and got on the train from Carnia to Venice and back home again the next day. Some problems with the bicycle and a cold, but still got to see most of the nice places I had hoped to see this time in Friuli.