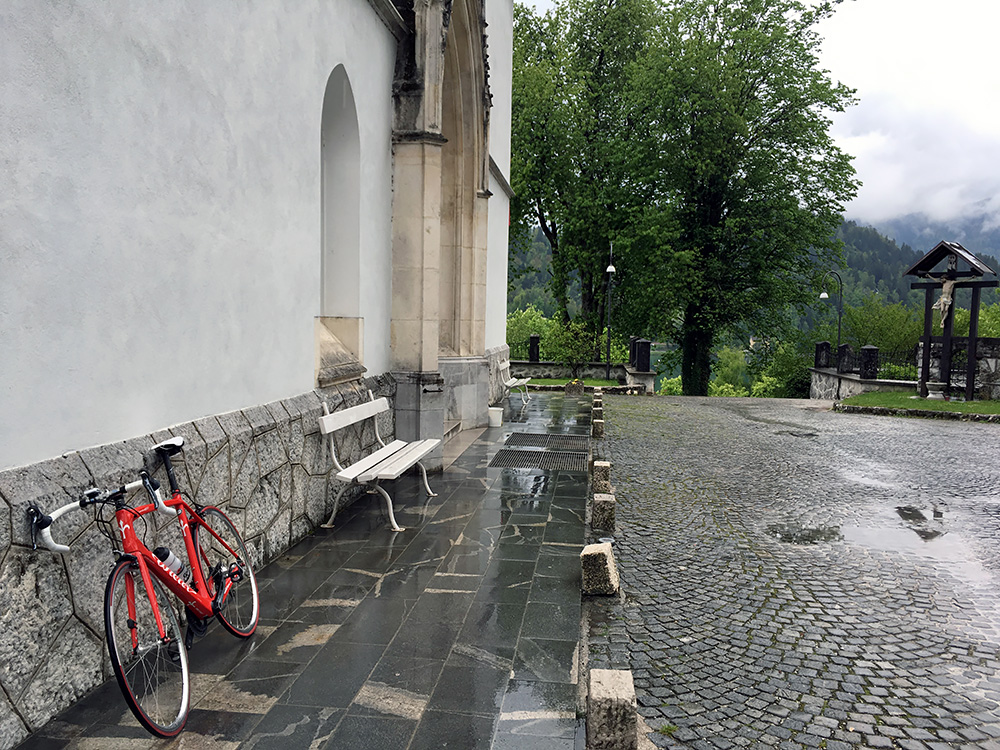 Went down to Bled in the morning and the rain increased at once after I left. I still waited long before leaving. When I came down to Bled I was almost totally wet and and it was not warm. I stopped looking for the ways, but remembered I was supposed to go down to the centre to climb from there to the Blejski Grad (a small BIG climb – not sure why this has become a BIG climb as it is not much of a climb and it is called a EuroBIG – probably added for touristic reasons. Anyway the weather was not "touristic" this morning.
After having a coffee and waiting almost another hour to dry up and wait out the worst rain, I went up in light rain to where I thought it was, but I should have gone up where I first had stopped on the way down here, but could not care too much and was happy to get out of Bled as quickly as possible. I stopped at the end for this photo, which I think is just below the Blejski Grad.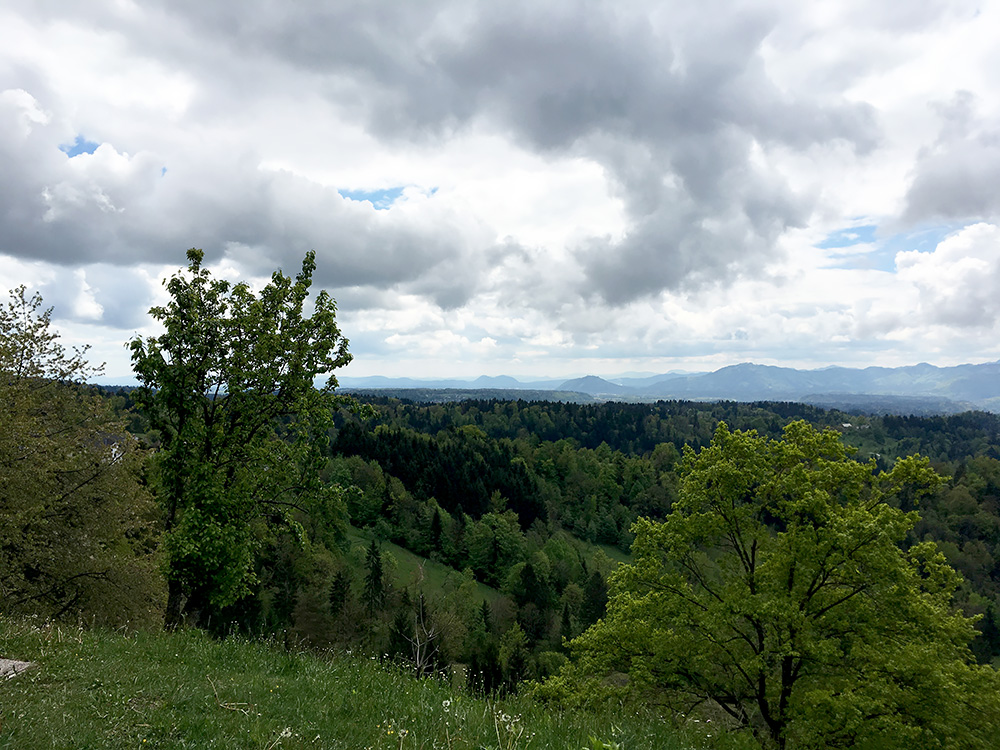 As quickly as I got out of Bled to the east the weather improved at once and soon it was dry on the roads. I searched long after a bicycle shop in Lesce, but seemed like if there was one they were closed on the 2nd of May. I was thinking that maybe the Slovenians celebrate 2nd of May instead of 1st of May after leaving communism behind … . Anyway I had no problems cycling with one broken spoke, just that it is usually a good idea to get a new one as quickly as possible to minimize the changes of having yet another one break, which could be problematic.
I crossed the wide valley here, as planned, over to the mountains on the border to Austria. I followed the mountainside road that went a bit up and down and stopped for this photo along the way where you see how the landscape opens up down toward Ljubljana. I met a girl on a road bike and think this road is likely popular with local cyclists. Then I came down to Tržič (496m) where the climb starts up to the Loiblpass/Ljubelj (1068m). Searched for some time after a bicycle shop or a grocery, but no luck, and then went back up to the main road where it said it was forbidden to cyclists, which I could not understand as I did not know one could have went up through Tržič. I later noticed it was possible as I continued on the main road. I guess it is just because of a short tunnel they want cyclists to take the minor road, which likely would have been nicer.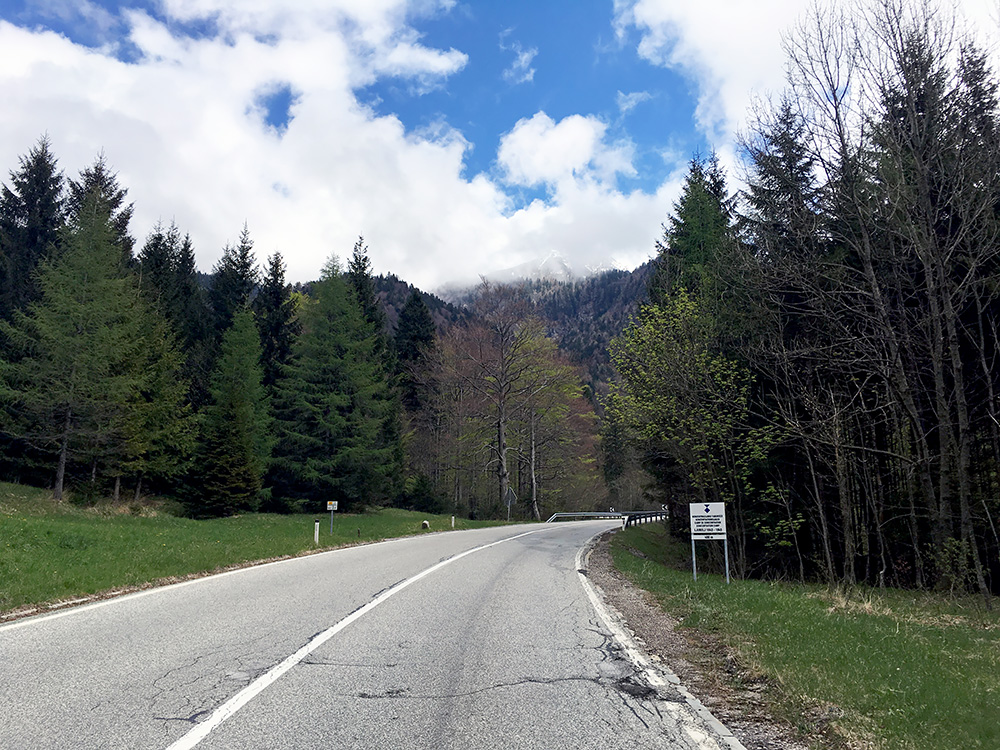 Here on the main road on the south side of the Loiblpass/Ljubelj. It is somewhat steep in places, but it was a relatively easy climb. Going over the old Loiblpass/Ljubelj would be quite something different. That road is only gravel apart from the pass itself where there are asphalt (maybe there have been more asphalt earlier, but doubtful. The old road is securely closed on the Slovenian side, but one could walk up on the road, but then it is over 25%, so hard to handle even on a mountain bike and no chance on a road bike. I tried the +20% ramp at the end of the Austrian side and fell that time. It is not a terribly nice pass, but a bit nicer on the Austrian side.
Originally I hade planned a longer detour over the Seebergsattel (the next asphalted pass east from here between Slovenia and Austria), but realised I would not make that in two days coming back to Moggio, given the climbs I wanted to do along the way.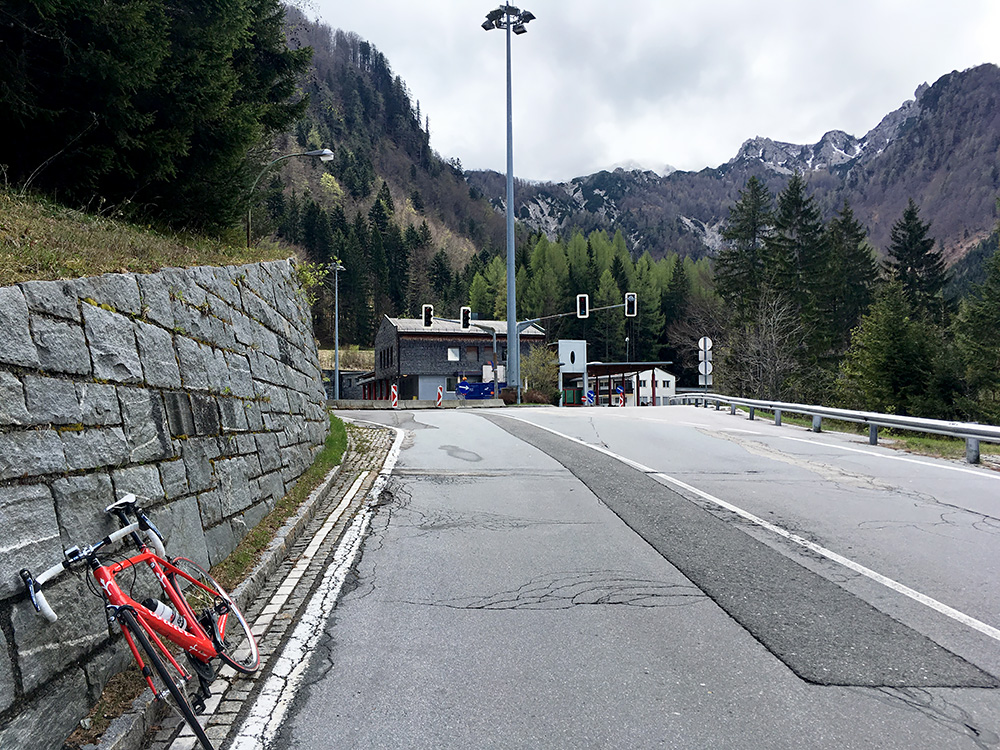 Once through the tunnel I took a photo up the mountains. It was a bit cold and not really spring-like here either. Once going down the Austrian side spring and warmth however returned.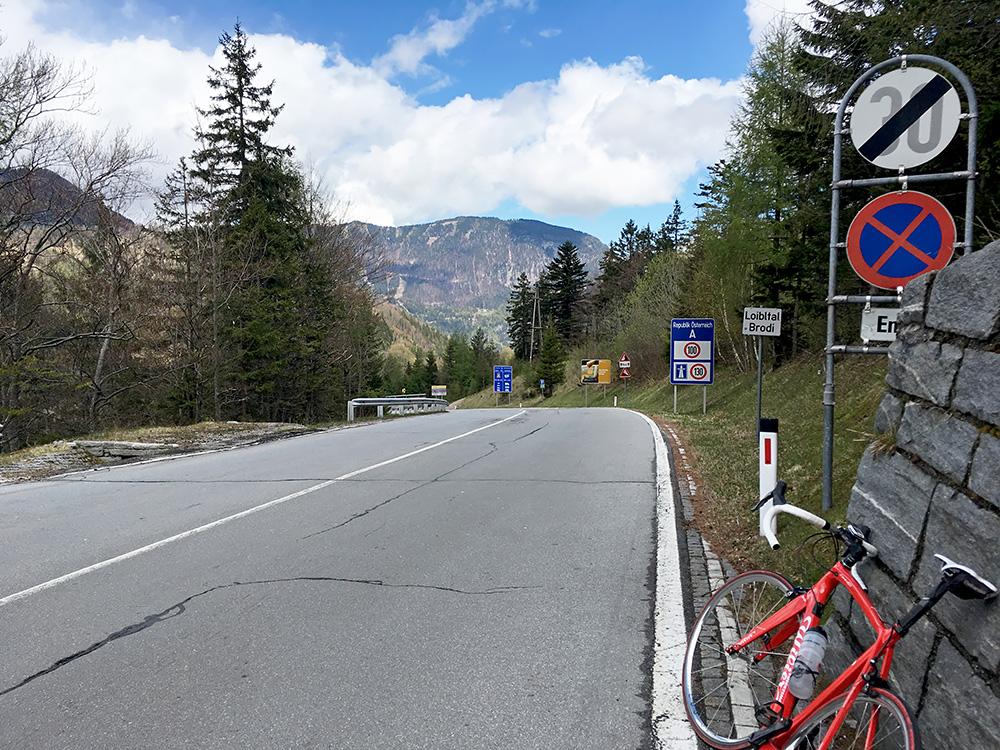 Here I look ahead and the first part of the descent is pretty steep here. The road is much more irregular on the Austrian side where the road then narrows and climbs again up to the Kleine Loiblpass (770m) after which it again is quite steep down to Ferlach (or Weizelsdorf (434m) on the main road that I took).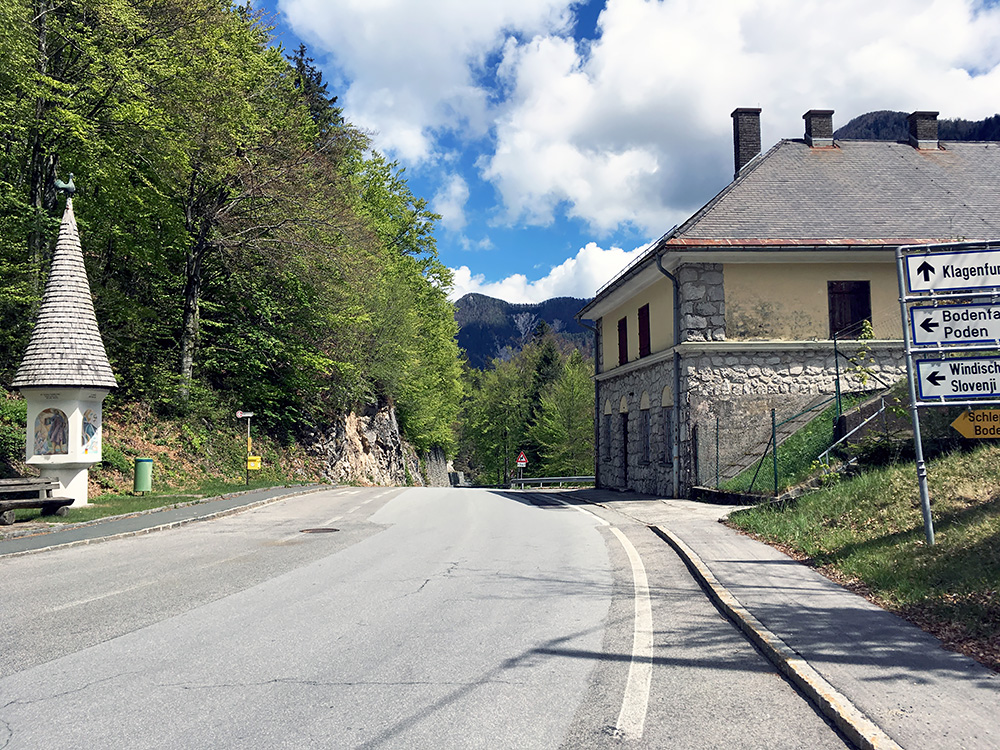 Here is the Kleine Loiblpass where a road goes up a nice-looking valley to Windisch Bleiberg where one should be able to cross the Krischnig-Sattel (1086m) on a gravel road down the Bńrental to Feistriz which might be fun to explore another time.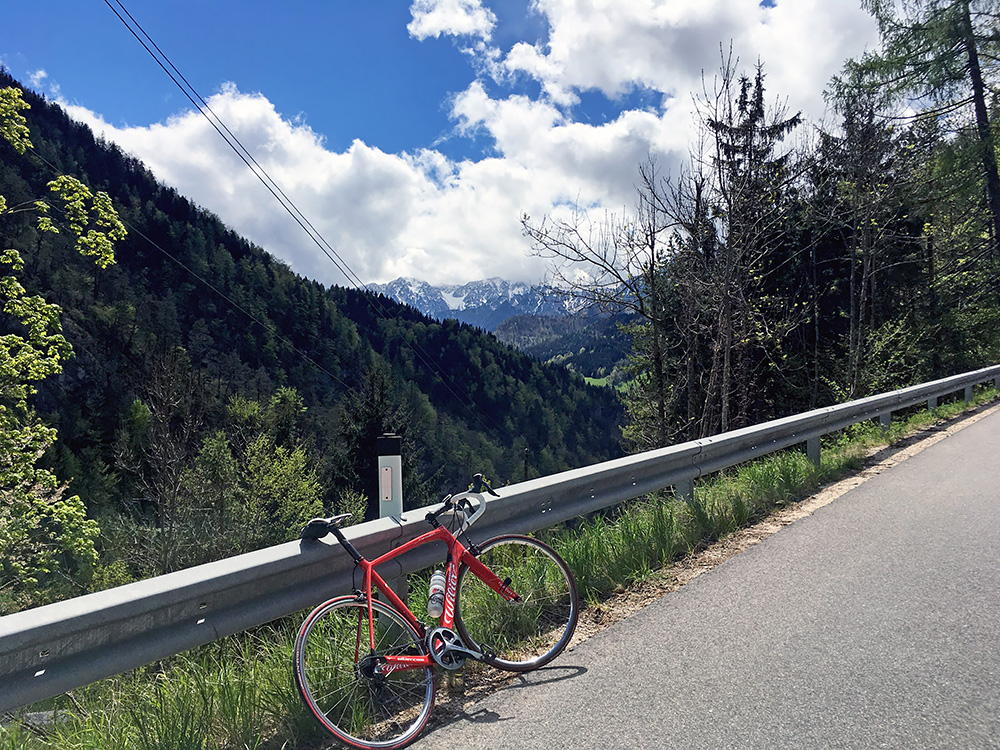 I went up a little on this road to get a better view back to Loiblpass/Ljubelj before descending to Weizelsdorf. In Weizelsdorf I realized that maybe they had a bicycle shop in nearby Ferlach, but now wanted to get going and that was in the west direction. The road here I have been on several times before now as it is the only road near the Karawanken/Karavanke mountains separating Austria and Slovenia.
This road is also a bit narrow and a lorry was driving carelessly here and nearly smashed up with a car ahead, but then it got better. Eventually I stopped at a cafÚ in Maria Elend or earlier. A man there worked at another cafÚ (Triangolo) closer to the Faaker See and took me there – not long and lost the time I gained on yet another coffee and ice cream there, but got directions from him to a (possibly) good bicycle shop in Villach.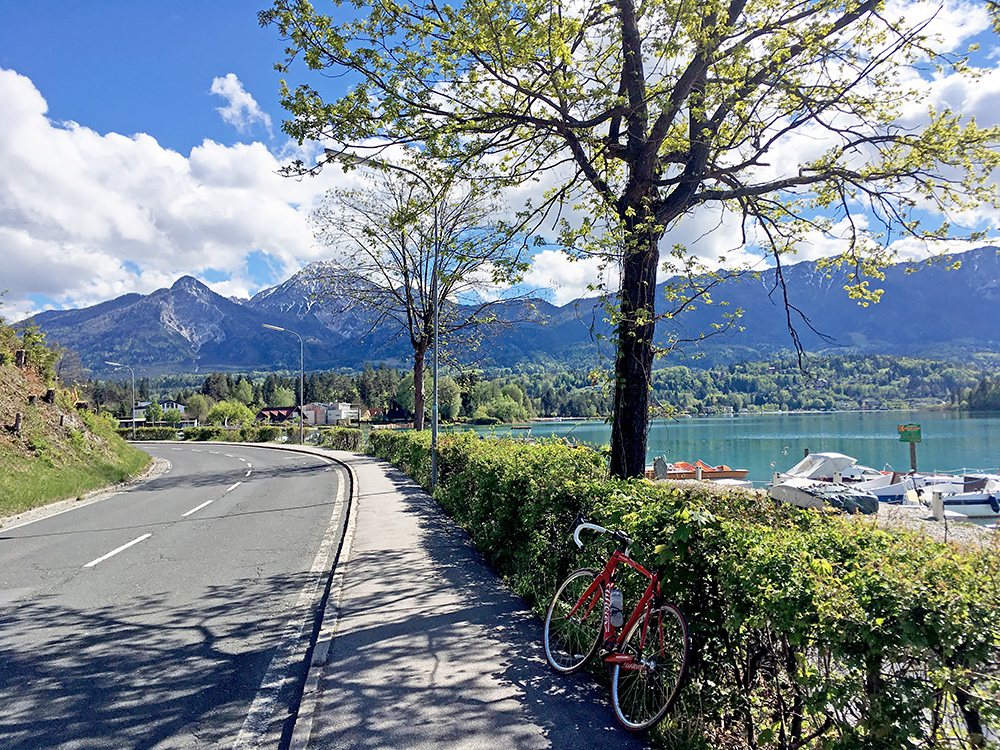 It was then a nice little ride to Faaker See (lots of traffic around here though). Stopped for two photos before I continued to Villach where it took some time before I managed to locate the bicycle shop cycling a bit back and forth before zeroing in on it.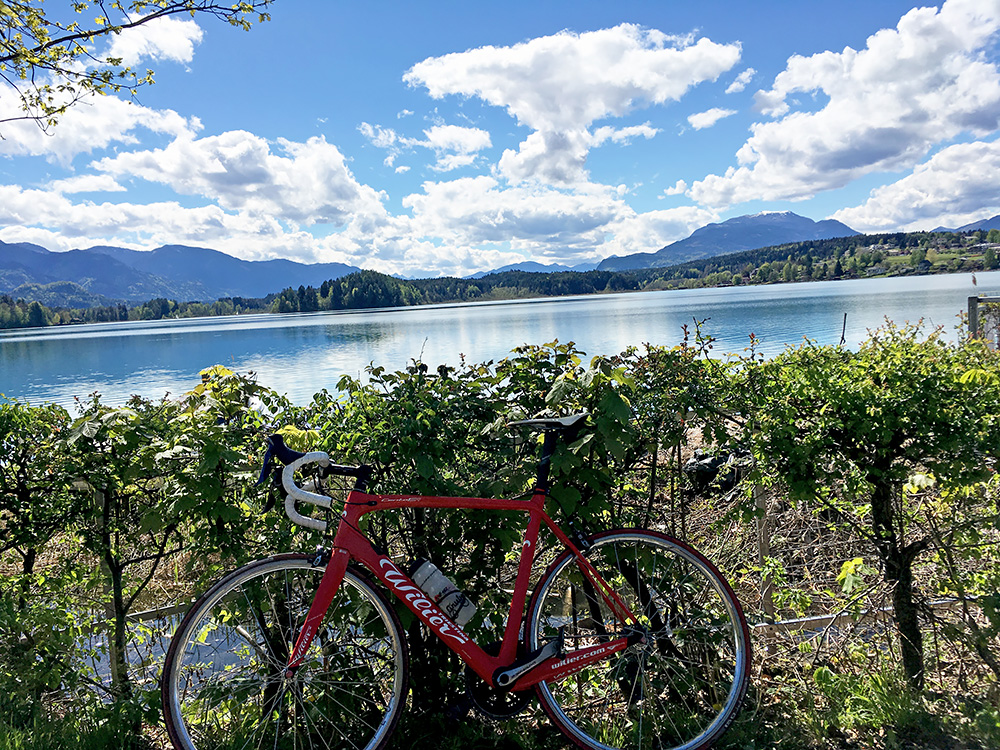 Indeed I got help right away with getting the wheel fully spoked again and maybe a little trued (turned out later it was not so true). Got a new inner tube that I also needed and a pair of cycling gloves which was the only thing I had forgotten to take with me from home – it is important to always check off a list when going and I guess I got a bit too confident this time to do so. Cycling gloves are obviously not necessary, but good for the hands on long rides (they also protect a little against the sun). Also got a new front tyre. All these stops made the clock go, but I was determined that I was not taking this long detour and missing yet again to make the BIG climb here in Villach (494m) up the Villacher Alpenstrasse (1734m). So leaving the bike shop at ca. 16:00 I had quite some cycling left to do, but thought Tarvisio was nearby and if I only got up there it would all be more or less downhill to Moggio then.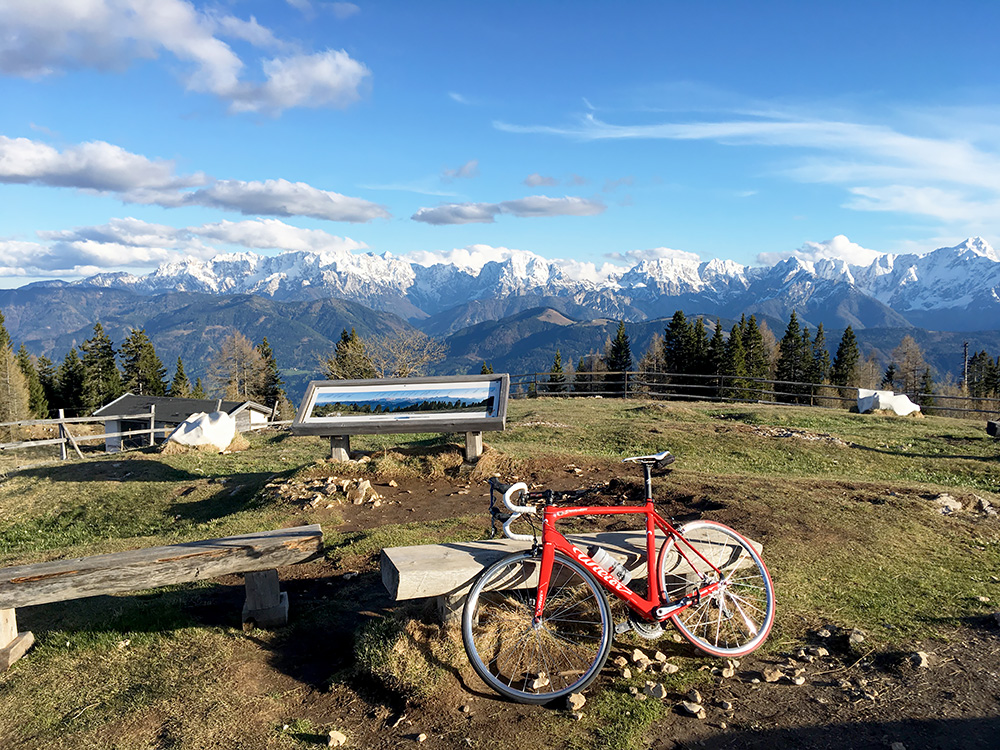 This time I found the correct way to the start and the climb is quite a good one on a nice road. There are some resting places and one place where the road even drops a little, but on the whole it is a somewhat steep climb. It is a bit harder than the Alpe d'Huez for example. Here I look toward the area where Austria, Italy and Slovenia meet and the Julian Alps behind.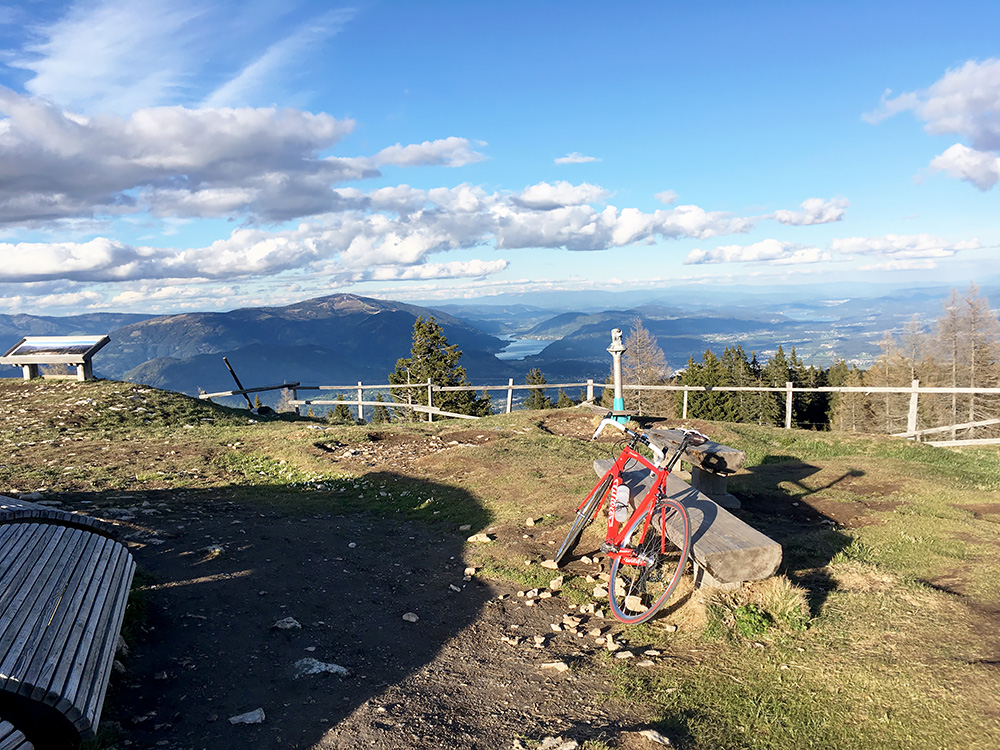 I noticed it got rather cold first at the last two kilometres to the top. I was however still warm when I got up there and walked up to the viewpoint area above the parking at the end of the road (which continues a little bit further flat and asphalted, but soon turns into a gravel road and later track as I understand it). Here you see the Ossiacher See to the east.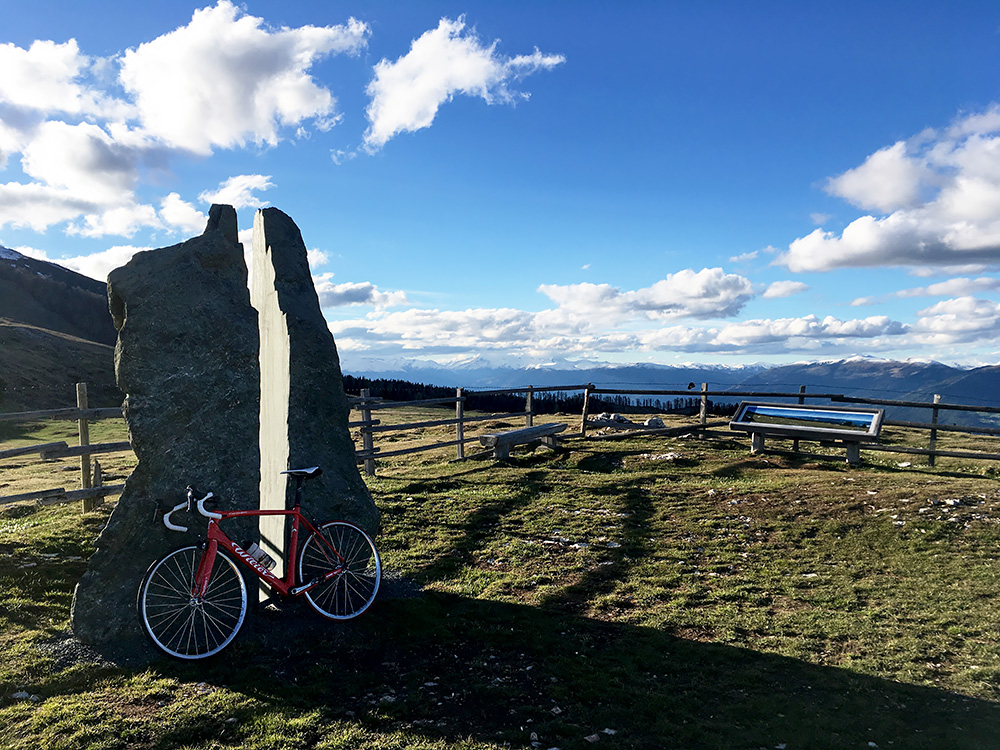 Here I am looking toward the northwest with plenty more white mountains.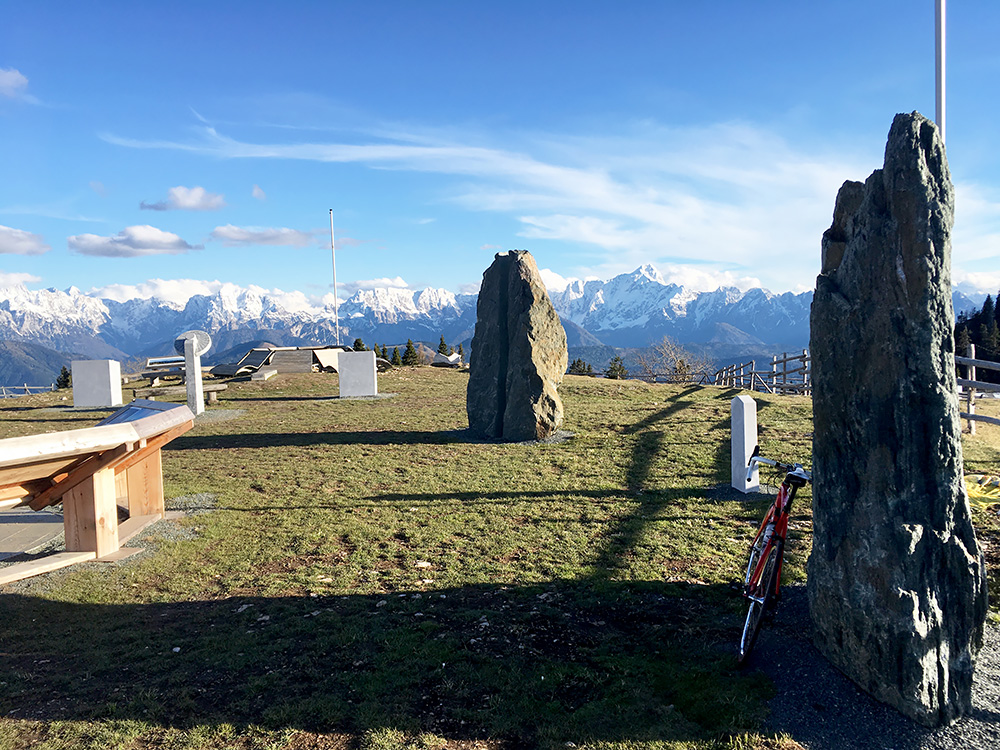 Forgetting myself a little since it was so nice up here and took some more photos and include one more here looking south. The shadows starts to get long and I had to hurry down and it would still take time to go down the 17 km or so. It was a very cold (5░C at the start) descent and not even sure I put on the wind jacket as I was thinking it would soon get much warmer, but the temperature had gone down a bit now as it was now after 18:00 in the evening.
After coming down I followed the planned little Judendorfer strasse. After some busy stretch when crossing the Gail river; I was starting to slowly climb up the other side to Hart, where the road over Wurzenpass/Korensko Sedlo (1073m) goes. It was still a bit from here to Tarvisio and first some time after Arnoldstein the climb up to Italy starts.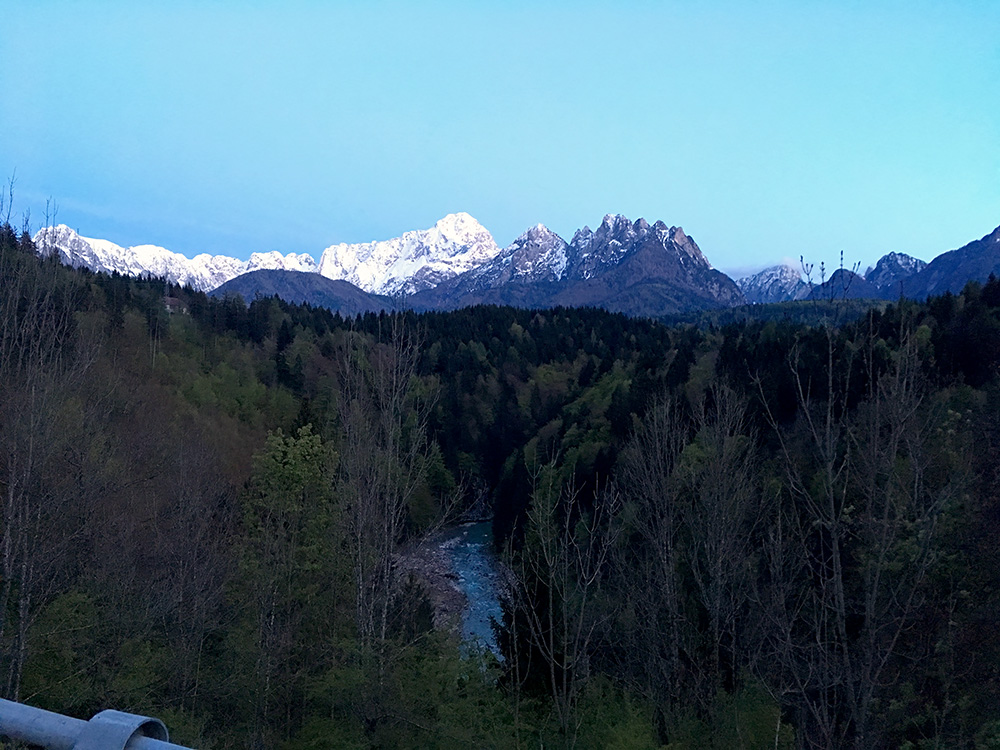 Here a last photo of the sun still on the mountains as I start on the way up to Tarvisio. Now I went faster, but the dark was coming a bit faster than in the summer and it the dark comes more quickly in general down here than at home. When I eventually arrived in Tarvisio (with thankfully very little traffic) it was already heavy twilight. I continued up to Sella di Camporosso/Saifnitzer Sattel/Žabnice/Siele di Cjampar˛s (816m) from where it is all downhill to Moggio, but it was now just about totally dark and the road lights disappear on the way down. Moreover it was now terribly cold even at this lower altitude and had 6░C in summer clothes.
I decided to try and get a lift down to Moggio, but again there were not so many cars coming by. Most were people living in the area apparently and no one stopped and it was only getting colder. I called the nice man at the B&B and said I would try a bit longer to get down by trying to get a ride, but if that failed it would be nice if it was possible he could come and meet me. He told me just to wait and that he would be quickly there. He was indeed quick, but it was so cold I had to find a hotel up there to enter to just get warmed up a little while waiting. Coming back out on the road he had to my surprise already just passed by, but he was near and soon we was on our way back to Moggio. Lucky there, but still all the shifts of the weather this day was too much for my health and the next day I was feeling bad.