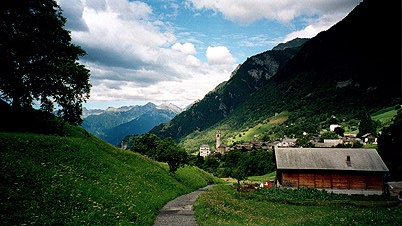 At the breakfast I remembered I spoke with a man from the northern Switzerland and that he had cycled over the Col de Forclaz (a steep pass near Martigny) when he was younger.
I asked how long the road up to Sóglio was and it was about three kilometers, so I thought I could start the day by visiting this much photographed little village. It is a very steep road (above 10% on average). I followed it into the the little village with a special kind of cobblestones on their small and few streets. I cycled straight through and up to where the tarmacced path ended, where I took this photo (and as you see it is an inviting view to catch on photo).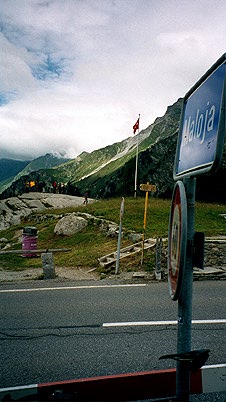 The road up to the Passo del Maloja (1815 m) is not very difficult. It has some somewhat steep sections, especially above Casaccia (1460 m). This is a one-sided pass – so no downhill ride up here, unless you go back down to Chiavenna. I stopped for lunch in Maloja. It was a bit cold (around 14° C, but windy and chilly in the air) and knowing there was no downhill ride anywhere near made me get on cycling soon.
I had heard that Friedrich Nietzsche lived much of his later life up at Sils/Segl Maria near one of the lakes up here. So I decided to try and see his house and maybe buy a (thin) book if there was such an opportunity. It was a large market for the day in Sils and it was crowded with people and thus I thought I would probably find a lot of things relating to Nietzsche. But, to my surprise, there was not one thing sold relating to him – only the usual crap sold at such events and handicrafts of all sorts. I asked about the Nietzsche house and yes they showed me the direction, but I had to cycle back and forth three times on the road before I saw the tiny sign announcing it. It was only opened 3 hours a day, and it was a little over an hour until it should open, so I went on wondering about why that little village does not try to draw attention to one of their few selling attractions – it was almost as if they were ashamed of the philosopher having lived there (oh well, he was a bit crazy (even went insane later on), but still?).
I passed by St. Moritz and had thought it would likely be a smashing sight, considering how it has always been described as one of the most luxurious winter sport resorts. I was quite disappointed though – maybe it comes to life in winter … .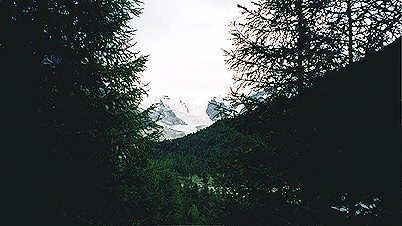 The road up to the Passo del Bernina (2328 m) is never especially steep. It is only rising very slowly in the beginning and middle. I stopped at one of two good places to take a photo of the Bernina mountain group. A bus with tourists was about to stop at the same place, but when I was in the way they stopped at the next place. A little hereafter in the sections that are actually slightly steep, I was passed by another cyclist and could not hang on to him as I at once felt the ache in my breast. However, when it flattened out again, I gained speed and passed him by, just for fun and had to let him go away from me and reach the top a little before me. So, even if it went slow at first I got up rather quickly. I did not mind spending a little extra effort in climbing the pass as I knew this was about the last one on the trip for me.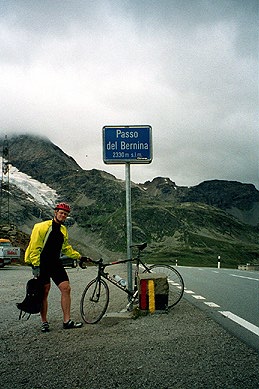 The pass itself is a somewhat bleak point with no extraordinary views. Someone took a photo of me – maybe a motorcyclist again, I cannot remember (or it was the other cyclist, who said something about doing the climb again – maybe he should have tried going up from the other side instead ;-)).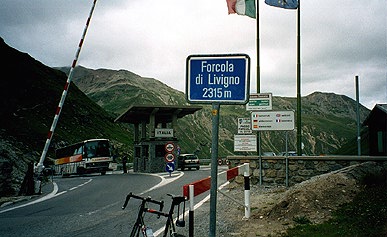 I went down on the other side until the road heading off toward Livigno. I took this road up to the Forcola di Livigno (2315 m), which was so close. The road, however, was quite steep up there and lots of traffic (almost more than on the Bernina road– maybe it was because the road is rather small and the cars have to go slower here). It must be very demanding to get up to this pass all the way from down in Tirano!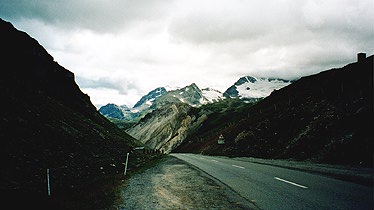 I took another photo of the mountains when I reached back to the main road again (I believe it was). The road down was fast and occasionally steep. I met some fast going motorcycles and wondered upon their rather dangerous speed and curvetaking – "these crazy motorcyclists drives so dangerously one could almost think they were cyclists" ;-).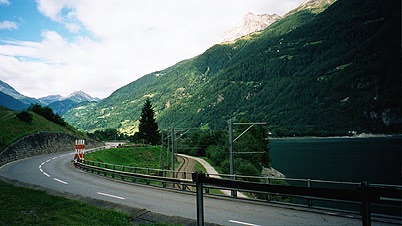 I reacheed the Lago di Poschiavo where it was flat and took another photo uphill. It was very nice around here. I continued down and the road again becomes steep. I stopped by a bank at the next to last village to change the only swiss franc bill I had left (they did not take any charge for the exchange). Then went down to the last Swiss village just before Tirano and the italian border, where I spent the last coins in a shop, buying bread and salami again.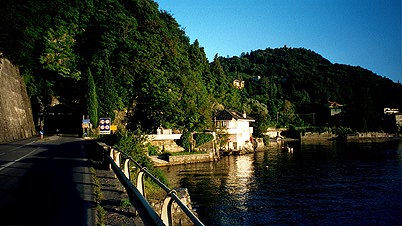 From Tirano (436 m) down to Morbegno and further down to Lago di Lecco/Lago di Como it is almost flat. I started out here in a good speed at around 36 km/h on average, but it is a long road and it got increasingly more hot further down towards Morbegno and I also got a slight headwind, I believe (or I was just fatigued). Down in Morbegno it must have been more than the 31 celcius my HAC4 computer told me later on when noting down the figures before I went to sleep (as I did each day and started the trip meter again the next day). I was out of water and could not find any good place to stay and refill the bottle along the busy road down there. I bought some water in a shop and an apple in Morbegno, and continued feeling slightly better again. The road took off just before Colico (it was not entirely obvious which road to take, but I took the right one). I filled my water bottle in Colico, which was the first place on the road that had a public water tap. (I thought it was kind of funny to get water in this village as it sounds like the name of a disease, but I did not get sick! :-))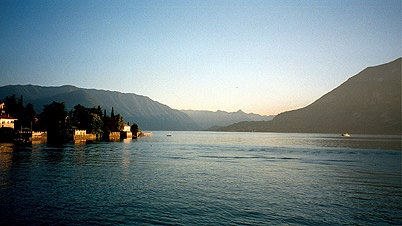 Upon reaching the Lago di Como the hotness and the sun had less impact on me and it was wonderful to cycle again, with lovely views of the surroundings. It was still a long way down to Lecco, my destination at the end of the lakes, though. I started to cycle faster again, only stopping to take the two photos here.
I arrived in Lecco just at sundown, but as I feared, I could not find a reasonable place to sleep at that had beds left. The cheapest hotel in town was more expensive than the most expensive place I had stopped at before. No one star hotels at all. I was suggested to visit a village across the south end of the lake, but could not find the hotel that had been suggested. Now, I did not quite know what to do, so I thought I just continue down in the direction of Milano and see if I could find something along the way. I was getting very tired and it got very late though, so eventually I stopped and asked some people in a bar if they knew of some place. They helped me find a place a bit on the way back to Lecco, which was a bit expensive too, but just precisely what I could afford, and I got it 5 euros cheaper (maybe because there was some fuss between football fans and the police outside in the evening). It was a fine hotel though (Toretto in Pescate or something). I felt relaxed that there was not yet another day of cycling another 170 km.
Day1 – Day 2 – Day 3 – Day 4 – Day 5 – Day 6 – Day 7 – Day 8 – Day 9 – Day 10 – Day 11 – Day 12 – Day 13 – Day 14 – Day 15