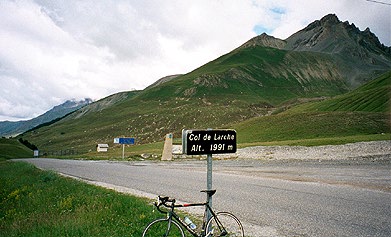 I was up early enough to have breakfast and be out of the hotel by 9 when the cycle shop in town opened. The man there could not help me with the spokes and was not even able to sell me a shimano compatible rear wheel (only ready-made campagnolo wheels), though he could build one for me if I could wait until later in the week … oh, thanks! Well, there were one more chance left of getting out cycling this day – a shop just south of the city. This was a newer and modern cycle shop with lots of things also, so it looked promising and the man there were almost certain he had some spokes that could be used to fix the wheel, but no. The cheapest wheel he could sell me turned out to be a Mavic Cosmos wheel for close to 150 euros. There all my extra reserve money went away – I am just happy I had brought a little extra money with me. They were very nice and cleaned the chain and derailleurs (shifters) that I had not managed to get very clean from the day before and helped me adjust all the stuff and package the old wheel, so I could send it back. I gave him some euros extra.
I managed to find an internet café and found the web site of Citec and went to the post office and had the wheel sent off to them. I got it back fixed two weeks after I had arrived back in Sweden together with a bunch of spokes!
Puh! It took me all in all slightly over two hours to get this all done, which is probably as good as it could get given the circumstances. I will surely never bring a specially spoked wheel on a trip like this ever again!!! I rushed out of town and up to Col de Larche (1991 m) as if I was chasing someone who left town earlier than me. Col de Larche is or was technically forbidden to cyclists due to ravine risks. I guess I hold close to 20 km/h on average up Col de Larche which is one of the easiest crossings over to Italy from France. It is not very nice on either side, but slightly better on the french side. The italian side gets better down in the valley.
A long way down to Demonte where I circled around for a while trying to find a place to eat something. There were only some kind of pastry shop open, but they had some nice creamfilled croissants. Then I filled my water bottle (it was very hot down here) and started out on the main climb for the day up the Vallone dell'Arma on one of the nicest roads in the whole alps, I suspect. It starts a bit steep, but then goes a bit up and down for a while. I soon realised that I would probably not be able to avoid rain today either. Just after the last few houses at S. Giácomo the sky opened up and a really heavy rain started. I tried to stay under a tree until the worst was over. I waited until I would not get more wet by not taking shelter and then cycled on and it soon stopped raining, but soon a light drizzle kept company with me all the way to the top and over. I have never seen so many marmottes as it was up here – I do not know the exact name for them in english, but they are small furry animals (looking like small beavers) running around and making high-pitched noises that are difficult to get used to. For the most part they are very shy.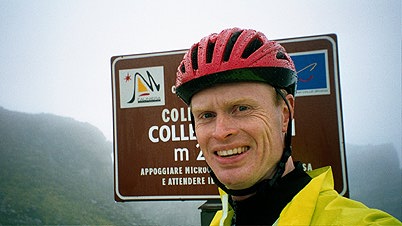 The road is paved all the way up to Colle di Valcavera (2416 m) and for the most part it is close to perfect as it was only paved a few years ago when it was used in the Giro d'Italia. I could only hope they bring these competitions to other exciting now unpaved roads in the alps and pyrenees. The road is long and steep and you are likely to wonder a few times if you are not close to the top soon. There is a road at the top going straight ahead, but it is unpaved and I was not even curious about following it in the rain as it looked extremely muddy (with red coloured sand I believe) – if it only had been dry and maybe I would have tried to follow it a bit as it goes to many cols in nice landscape. Instead I followed the paved road up to Colle dei Morti (Colle Fauniera as some also wrongly call it) (2480 m) (passing on the way there Colle del Vallonetto (2447 m)). Between Valcavera and Morti I met the only other cyclist on this whole road from Demonte to Stroppo. An italian or perhaps frenchman who said 'salut' to me and I tried to mutter something like "boun giorno" back with a big smile of surprise in the clouds on the almost flat road there. I stopped at the Morti and took the photo (but missed to get the name and height in the photo).
Happily I continued on the nice road a little further before I realised when I saw a road going left that that was the road I had planned to take and not the nice one ahead. This crossing is at the Colle d'Esischie (2370 m). Oh dear, that road down to Ponte Marmora is "paved", but I have cycled on many better unpaved roads. The worst paved road that I have been to. If it was not for the fact that they had put a construction machine near the top and it seemed as if they had plans to dig up the road to place cement cylinders under the road leading off the water, then I would have assumed that this road would not be traceable the next summer. The paving was occasionally washed away and there was so much water running over the road that it was a major problem in getting down there safely. Never have I used my brakes as much as getting down this pass and it was quite demanding in fact (do not think that it is not physically demanding to get down on pass roads). It was a very lovely scenery all the way down also and the first woman down the road said boun giorno and me too. You know you are on a really nice road when the locals greet you in passing by! Very much flowers along the whole stretch of this mountain road and few tourists or others.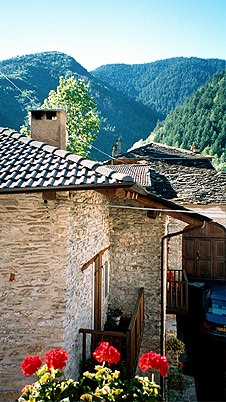 Well, it was now almost seven in the evening again and it looked as if it was no good idea to try and get over the Colle di Sampéyre (2284 m) that same day. I had heard that there maybe was a place to stay for the night in Ponte Marmora, but it looked so boring I thought I could as well go a bit further down the Valle di Maurin. I saw that the (recommended) road up via the Elva village was closed and continued down further to Bassura di Stroppo where I found an open shop (as it was just before 7). I tried to order some things and got some help by another customer who turned out to run the little place announcing they had rooms just a bit earlier on the road. So, I stayed at this place in Bassura di Stroppo which turned out to be an extremely nice newly opened little hotel at a reasonable price.
Day1 – Day 2 – Day 3 – Day 4 – Day 5 – Day 6 – Day 7 – Day 8 – Day 9 – Day 10 – Day 11 – Day 12 – Day 13 – Day 14 – Day 15