Fine breakfast served by the gentleman running the albergo in Roccavione. It started to rain just as I stepped outside at 9 a.m. and then it only stopped briefly at two times during the rest of the day. I had no plans on taking a day off anyway – at least not this early on my trip.
I took left just south of the center of Roccavione on a very nice road (and then left when the road splits) over a little bridge to the main road to Valdieri. I was following my original plan only a col behind. I was first to go over the Madonna del Colletto (1305 m) this day. I went a bit too far (S. Lorenzo) as the road to the pass was not announced in Valdieri and had to go back there. The road over the Madonna del Colletto was quite good, but it here started to rain so much that I hardly could see very far. It is almost only through woods all the way, but with nice views here and there on both sides. A little church is at the top. It was a very ordinary climb. I had to take care going down in the rain.
There was not many occasions for bringing out the camera this day as I did not want it to get damaged by water. Apart from getting wet, it was mostly nice to ride anyway (as long as it was somewhat warm). I went on the small alternative road up the Demonte valley and it was mostly fine and clearly nicer in terms of less traffic and better views. At Vinádio I met up with the main road and stopped to eat something to prepare myself for the first above 2000 meters climb! I just bought some cake and a soda as I was not in the mood of trying to get into a restuarant or stay too long to loose the little warmth I had built up.
Soon after Vinádio I found the little road up to Col de la Lombarde (I am defaulting to the french names for the passes when the names are similar). There were some very nice hairpins at first, but then the road straightened out with some occasional sets of hairpins every now and then. It is indeed a very long and demanding road up here and it was not made better by the constant raining and lower and lower temperatures as I approached the pass. When you think you must soon be getting near to the pass height, you suddenly see a towering building up on the mountain to the right, which is the Santuario di S. Anna (just above 2000 m). Here there is a crossroad where you go left up another set of somewhat tough hairpins. One could also take an alternative more straight road to the top (but it is unpaved and is maybe only possible on a mountainbike – on that road you get the hairpins at the end instead). It was getting very windy also when I approached the pass height and the temperature was down to 7 celcius. I just could not stop at the Col de la Lombarde (2350 m) as it was such a nasty weather and I tried to descend as fast as possible down to Isola 2000 and the Isola town. It was sometimes very steep down to Isola 2000 and the wind was more vicious on this side, so that at one place I actually decided to stop because I was afraid to be blown off the road by the wind and to wait for the right moment to pass. After a lot of descending and getting extremely cold on my hands (I should have brought finger gloves – at that moment I would have paid any price for them (and good such are expensive)), I finally shivering reached Isola. Now the rain has almost stopped and people down here were celebrating the 14th of July.
I just had to stop somewhere to get some warmth back as it was rather chilly outside in Isola (still at 871 m). I found a restaurant that looked open and adequate. I went in and it was almost filled and there was not too much interest in passing tourists this day I noticed, but I happily got a last table there and got some food. Next by were a young german couple who was also out bicycling in the alps (Mike and girlfriend) and Mike was very nice and let me use his sweater during the lunch (as it was not especially warm at this restaurant). I think they had been cycling down from Sicily and was to cycle most of the way back up to Germany (now they took it a bit more slowly than me and had been using the trains here and there), but it seemed like they had a nice trip.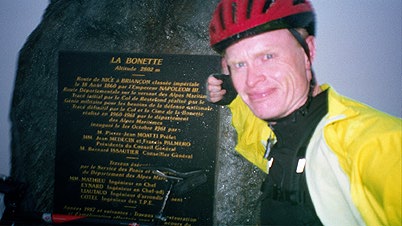 Now, a little bothered, but feeling warm again I went up the road to the Cime de la Bonette (2802 m on the road going round it (2860 m)). This is the next highest surfaced road in the alps, only one meter lower than the Ötztaler Gletscherstrasse near Sölden in the south of Austria. I was bothered, not because of the height of the pass ahead, but because today my plans would had to be broken more grossly than before. I had originally planned to go on a small unpaved road south of Col de la Bonette over to Bayasse on the road up to Col de la Cayolle from the north and down south and then west over the Col des Champs and up north again over Col d'Allos and down to Barcelonnette and Jausiers. There was just no way I could find time to do much more than go over the Bonette (and even that was not obvious I could do). It had almost stopped raining though and it first begun to rain and get windy again when I approached the steeper passages up the Bonette road around Le Pra. It was a nice and sweet road up until then and then much more barren landscape after there. At Col de Raspaillon/Col des Granges Communes (2513 m) I met up with strong winds, rains and clouds more and more clouding my views, which were getting more and more spectacular (at least I glimpsed that would have been the case on a clearer day). I guess I only met one cyclist on my way up there, which I assume is not the norm as it is supposedly very popular to cycle up here on this high road, which is also the Grande Alpes Route (the Napoleon road going through the high alps from Nice up to Lac Leman). I went through the Col de la Bonette (2715 m) pass and then took the loop around the Cime de la Bonette (2802 m) stopping by the monument at the highest point on the very badly kept road. I managed to get up my camera by hiding behind the monument on the very steep side … it was a terrible wind with rain and you could see my rather forced smile on the photo ;-). It was only 4 celcius up here and thus even colder than at the Lombarde col, but it did not feel more chilly. However, it was almost an exact reprise of the descent from Col de la Lombarde with freezing hands and difficult winds and rain. I was forced to skip braking when it was not 100 % necessary in order to spare my hands. (I also tried to change the grip from upper to lower position on the handlebar, but it was hellish to do it as the hands was almost locked in a certain position, if I waited a bit too long to change position.) I looked on the unpaved road going west that I had originally planned to take, but not even the most fanatical road bike cyclist would have given any consideration as it looked very muddy in the rain. It was just to try and get down to Jausiers.
Well down in Jausiers it stopped raining again and it was even dry on the roads. The clock was around 7 p.m. and thus not so late, but I knew there was no other pass I could do this day. I turned in to the first Gîte d'Etape I saw (there was another cheaper one in the small village I later noticed) and asked, shivering severly, whether they possibly had a room for the night, which they happily had. I bought a pizza from a mobile pizza shop (no restaurants were open here – probably because it was the national holiday). Pizzas are expensive in France and I could have gotten a good meal at a proper restaurant for the same price (above 10 euros). The young couple running this Gîte had recently moved to the area. The house was nice (close to the main road) and this was actually the only place I stopped at which had some homemade jam and such things for the breakfast. I may have left the little lamp-shade in a less good condition as the only way to get anything dry during the night was to hang things over it. I usually try to be a really good example otherwise, leaving things as nicely after me as anyone could (so cyclists will continue to be welcome).
Day1 – Day 2 – Day 3 – Day 4 – Day 5 – Day 6 – Day 7 – Day 8 – Day 9 – Day 10 – Day 11 – Day 12 – Day 13 – Day 14 – Day 15