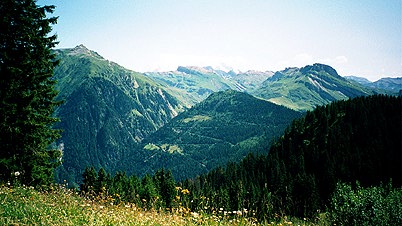 Apparently I had decided within myself somehow to make this a rest day of sorts. I could actually have went over Col du Mont Cenis also if I had been committed to it. Probably it was a wise decision in hindsight to stay in Lanslevillard.
It was a perfectly wonderful day even though this day also featured a few very hot hours in the middle of the day that made me somewhat exhausted. After a big breakfast I went rather straight through and out of town. I soon got company with an older man on his way up to Arèche, just like me, but he stopped for a break later on. It is a very nice road (D925) up to Beaufort and the landscape is a bit reminiscent of Austria or Swiss – here it was really clear I had arrived at the central alps.
Beaufort seemed a bit overly touristical, but the village of Arèche (1055 m) must be as close to an ideal sweet alp village as you could find. It seemed like the type of place one would want to go to if one planned to stay at a village for ones whole summer holiday. Green hilly and mountainous landscapes with sweet buildings and roads, lovely views, little traffic and sunny weather without being too hot! :-)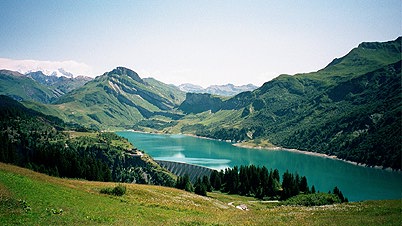 The road up from Arèche to Col du Pré (1703 m) was very steep (10% on average), but very lovely and very recommended! This is clearly the way to approach Cormet de Roselend.
The views opening up towards the Mont Blanc massif just after reaching the col are magnificent and my first photo here does not really capture it at all. Then the views over the Barrage de Roselend are even more grandiose. Not coming from Col du Pré and you would miss the best views of the area. I cycled down to the basin and over the road on the concrete wall you see on the photo.
I stopped and had an icecream and refilled my waterbottle at the second open place along the road from Col de Méraillet (1605 m) (which is were you arrive when reaching the main road) to Cormet de Roselend (1968 m). It then went very fast up to the top and this part is rather easy. An american took the photo and there were several americans at this pass for some reason – maybe they were hanging around waiting for Lance to show up a few days later.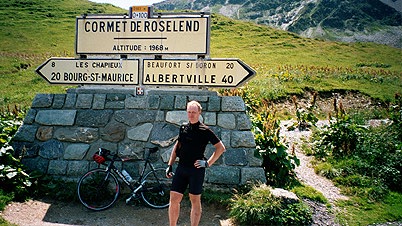 As always I was very happy at this time of the day, with sunny weather and not any real hotness. This soon came to an end when I reached the valley down Bourg-St. Maurice. On the way down there I passed by where the road up to Ville des Glaciers goes and where one reputedly has some of the best views of the Mont Blanc. But you get a great view of Mont Blanc from the the main road also as shown (though almost not visible) in my photo below.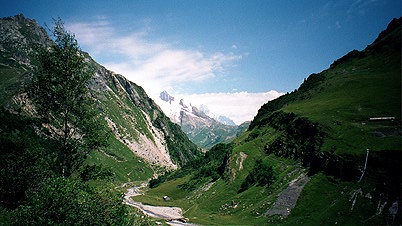 I managed to find the only shop (just south of the town center) in Bourg-St. Maurice (836 m) where you could buy anything to eat eventually after asking some people. It was very hot and I had not much water, but thought there were probably some place along the road where I could refill my bottle, but after a while I remembered having read something about few places on the road up to Col de l'Iseran were one could find water and it turned out to be so. The problem is that it is such a long climb up there – 47 km. Long before Val d'Isère I had run out of water and was suffering because it was still hot up the valley. There are almost no people living in the valley up there and it is not charming either.
I just had to cheat and stop at Val d'Isère to fill my water bottle and managed to use a toilet in the center one first arrives at. I felt really refreshed then and could continue without any problem whatsoever. The main village of Val d'Isère looks like you are downtown a large american town or something. A bit unreal, but eventually you get out of the somewhat disappointing place (I find it very hard to understand why people would want to go there when this is one of the most ugly valleys in the alps and with the same atmosphere as any large town). Whatever … I felt like one of the spoilt (?) kids rolling around outside Val d'Isère on their rented mountainbikes in tennis shirts, talking in their mobile phones. It was embarrasingly easy to get up to Col de l'Iseran after my stop and it was 13 centigrades at the top, so I really did not even had to put on a wind jacket (albeit a bit cold, I confess). It was extremely long between the hairpins of the road up there – only Col du Grd. St. Bernard has such enormously winding lactets that I know of.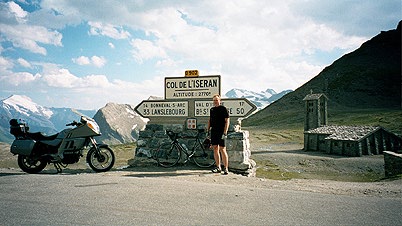 A motorcyclist (german, of course) took the photo at Col de l'Iseran (2764 m). This is the highest surfaced pass in the whole alps and only a pass in the Sierra Nevada in the south of Spain is higher in all of Europe. (There are higher surfaced roads: Cime de Bonette road at 2802 m and the Ötztaler Gletsscherstraße 2803 m in the south of Austria.) There are few higher unpaved passes that one could cycle all the way up to with a road bike bicycle (but as I proved earlier the Col de Sommeiller 2993 m is one such and there is another good candidate, by following a road at the top the Stelvio pass, that I had originally planned to do also).
The views on the south side is like night and day to the other side. Here you have one of the most grandiose (and the word is used very precisely here) views from a road in the alps. I was stopping to take a photo but the panoramic view would have required me to take several photos to capture any of it. A video camera would have been helpful. Maybe it is good they built the tourist village on the other side after all. This is one of the few passes I would recommend going in the other direction than the one I took.
I got a lot of wind against me at Bonneval (1808 m) and I got more tired going down/up the very minor bump on the road down which is also called Col de la Madeleine (1752 m) than going up the last part to Col de l'Iseran.
I stopped outside a Gîte d'Etape in Lanslevillard (1440 m) and asked three women standing oustide if they knew whether it was open and had rooms. They told me it was full and that I better go to a place on the back of the buildings which turned out to be a really good choice (they only had one or two more guests and was much cheaper (Le Manujo it is called according to my short notes)). It was a nice little village an I took a walk in the evening and found many nice restaurants on the other side of the village, but stayed at a pizzeria as I thought it would be more affordable. Well, I ordered a Crouche(?) Savoyarde instead of a pizza and had a good belgian beer, so it still costed some. Now I was about to leave France for some time.
Day1 – Day 2 – Day 3 – Day 4 – Day 5 – Day 6 – Day 7 – Day 8 – Day 9 – Day 10 – Day 11 – Day 12 – Day 13 – Day 14 – Day 15