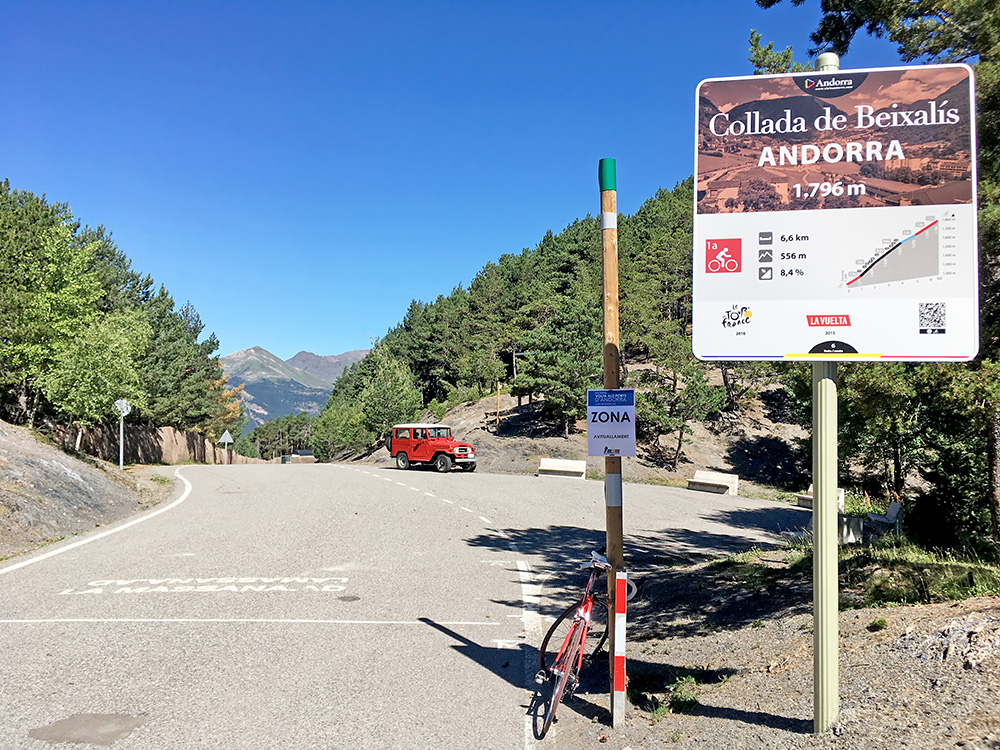 Another sweaty day in the sun. One should not really complain about fine weather – always better with heat and fine weather than cold, clouds and rain. But the first two weeks almost all had temperatures above 35°C this summer. I should have been off earlier in the morning, but it matters less if you ride early or late and you got to sleep sometime and that has to be during the night, so a bit warm already after a nice trip down to Andorra La Vella (1050m). There was then a short climb on the main road up to Encamp (1239m). On the other side of the Valira river there is a roundabout where the climb to Collada de Beixalís (1795m) starts. I could have made a short-cut over the pass (and it had made a lot more sense) when coming down to Ordino in the morning, but this pass should really be climbed from the Encamp side as that is what makes this a really tough climb (it is a 2nd cat. climb on the west side, but a 1st cat. climb on the east side).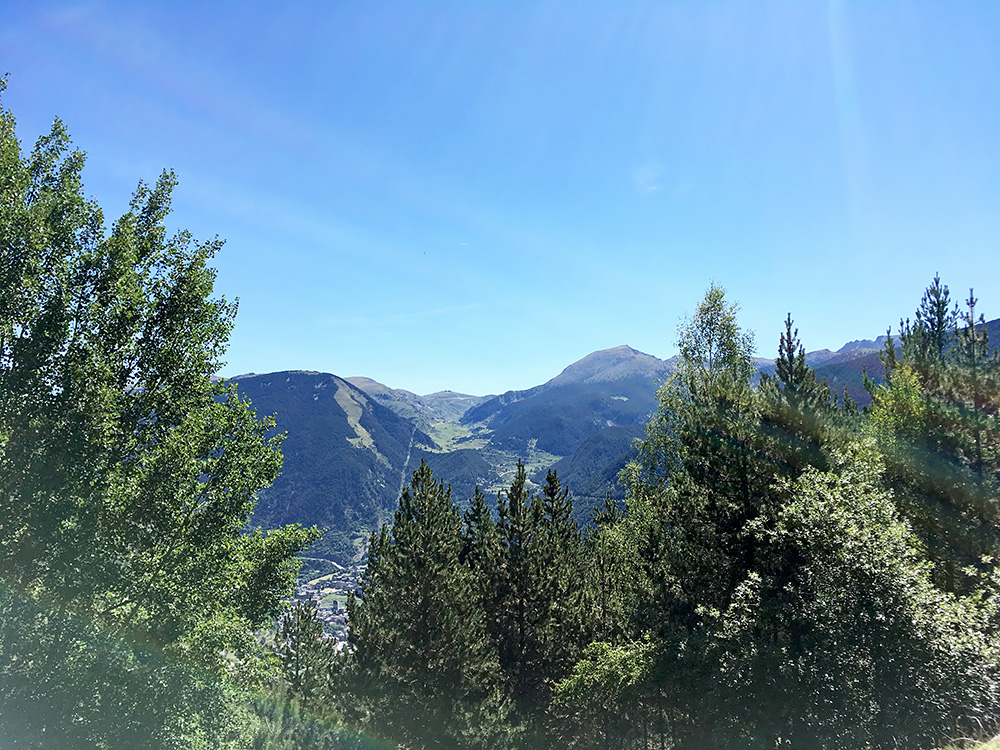 The climb was fully asphalted just like the Coll de la Gallina for the Vuelta a España in 2015. Just like the Gallina climb this also starts quite steep at once. The ramacabici.com site again gives a great presentation to this climb with an precise profile. It is only after 4 km up at 1600m that the relentless and again irregular steepness gives way and from there the climb is a little disappointingly easy to the top, which unlike the Gallina pass offers no great views at the top, but there are good views from where the steepness ends. Here the little glimpse across the main valley from high up.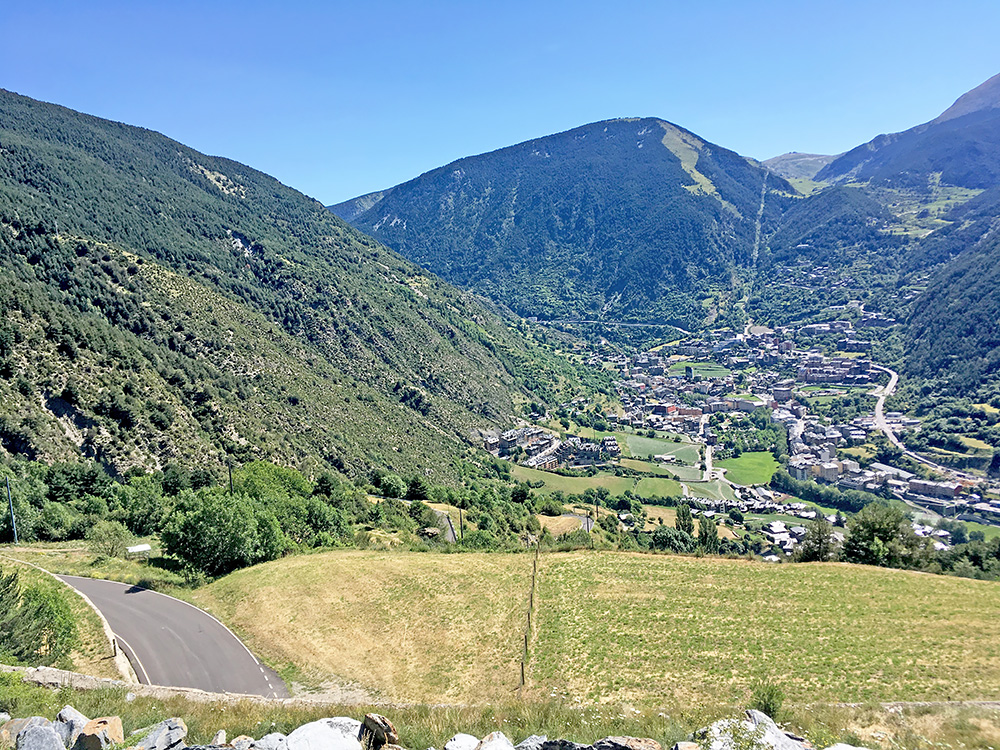 It was the same way back down again and stopped for a better photo before the steep part down. Across the valley I look up in the direction of my next climb to Els Cortals (2087m). You see Encamp (1249m) below where I stopped in the centre by a café for a coca-cola and something more. Sat talking with a nice man who had lived here for long, but he was originally from Argentina.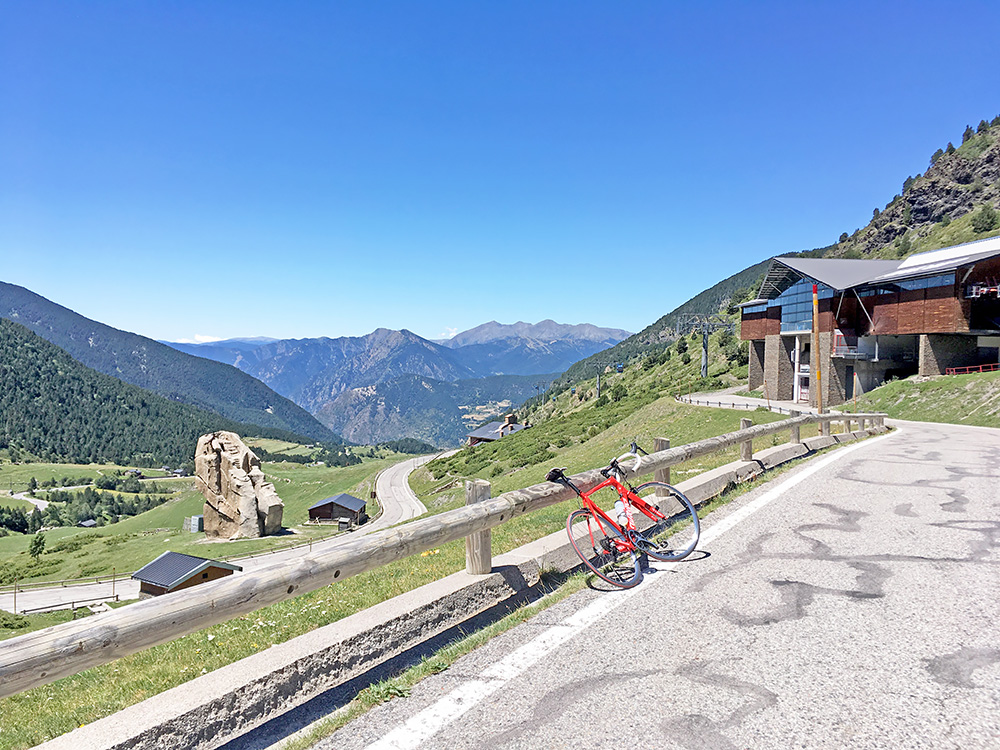 The climb on the opposite side in Encamp is never quite as steep as the Beixalís climb, but it much longer and on the whole a little harder climb. Profile at the ramacabici.com site. It was quite nice higher up and despite the heat there were many other cyclists out this day (also a Saturday).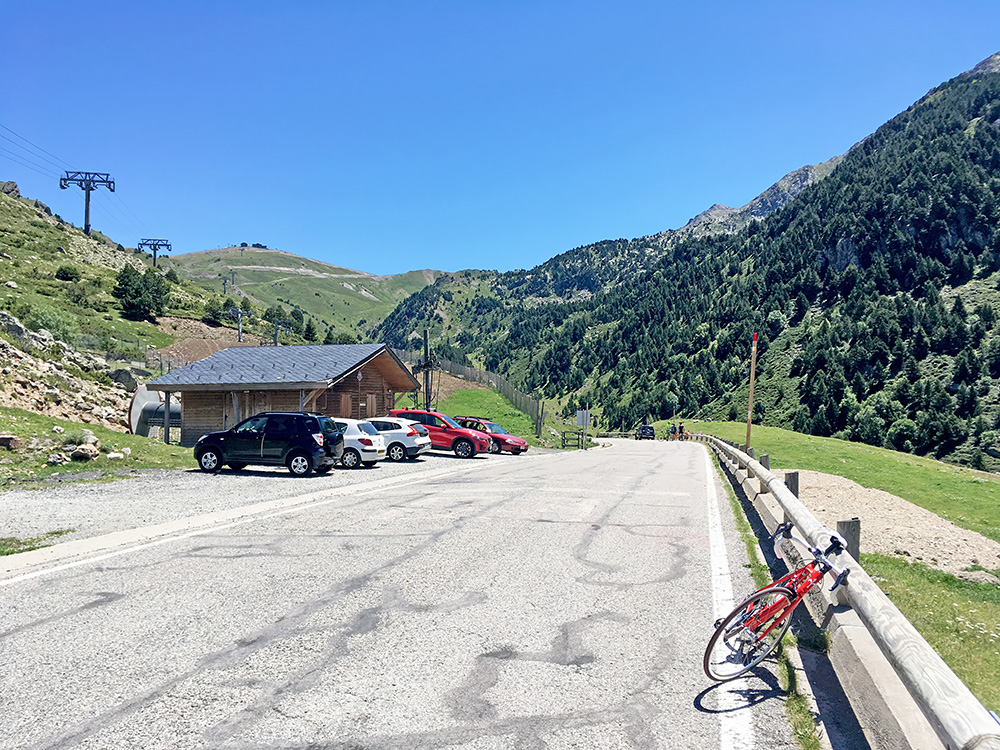 There are gravel roads higher up the mountains here, but doubt they are any good for road bikers, so those passes are only for mountain bikers, I believe. Els Cortals was a good climb I was not all sure I wanted to do, but went here as it is a BIG climb. Now I had done all the essential climbs in Andorra. The climb to Engolasters dam and maybe a few more would be worthwhile too, but not essential for me this time.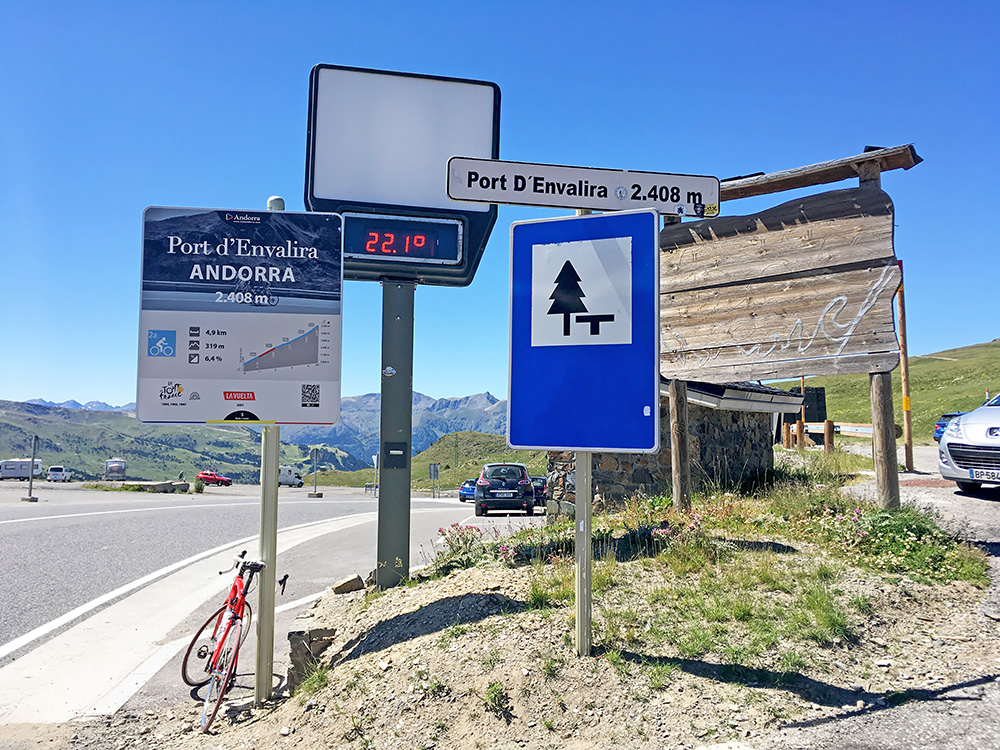 Back at the upper part of Encamp (1329m) where the main road goes it was now the straight road ahead into France over Port d'Envalira (2408m), which is still a +1000m climb from here and a quite long one as it is never really steep up there. Above the Envalira tunnel (entirely inside Andorra) it is really nice, but the road is agreeable for the most part as long as one can stand the traffic. The road is surprisingly narrow at some stretches, but then wider again. People from France often just goes up to Pas de la Casa on the other side which is a shopping centre village and to one of all the gas stations from there up to the pass, but it is a long ride for most down in France up here to get a better price so quite some gas will be lost on the way. 22°C at the pass and ideal weather for cycling up here, which was really nice as last time in 2005 I could hardly see the pass sign in the clouds (the wooden sign was more readable back then though).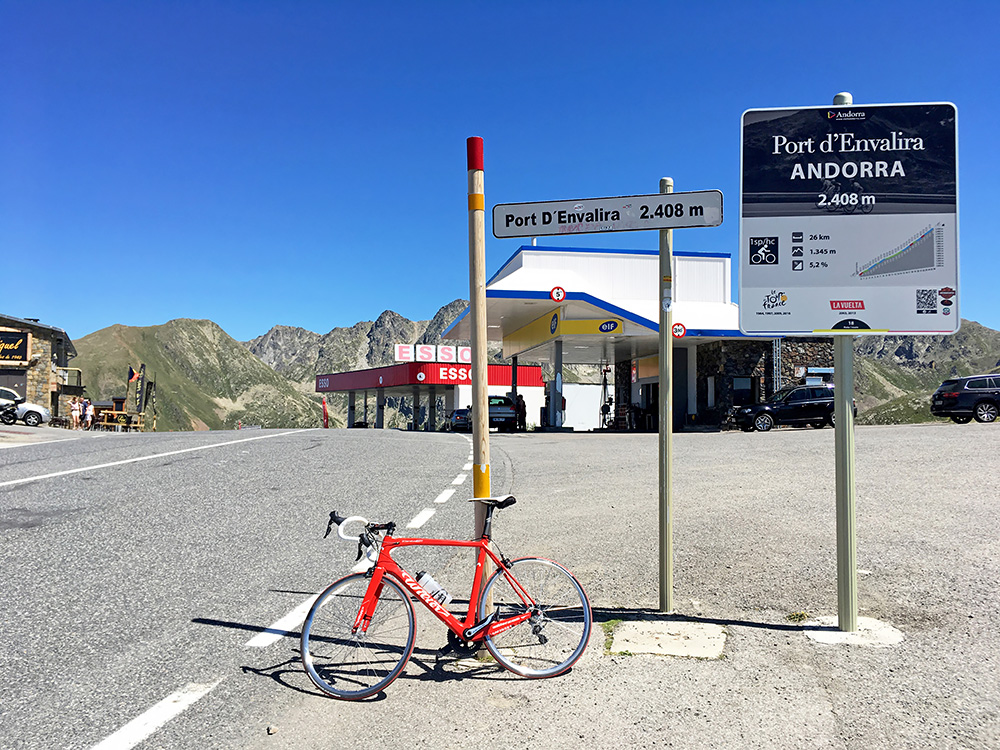 Great views from the pass this day and I had really looked forward to being here in a weather like this! Looking into France here (or the border area as the border is a bit down the other side at ca. 2000m).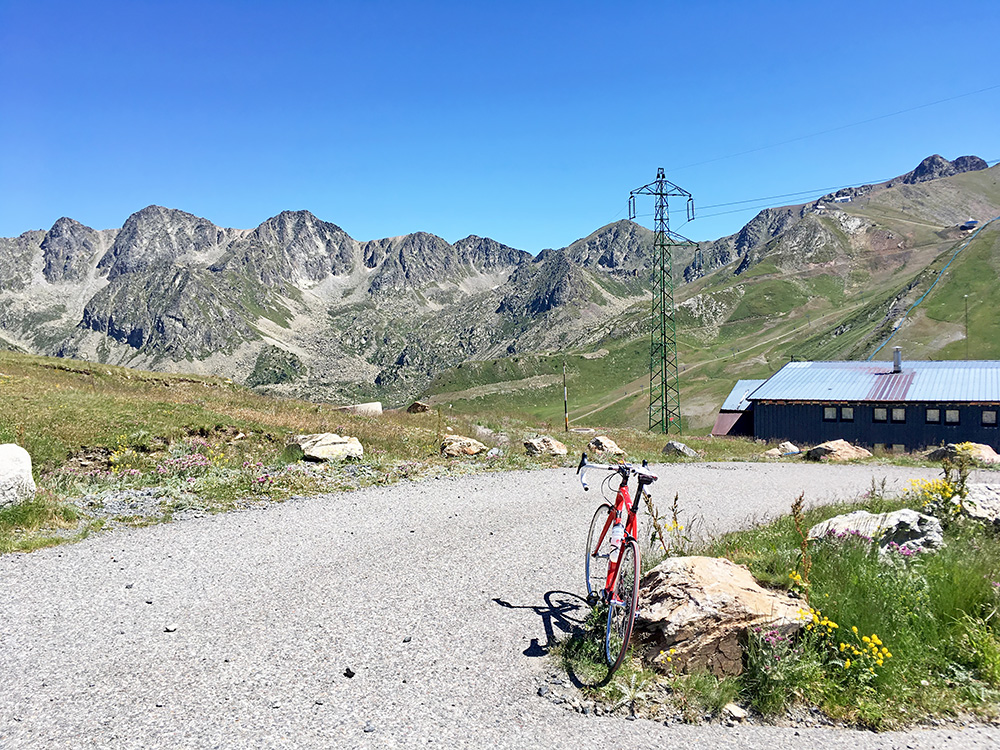 Always interesting to see if one could find asphalt even higher up and had noted there was some asphalt up the west side, but it soon ends on a road that then continues up the mountains looking less good. The asphalt ends at 2420m and is thus the highest asphalted point in the Pyrenees.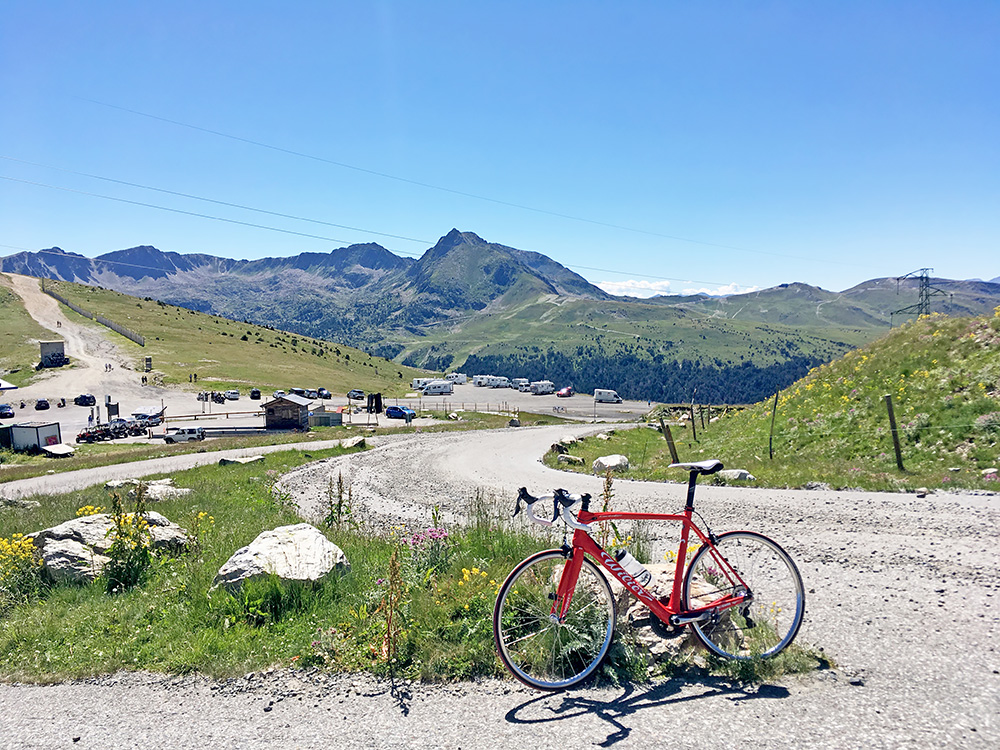 The view back into Andorra a last time here before continuing down. I had thoughts about climbing a gravel road pass here on the other side, but the gravel road up to Coll Blanc (2528m) looked too bad.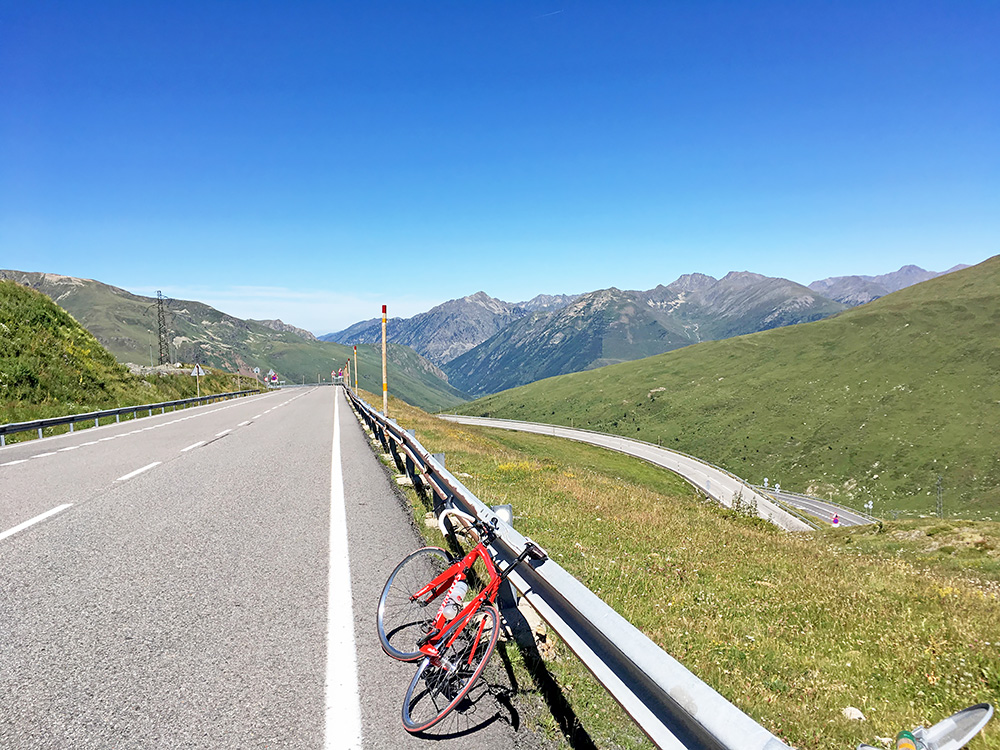 Ok, so finally I had a long, a very long descent on a (mostly) good road in good weather. Hard to complain about, but it can get a little tiresome eventually and one has to be careful, especially with some traffic. Had to slow down with some traffic after the Pas de la Casa and the road was quite bad (even slightly dangerous for a short stretch) after crossing the border. It was a nice descent on the whole though and had to use the pedals a little eventually. Still it was almost an hour before I was sort of down from the pass. Met some cyclists lower down and they had a long way up there – possibly they could have been on the way up to Col de Puymorens/Coll Pimorent (1917m), but that is also a fairly high climb from below.
In Ax-les-Thermes (720m) I felt like being down from the pass. It was really the first normal village along the way too after ca. 36 km downhill. I stopped by a café/pastry shop and had a nice big baguette with cheese and mushrooms, I think and coca-cola. I remember sitting outside and that it was a bit too warm sitting there, but the sandwich was good.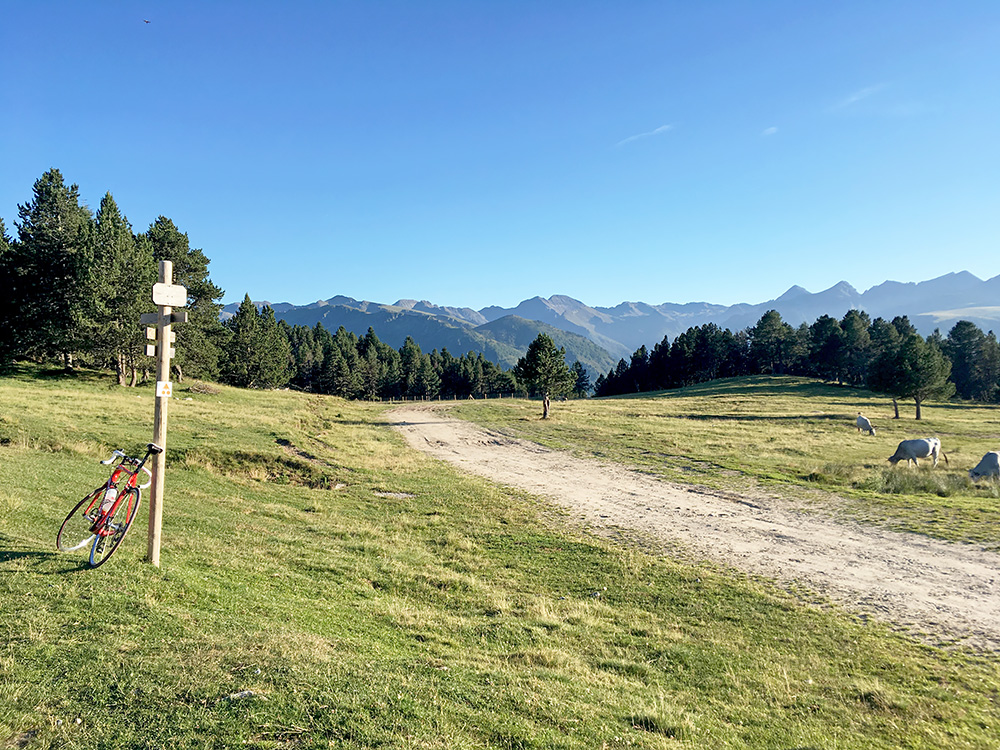 I continued down the valley, but was not allowed to join the main road until further down. (There is a small hotel along the alternative road.) Out on the main road further down traffic started to get more French and it felt like one was not welcome on the road even if one was. I got off the main road in Les Cabannes (534m) and now as the clock was ca. 18:00 I wanted to find a hotel here before doing the last climb for the day and went around the village and back to the first B&B I saw and asked there, but it was fully booked. The man advised me to try another nearby place that I searched long for, but could not find. I went over the bridge to Verdun and saw a sign for a gîte there, but also found nothing there, but water. Went back again to Les Cabannes, but saw nothing obvious, nor any sign for anything up the road to Plateau de Beille, but thought I better go now or never, so just went ahead up the road.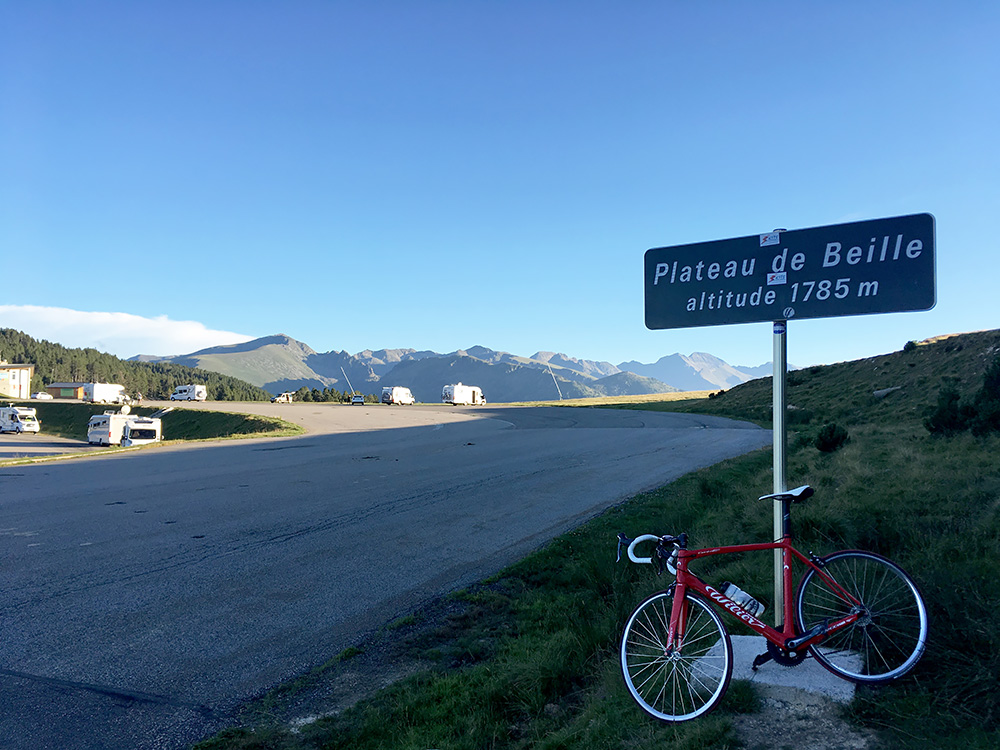 I surprised myself feeling much stronger than I thought I had any reason to – maybe in part because the temperature now was lower. I tried to keep an even pace and the road is more suited to that than the previous climbs in Andorra. Eventually I got a bit tired just as I came out of the woods, but then it got easier again and could keep a decent speed all the way up (1h40mins is ok to me without trying to compete up there). A bit similar time to get up here as the climbs to Mount Ventoux that I made in 1h45mins from both Malaucene and Bedoin. This is steeper, but the Ventoux climbs are like 5 km longer and therefore have a higher score on salite.ch and they took 5 mins more and I was likely in slightly better shape (and slightly less tired) climbing them, so it all makes sense.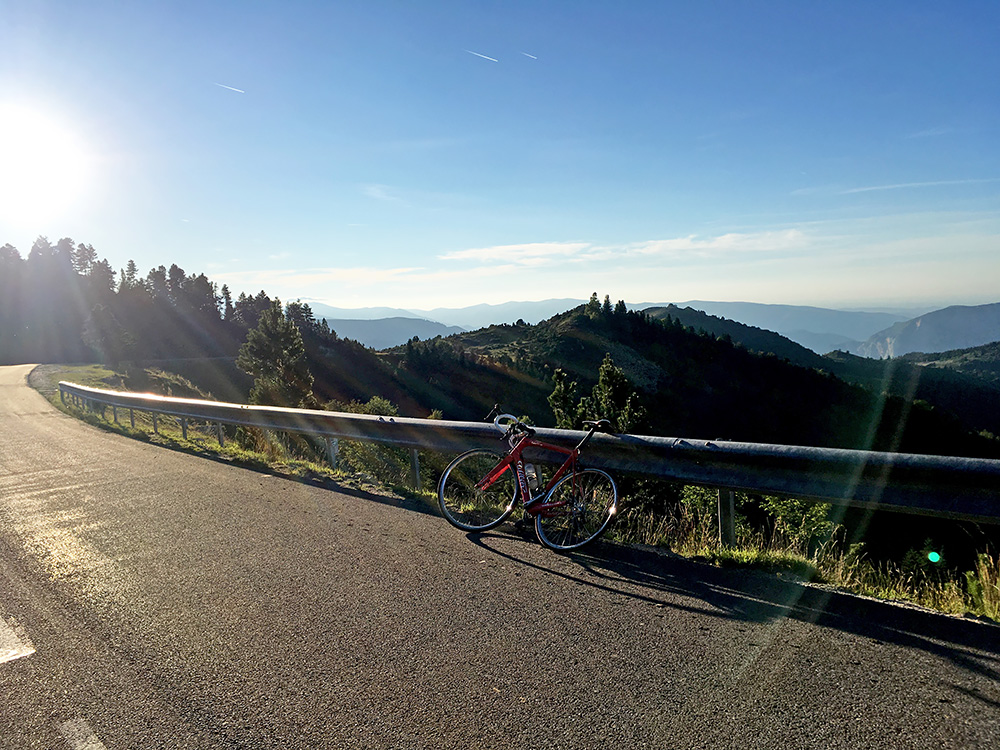 Very nice high up here in the evening sun. A popular place for people with home mobiles apparently, which could be annoying if many arrives at once. This was a BIG climb too (the third for the day as the Envalira pass also should be one), but it is most known for being mountain finish in some Tour de France etapes. It has long been one of the climbs most missing for me in the Pyrenees. There are no less than three passes on the way up here too now according to Club des Cent Cols at least: Pas du Lièvre (754m), Pas de la Porteille/Porteille de Peyrefite (1520m), which is a recent addition and the pass that is most obvious after reaching out of the woods at the only flat place up there, and the well-known Pas de Roland (1699m), which was also a reason for me to go here.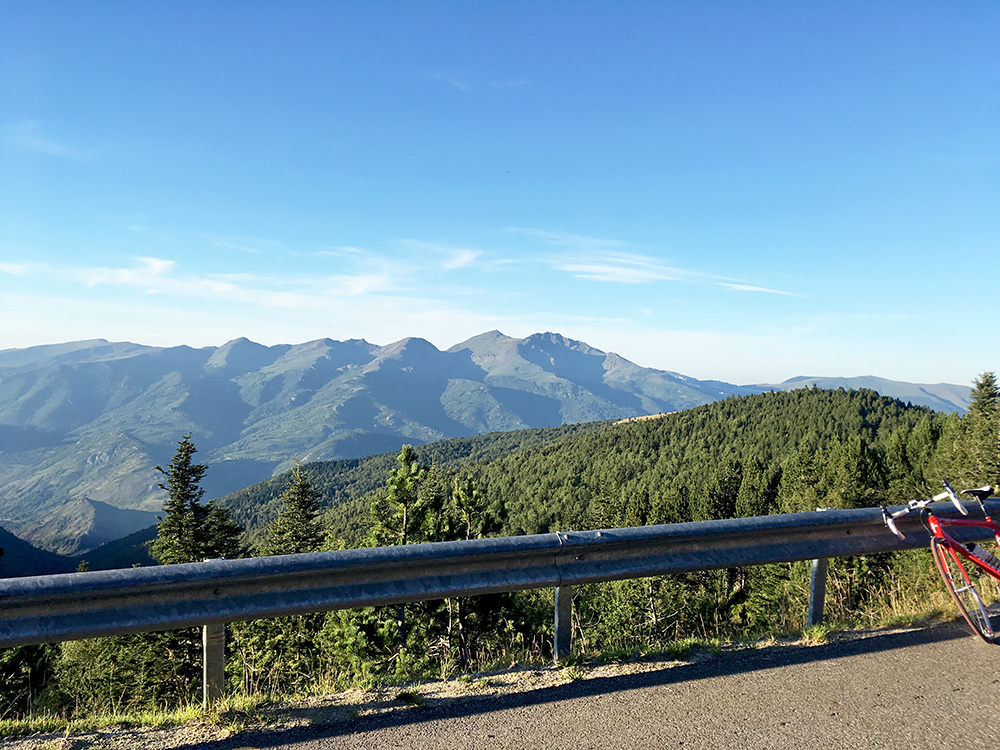 The evening was starting to close in and even if it all looked sunny and nice still, I knew I was no longer in Spain and if I thus wanted to eat dinner then it can get hard to do so after 21:00, so better hurry on down. Looking here across the valley up to the Envalira pass.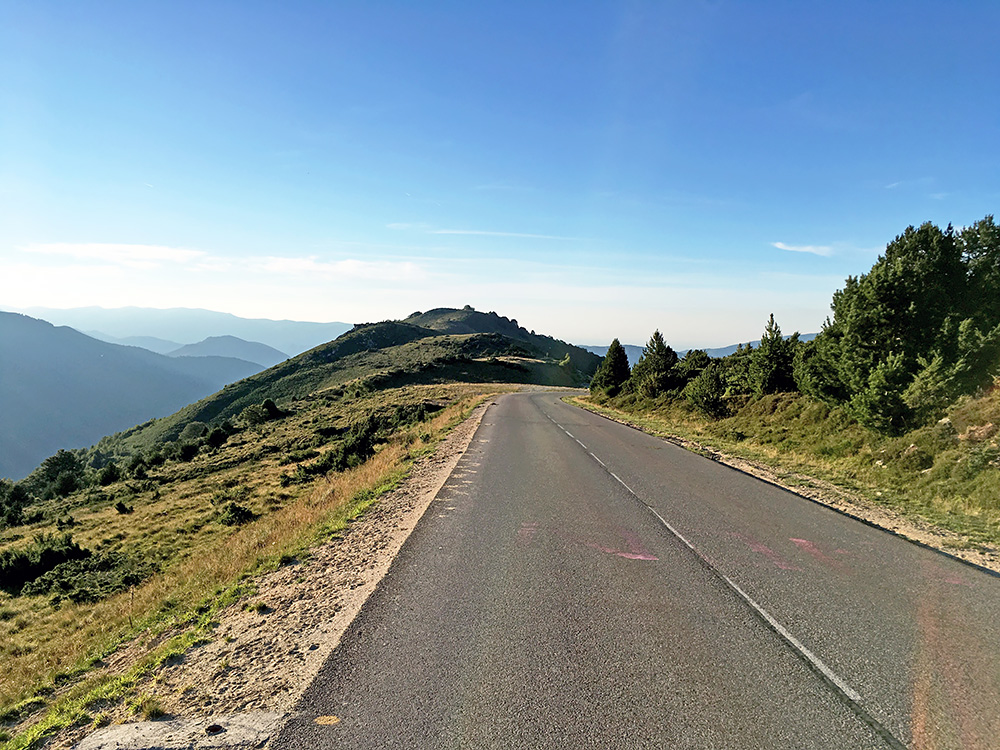 It was a nice ride down. A bit chilly now in the early wooded section, but eventually the tempertures lower down was just fine. I continued down the road and got back out on the main road again. Soon I saw a hotel (at Sinsat) and decided it would have to do and it did not look expensive, but is a road side hotel. It was actually one of the more expensive places I stayed at during the tour and easily the worst. Looked at Google ratings that were at 4.1 (out of 5), which just goes to show what such ratings are worth. Most places with much lower ratings are much better, but maybe people just are stupid as it was (at least you have to read very much between the lines when reading comments about hotels/restaurants on Internet and in general they are worth very, very little as guidance – virtually pointless booking sites like booking.com, tripadvisor.com, etc are best used to see were not to go – if you do not find the place at an online booking place, then it might actually be a decent place, otherwise not).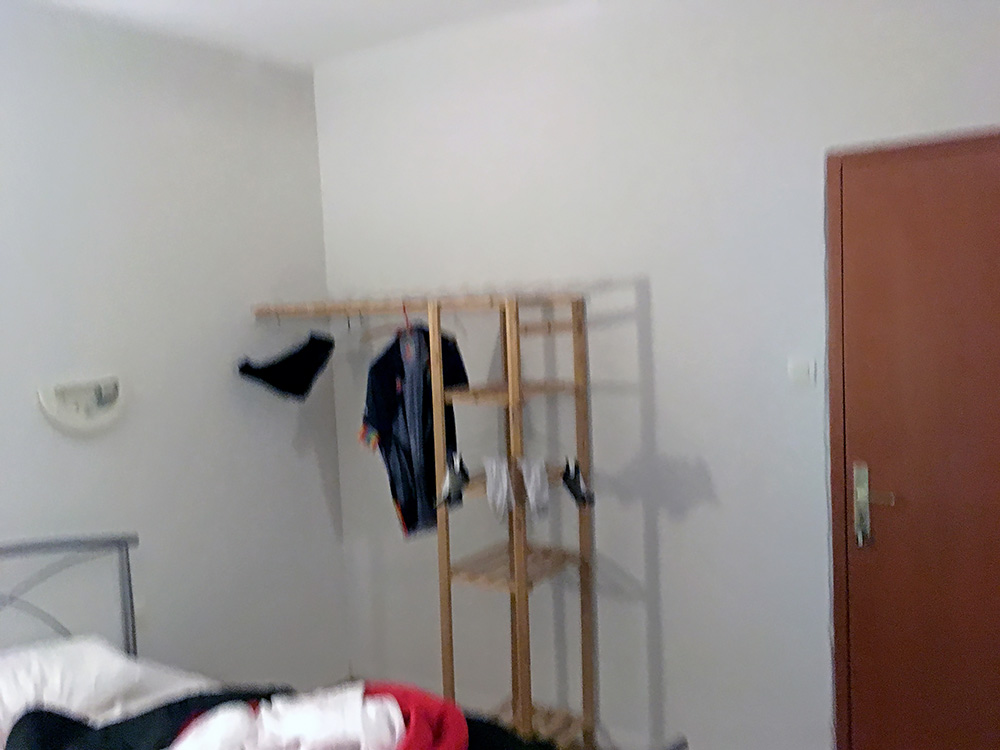 I got some piece of meat which was ok and some french fries and a beer. Very simple but agreeable. The family was not hostile. I got a room with a shower that I think worked and also a bed. I washed my clothes as always and went to bed. The room was a bit sparsely decorated and the same with furniture (photo). In the morning for breakfast I had to call someone to my attention and then received a simple coffee and two pieces of bread. Then the lady left. I wondered if I were supposed to get juice, butter and marmalade myself, but could not find anything. As if I was asking a bit too much she gave me a little jam and a very small glas of juice (more French riviera style). Well, it could be worse, but 2 stars would not exactly be reasonable to go above and I paid like 30 euros more than in Spain (had a little less good luck there later on too). Oh well, cannot be perfect all the time and soon forgot it. Ariège is very much "hillbilly France".