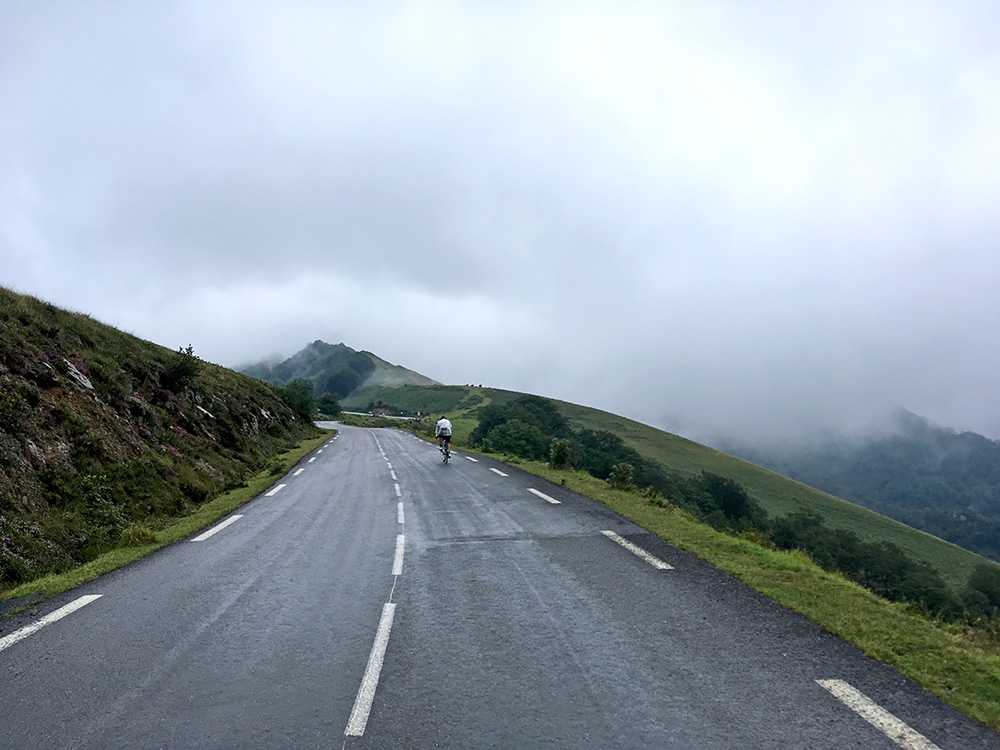 After breakfast at the Hotel Noblia in Bidarray (82m) I cycled up to Saint-Jean-Pied-de-Port (165m) without any rain on semi-dry roads, but when I came to the village there was a light rain again. I stopped for another coffee, but the rain did not continue for long and I soon left again. I stopped by a bicycle shop outside to change the rear brake pads to some BBB pads I got for free from a distributor in Sweden and managed to change them both with the simple single Allen key for releasing/fastening them I had carried with me (so did not need to go into the bicycle shop).
Rain held up as I continued to move eastwards. Today I merely had a few curious passes to climb that I had overlooked upon earlier visits in the area. First was to climb the Col de Burdinkurutxeta/Burdincurucheta/ Burdinkurutxetako Lepoa (1135m) from the difficult west side (only was up there as a tour and retour from the east in 2005). Here I am catching up with an American and his local friend (ahead). Talked a little and wondered if he was from Hawaii as he had shorts from there, but he wasn't. Then caught up with his friend just as he reached the pass.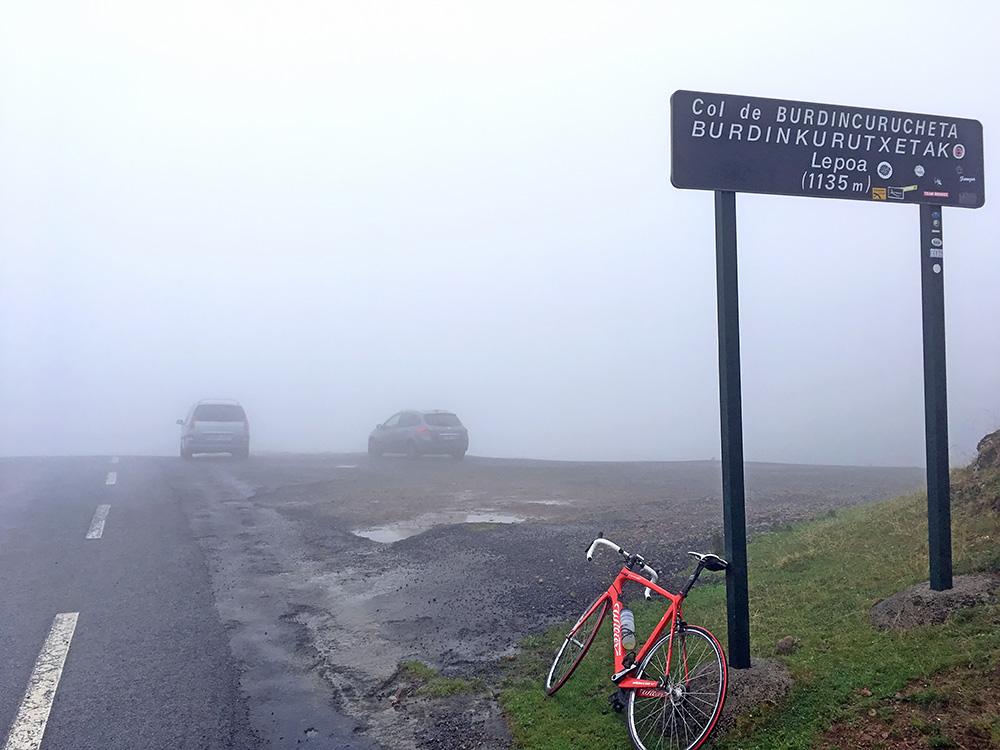 The climb up here is decently steep from Lecumberry (the climb only starts far into the valley at Basaburua) and then there is around 4 km over 10% on average. The steep section ends at Col d'Haltza (782m) and it was around there I caught sight of the American. The clouds were compact up at the top just above and it was not particularly warm this day (I was down to 11°C before I went down much later).
I went down the other side and stopped to check my maps as there are several road choices down the short descent. Then the American and friend passed me by. They were anyway not going where I was going. I was taking the least obvious road from here that slowly descends to Spain on an obscure road That I travelled over in the opposite direction in 2005, so I had an idea about the part I was taking. I think it is shortly gravel just around the border into Spain, but it is more asphalted than most know and an easy and interesting alternative with a road bike.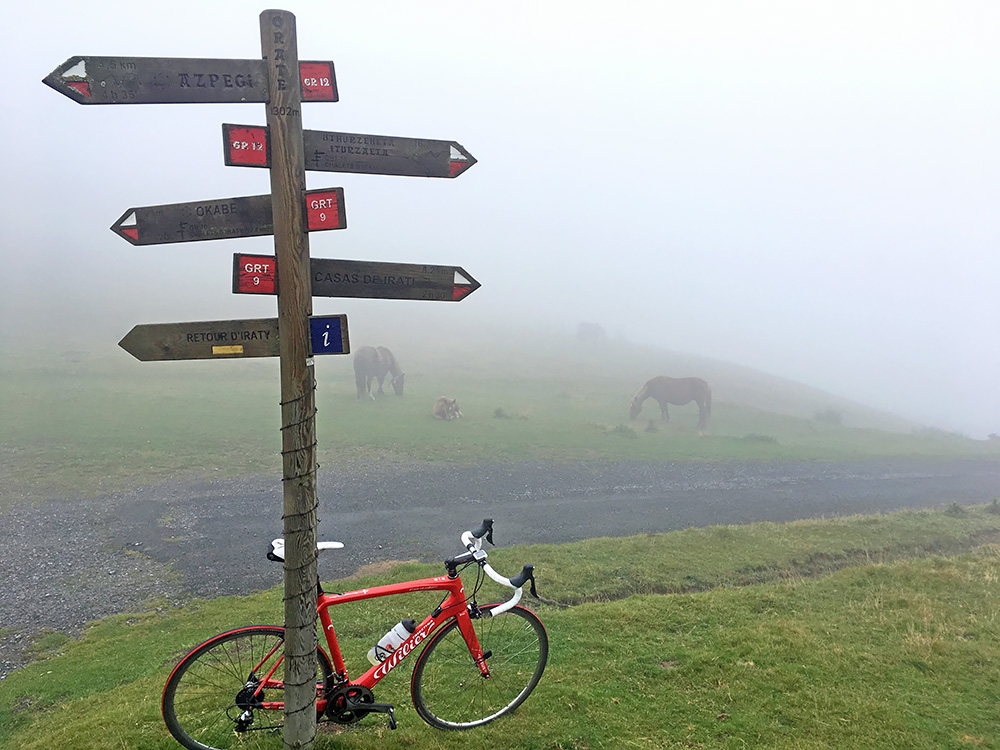 The road goes a bit up and down on a narrow road with varying quality. Then just before reaching the border an unsigned road takes off up the mountainside to Orate (Lepoa)/Col d'Oraaté (1304m) and as this pass was over 1300m it was difficult for me to overlook it. The road up here was in perfect quality at first and I was really happy, but it did not last (and must be expensive to keep the road up for maybe just one farm near the top). The road is not very short either, or at least it feels so as it turns rather bad with old broken asphalt, then comes new perfect asphalt again and then comes a really bad concrete section with drainage gully which is possible to cycle over with some care, and the old asphalt to the top. Maybe they fix up the bad parts eventually. I met a car on the way down and likely the man responsible for the road looking a bit surprised to see a road cyclist up here.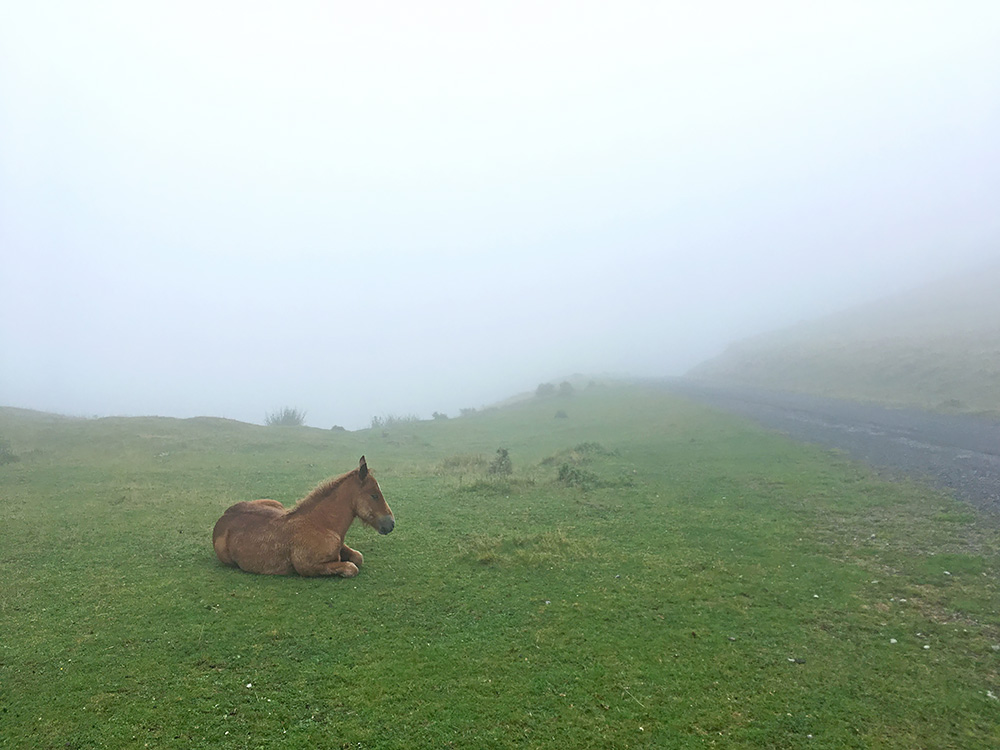 Orate is probably a nice spot in good weather, but now I had only a group of somewhat shy horses for photo opportunities. There are many horses up these mountains. Nice horses, but seemed they had preferred that I was not snapping photos of them. Here the road I came up with a horse.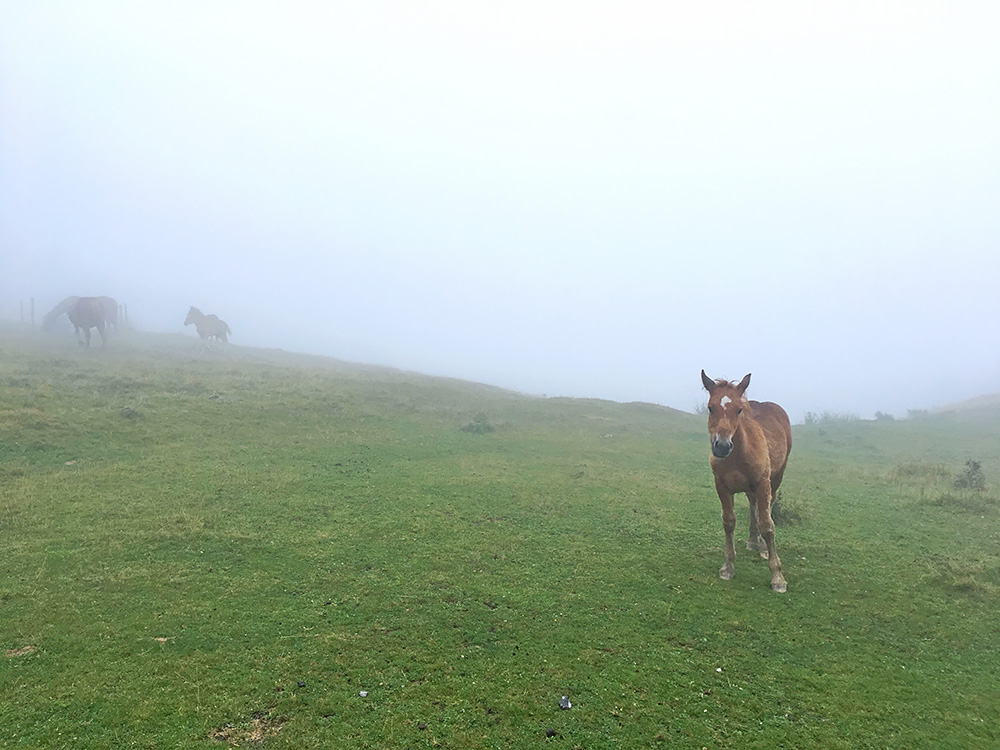 He thought it best to join the other horses as I was a bit too near him, so he got up and took off just after this photo.
I went back down and got on the same way back again. The weather seemed more stable now, but no clear skies up here. The Chalet Pedro on the way looked nice and was open, so decided to go there for a sandwich and coca-cola. They were a bit expensive though and the summer personell there were from some city in France.
It all took a bit too long time, but now I continued a bit further west up the main road east to Col Heguichouria/Heguichurria/Col Hegui Xouri/Hegi Xuri (1322m). This is a centre for hiking in the Iraty area. I was staying near up here on my visit in 2005.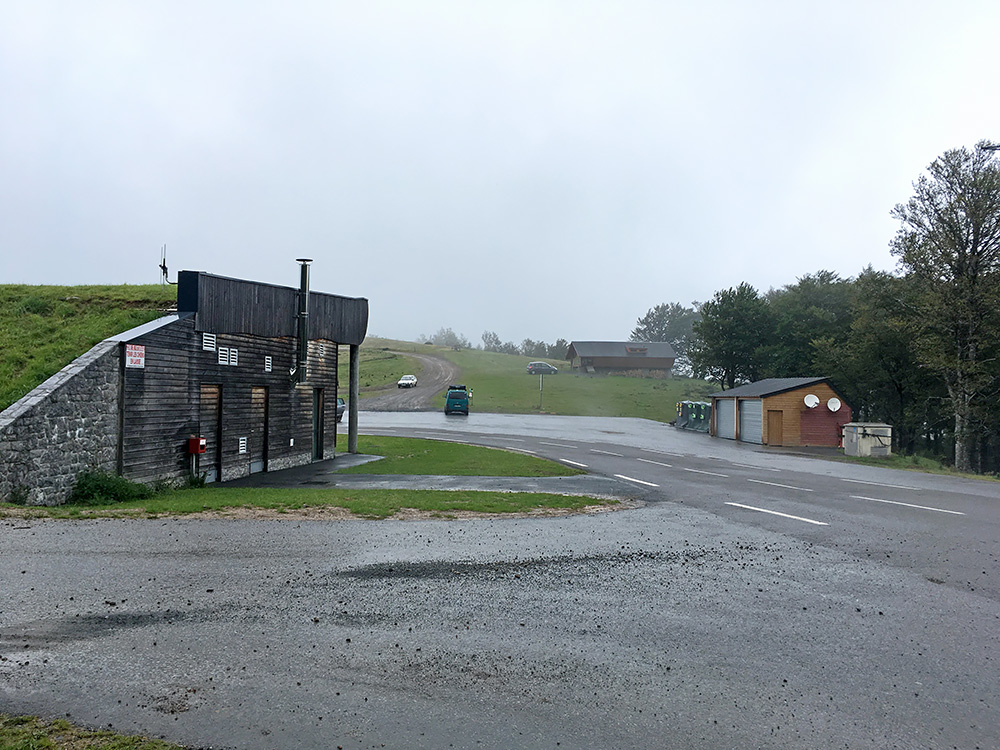 On the way up here someone called me on my phone repeatedly and thought it was a difficult customer almost destroying my cycling holiday another summer by demanding support, so thought I would not answer no matter what as I suspected her again. However, it turned out to be another customer in serious trouble, so reluctantly had to help them get their server operational again and it took about an hour standing up here in the cold. I went into the house here were there was a coffee machine and warm, but had no telephone connection inside so had to go outside again. A bit tired of it all I then cycled up the road here toward the famous very end of the climb over the Col de Burdinkurutxeta/Burdincurucheta/ Burdinkurutxetako Lepoa – Col Sentsibile/Sensibilé/Sençubuilleco Lepoua (1544m), which is one of the harder climbs in France, but for me it was a broken up climb, so not so hard. I also was not interested in going the last bit up in the clouds as I had been there before.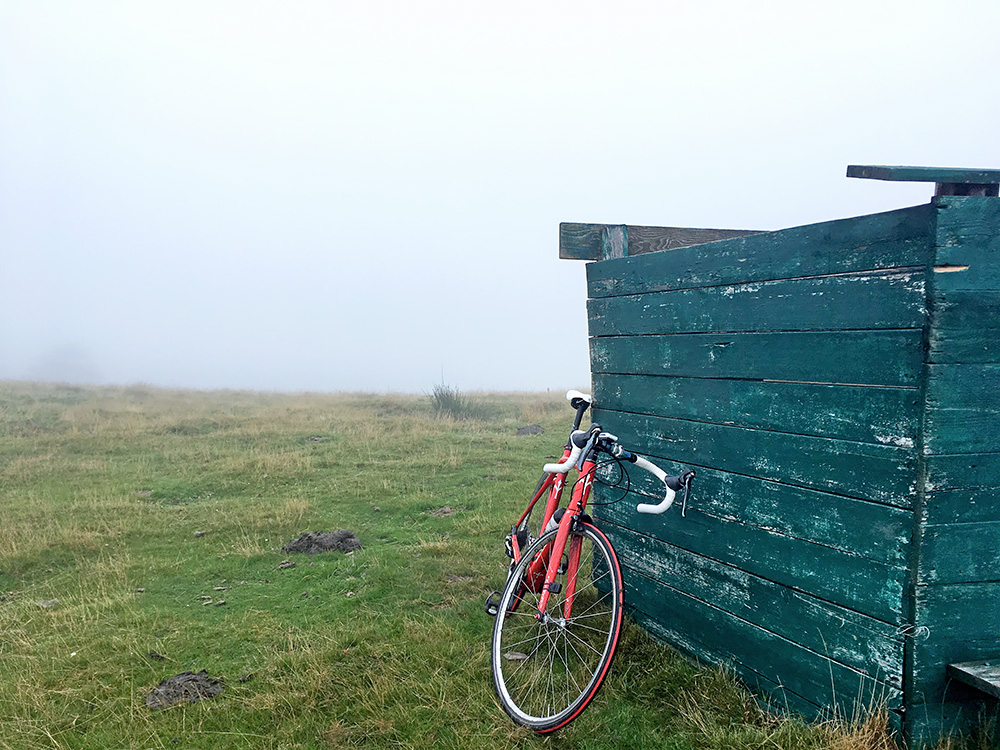 But I had noticed two passes close to the road of which the highest could be claimed as a road pass as it is only 105m in on a gravel road. Not very interesting going up here, but better than going down right way when I had gotten so cold up there, so decided to do it. First I visited an earlier pass that has a grassy slope up for ca. 100m from the road, which was easy enough, but not really a road pass. That was the Sarçagoyty-co-Léphoua/Zarzagoïti (1402m) and the one in the photo here.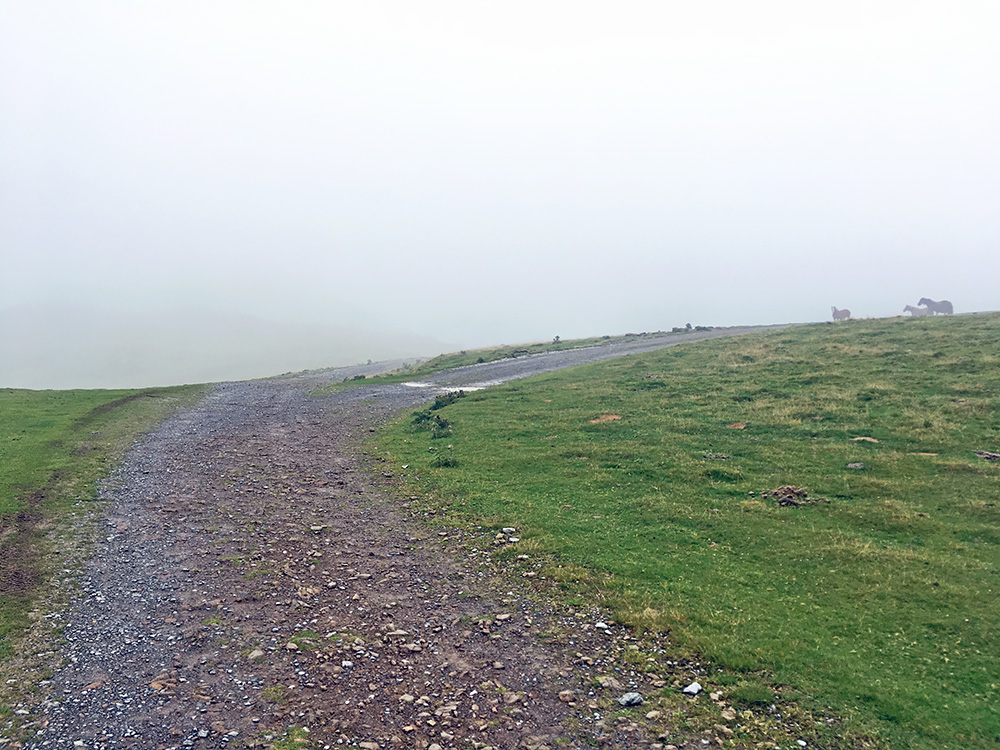 I see now that I actually first went to the highest pass, but we can change the order here as the above is before on the road up here. The highest pass mentioned before that I wanted to see today is the one in the photo here called Etchégaraté-co-Léphoua/Aïtxegarateko Lephua (1426m) and comes after passing by the road pass Col Mehatzé (1384m). Very easy to cycle up there even in this wet weather. Nothing much to see today apart from some horses here too and a few walkers.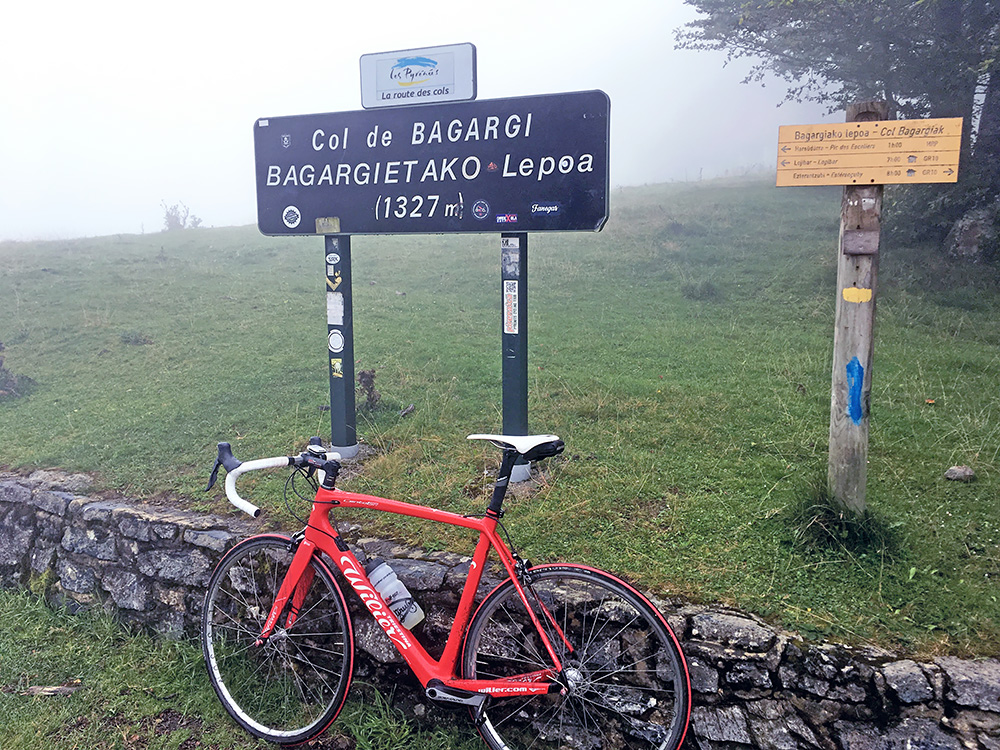 Col Bagargiak/Bargargiako/Bagargietako Lepoa/Col d'Iraty/Col de Bagargi (1330m) is the highest pass on the main road. Very many passes in the area (and very many names … )!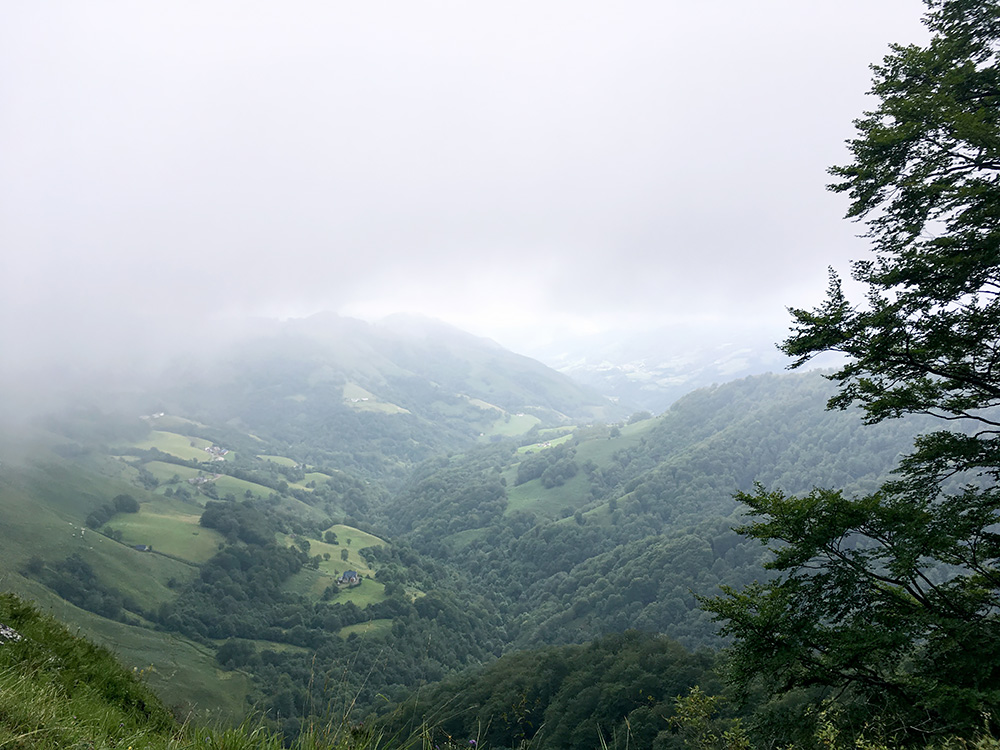 There is a parallel road going east–west here over the mountains just a little to the north and it is connected with a minor road from Iraty to there. That road goes on a ridge and there are some more passes to collect by taking that road. I have been taking the parallel road before but not this connecting road. The road goes down and I got the temperature up just a little from 11°C I had before, which was welcome. It was getting late and I was tired of fooling around up in the clouds now. First I came near Col Ugatzé/Ügatze (1174m) (precisely located 260m down a gravel road at 1143m). The photo here was taken just before reaching the pass and where I started to come down under the clouds.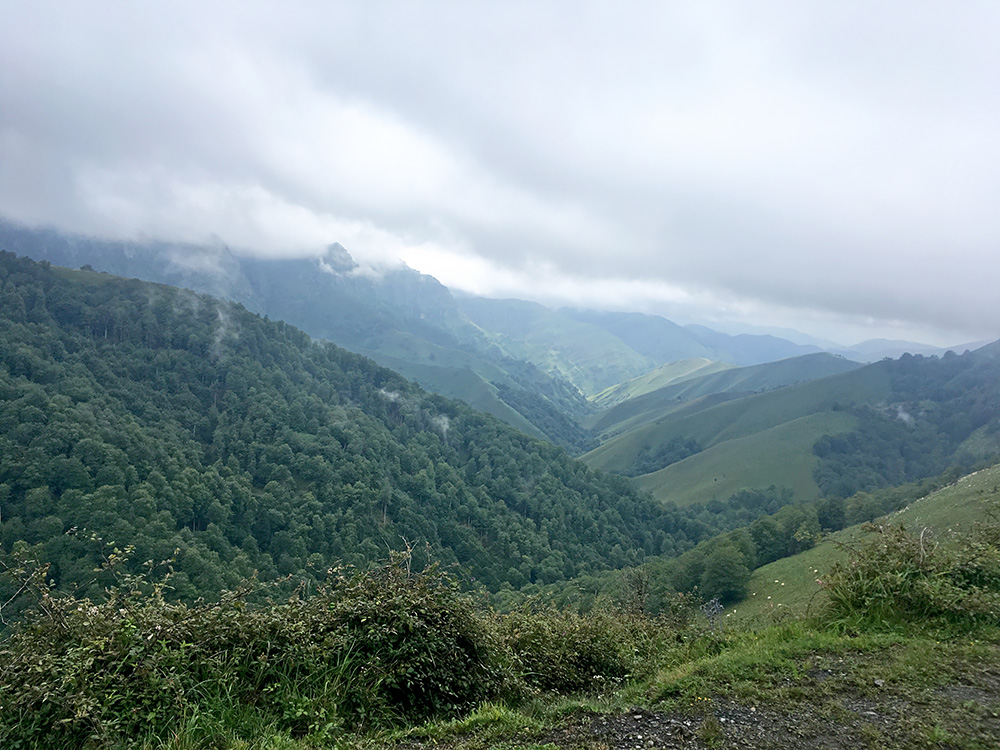 Here I am much further down the road just after the next pass, the Col d'Arhansus/Arhantsüseko Lepoa/Arhansus (930m) which is located just off the road. In the previous photo I was looking east and here I am looking west.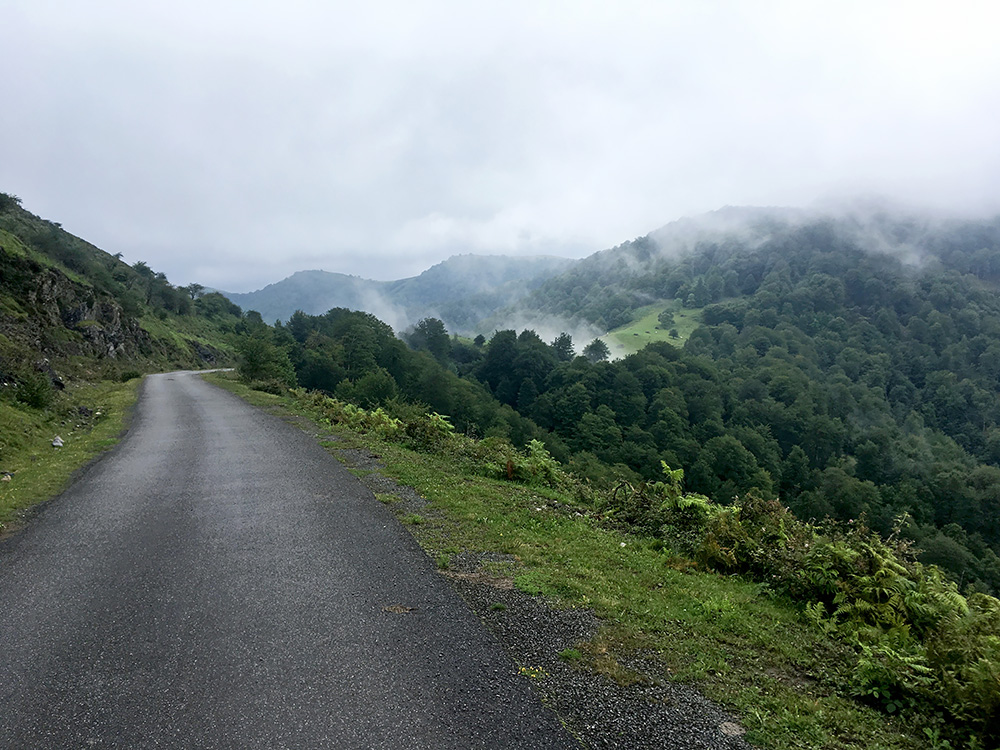 At the same place I took a photo looking back at the pass opening. It is a nice road as you see.
Just after the next pass and the lowest point on the road at Col Burdin Olatzé/Burdin Olatze (897m) I took the photo of the beautiful valley east from here. Just up on the ride here at the crossroad with the parallel road is the next pass: Col d'Ibarburia/Ibarbürü Lephoa/Ibarburua (975m). No wonder this area is so green with the rather commonly very humid weather.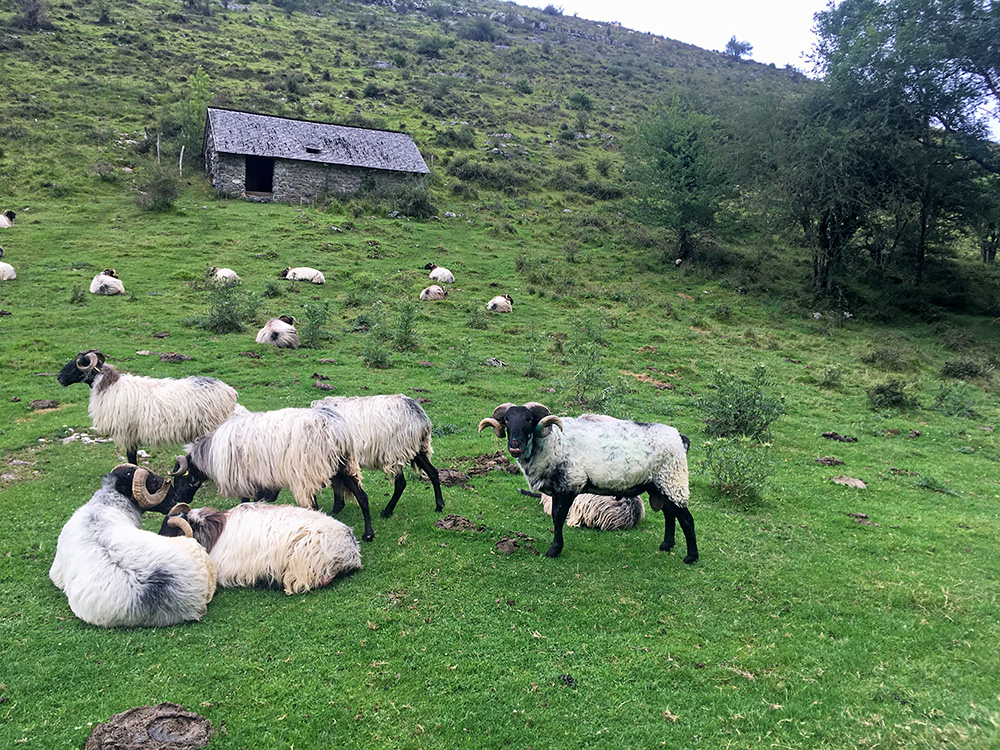 Now at last it is already after 17 in the afternoon and I have most of today's cycling ahead of me! Stopping here at 17:14 (according to the photo time) to look on the map and have a last photo up here of some sheep. Just a little pass left for the day, the Col d'Arangaitz/Arangaïtz/Arangaitzeko Lepoa/Col de Lecharria (832m). Think I had planned like doing 30 passes on the day in the area here, which is not impossible. I stopped again on the way down to maybe take a minor road over another minor pass, but now I thought it was enough for today and descended down to Tardets (221m) where the weather was fine, the roads dry and the temperature perfect for cycling. Almost feeling like a fool staying that long up the mountains, but there was some sort of logic to it.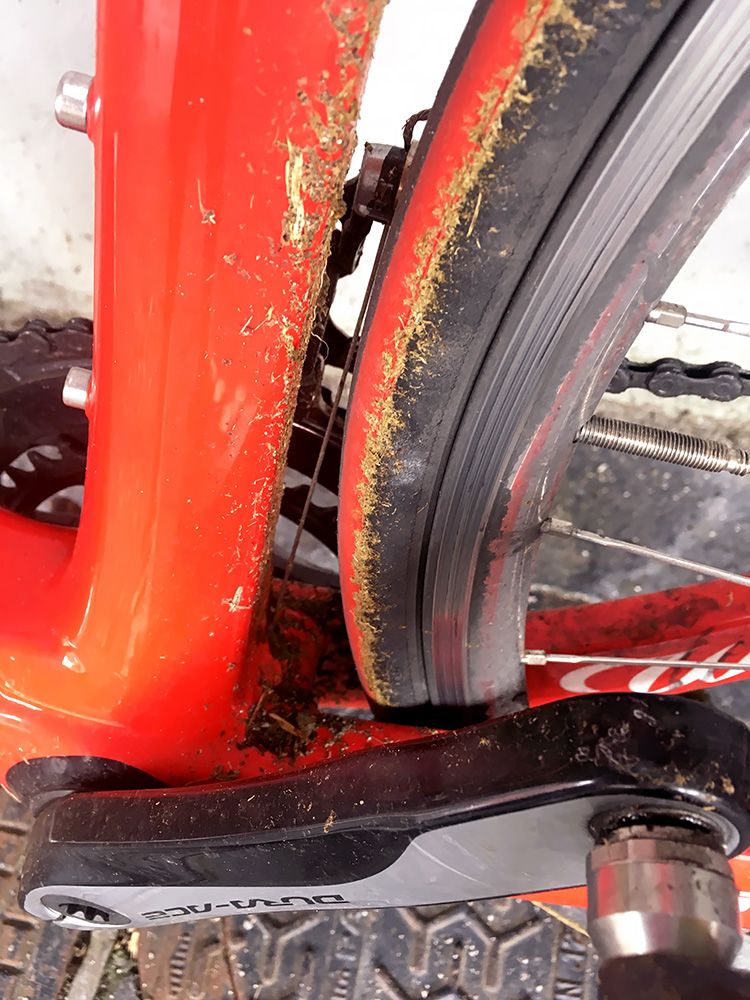 I stopped at 18:00 for a banana and coca-cola by the grocery in the centre and took a photo documenting how bad the weather had affected my bicycle the last two days. Only saw one cleaning place along the road for the rest of the day and then rain was again in the air, so never stopped to take care of it this day.
Ok, so now I just had to make sure I got as far east as possible before the dark. I took the road over Montory and Aramits, where I made the last stop for the day for a quick coffee by a roadside bar. Then the main road (sometimes narrow and bad and with some glass across the road at one place, which is more common home in Sweden otherwise). No problem though and had to look a few times on the map, but mostly found my way rather quickly straight through the centre of the town to the N134 going to Pau. Then suddenly this national road became a gravel road – a thick layer of gravel on the asphalt right across for kilometres. Luckily I was soon to turn off the main road to Arudy. From there it was just sweet roads.
At Arudy the weather looked a bit bad again and now it was soon 20:00 and I was starting to look for places to stay. I continued down to Louvie-Juzon and decided I continue from there and then stay at the next best place I found. However there were not many places aklong the road east from here. There was a sign for a place on another road after a while, but did not want to go to a place on the wrong road to find it was not open or fully booked, so decided to continue. (Looked later on the map and could as well have taken the minor road over Pé de Hourat.)
In Mifaget, Bruges and Asson there was no place to stay at and was then thus out on the road up to Lourdes from Pau, but it was a nice ride on this road in the late afternoon. However, in Lestelle-Bétharram there were hotels and stopped at the most obviously open one, the Hotel des Touristes, which was actually a quite good place for the money (not expensive), friendly staff and good food. It was about to get dark now, but I was happy to have been able to get so close to Lourdes after all and now the weather promised to be good for the last two days, so felt like being in a good position for the finale.
Talked with some Swedish friends staying in Argelès-Gazost to do some climb with them (had talked with them earlier about the possibility also). Thought they knew I could not know where I would be the next day, so when they said we meet up tomorrow in Argelès-Gazost just after midnight, I thought they mean the next day, but apparently they had said something before on the day they could meet up and that the day after tomorrow, which I was reminded of later the next day (but things turned out well after all).