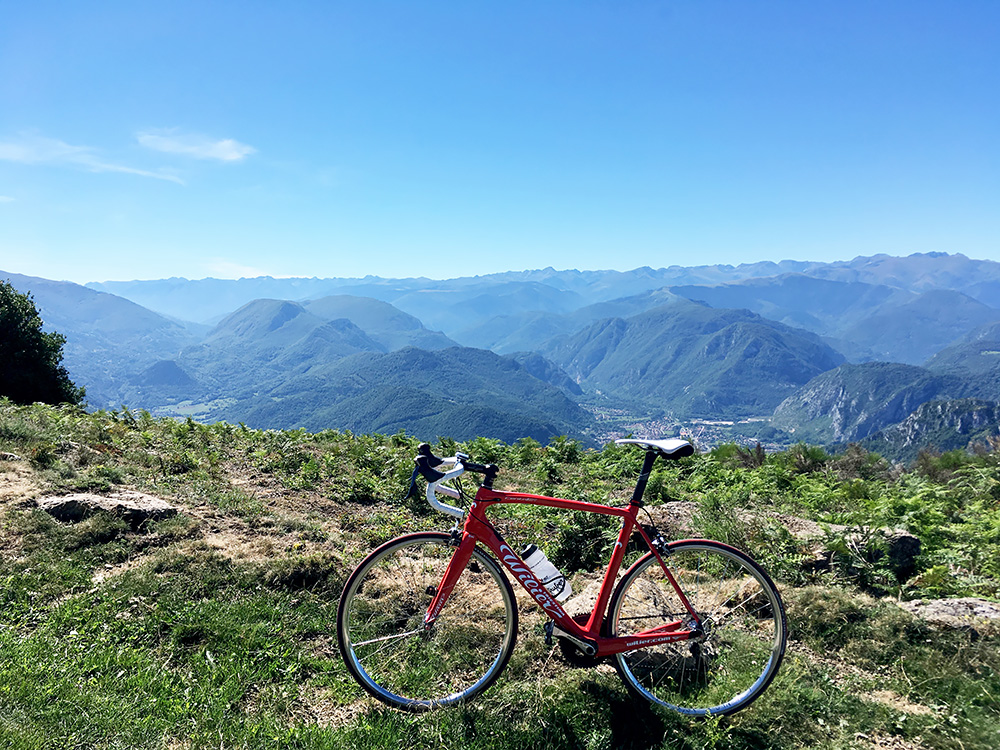 So, back in France again. It did not help much crossing over the Pyrenees up north as it was as hot here now. It was a short ride down to the turn-off for the Col de Port (1249m). As someone looking on my plan said, it would have been nicer going over the Port de Lers/Massat (1516m) and the Col d'Agnes (1570m) and while that is true, I have visited both passes, even if only once. Moreover I had in mind to explore if a pass reachable from the Col de Port road could be regarded as an asphalted pass and if so it would be among the +1300m paved passes in the Pyrenees, so being aware of the possibility I had to explore this (no reliable data to be found).
In the photo here I am up at the end of the curious road I had studied at Roc du Traucadou (1370m).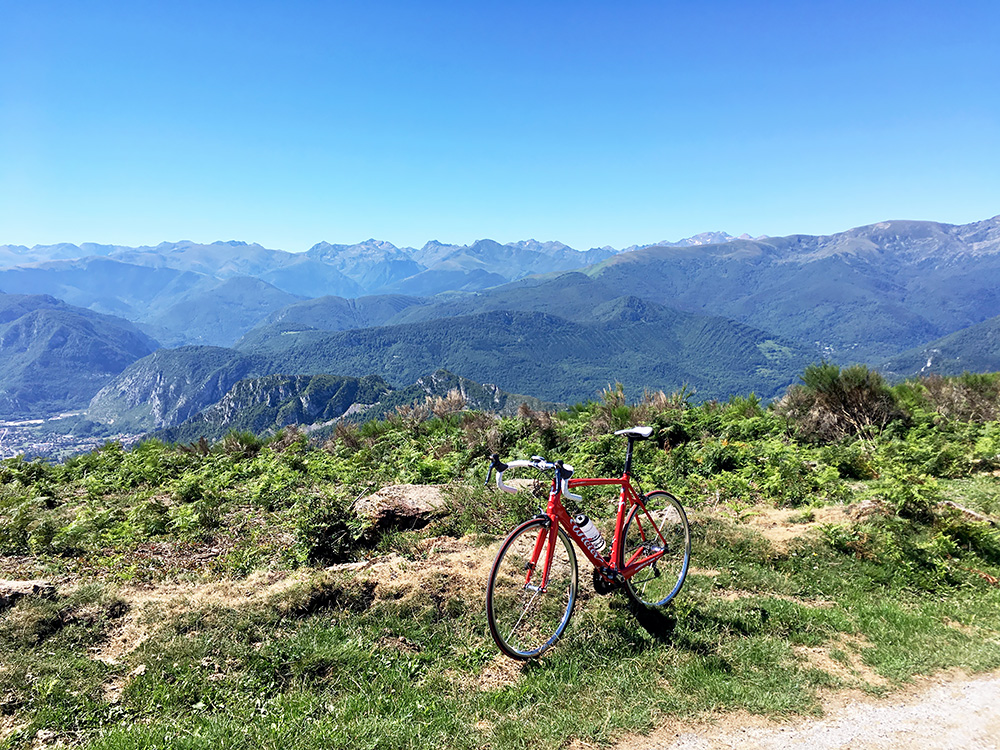 It was quite warm at once this day. I started out on the Col de Port road, but wanted to find some place to stop at to get some more energy that I did not get much of at breakfast and water. Here were many cyclists and I just let them pass me by as I was contemplating if there was a place to stop at before turning off the road up to Roc du Traucadou. There were nothing in the first two villages, but I was taking off the road in Saurat, so decided to find something there and took the local road through what once might have been a more alive village or so it looked. Got back out on the main road again and there was a bar open. I saw some person walk away from there with a big bottle of water, so ordered one myself and a coffee.
Eventually I felt fine and filled up my water bottle with the water that was left in the bottle. I cycled back to the start of the village where a very small road goes up the mountainside. Just a little on my way I met an old man on an old road bike coming down, which felt fine and said bonjour. Then the road is quite steep up from ca. 660m to 955m where I found the correct turn-off. At first that road looked really nice, but it soon had some problem, but got better again, but this unfortunately did not last as long as I had hoped. Suddenly the asphalt went missing, but returned, but then it went bad. I soon came to a gate and after that it was good and bad and then worse, but then later better again. However, in the end it was not tenable to try and argue that this was an asphalted road, even if it clearly has all been asphalted to the top of the Roc du Traucadou and the last part is sometimes in a very good condition. The bad gravel parts were a bit too frequent and too bad, just like the asphalt at some places. I could sort of cycle it all both ways, but it was not easy. In the photo here you see the washed out asphalt.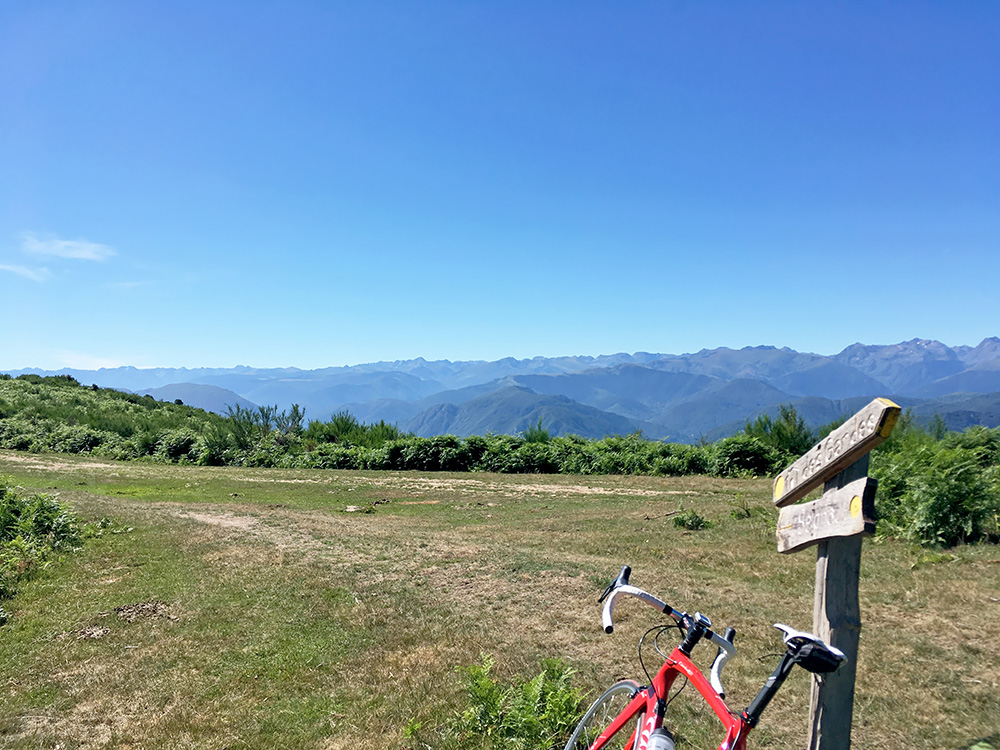 This road should be rather easy to make a nice one again though if there would have been any resources for that, but maybe the senders on the top are not enough to warrant it. The road may be too tricky for Tour de France to consider also (esp. as they mostly just go to boring ski stations anyway). In the photo (actually the first for the day) I am at the nearby Col du Traucadou (1318m) 280m on a dirt track from the road that continues as a path to the Prat d'Albis that I visited on the first day coming up from the other side! This was the way I had thoughts about walking that evening, but it was a good idea I did not try that. It would have been great if there would have been an asphalted road over here though and it would not be very difficult as most of the work is already done.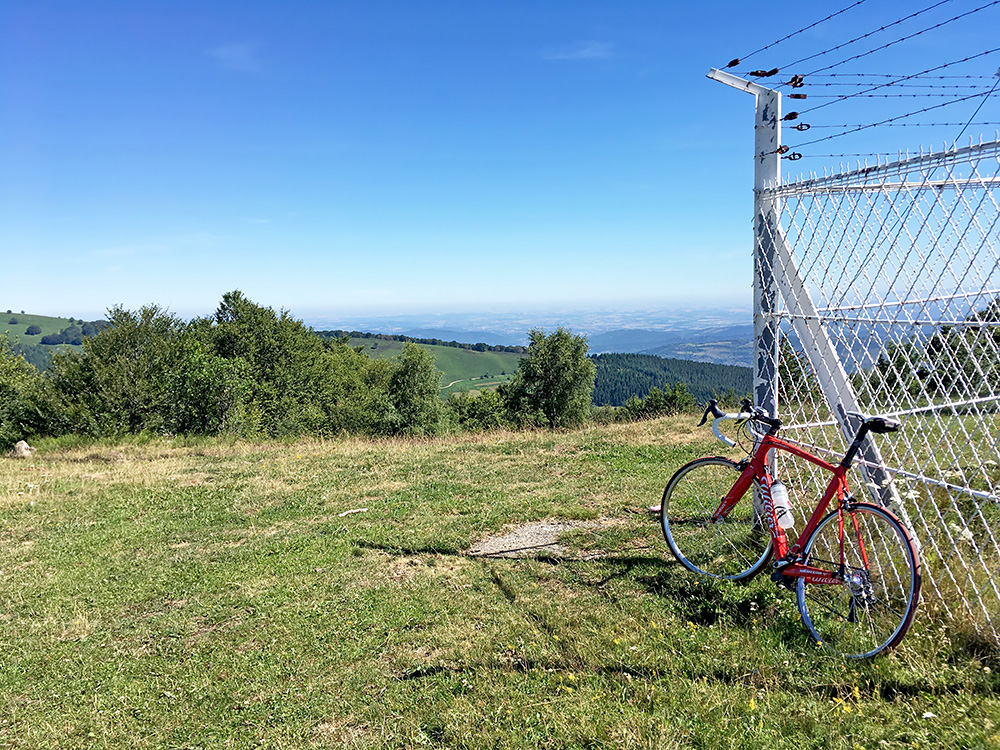 Apparently there is also (according to old documents Club des Cent Cols unearths) a pass at the last bend up to the Roc du Traucadou (where the gravel road takes off). That pass is called Col de Rouzeron/Rougerens (1325m) and would be an asphalted road pass if the road in the last 2.8 km would have been a bit better, but until I hear about improvements of that road (not likely) it will have to be a nice gravel road pass for the adventurous. Looking down over the Foix area and to the north here from the end of the road. Walked around the fence, but the best views was from the end of the road.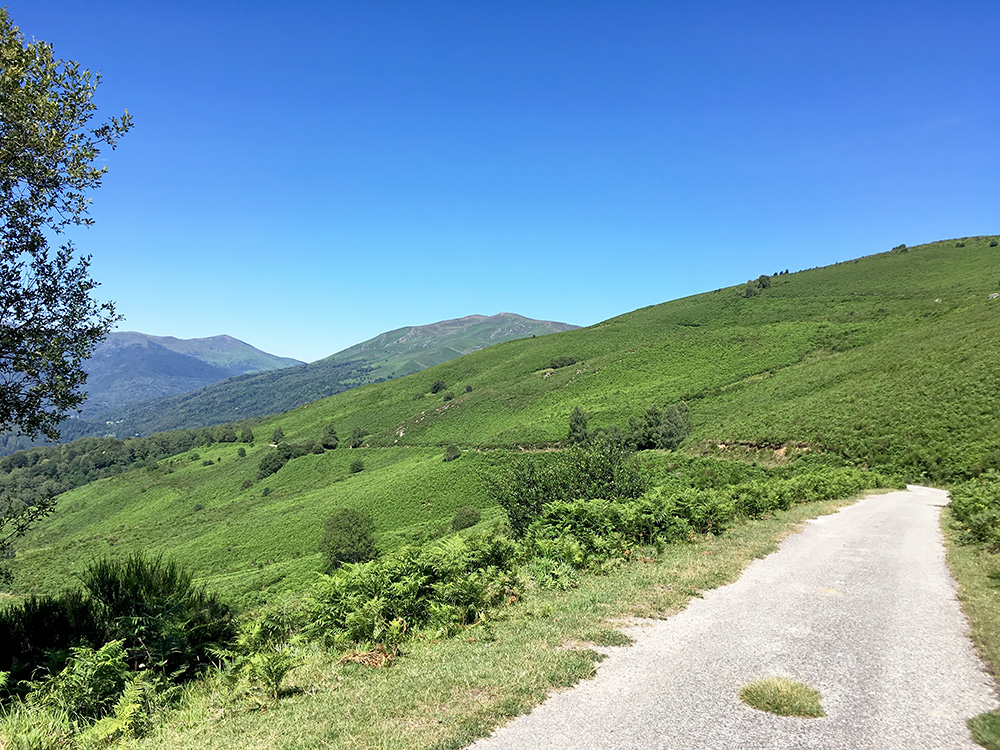 I had almost given up on the way up, but given I had made the plan much adapted for this I had to get up there and was at least happy with the views and nice to know just how the road looked higher up where it was better. The road looks pretty good in this photo for example and had it been like that more of the time, then I would have been lucky.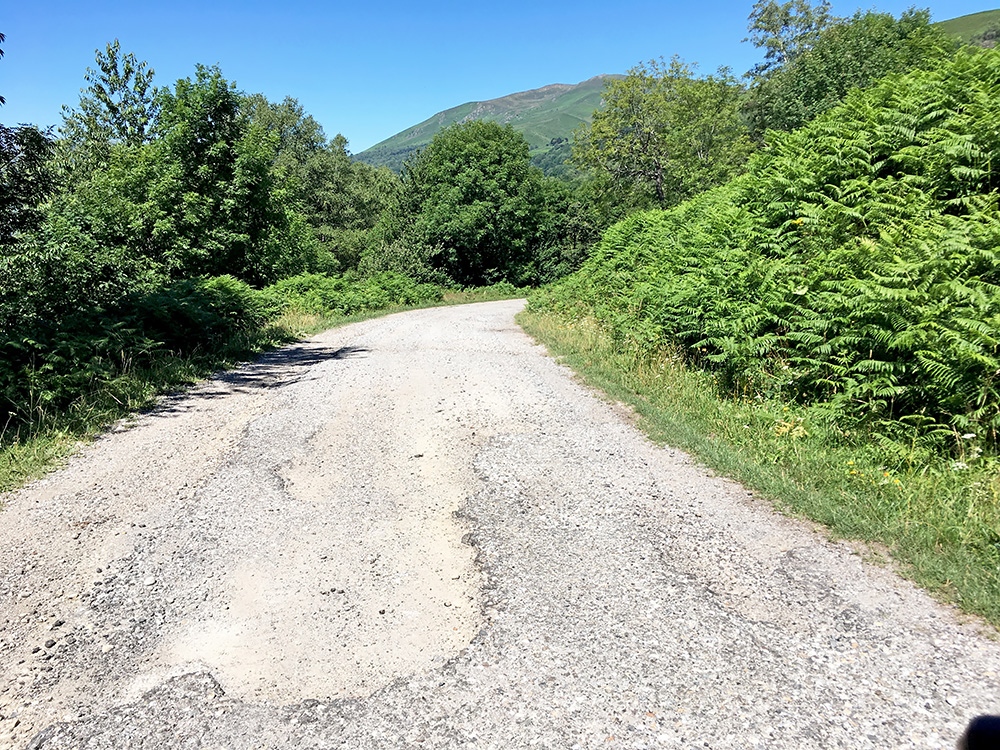 However, the road looked as much like this for the last 3 km.
Down at the fork, I continued ahead and the road then continues to climb and then goes a bit up and down, but mostly up. After Col de Cabus (964m) one meets another road coming up from the Col de Port road and the road is now less odd. It still changes a little in quality, but it is all fine. It ends with short descent to meet the Col de Port road at 1057m less than 4 km from the top of the Col de Port (1249m).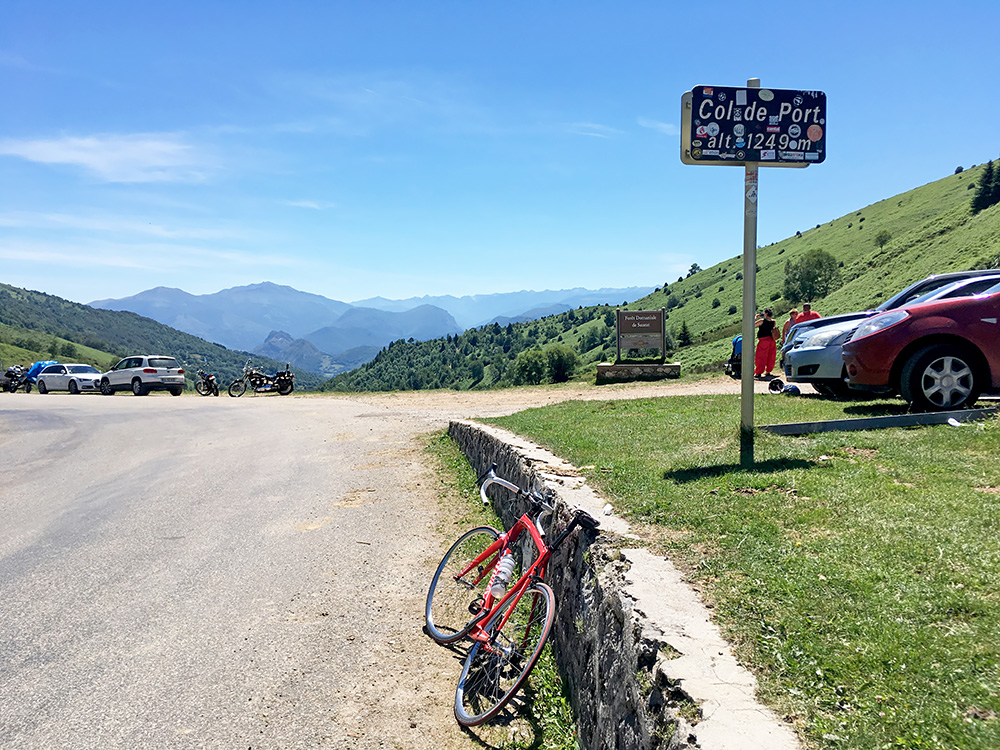 Now I was happy this rather long-winding adventure was over. I caught up and overtook a girl cycling up there, but guess that was nothing much to brag about and it was not very steep up. I went into the bar where a lot of english speaking cyclists was hanging outside drinking beer. Bought myself a Belgian Leffe and drank it inside, borrowed the toilet and left.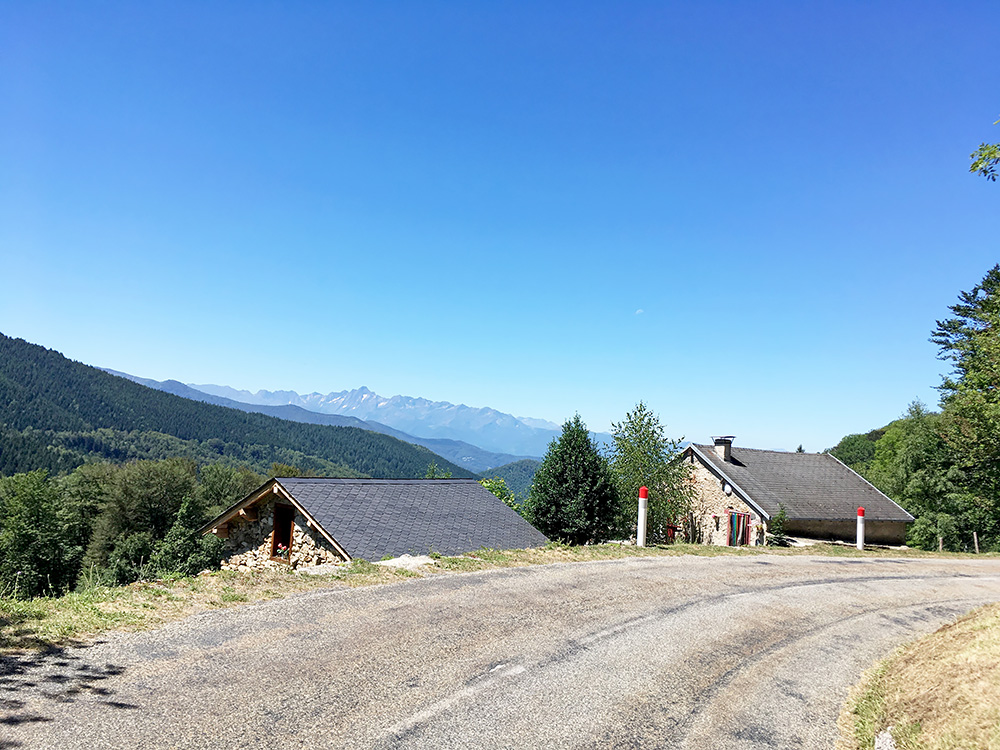 It was a lovely descent and stopped early for the photo here. Had to take it a bit careful after the beer, but it is a nice road to descend. A Belgian beer takes the nastiness out of French roads and makes them feel smoother – it works better than Carbon! ;-)
One visitis a lot of passes on the descent to Massat (629m) here: Col des Caugnous/Caougnoux (947m), Col du/del Four (825m) and Croix d'Espiés (794m) (I think this is one of some fake cols in the Cent Cols catalogue, so better at least to call it with the name used for the place on the cadaster maps).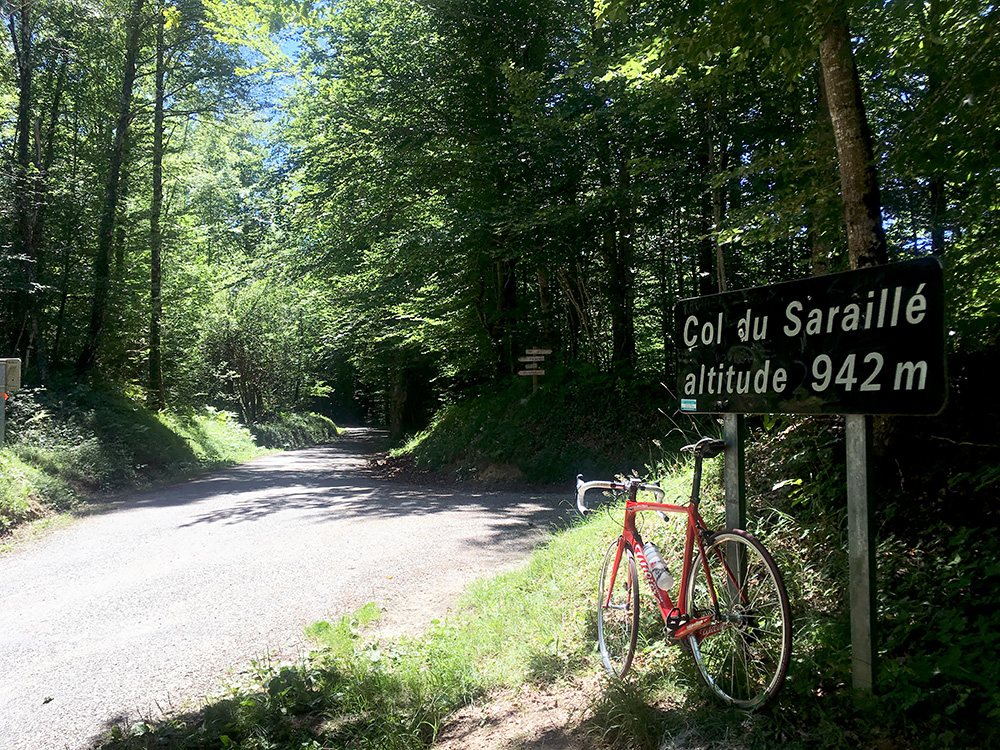 Massat looks now like it is run by a hippie artist collective, but the upside is that there are open bars and I stopped again, feeling a bit downed perhaps after the beer. Got a coca-cola and french fries, but it was hot and difficult with Internet connection in the area. The road ahead was a nice hilly road out of Massat visiting two passes (the first quite dubious again): Col d'Urbens/d'Ourben (749m) and the well-signed for Col de/du Saraillé (941m) up in the woods. Passing by an artist sitting in her van.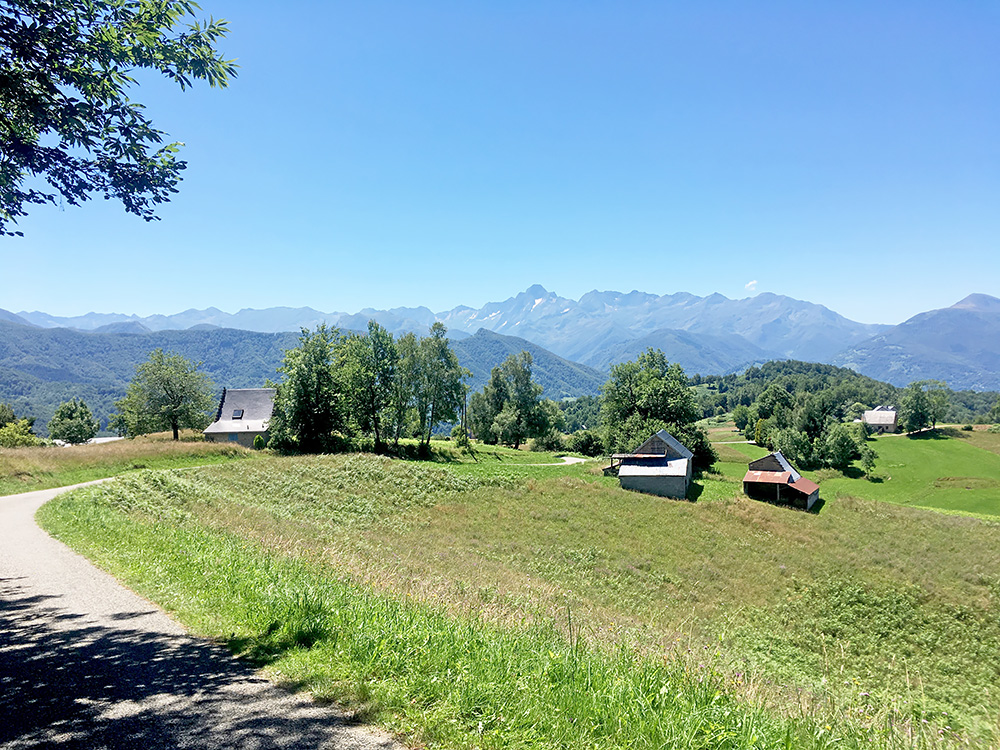 It is very nice down from Col du Saraillé to Cominac, so a sweet road choice if you are cycling in the area. Near the photo here one should supposedly also find a pass called Cot de Cominac (875m) (the location is not pass-like). Later again there was a small pass in the opposite direction from Cominac of where I intended to go, but only some hundred metres away, so went there and back again, meeting the same lady with a kid explaining I was visiting a pass, which she sort of seemed to acknowledge that it was, but looking closer on the map Cot de Faoure ('cot' is supposed to sometimes refer to a pass, just like 'collet' sometimes is). There is a Cot de Faoure, but that is some houses nearby, while the supposed pass area is called Clot del Faüre (788m), so guess I go by that name. I think I have only once or twice seen a cot at a pass and then in at least one place there was a pass name for the place, so I think the it is just by chance that some place near a pass may be called a cot (at least from looking at maps).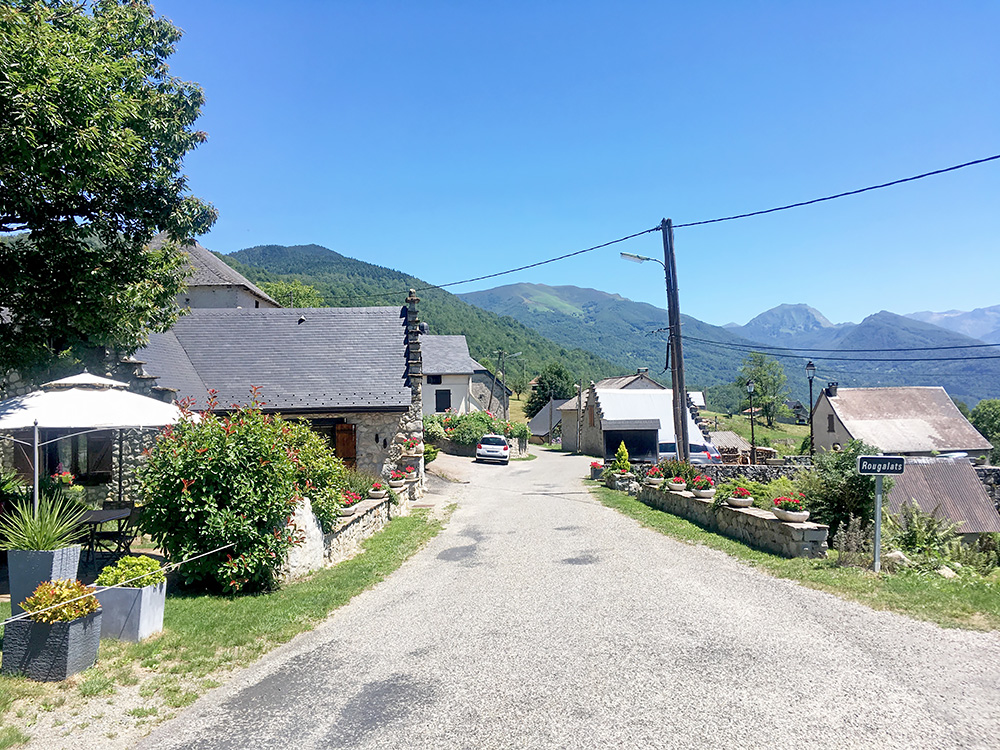 Here in the village of Cominac when coming back to go the other way. The road continues somewhat flat for a while before it descends abruptly to the valley below and joins the main road up to Aulus-les-Bains. When I eventually reached Aulus-les-Bains (742m) I felt totally out of energy and it was just like always these days around 37°C. Should not have had a beer this day (too warm). I stopped and even if this was a Sunday there was a grocery shop open in the village (sort of service shop I believe and they need special licenses my sister says as her boyfriend works in such a one in Chamonix). Took a long time to decide what ice cream to buy, but bought a local special ice cream and got a big coca-cola. Just now decided to rest until I felt fine again. Several cyclists was passing by all looking like they felt as exhausted as me, which was comforting. It was a bit funny that even though the sun was shining and everything looked nice, no one was looking happy.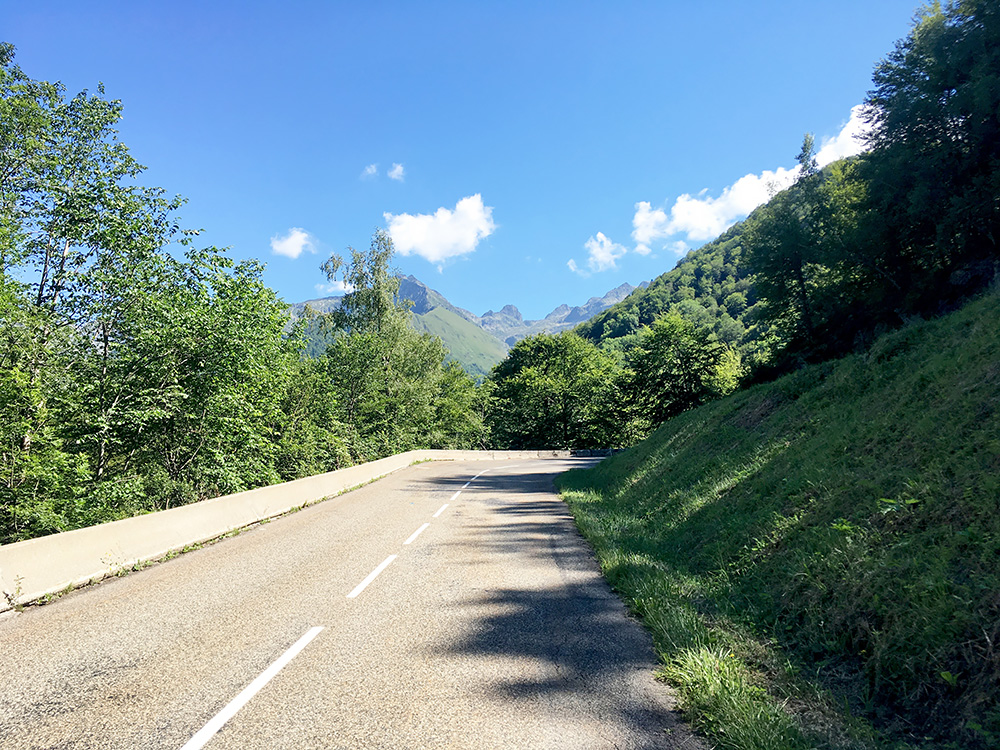 Eventually I went on my way (after close to an hour) up to Col de Latrape (1111m), stopping soon for the photo here. The road over this little pass is all fine and most roads, but far from all, started to get better now also inside France.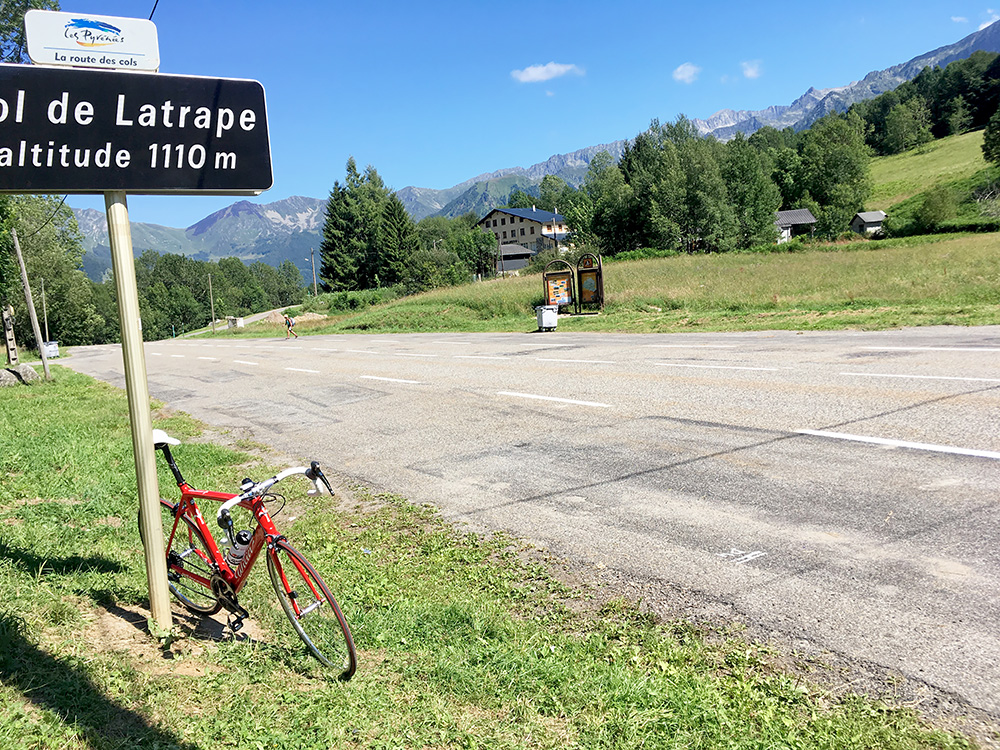 Not the nicest pass, but not so bad for the low height either.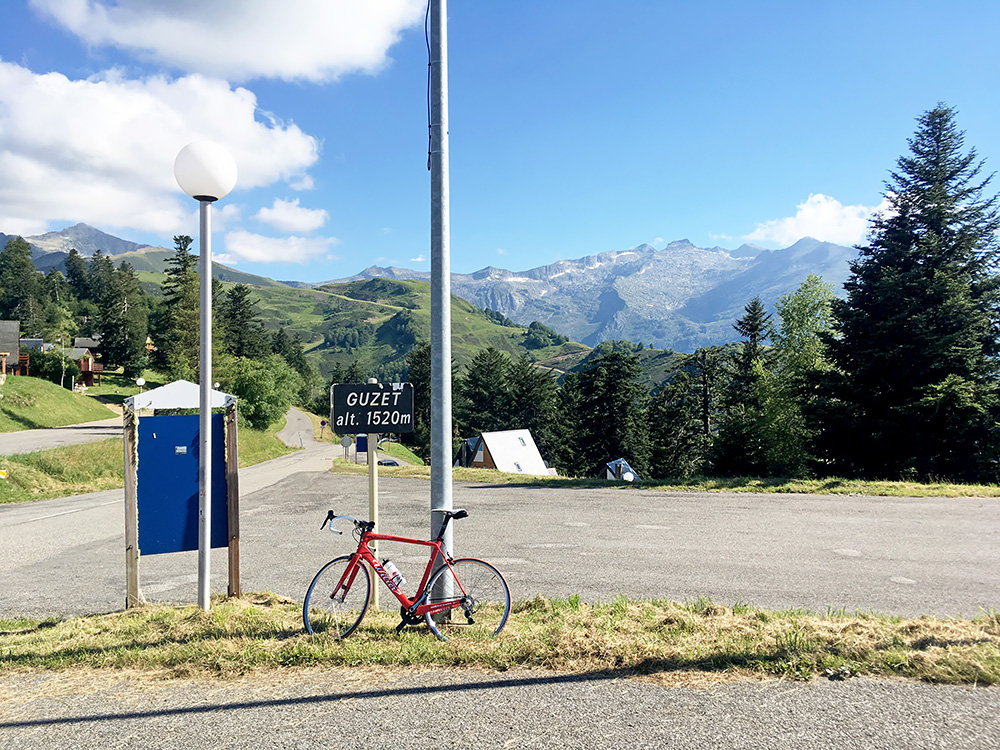 After a short downhill ride I came to the turn-off (1032m) for the ski resort Guzet-Neige (1518m) which is also a BIG climb that was the main reason (together with the next pass) for the detour into France on my way back to spain again.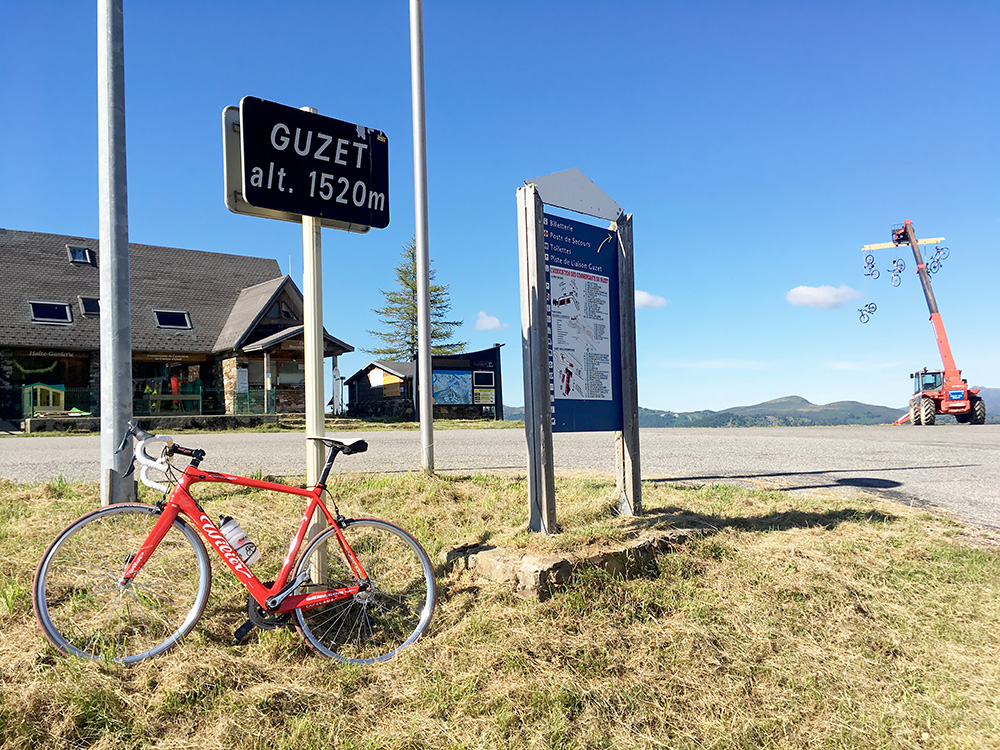 A bicycle decoration. Maybe trying to catch cyclists (interest) in the summer months. These were the last photos up here I took.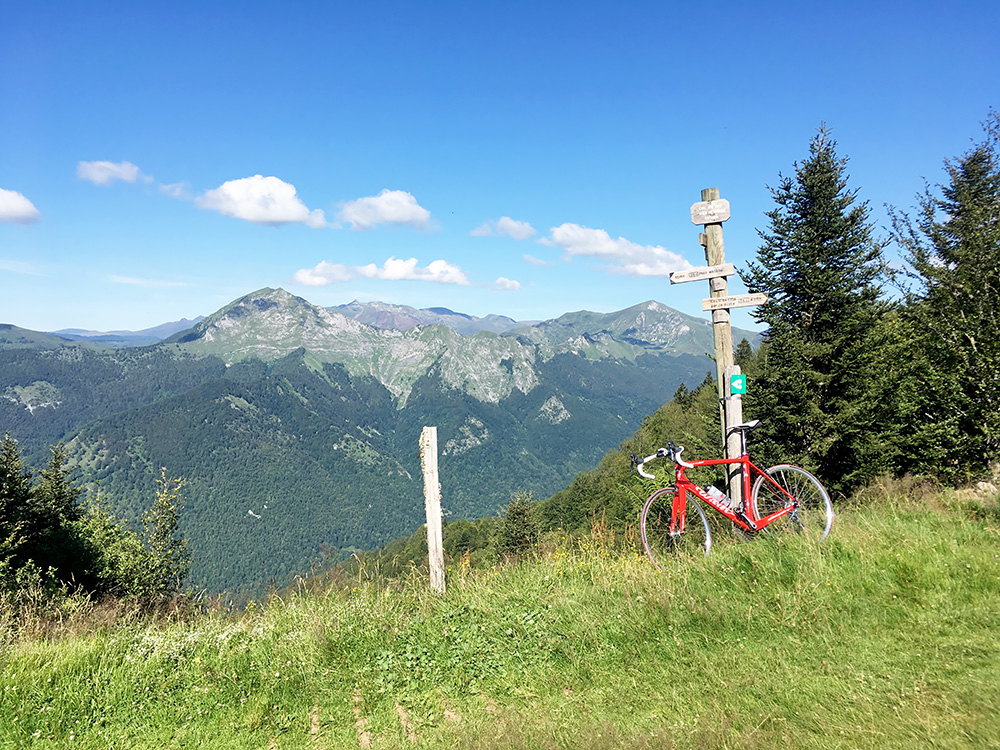 The road up here was nice and in part on perfect new asphalt. However, I had lots of stinging insects down in the hot ascent to keep me busy. I had noticed in planning that there is a pass very close to the very end of asphalt up here and wanted to see if it could regarded as an asphalted pass, which it may be as one only need to push the bicycle up for 50m and it is also quite easy no matter what the weather. The pass is Col du Tuc des Cristaux (1578m), with a proper pass sign too.
The pass sign at closer look.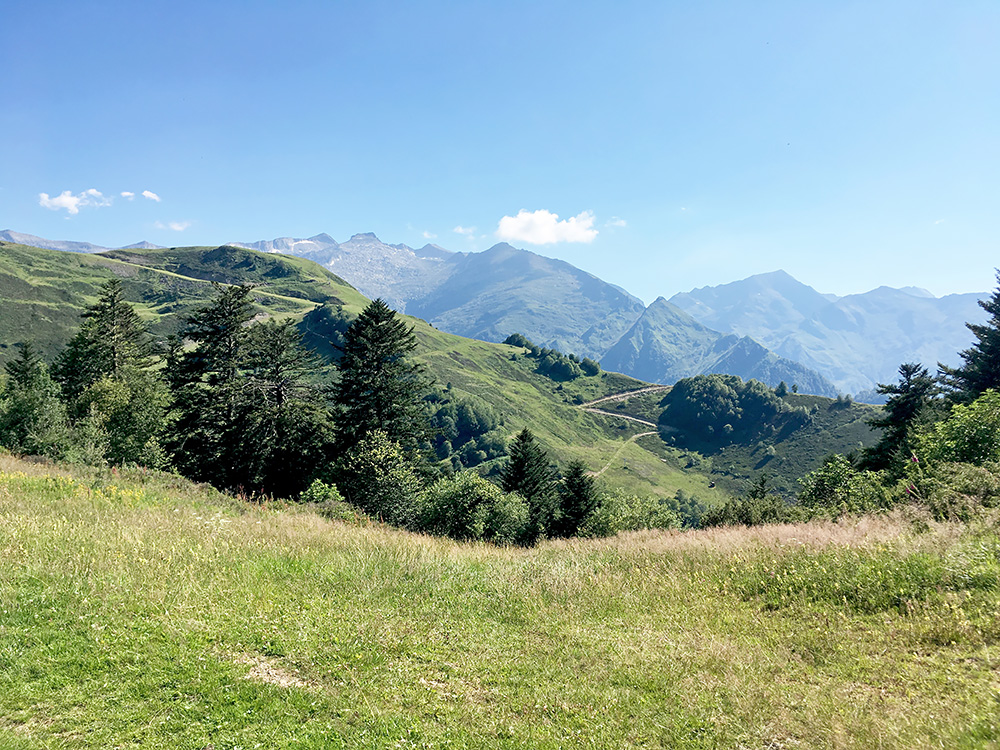 The view in the other direction over some gravel roads going up higher in the area.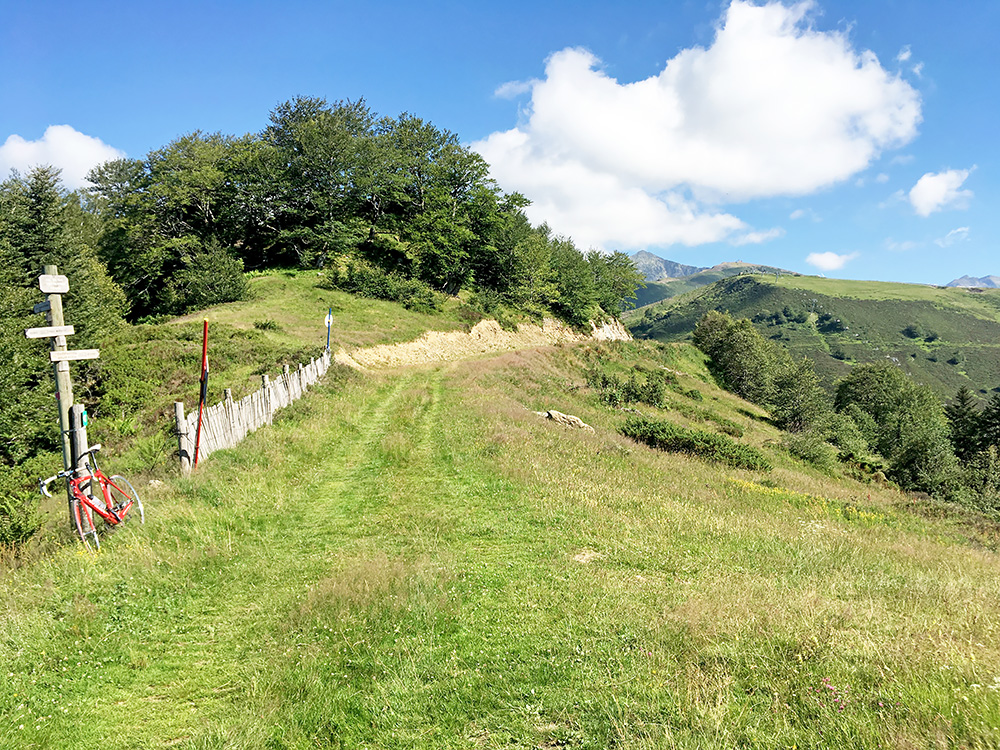 The grassy track at the pass itself is actually possible to cycle on with a road bike (at least in part).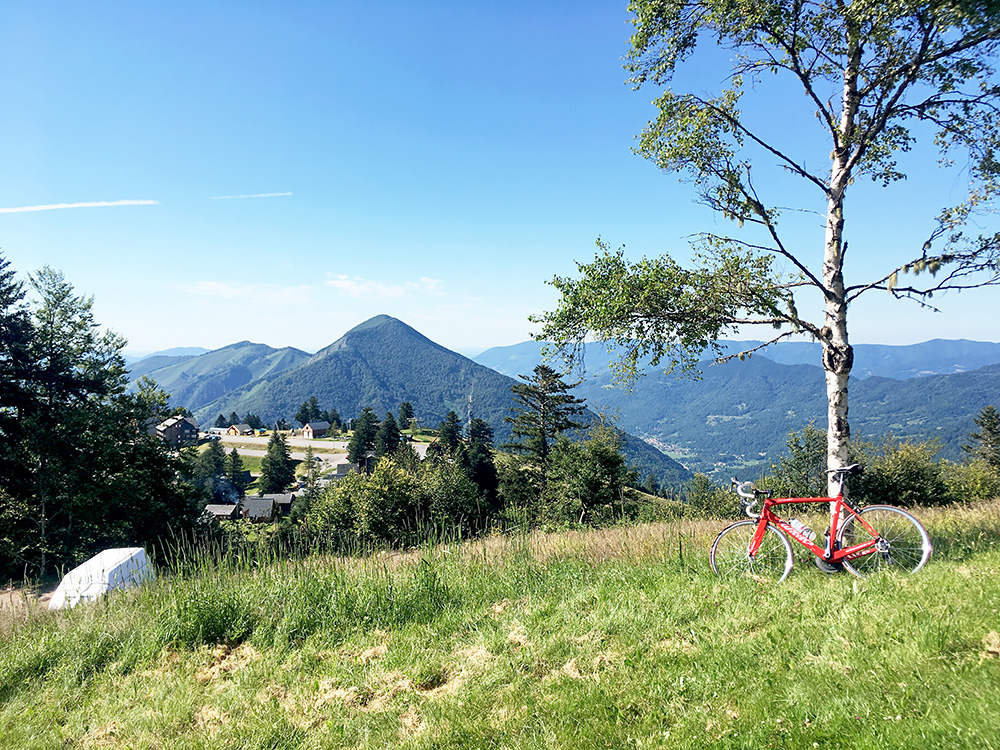 I took the grassy track back down a bit, but then climbed up a few metres to the end of another road between two houses, some people out there looking curiously after me, but was not on their ground and just waved a little hello and went on down and then up another road which takes one to the highest asphalted place here at 1568m and with good views, here a bit across the grass and looking down on the centre arrival place in the photos above.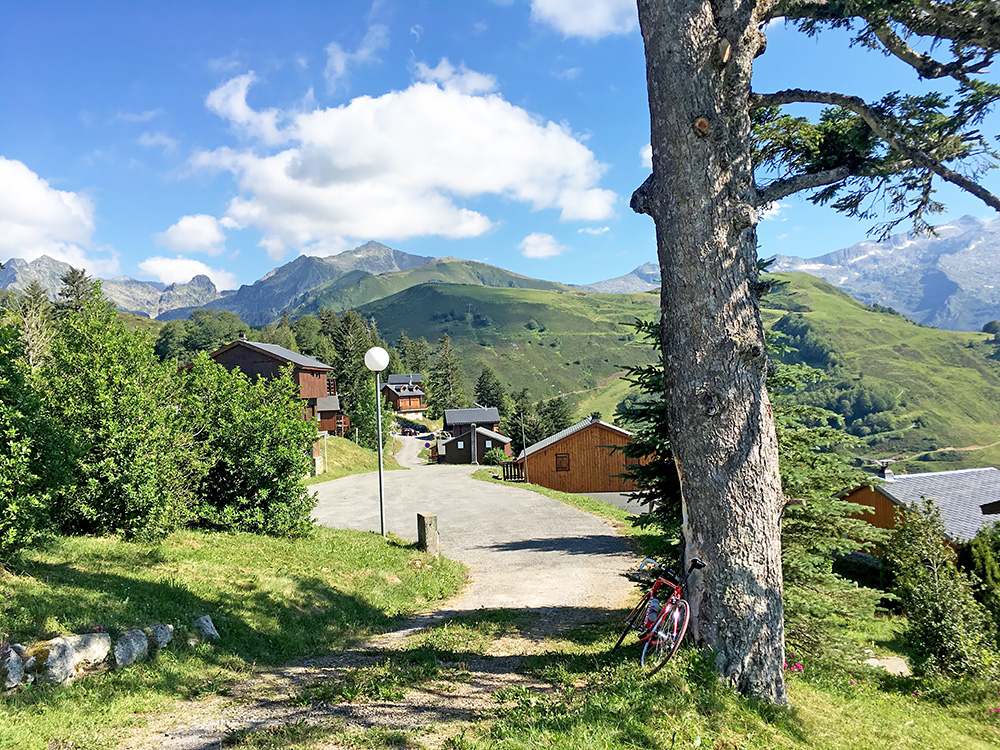 Best was the views back from this point. Only boring thing was the many houses with tourists or people visiting their summer houses maybe.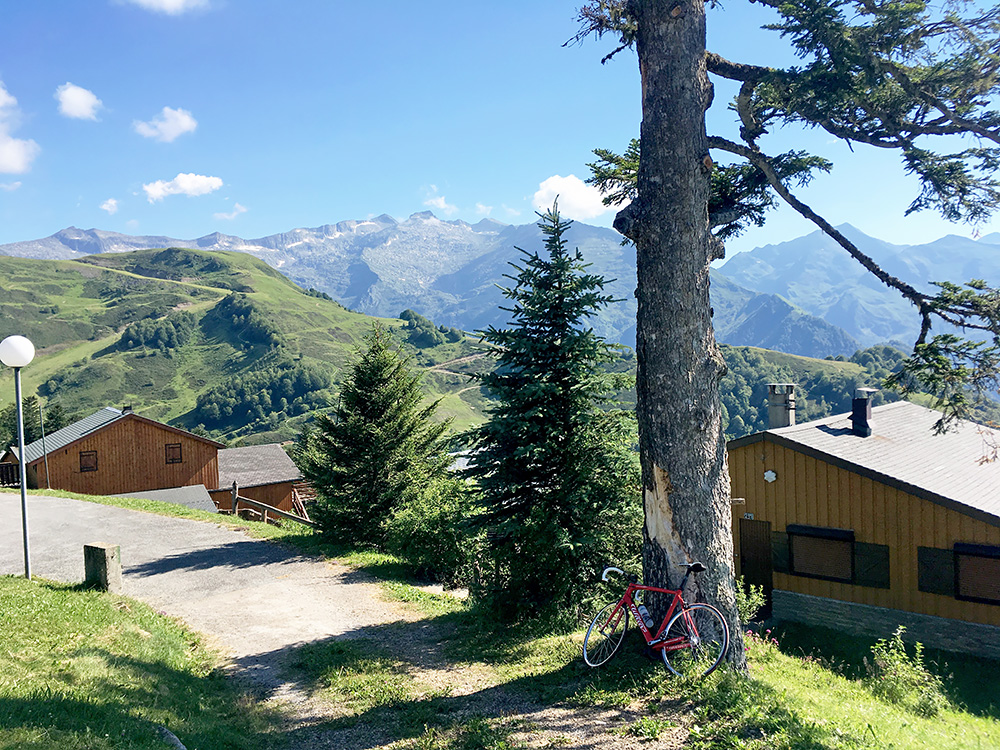 Yet one more photo from here. Quite nice and now I had another long downhill ride to Seix (508m) from where this is quite a good +1000m climb (and the way I should have gone up). On the way down I passed by a hotel at Pont de la Taule (567m), where I had planned to stay one night two days earlier (looks well-located and nice), so passing by there I was at least not yet 2 days behind my plans and had two extra days planned in anyway to use, but I was pretty sure that would not be enough now and would have to cut out more "optional" climbs in the plan ahead, but there quite some optional routes planned in, so that would not be a major problem.
I felt a bit better in Seix, but it was still very hot and I made another stop buying a simple sandwich and coca-cola. Also had to get more money out from an ATM (only one there by the postal office).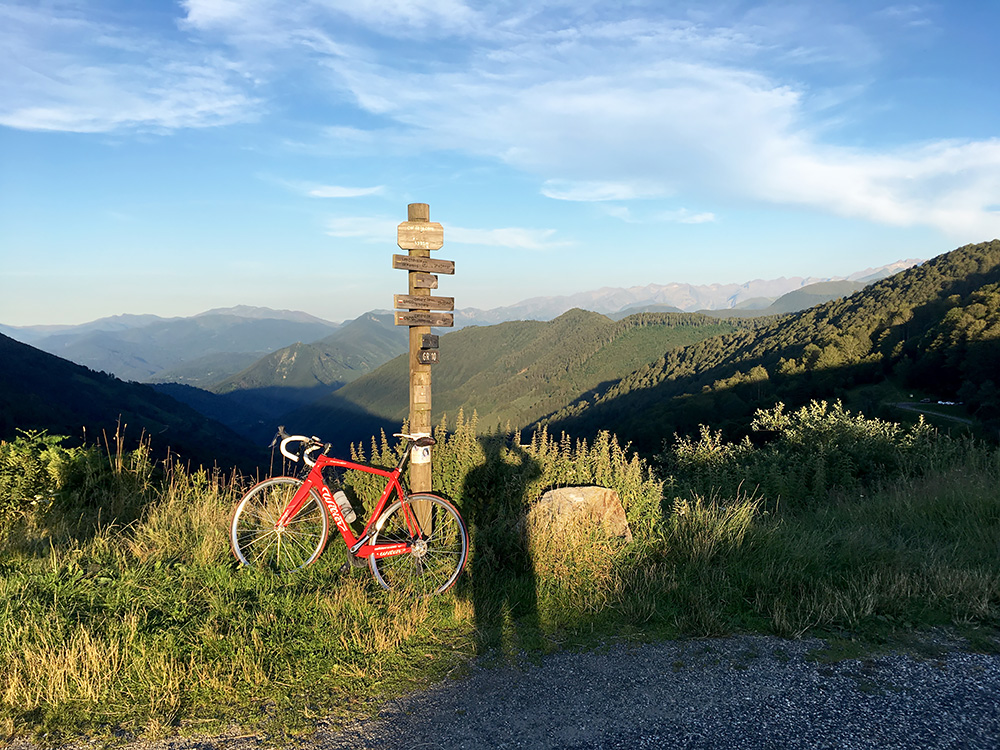 Then it was time for a long last climb for the day. I was never feeling very speedy even in the afternoon this day, but took my time and temperatures started to get quite fine a bit up the road to Port/Col de la Core (1394m). The pass is not a steep one, but a long one. People have said it is a relatively boring pass in the Pyrenees, but I found it rather nice in the evening. There were also not much traffic here.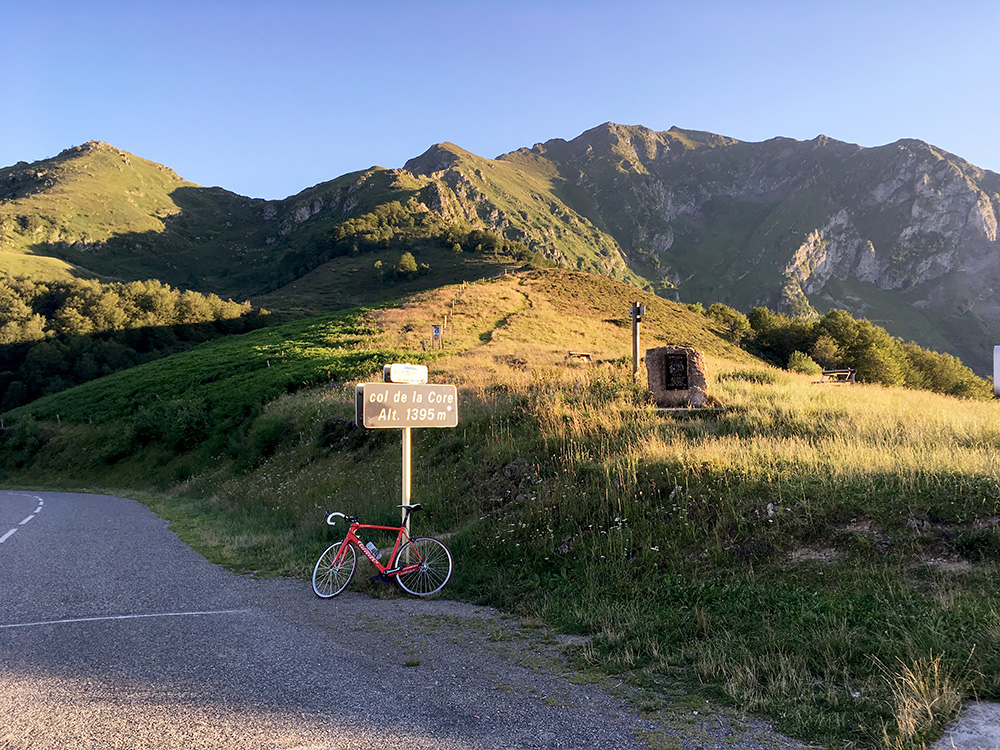 I didn't think of it beforehand, but it was perfect climbing a pass from the east to the west in the evening as I had shadows (nearly) all the way up from Seix and sun on the way down, so it felt like it was equally warm all the way. The "official" pass height is really taken from the stone in the photo here, hence it is one metre less on the road.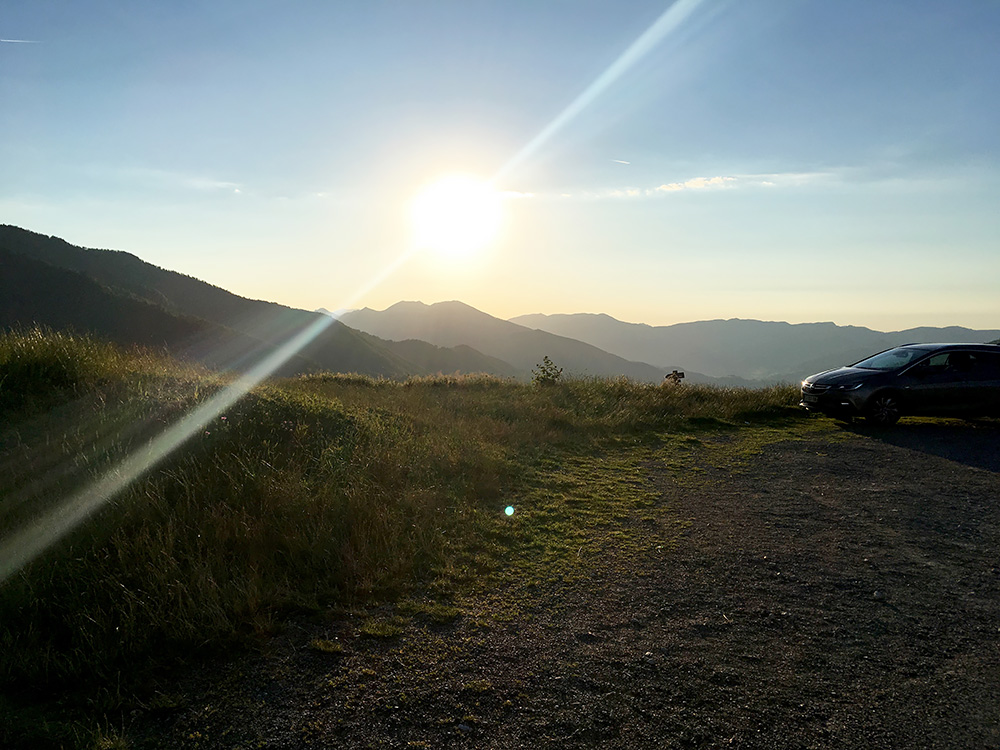 The sun still up and I was going down at the exact right time. Met a cyclist fighting his way up from the west, but he was the only one on the pass this Sunday evening (stupid cyclists – this is the time to be cycling here and the guy was probably a local knowing that).
Had to stop one more time realising how nice it was to descend here in the late evening (photo below). I felt spoilt, but was also a bit relieved as I was starting to feel I had completed most of the really tough stuff for this tour by now. It was not quite over yet though.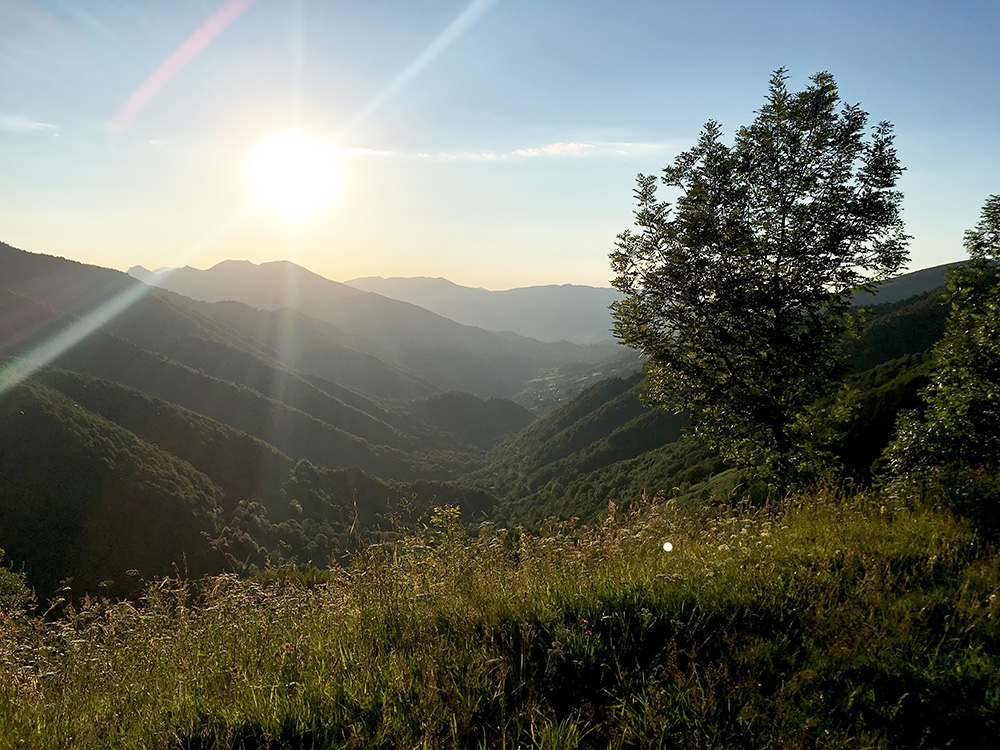 First I had to find a place for the night and it turned out to be a lot more difficult on this side of the pass than what it would have been down in Seix. I stopped on the way down by an auberge that had closed down, then tried to call a number for a B&B, but no answer. Then there seemed to be another closed down lodging place below. I then tried to go up through Ourjout (558m) – a nice village but it did not look very touristy. It looked like an exciting valley ahead up here, but with no announcements for a place to stay at, I turned around and went down to Junca, where I again saw a chambre d'hôte and tried to knock on the door, but no answer.
It started to get late now and this looked a bit bad, but thought I just move on then to the start of the road up to the Col de Portet d'Aspet and in Audressein (513m) I thought I just had to find a place there. There was a hotel that looked closed and also a bit expensive. I saw some other place on Google maps and tried to find it and asked some people and eventually was told to go back to the hotel in the centre and think the man called the owner as they were living across there in another house. They came out an met me and it was all fine to stay there and got something simple to eat for the evening. It was a good and nice place (not very expensive nor very cheap). Nice breakfast overlooking the river running under the bridge on the main road up the valley. There were also two dutch people staying at the hotel so I was not all alone as I had thought.