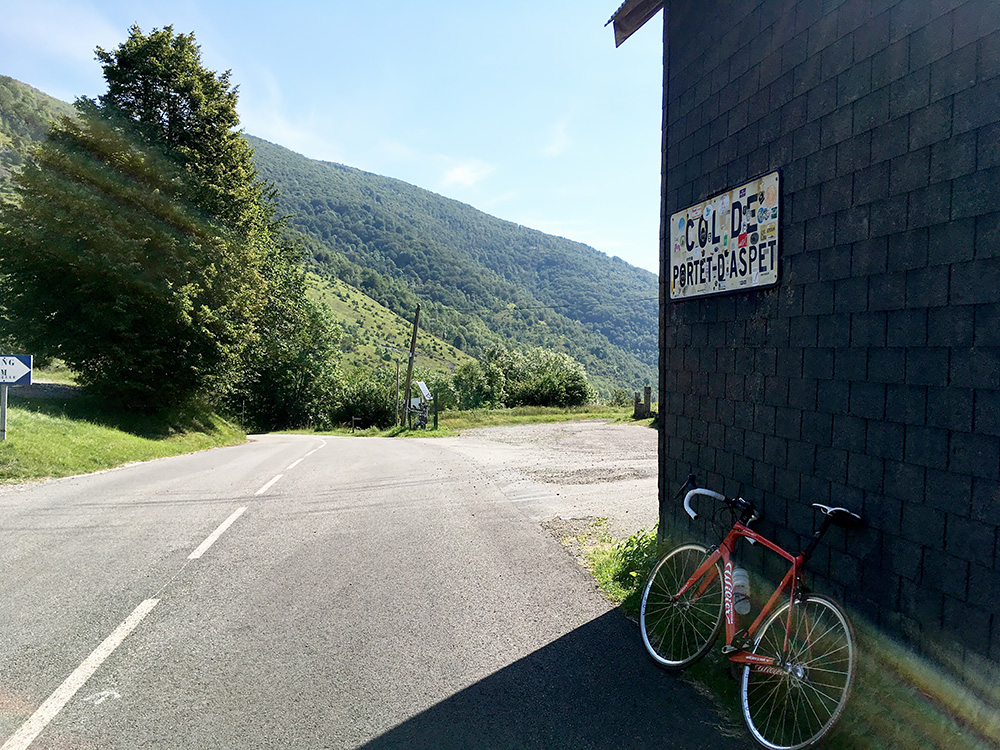 After the breakfast in Audressein I was off for another nice day. It was now just fine going up to the Col de Portet d'Aspet (1070m) as it was not really getting hot until the very end, which is short. Filled up water in Aspet where I was out of Ariège for this time and now was going to travel around up and down the central Pyrenees (Haute-Garonne, Hautes-Pyrénées, Huesca (Aragón) and the western part of Lleida (Catalonia). There were some stinging insects early on duty on the way up to the Portet d'Aspet, but that was maybe the last time on this tour I had problems with them.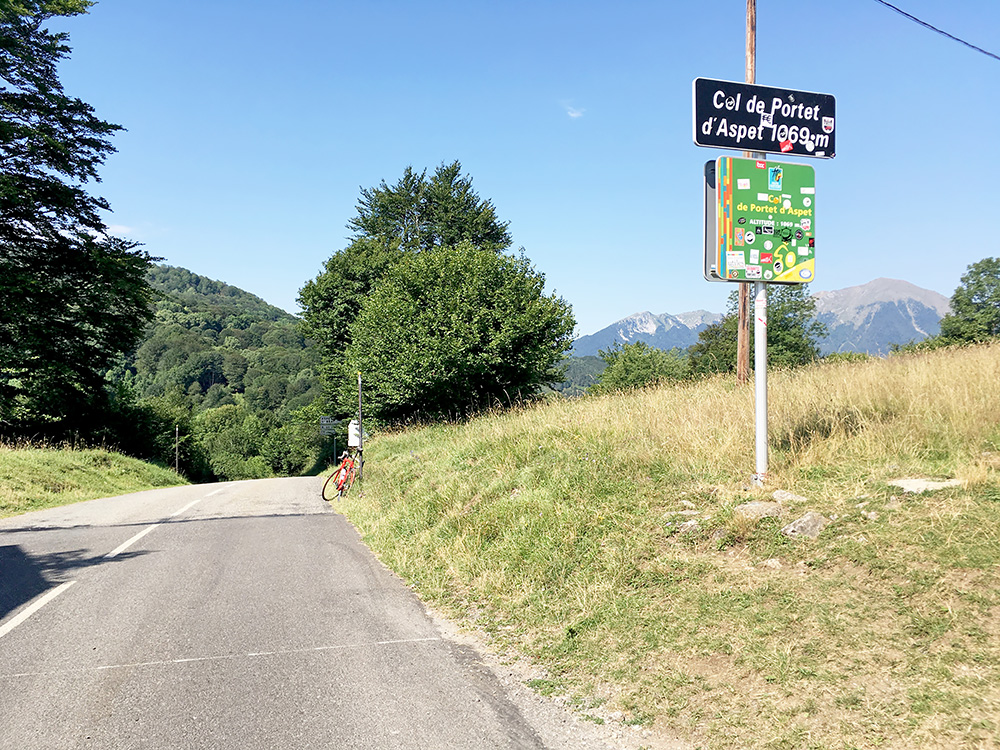 Again I did not take the higher (and shorter) route over the Col de Menté (1347m) and possibly via the Col d'Artigaux (road height 1431m) as I have been to all the passes there before (though it could have been interested to have gone up a forest road to the Col d'Artigascou). Instead it was time for lower passes here, which are very much visited by cyclists too.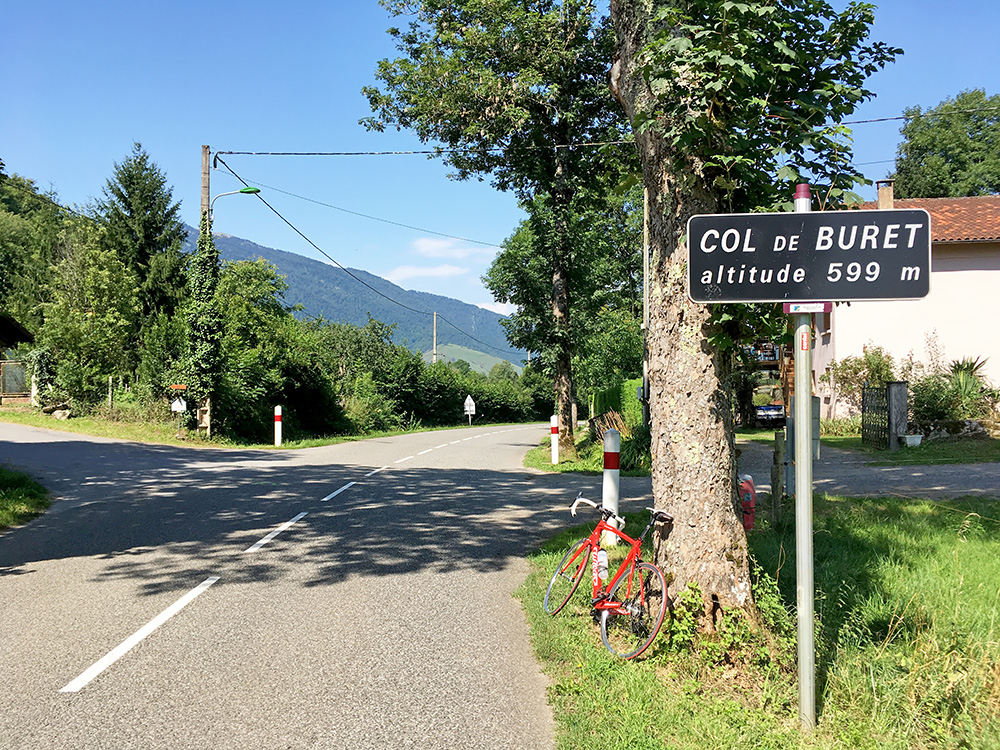 First I wanted to have an early stop, but found no place in Sengouagnet (506m), so turned around and went up to the Col de Buret (600m), which is a nice and easy pass from any direction. Nothing in Juzet-d'Izaut either and after a descent to 486m the road climbs up again via Col du Bech (715m) to Col des Ares (799m).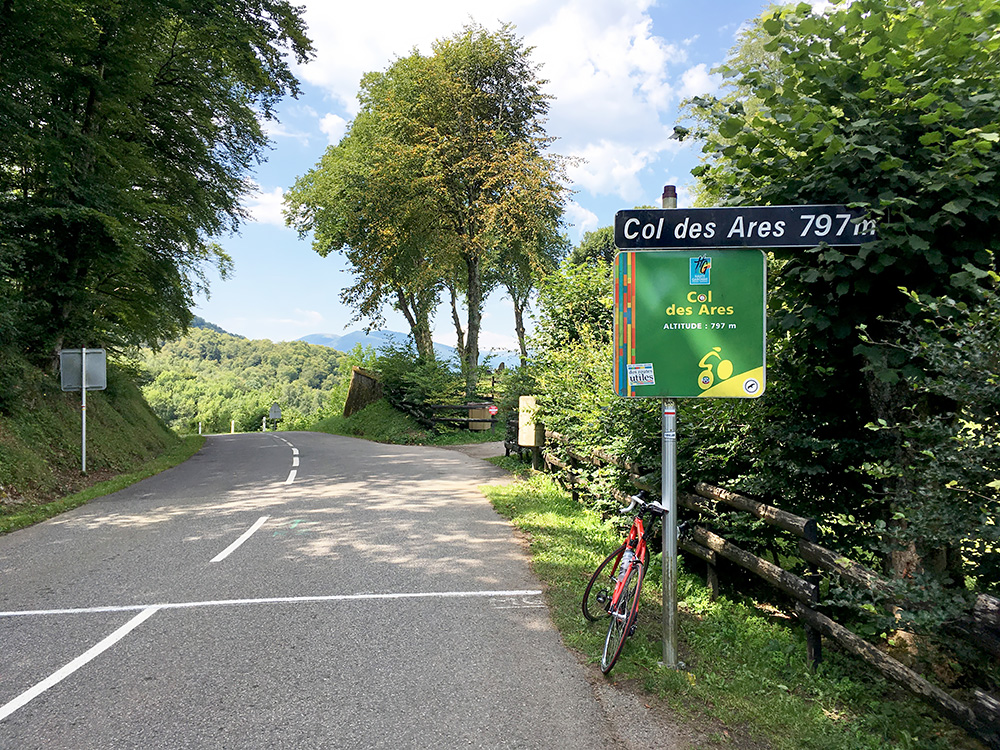 This is an obviously popular pass for cyclists wishing to avoid the harder higher climbs or just for variation and making a good round trip. There was a hotel at the top, but they also had a sign saying they did not want bicycles parked there, so continued down to Fronsac (462m). From there I knew it would be long before there would be any climbs or descents to talk of.
Nothing in Fronsac and I continued on the local road through Saspis and then joined the main road to St-Béat (500m) strategically situated at maybe the narrowest passage on the road ahead to Vielha and Spain. St-Béat had a shop, but it is only open a few hours a day and was closed now. There was an open stand where they sold lunch snacks, but seemed a bit expensive and I could just as well continue I thought. Then went into Fos (544m) and the last village in France before the border. I had planned to stop here one night on the way back and maybe one place was open, but basically it looked like the inhabitants had long since abandoned the village. At least found some water and continued. Apparently things are cheaper in Spain and the locals go there to buy things rather than trying to keep any services at all back in France. Spain is the more living (or civilised if you want) part of the Pyrenees in every way, but it is mostly nicer in France.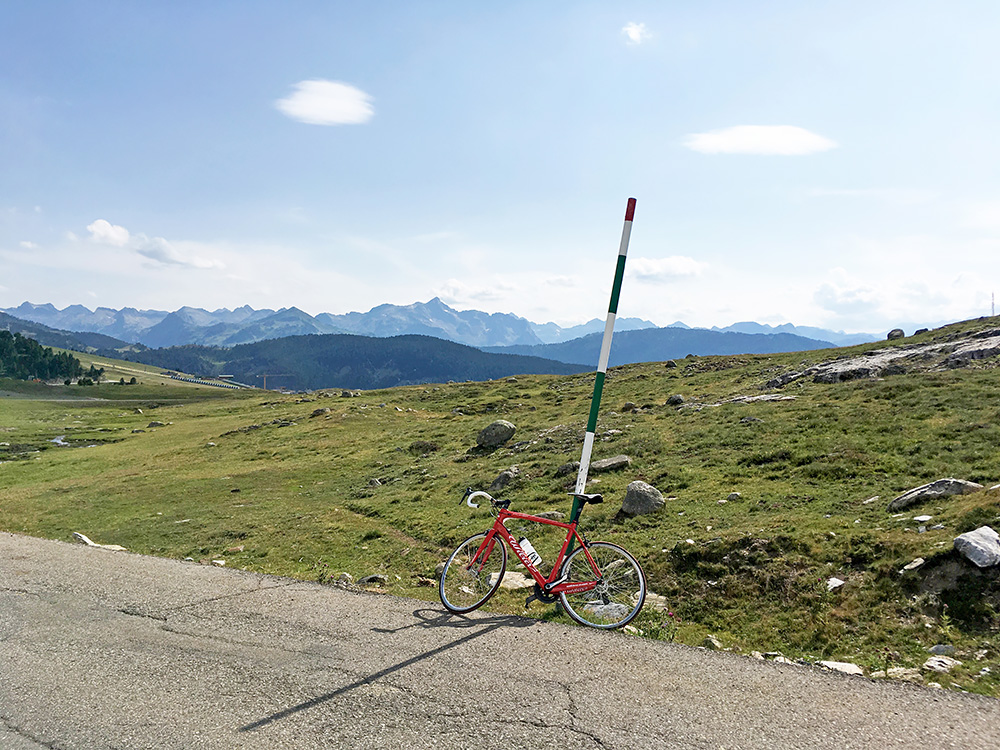 At Pont du Roi (581m) one crosses into Spain almost without noticing it at yet another narrow passage on the way to Vielha. I stopped at the first busy shopping centre in Les (630m) and had a coffee and a cake of some sort. Just as I left some storage house had caught fire and there were heavy smoke over the road with firemen arriving. I continued ahead. Now I started to get a headwind that only increased the closer I got to Vielha (it stopped when I reached Vielha). I started to get worried that bad weather and rain was coming so tried to go fast so I could stop again in Vielha, but that only made me more tired, but somehow I felt better now as it was not so hot in the cloudy weather here.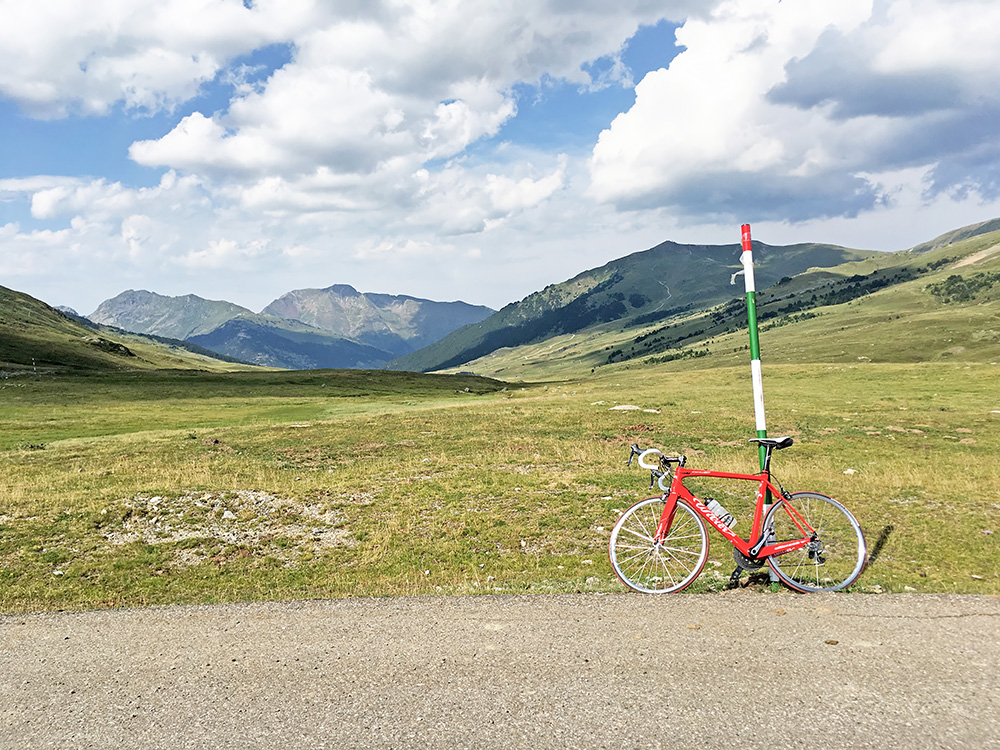 I stopped in Vielha (971m) by the big coop shop in the centre and bought some orange juice that one squeezes oneself while filling a bottle and ice cream and coca-cola. That was nice (should have taken a yoghurt or smaller ice cream only). Still the weather looked a bit dubious in the direction I was going, so decided to also have a coffee and see the toilet before leaving the city. Vielha feels like the proper centre of the Pyrenees (given how big the eastern part is relatively to the narrower western side) and nearby is the location for the highest mountain in the Pyrenees, the Pico d'Aneto (3404m).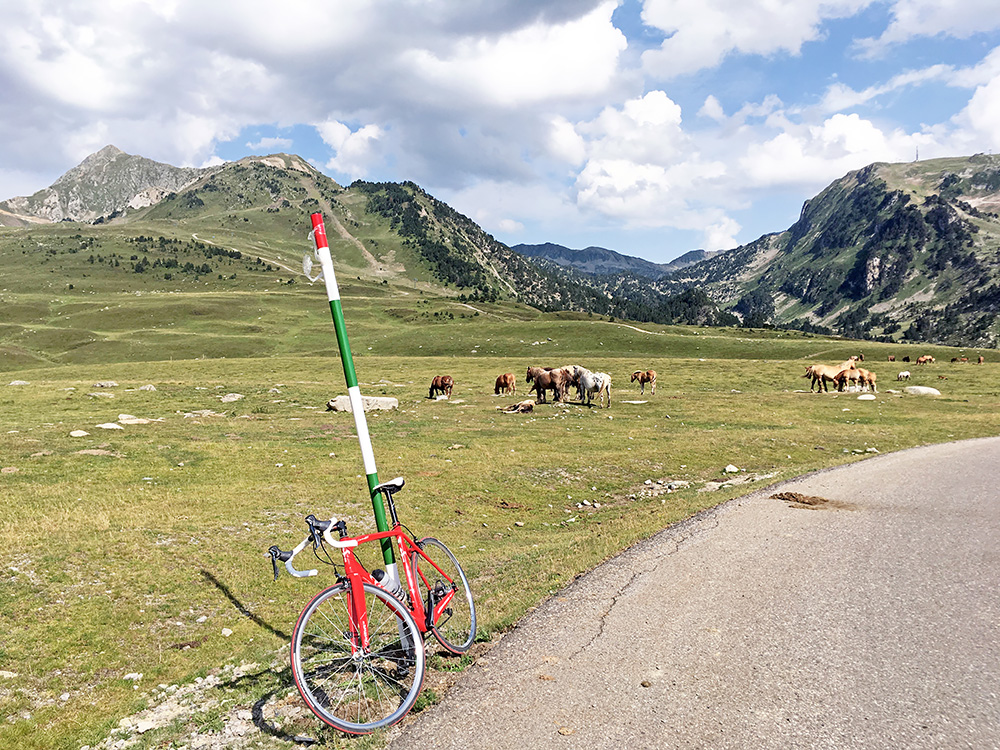 Eventually I got going and at least the weather did not seem to get worse and soon after I left the weather got better again. I am not sure why, but I stopped again in Salardú (1261m) for an expensive coca-cola (but got fresh water also) up a side road that I maybe first thought was the one I had planned to take off the main road up to the Port de la Bonaigua/Pòrt dera Bonaigua (2076m). I have been to the Bonaigua pass before in 2005, but forgot to go up to the Coret de Salardú/Puerto de Beret (1868m). This later pass is best climbed from Vielha and is a one-sided pass for road bikers, but this an alternative and the lowest road to the rest of Spain from Val d'Aran, but the road down the other side is only a gravel road for quite a long stretch of likely varying quality. Photos above and next to here shows the views in three directions from the geographical Coret de Salardú/Puerto de Beret.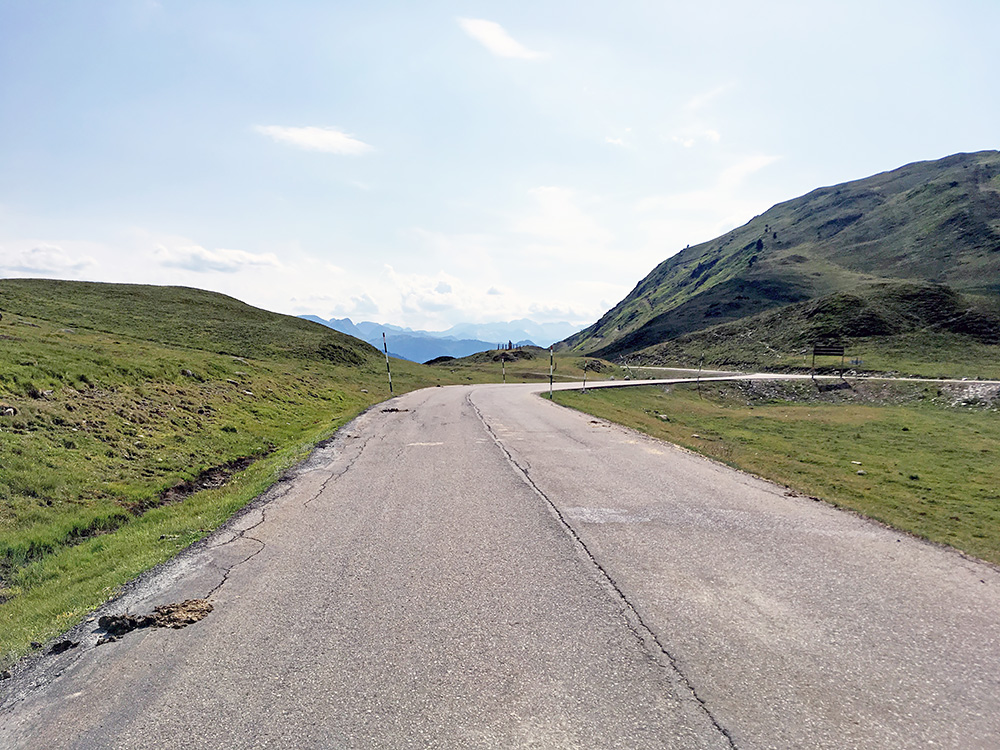 Here looking back at the actual modern day road pass at 1879m. One has to continue longer than Salardú to Baqueira (1482m) before turning off the main road. Then there are a set of nice long serpentines up to the pass. The area is a ski resort, but the views are great up near the pass and this is one of the nicest passes in the Pyrenees. It was now sunny and hot again.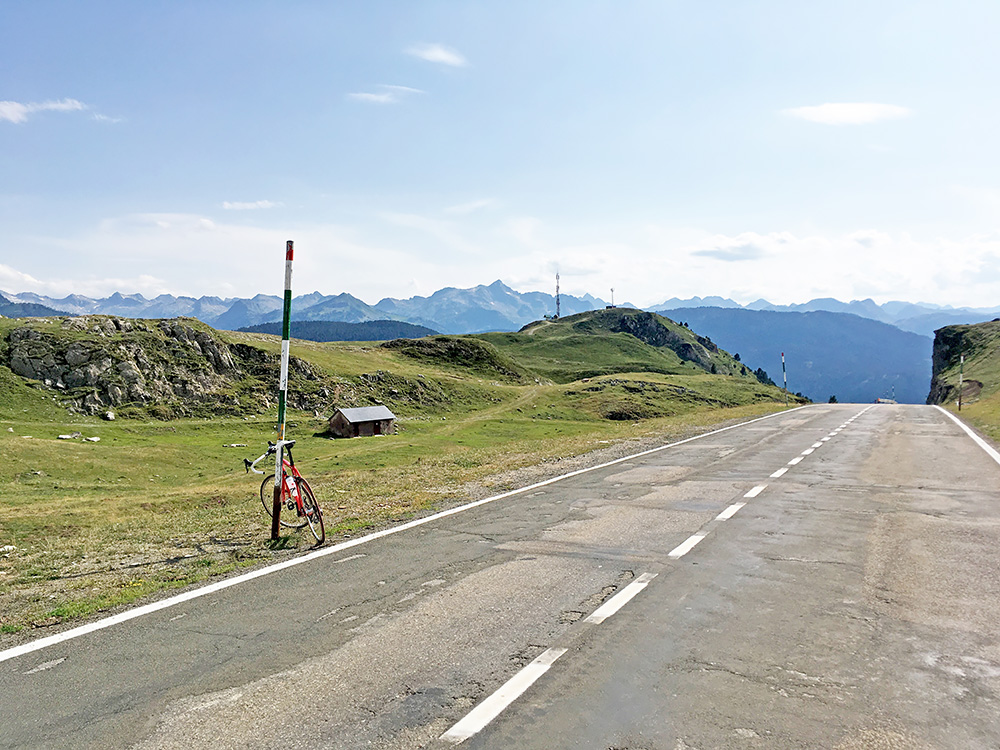 Here in the photo is the more obvious pass location for a road cyclist, rather than down the road on the side a little after, but it is easy to see why the map has the pass located down there.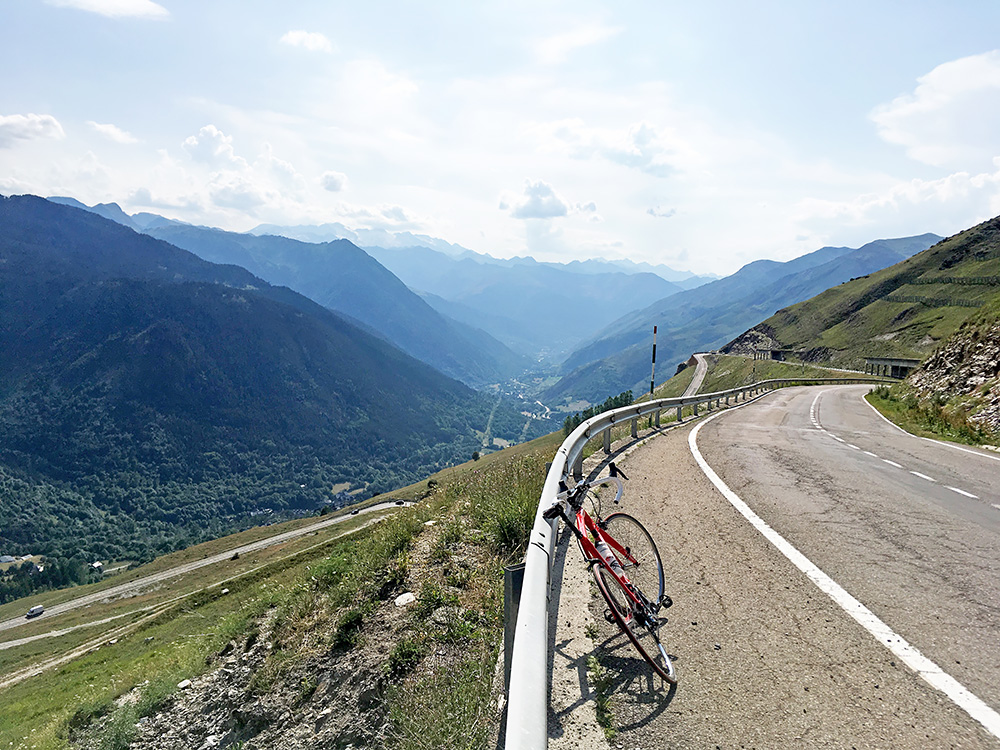 Could not really stop taking photos up here, so here we have a few more. Here looking back down toward Vielha. No apparent reason to worry about the weather here? Not now. I was slightly worried about melted asphalt strings when descending, but just to take it easy.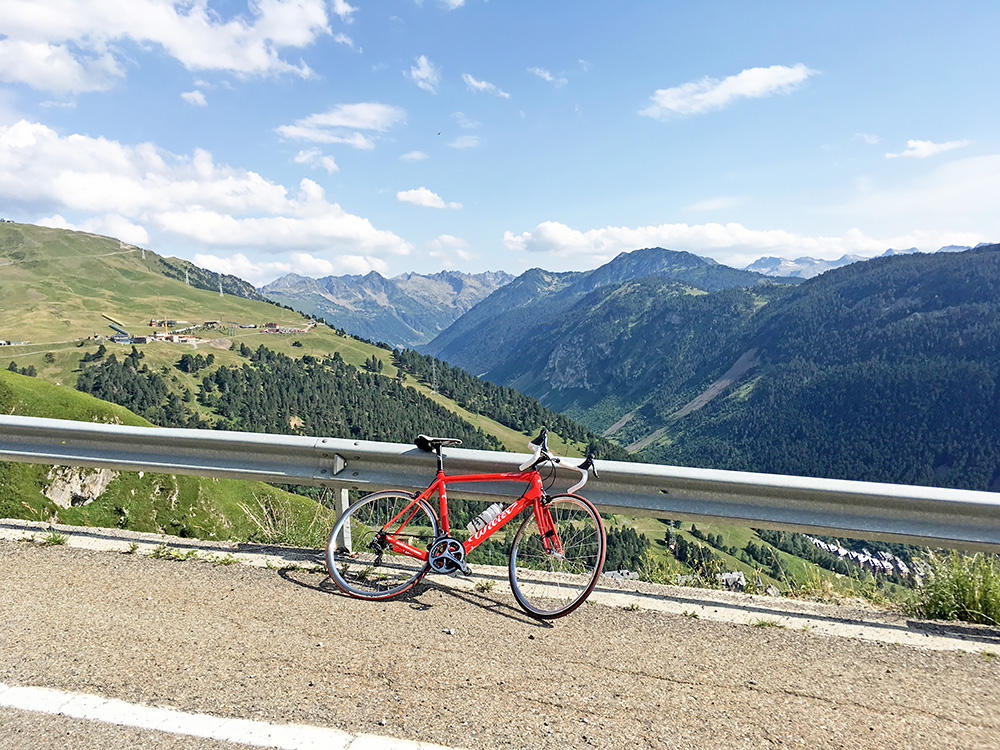 Here looking up the Aigüestortes mountains and the Bonaigua area.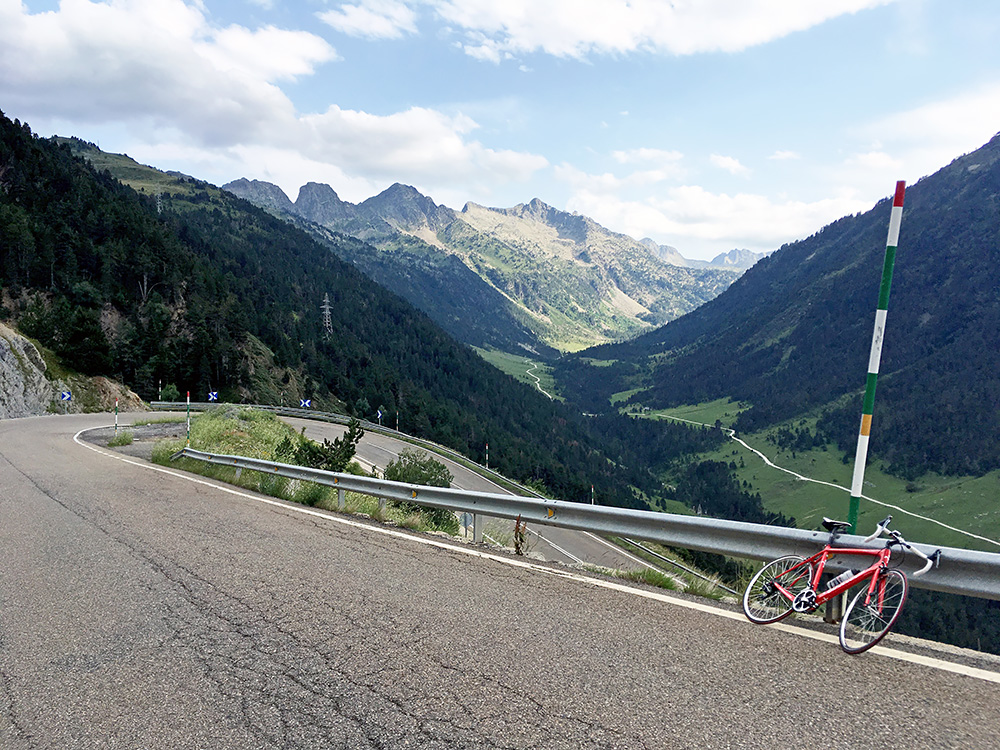 That valley looks rather inviting and I am sure it is popular with mountain bikers, but not so much use with a road bike there I guess.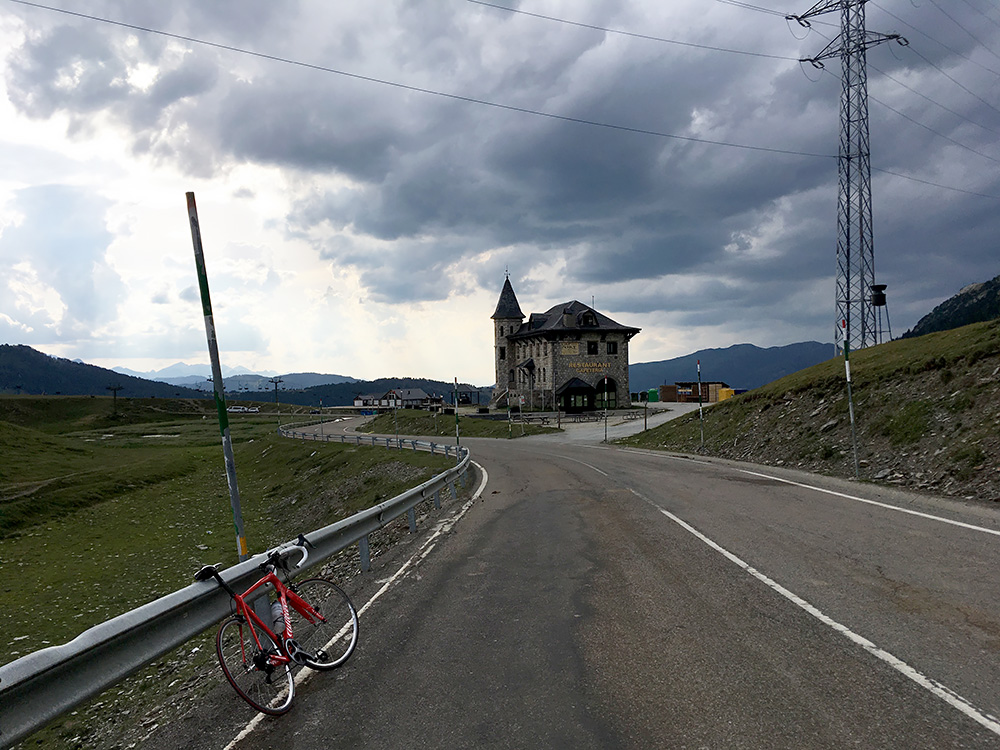 Finally up at the Port de la Bonaigua/Pòrt dera Bonaigua (2076m) and now it starts to look a bit less nice in the air again. This is a very nice pass.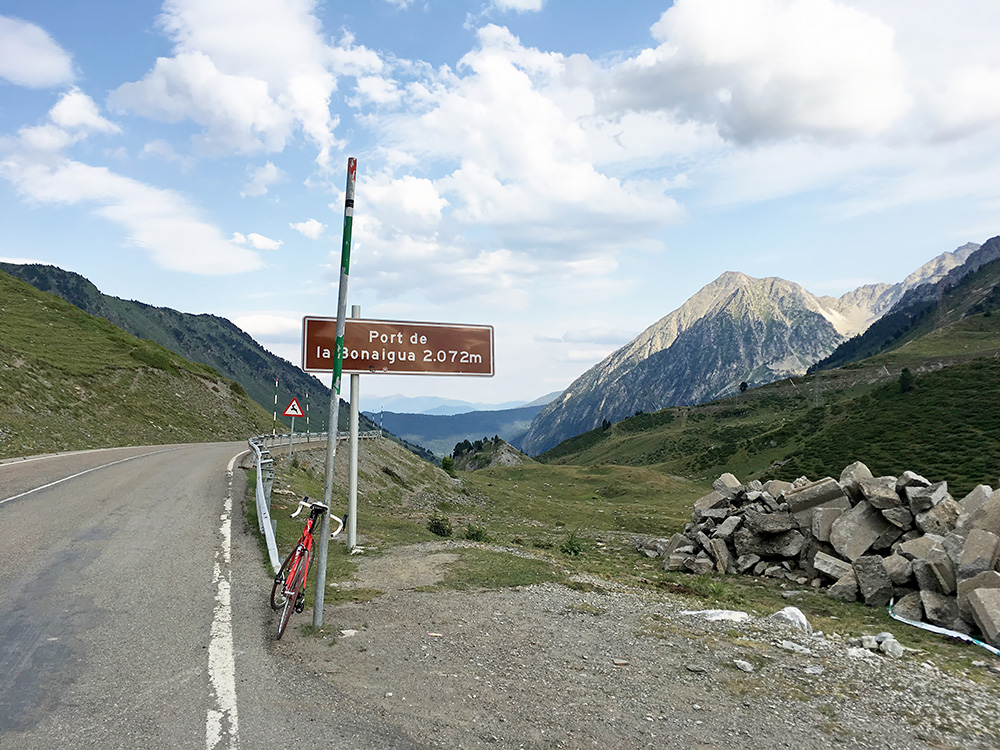 This is also a fast pass on both sides. I remember going down to Vielha in very high speed together with a local cyclist knowing the road. Little did I remember it is an even faster descent on the east side. One could descend ca. 13 km at 60 km/h (or above) on average without any problem. I see now when looking closer on the map that they have straightened up the road since I was here in 2005 above Esterri d'Àneu, where one no longer passes through the village.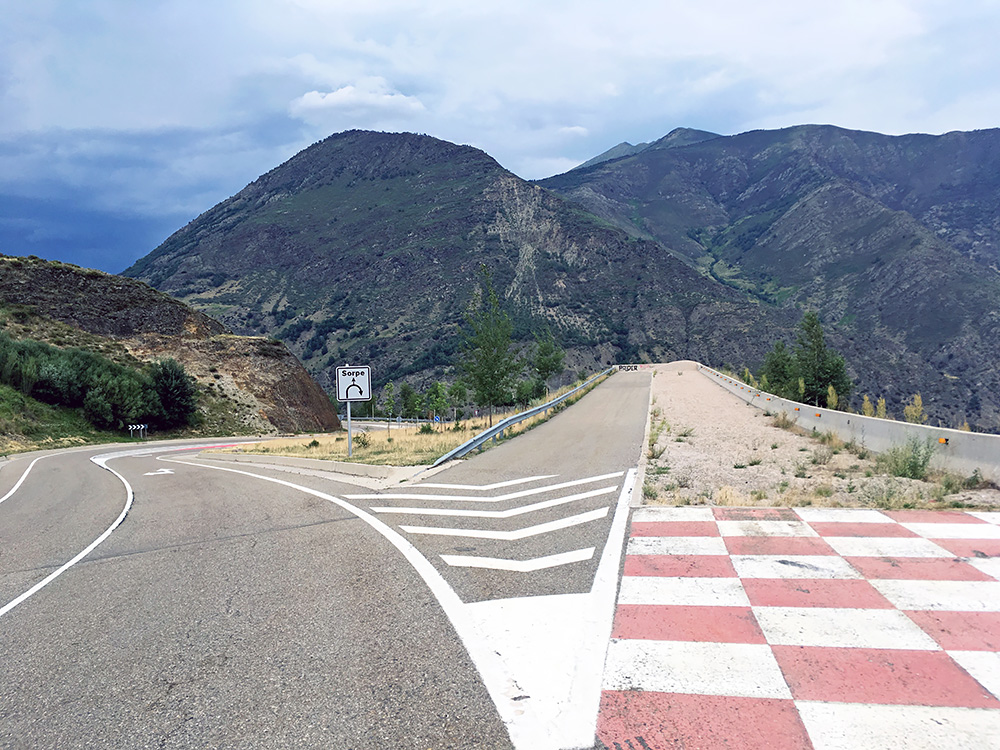 I had thought about stopping in Esterri d'Àneu and now stopped at the south entrance as it went too fast for me to think about it when passing by the north entrance. I stopped earlier by one of those rare brake runaways apparently built when they rebuilt the road (photo here)
I was thinking of maybe to stop here and looked back up from where I saw the bad weather, but it did not look especially bad down the valley. Not clear from Google if there were any good place further down to to stop at and I was soon to do another climb up via Espot, so looked on Espot and it seemed like there were some places to stay at there and decided to take a chance of doing the first part of my next climb by going up there.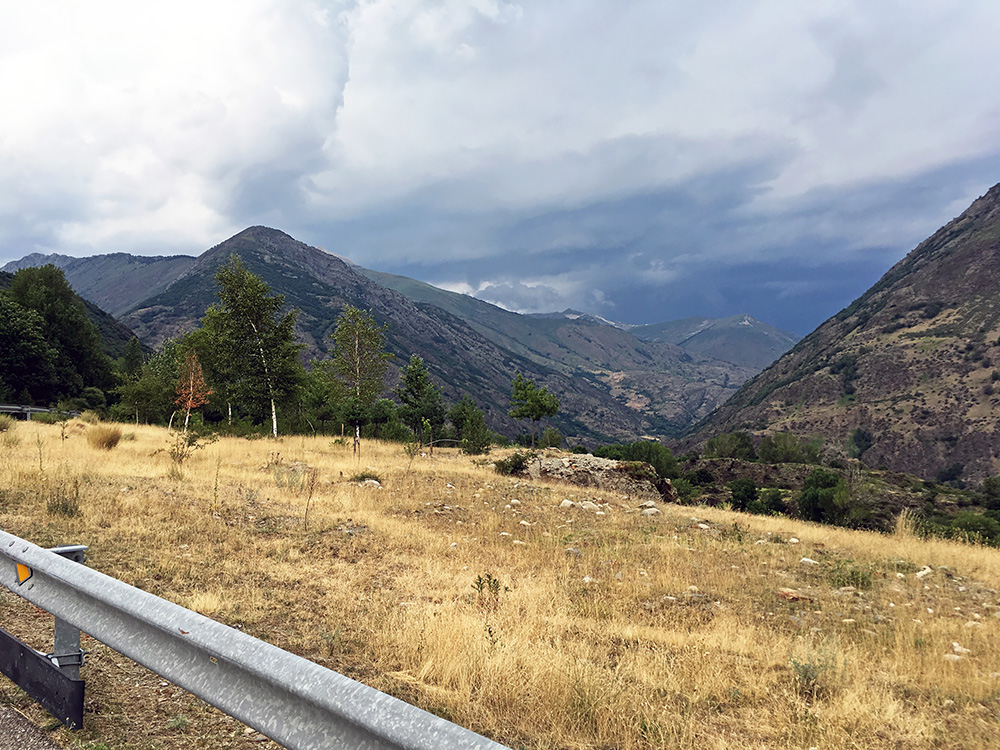 The road is quite nice and a little steep. I noticed less nice cars were coming down and nice cars going up, which made me fear that there was only expensive hotels up there and had not looked closer before. There must be something agreeable I told myself. When I reached Espot there was an open grocery shop at this late hour and I went in to have a coca-cola and to ask for advice on where to try and find lodging. They recommended a modern looking hotel straight up on the right-hand side which was not in my taste really and with mostly nice cars outside and no people at the reception or anywhere that I could find, so I left and went back down and saw a little place in the centre Pensió Casa Palmira and it had a good price, friendly staff, excellent food and fine rooms. One of the 2-3 best places I stayed at on this tour! Went out on the touristy, but quite agreeable, village to have some beers at a nice café in the evening. Great place in the summer to stay a night at.