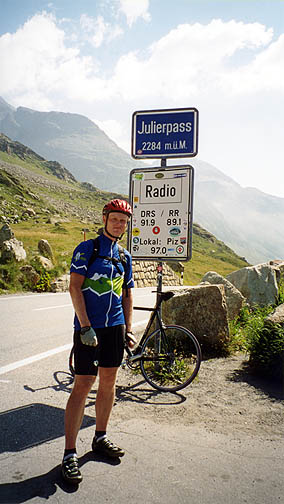 I had a big breakfast and got on my way to Silvaplana and there turned up the road to the Julierpass (2284m) (560 m higher than Celerina). I cycled pretty fast up there to keep me warm. After the pass it got much warmer. It is rather nice down the green valley on the south of the pass (I have heard it was not very nice, but it was much better than I expected). At a flatter stretch some cyclist caught up with me and passed me by hurriedly. I thought it was time to hang on there and get a little help down the last part.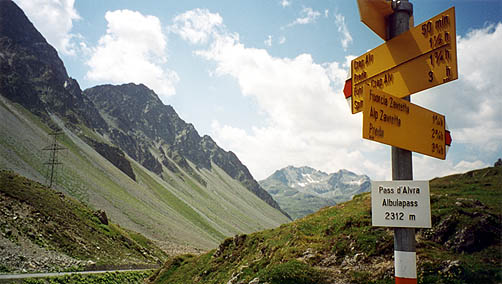 It turned out that the young man was also heading up the Albulapass (2312m) and he was a bit dismayed, thinking I would be stronger than him. That was not based in fact though and he soon left me behind when it got rather steep up the spectacular road to the Albula (well, he was only going over that pass also for the day, so … ;-)). It is actually nicer lower down this road. Higher up, after Bergün, the road is a bit rough. It is rather changing landscape all the time and it feels like you are on a really minor road (even though with some tourists and some cyclists) and it feels like it is archetypical for a Swiss pass road. (I believe it was part of the Tour de Swiss this year.)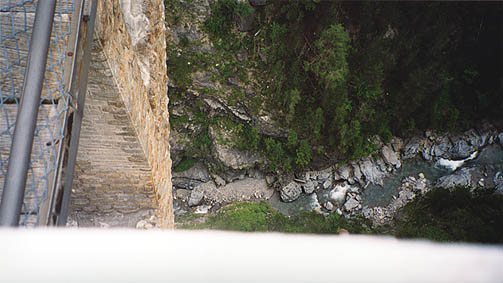 Very nice weather again. I went back down the same side and at Filisur, I turned up a small surfaced road toward the Wiesener Viaduct, which become a gravel road after 2 km. This gravel road soon gives way to a typical running/walking path, which was wide and good enough so that it was quite simple to cycle with a road bike. However, the last stretch was a path down to the Viaduct and even this was cyclable here and there (but very dangerous with a road bike as there were rather steep slopes at the sides at some points). I had to walk little over a kilometre and then I was down on the Viaduct where the weather suddenly got worse and light drizzle appeared. I took a photo looking down, but it is difficult to see the true height in the photo. From the train station that is on the other side of the viaduct/bridge, there goes a rather steep gravel road (somewhat loose gravel, but cyclable) up to the surfaced road just east of Wiesen.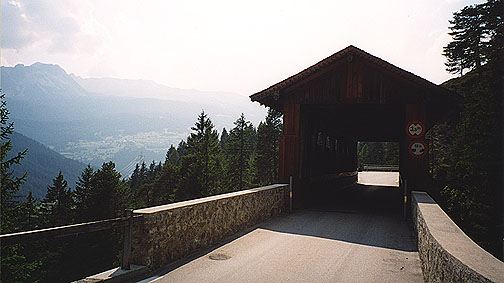 At Wiesen I had a little lunch before continuing back north of Tiefencastle (that I managed to get around totally via these detours). I took a minor route straight ahead at Alvaneu (dorf) and got on the Lenzerheide road not far below the top of the Lenzerheidepass (1549m), which is very easy from this side. There was a nice wooden bridge on this little road up to the Lenzerheide pass that you can see here. Soon after the Lenzerheidepass, there should have been a possible road up to Churerjoch (often only marked with Joch on most maps) at 2020 m height. As the weather seemed a bit unstable and I saw dark clouds hanging over Chur down the valley, I did not want to risk being caught up on a long gravel road in the rain. Otherwise it would have been a quite easy shortcut over to Tschiertschen, I was later told by some people in Tschiertschen (they thought it was cyclable all the way and a reasonable alternative for me). It was only marked as a path for some distance on the maps I had seen though, but maps are often full of old and unreliable information. (See the very good maps online for Switzerland at Swissgeo.)
I went down to Araschgen (756m) and from there climbed on a somewhat steep but good surfaced road to Tschiertschen (1343m). Again, it was a little early to stop for the day at 19 p.m., but I had been chased by rain and thunder up the mountain and it started to rain just when I arrived at Tschiertschen and I went through the village and stopped at a little immodest restaurant near the end of the village and had a wienerschnitzel for dinner while I thought about staying there (they also had rooms). They hoped it would rain (farmers), but said it would soon stop. It turned out they were wrong (as I had predicted), so I decided to stay there for the night. They had a marvellous view over the valley from the restaurant, where I could see the pass height I was aiming for the next day – the Durannapass (2121m).
The people at this restaurant were very nice and I sat down later with the locals talking over some beers. The bus driver (hey there!) took my web address to look it up some time to see what stories I would post about them and to find out whether I was fooling them with my claims of going over the Durannapass etc. (they said they could perhaps follow me down to Molinis, but that would be quite enough)! I wished I had taken a photo! :-)
Day1 – Day 2 – Day 3 – Day 4 – Day 5 – Day 6 – Day 7 – Day 8 – Day 9 – Day 10 – Day 11 – Day 12 – Day 13 – Day 14 – Day 15 – Day 16