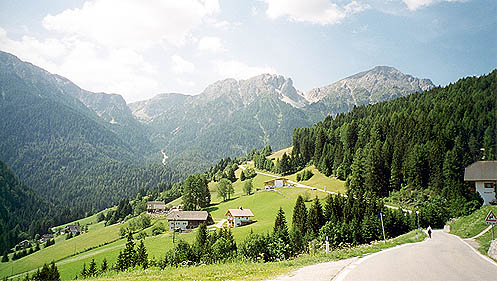 Time to leave on my own! It is really nice to just go away on ones own through the mountains and not know really where the day will end and what the route actually will be and what you will see and who you will meet and so on. The plan was even more detailed and researched than in my previous trips and I also had more experience of what to expect. This can sometimes make things a bit more predictable and therefore less fun and less truly adventurous. This is not really a problem as there are so many factors that simply could not be calculated in advance and so many uncertainties. Planning is also fun in itself! Dealing with the real world will always be adventurous.
The original plan included 21 days of cycling, but my adventure ended earlier since I had an accident in Schwaz, Austria with a car on day 17. Perfectly fine weather and I was going in 20-25 km/h on a flat little road into this little village, when suddenly a car turned to the right just in front of me (without giving me a sign – no blinkers that I could see and it hardly reduced the speed at all, apparently not to annoy other car drivers). I fell badly on my back and someone called for an ambulance and within an hour my upper body was cast in a plaster bandage. No really serious fracture on the back, but enough to warrant a bandage for three months time.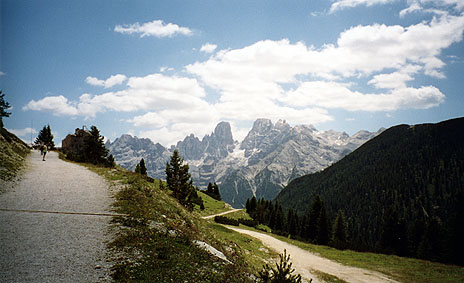 This day begun with going down the same way as the day before to Piccolein and further to Zwischenwasser and then turning up another valley to St. Vigílio and up the road to the first pass of the day, the Furkelsattel. Rather steep and somewhat nice views back over in the direction of Würzjoch. A gang of cyclists was closing in on me, but somehow they must have stopped somewhere near the top as they never caught up with me. I have a photo of the top, but I spare you the look of that, since it was a construction area. The road down on the other side was even nicer though and the first photo (to the right) here is looking back up this side. There were some dangerous curves down here without any sort of barriers and several hundred meters of steep valleyside beneath!
Down in Valdaora di Mezzo I had lunch, then I took a minor road which included a rise of perhaps a 100 m (which seemed unnecessary and was also a bit steep) via Welsberg to the main road going toward Toblach and the Austrian border.. It was a nice and quiet alternative to the main road. along the main road I did not have to cycle for long until I reached the road going up to the Plätzwiesensattel through the Altpragser Tal. One enter parkland here. The road up here is surfaced and with gentle gradients until close to the top where it has a steep section. Just after this steep section you reach Plätzwiesen/Prato Piazza and here a nice level gravel road starts with many people walking around on the nice plateau. There is a cattle fence to pass by and there are two or more restaurants/hotels up here.

The first photo here is at what I think is the real pass (sattel) and the height here is according to the map just over 2000 m (and not slightly under it as it is where the asphalt ends). The highest peaks on both sides are located just here at this higher point as well. You see a road leaving up to a ruined house. One should be able to continue on this road to another pass, but the road should be much worse soon after the house (I did not go and look though). Another photo also give one of the views the walkers have at the plateau.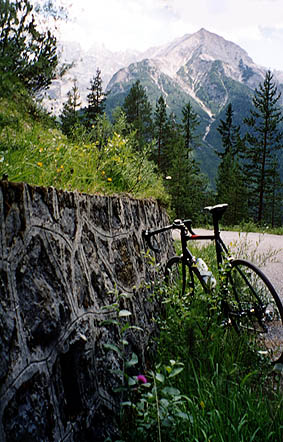 I proceeded on the road going down the valley in the first of these photos. This was okay just as far as you see it on the photo, thereafter it began to get steeper and really bad (esp. in the beginning). It was shifting in quality all the way down to the main road near Schluderbach. I barely managed to cycle all the way and was nearly falling a few times. Few would regard it as cyclable with a road bike, but it is okay for mountainbikers. But then there was also a nice stretch with asphalt a bit after halfway down, but this suddenly disappeared and the road got just as bad again. Apparently this road has been surfaced all the way once upon a time. It is fenced off to cars at two places at least. There are many nice views through the trees on the way down. I have one photo here from the section with asphalt.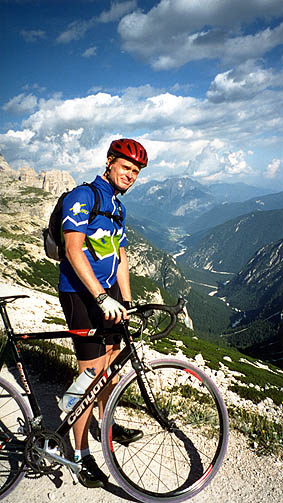 Finally and somewhat tired I arrived on the main road and took left and at Schluderbach turned right up on the road from Toblach to Lago di Misurina. I had thought of this as a short transportation section to the next pass road, but it was rather tiring and at gradients of up to 12%. Well at Lago di Misurina I stopped for drinking water (they have a popular tap for cyclists there to refill your bottle near the roadside). From here goes a well-known tourist road where motorized vehicles are charged for going up. It is a nice asphalted road going up to the Rifugio Auronzo and the most famous Dolomite mountain formation, the Drei Zinnen/Tre Cime di Lavaredo with the three spectacular peaks (you see below). The road up here is among the steepest and most difficult asphalted roads in the dolomites, with gradients of up to 17%. It is quite long and there is virtually no shade and has some traffic with busses and cars. (There are of course more tricky roads in the Dolomites, like the old Nigerpass road from Bolzano or the impossible Edelweissstrasse to castle Rafenstein from Bolzano (none of which I have tried), not to mention the concrete road to Fodara Vedla (37%).)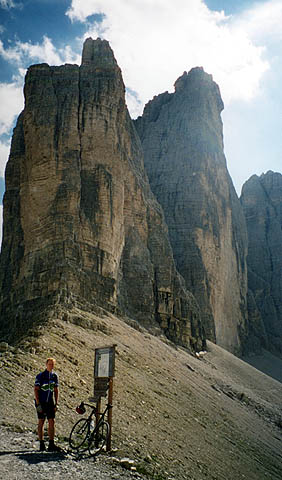 At the Rifugio Auronzo there is a small gravel road (very popular with walkers – this road I suspect almost everyone going up to the rifugio follows to get better views of the Drei Zinnen). It is rideable to the first rifugio/restaurant you come to and it is virtually totally flat until then. Thereafter, it is obvious where the road up to the Forcella Lavaredo pass goes. It is not possible to cycle with a road bike, but probably with a mountainbike. I put on my shoe covers that I have modified with a sturdy sole and use some Look cleat protectors (Cool Covers they are called). I must find another solution to next year, because I do not like Look very much any longer since I discovered that their damned pedals only last for a year (Look357) and then are not possible service, because no one can get hold of the tools necessary (though such a similar tool was shipped with my much better Taiwanese copies (Wellgo), which I have exchanged the bearings of – only problem is that they are not fully compatible with the look cleats and are thus slightly dangerous to use with them and the Cool Covers only works with the Look original cleats). If someone knows of Cool Covers or similar products for any other type of racing pedals (preferably Shimano new system or Time new system) or has some other solution, you are very welcome to contact me (mtb shoes and spd, I have already thought of, but I just do not like that solution, it is not optimal)!

Anyway, I walked up to the pass from which an Austrian girl took one photo of me. I also took two photos of the views from up here and another one of the Drei Zinnen (you can see that by clicking the one here). The views from here are really among the best in the Dolomites (or from any mountain area in Europe, really). Only challenged by the views I had the next day (photos I never took), since the heat haze and the scope the view was not possible to make justice to even with a video camera.

The photo where I stands near the edge of the slope down to a valley was actually the last of the photos taken up here on the way back to the rifugio Auronzo – I cycled in the other direction here and almost could not look that way, since it is virtually straight down there for probably at least 600 m or so. ;-) I wished I could spend a day just walking around up there (something for another project).
I soon went down the road to Lago di Misurina again and continued down south and then turned up right over the Passo Tre Croci (somewhat nice) and down fine serpentines to the famous olympic town Cortina d'Ampezzo. This town is a rather busy modern town with many luxury boutiques and expensive hotels. No place to stop over at, I concluded rather quickly (even if I would have been on a business trip, I am not sure I could find a good reason to stay in a town like that, maybe If I did not have a car also or bicycle … ;-) ).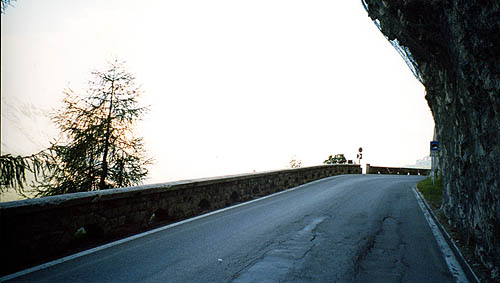 I just continued up across the valley in the direction of Pocol and the Falzarego or Giau pass (both which I had passed over in the Maratona dles Dolomites) – we turned back in the tiny village of Pocol after the Giau pass and went up to the Falzarego one. Many serpentines up here on a nicely asphalted road (they were resurfacing it a bit higher up). I took one photo here, but the light was too bright, so I did not manage to Photoshop back the nice mountains one could see on the other side of the valley below.
I stayed at the second of the two hotels in Pocol, but had to pay more than at any other place I stayed at during the trip. However, in the price of 56 euro (4 euro cheaper (than 60) if I paid by credit card – maybe just a phoney argument to make me stay by the lady there) there was a three course dinner included! The dinner was served in a nice, somewhat old-fashioned, restaurant in the hotel with very nice views out the windows. Older hotels are usually much nicer than more modern ones, indeed (even if they are a bit worn down).
Day1 – Day 2 – Day 3 – Day 4 – Day 5 – Day 6 – Day 7 – Day 8 – Day 9 – Day 10 – Day 11 – Day 12 – Day 13 – Day 14 – Day 15 – Day 16