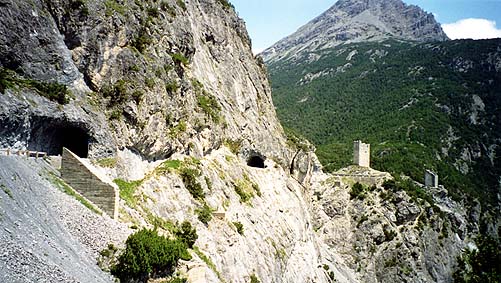 Another nice morning and I was prepared for another adventure. This time the first goal for the day way the Torri di Fraele and the Lago di San Giacomo. I took the road via Premadio and when I came to the crossing with the main road going to Livigno, I continued straight across. This road is only tarmacced until the next bend (go right), where a decent gravel road climbs all the way to the Torri (towers) di Fraele. A little further up where the road becomes level for a little while is a recommended place to refill your water supply (not many places to be found later). The road is rather dusty and unfortunately many lorries make use of the road as it is a rather active working area around the dams up beyond the towers. (Maybe it would be best to visit the area on a weekend.)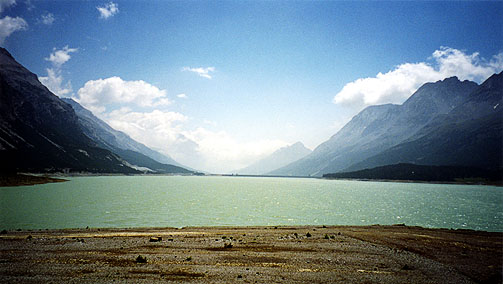 You now have good views of the valley where the Livigno road goes and over the whole Bormio area. You will also see the spectacular hairpins up to the towers that you see at the top. The first photo here is of the ruined towers I took on the way down. Beyond the towers the road is flat and you soon reach a huge valley between high mountain ridges that contains two huge dams: Lago di Cancano and Lago di San Giacomo. There are roads going on either sides of the dams, but the best road to take is probably the one marked by Michelin as scenic (green marking). It goes first on the left hand of the first lake and then crosses over the dam between the lakes to the other side and ends at the non-obvious Passo di Fraele (1952m) where it is flat in any direction (one could continue a bit straight on this road and go left over the Passo Val Mora (which I believe is a good path, maybe cyclable all the way). I had planned to get to Val Mora from the other side (Switzerland, near Valchava), but bad weather stopped me from getting there (another time perhaps).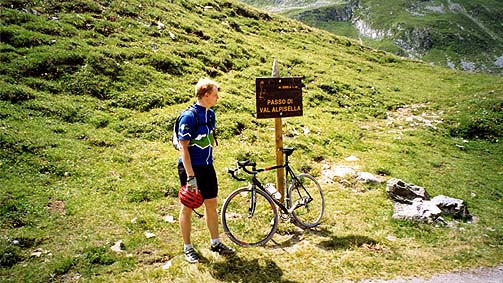 This road along the lakes is also quite easy to cycle on. The biggest problems are the lorries and there is also more ups and downs along the road than what is apparent at first sight. There is quite an amusing sight when you start out on this gravel road – they have put up all the road signs they could find it looks like, and for some reason the signs are extremely small and showing odd speed limits etc.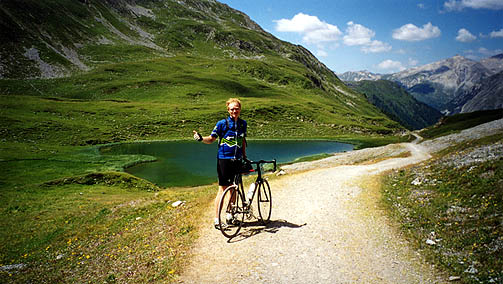 I managed to make a wrong turn on the road on the right hand side and did not get down to the lake but went straight ahead and came to a dead-end, but climbed down there (which was a bit tricky). At the end of the lake I followed the road going over toward the other side and there I found the little road/path going up to the right to Passo di Val Alpisella (2285m). I managed to cycle all the way to the pass, but it is not likely you will make it on a road bike. It is rather bad and steep at first, but it improves higher up where it is almost level for a long time. Passo di Val Alpisella is really nice if you make sure to get to the lake. You can also make a short-cut over to Livigno by continuing down this road (the road should be slightly worse down that side). I had other plans.
I went back to the Towers and down around three hairpin bends until the absolutely first gravel road takes off to the right, which I followed all the way to Arnoga where it meets the road to Livigno. Only the last kilometre is paved, but this is a very good gravel road and it is almost perfectly flat all the time and is very scenic, so do not miss it!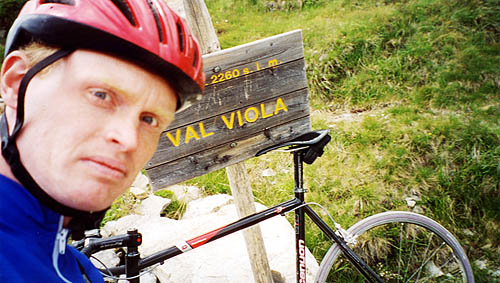 At Arnoga, I simply crossed the Livigno road another time, this time with some hesitation. I was heading up the Val Viola and I was running late (gravel roads take time to cycle on). The road up Val Viola is paved for longer than I had thought, but after going over a very steep short hill the gravel starts and is fine for a little time. You soon reach a parking an after that it is quite bad for some time until you get to the Alpe Campo, from where you should not really try and cycle if you have a road bike – I cycled another kilometre, but was close to falling down the mountainside once and then gave up and decided to walk a little further so I at least would see where the road was leading. I understood the time was running out for me as it was now around 17 p.m. and I was determined to get to Switzerland via Livigno and the Bernina pass this day. – Crazy, I hear you whisper, but … . I also planned to have dinner on the way! :-)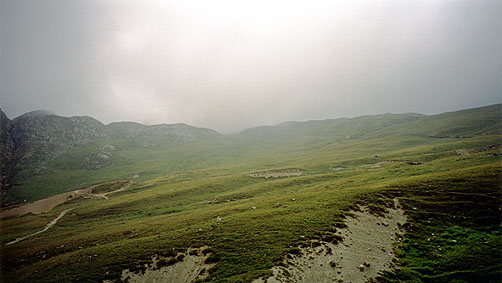 I could not really decide when it was time to turn back, finally the view opened up and that was around where I found the sign for Val Viola 2260 m – I wonder if it could be that the real Val Viola begins only here (it is not unlikely as the other valley sort of split up further down). From here I could almost see/sense the real Passo da Val Viola (2489m) and thought maybe I could just as well try and reach it as I had been going so far already. I think it would be an hour or so from this sign. For some stupid reason (it appeared to be a possibly easier approach) I took to the right up to the house (farm) apart from the rifugio below it (where the other road goes close by). This was a dead-end, but I thought I could just proceed in the grass behind the farm and come down at a higher point on the other road. I soon noticed that it was not quite so simple. There was such an alternative, but it led down a steep path to a small (but short) wooden bridge that I would have to cross and it was in such a state it would not be easy to cross it even without anything to carry on. I went up on the hill further and took a photo of the pass which now was probably less than 100 meter above me and only 1-2 kilometres away. I did not try more to get up to the pass, since I noticed it was all cloaked in clouds and I could probably not get any good view at all up there (and might even be caught in some rain). I was also late. I took a third photo back in the direction from where I was coming.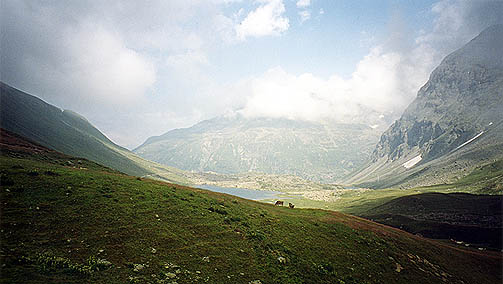 I tried to move fast down the path back again, but now I remember … hmmm, I lost one of my Look cleat covers and when searching for it a group of people (from some school in Rome, I believe) came down and a girl found it for me at last (they sit rather well and I keep looking after them regularly).
When I reached the Livigno road, I was relieved that there would not be any more gravel for some time now. I had really had enough of that for some time I thought. From Arnoga (1855m) to Livigno I did really well, I must say – I was in Livigno in around 50 minutes or less than an hour anyway (passing both Passo di Foscagno (2291m) and Passo d'Éira (2209m) (which is only from the height of 2021 m). I also took the last photo on this page just after the sign for Passo d'Éira across the Livigno valley.
I washed my bicycle at an YES! Agip petrol station again and the boy there was very helpful and talkative, especially as he realised I was from Sweden. He had a girlfriend in Helsingborg (close to Denmark), Sweden. (Of course, Livigno is a popular winter ski resort for Swedish young people.) (An Australian had stopped by the previous day to get his bike cleaned.) Then I had a good pizza outside town in the direction of Fórcola di Livigno at around 7 p.m. This was the most fly-infested restaurant I have visited in the alps so far, but it was okay anyway.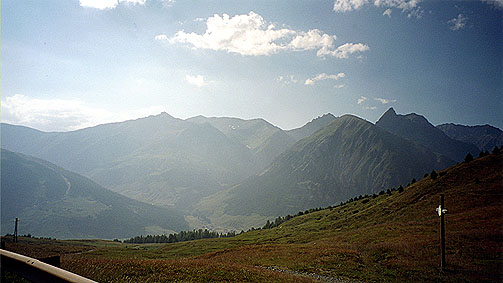 Then up the slightly steep hairpins to the pass, a rather short distance, but I was not feeling super as I was stuffed with pizza and it was getting cold and a soft drizzle started to came down on me, just like last year when I visited this pass. Down the other side which is quite steep, I could hardly see the hand before me in the very thick fog and felt a bit nervous both for speeding and for cars. I reached the Swiss customs post and turned up the Bernina pass, that I also came over in the other direction last year. (See that trip for photos of these two passes. Alps 2002.)
From the Bernina down it was a nice twilight with just enough degrees so I would not shiver all the way down. I cycled in the direction of Samedan and now it was almost dark. I could not at first glance find any suitable place to stay for the night there, so I continued on the small road up to Celerina (in the direction of St. Moritz). Here I simply had to find a place to stay as I believed it would be prohibitively expensive in St. Moritz. I asked a couple about a good cheap place in the village and they recommended Die Alte Brauerei (sp?), which I thought sounded like it could be an old charming hotel, but found out it was more like a modern concrete bunker building made into something like a youth hostel and it was still quite expensive (in my mind) at around 50 euro for a night (I smuggled my bicycle with me into the room as I did not trust the cycle room, which was not properly locked). I had some beers out at cheaper looking pub and it was okay. It was mostly very expensive restaurants in expensive hotels that was the alternatives or the extremely boring pub in the building I stayed at.
Day1 – Day 2 – Day 3 – Day 4 – Day 5 – Day 6 – Day 7 – Day 8 – Day 9 – Day 10 – Day 11 – Day 12 – Day 13 – Day 14 – Day 15 – Day 16