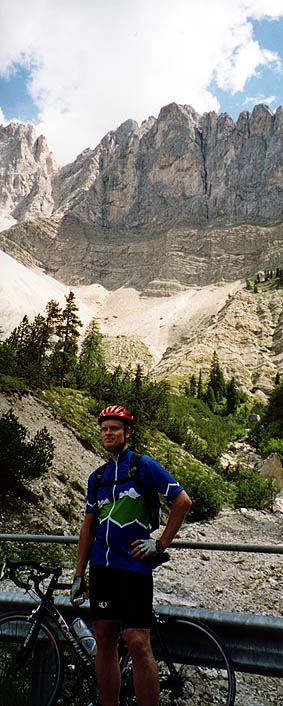 We then went down the other side with nicer scenery, but less sunny. Very narrow but good asphalt roads down here. The landscape is almost park-like here. Only a little rise on the road and one goes over the Kofeljoch some time after the photo to the right here. Then down to still more fine scenery around Russiskreuz (which is where the road begins to go steeply down to the Villnösstal). We, however, went right here down the Aferer Tal and then up the wonderful and well paved road toward the Plose mountain. The last kilometres (above 2000 m height) are gravel road that is nice at first, but then becomes worse when approaching the top. Ola gave up just one kilometre before the 75 m path to the Lüsner Scharte and thus missed the splendid view I had up there (see photo).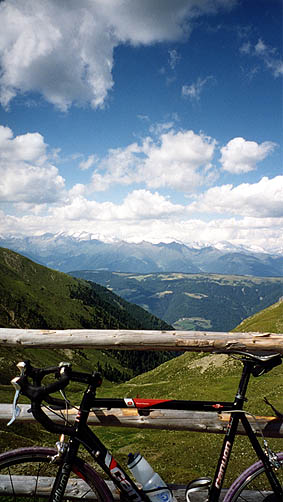 On the way down Ola took a photo of me cycling down the tricky part of the gravel road. I have gotten more photos than I have to say about them. There are so many nice views in this area.
When we were back at Russiskreuz again, I discussed with Ola the choices of getting back to La Villa and I thought it would be a bit sad to simple go back the same way we arrived via. From the map it looked like it would be about the same distance to go down the Villnösstal and then up the Val Gardena via St. Ulrich/Ortisei and over the Gardena pass and down to La Villa. We decided to take that way, even though we realised it would not be good if we could not get time to stop and eat something and that we must be at the top of the Gardena pass before it got dark, as we did not have any lights with us.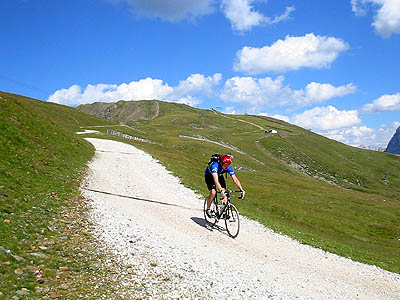 Now, what I knew better than Ola, was that we would loose very many meters going down via Klausen at around 550 m height. But we did approximate how long time the journey might take and that we needed to be in St. Ulrich before 19 (preferably before 18.30), if we wanted to eat something there.
It is a very nice (and fast) road down through the Villnösstal (it is a bit dangerous from Russiskreuz down to the valley and rather steep and narrow). We did not find the proper way down to the valley at first and had to go back a kilometre when we understood something was wrong and the road started to go up again.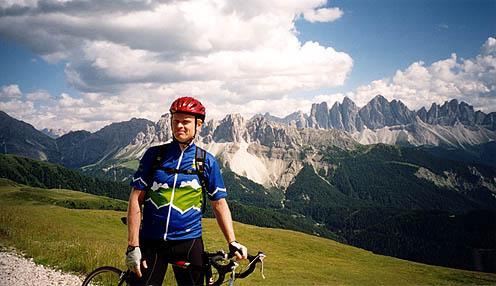 Down at the junction just above Klausen, we took left and there might be some uncertainty about where to go here for some time. (You take left just after you passed through the last tunnel. and then go straight ahead when there are choices.) There is then a rather busy road going at perfectly steady gradients (like 1,5% which is very annoying!) all the way up to St. Ulrich practically speaking. It is hot and boring at first, but the scenery and air improves eventually at the same speed your power drains from you ;-). This was clearly the most tiring stretch of the journey and when we finally reached St. Ulrich at 10 minutes to 19 (I believe), we were near totally exhausted (having gone in almost exactly 17-18 km/h for 20 kilometres).
We had a pizza and felt much better again. For some reason, Ola always wants to go fast after he has eaten to get rid of the feeling of being stuffed as fast a possible, while I simply cannot do that. Thus I got a little bit irritated and rode up to Ola and said "if you continue at this speed, I will not wait for you later when I will pass you by!" ;-) He slowed down a little and soon enough I was feeling comfortable again.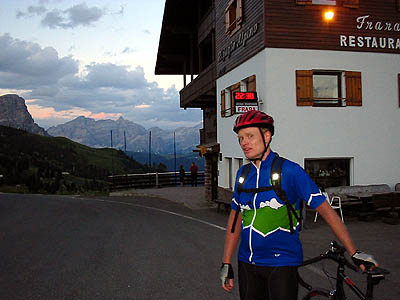 I had only passed over the Passo di Gardena in the race the day before and it was such a nice pass, I clearly did not mind going the same way again. There was also a chance of getting some photos, but we were a bit too late and my simple camera is not good enough to take good photos at this hour (9 p.m.), but lightening the photos up a little in Photoshop made one of them look ok (the one here was taken by Ola on his digital camera).
Finally down in La Villa just as it got completely dark. It was 10 p.m. Sunday and all cyclists in the Maratona had travelled home as most do not have any holiday at this time of the year down in Italy. We managed to get a beer and a sandwich at the only open place in town before we went to sleep.
Next day was the first on my own. Ola went (with train!) to see a friend in Munich, Germany.
Day1 – Day 2 – Day 3 – Day 4 – Day 5 – Day 6 – Day 7 – Day 8 – Day 9 – Day 10 – Day 11 – Day 12 – Day 13 – Day 14 – Day 15 – Day 16