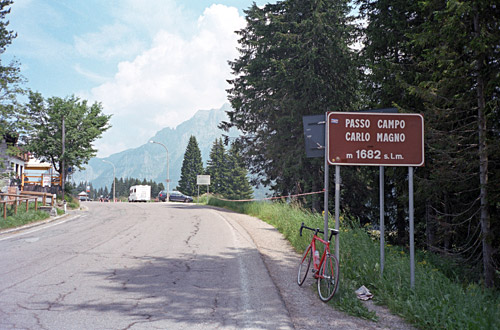 After breakfast I rolled down the nice valleys via Fondo, Brez and other small villages. I met some cyclists while stopping for water. It was a very easy start this day, which is always nice. Eventually I got down to the SS42 (578m) going to Passo del Tonale (1883m). Here I climbed slowly up toward Dimaro (763m). It was good weather and increasingly hot, but the easy start and being out of the real low areas made it all quite nice.
One problem I had was that it was about time to get my chain re-lubricated and I wanted to find a gas station that had paper to clean things up a little. I was finding such a station just before Dimaro and as usual I felt fresher myself after having the bicycle maintained. I was thinking that gas stations should really offer some such service and I could envision that there were a guy at each gas station standing prepared for cyclists rolling in to get a quick service, lubricating, cleaning and maybe adjusting brakes for a fee of, let's say, 2.50 euros which would take only like 5 minutes and maybe you had time drinking a coca-cola while waiting and off you were again after the pit stop. That would be something! In Italy that could possibly even make business sense.
I stopped in Dimaro for an early lunch break by a grocery shop. Dimaro is a quite busy village as it is located at the crossroad for Tonale and Campo Carlo Magno passes. The climb up to Passo Campo Carlo Magno (1683m) is a bit steep for some time, but becomes easier higher up and the last stretch is nearly flat. There were no problem reaching the pass. I had had some thoughts of climbing up a side road here and maybe get up to a gravel road pass above 2000 metres, but could not make out beforehand how difficult it might be and it did not seem to fun so I just continued.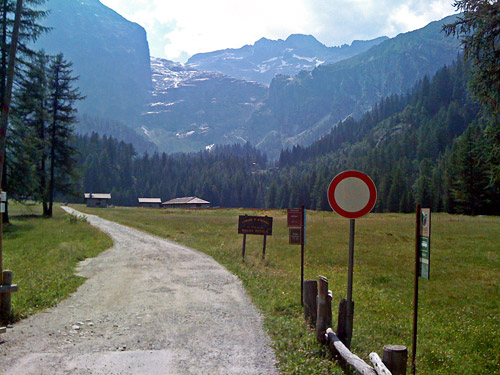 The main road goes around Madonna di Campiglio (the famous skiing resort up here), but I guess I was supposed to take the road straight through the village, but there were some road works and I managed to take the wrong road, but quickly found out about it and eventually was down on the main road again. There are always a lot of work going on in skiing resorts in the Summer and this pretty much just looked like a big construction area now. Still tourists seems to go here even in the Summer oddly enough.
After a quick descent I passed by the road going up to Rifugio Cornisello (2120m) that I had thought about possibly climbing up to on a nice road. This was another one of the climbs I abandoned. Remember that I had done almost all planning before my accident and always assume I can do more than I can, and now that was even more clear. I also do not want to linger to long in any area and I was on my way to another nearby climb that I decided would be nicer even if not as high a climb. Just upon reaching Carisolo (816m), I turned off on a narrow road for Val Genova. (It is really here that the real climb up Campo Carlo Magno from this side starts, both sides being about as easy/hard.)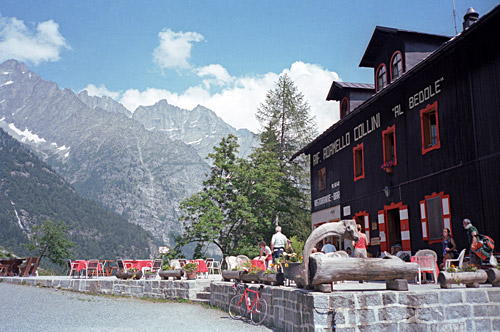 Val Genova is also a BIG climb, which is part of the reason for choosing this climb even if it does not reach a pass, but the BIG climbs are usually well chosen. Given that the end of the road at Rifugio Bédole is not located higher than 1640m, and the road there is a bit long, I did not expect that it would be a very difficult climb. I had not read up so much on this climb beforehand and thus I got a bit surprised about what I found.
At first it is completely flat and the road is not very good. I also noticed that there was a lot of traffic, which puzzled me a bit. Suddenly I arrived at parking places along the road and I understood that it was apparently a popular tourist destination. They even charged some money for parking and the fees got higher the later you stopped (I think). There were an awkward tunnel where traffic was clogged up. After the final parkings I got more of the road for myself, but now of course there were plenty of people out walking instead. I came to a wonderful waterfall and began to understand why this was a popular place. Higher up it got even nicer. Now all of a sudden it got quite steep. Then it got a bit flat again and changed side of the valley (here was a ast booth for charging tourists, but apparently they do not charge bicyclists). Then the road got a bit rough and steep again through the woods.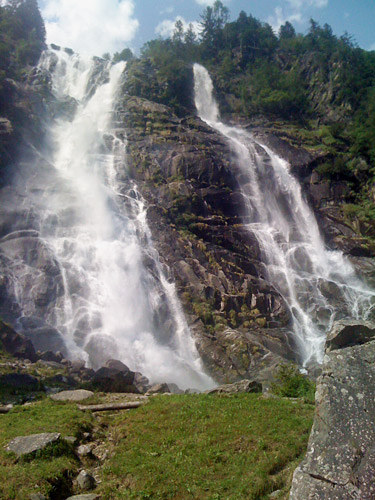 Then you get up to the really nice upper valley. Down at the steep section by the river one got chilled down by the furious river on the side, but up here it was high enough for good temperatures anyway. Then a little steep again and then almost flat for quite some time. After passing by a restaurant, almost thinking that might be the end, the road continued up and now I encountered machines working on the roads it has been swept away by water and a little landslide, I think. I had to cycle though big stones and water streaming heavily over the destroyed road. I still decided to cycle through as that was the only way not to get wet and dirty and I just about managed it to the smiles of the road workers who said even mountain bike people turned around here.
The passage was not so long and they probably soon had the road fixed again. Then the asphalt only lasted some hundred metres more before I came to the open flat plain seen in the photo here. I really wondered if I should continue, but knew there were supposed to be another restaurant/rifugio up here and that was the real end, so I just went on and the gravel here was good enough anyway. At the other end of the field I came to some more serpentines, but now up a less good gravel road, but it was just about negotiable with my road bike and the challenge was fun (though I was a bit worried of the return journey). There were 1-2 places were I was very near of having to give up, but managed to find the right lane. The views at the rifugio was quite nice and I decided to treat myself to an apple pie and a little beer before going down again.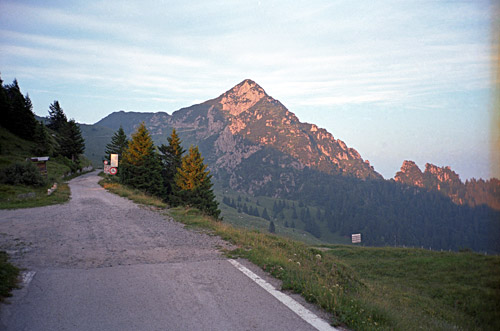 After the sweaty decent to the open area, the bad working area later was easy to get over. One is going down a slightly other road at the end here. I must say I was happy to have gotten up here as it was quite a lovely road in lovely weather and going down lower today would have been horrible as it was getting very, very hot now. Well, I now was on my way down anyway. The main road down from Carisolo to Tione di Trento (566m) is simply hell for cyclists and I cannot recommend anyone to go there. I think the main road could be avoided almost all the way here, but I did not care to spend time on figuring out alternative roads on the way down the valley, but in retrospect I should probably have done so. I had originally planned to turn off the road higher up and go over a minor pass – Passo Daone (1292m) – but it did not look too interesting and I had in mind doing at least one more bigger climb this day.
I was still worried being side-swept by cars after not being fully healed yet and being worried is dangerous in itself. as I turned around at one place I was very, very close to being rammed by a car in full speed, but luckily it never got closer than this. The traffic can be quite heavy here and car drivers seemed exceptionally aggressive here (almost like in Austria … ). Still I met some other cyclists going up. I got a bit relaxed again when getting down to Tione. Here one could go to Trento or continue south over Sella di Bondo (820m) and I was on my way south here. The traffic got slightly better on this side of Tione (or maybe the road was simply wider (it changes in wideness here and there all the way)).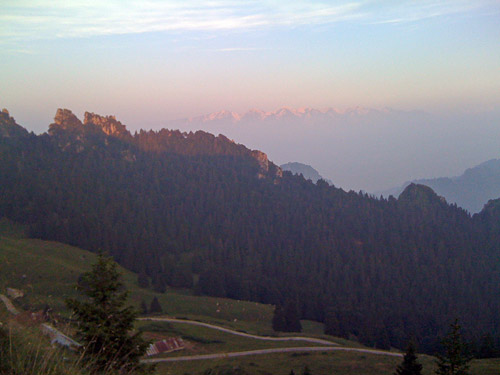 Eventually I was down in Storo (387m), which went fine even though temperatures was above 40 degrees Celsius now in the sun. I found the shop where I have stopped twice before and think they had some cold sodas in the back office. Got something else to eat, but one does not feel very hungry when it is hot like this. It is a bit strange there are not more shops here as the village is so strategically located on the way to Lago di Garda. I was sitting for some time thinking hard about what to do before the end of the day. I had not been able to make up my mind for sure beforehand. I had two climbs in mind: Passo di Tremalzo (1665m) and Rifugio Alpo (1480m). Both these climbs are hard, but Rifugio Alpo is clearly the hardest one. However, Tremalzo was a "must do" pass as it is one of those few asphalted passes above 1600m that I had not done before, while Rifugio Alpo is a challenging BIG climb and one of the few in the area I had not climbed before.
I still wanted to do both, but counting on the time needed suggested that it was a bit too much wishful thinking in believing I could do both this evening and if I started out with Rifugio Alpo (as is logical), I would likely had to climb up and down Tremalzo the next morning, which would bring me down to Lago di Garda in the middle of the day and I had only two days to go before needing to be far away in Bassano del Grappa for the Monte Grappa Challenge and more passes to climb on the way there. So to be reasonable and not trying to get up Tremalzo in the dark, I had to skip Rifugio Alpo also.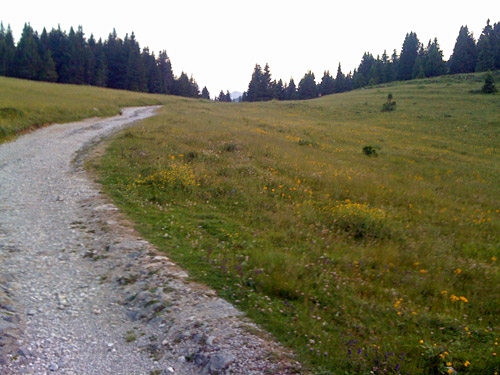 The climb to the Tremalzo pass from Storo is not a short climb. It is close to 22 km of climbing. It was like 18:30 when I started out from Storo and it would be like two hours before I reached the pass. The climb up from Storo to the crossroad near (or at) Passo dell'Ampolo (747m) is a nice climb which luckily was mostly shaded after a little while. Still I did not keep much better speed than a runner running up here (but he seemed quite good also). At the turn off I noted a restarant/hotel and a possible place to stay fo the night, but it looked a bit gloomy. Shortly the road becomes wooded and here starts the real climb with percentages above 8% on average.
Once out of the woods, the climb starts to get varied and quite nice. Toward the end it again starts to get steeper and the last part is the steepest one. It was perfect temperatures higher up and it did not feel so hard. The views from the pass are great, but one could get much greater views by continuing on the old military gravel road above the pass. I started out on this to see how it looked and if it had been very good, I would likely have continued up to the Bocca di Val Marza (1784m), but this road is really best left to mountain bike riders (who loves it). It is similar to the Monte Pasubio climb I did some years ago, which is also just a little too stony to be ridden with a road bike, even though it might be theoretically possible (supposing you got extra tyres with you). There should be great views over Lago di Garda later up on this ridge road. (I may try and explore it one day anyway, but it looks too stony for long stretches on photos I have seen.)
The asphalt ends at 1700m by a small hotel/restaurant that was closed. I returned back to the pass sign (a walkers sign only) at Passo di Tremalzo/della Crocetta (1665m) and took the asphalt road going in the other direction. To my surprise this road was asphalted for ca. a kilometre before the asphalt ended not long before reaching Passo del Dil (1723m). Unfortunately this gravel road was also a bit stony and after a while when being level with the pass height I turned around some metres before the exact location as I was virtually there already (just before me in the last photo). If one continues a bit below on the other side of this pass one might have some quite nice views too. Now the twilight appeared and I thought I better have a look at the other hotel I had passed by below the pass instead of trying to find something down the Ampola valley as the temperatures was nicer up here and it was late.
Rifugio Garibaldi (1520m) had lodging and served me some good food. It was a nice place actually.