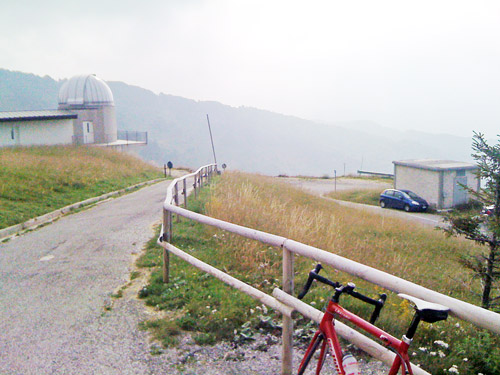 Showing the same photo again here as I ended yesterday with as this was taken on this departure. This morning started well and it was already fairly warm outside by the time I was on my way. Very lovely start of the day to be able to roll down this mountain. Before I got far, I met the first cyclists for the day coming up the mountain. It seems like Monte Mataiur is a very popular destination for cyclists in the area. At Montemaggiore I continued down to Masseris and on my way down to Cepletischis/Ceplesisce (469m) I passed by a place that looks like a little pass at Vartazia/Vartaca (624m). At Cepletischis/Ceplesisce I met a little road going to Slovenia.
I had seen on detailed maps (Tabacco) that there should be a an asphalted road up the other side of the valley here to another pass and I tried to see the road from Cepletischis, but could not quite discern it in the woods. I guessed I should go a little toward Slovenia (I did not have the detailed map with me) and quite soon found a very narrow road descending further down to a river below that it crosses. There were big holes in the road and someone had drawn figures on the road suggesting that one could fall into them. One of the most obscure roads I have ever seen, but it is asphalted. Not a single house is found along this shady side of the mountain, but lots of debris on the road. This is a forestry road (apparently). Suddenly there came newly laid asphalt out in the middle of the thick woods for no apparent reason.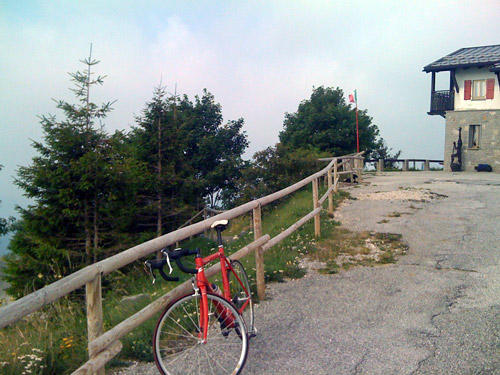 The official pass name (I later found) is Passo di Monte S. Martino/Prehod Prievalo (661m). Just on the other side of the pass the views open up and here it is quite nice with some small villages and the road is fine. I was quickly down to Clodig/Hlodic (252m). Here I found some rather complicated road signs, the first shows the name of the pass I just went over and the second (I think I only show this here) is from the place where you have to choose which road to take in order to get to Drenchia and Kolovrat (or any other place nearby). I had to guess the road based on knowing I wanted to go via Trusgne (638m). The climb up there was steady on a nice road. I had hoped to find a grocery along the road in Drenchia, but found no shops up here. After some further climbing I came up to Valico di/Passo Solarie/Sedlo Solarji (948m), where there is a bar. I stopped for water and an ice cream and chatted a little with some people here.
Just above the bar in the woods one passes over the border to Slovenia and on this little stretch the road is pretty bad, but then is very good and wider when coming out on the main road up to Kolovrat in Slovenia. There is still a little climbing up the ridge where one comes to many historic sites from the first world war. I went off to search for a pass sign at Passo Zagradan/Skrbina Za Gradom (1080m), which is a little bit from the road, but there were no such signs there and only some relics from the war. I continued passed another less known passage, Passo di Naverco (1110m), before finally arriving at Passo Zacotan (1135m), where the road starts to descend. Here the road turns really bad, especially so after passing by a small village up here, and one has to descend with care to Livski Preval/(Passo di) Livek/Luico (693m), where the road is fine again.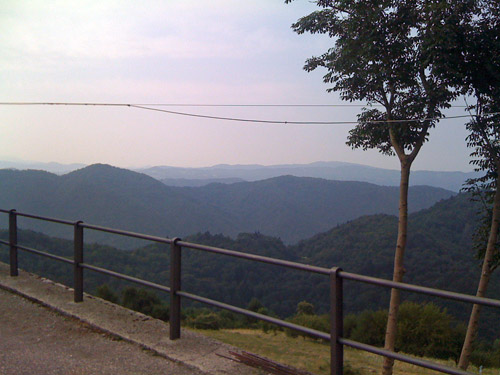 Down at Kobarid/Caporetto (234m) I stopped for lunch. I had some typical Slovenian dish at this somewhat simple place and a radler type of soda (or two), which is like lemon soda and light beer mixed. I think it was here I recorded the maximum temperature of the day as I had left the bicycle standing in the sun (it was likely not above 40 degrees even if quite hot today again). There were road works here, but managed to get through and out on the main road north toward Bovec/Plezzo (445m). This road, even if somewhat trafficated, is quite nice with wonderful scenery along the road all the time.
There were more road work on this road and I had to wait for the workers to brush the road surface clean for me (some stupid other (touring) cyclists of course should try and get through before the machines moved away, and I passed them by soon afterwards anyway … ). At Bovec, which took some time to reach, I decided it was time to stop again and turned into the village. I bought something rather expensive in the village to eat, just to find a grocery on the way out that had really low prices (and just had to get a yoghurt and another coca-cola). Filled up, I continued on the rather flattish road up north toward the Italian border. At Bovec one could turn to the east and go over the nice Vrsic pass, but I had been there once before and still hoped to get a bit on my way inside Italy this day. I stopped a few times for photos before reaching Passo del Predil/Predel (1156m) and the Italian border. Just before the border there the highest asphalted road in Slovenia goes up to Klanska Skrbina/Forcella della Lavina/Lahnscharte (2055m), which I visited in 2004 (the last few hundred metres above 2000m are gravel on a circular road that reaches 2050m). The road up there is very nice nice and also very hard to climb. Just when I passed by a couple of cyclists on ordinary bicycles (or maybe old road bikes) came down that road saying hello to me (in slovenian perhaps). I wondered if they really had been up at the top or not.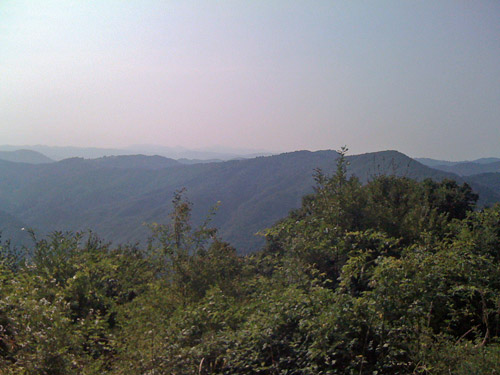 The weather was much different on the Italian side and there were now suddenly rain in the vicinity. I hurried down to Tarvisio (715m), where I stopped for a coffee and ice cream while trying to decide how to proceed and if I could do another climb this evening. The problem is that I had in mind to do a difficult climb with a likely not so good gravel/dirt road stretch that could be difficult and next to impossible in bad weather. I leave the details on that road out until I get around to do it, but it is a road from Pietratagliata that mountain bikers know about in the area. After a while I decided to continue to see what the weather was like on the other side of the Sella di Camporosso (816m) which is just outside the village.
On the other side of this minor pass, the rain started and the day was likely over for all that I could tell. I continued down a bit but the rain got heavy at the outskirts of Camporosso and I tried to find a room there, but the cheaper places were fully booked. I continued a little further in the rain to a restaurant by the road side and decided to go in and have a pizza before I got soaked. Yes, this was only pizza number 2 so far. After trying to wait out the rain for quite soe time I continued slowly down in the rain so not to get any more wet than necessary. I know, most other cyclists just go normal speed even if it is wet outside, but then they expect to get home or to their base station where dry clothes will await them. I never know when I will get to a place to stay at for the night and if I am unlucky even my spare clothes in the backpack might get wet (I try to put them in in plastic bags just in case, but not everything). Also things gets more difficult to clean and it can be cold getting wet.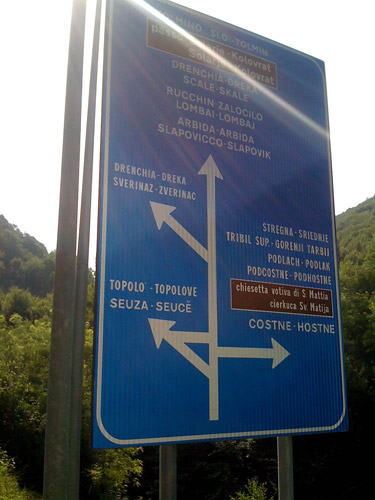 At the next village I decided to try again to find a place to stay at for the night. Ugovizza (774m) looked like a bleak and forgotten little village in the sorry evening. I found no obvious place here that offered lodging, but decided to search carefully and came to a bar in the centre, which turned out to be the only open place this evening here. I found a man understanding that I searched for lodging and he he told me of the Bed and Breakfast and even showed me the way there around the corner. It was a good Bed and Breakfast place (even though the lady suggested there were other places open than the bar in the village, which was not true). After a shower and trying to find another open place, I went back to the bar and asked what I could have there to eat and it was basically just an ice cream and beer, so that was it for this evening. Lucky that I had a pizza before stopping this time. The locals were a little amused of having a tourist as a guest and the girl I ordered from in the bar was obviously not used to foreigners around here.