The tour this year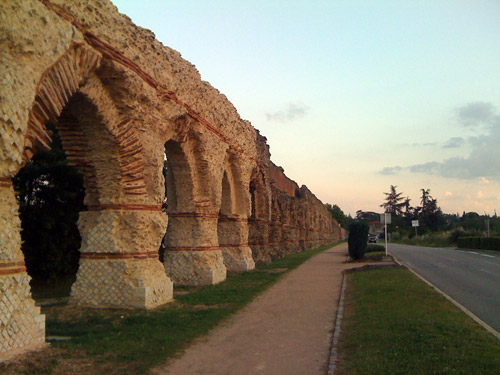 Last year I wrote: Another tour of the Alps for this Summer was being planned, but nearly had to be cancelled due to an accident in early June, when I fractured my collar bone and hurt my head and right leg. It was exactly 5 weeks before the tour should start and the doctor told me I would be back in 5-6 weeks. I had ONE proper training ride in those 5 weeks.
Now this year things were even worse: a car ran into me on a quick descent after one of the first training rides of the Spring in late April. Again I had a bad concussion and only woke up at the hospital, where I at first could not quite remember what month it was, but 15 minutes later I had pieced things together again. I had the other collar bone broken and then at least four ribs broken at multiple places around my left side. There was a small hole in one lung and they feared I had damaged the heart and gave me contradictory messages while being hospitalised at the trauma department for a week. The left arm was half-asleep for two months. I really have never had this much pain in my life before that I had during the two months after this crash.
Luckily it was an even longer time before I was supposed to leave for the Alps than last year and if things healed well and as fast, things should work fine. It did, however, take much longer time to get well after this crash than last year and I was basically in exactly the same situation as last year. I only managed to make one long ride before leaving for the Alps and could not decide whether to go before it was only a week left. Then I decided that I could just as well go and see what I could make of it as I at least knew I could ride the bicycle now again. I had nearly finished all my planning in time for once when the accident happened and then I lost interest in planning for quite some time, but had my plan ready when it was time to leave. My plan had all the original planned extremely difficult day routes and a last day that I did not know how to make. I just decided to reschedule things as needed along the way.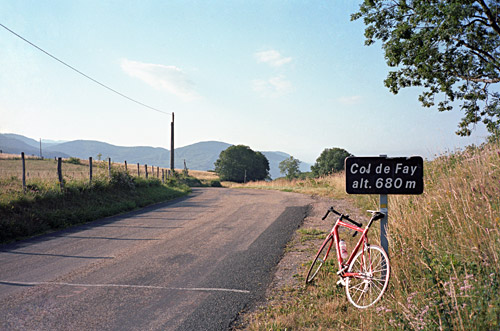 This year, my goal was to complete as many of the highest asphalted passes of the Alps above 1600m as possible (which I have detailed in a list at the cycloclimbing.com site) and to visit some other interesting climbs that I had not previously been to, while trying to avoid roads previously travelled, which is getting more complicated now. I had distilled a list of interesting climbs and devised a route between them. I had to make some compromises as I could simply not get to all the corners of the Alps. Some areas where of more interest to me than others, notably the northeastern part of Italy, which is one of the least touristy places in the Alps, while being as spectacular as the best of other areas. Of course, I have already visited most of the nicest places in the Alps before, but the mission was now to find less well known gems.
In particular I had already signed up for taking part of a crazy event: the Monte Grappa Challenge, where I was supposed to climb Monte Grappa five times in a day (maybe to make up for missing to climb this famous mountain another year). That turned out to be 277 km (a bit longer, I think, as my computer usually give shorter lengths than others) and 8272m for the day. Then I was also supposed to take part in a Gran Fondo race the next day from Trevisio and over Monte Grappa again, but there I found an excuse in the bad weather to instead do some easier climbing on my own later in the day.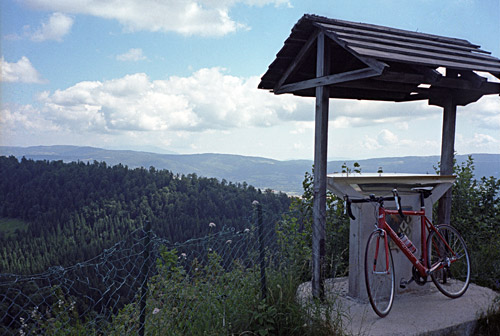 My totals this time: length: 4100 km – 157.7km/day (160.48 km/day first 25 days). Height metres: 92607m – 3562m/day (3634m/day first 25 days). It is somewhat similar to my previous results and it is difficult to tell only from the figures which is the best achievement (I also travelled by train on two days here). New record was with 8272m up in one day. I also had ache in my knees for a longer time than ever before upon return from the Alps (ca. two months, probably partly due to lack of preparatory training). The weather was unusually good this time, apart from being too hot most of the time. I am now embedding maps of the courses at the bottom of each page. The Bikemap measures might well be more accurate than my bicycle computer (HAC 4 Pro) at 234 km (when it regards the actual length, but likely not the height).
Note: Internet Explorer is not recommended. Instead use a good browser like Opera, Chrome, Safari or Firefox. These pages looks best in Safari on a Mac. I think I continue to use British English, where I can tell the difference, but I guess you can spot that english is not my native language … . ("Tyre" sounds better than "tire", which sounds tiresome.)
♦ ♦ ♦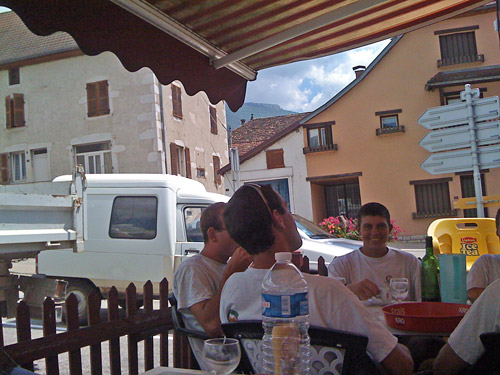 Despite the sad state of my preparations for this Summer (again), I was intent on having fun and forgetting as much as possible the pains still lingering. In fact I was very lucky in all possible ways this Summer as you will find out by continuing to read. One flat, one broken spoke and one tyre that had to be changed was all when it came to the bicycle (apart from sounds from it that I still have not really found the cause for, but believe it is the Tune rear wheel body or hub that is the culprit as I have changed everything else (the only other possibility is actually the Canyon frame itself), but I really like my Tune wheels and my frame and I do not have the problem all the time (mainly only on steep climbs, which they are both specifically built for …). I will change the wheels next time, however, as I cannot stand the noise on yet another tour (if there will be another tour like this again). Other only problem was dropping my camera to the ground so it stopped working and thus mostly had to rely on my poor iPhone 3G camera. There were also problem with the photos from the three rolls I managed to take before I dropped the camera and had to spend 1-2 hours on each photo in Photoshop to make them presentable. I cannot tell for sure if the only problem was the bad lab here screwing things up (again) and I also cannot tell for sure if they made a mistake in that the last film roll only had blank negatives for no obvious reason (as the camera was working fine until I dropped it and the film that was used was never exposed to light). (However, I cannot recommend Fotokompaniet.) I probably never get an analogue camera again.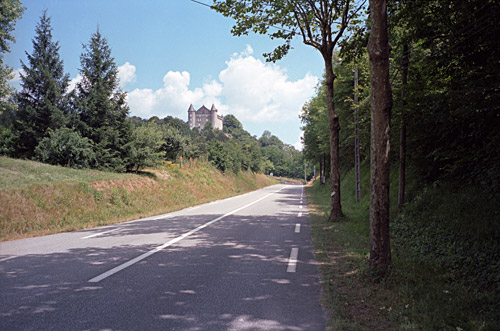 With those minor problems aside, we can now turn to the tour and focus on all the great things that happened during this Summer tour of the Alps, which was truly fantastic. I even myself find it hard to believe that I did what I did and had the luck that I had, and that is the way it should be.
Since being a member of the most well known club for bicyclists "collecting" mountain passes – the Club des Cent Cols in France, I have some contacts with people living closer to the Alps than me. I was very pleased to accept invitations to visit no less than three club members on this tour. First and foremost, Mr. Philippe Chazottier went to great lengths in helping me, by collecting me at the airport in Lyon and getting me back there in time on my way home. Best of all, he was kind enough to drive me a long distance to the other side of Lyon on my first day, so I did not have to get through Lyon and take a train to the start as I had planned. Philippe really knows the area and helped me find the best route for the last short day (same day I was going home), so I could collect some passes even on that day. Philippe himself has done well in the famous Paris-Brest-Paris (1200 km) cycling brevet that takes place every four years. He has climbed three sides of the great Grand Colombier and the two sides of the (also very hard) Col de la Biche all in one day.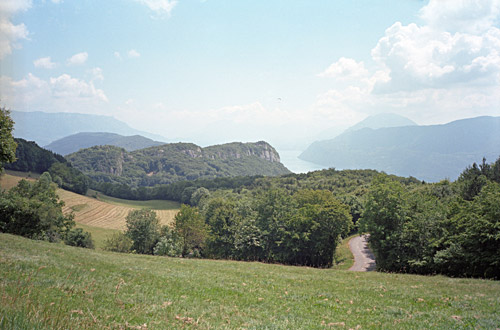 On the way back from the airport Philippe showed me the ancient remnants of Aqueduc du Gier built by romans near where he lives (first photo). The first day of my trip was one of the most ambitious ones and I had thought to shorten it down a bit when thinking of going through Lyon, but now that Philippe drove me out to start in Lagnieu early in the morning, I did not have that excuse any longer, so I decided to try and do everything I had first thought about doing this day (which was quite unrealistic). Basically I had to decide whether to climb the Planachat or Crêt de Châtillon (near Lac d'Annecy) (both being 'BIG' climbs), but if I should have a chance of climbing both then I had climb the Planachat (that I had planned to leave out) as that was closer to the start. In retrospect, I cannot really say that this was a bad decision. First late in the day I realised that I would not have time to do the Crêt de Châtillon as it would likely get dark before I would have gotten down to Annecy. That descent in the dark might not have been such a good idea, and especially not as another Cent Cols member waited outside Annecy, in Choisy, for my arrival.
Right after Lagnieu the climbing started and the road up to Chartreuse de Portes is quite nice with wide views. You see Lyon in the distance. I took a little detour on the way up via Col de Fay (680m), which was sweet and not so easy. The good views return at this pass where there is a short downhill to the Chartreuse de Portes road. It is quite some climbing involved in reaching Col de Portes (1010m) (the highest point on the road), but maybe it felt so in part since it was the first climb since my visit to Rimini, Italy earlier in the year. Then it was down to Ordonnaz, where I finally decided to go to Planachat. The road down to the big road in the Cluse des Hôpitaux (gorge) was steep and narrow.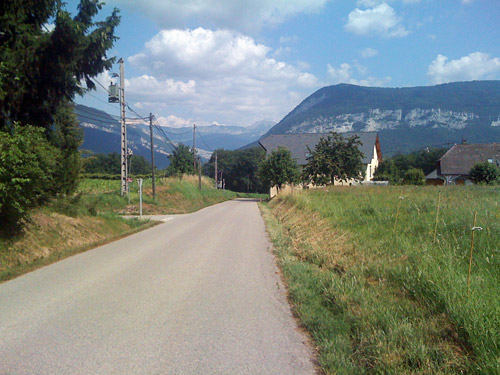 Down in the gorge I went back some hundred metres toward where I started, to take a road up on the other side (marked as dangerous on the Michelin map). I was a bit disappointed at first when I found out that the road was closed and looked like it had been so for quite some time with no sign of being opened to traffic again. But it was early in the day and I noticed I just had to climb over some heaps of sand to continue on the road. Let's see if I can get through, I thought. Possibly it was closed because it could not be used with a car and might be dangerous as avalanches may easily happen here. I only had to stop once more to lift my bicycle over something, but then it was all "fine" apart from debris on the road and it was a quite spectacular road that gained quickly in height. I was very happy I tried out. Soon I arrived at Prémillieu and thereafter another pass, Col du Ballon (942m), where I met some cyclists (MTB cyclists that for the occasion tried out some old road bikes). (I have a photo here, but nothing much but the pass sign to see – the pass was the only place not so nice here.)
Then another little pass, the Col de la Lèbe (914m) before descending to Cormaranche-en-Bugey, where the western climb up to Relais de Planachat (1244m) starts. It is a steep road mostly in the woods, but it is not so long. At the end there is gravel for some hundred metres and than a grassy slope up to the information board and views in the photo above from there. (I cycled all the way up.) Then I went down the east side, which is much longer, on a narrow road to Sutrieu. From Sutrieu there was a nice a good road down to Artemare by the big road from Lyon, where I stopped for lunch.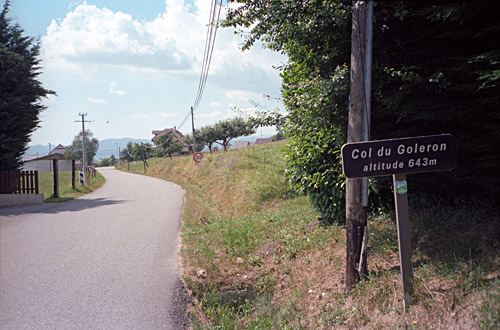 A little later I saw the nice castle by the otherwise not so nice road just before Culoz. At Culoz I crossed the big Rhône river and started on the climb up a more exciting road than the previous ones. Here you start to get in touch with the real Alps. The climb to Col du Sapenay (897m) is hard and it was now very warm and no winds, but higher up there were some shade from the trees. At the top the weather was perfect. I had great views on the start of the descent overlooking Lac du Bourget. One soon passes over thee ridge at Col de Cessens (797m) and thereafter I was apparently not following my tour plan by visiting yet another nearby pass (forgot it) and went directly (ups and downs) to Albens, where I stopped for an ice cream and coca-cola.
The next pass was to be the Col du Goléron near Chainaz-les-Frasses, where the previous president of Club des Cent Cols lives. It was not easy to find the right way up there as there were no signs (on the road I took, anyway), but I guessed which road was right after double-checking my map. I came to the col and there are nice views from there and took photos in both directions. I noticed the Cent Cols sticker on the pass sign. Then I had thought to go down on a steep alternative road on the other side, but read the map wrong and ended up in Chainaz-les-Frasses, which is a cul-de-sac, but filled up some water and went back down. Then I noticed a very obscure road climbing steeply up and I told myself that it better be the correct road this time. I think it was the correct road, but there were later several different road choices and I had to improvise. After a while of getting looks and seeing the road become very local, I was really wondering if I would get down there, but eventually found a steep descent to the main road down the valley.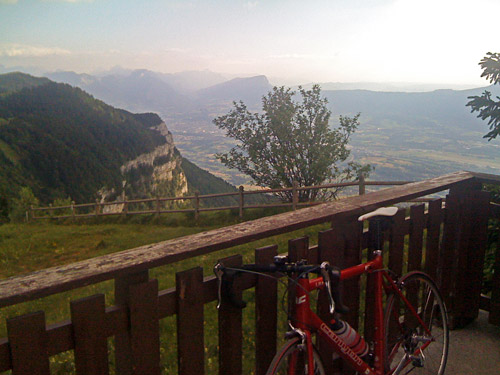 Apparently I was a little bit further down the valley than I had thought, but luckily consulted the map again at the next junction, which was where I had planned to start the climb up to the famous Mont Revard. (This is the road over St-Offenge.) Just before Le Montcel, there is another very local road (where I stopped to ask an old lady if this would be the right road, which she confirmed, even if the younger lady at the house looked sceptical). This is the road via La Chapelle on the map. At La Chapelle I had to guess again, but somehow choose the correct road on my own, which is a narrow forestry road that connects with the main Mont Revard road higher up.
After a while on the Mont Revard climb I started to get really tired and had to slow down a little. I had thought the climb and descent from Mont Revard should be nicer given how popular the road is, but was disappointed in this. Of course, the main goal here is to reach the top with fantastic views of Lac du Bourget (again). I really had to fight my way up on this not so steep climb. I guess it should not come as a surprise that I would get tired with virtually no training beforehand.
On the way to the top one passes by Col de la Clusaz (1184m). Then at the top there are two passes: Golet du Taisson (1487m) and Golet de la Pierre (1508m). I did not know exactly where the passes were located, but knew they should be on the three asphalt loop roads up here, so cycled them all so I did not have to worry that I should have missed to visit one of the passes. The highest point was only accessible from one side due to road work, but I got up there and had some photos and regained a little strength again.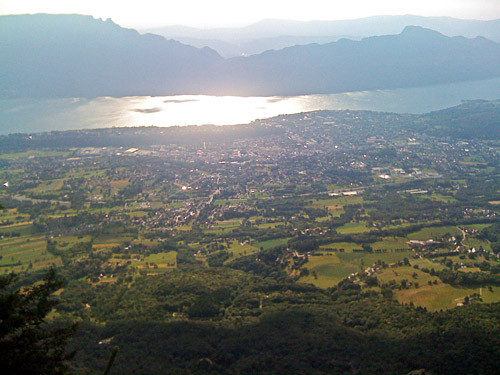 It was already starting to get a little late now, but it was still a nice and sunny day. I went down to La Féclaz, where I somewhat reluctantly decided to see another pass on a cul-de-sac road as it should not be so long. Again I guessed from memory what road to take (memory told me it should be the first asphalted road going back up to the ridge) and I was correct. The road was a little longer than I had thought and a little harder, but basically it was a nice and sweet little road. Unfortunately there were no really good views at Passage du Croc (1413m).
Then down at the crossroads where I would turn north toward Annecy. Here is yet another pass located called – Col de Plainpalais (1173m) and it was photo time again. It was quite nice here. Then it was more downhill to Le Pont (583m), where the next climb to Col de Leschaux (897m) commenced. At Col de Leschaux the road up to Crêt de Châtillon (1640m) starts (from this side), but as the sun started to get down now, I here decided not to try it (at this time). I called Michel Mathieu (who waited for me in Choisy) and told him where I was and when I expected to reach Choisy, which he might have guessed better than me, but then he did not know that I would find it hard to find the way through Annecy.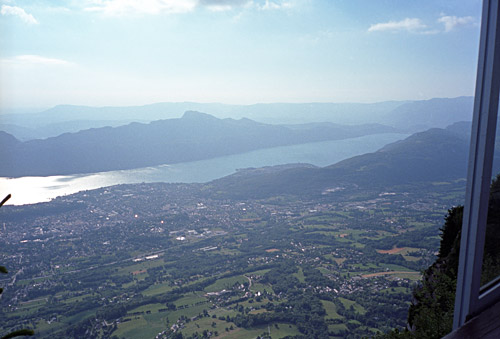 Michel told me not to worry about getting late to his house, but I now tried to hurry on a bit getting to Choisy. I stopped for a photo of Lac d'Annecy on the quick descent to the lake and then followed the lake into Annecy. At Annecy I could not make out which directions to follow and tried to guess my way through the city as I knew fairly well in what direction to go. However, several roads where closed and I apparently aimed a little too much in the east direction. I was hoping to find a sign for the airport which should be near where the road toward Choisy started. I got to Pringy and then realised I was too far east and tried to get back and on another way toward the airport, but could not find the way (apart from the motorway), but noticed on the map a small road from Pringy down in the right direction, so went back again to Pringy and took this road which eventually led me on the correct road to Choisy.
Now it got dark and for the last stretch I had to put on my rear light. Michel called me as he started to wonder where I could be and by then I was just outside Choisy. Michel took his car to meet me, as it was not very easy to find the way to his house. I was warmly welcomed by his family and had something to eat and a nice cider to drink and we talked a lot. It took time getting to bed and I started to install Firefox on his PC long after midnight so he could watch my website better! I was very happy with the day and was satisfied that I had managed to visit as many places as I did, given my poor preparations and not knowing if I would get much pain from my ribs and shoulder that I still could feel on climbs. I had to modify the strap on my back-pack so it did not brush on my broken collar bone. It all worked very well.