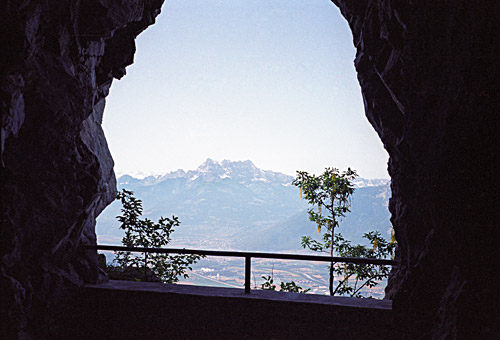 The day started with perfect weather at the small village of Corbeyrier (920m) at the nice family I had the opportunity to stay with for the night. The climb up the road to the Lac de l'Hongrin (a dam) is getting quite steep upon leaving Corbeyrier. One passes by a tiny location called Luan and then one enters the woods for a while until one reaches a tunnel where the road is no longer steep. From the openings in the tunnel there are great views of the mountains toward France and the valley below. The tunnel is regulated and one could only travel in one direction for certain times. (Every first 15 min per hour one could go up through the tunnel. With care taken you might get up at other times on your own risk.) The tunnel is not lighted but the openings in the tunnel gives enough light.
On the other side of the tunnel, the landscape is quite different with open views. The climb continues gently to 1554m height by a farm. Around here I had the last views down toward Lac Leman as you can see in the photo here. On the descent toward the dam you will be presented with the cattle grid in the photo below. I got a little puzzled and wondered if it might be dangerous to cross. I passed over it holding steady in my handlebars to make sure I went straight across. It might not be a good idea to cycle in a group over this!
One actually descends to the pass here, which apparently is called Col d'Ayerne (1465m), but I am not sure of what the reference map is, but this appears in the Club des Cent Cols catalogue of passes for Switzerland. The family I stayed at for the night sort of suggested that calling it thus might not be the way it is referred to around here, but that it was not totally wrong either. It seems like they do not think of it as a pass even if they would acknowledge that it is a pass.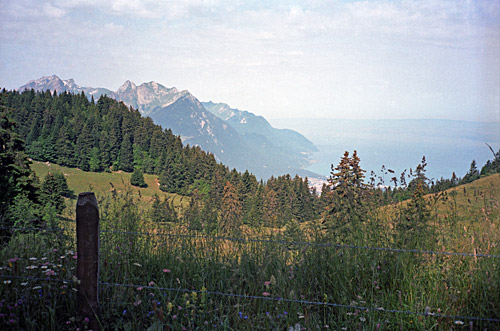 From the pass the military road along the Hongrin lake starts with 47 numbered bridges. There is a little up and down, but this stretch is easy on a very wide and mostly good road. One arrives at La Lecherette (1379m). There is a road going off along this lake to Col de la Pierre du Moëlle (1661m), which has a short steep gravel section, but is otherwise a very nice road with great views that I travelled over in 2006 (maybe the gravel bit has been asphalted now). I stopped at La Lecherette for yoghurt and coca-cola. It was again very hot today.
Next I wanted to visit a nearby pass that I had forgotten about last time I was here. Col de Sonlomont (1503m) which is overlooking the Hongrin lake from the other side, should be an easy extra pass, I thought. However, extra passes seldom comes easily. It is in fact rather steep up here and the road goes higher (1581m) than the pass. At the pass I started to descend the other side hoping that maybe it had been all asphalted as the beginning looked good. Soon I found out that I would not be able to get down this side easily and had to return back on the steep little road. The views were lovely and made up for the extra climbing.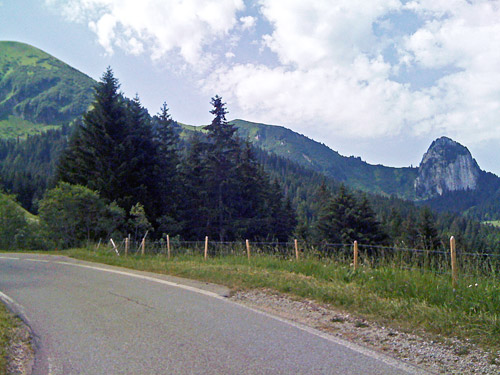 I went back and down the normal road to Château-d'Oex (903m). From here I had planned to go up another pass which is quite unknown among cyclists. It is the Col de la Forcla (1660m), but again I made a mistake and ended up at another unnamed pass, eventually. I did find the right road at start. It is a road going off the main road after Flendruz at ca. 980m. (It might be possible to use the first road from Flendruz too and one could very well take the road from Rougemont if coming from above. The road is a little steep at first, but soon becomes nice and easy. One enters the forest and pass by a place for water before crossing a bridge to the other side of the valley here.
The landscape opens up and you see some houses scattered around the mountainside. Then you come to a first crossing, which is the relevant here. I had remembered to go up the mountainside here on the road that climbs straight up, but got a little unsure and thought it was best that I asked a local who was nearby. The man suggested that I should not go up here for the Forcla pass and should instead continue straight into the valley and then go over on the other side of the valley again and follow signs for Rodomont (I think). Something was slightly odd with his explanations and I had a little hard to understand which side of which valley he was really pointing to, but guesses that he must know what he was talking about as he seemed to know what he was talking about. He was totally wrong. Never trust locals, they do not know anything about the places where they live, or so it often seems.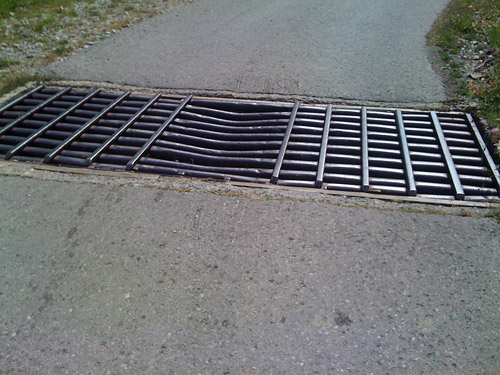 In retrospect it was a fun alternative road that I would likely not have visited otherwise and I also think it is a true pass that is asphalted up to a first pass at 1736m (Les Rodomonts), which is actually a bit higher than the Forcla pass. This road was curious and I got a little nervous of going wrong as it did not quite seem right to me, but I had no detailed map with me to suggest otherwise. There were a stretch of bricks for pavement (almost a kilometre) which was nice (see photo taken upon the return below). Then there was an asphalt road going off again up the valley and I was really wondering if this would not be the right one rather than crossing the valley river, but it only seemed to go to a big house or farm, so I crossed the river again and started on the quite hard climb on the other side. I had not seen anything about several asphalt roads here in planning and was a bit lost.
There were no signs anywhere. Suddenly comes another crossing with perfect asphalt roads to choose between. I thought that I better head in the direction of the pass and turned off on this road, that eventually became a gravel road and still I continued thinking that maybe there was a stretch of gravel after all on this Forcla climb. But the gravel got worse and stupidly I did not give up until I reached the end in the middle of nowhere, with no signs along the road and no house or anything. I returned and continued up on the steep serpentine road. After some time I got to yet another crossing and now I thought there could only be one choice or I would soon be getting down from where I started on the other side.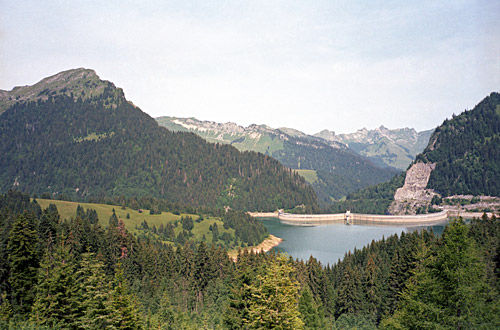 This time the road made more sense, but it seemed like I was somehow a bit far off from the pass and wondered if I would really get there on this road. The road became flat and reached the 1736m point where the asphalt runs out and an opening in the ridge appears (without views due to the trees). I continued on the good gravel road and thought that maybe the last little stretch was gravel as I basically was up at the pass anyway now. I went around a little peak and came to a much more open pass-like place and thought I had reached Col de la Forcla, but was not totally convinced, especially since I found no pass sign. There was a road continuing up the hill and I climbed it a bit as it was asphalted and thought it was the one I had seen on the map at the Forcla pass (which also have a road up like this, but it goes a bit longer than this).
Something was not quite right, but I could not see the real Forcla pass around the next peak here, so did not get fully clear on the situation. Another thing that made me wonder was that I had planned to descend the other side on a semi-cyclable track to the Mittelberg-Abländschen road, but the track here was too rough and did not go down like I had seen on the map when planning. After some hard thinking I gave up on trying to get down the other side here. I went back to the place where the asphalt ended to see if I could find a track down there, but there was not even a discernible path that went down on the other side here (looking at the map now, there should have been a path going down sideways at this pass, but I was looking for a path straight down). After a while I gave up as I realised that even if I might get down there, it would take about the same time as going back and around the mountain on the bicycle.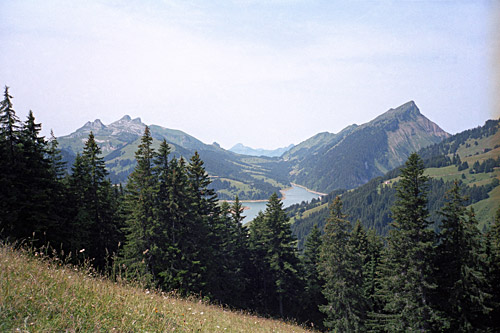 A little disappointed I returned, suspecting all the time that I should likely have gone up the first road I tried, but now I was not in the mood of giving it another try and wanted to get on. It was a nice descent. On the return I noticed the road going off the road just as one comes out of the woods for the last time before the descent to the main road. This little road should give access to another minor pass called La Forcla (1209m). I found the place, but oddly the pass itself was called something else and the group of houses just below was called La Forcla (which is a pass name). I first tried the direct road down here to Rougemont, but that is a no go with a road bike, so I had to get back up again and guess my way down to Rougemont (I might have had to return back to the road I started from).
Down at Saanen (1011m) I stopped for a big bottle of grapefruit soda and ice cream. It was hot and I was tired, but I felt better soon again. I climbed up the busy main road and was not sure which road to take. But after passing by the Abländschen road I returned as I realised it must have been the one I passed by, even if it was not sign-posted for anything relevant (maybe for Underbot). I asked someone at the start and got it confirmed that it was the right road and it also made some sense, but I was getting wary of trusting things by now.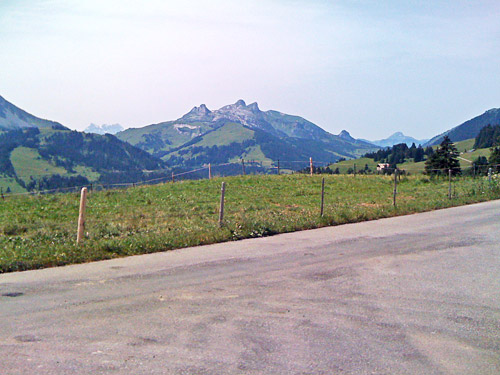 I had remembered that the Mittelberg-Absländschen road should be a demanding climb, but what I found was a road that was almost flat for kilometre after kilometre. It is a very narrow, but good road that follows a little river in the woods until not so long before the pass it starts to rise abruptly and here it was indeed steep. I noticed the track going up toward the Forcla pass and it would likely have been easy to get down that one even if I would have had to walk a little. Some two hundred height metres of very steep climbing and I was up at Mittelberg (1633m). No great views from up here, but the Abländschen valley looked inviting. In retrospect I should probably have taken the higher of the two roads going down the valley for better views, but I felt time was running fast and that I had already been exploring odd roads a lot today as it was. (The first road going off is also a cul-de-sac climb up to 1706m.)
Down the main road I continued down to Jaun (1015m) to see if I could find an open shop and I found one there at once. After a short stop, I went back up the main road toward Jaunpass wondering if I should go directly up this pass as the day was nearing an end now. However, after much research in the area for little-known and unnamed passes above 1600m that might be surfaced (which I was trying to complete as many of as possible this year), I had found the road that goes up via Leimera to Moos. What I did not know was that this pass was already in the Cent Cols catalogue for passes of Switzerland, only that it had not been marked as a road pass. The evening was nice and the temperatures perfect now, so I was again getting in to the mood of exploring a possibly new interesting pass. I saw the road called Reidigenstrasse and had noticed this name in my last notations on my plans so this was the one to take and it looked like a good road at start.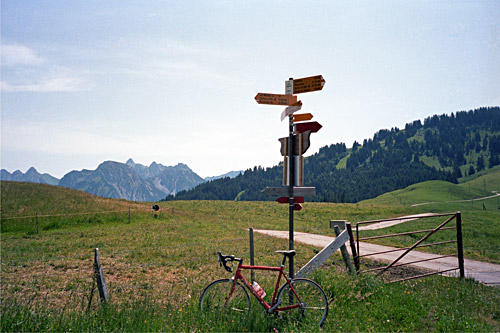 I went up and started the climb on this wonderful little road. It is a very good road throughout and entertaining with varying steepness and many bends and great views. Eventually I got to a crossroad where I went by memory of the map and decided to follow the very home made sign saying Fluehbärg. The road continued a bit steeper now, but still it was quite good. I crossed my fingers that it would be asphalted to the top and it was. I came to the place marked by 'Moos' on the Swiss map and this is the actual location for the Reidigenpass/Rieneschlipass (1616m). From here a gravel/dirt road continues down to a farm a bit down the other side and then there is a path down the other side (looking at the map). No proper pass sign at the top here.
Actually, the asphalt road continues up here and it looked a bit demanding and I thought that it would be kind of bad not to get up to where the asphalt ends and maybe there is even a pass sign up there. So I continued up on the little more rough asphalt road to the top at 1680m where the asphalt ran out and a good gravel road went down the other side of the Fluehbärg (which is actually a little different pass from the Reidigenpass, but let us be happy with one pass here). I only descended a little as I was not in the mood of climbing back up a steep gravel road this late, but guess you could get even better views a little further down here. At Leimera, and the Fluehbärg sign, one could get up to a similar height at Rohrbode which might also offer good views.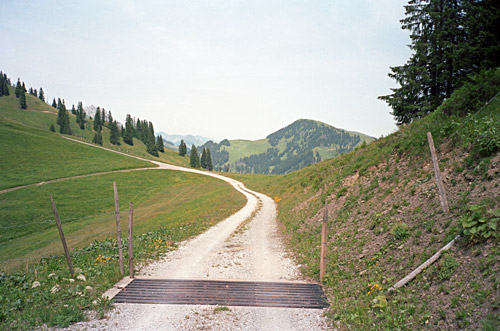 Happily I went back down again and had the road for myself both on the way up and down. Now it was getting late and I hurried up toward the Jaunpass/Col de Bellegarde (1509m), which is actually a quite hard climb up on this side from Jaun. I asked for a room at the top as the twilight was coming in, but they were fully booked and I could not care too much as the place did not look too nice anyway. Apparently it was popular with families and motorcyclists here. I went down the nice road to descend to Reidenbach (which is also the other side of the Reidigenpass) and found simple lodging at a hotel there and got a wienerschnitzel and beer for dinner. On the whole it had been a good and successful day again.