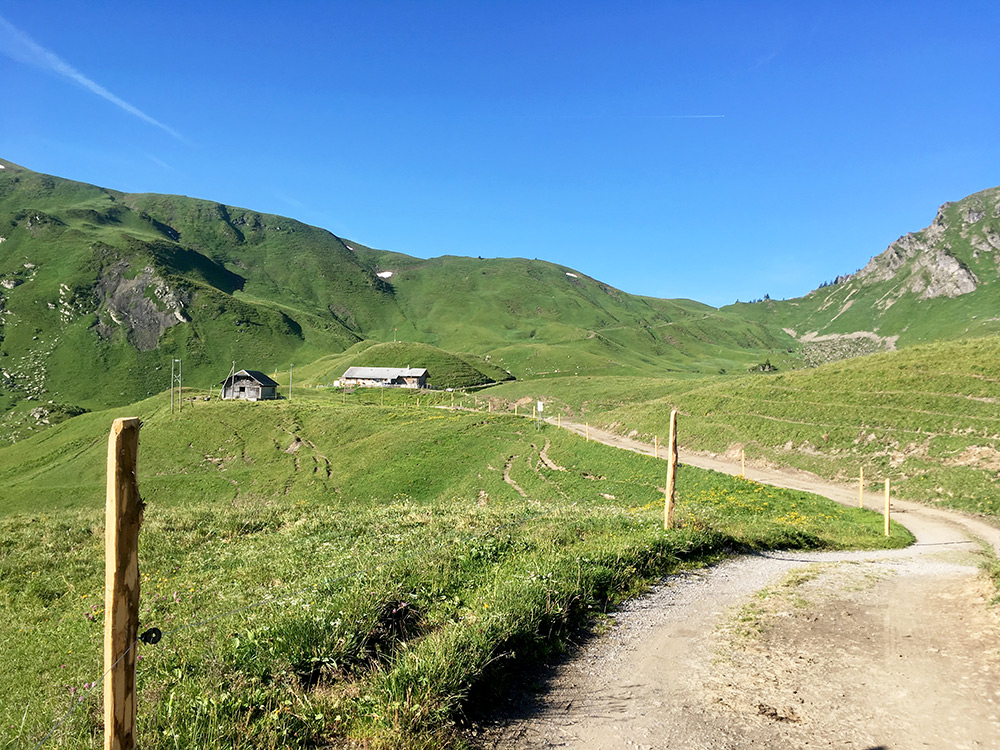 Could not shower in the evening and had to sleep in my cycling clothes, and could only wash myself a little in the ice cold water outside on the cold side of the house. Had some breakfast and got in better mood and went on my way. Here looking back when departing on the same way back to Seeberg.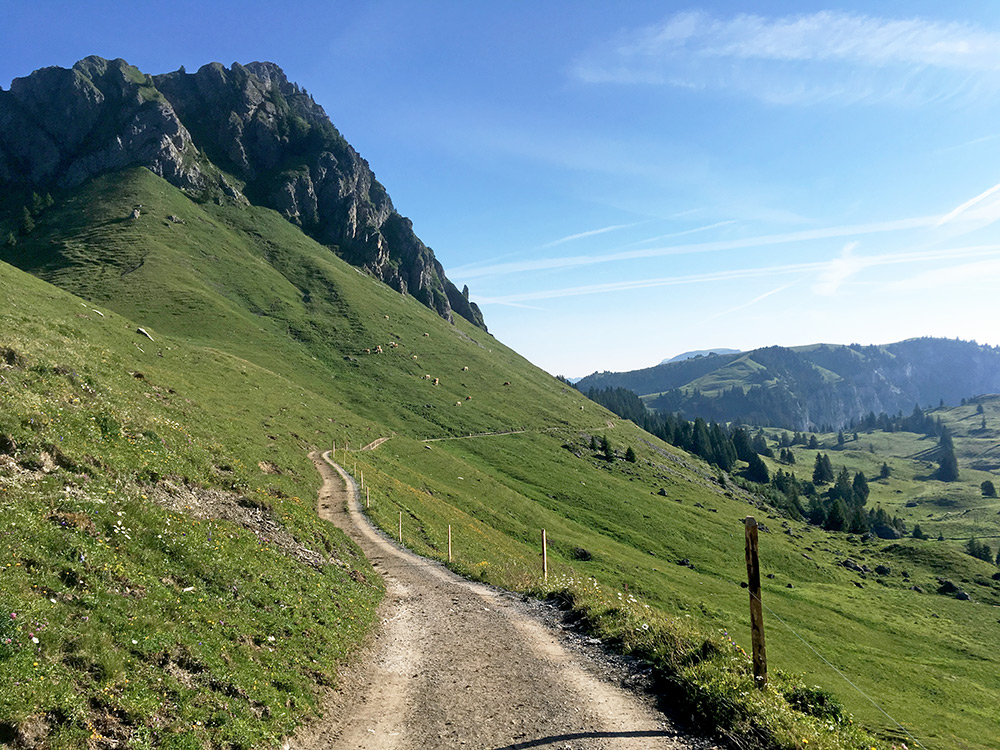 The section by the mountain is quite nice as seen here.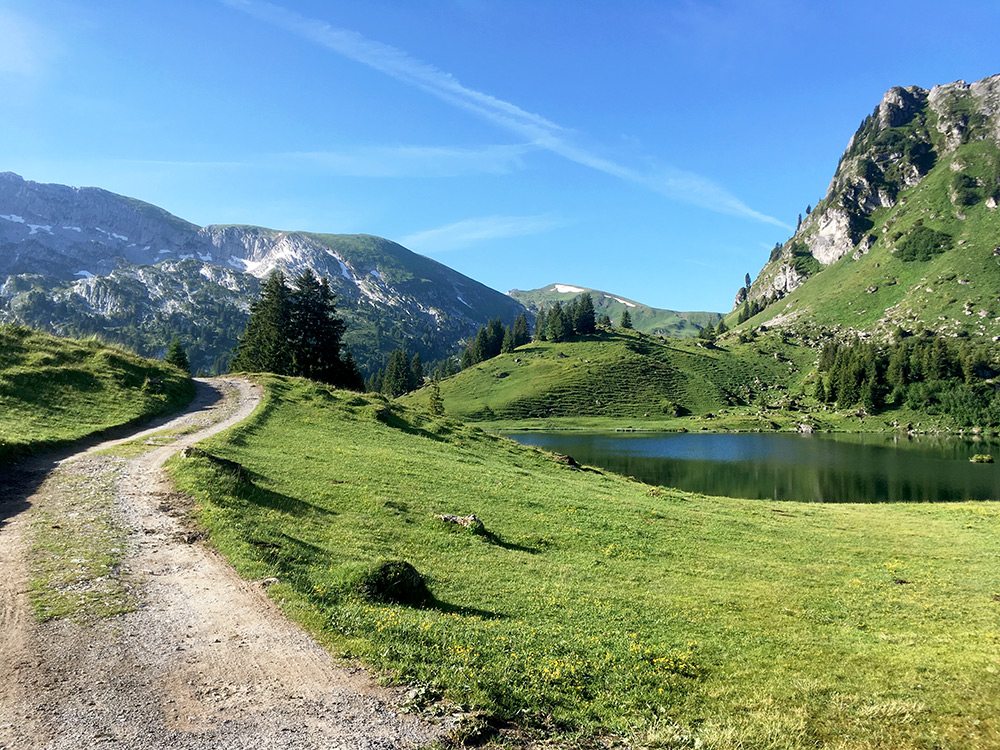 Here is the Seebergsee just after the last asphalt ends from Seeberg in the direction of Stiereberg.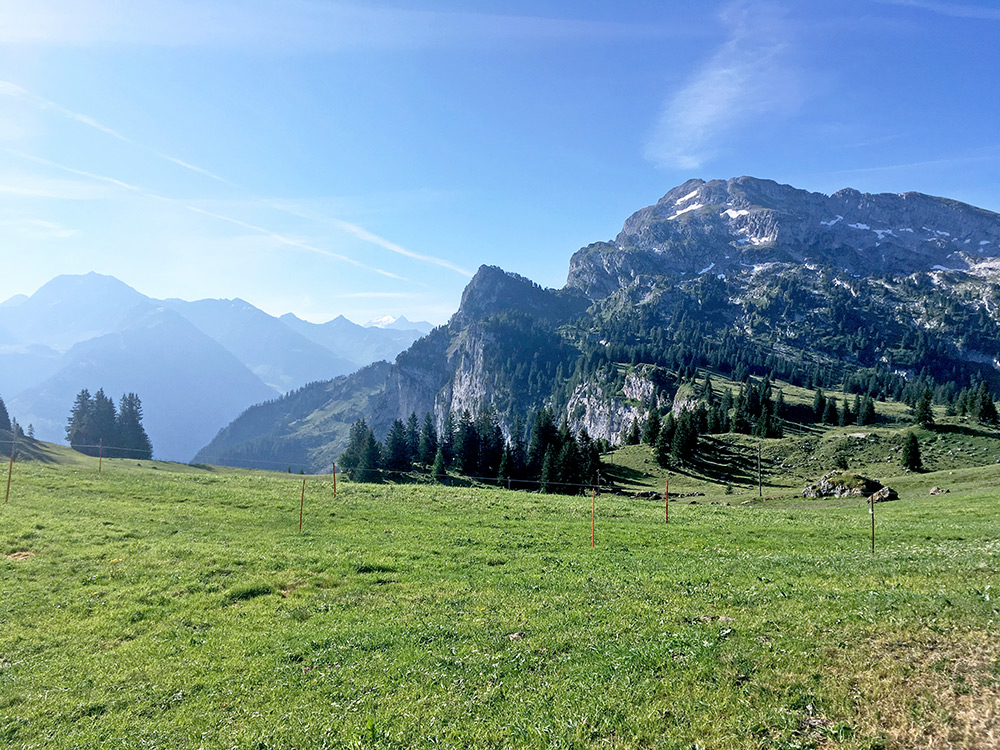 The downhill from Seeberg was not so long. At the road junction at 1594m the climb starts up to Gestelenpass/Meieberg (1853m) where I have been up before from the other side. Still it felt like a fairly hard climb as the steep part is the one to tackle here. It is flat with gravel surface on the top section (305m), before asphalt starts again on the descent. This photo was apparently from Seeberg.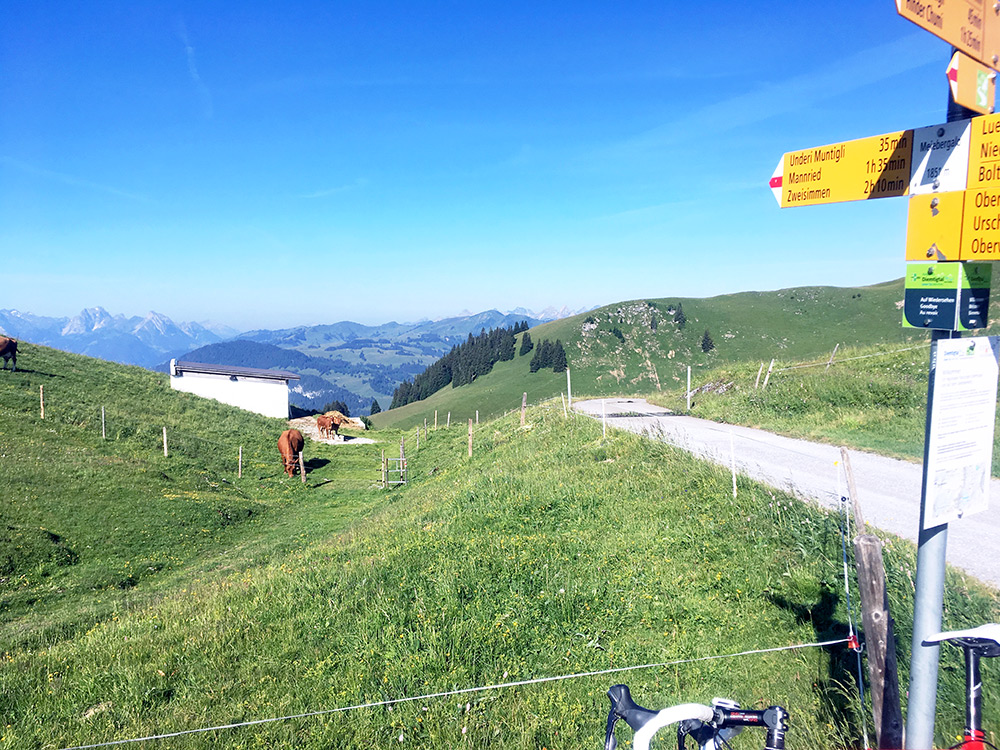 The great views from Meieberg here! (Sign saying Meiebergalp 1851m. I think it said Meienberg on my previous visit.)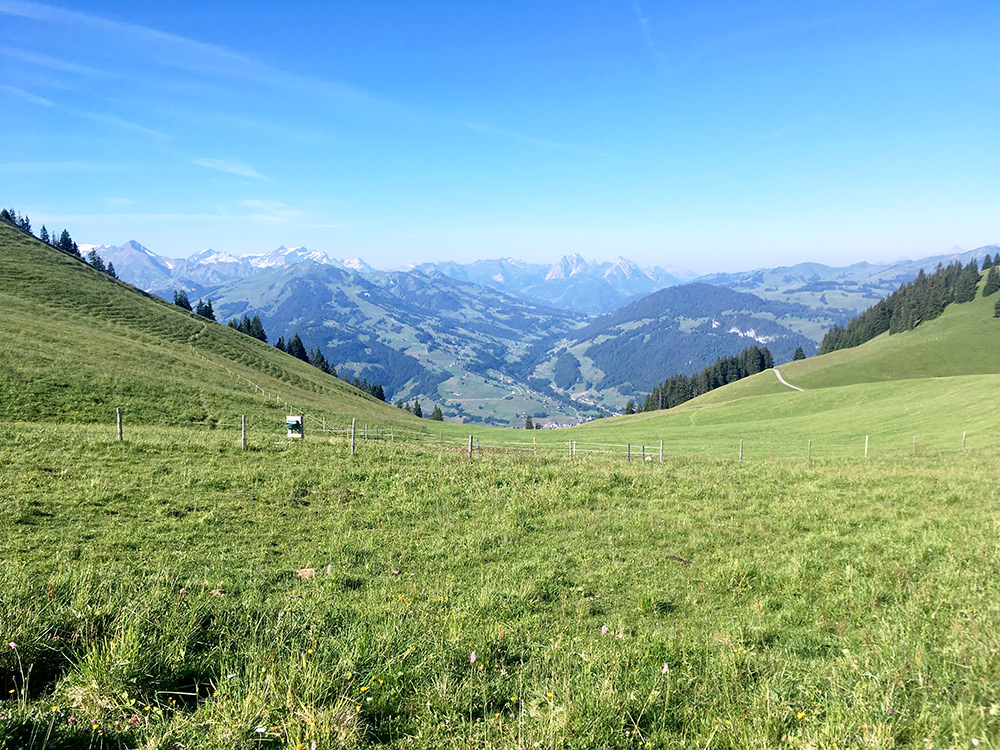 Even better views just a bit down the west side of the pass.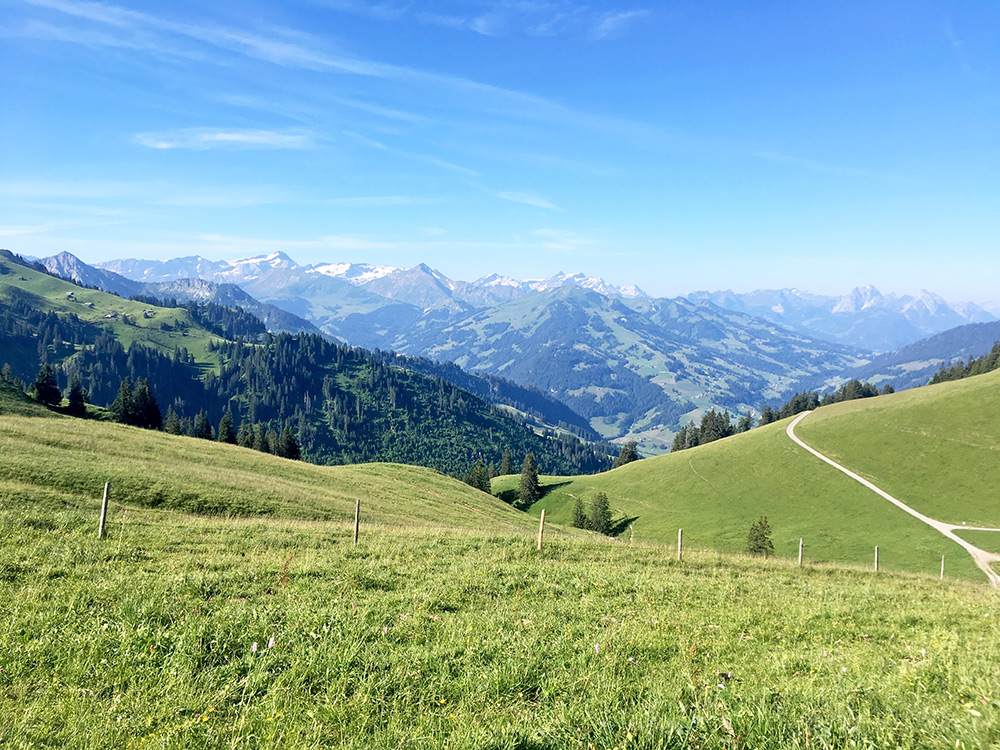 Good views even further down. Sometime after here comes a wooded section with a gravel stretch (340m or more) (slightly worse than on my previous visit and had hoped they had surfaced it since then, but just the same stretch as before). Eventually I was down at Lee (911m) and continued on the main road up to Zweisimmen (946m) where I found a very good café, where I washed a little, shaved and put on sun cream and had a little breakfast (must have been the Kaffeehaus Bäckerei Kafi Complet). Then I felt good again despite the hot weather.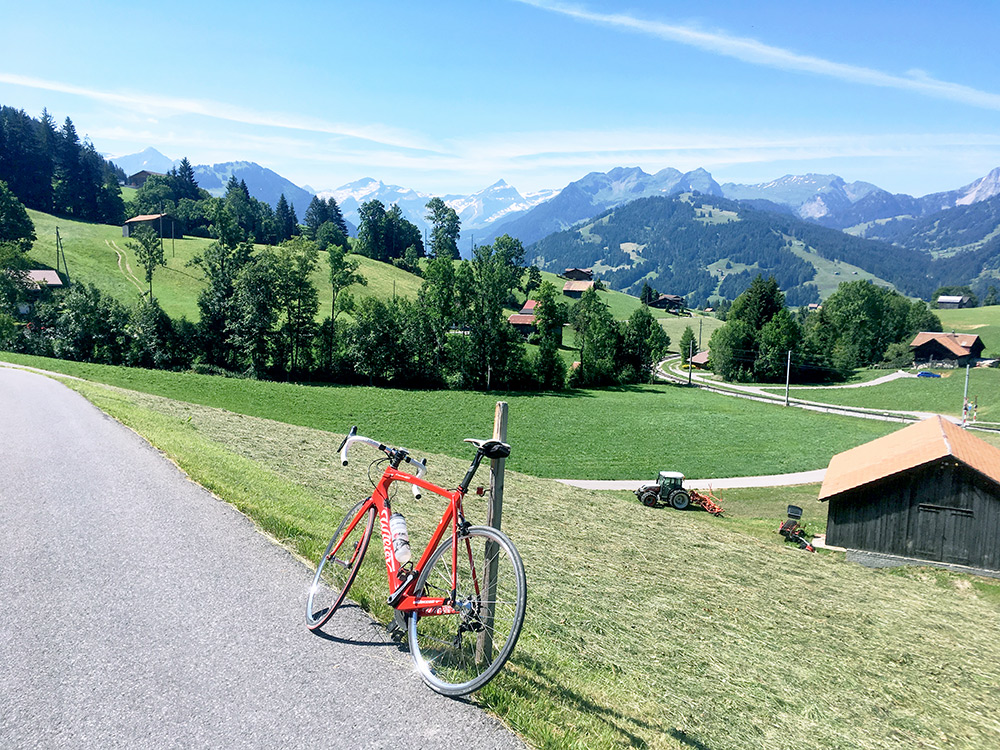 The climb up to Saanenmöser/Col des Mosses de Gessenay/Saanen Pass (1280m) is easy, but the road is busy (there is a less busy side road up also) and not so short and it can be hot here. This is a very strategic pass in the area separating the French and German-speaking sides (even if the speak German for some kilometres down the west side as well until after Saanen. Here I am on the short-cut road that I have taken a few times now to Gstaad (1038m).
Very hot now, but just kept going in a steady not very fast tempo up to Gsteig (1183m), then a dead-end side road to the cable car that takes you up to Sanetschsee/Lac de Sénin. There is no road or even track up there from this side, but there is an asphalt road over the nice Col du Sanetsch/Col de Sénin/Sanetschpass (2253m). There is only a walking path up there, but even that was closed due to a landslide I heard when wondering about it.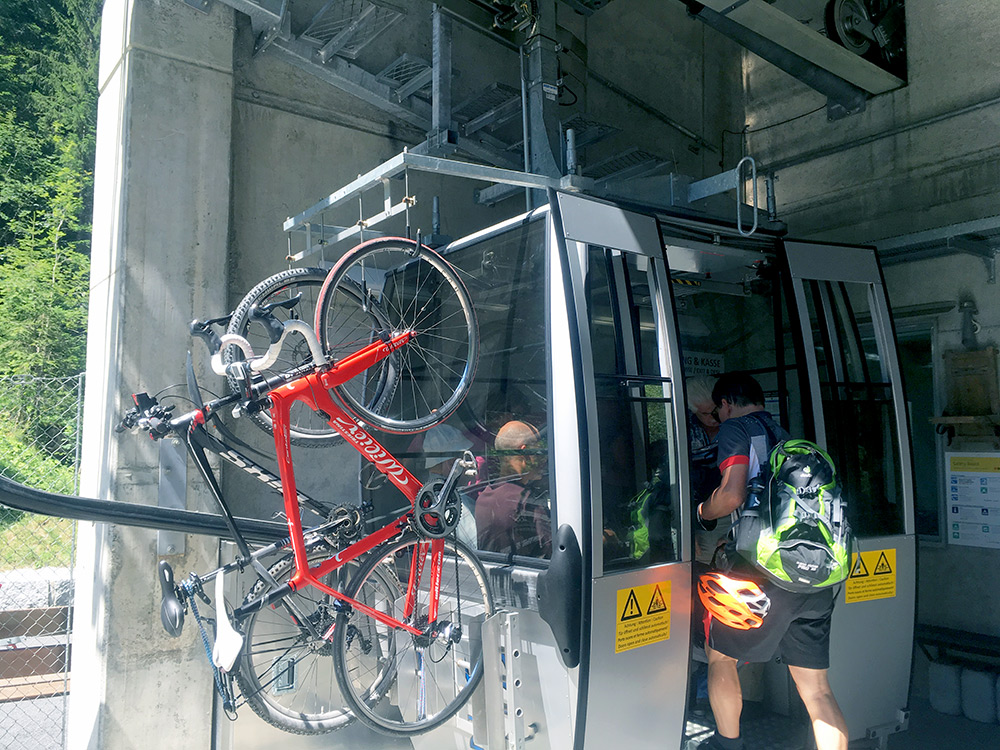 I had checked up that they took bicycles up here and that I should be able to get up there without any problems and so it turned out. Nor was it very expensive as some such cable cars in more touristy areas can be. There was a little queue of people, so had to wait for the second one to depart, but it did not take long and just one more with a bike.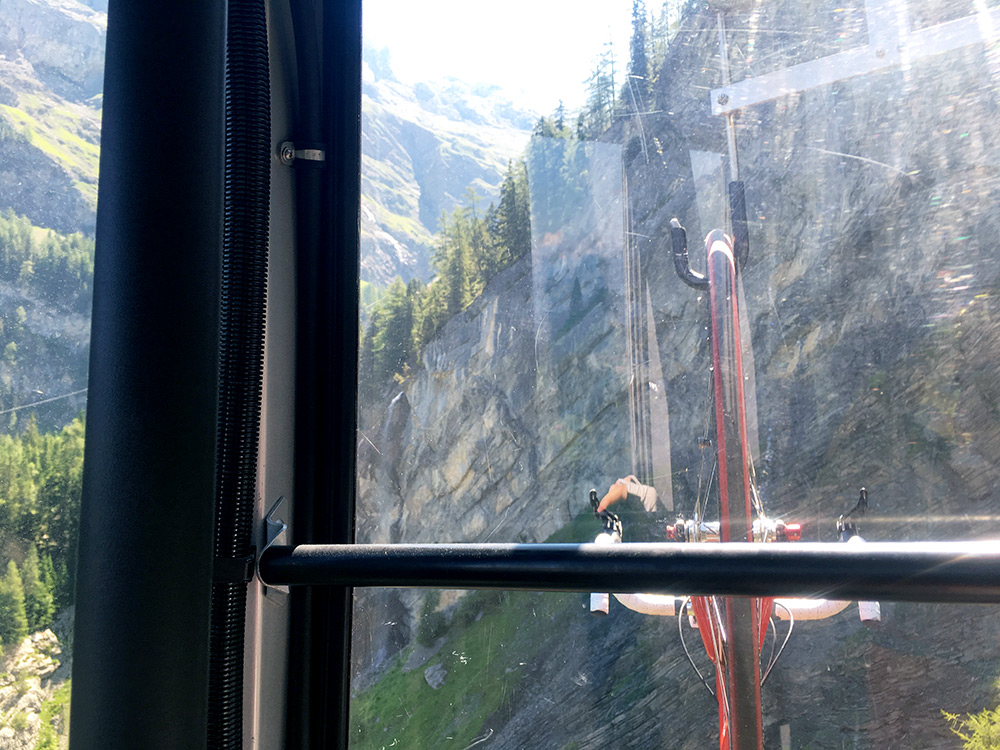 I was a bit worried about my bike just hanging in the front wheel with no more securing … but luckily the cable car operated somewhat smoothly, so no problem.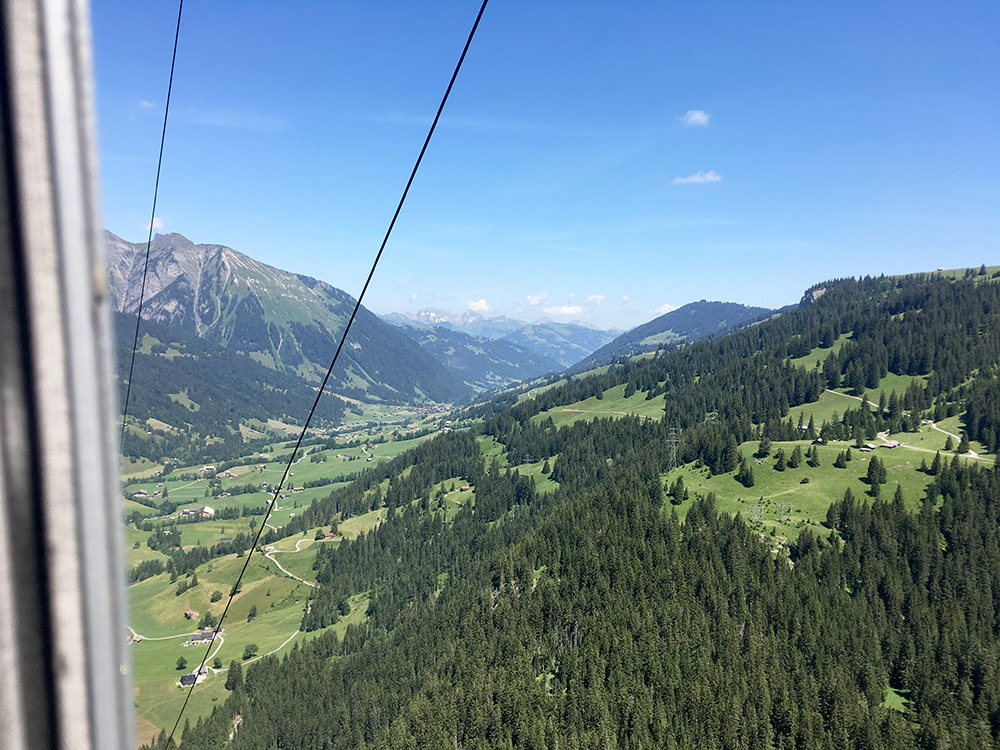 Looking back toward Gstaad on the way up holding my iPhone slightly outside the cable car – better not let it go there … .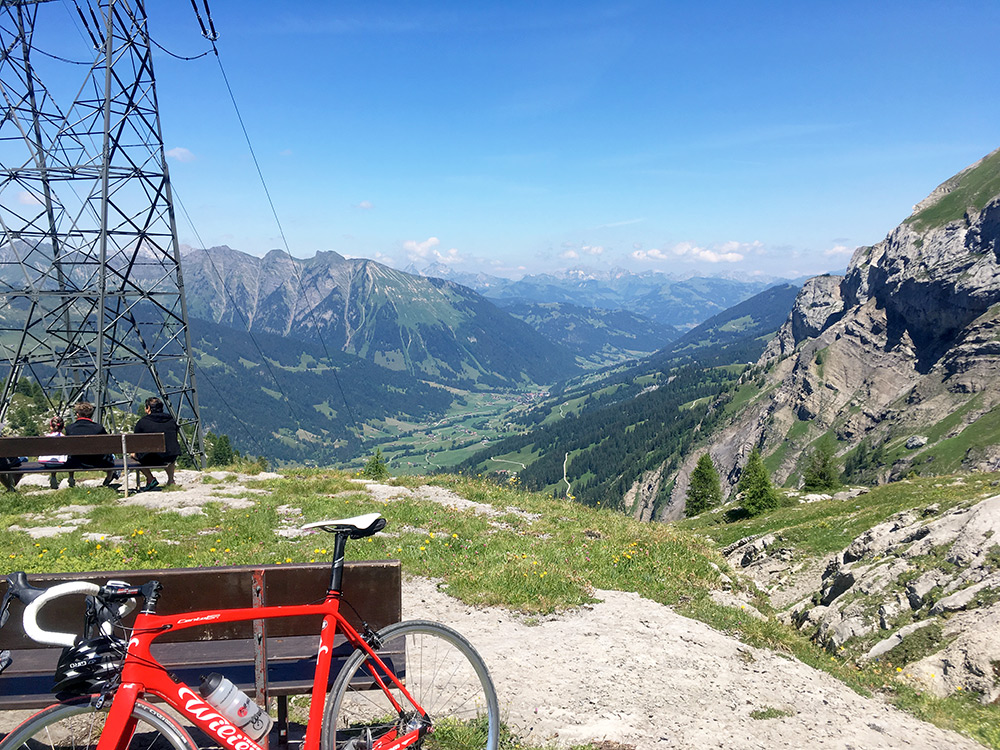 Got up fine and great views back. It was not colder up here really, but a lovely weather. Unfortunately the restaurant up here has been closed. Still there were lots of people here on this fine day, which was also a Sunday after all.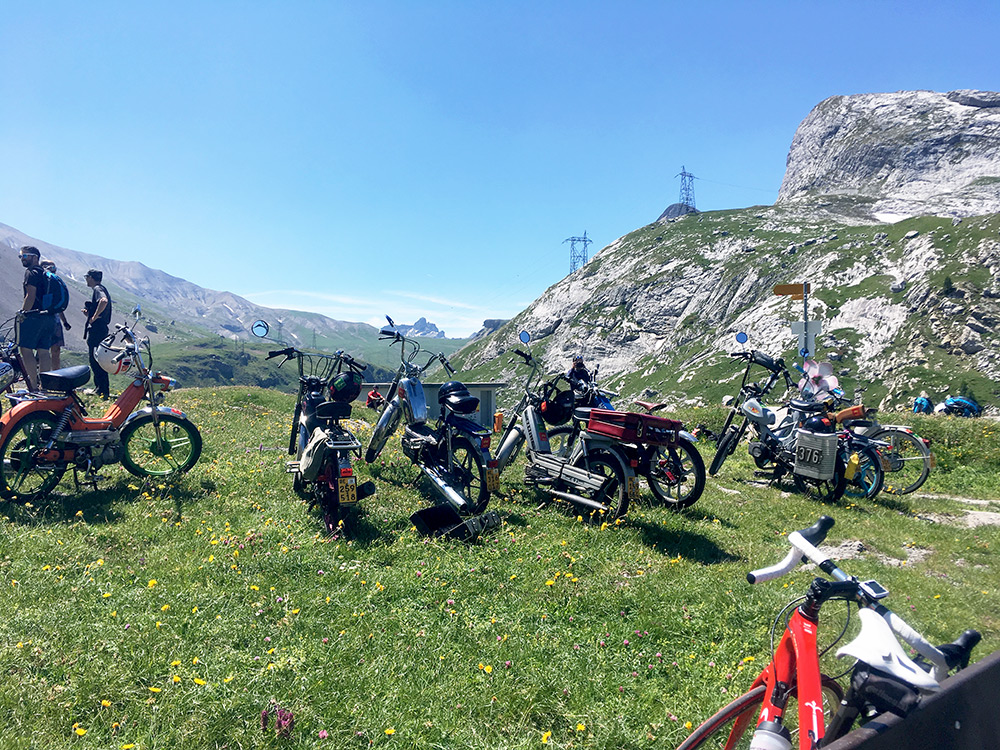 Many people had gone up here this day with mopeds.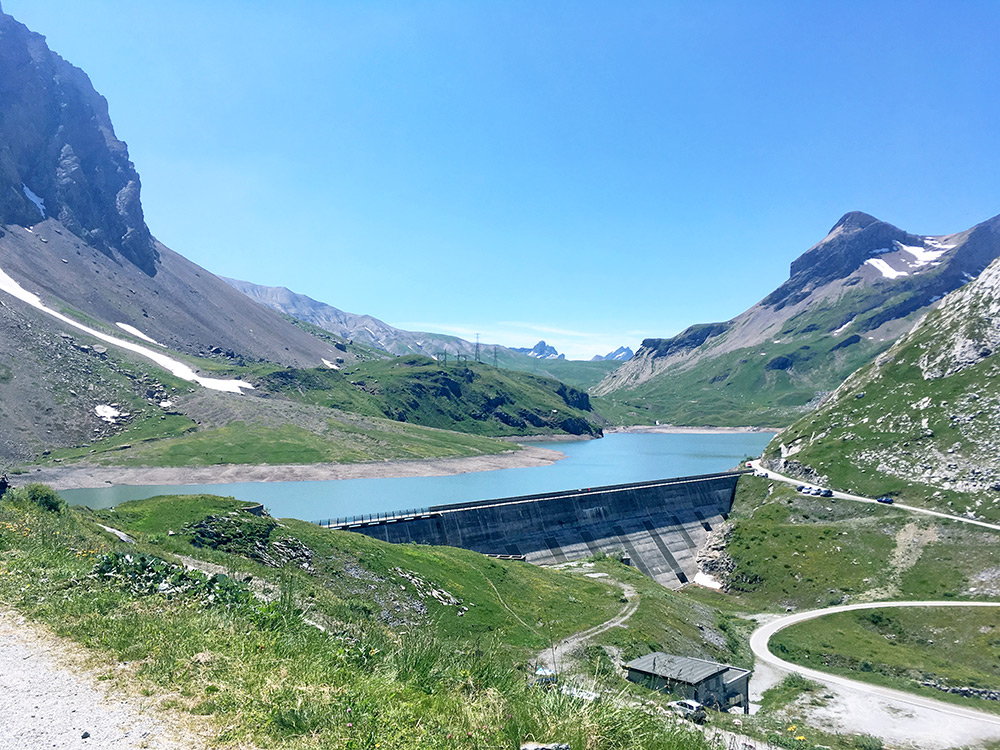 Sanetschsee/Lac de Sénin to which there is first a descent before the short climb to the pass (from 2062m to 2012m).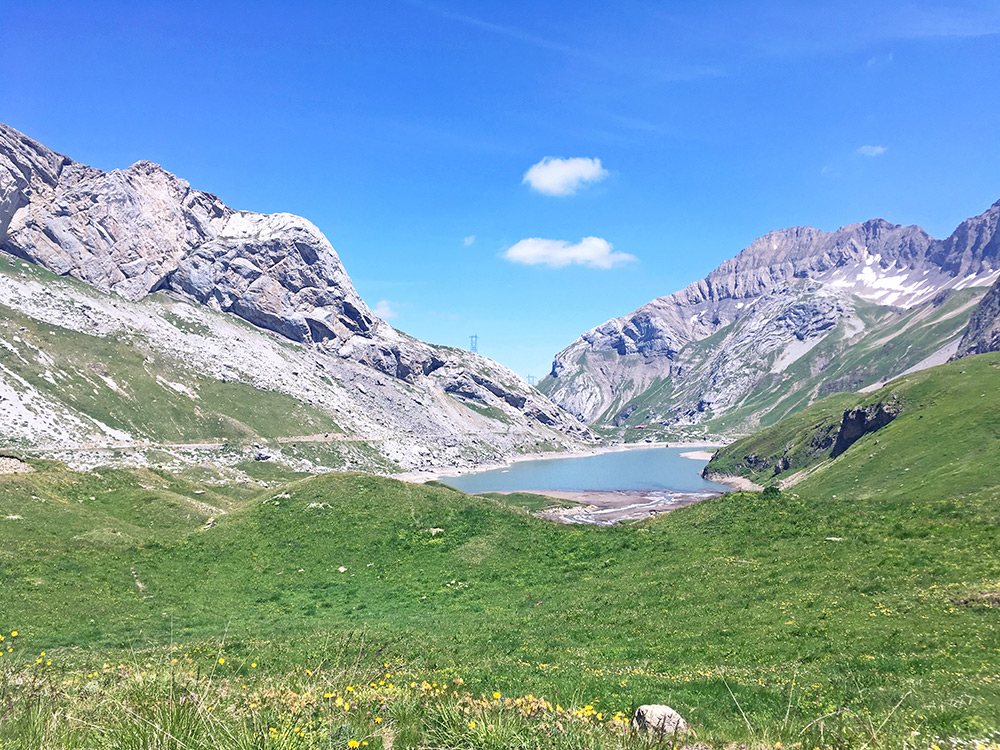 Looking back over the sea from the pass side.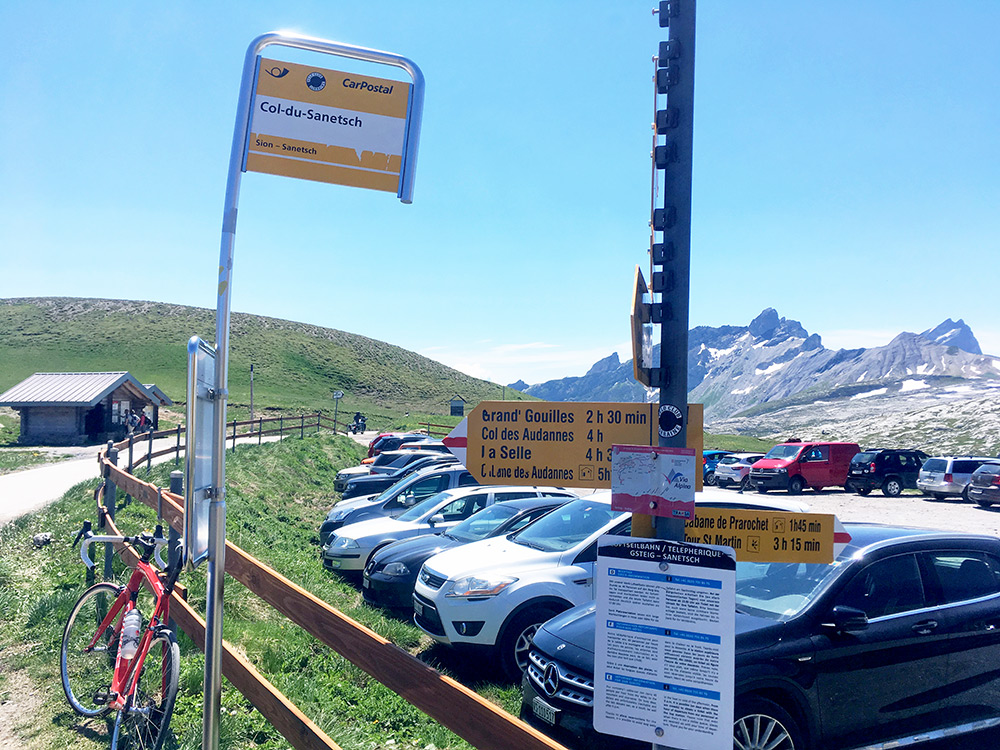 Then up at this giant of a pass after having climbed 241m – that is cheating! But I have climbed the other side before.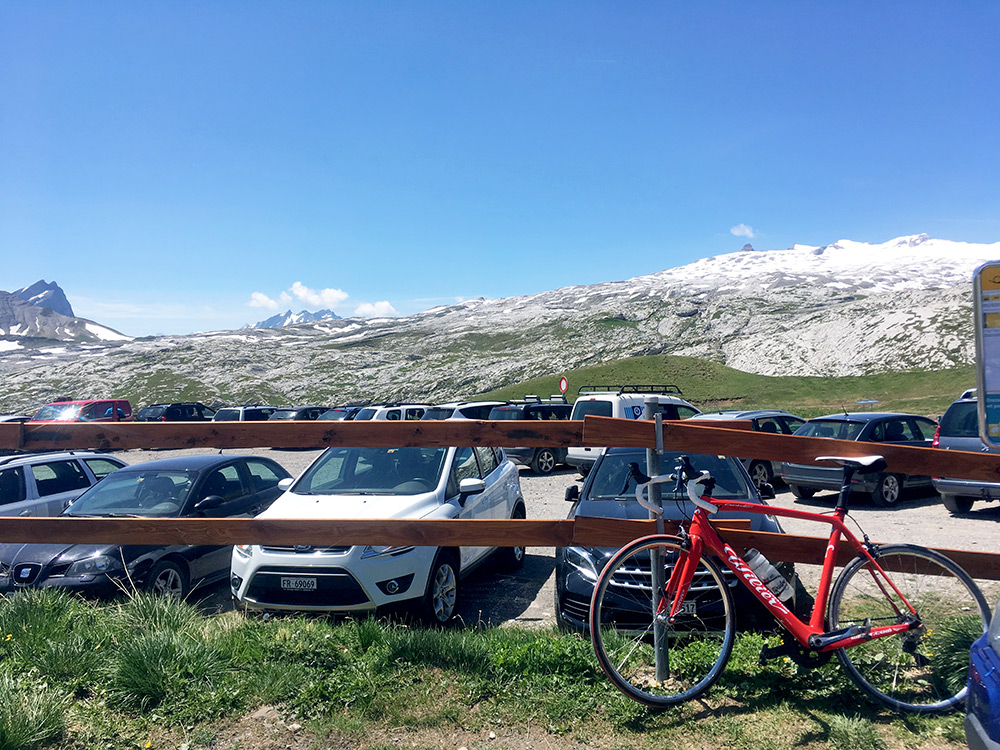 It was very nice up here today and I really did not like the idea of going down to the hot Valais/Wallis, but no choice.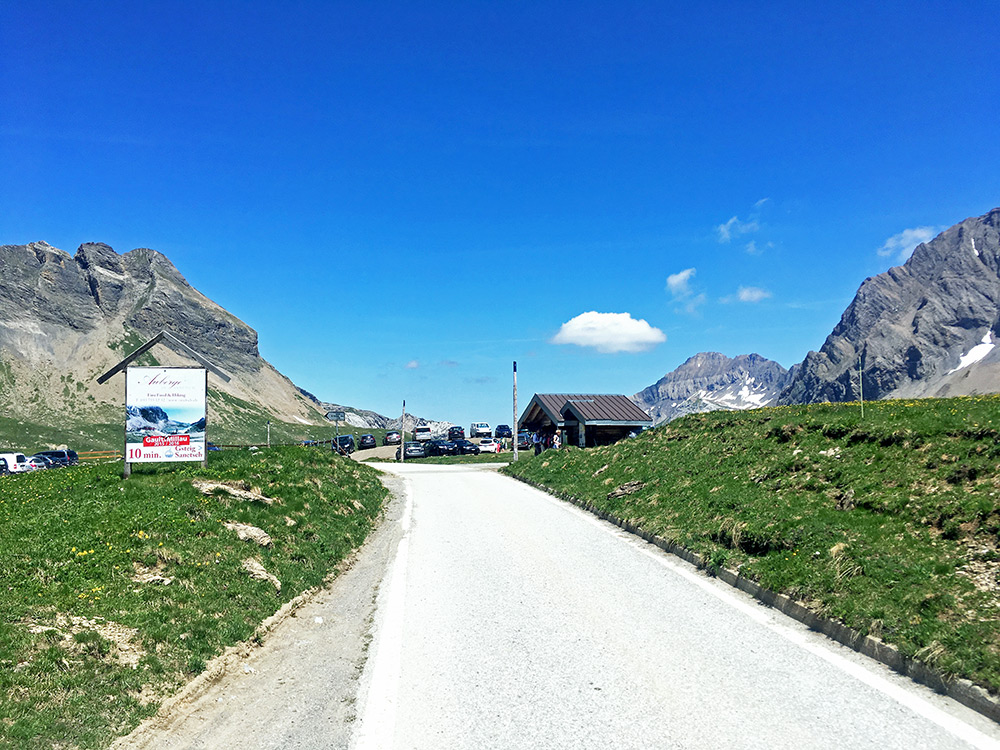 Looking back at the pass a last time, but one cannot see even the sea from here.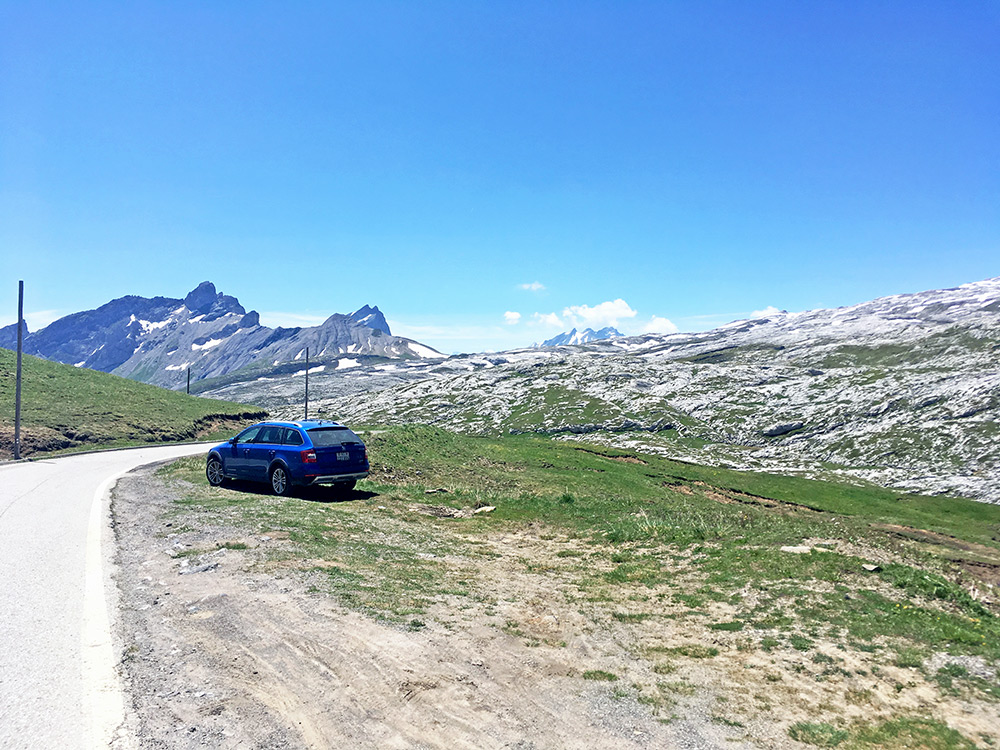 It looks like a very nice area to walk in here on days like this.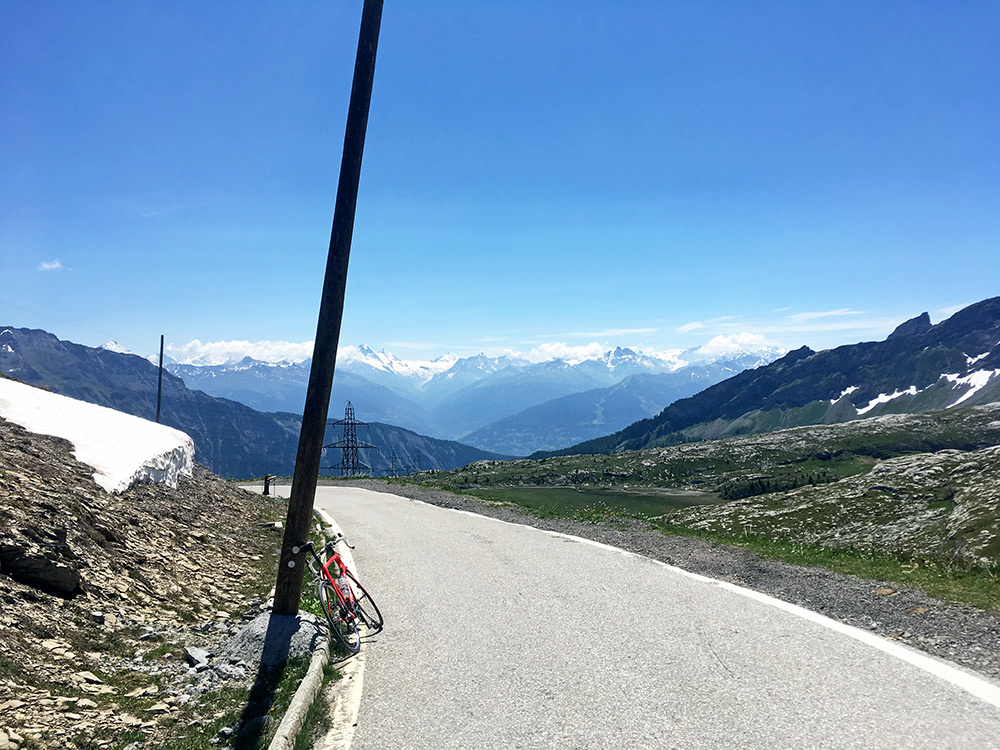 The first great views down over Valais/Wallis. Very difficult adjusting the photos for the extreme sun here.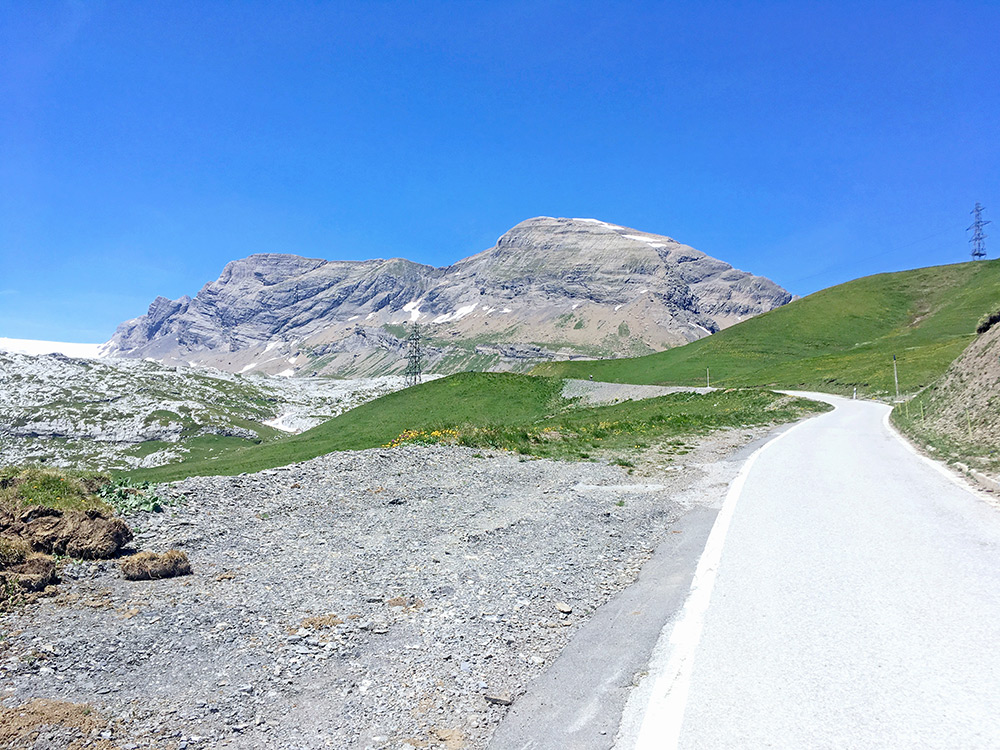 Last views one has on the climb up from Valais/Wallis.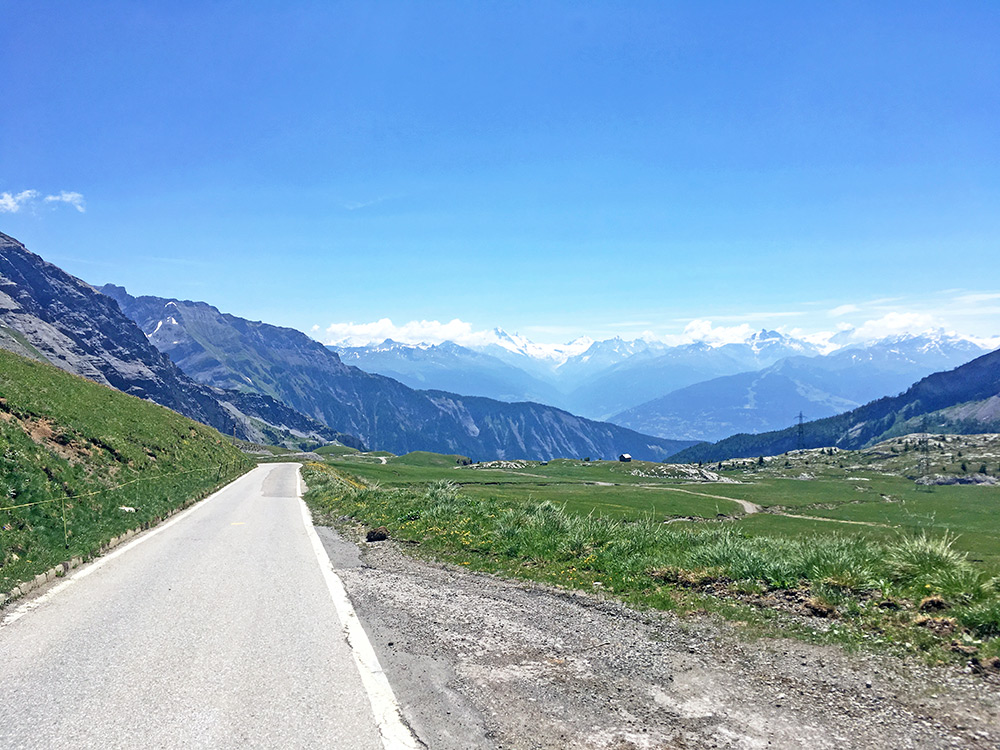 Another photo of the fine views.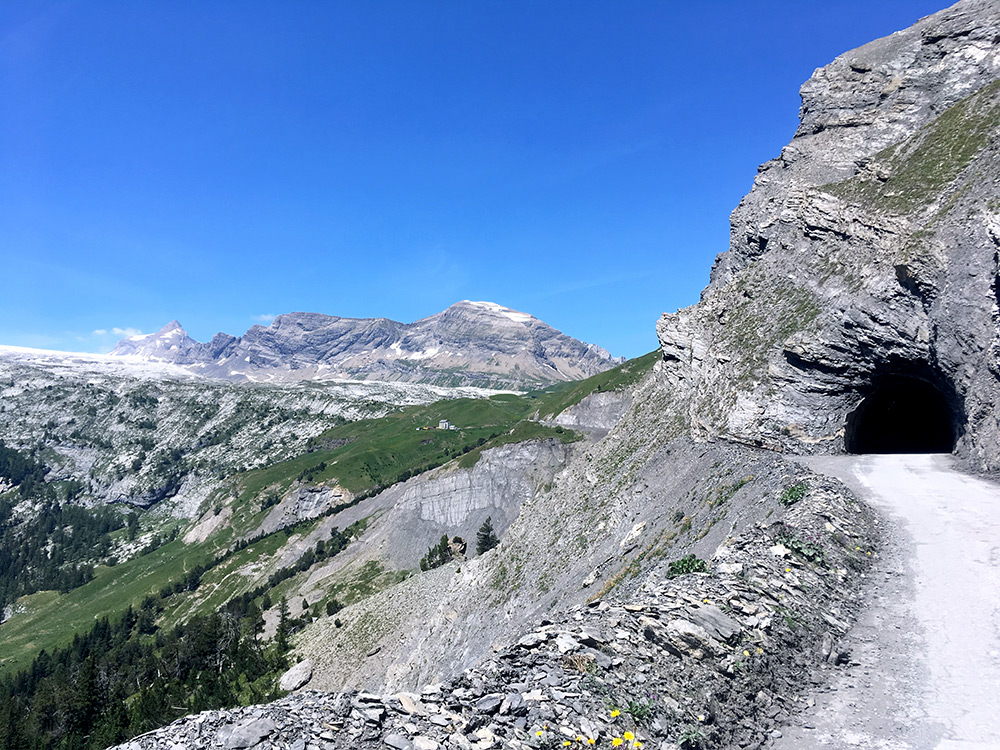 The long tunnel that is lit when one goes in there (at least until 21:00 as it was not lighted when I returned after that on my first visit, but it could have changed now).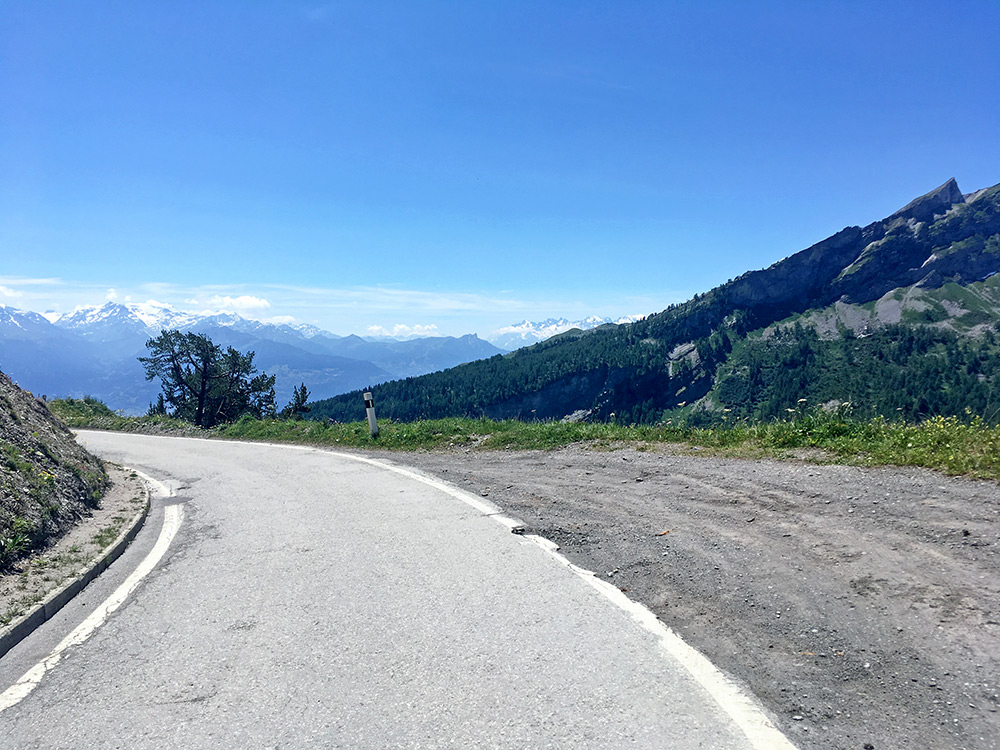 A last view before heading down to the wooded areas of the climb. It looked like there were no longer lodging available at Plan-Cernet, where I had stayed at on my last visit here (but a café now). I continued down on the road to Pont du Diable (904m) (that I took on my way up here last time as well). It was terribly hot now, but going down is relatively easy and saw that some people on the climb up (many cyclists on this day actually) had problems in the heat. The road goes down to 762m before it climbs again. For some reason (maybe heat) I took the higher road that goes up just above 900m before it descends, but one has to get up to Savièse (857m) either way (if not going down the small road to the valley via Vuisse).
The high road then goes a bit up and down on the way up the valley. I stopped for a coca-cola and ice cream at a bar along the way and had to pay way too much. I should have tried to find a grocery, but there were very few along the road. Then I was on my way up the first real climb of the day, that should have been done properly from the valley below though, but I have had a couple of ups and downs on the way at least.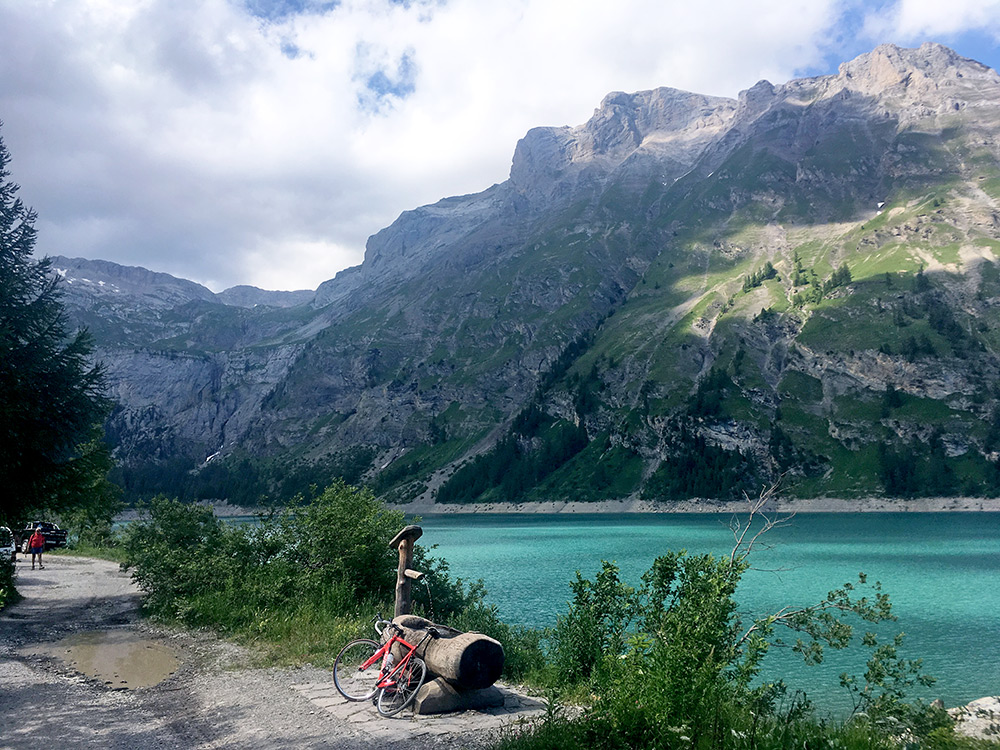 I got up fine to Lac de Tseuzier/Barrage du Rawil (1780m) which is a nice place, but the road was unusually bad by Swiss standards, but not terrible. There is a long flat stretch at the end through some somewhat long tunnels where it can be tricky with the cars, but I was mostly lucky there. It looked very nice when I got up there as you see here, but there were dark clouds lurching above the mountains here.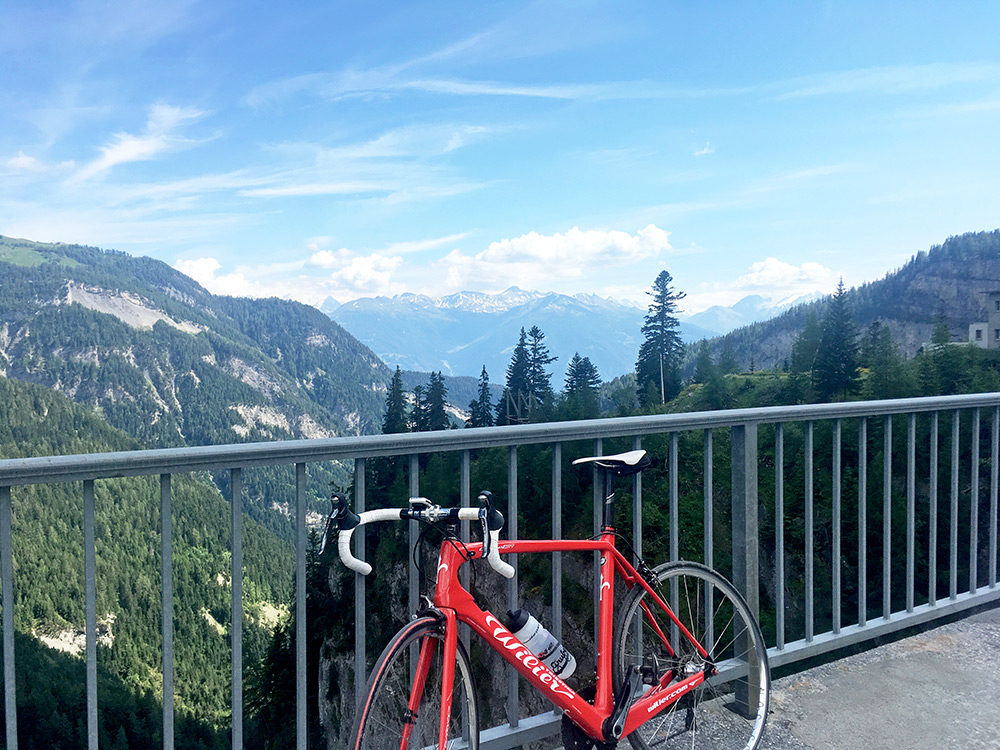 The view down the valley from the dam building.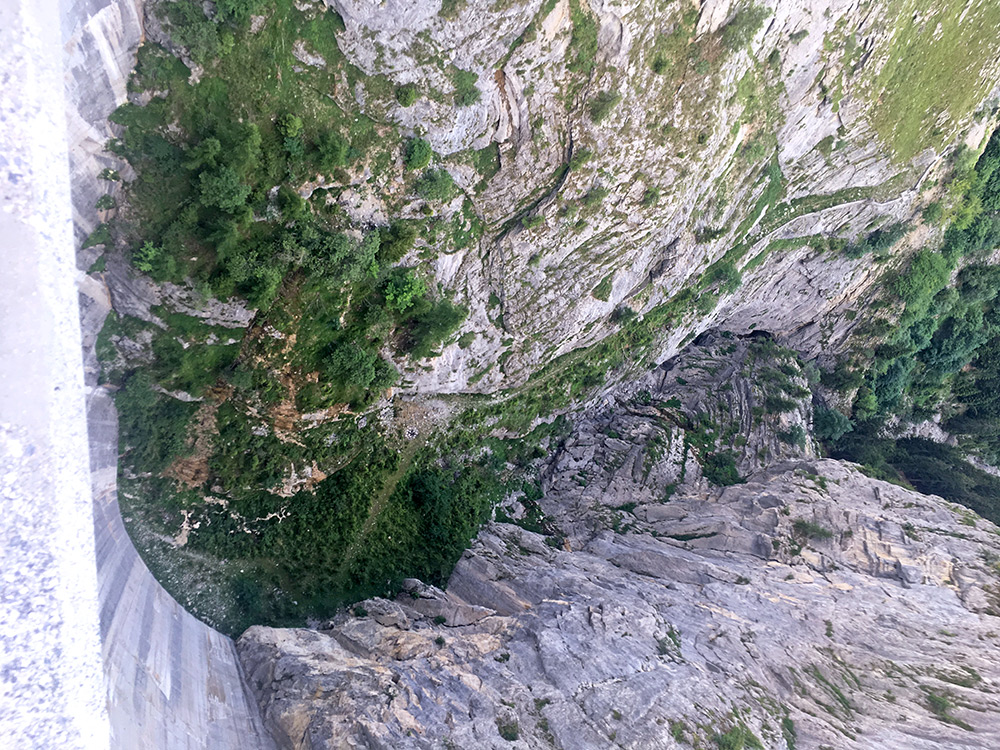 Nice views down the dam building.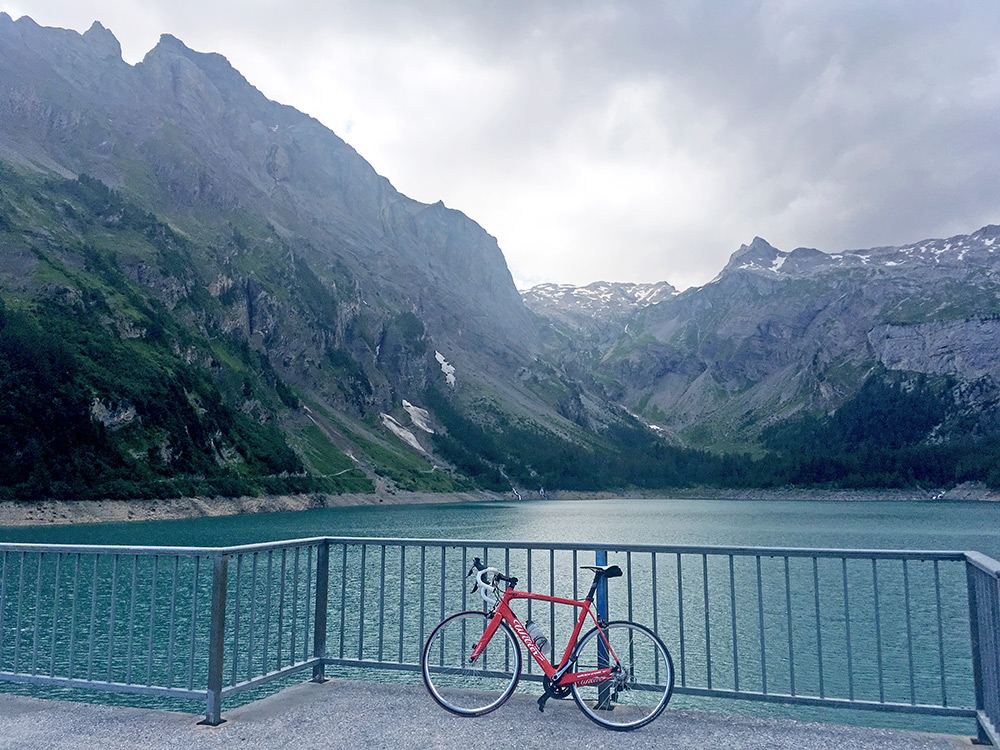 Here it does not look as nice and sunny as before and it started to get a bit cold up here, so I left rather quickly.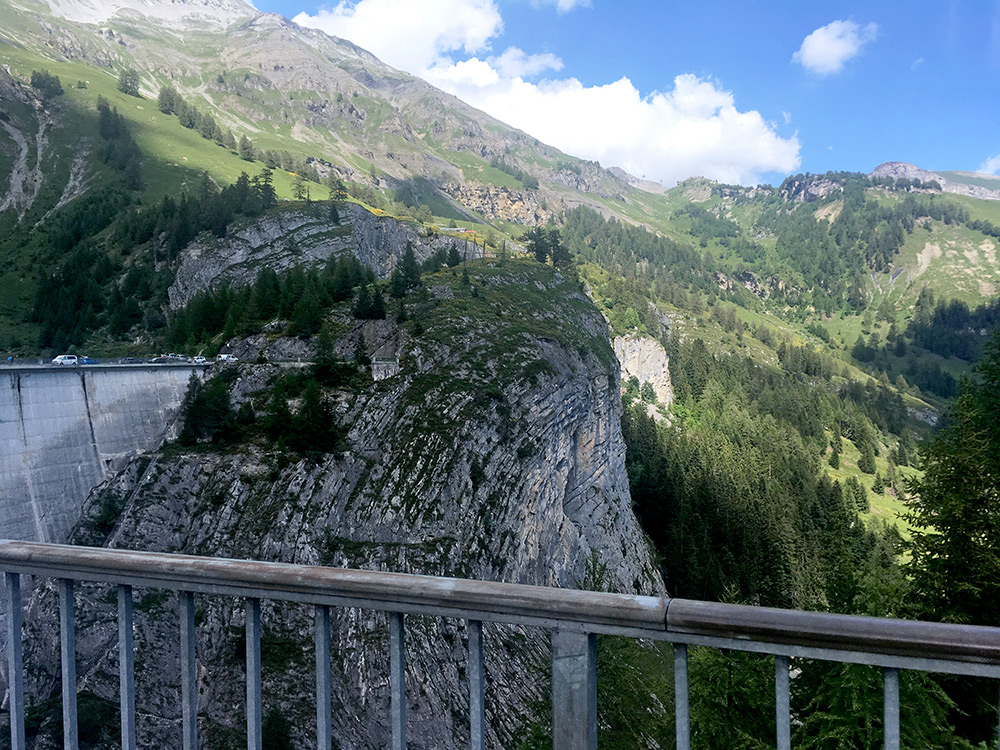 A last photo looking across the dam building and up the other side (where a gravel road should go, but likely not meaningful for road bicyclists).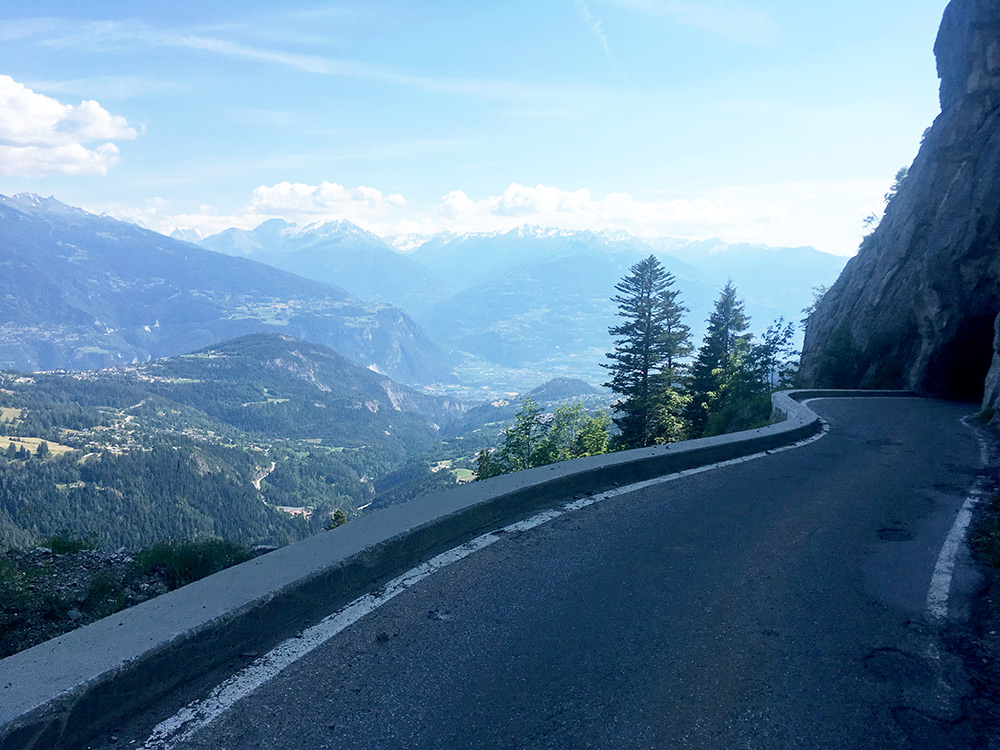 A view from one of the nicest parts of the road to Lac de Tseuzier (not a terribly nice road otherwise despite what one might think).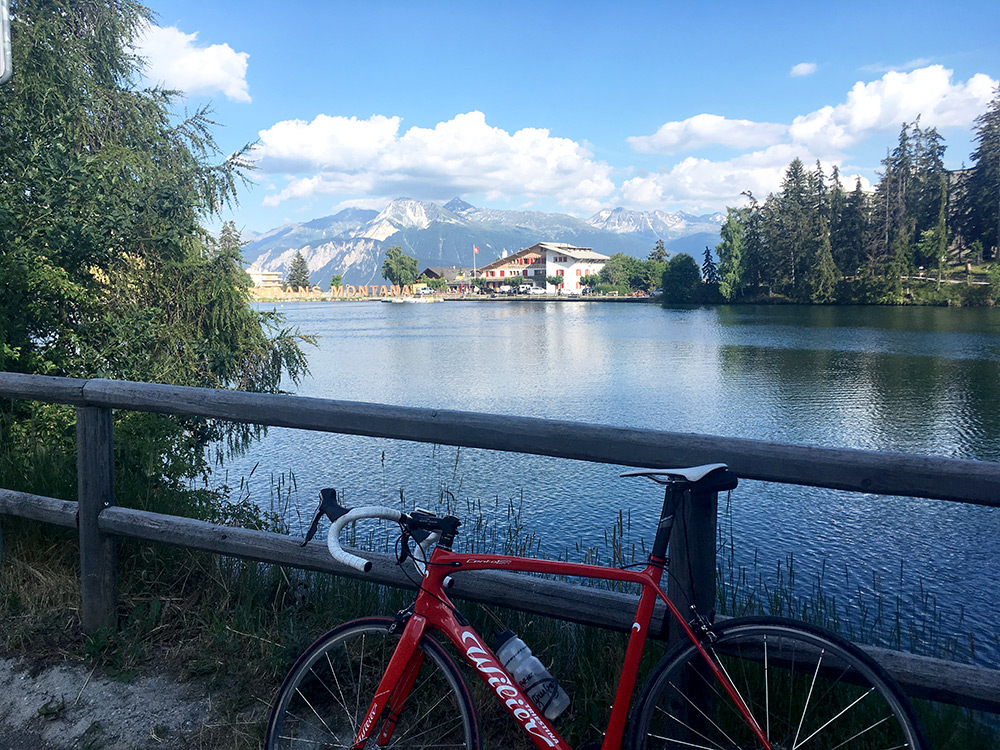 Down again and onto the next climb where again I cheated a little by not going down to the valley saving me like +400m of climbing. Still it felt like a long and hard climb for me this day up to Crans-Montana (1503m). I have had thoughts on going to the end of the highest paved road up here, but I was getting late and not so inspired. Crans-Montana is like a busy down town in a ny city and it is surely not a nice place apart from the place for my photo here. It is likely nicer higher up above the city though. I stopped by a coop grocery for ice cream and coca-cola and enjoyed the nice fast serpentines down to Sierre/Siders. From there (539m) I took the road over Salgesch/Salquenen and was thus once again back into German speaking territory (for good or bad ;-)).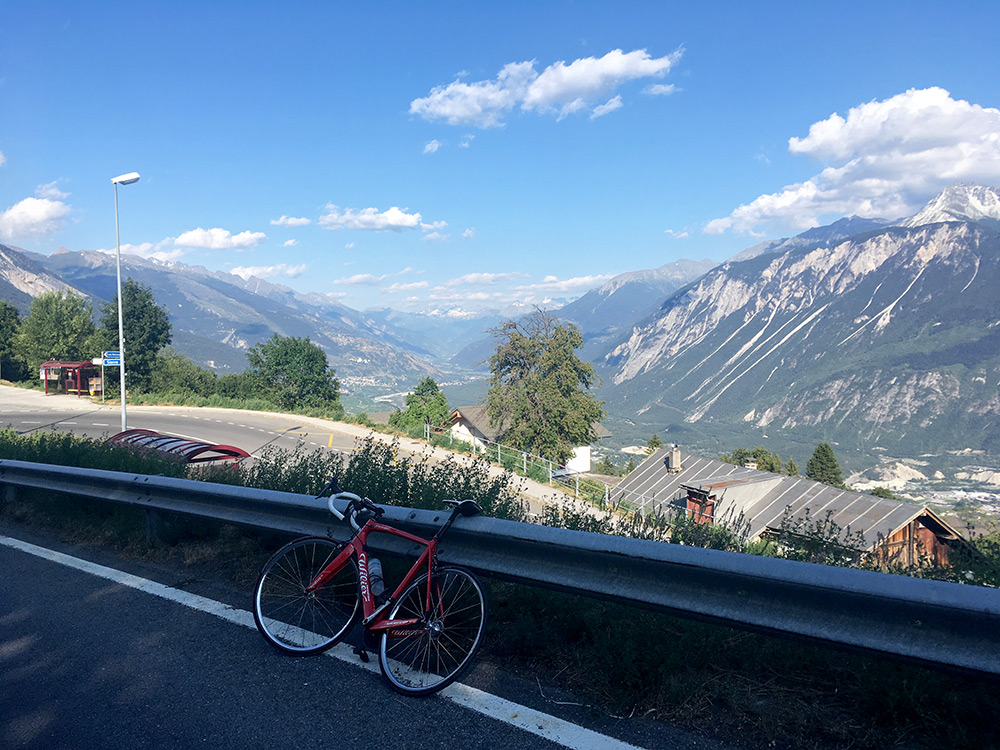 A decent view on the way down to Sierre. Even if I stopped here to look at the map, I think I did not take the shortest road down, but only a hundred metres of flat road extra anyway, I think. There is only the road east over Salgesch at all on this side of the valley (plus one odd gravel road over Flottuwald) and only one on the other side, so it is a somewhat logical place for language shifting.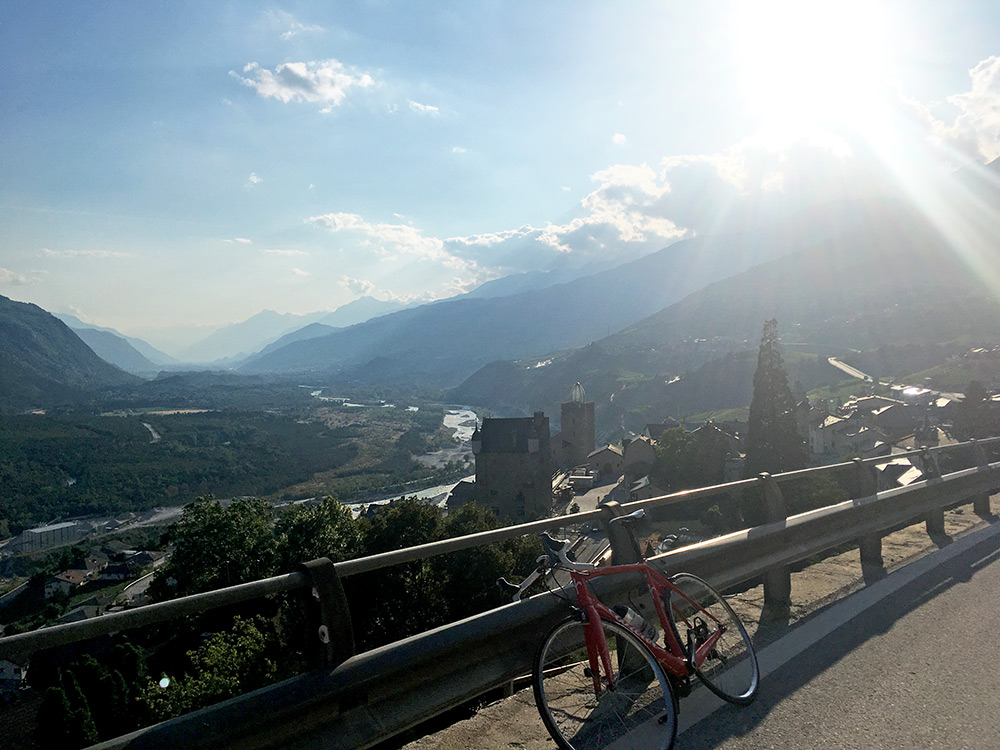 Back at Leuk/Loèche again and a nice evening looking back over the valley down toward Sion. I stopped to consider if I should continue or not as I really could not hope to complete another climb this day as I was running late and it was now over 19:00 after which time another big climb is usually not a good idea to consider. I was also not sure I would find any lodging ahead until at least Jeizinen, where I was heading. I decided it was too early to stop and it felt all wrong staying here once again and this early, so on the bike again.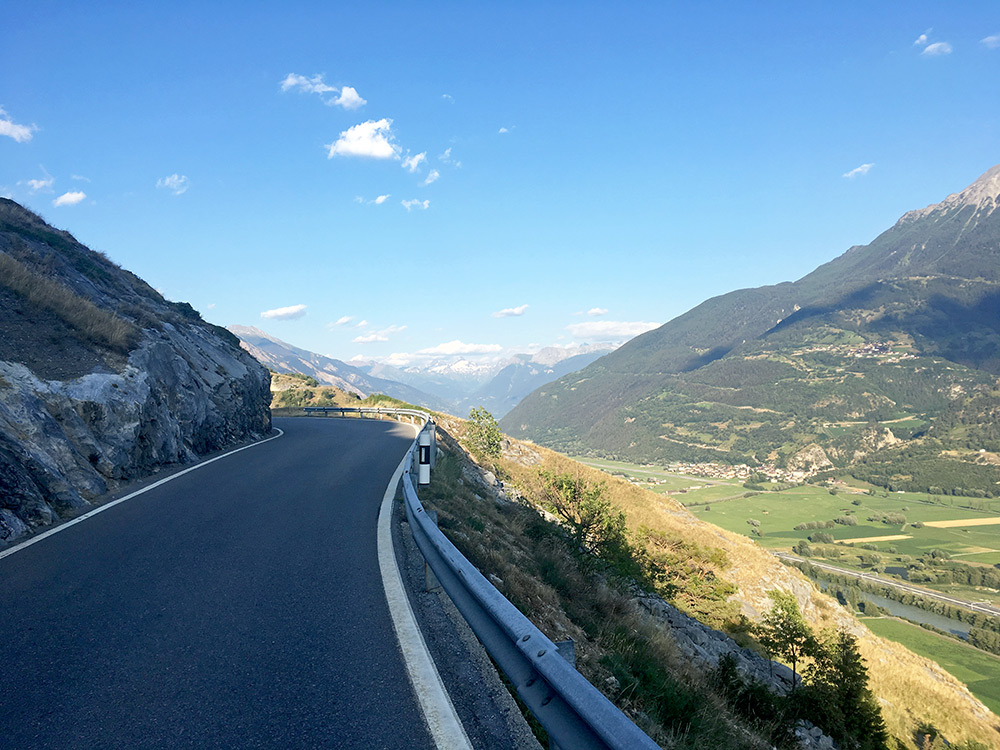 It was a lovely ride and it felt all perfect that I decided to continue as now it was again perfect weather for cycling. Almost no cars and lovely views. Who could possibly want to stop cycling earlier in the day? Best is usually before 12:00 and after 18:00 (in the Summer).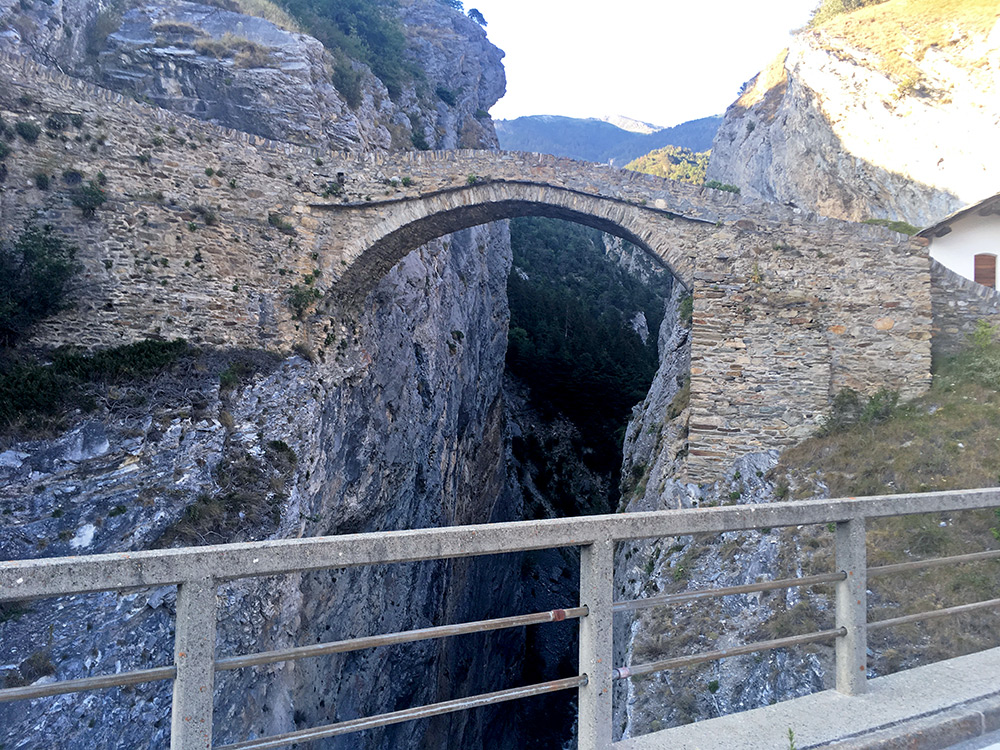 This old bridge (Ho Briggu/Hohe Brücke) was a bit more exiting than most old bridges left, so had to stop for a photo again. No lodging visible in Bratsch (where the road from Getwing comes up). Nor any lodging visible in Erschmatt, so just continued and hoping there would indeed be lodging possible in Jeizinen (which I had checked up on earlier that there should be).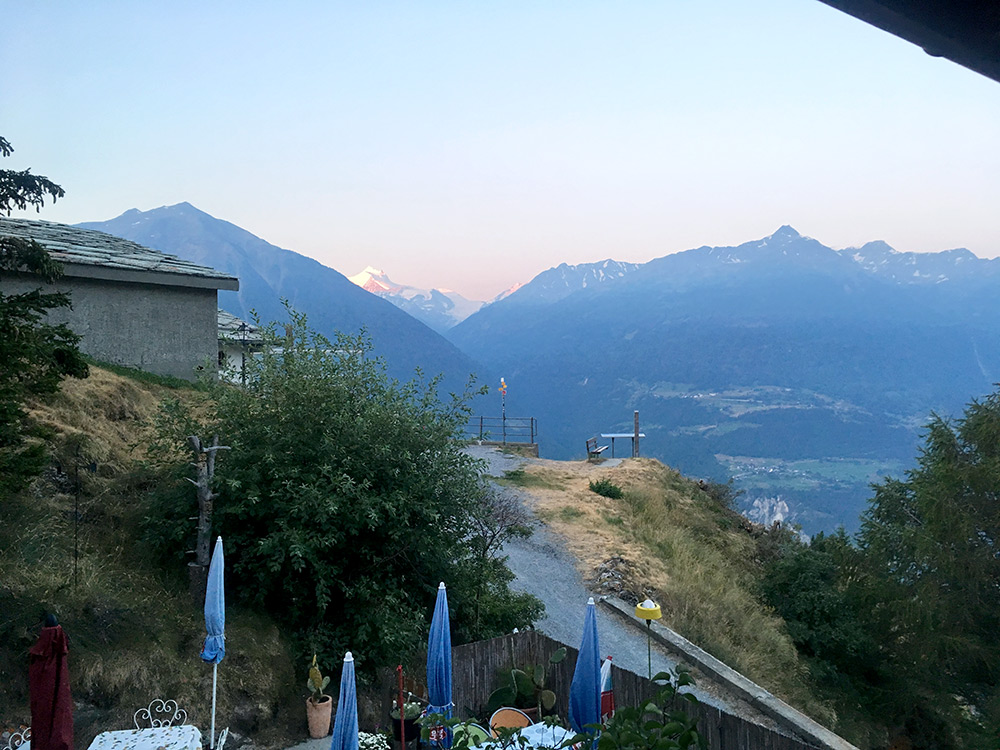 The hotel by the road at Jeizinen seemed closed for the day, but I had checked a hotel near where the cable car comes up from Gampel so went down the village and found a restaurant, that turned out to be a bed & breakfast, but saw nothing else. Still not sure this was the place I had looked up earlier, but maybe. It is called Bielti and it was a nice place and think I got a decent deal with dinner and breakfast, though I had thought it should be slightly less expensive (not easy for the Swiss with their strong currency … ). Still I had great views and not really any other guests there at the time, so cannot complain. Also nice to sleep well and have a good warm shower after the night before. Nice place and recommended. The view from my room here!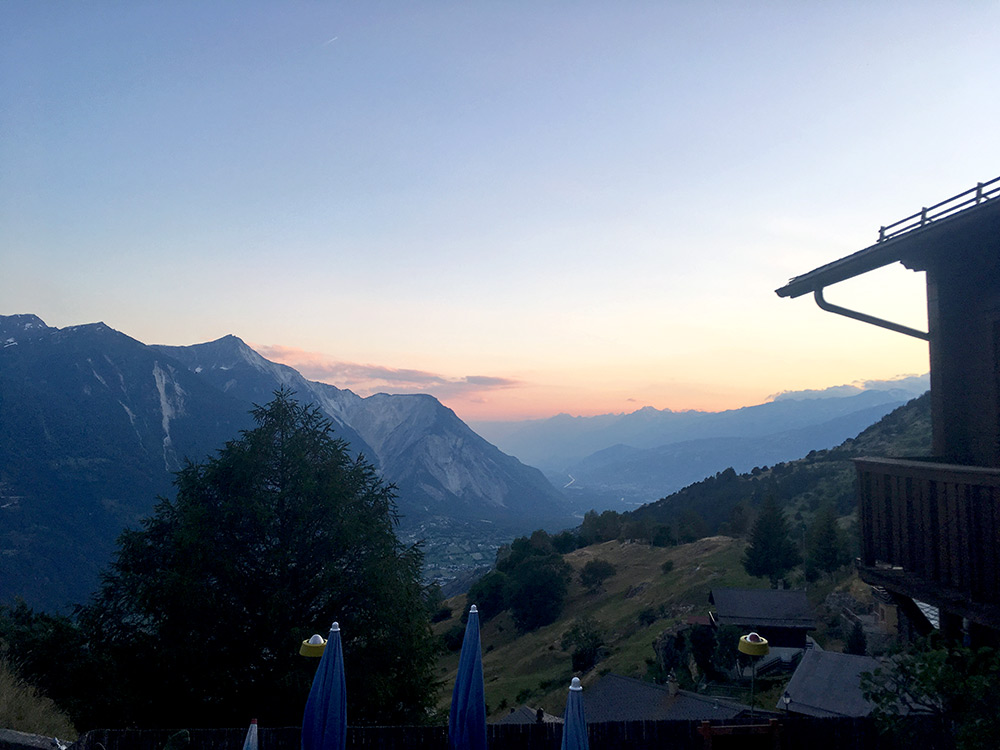 The view down toward Sion while eating dinner. Perfect temperature up here this evening and another evening with lovely views.