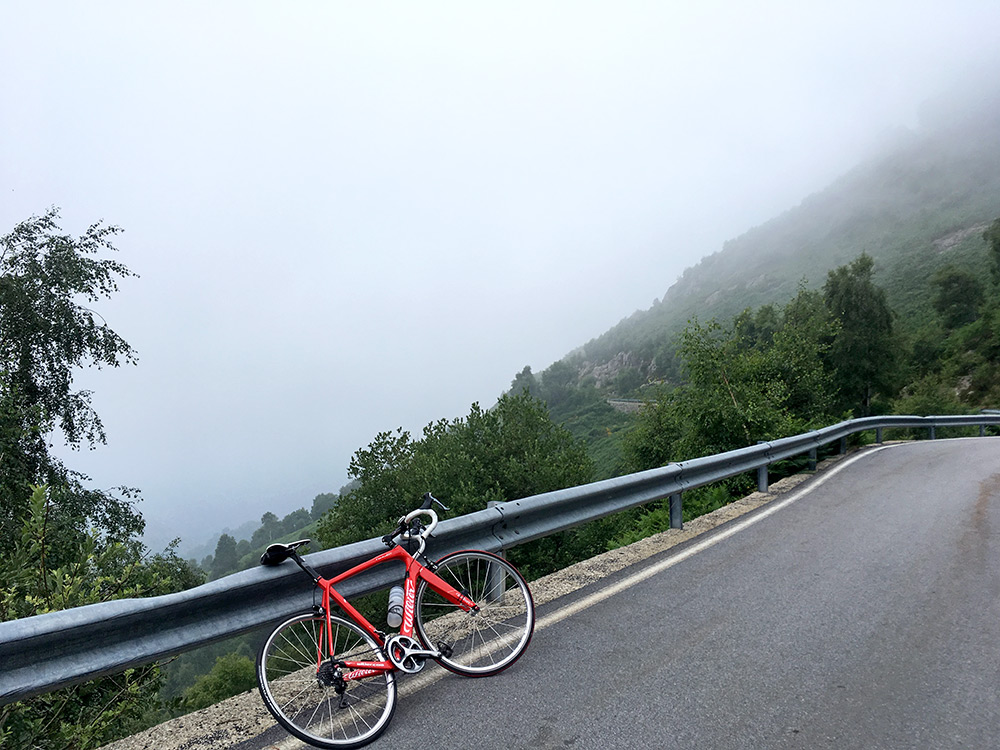 It was cloudy in the morning and I was not very happy about starting out in this weather when it could start raining any minute, but at least it was not raining and it never really started. The views were not as good though as I had hoped for. The steepest part of the normal road up to Alpe Colle from the south is from where I stayed in Manegra, so it felt like I had a fairly long way up despite the seemingly endless climb the evening before.
Here I have reached the high point (1295m) of the road over Alpe Colle, which is a bit before. One pass by a more fancy resort and home for old people (I believe) as well as the last alternative road up from the south – a tiny road that is the most direct, sustained climb and a fairly hard one.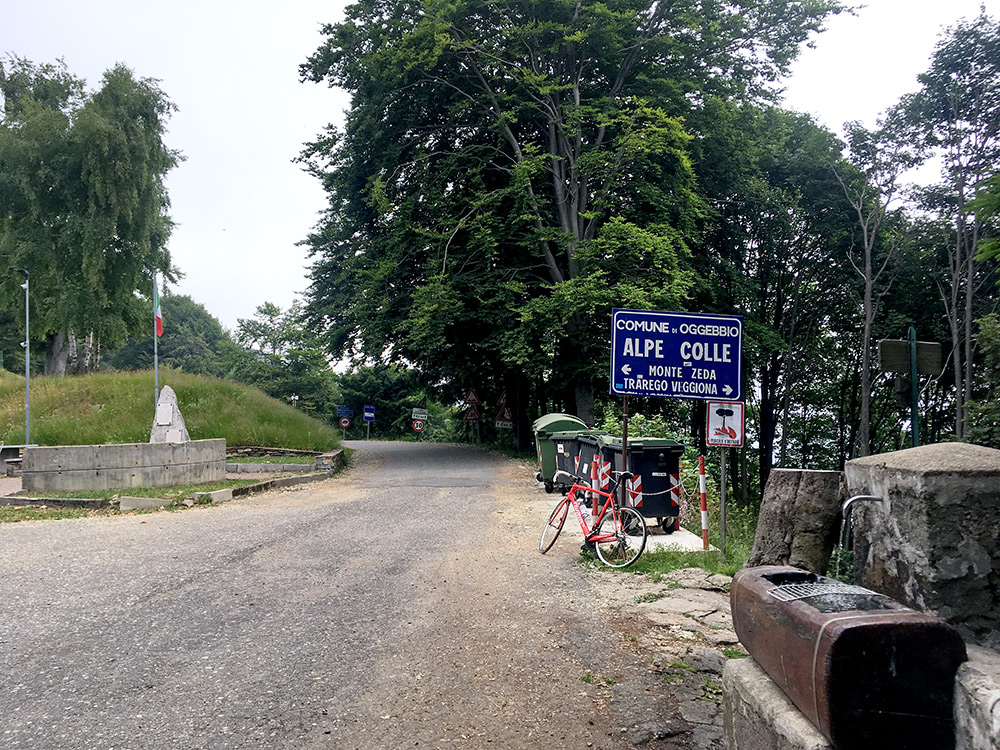 At last at Alpe Colle and the pass Il Colle/Colle (1234m). Nice with water here. No real views here independent of the weather.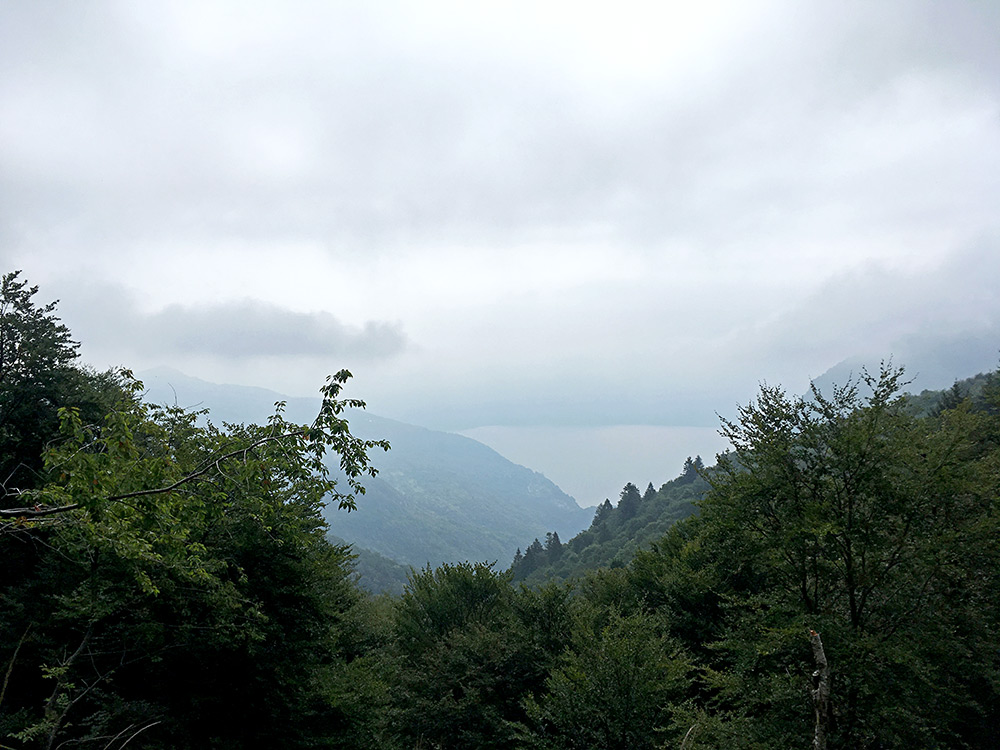 Luckily the the sky opened up more on the other side. The road down here was first flat and surprisingly narrow and not so well kept, but still ok. The first view here.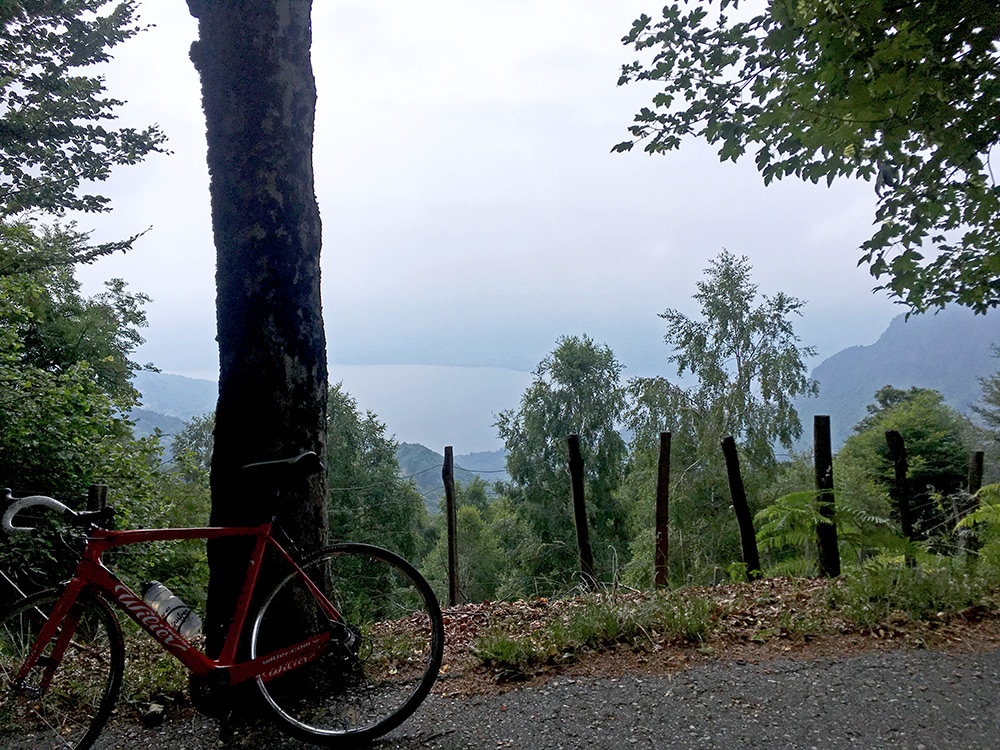 Better views as I was coming down a bit further here.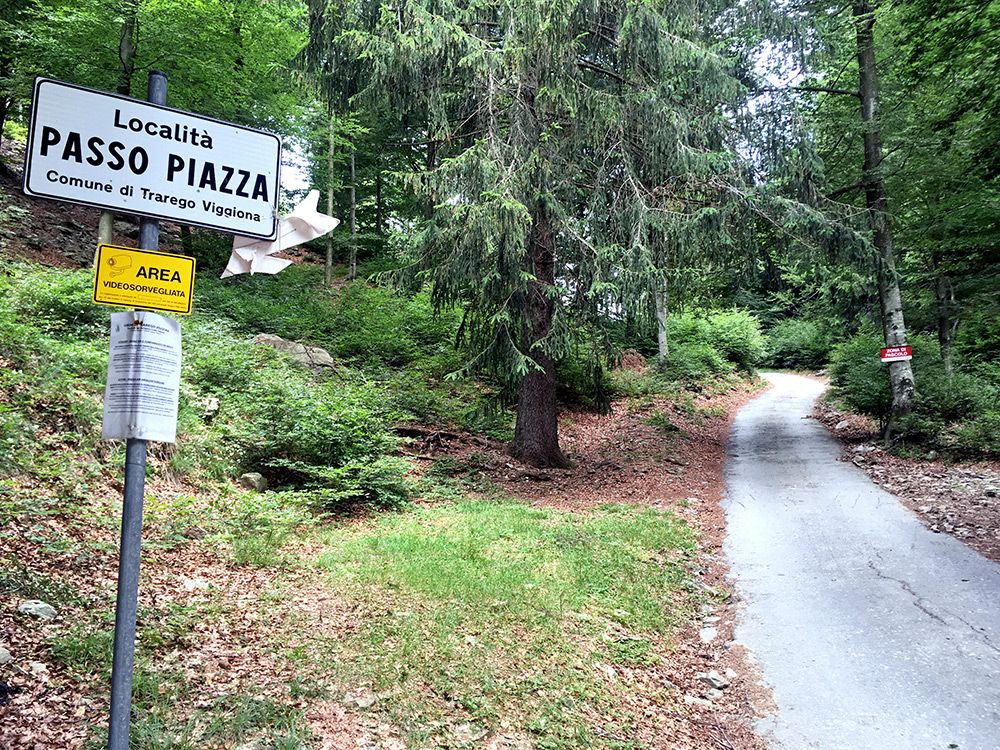 There is then a crossing at a bend in the woods, where one more direct road is going down, but do not think it might be all asphalted and maybe not good enough with a road bike, but it would otherwise escape a climb and descent to Monte Ologno on the way up/down. Here is also a road up to Passo Piazza/Sant' Eurosia (1070m). It is just the ramp up here, but to reach the pass itself, one unfortunately has to continue like 200m on gravel to the chapel.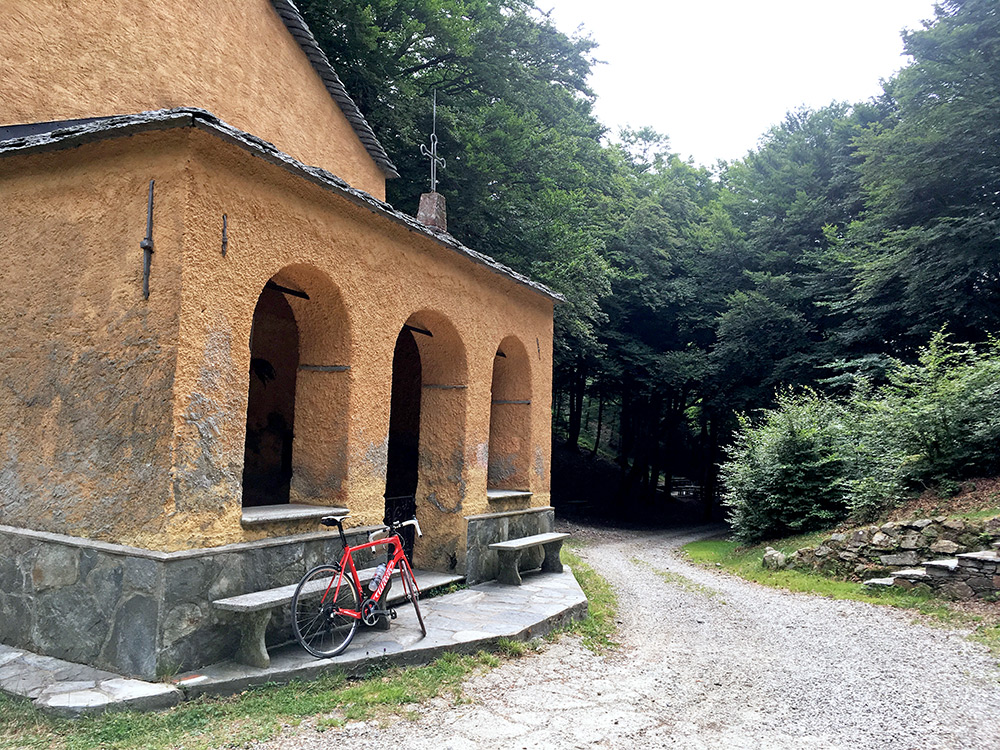 At the pass and chapel at Passo Piazza/Sant' Eurosia. There is a sign just ahead, but that did not mention the pass name (guess it is because the chapel is the important thing here). Went back the same way and climbed up the Monte Ologno (1184m) (fr. ca. 1058m,).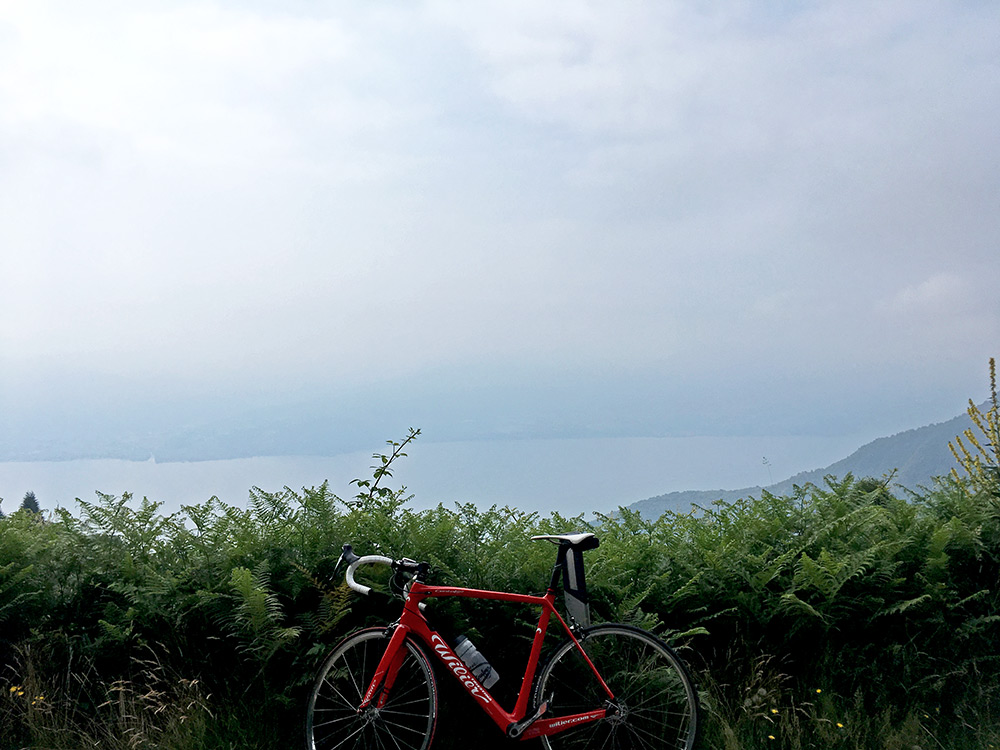 Monte Ologno is the real climb on the northeast side and is a sustained climb from down in Cannero (242m) by Lago Maggiore. I had previously intended to climb this side as it should be harder (not sure about that now as it is not super steep and the other side is much longer and also with some steep sections). All sides up to Alpe Colle are hard climbs.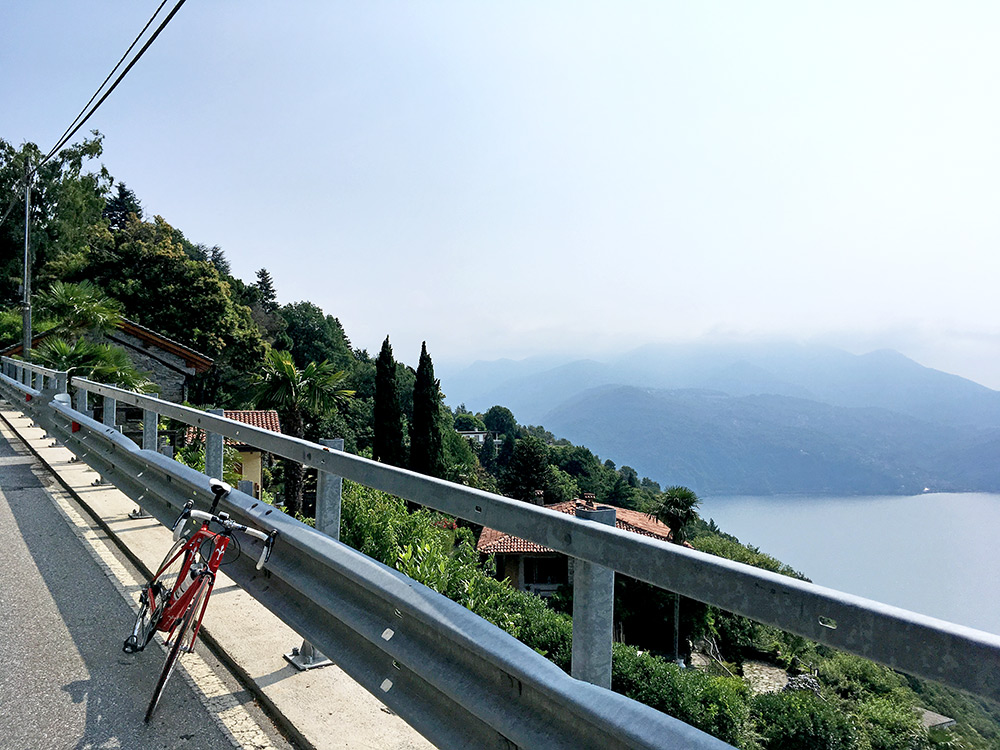 Here I have come down to just above Cannero and now it is sunny and hot again. Looking up the lake and across to the area near Alpe Neggia.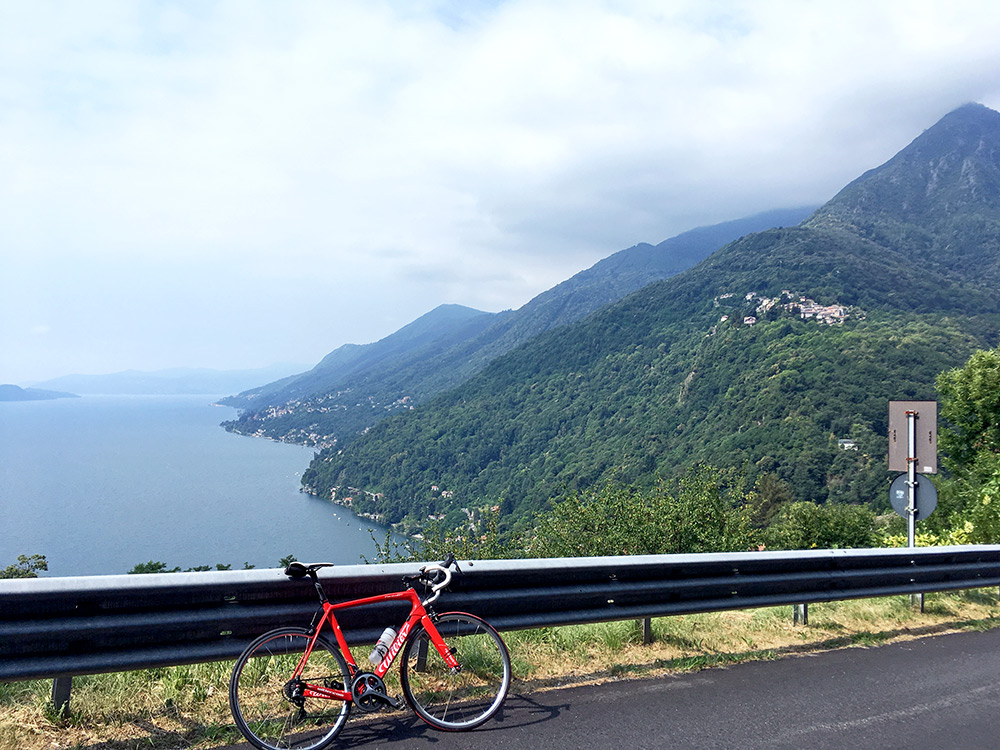 Here I am looking down the lake and have a nice view over the fairly steep mountainside along the lake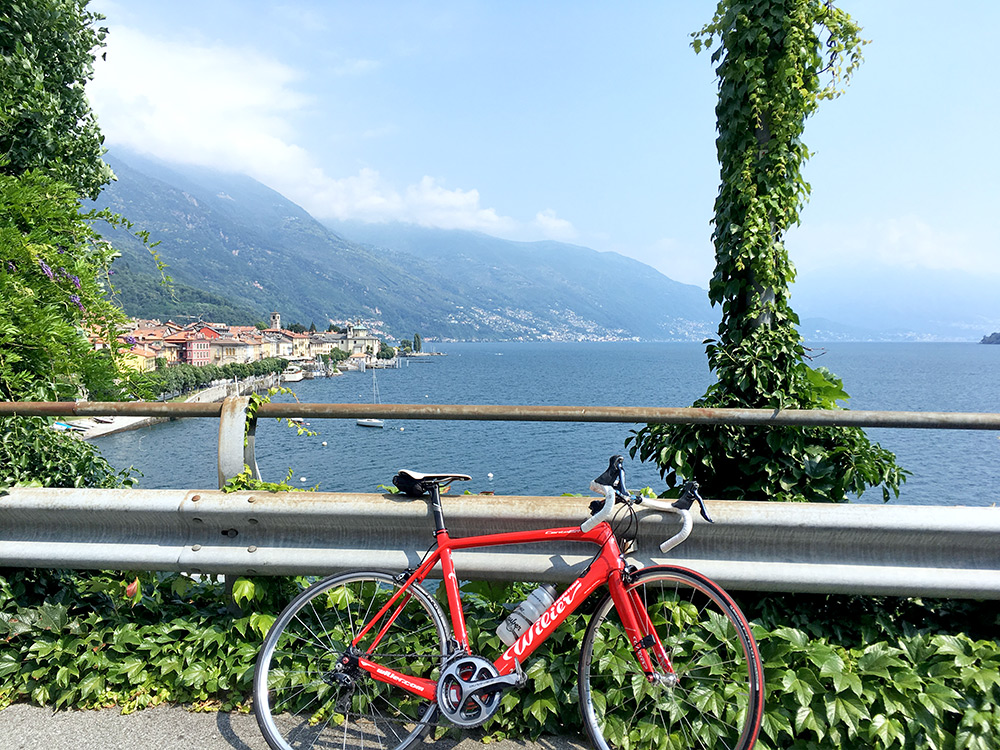 It was hot again today, but I had not climbed more than a few hundred metres thus far and now it was flat. Here I am just before entering Cannobio (215m) on the main road and the last village before crossing into Switzerland along the lake. I stopped for coffee and got a sandwich and coca-cola at a grocery, which took me some time to figure out (on a previous visit I went to a pastry shop).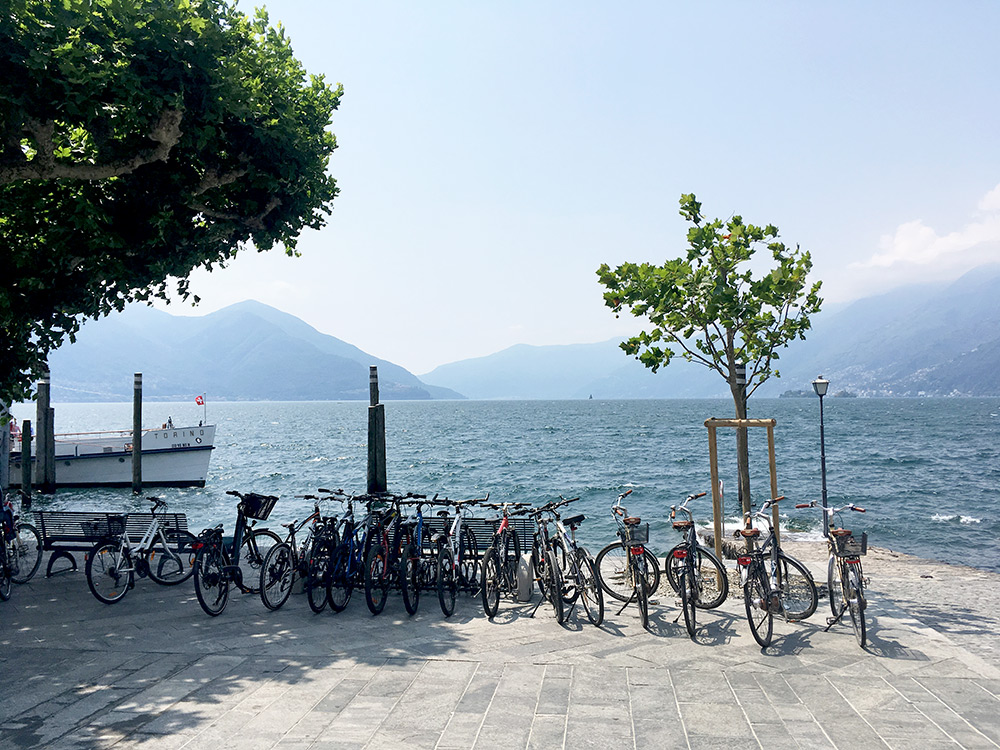 It was nice along the road to Ascona, where one has to take off the main road if coming on a bicycle. Here stopping at the end (of sorts) of the northern side of the lake.
I found the main road going to Valle Maggia after a while and stopped at the entrance at Ponte Brolla (254m) for an expensive ice cream and coca-cola at the restaurant. Then the road is fien, but at 2-3 points one are supposed to leave the main road for no obvious reason and I did not, but soon the traffic also decreases and there are no choices to the main road. After some time I came to Cevio (415m) where I again stopped for something to drink by the little grocery store. Then there was a long and hot climb up to Bosco Gurin on a varied road (with a short descent). Here I am at the highest surfaced point in Bosco Gurin (1563m).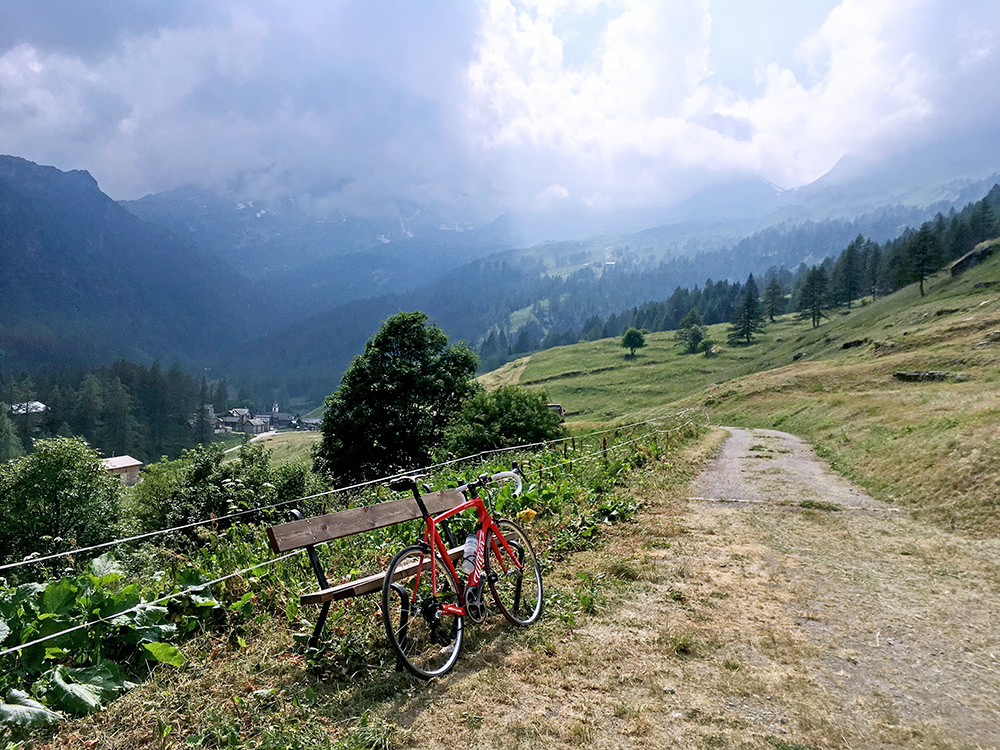 The climb to Bosco Guring is supposed to be a steep one (from looking at salite.ch), but the last section that should be steep did not seem so steep, but it was relentlessly straight ahead up contrary to the winding road before. The last little stretch not on the salite profile was maybe steepest, but no place was over 15-16% or so, I think.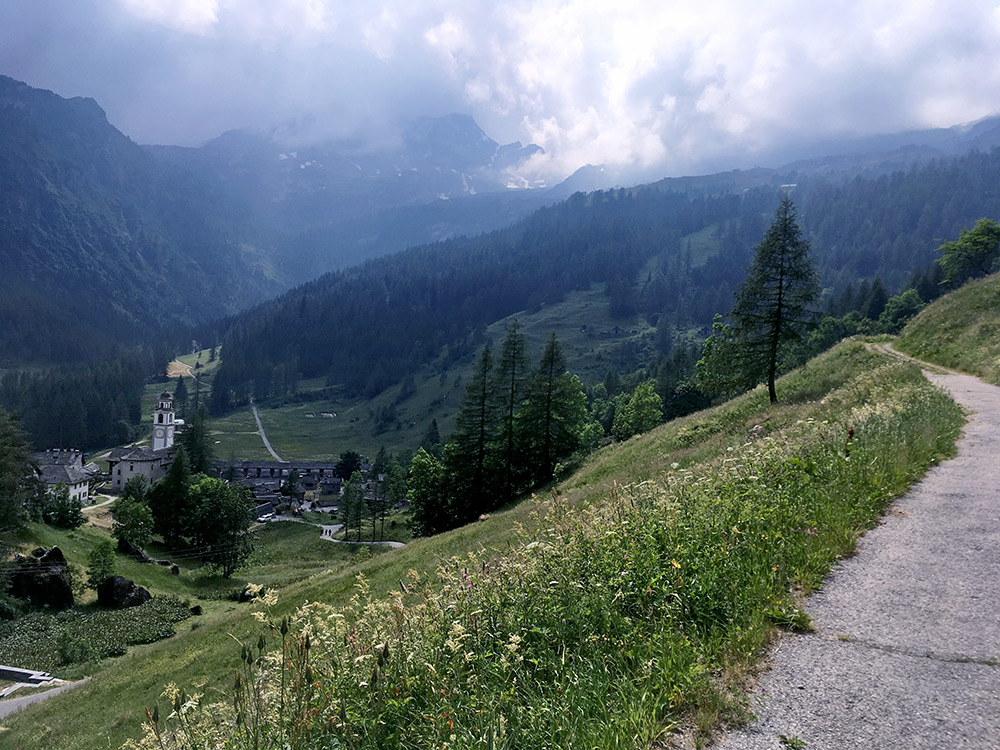 I went up the alternative high road in the next photo here for a close up of the valley ahead (but it is less high here).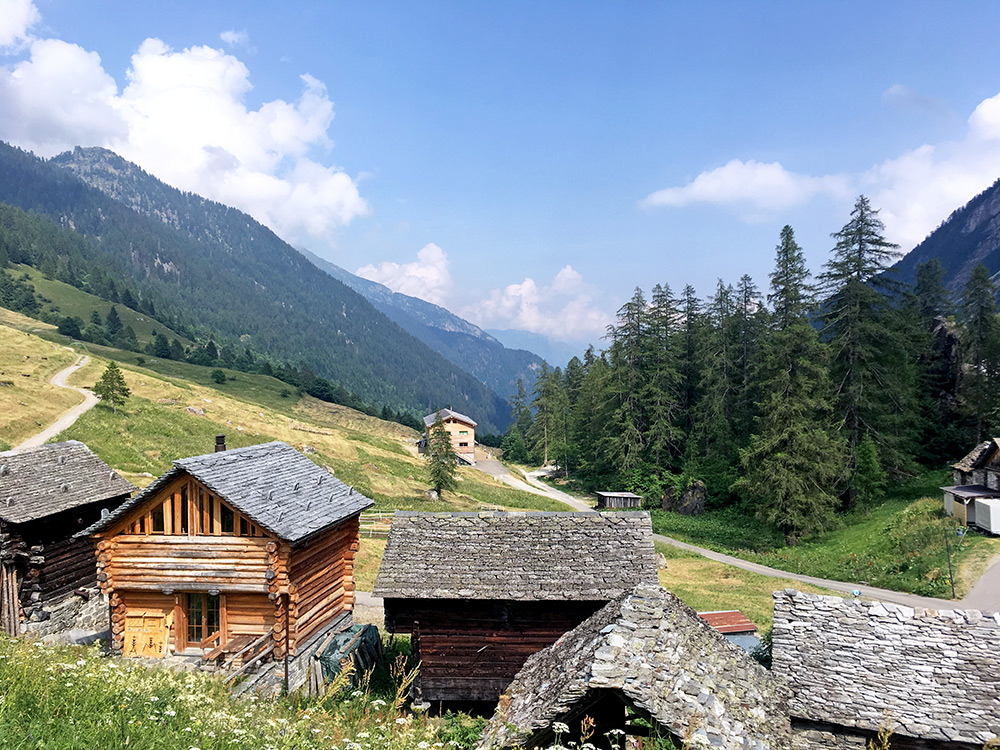 Looking back you see the road that goes highest, but you do not see the main road as it to the right of the trees here.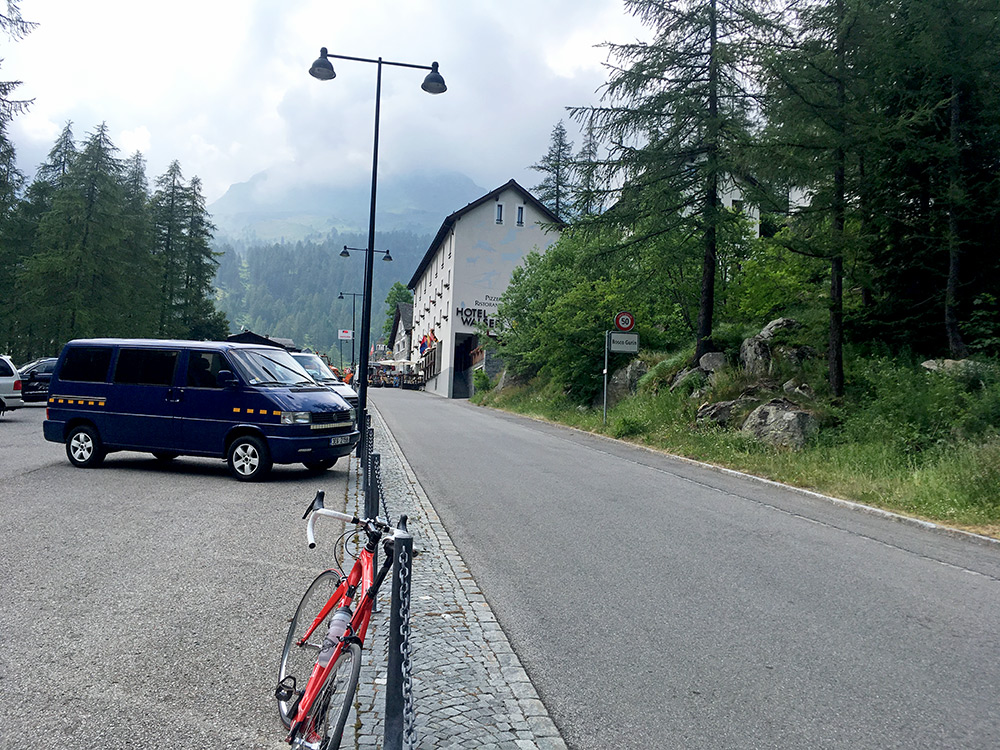 This is the classic view on arrival to Bosco Gurin with a hotel there. This is also a partly Walliserdeutsch speaking village just like up Valle del Lys/Gressoney.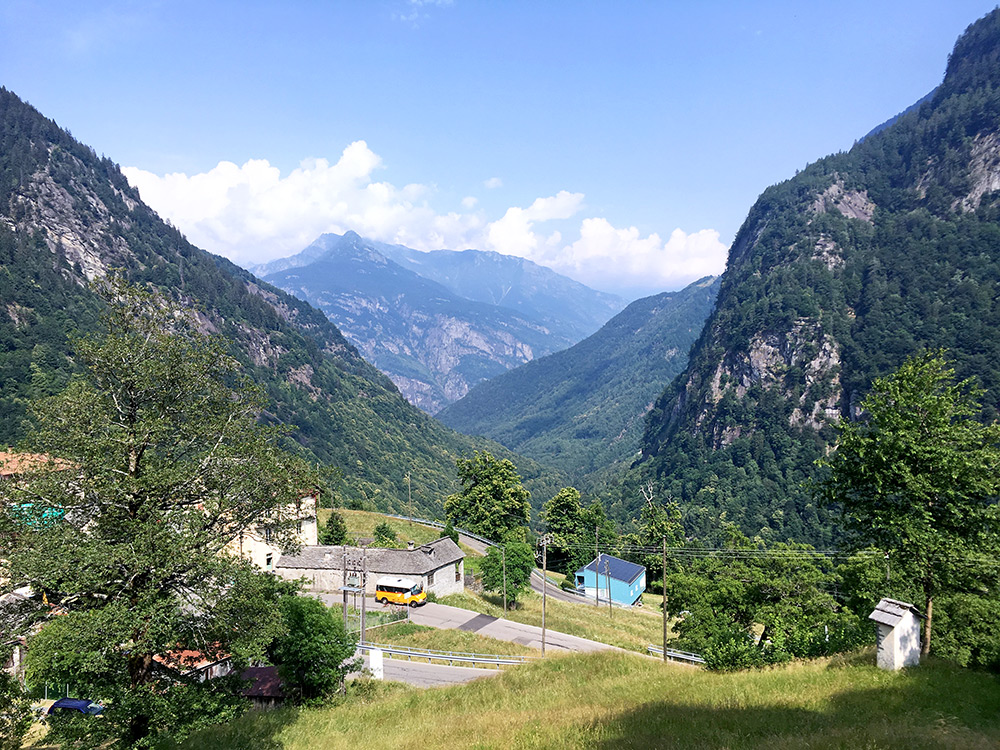 Here you see the lower part of the valley and just below the road to Cimalmotto continues more straight ahead, but a little less hard climb and less known and slightly less high (som maybe another time, but it should be nice there too). Just below I met another cyclist on his way up and even if he looked like a good cyclist he was very tired of the hot climb apparently. It was very hot down here. Luckily there were water among the houses below here.
Down Valle Maggia and the same long way back again. I was maybe caught up by some local cyclists coming down the valley from Lago del Narèt (cannot remember, but they had not gone that far up) and hanged on to them. A girl and boyfriend, I think, who were decently fast. They took the bike path down where one were supposed to and cycled about as fast as me there so we met up again soon after (I actually simply missed the turn off this time in the speed). I went ahead some of the way, but think I let them keep the speed most of the time. They were driving particularly fast through Locarno (typical Italian way I think, but they also knew the roads well). To me displeasure they choose the bike path I once took and ended up on the motorway, but told me the proper way, which was not exactly easy to find (and they thought it was no wonder cycle-tourists may not follow the bike path). They thought the bike path to Bellinzona was good and easy. It was horrible with sharp edges in concrete and meeting tractors etc, so I soon got off that path and took the busy road by the mountains, which felt as a big relief even if it has many ups and downs. Never again on bike paths here around.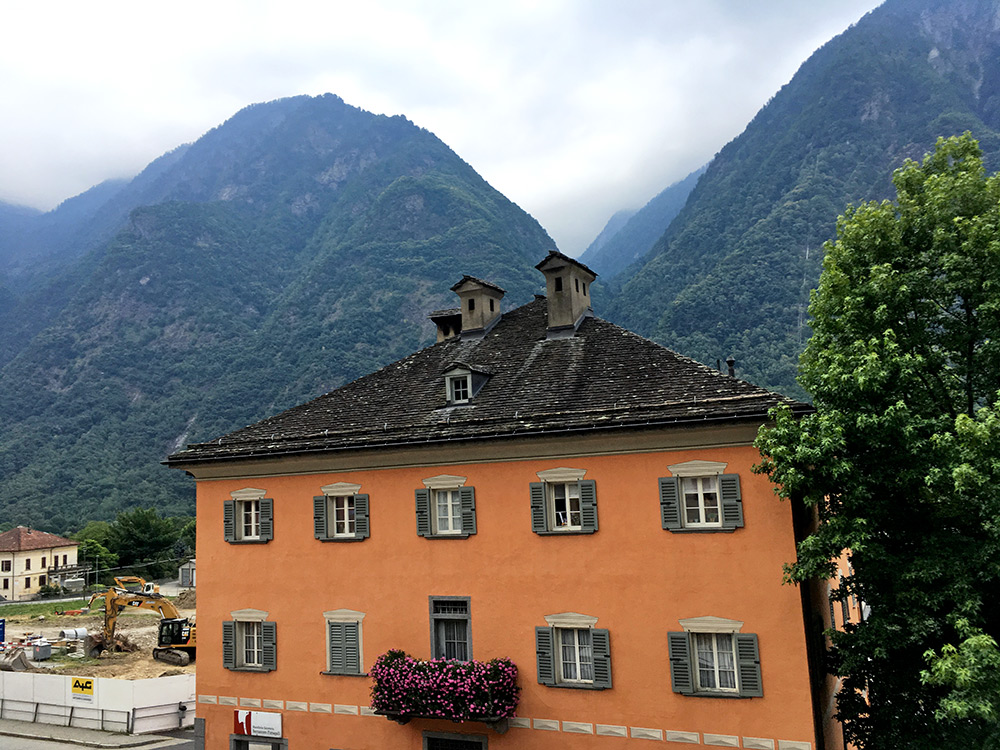 Finally I was through Bellinzona and took off a bit reluctantly up on the main road up to Passo del San Bernardino/St. Bernhardinpass/Pass dal S. Bernardin. I just wanted to get out of the busy area, but also realised I did not have time for another climb this day as I had hoped earlier on. After fooling around a little trying to find a place to stay at for the night I decided to go up to Grono, where I had located a reasonably priced hotel beforehand. It was open, but not really so good. Very basic (almost French style … well, some there) – some red glue on a chair that I could not get off my trousers afterwards.
No big deal, but talked a little with two nice guests. One was a man from north in Switzerland who told me, speaking of the warm weather, that Grono actually had the Swiss record for heat with just over 40°C. Last photo was from the hotel room in the village on the main road. There are some nice roads around here of which I have only before been up the Alpe del Gesero/Alpe di Cadinello on the corner of the mountain at the start of the valley from Bellinzona several years ago, where Germans built a tunnel during the WWII to escape being seen down the valley (probably not much used).