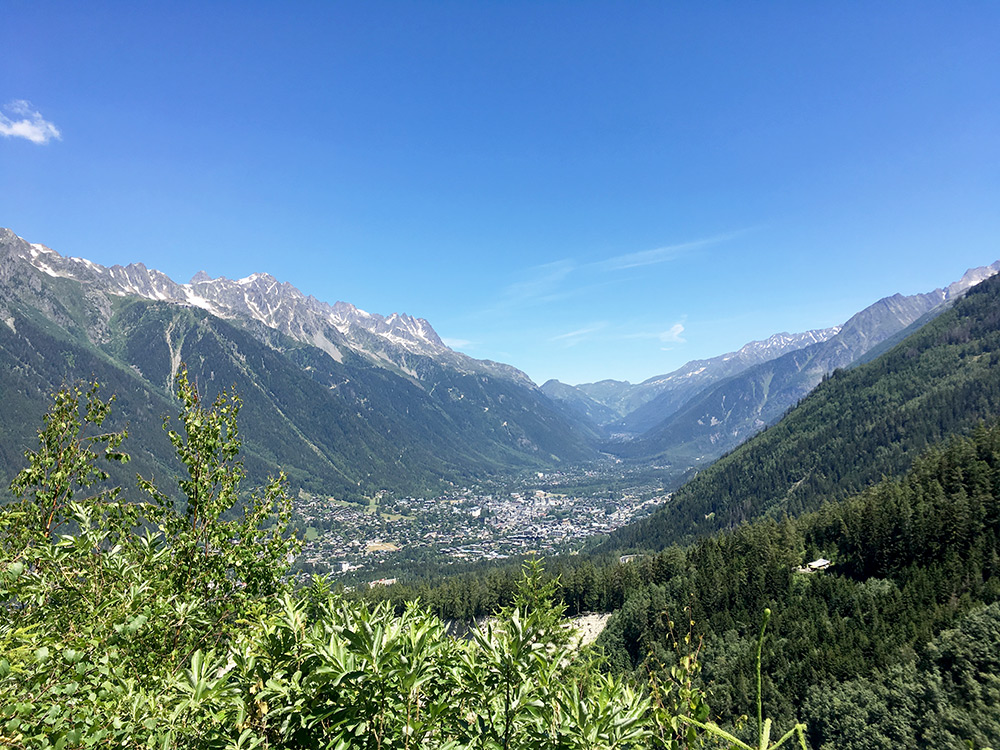 It started out with long day rides, but eventually the distances were shorter either thanks to roads and climbs or for bad weather. Next to last day was a rest day in Chamonix, where I started and finished (in the photo here). All in all 1730.46 km for 13 days (133.11 km/day) which is far from my best back in 2008 when I thought I did too little with 174 km/day (not counting a rest day).
I am as usual more interested in visiting nice places than getting good statistics (which would be relatively easy to improve on), but what matters are also the height metres and I am still doing fairly well there. It was ca. 41192 height metres for this little tour (3169hm/day). Two rainy days, but otherwise the weather was fine. It was a bit too hot some days esp. early on, but at least that didn't stop me from continuing to cycle.
Here I was walking up toward the Bossons glacier the day before leaving, looking in the direction of Col des Montets.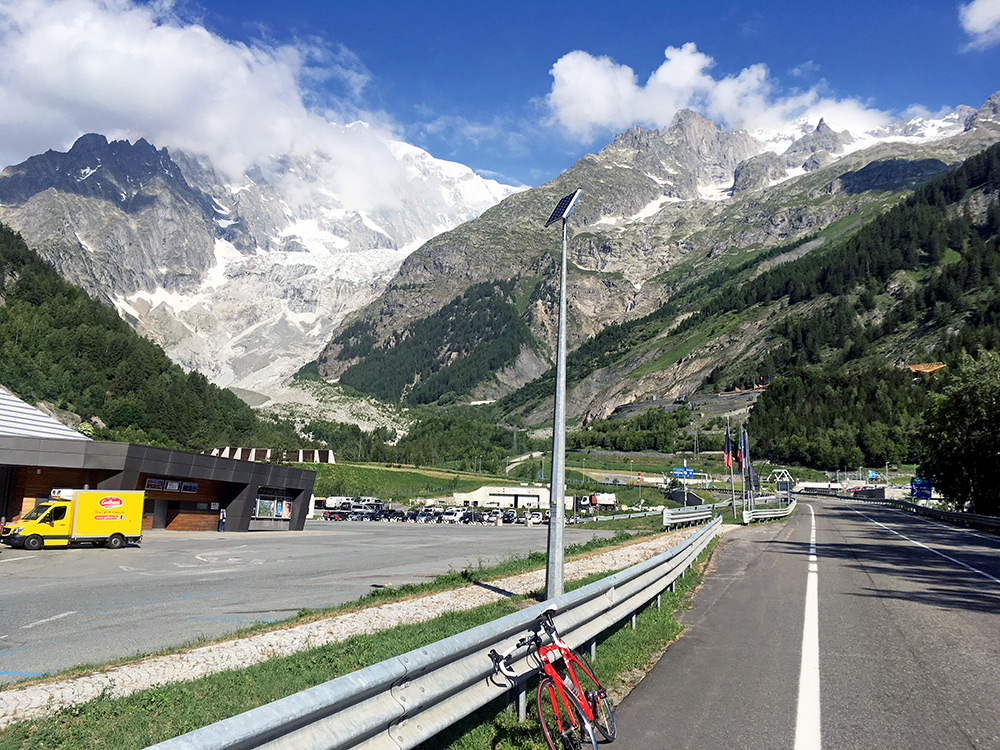 It was a bit tricky getting a bus ticket for me and the bike. The lady only accepted cash and didn't have proper change either, so I gave her more and collected the extra after I returned two weeks later. Then I should apparently had been at the bus a few minutes before she said I should be there, but it worked out fine in the end. I went off on the first stop after the tunnel at Entrèves. I was not aware the bus stopped before Courmayeur, but it goes as quick cycling down there as taking the bus.
Looking back here to the Mont Blanc massif.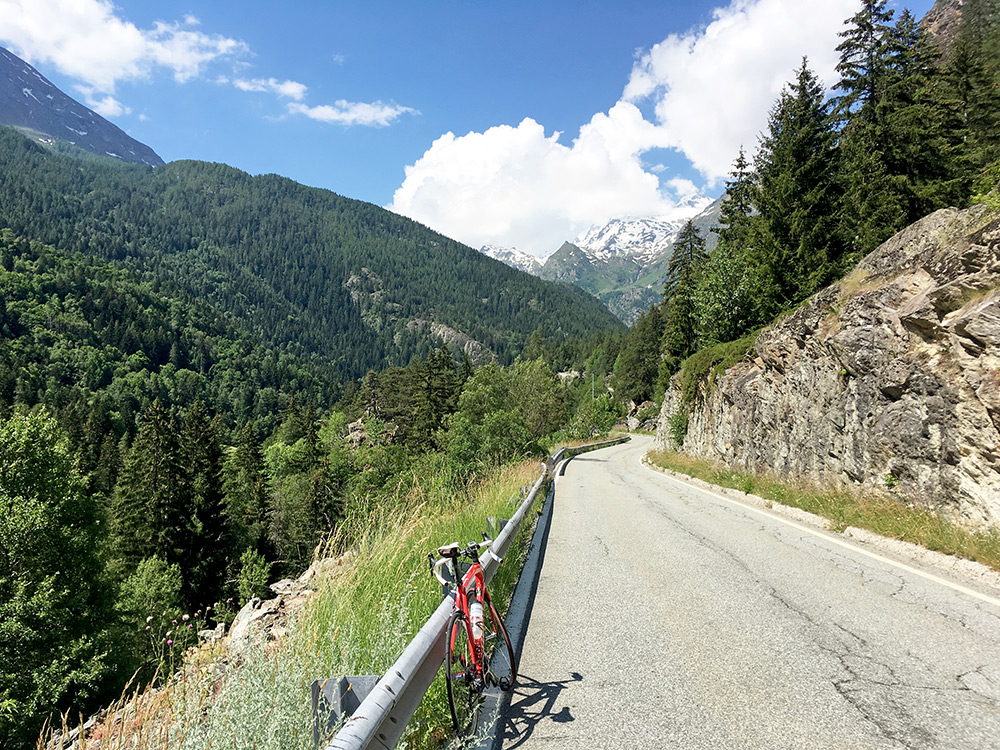 After some cycling down the valley and stopping in Morgex for a coffee. I came down to the turn-off for Valgrisenche at Leverogne (747m) and started out on a long nice climb here. This is from early in the climb.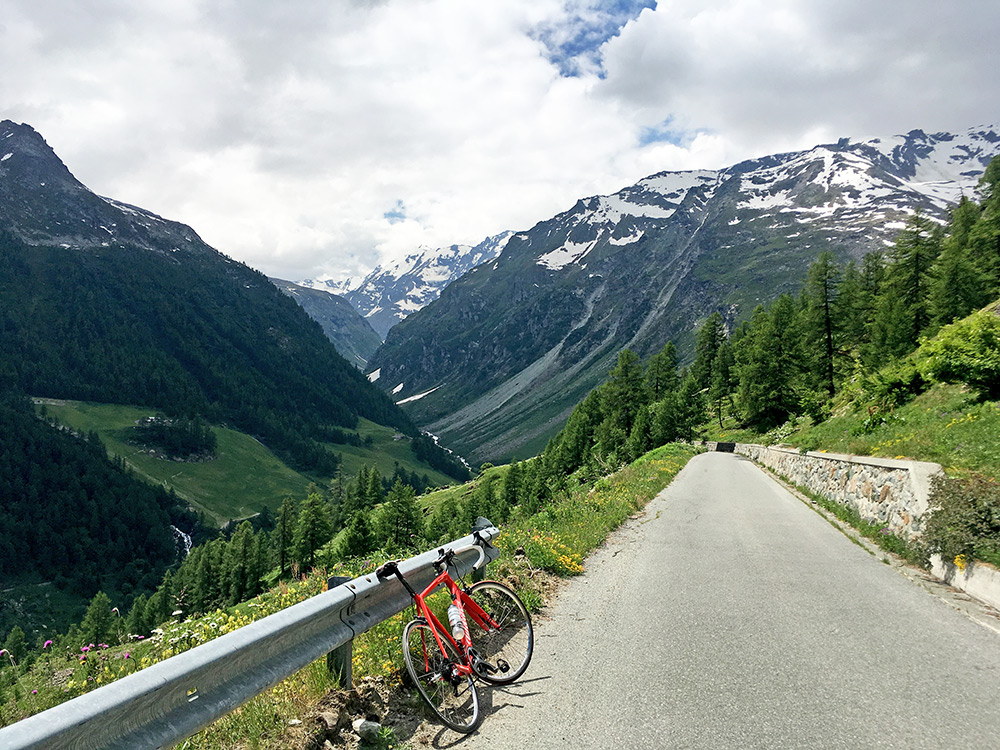 Eventually I reached the high point (1977m) of the road along the lake and descended a bit further to take a photo of the valley ahead with no paved road (after coming down to the valley floor).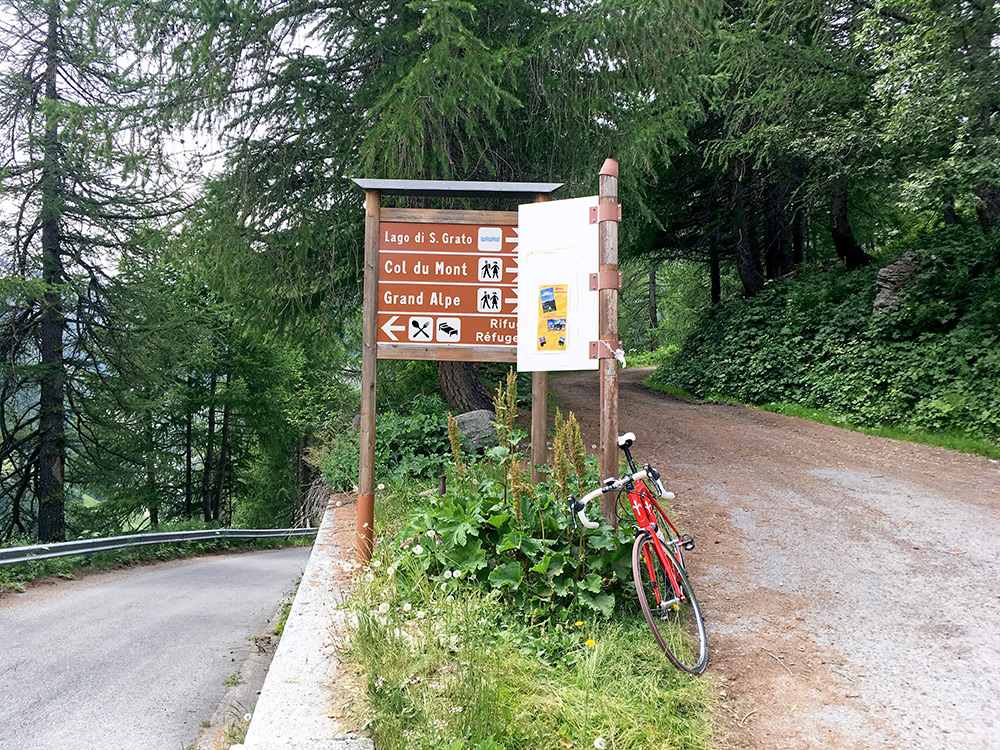 I went back a little to a turn-off for Grand'Alpe and cycled up a gravel road which is fair up to the few houses that makes up Grand'Alpe. The good road ends at just 2000m height.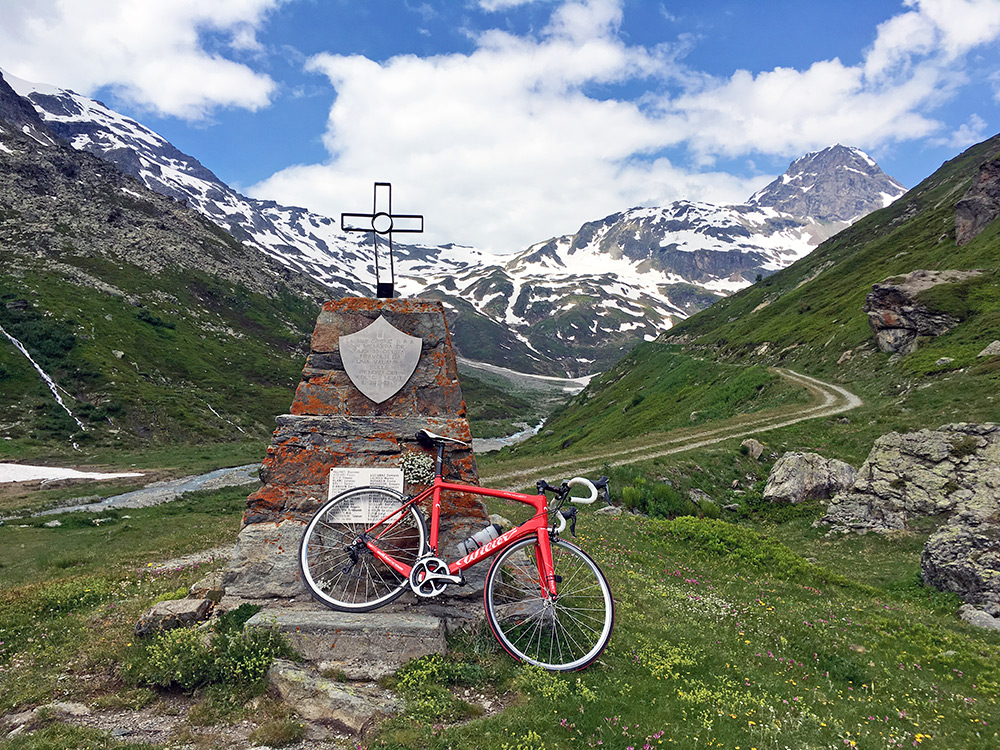 Here is a monument in Grand'Alpe at 2003m with a good view up toward Col du Mont and the border to France.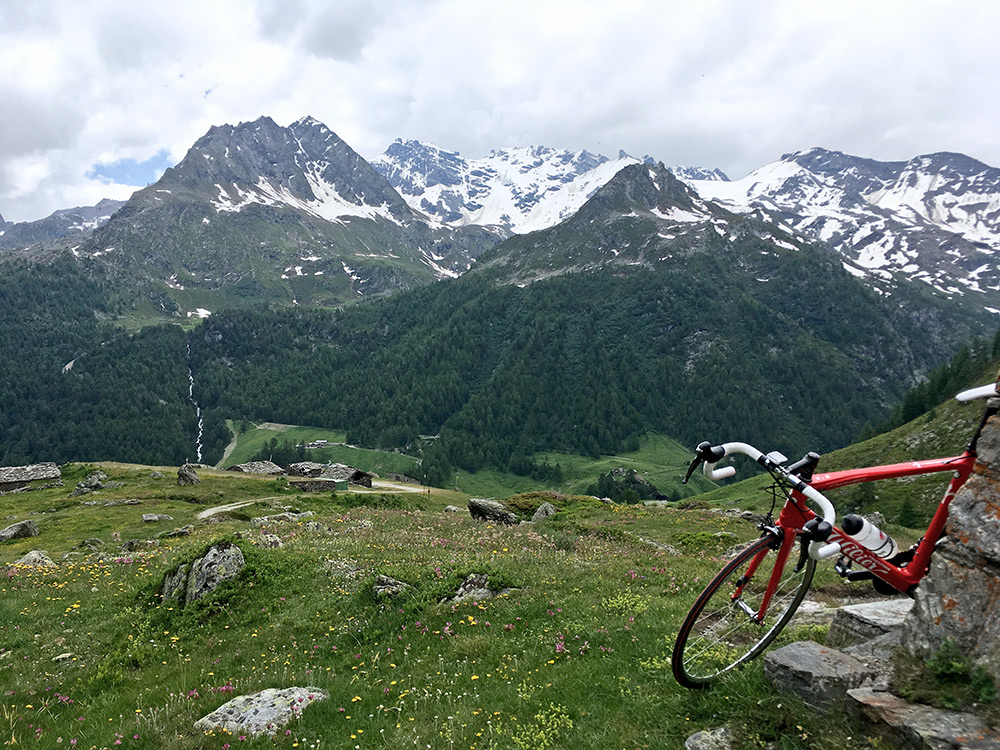 Looking back across Valgrisenche.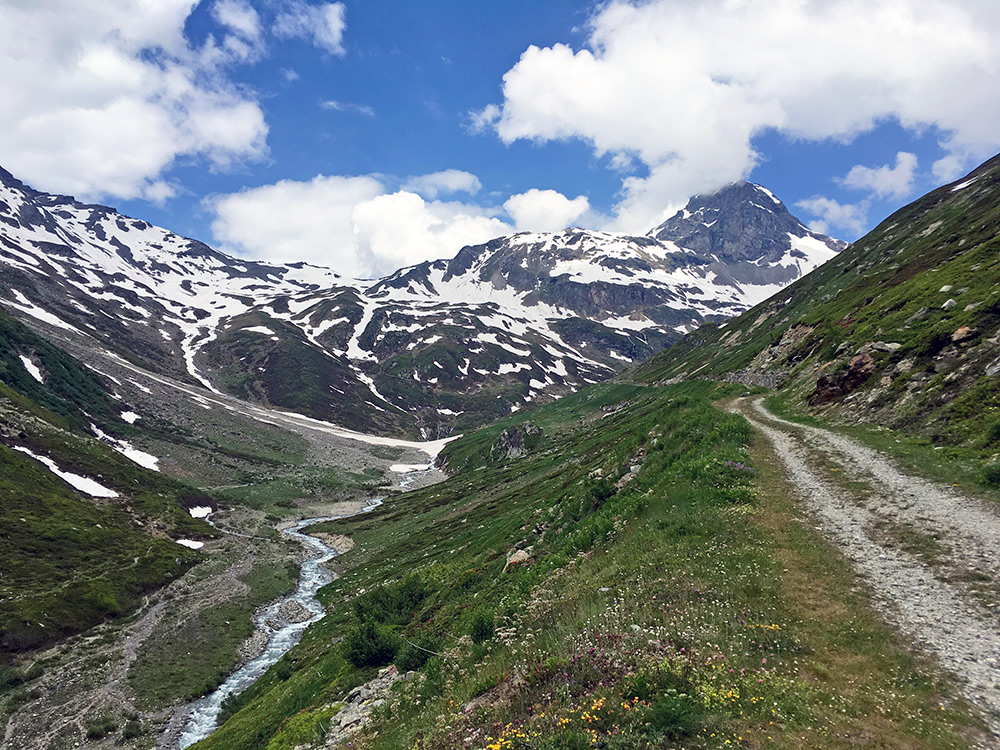 I continued a bit further up with the hope of seeing the end of the road, but it continued forever to show new corners ahead to reach, so when it got rather bad, I turned around at the place here, where the view is similar as I had from below ahead.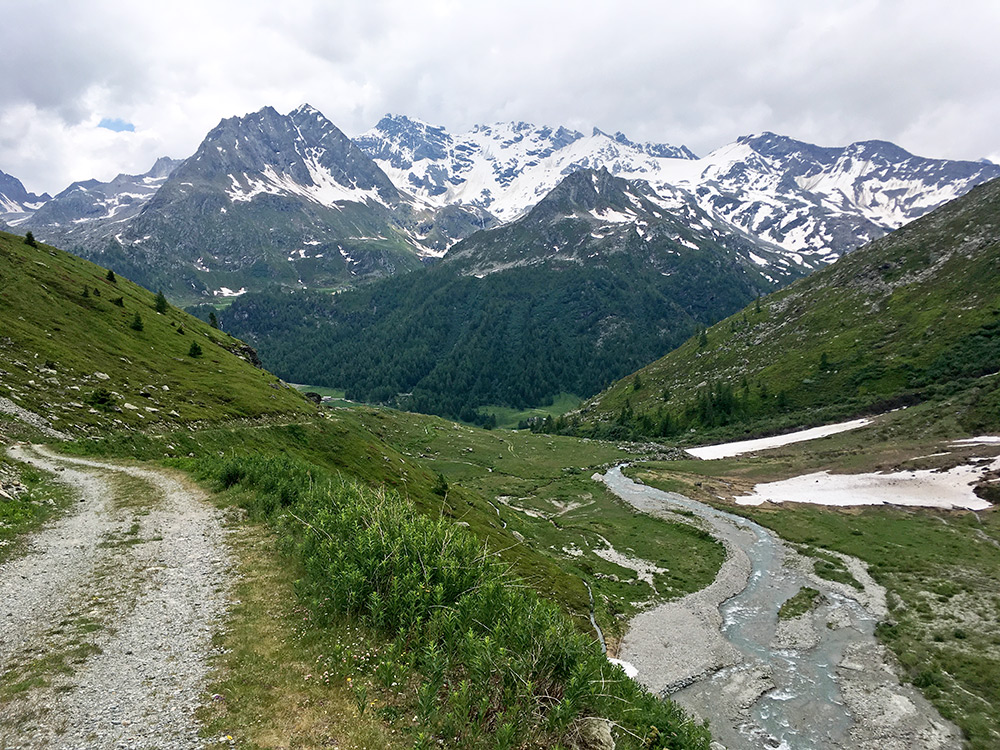 Looking back again from the higher location.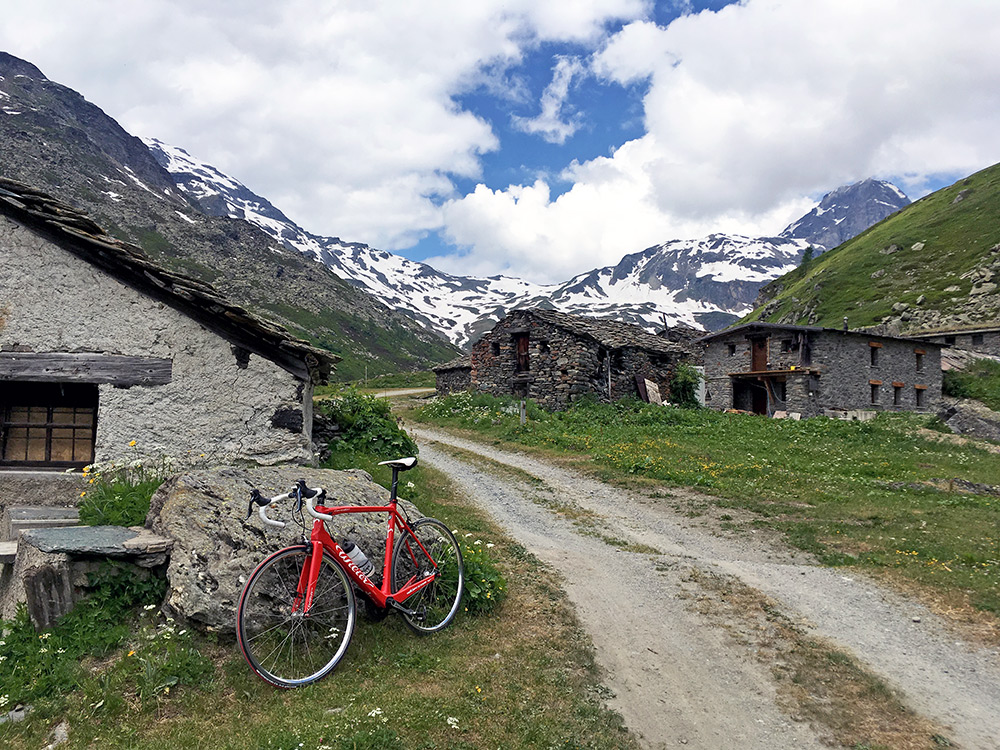 A photo from the houses at Grand'Alpe. There were a few people here.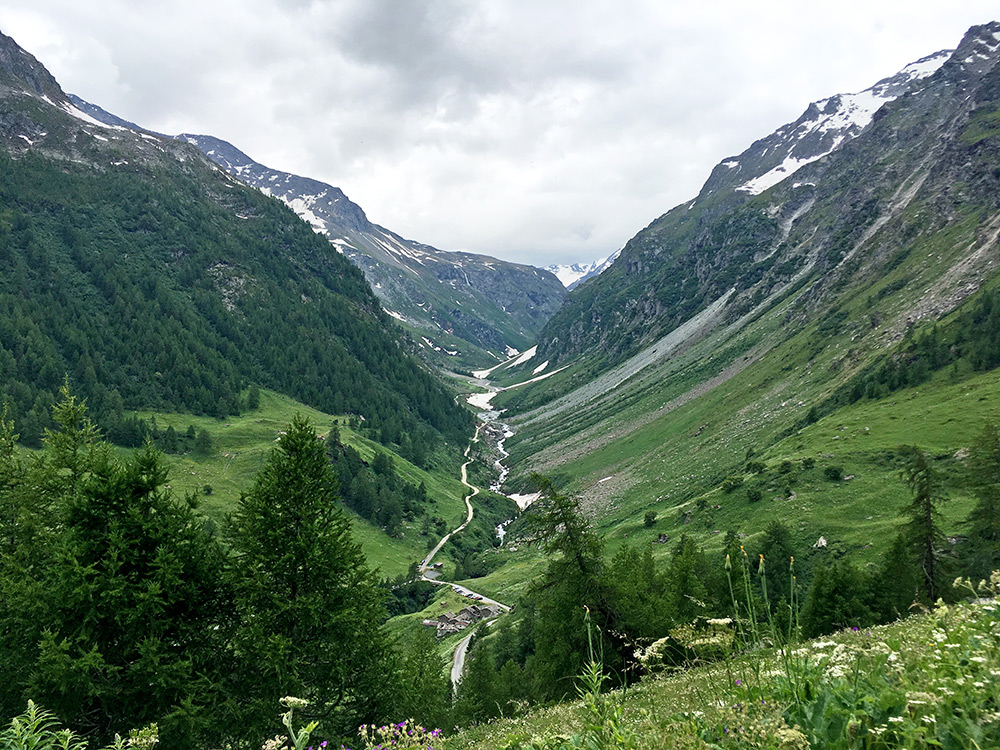 I could see a bit better up the Valgrisenche from the Grand'Alpe road.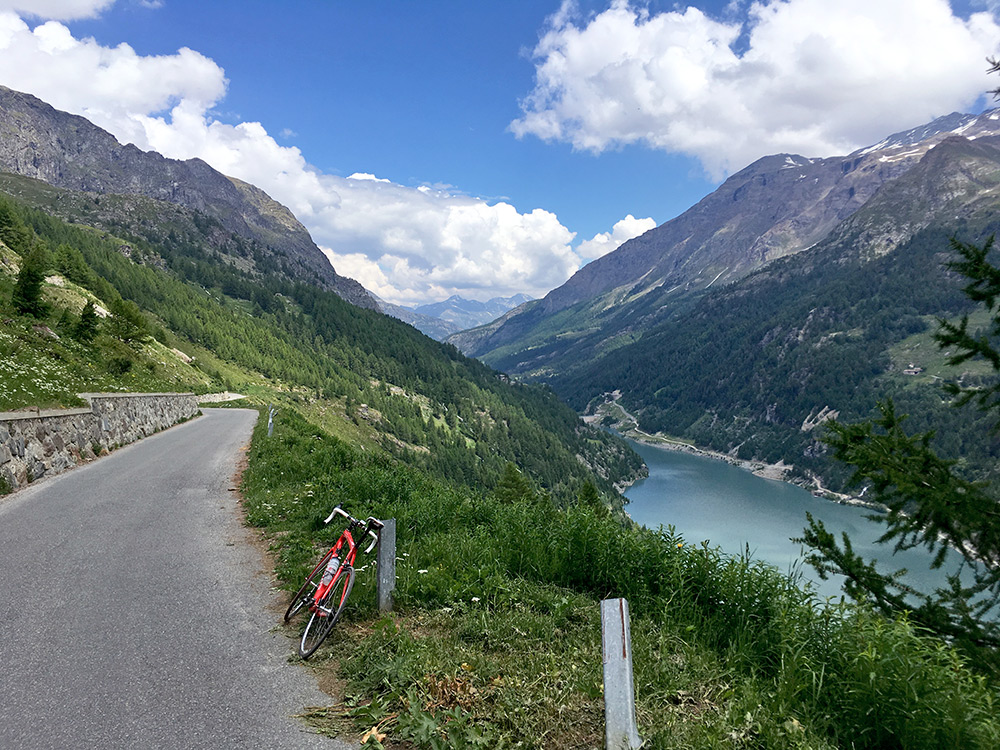 Looking back from the high point of the asphalt road (one climbs a fair bit above the Lac de Beauregard).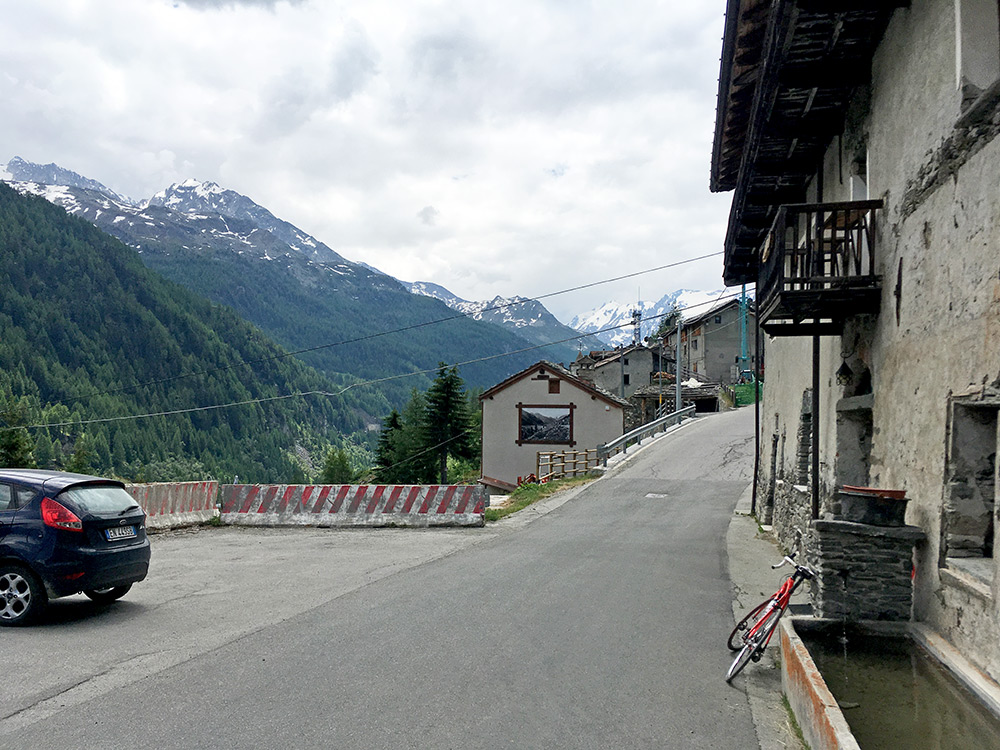 At Bonne – the last normal village up the valley, where there were also good water.
Then a nice downhill to the hot Aosta valley. I stopped down in Aosta for an ice cream and coca-cola before I continued down to the start of the next climb at Nus (539m). I have had some thoughts about climbing Pila (ski resort up from Aosta), but it did not seem like a nice climb this day.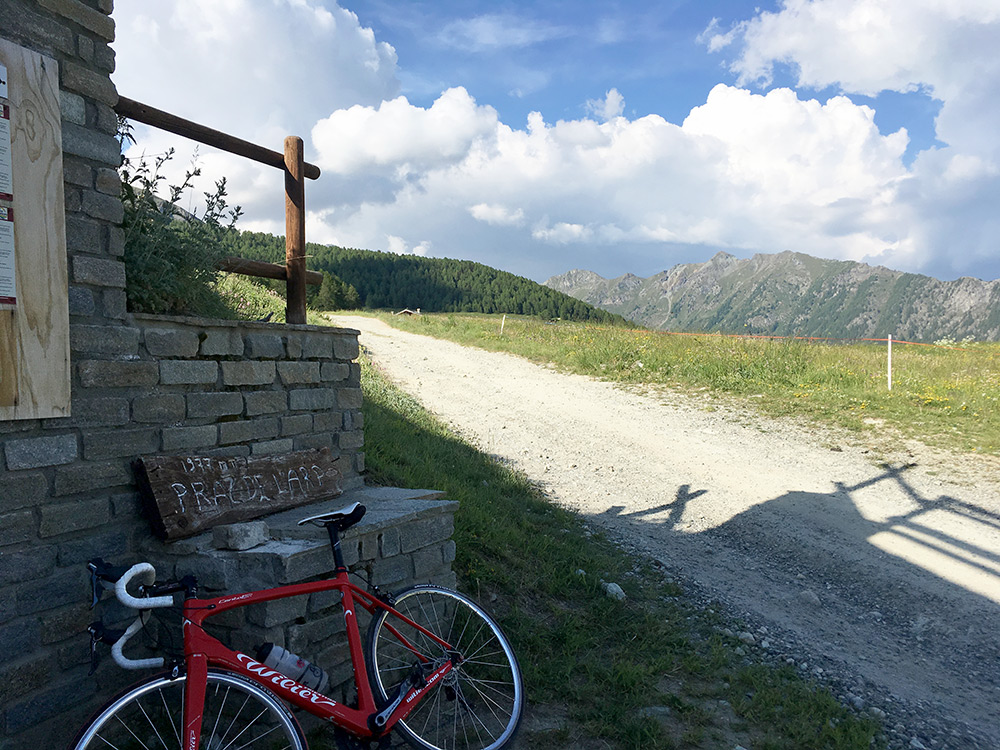 The climb up via Lignan to Praz de l'Arp (Porliod) (1957m) is immense and nice, but very hot until the very last part where it was just fine. The Osteria del Passet was closed at the end.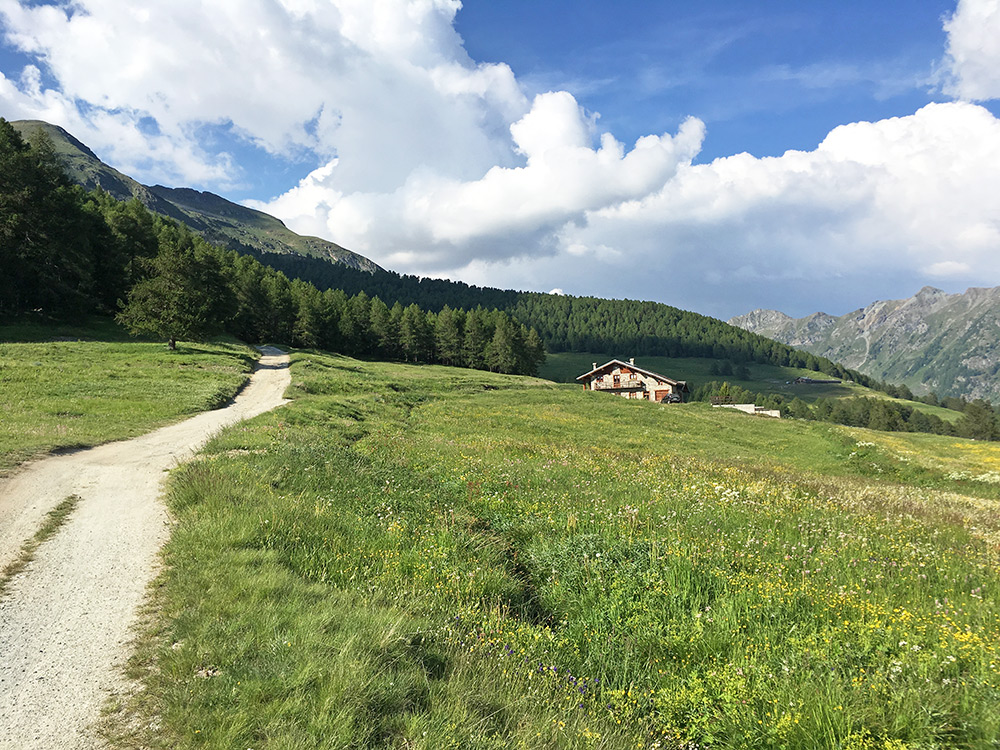 I continued a short way up the decent gravel road for some better views. The valley road below might be better on gravel and take you actually higher on a road bike, but I did not really try either road out as I was high enough here as I was.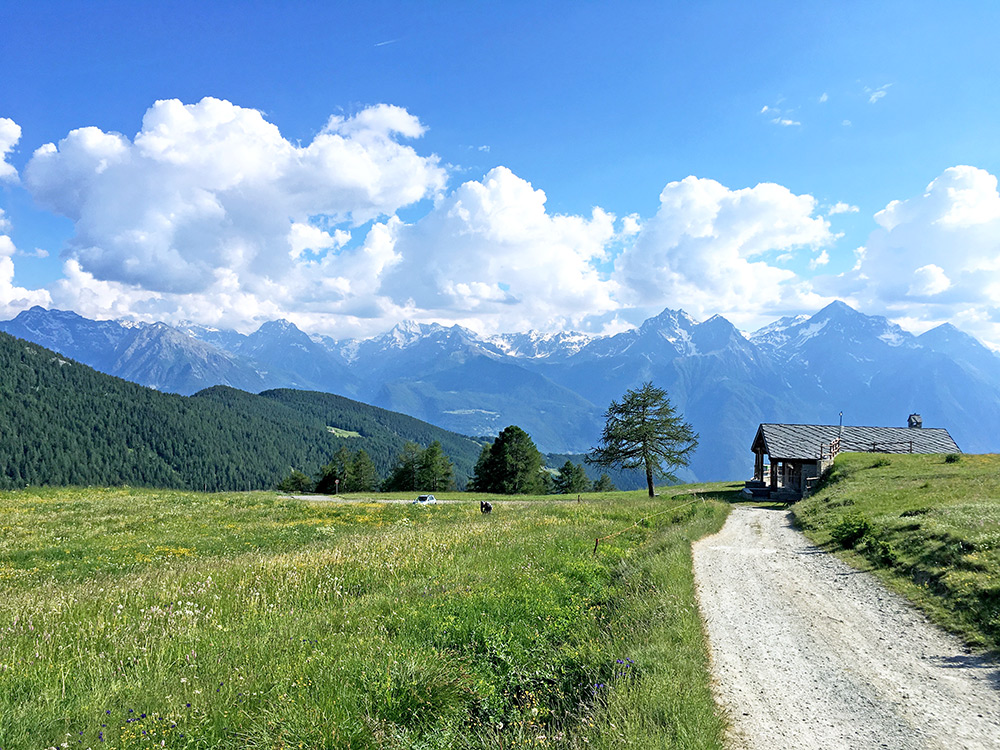 Good enough views indeed!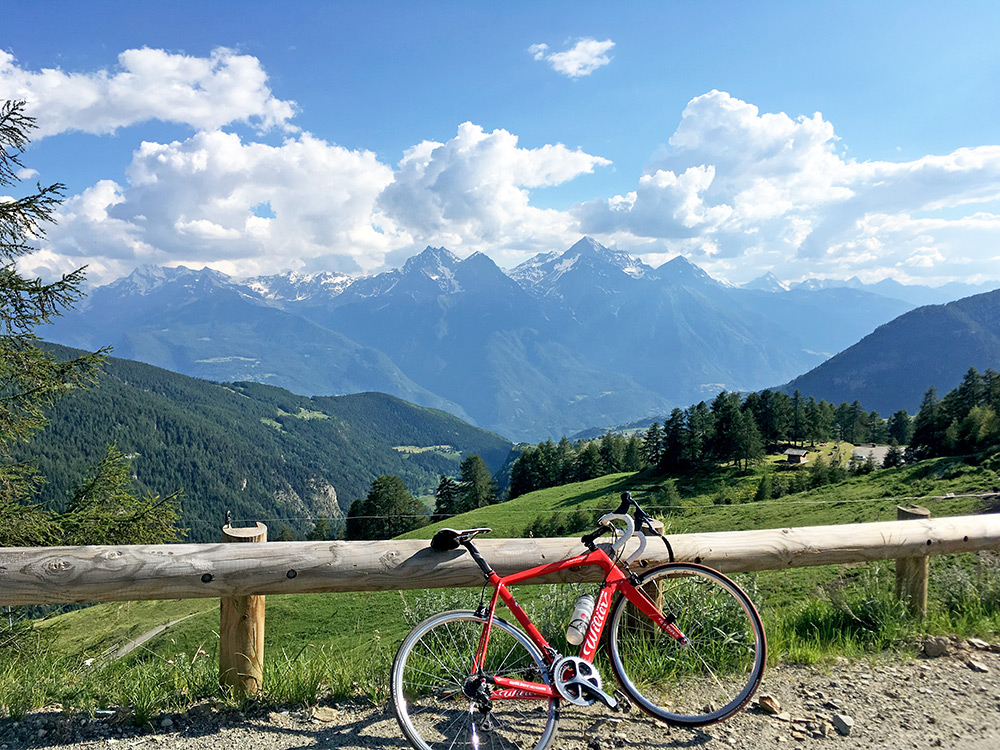 Another view from just before the turn-off on the Porliod road up to the end of asphalt (a bit steep end).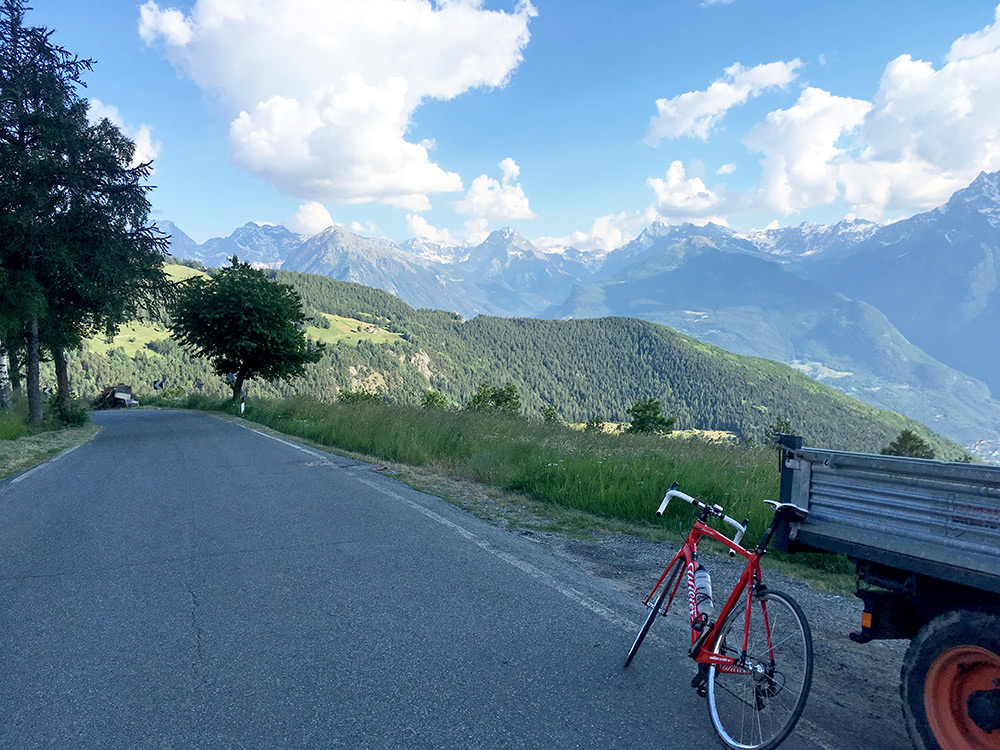 After stopping at the little hotel in Lignan for another coca-cola and water, I stopped for this photo before descending back the same way as I had climbed up. A really descent now.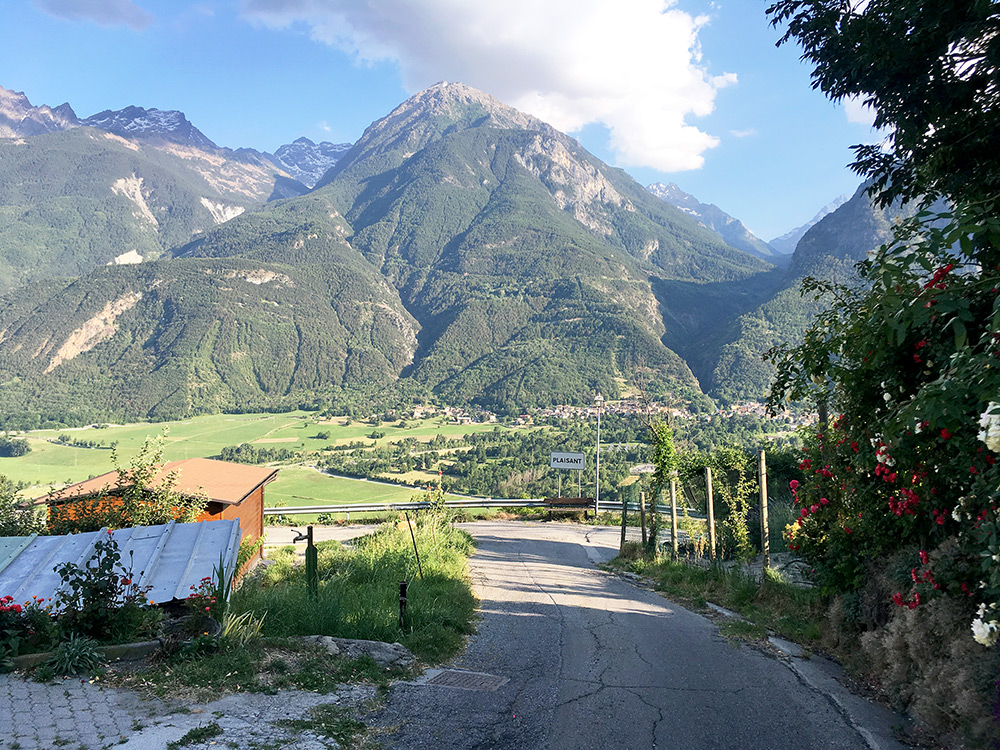 A last photo for the day after trying out alternative ways to stay up the mountainside as long as possible before I had to descend back on the main road at Champagne. A fitting name for the little village – Plaisant!
After that I had a fairly long ride down Aosta to Hône. I tried to find lodging in Verrès with no success. I was staying at a b&b in the centre after getting help from a neighbour contacting the woman who hardly could hear anything … . The hotel in the village I had stayed at earlier had closed down.
I went to the same pizzeria I went to on my last visit in Hône and the seemingly young guy "running" (?) the place were coming across at least as odd as on my last visit. A (black) guy selling plastic ducks, belts, etc. (big sacks) where coming into the restaurants asking if I should not really buy something. Instead of showing him the way out, he threw things across the restaurant over the heads of the people eating at the personel, who were happy about it and tried to convince him to stay and eat (or something) – apparently friends with them. The customer at the next table arrived around the same time as me, but was served quickly and was apparently a regular. I think he asked for a glass of wine and they then came and bottled up a fancy 2 litre red wine bottle before he could stop them (he never drank more than a glass and left soon). He looked a bit annoyed, but they were very happy. No Belgian beer this time, but they had other good Italian beer and a good pizza.