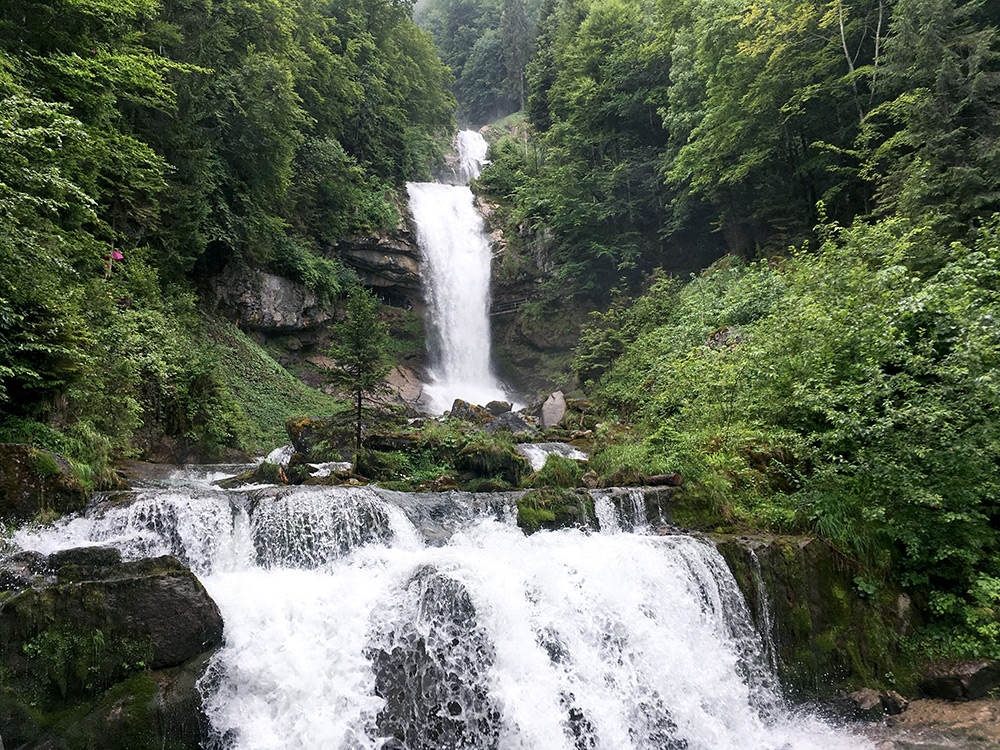 This day was the absolutely worst day on this tour and maybe I had 20 minutes without any rain during the whole day. When I at last started it was light rain and so it continued most of the day apart from when it rained more. I got down braking a lot in slow speed to Giessbach to try and get on the partly gravel passage here on the south side of the Brienzersee. In the photo I stopped on the walking bridge (only section one could not bicycle at all on) at the Giessbachfälle and of course there were some tourists out here even on this day (me included).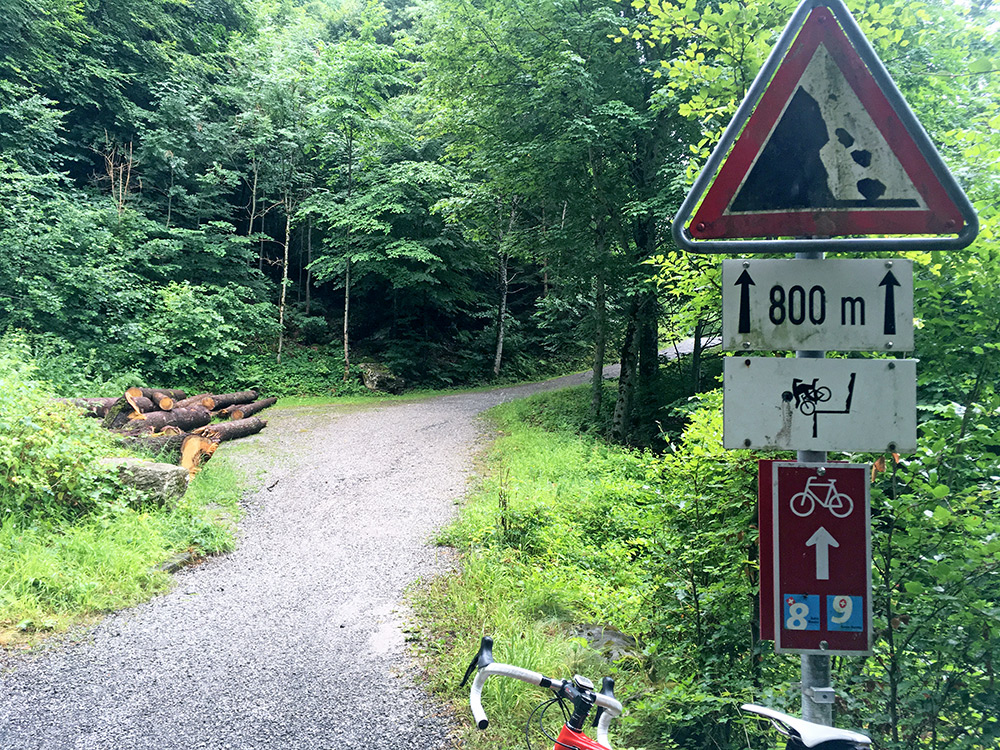 After the bridge it was a signposted bike path/road with a funny warning, but this is an easy road and it becomes better and eventually it becomes asphalted.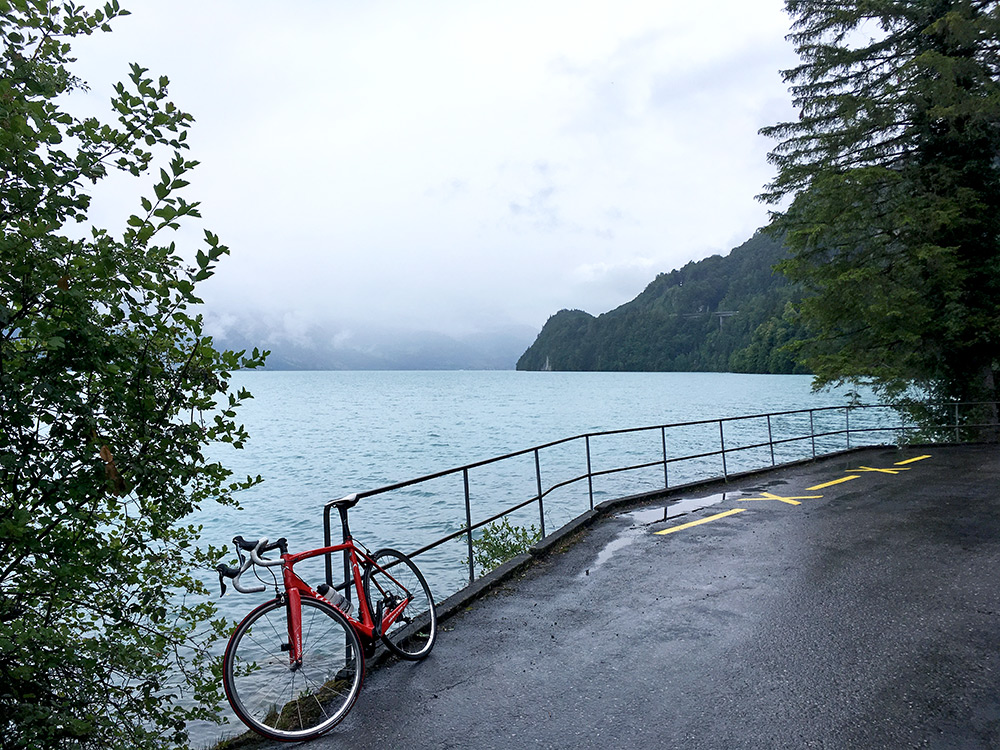 After a steep downhill section I reached the sea and for the first time could see it, so stopped for a photo, but the rain increased while stopping so hurried on to Iseltwald (593m), where I stopped by a little grocery to drink coffee and trying to dry up a little (saw no obvious café here strangely enough).
After the rain almost stopped, I continued again up and down on a nice road (esp. if the weather had been nice). I took my time and reached the end of the lake at Bönigen and stopped again for a simple lunch. After some more time thinking about what to do this day (and staying near Interlaken was not exactly an idea on my mind – expensive and boring place) I continued on some strange road by the Lütschine river and explored the road on the mountain side, which turns to gravel before the end at Gsteig, but in theory it is a nice short-cut going up to Grindelwald. I then continued this way over Gsteigwiler, which could have been a good idea, but the road was clogged by cars for some event or something. I continued up the main road and turned off up to Grindelwald at Zweilütschinen (654m) as planned.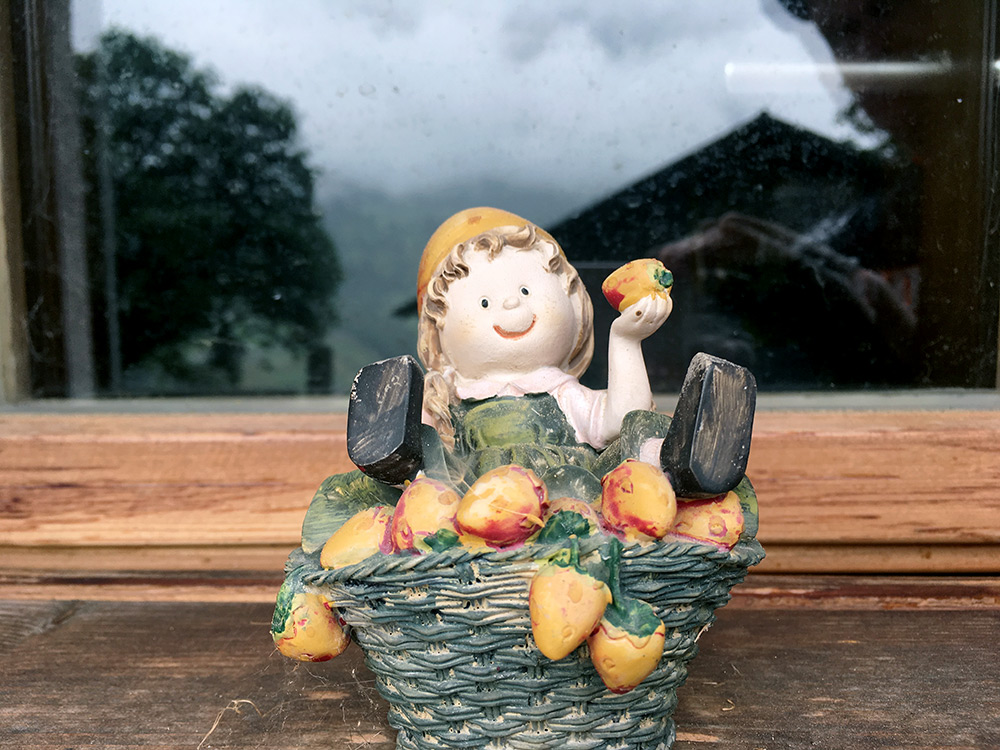 Just at the entrance of Grindelwald I found the turn-off for a short-cut road up the mountain that I had noticed was the shortest way up. Yeah … shortest indeed, but the longer road is up to 20%. I failed soon enough and had to walk when it very soon became 30%, then continued and managed another ramp or two of 25%. Then the rain increased and I took cover by a house while still in Grindelwald and snapped the photo here while waiting.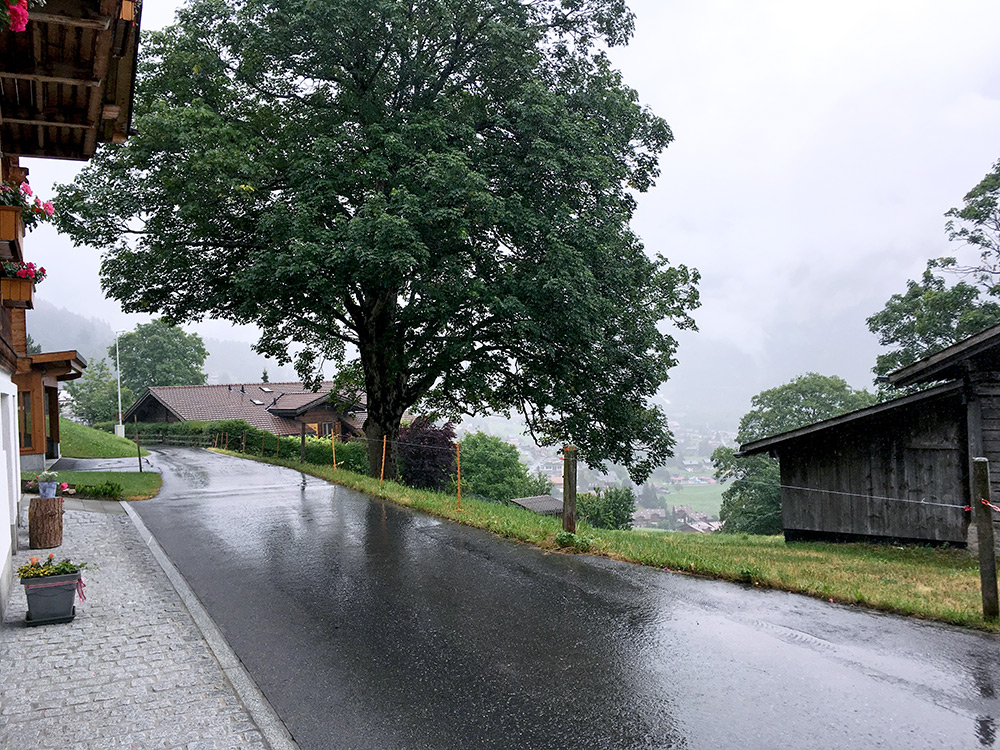 The view of the area was not far-reaching as you see here. I waited, but after a while I continued as the rain almost stopped again. Now it was steep, but then it was steeper.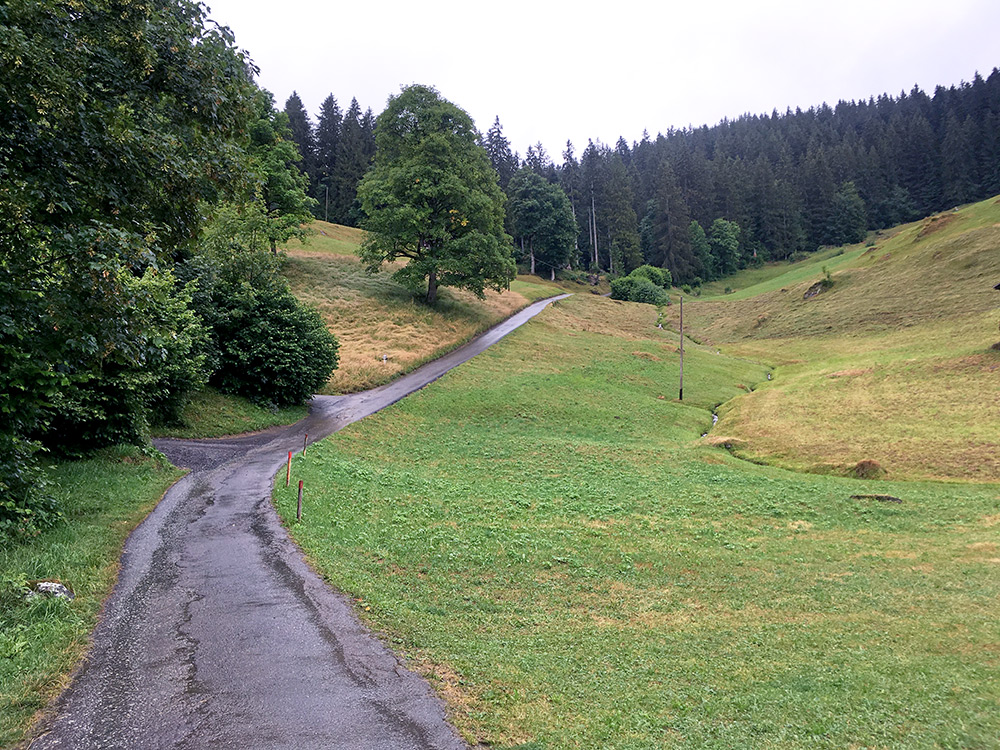 Here I stopped before the last section up to the normal road to Büössalp/Bussalp and took this photo. As usual it doesn't look as impressively steep on a photo as when being there. I managed to get up to the forest and it was 27% and I was very close to falling off the bike, but was lucky. When I reached the woods it was only 50-75m up to the road, but now it was again at least 30%, so went off before I fell and walked up.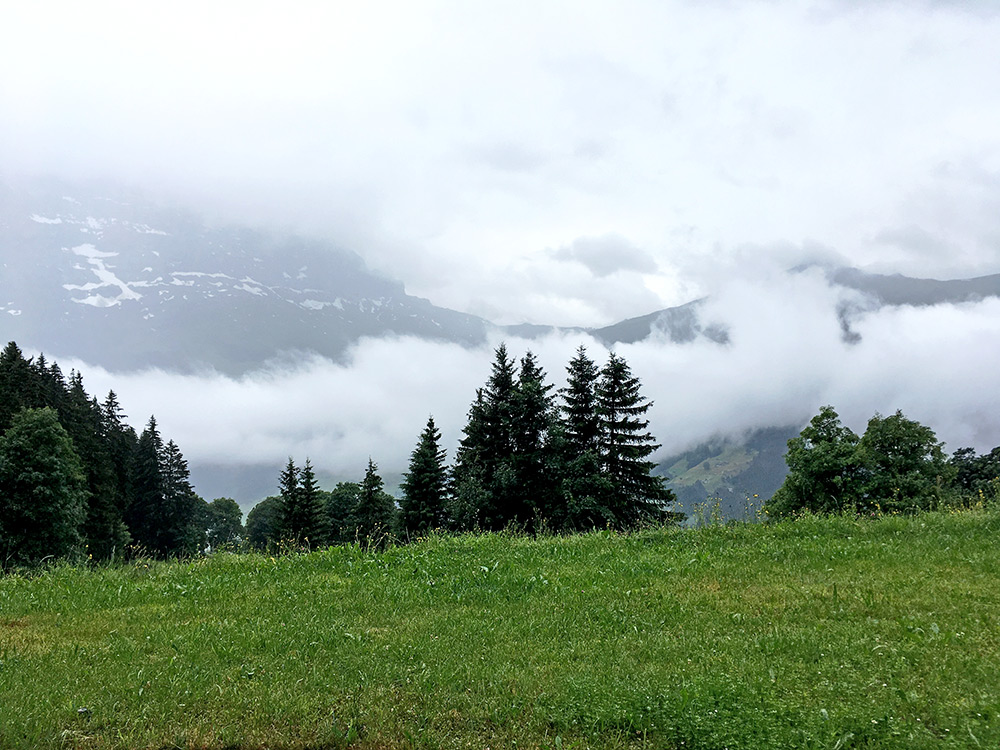 I continued on the main road which was ok here, but the rain never really went away and as I got higher up it was getting worse again and after starting to get a bit wet I found a house by which I took cover (no one there) – Weidleni (1433m). I waited and waited, but the rain was constant and somewhat heavy all the time. Above there would be no views at all, so no reason to try getting higher up where it also would be still colder. There was nothing much I could do really but waiting and trying to find the warmest spot around the house. The bus driver saw me and I thought about getting out to meet him when he went back down, but it would be difficult to get there in time to catch him as it was best to be on the other side of the house.
After like 3 hours, it still rained and I was getting very cold, and the clock was now around 19 in the evening, so no more chance getting up here this evening. I went down to Grindelwald and asked for a room at a more nice/old-looking not so big hotel, but it was fully booked, so I continued down and saw no more obvious place so continued down to Stalden (848m) (half-way down to Zweilütschinen) where I knew there would be a reasonably priced hotel. They had a room, but the place was not terribly good and the room was cold, but luckily I managed to find a small electric heater. Had something to eat and was happy to have a warm room for the night. Photo from Weidleni.