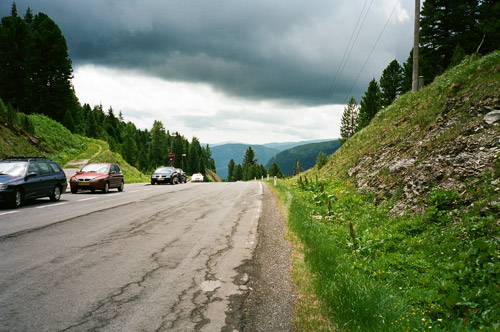 I had a good breakfast with eggs and more before I left Döbriach (608m). I had not remembered that the road would start to climb as much and as quickly as it did when I went eastwards to Radenthein and later Ebene Reichenau (1062m). The road is flat for some time before reaching the later village though. I had a lunch stop at a grocery in Ebene Reichenau. From here the famously steep climb up the Turracher Höhe (1792m) starts. They flattened the road around 1980 so now there are only one passage with 23% (roughly 400m with maximum 25%) and an even shorter passage around 20%, but during much of the last century this road had sections with up to 34% and it was used as a test road by Porsche and later Audi. There was a bus going up on the old gravel road that was dangerous to drive behind due to stones hurled up at the windshields of cars going behind. I doubt any race bicyclists ever managed to bicycle all of the old road, but maybe – it is hard as it is today, but mainly because of the steepest stretch. Still trucks go up this road and there is a lot of traffic. The first photo is taken in the south direction just when arriving at the pass height.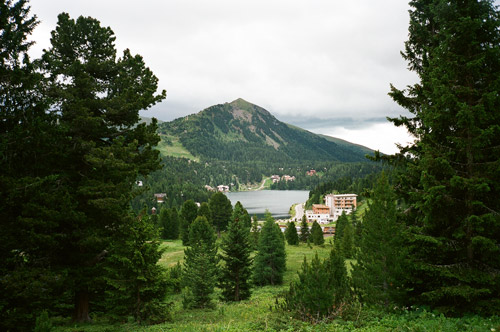 The plan for this day was to complete the furthest eastwards placed mountain passes in the Alps above 1700m that I had still not climbed previously. The most Eastern of them is the lonely Sölkpass (1788m) in Steiermark. This took me as far east as Murau (829m), which is a nice village that I did not stop at for some reason. The road down there is quite nice, but then again you are not a real Austrian if you do not drive your car in at least 150 km/h on a 50 km/h road, and even if you do not have a Porsche, you could always pretend you do (it would be hard to see given your speed anyway). I guess the dubious former politician Jörg Haider must count as one of these "real" Austrian, but then they may end up just like him … . Lots of these people on the roads in this area.
I did stop for late lunch at a very local restaurant some kilometres before the start of the climb up the Sölkpass in Rottenmann, where I had knödel, I believe. It was ok. From Schöder (901m) a nice road climbs somewhat steeply at first and then comes a long mostly flat section in less exciting surroundings (wooded). When coming a bit into the valley and you start wondering where the pass might be, you are soon at the beginning of the last long set of switchbacks up to the pass (to the right). This section is famously steep and the road is narrow, but it is of good quality. The last 5 km have an average inclination of 11,5% according to the profile at salite.ch.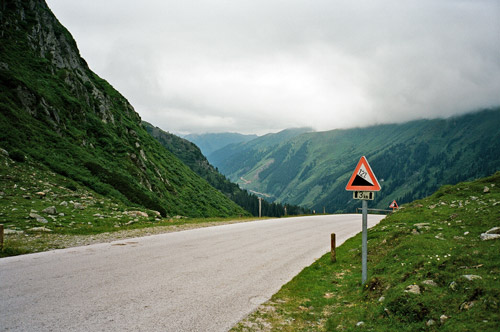 The weather was ominous and rain was always in the vicinity, though I was lucky to continue to escape it. It was really cold up at the pass. I was going to take a photo of the pass sign and little church, when a car stopped just to obstruct the view and out jumped a lady asked if should could take a photo of me and the man drove the car out of sight and then she jumped back in the car almost before I could say thank you. So in case you thought people was not nice here around, this proves otherwise. A decent photo it was too.
This day was all gloomy. I had a coffee at the café in Schöder on the way back (was expecting to be served by a nice girl, and instead came a man looking like he was motorcycle in between ;-)). There is a nice little road out of Schöder west that goes to Krakaudorf (1173m). What I had not noticed before was that this is climbing all the way. (One could conceivably also take the road over Schöderberg to avoid descending to Schöder on the way down from Sölkpass, but I am not sure it is all asphalted.) My original plan was to continue up to the Prebersee as it looks like a pass road, but I have not found anything suggesting there is an officially recognised pass on this little road and it seems like it is gravel for a little while higher up, so I skipped it. Instead I descended sharply to the Murtal Bundesstrasse and then had to climb a lot again up to Seetal, where one enters the Salzburg region. I had a little rain shower before Seetal. I think I saw a possible name for a pass on this road Kleintor or something such.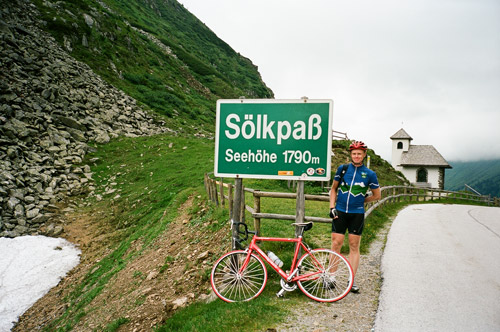 I was soon down at Tamsweg (1021m). From here I took the main road in the direction of the third pass for the day – the also infamous Katschberghöhe (1641m), because of its steepness. Many cyclists does not rank this as a very hard pass, but they really should. It is only 5 km long, but then over 12% on average and that includes a somewhat flat middle section. I was surprised by the hardship it brought. The road is very wide but that does not really help, unless you plan to zigzag up. I saw one more cyclist on the road and had hitchhiked with a car driver to the top. The last 3 km on the south side are even steeper, but ultimately not as hard as the north side. It was slightly dangerous going down this side as it was easy to gain speed on the curvy road. Later it is slowly dropping down all the way down to the Millstätter See where I reached the other side to the one I was starting from earlier in the day.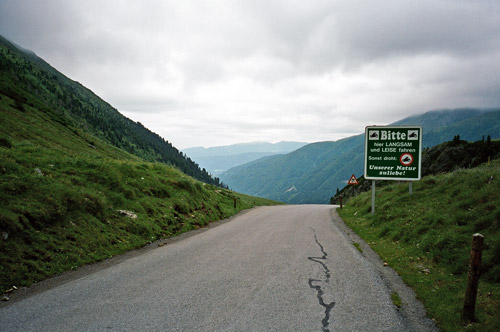 It was cold and I was getting tired and it was was also getting darker. I thought a bit of staying in Gmünd (741m), but somehow it did not look very nice to stay there. I took a short-cut road to Lendorf (I think it the road one is supposed to use as bicyclist anyway). That was also not such a fun place, so I went over to Möllbrücke/Lurnfeld (557m), where I decided I had to find a place to stay at for the night. I was using the main road there and somehow the car drivers thought I should use some other road, but I had no idea of what the alternatives might be or where they would have taken me, so I just kept a good speed to get into the village before it got really dark. (I think I had my back light on at least.)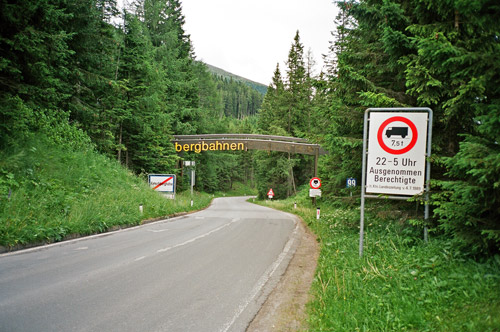 Möllbrücke/Lurnfeld also did not look nice at all at first, but in the village it was nicer and there were a couple of hotels there. I stayed at one that was not the most expensive and it was good. I probably had a Cordon Blue for dinner and beer.