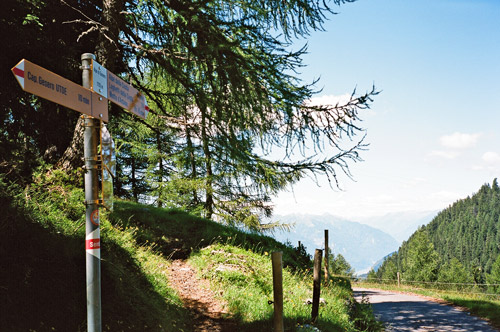 Unfortunately I had run out of film rolls and was stupid not to buy another roll, so I only had one photo left for this day, which proved clearly too little. As I mentioned, I had a very calming nice start of the day with the breakfast by the seaside restaurant at Ghiffa by Lago Maggiore. The sea is great, and it is cheaper as a tourist around this lake than the other nearby ones, like Lago Como. One could visit a place like the Cannobio, which had all the things one would hope for – at least they had a good pastry shop and an interesting-looking bicycle shop (that I never visited) ;-). There is an interesting looking through road to Domodossola from Cannobio. It would have been nice to go over the lake with a ferry and climb the Alpe Neggia pass on the other side (and I had some plans on doing this in earlier drafts of my plan).
The road along the lake is pretty busy, but it is nice cycling here nonetheless. The road get a bit narrow here and there and especially on some places on the Swiss side of the border, that one reaches suddenly on the way north. Upon entering Locarno by the end of the lake one has to turn off the main road by a tunnel. I did this and got very frustrated eventually over the near impossibility of finding a road you were allowed to bicycle on that could lead you to Bellinzona. I had to criss-cross between people with perambulators on walking paths by the lake, and navigating the backyards of peoples homes and then zig-zag out on open fields eventually being directed back to the road where bicycling was not allowed. The directional signs for bicycles in Switzerland are NOT to be taken as advice on where to go, but as marks cheering you up (they are just placed all around for fun)! I bicycled a bit on this big road until the next crossing and a couple had to stop by me and tell me if I knew that I was not allowed to bicycle there. Well, I said, "I think EVERYONE should bicycle here, goodbye!" But roads here are filled with police cars with policemen with nothing to do, so I quickly found another bicycle lane that seemed to go in the right direction. It only takes an hour (joke) to get through Locarno on a bicycle. (I met a police car blinking at me after turning of the disallowed road, but too late for them to stop me :-).)
The travel through hellish Locarno really zapped a lot of energy out of me, but I tried to cheer up. I went through Bellinzona and to the nearby small village of Arbedo (240m) where the next (and somewhat obscure) climb started. I filled my water bottle (the shop there had just closed as it was now 13:00 already). Then I tried to find the road up to Alpe del Gesero (1774m), which is not so easy to find, but you can get there via a couple of different roads through the village – you just have to keep to the north side of the village and try to find roads climbing up toward the forest above. At the end of the houses, the road to Alpe del Gesero starts (it says something about Gesero, I think). This road is fun! It took some time before I was sure I was on the correct road, even though I was pretty sure I was. The road winds its way over on the other side of the corner of the mountain and back again for some time before it decides to stay in the valley up from Arbedo (Valle d'Arbedo). This valley is so narrow and steep that it would probably be totally impossible to build a road along the river and thus this road climbs high above to meet the river only much higher up.
There were almost no cars here. I saw one person on a mountainbike on this side. There were also road-working here and the road was totally blocked by a road machine and at least one place I had to lift my bicycle over a heap of dirt. There were much debris on the road and it had probably been partly damaged during some recent bad weather. However, later it seemed like there were cars and forestry machines going up and down the road nonetheless, so maybe the repair was only temporary. Hopefully the road is not abandoned anyway (as I feared a bit while going up).
Soon you will get far above the busy roads down in Bellinzona and the eat down there. This makes the good mood coming back again. The price for this comes with a steep climb. This is considered as one of the hardest climbs in the Alps and at first I wondered why as it was not very steep for many kilometres at first (only around 9%). It does becomes steeper however. When you cross over the valley to the other side (via a big stone paved drainage gully (a couple of them similar to the new ones at the Rosazza road the day before)), the road becomes steeper and at one place where some forest machines were working and had put a lot of debris on the road, the road made a sharp switchback and the steepness was up to around 17% for some time (max is probably around 20%). But this was the first climb for the day, so it was not so hard for me. After the really steep part one had to turn left and then there was a section of 500m or more with an almost flat gravel road. This section was not very good, but cyclable with some care. Do not get scared because of this if you have a road bike, since it will be well worth it to continue. It is only after this that you reach the Alpe Gesero and a nicely asphalted road again. Here I had the photo left in my camera by the sign for the Alpe.
The road continues a bit further to the Capanna Gesero and here one can turn left on a gravel road (mostly an unmade forest road, with some asphalt, I think). This road climbs a bit and despite that it may sound as a bad road, it is in fact not very difficult to handle with a road bike. Also it is not long. What is best with this is that along this road you will get the best views from anywhere around over the Monte Rosa mountain range in the distance and I really wished I had more film here! Continuing I reached the tunnel that was built here during the second world war (1941, the inscription says). This was built in order to connect Ticino and Graubünden so that one could escape the obvious road down the valley below. (It does not come across as all too practical, but I guess there were military reasons for it.) This tunnel crosses the ridge under an unnamed pass (1847m) and I think this should be regarded as a real pass and will add it to my list of Alps passes above 1700m that are paved as the road from the other side is perfectly asphalted all the way up to the tunnel. (I believe it does not have a pass name (or any other name for that matter) because it was so "recently" built (historically speaking).) The place is called Alpe di Cadinello (1828m) and this should be the proper name for this climb from both sides, I think.
The tunnel is narrow, unlit and gravelled, but poses no big problem as it is not very long (ca. 300m). (The other side of the tunnel has the height given as 1814m – it might have been slightly sloping and the road was descending a little to the tunnel from the road from Gesero.) The other side is a pretty consistently steep serpentine road down via Laura (1370m) to Roveredo (294m) around the corner from Arbedo on the long road up to Passo de San Bernardino (2065m). It would have been a very nice descent if it was not for the many drainage gullies (usually good though). I met another race bicyclist on his way up here (on an older road bike). There are some fantastic views near the top and around Laura, but lower down it is mostly very wooded (also wanted to have one photo from this side).
I guess the passage is best climbed from the side I did it, but if you want a bit easier climb the Laura side would be recommended.
Down on the main busy road toward Bellinzona, there was road work and I had to cycle on a gravel stretch here too (and met another bicyclist here). I thought it was amusing that the main road down the valley was actually almost worse than the poor forest road up in the mountain and cheered the meeting cyclist (who did not look as happy).
I did not have any Swiss money on me and I actually never bought anything since my stop in Cannobio in Italy and before coming back into Italy in Menaggio by the Lago di Como much later. I passed through Bellinzona and was soon having problems finding a road where I was allowed to bicycle on again. I asked a lady in S. Antonino (I think) if I should continue up the road there in order to get to Lugano, but eventually found the road (which was not the motorway) up to Passo Monte Ceneri (554m) (from 209m). This is a very, very wide road up a minor pass. I caught up with a local cyclist half-way up and overtook him a bit before the pass. From the pass he hanged on to me, so it was full speed ahead down to Lugano and I was seldom under 40 km/h there (even when it was almost flat). Somewhere before Lugano he disappeared and I could slow down, he he ;-).
In Lugano it was not too obvious which road to take to get out east toward Italy. I asked about the road and finally got on the correct road somehow. What I did not know is that there is bit of a climb up here along the Lago di Lugano. Also now it was just after 17:00 and people were getting home from work and everyone was going in my direction as many, many italians work in Switzerland while living in Italy. A man I talked to briefly at Alpe di Cadinello (from Lugano) had noted that this might be a bad road choice because of the traffic here. However, I did not have much choice really.
At first it was fun zig-zagging among cars and passing by hundreds of them at the customs, but eventually it got a bit tiresome. Luckily there were very few oncoming cars though. I still kept a ridiculously high speed and was in fact also hurried as I was becoming worried I would get late to the ferry at Menaggio and I needed to get over as quickly as possible to the other side to have a real chance of getting back to Bergamo this day. It is good I did not tell you what went on in my mind here and earlier regarding road choices to Bergamo as that would make it clear I was ready for the asylum. But the idea was to climb from the other side of Lago di Como/Varenna up to above Esino-Lario to Vò di Moncòdeno (1436m) and then down (to Cortenova (473m)) and up via Culmine San Pietro (1254m) and down via Forcella di Bura (884m) to Bergamo.
I went as quickly as I could and wondered when the ever rising road from the border to Menaggio would start to descend. This did not happen before it practically slumped straight down to the seaside. At this point I was really tired. I quickly found the road to the ferry and got a ticket, then headed to a nearby grocery shop (with strange people running the shop, who seemed to think they were selling very expensive jewelry or something and who kept an eye on you all the time and were very afraid that you touched anything there). Anyway, I bought an ice cream, a litre mango juice and a cake roll of some kind. I ate it all up during the somewhat quick boat ride and managed to use the time effectively.
The trip was nice an I had a little rest. I could see the hilarious and inviting road up from Varenna as we approached. At Varenna the time was now 19:00 or so, but I decided to at least try and get up here and not think too much about when I would get to Bergamo (still far from here).
The climb up from Varenna to Esino-Lario is a dream – a very nice climb in the afternoon like this day and it felt like a privilege to be able to cycle up here. By this time I noticed that I got some ache from the saddle, mostly because I had finally lost quite some fat (this could also be a reason that climbs still felt somewhat easy after going this far). I had again a very good speed up here and I wondered myself how it could it be … . Before Esino-Lario (833m) the road first becomes a little less steep, but then through the village it starts to get steeper than ever before. After Esino-Lario, one comes to a crossroad and now it was 20:00. Anyone remotely sane would of course had taken the quickest road to Bergamo now, but not me, no – I knew there were three "easy" to collect passes in the other direction that may have very nice views as well. I thought, to hell with arriving in Bergamo while it was light outside (as if it would have been that if I even had gone straight there now).
Soon after turning right at the crossroad above Esino-Lario someone had written on the pavement "Gratti". I believe this refers to the fact that now the worst of the climb up here started! Now it was up to 15% all the way up Cainallo almost as steep behind up the very small road to Passo di Cainallo (1292m) and after some more climbing one reaches the little marked Bocchetta di Cino (1390m), where the asphalt runs out. Still I decided to to get on up to Vò di Moncòdeno/Bocchetta del Cimone (1436m) (that I had heard would be asphalt to). The gravel is possible to use up to a parking place. This last pass is at the side of this parking place. I turned around near enough the pass to think I could count it and rolled back down to the crossroad above Esino-Lario. It was very nice up here above Cainallo, so I could recommend this climb! No photos unfortunately.
From the crossroad there is a little climb up to Passo di Agueglio (1144m) before one goes around the mountain and descends to Cortenova (473m) on a very nice and good road. The good views disappears on the descent. Somewhere on this descent I managed to run over a stone and I soon discovered that I had a slowly leaking rear tyre. Very annoying as the twilight was now also starting to fall.
I now realised I could not get over the Culmine San Pietro (1254m) as I had no front light with me. So the idea now as to get over Colle di Balisio (723m) and descend to Lecco and try and take a train back from there to Bergamo. Now I had to stop a few times and inflate the tyre and here were also some traffic with car drivers that did not like cyclists out in the dark. I put on the rear light, but someone with a city jeep was close to run over me while overtaking another car and I am sure it was on purpose (felt a bit like hopeless car drivers at home in Sweden). Luckily I survived thanks to a few millimetres.
I went down to Lecco in the dark on an almost flat tyre just wanting to get down there and take a train back. However, the trip was not yet over. I soon found out that there were no more trains for Bergamo this evening and also no buses. I think it was over 22:00 now. I telephoned the nice guy running the bed & breakfast in Bergamo and told him I was still on my way, but I would arrive VERY late and asked if it was ok. It was no problem thankfully. I found the road out of Lecco thanks to advise from the lady at the hotel where I telephoned. After a while I found a gas station and decided to fix a couple of things. I cleaned the bicycle in the car wash so I would have a less dirty time packing it down the next day and then fixed the flat so I did not have to keep stopping all the time. Also had a coke here (I love gas stations), they even had paper to clean my hands and bicycle up a bit.
This stop took nearly 30 minutes, but was worth it! Then I went on a nice night trip to Bergamo on the main road over there. Not much traffic and there are road lights most of the way there, so no big problem really. I found the way up to Città Alta in Bergamo and arrived back at the B&B at 13 minutes past midnight! The brothers welcomed me and went to bed. I went out on the town and even though I could not get any food, I got a sandwich at a café before going back to bed.
Everything worked fine in the morning and I was feeling very relaxed to be able to walk around in normal clothes. I bought some bread and some good cheese and salami at a nice old salumeria in the old town. From this I made two super tasty sandwiches later at the airport.
For a while I could happily claim to have climbed all the surfaced passes in the whole of the Alps above 1700m, but now I have just learned that a member of Club des Cent Cols has discovered another one. I knew it would just be a matter of time and the more one tries to claim, the sooner one would have to revise the claim. There is now also Col des Portes (1835m) on a road (D33) just above a hotel in La Grave where I spent some nights in 2004. I already had some thoughts of maybe go to that area for a while next year and now the idea looks even more likely … .