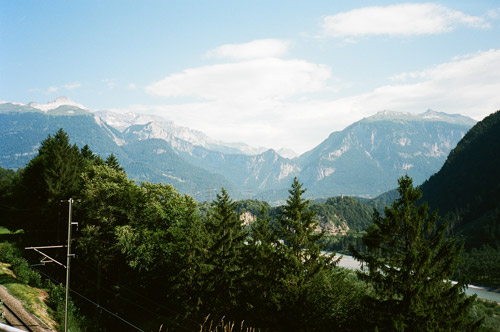 Today I had very good weather at start and a very long gently downhill ride through Thusis. This was all nice, but soon I caught sight of the Kunkelspass straight ahead and stopped for a first photo. I had not decided completely if I should go over it or not, but though it might be fun and still should allow me to do the two other climbs I had thought to do for the day in Lichtenstein and nearby. The Kunkelspass looked really inaccessible from afar, even if not so high. The road itself gave expression to this impression later on.
At Tamins (592m) I had to climb up inside the small village and when there it was rather obvious which road to take for the Kunkelspass (1357m). The road is a very narrow road that is asphalted and at first is nice and easy. Soon it goes into the wooded mountainside and here it becomes very steep. After much hard climbing it turns into gravel and eventually you reach a tunnel where the road is at its most narrow and bad, but it is still perfectly and easily cyclable with a road bike (much better road than I had heard or thought). The tunnel is not lit, but it is short, so no problem. At the other side of the tunnel the road becomes wider and turns back into asphalt over the gentle top of the pass.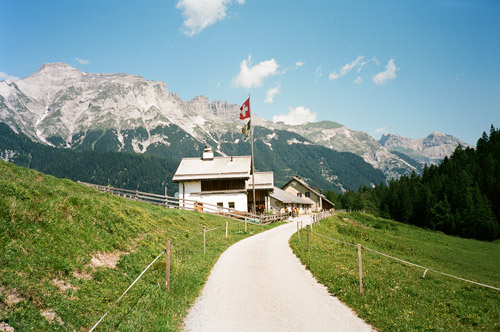 So far all was great and I was very happy to have chosen this road over the horribly hot wide valley down toward Chur (have still never managed to come by there). Now it soon turned to gravel again, but very good and wide. I was however unlucky and had a flat (could have happened anywhere, but). This was the first flat of my tour, so maybe it was about time … . I am not so bad on fixing flats, but this one took me a very long time as the extra tube I had with me did not work and it was not evident before I tried to pump it up several times, which made me rather tired. Then I had to use the extra patch and glue I have with me (a very good extra insurance in cases like this and less weight than carrying two tubes!). Now I had to be careful, so I would have had to walk down and thus it took almost an hour to fix the flat with all pumping (I have a small Barbieri carbon pump that is weighing as little as gas adapters and does not fail and could be used endless times unlike gas containers). Just soon thereafter it was all asphalt down the other side. I thought I had read somewhere that there was an almost path-like stretch on this pass, but this road is really not more problematic with a road bike than a mountainbike, so it is entirely nonsense to avoid it for race bicyclists as is commonly the case.
After Vättis (943m) there is a choice of roads down. I had not studied it well beforehand, but it turned out that both road choices involves a bit of climbing again. I took the one continuing straight ahead via Pfäfers and down to Bad Ragaz (514m).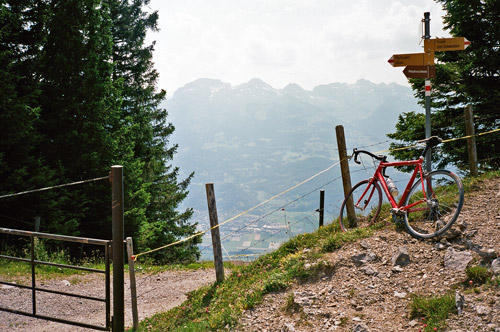 Down in Bad Ragaz it was soon 13 in the day, but I took a break at a regular café here. I then cycled over the valley floor to the other side which is Maienfeld (509m). From here it was a short and somewhat nice climb (only a bit too much traffic) to St. Luzisteig Pass/Engpass (713m). It is not much of a border visible here on the way down into Liechtenstein, but there were military people here and an odd narrowing down of the road as you pass into Liechtenstein. Down in (or around) Triesen (466m) it was now damn hot and maybe it is true that I had the highest temperature around here as my bicycle computer suggested during the whole tour as it showed a max of 45 degrees in the sun (when I looked at the results later).
I improvised on the start of the climb up to Triesenberg (884m) and started out on a bicycle path, which turned rather nice until it came into a maze of small roads with houses along the roads all the time. I guessed the direction and eventually came out on the main, wide road up to the village. It was hard to climb up even on the wide big road in part because it was very warm, but it is also somewhat steep. Above Triesenberg at the last big turn on the way up there is a road taking off at 1100m height to Gaflei, which I took. (I had thought to go up the old road toward Steg and Malbun, which should be very steep and end with a tiny tunnel at the top), but after climbing up above Gaflei I thought that was enough. The climb over to Steg is surely a pass, but it lacks a proper pass name.)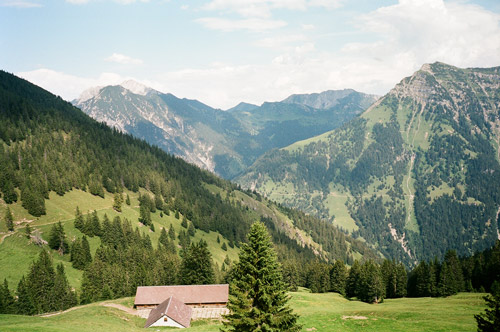 The climb to Gaflei only becomes steeper and steeper the further you go. Easiest is (probably) to proceed (like me) to the end of the road where an obvious gravel road continues up the mountainside. Here some bicyclists rested, but I continued straight up (just make sure to keep going up and you will be going the right way). This gravel road is very good and compact (apart from the first turn) and I was wondering a couple of times if it was not old tarmac under my wheels (I am not totally sure it is only gravel). Now, the good surface is merely a necessity to make the climb on a road bike possible at all. The last part is steeper than before (up to around 16-17%) and I had to really want to get up in order to manage to do it – it is just about what could be done (at least for me). To me this climb counts as one of the hardest I have ever climbed – slightly harder than the famous Mortirolo/Foppa pass, but ultimately less steep on average. The end of the climb is at the Bargällasattel (1742m) where there is cattle gate (that coud be opened). The gravel roads on the other side are less good and I do not know if any of them might be possible to use to get down into the valley on the other with a road bike (with a MTB it should be possible).
The views from Bargällasattel ('Bärgällasattel' on the Swiss maps and the sign says 'Bargellasattel') are great and you can see most of Liechtenstein from here! When coming back down from the gravel road I stopped at the Berggasthaus Matu where I had a good and cheap gulasch and coke while sitting on the terrace with a wonderful view. I was worried if they accepted Swiss Francs or not in Liechtenstein, but there were no need to worry as it seems they love swiss money. It started to get windy and my coke glass fell, but luckily I got a new glass and was happy again! I said to the lady at the restaurant that the climb I just did must be harder than the next I was going to do across the valley/border up to Gonzen/Palfris. The lady thought it would be much harder up the Gonzen road, but I could not believe her and it turned out that it was not harder for me anyway. (I talked with some other nice people at this restaurant too.)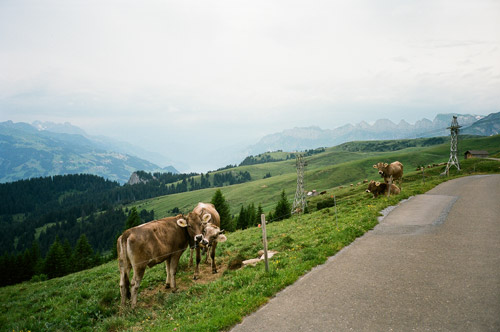 It felt so nice just sitting up there that I did not really want to go anywhere else now, but luckily the increasing wind and some clouds suggested to me that I better get going if I should have a chance of getting up the Gonzen road before the weather would turn bad. Some of the guests I talked with at the restaurants doubted I would be lucky with the weather. So full speed down to Vaduz (I should have tried to make a short-cut back also as one get in the wrong direction, if going toward Sargans, by just going down to Vaduz). Eventually I crossed over the bridge to Switzerland and was starting on the climb up the the other side I had been sitting looking at from high above in Liechtenstein just a bit over an hour earlier.
The climb up to Chamm (Gonzen/Palfris) (1712m) is one of the hardest climbs in Switzerland – over 12 km with over 10% on average (18% maximum). However it felt like it was not very steep apart from some steep ramps later on. I took the road alternative going most straight up, but soon found out that they had put a lot of loose gravel on the asphalt, which I was worried about having to go over on the way down – if nothing else it would slow me down on this otherwise fine asphalt road. The gravel patches thrown over the road surface continued at least half-way up to the top making sure I would think it was pretty hard anyway ;-).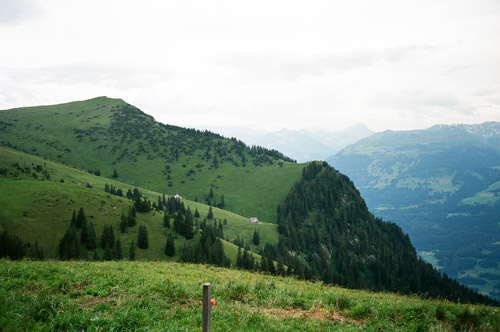 I actually passed by another local (must have been) mountainbike cyclist near the top. The road is very unevenly steep near the top and that made it a bit harder also. At the top I had very nice views ahead toward Walenstadt See (I could not really make it out in the distance) and of the mountain and pastures up here. Chamm is the highest point and Palfris is the gasthaus a kilometre further ahead where the asphalt road ends (from what I know). It should be possible to get down the other side of this pass further ahead (but it would likely involve some walking with a road bike and it was too late (unfortunately) for me to explore this alternative. I had studied the maps there very long before going here and there should be a road down from Sennis (1397m), but there is a stretch of approximately 1 km or a bit more where there is only a path (though likely very cyclable with a mountainbike). (There are some downhill variations on paths also, but that is strictly MTB or downhill stuff.) Gonzen is the mountain peak above Sargans making Chamm into an actual pass (even if not in name).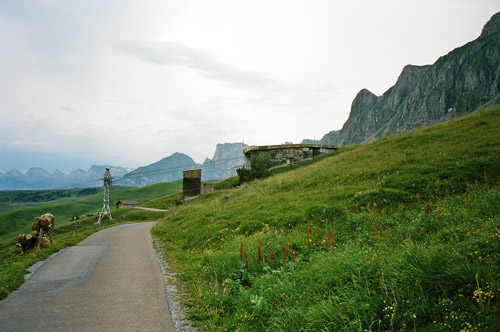 I went back after taking a couple of photos here (last 4). The last photo is across to Liechtenstein and a bit off the edge to the left in the photo is Gaflei. It was a somewhat slow return since I was afraid of the loose gravel and the local man who was very slow up quickly passed me by on his way down. I took the other road back via Oberschan (668m). I was down at Sargans and rounded the corner of Gonzen on my way to Walenstadt and now the clock was over 19 pm. I then cycled in extreme hard headwind to Walenstadt and the weather looked decidedly ominous with very dark clouds ahead. I was ready to stop at the first best place for the night, but wanted to get as far as possible and hopefully all the way to Walenstadt (which would had been very easy in any other weather). I came into Walenstadt just as it got totally dark and the thunder was very near. I asked at two places, but the hotel I had passed by first was the only one open with a free room – the Hotel Krone.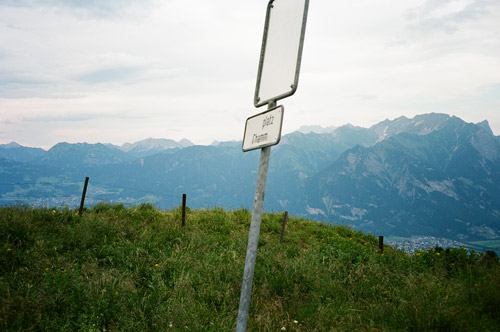 Just as I parked my bicycle outside the hotel the rain started to come down and I hurried inside and was very happy they had a room for the night. Luckily they also served food. I was hoping it would be good weather again in the morning and started to see what I could hope to do the next day.