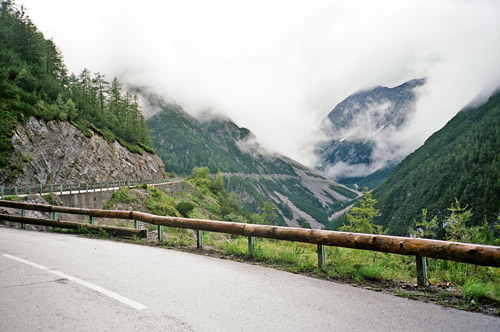 Today was another day in rain through the Inn valley (just like in a previous travel here). It was almost not raining as I started and I was hopeful it would end (not having heard of any forecasts). However, I did not even manage to get out of the Zillertal before I was totally wet from top to toe less than an hour after the start. It continued raining with varying intensity all the way to Imst. Through Innsbruck was more like swimming, than cycling. I was shivering to and from, but kept going. Strange diversions after Innsbruck made me go in circles (more or less), but I managed to avoid the motorway anyway (turned around once when I was almost getting out on it). How fun? At one point after Innsbruck it was raining so much I took shelter for a few minutes even though I already was totally soaked.
Finally arrived battered at Imst around 16 in the afternoon, feeling like I had not gotten anywhere. I stopped at a restaurant (rather cold place) in a nice-looking hotel in the upper part of the town. I was sitting there until 18, when it almost stopped raining. Then half-wet still, I started out on the climb up the Hahntennjoch (1894m), which was number 3 (by height) on my list of passes to do to achieve my goal this Summer. I started out in a good speed at the steep first part in order to gain some warmth in my body to be able to meet the chill higher up.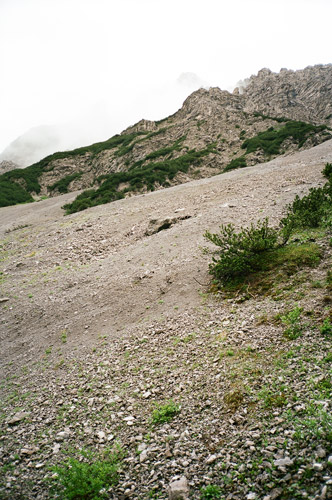 Now it was starting to get a bit nice again and this was also a nice road with little traffic. The views was good almost all the way up to the pass and down the other side. Higher up the slopes looked like heaps of loose stones about to roll down on you (see one of the photos here) and I was wondering why there were no warning signs for rock falls, but maybe the mountainside was not prone to rock falls, I could not tell for sure.
The pass height was a bleak and cold spot, but nice anyway. The west side of the pass is mostly through forests, but it often offers nice views back. I stopped to take one photo back before reaching Bschlabs, but then just after Bschlabs I found the view back was even better with the nice little church in the small village, so I had another photo (see the last photo).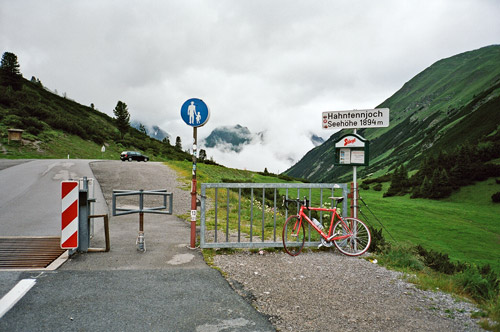 Down at Elmen (976m) it was still not very warm. Elmen is a bit north of where you come down and I did not want to go in the "wrong" direction, so I continued to Häselgehr up the Lechtal, but there it was fully booked and in the next village there was a ruhetag at the hotel, but luckily they do not all have ruhetag in the same day, so when I came to Elbigenalp, there were a couple of open hotels and I had a room at the first place I asked at by the main road – the Hotel Post (common hotel name throughout the central Alps). The hotel was "average" in all regards, but was also good enough for me. I had dinner at the hotel and only went for a short walk through the village before going to bed. This is a nice and calm valley for tourists wishing to stay away from busy places or who have a special interest in "holz schneiderei" (tree sculptures were sold everywhere).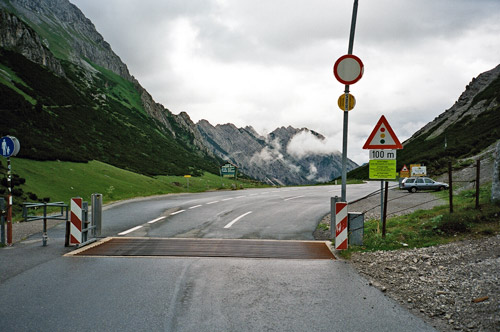 I had had ambitious plans for this day beforehand, but those plans was only possible to realise with perfect weather as it involved trying to get over the gravel road over the Karawendelhaus/Hochalmsattel (1788m), which should be difficult, but also very nice. This is the only alternative east-west road within Austria bypassing Innsbruck.