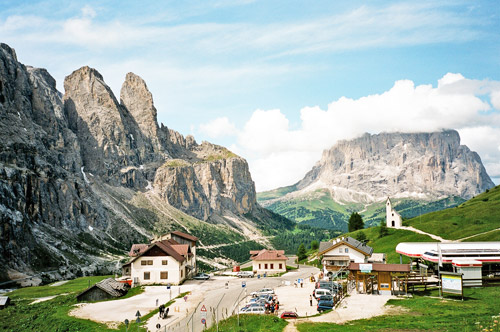 This day Ola, Fredrik and I started off around 10-10:30 and first climbed from Corvara to Jëuf de Frea/Passo Gardena/Grödner Joch (2121m), which is one of the nicest of the four passes of the 'Sella ring'. This first photo was taken just above the pass where and asphalt roads goes up a bit further, while I was waiting for the friends to show up (not far behind me). (This pass is called 'Jouf de Frara' or something similar on the new road signs lower down on the road up Alta Badia, for some unknown reason, as I have never seen that spelling on a map. – If you happen to know why, then let me know! (It might be a different dialect of Ladin "simply".))
Then we descended the Grödnertal/Val Gardena (passing by Sela de Culac/Kulatsch Sattel/Sella del Culaç (2018m)). After Ortisei/St. Ulrich (1236m), we climbed the easier side of the Panider Sattel/Passo di Pinei (1442m), which is still steep, but short. The descent down to Castelrotto/Kastelruth is quick on a nice and good road. One problem was that they were paving the road and were stopping the traffic in one direction at a time and the man stopping us were standing in a curve so that I could not stop in time, but we were lucky there. In Castelrotto we stopped just before 12 to buy ice cream and fruits at a grocery shop.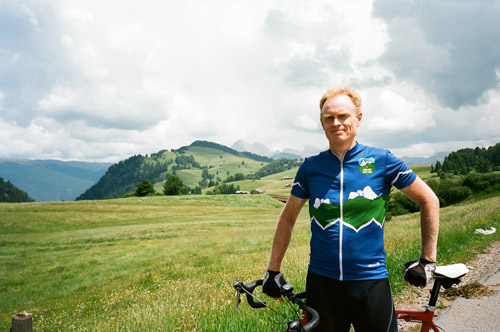 Shortly after Castelrotto we turned off the main road to Alpe di Siusi/Seiser Alm/Jëuf Ciaforn (1862m). The climb ends at Compatsch/Bellavista and from there a paved narrow road continues rather flat until the actual pass (as I see it). (There are arguably two passes up here parallel to the Panider/Pinei pass down to Grödnertal, even though none is officially recognised. In the photo I am standing on the narrow road at the first possible pass (the others did not want to go and explore what I thought was the real pass further ahead and as there was no real extra climbing here, I thought this would do for counting this pass for me ;-)).) One could go over the Malknecht Joch/Pas du Duron (2187m) and down to Val di Fassa also, but the gravel road should be somewhat bad on the other side of the pass (which I climbed only half-way in 2003 as the thunder was coming in). Alpe di Siusi/Seiser Alm should be one of the biggest high altitude pastures and is a very popular place to visit by tourists, which is why there are many restrictions on the roads up here. Bicycles are allowed though (I believe). This climb would be very hard if started from down at Waidbruck/Ponte Gardena (472m).
The descent down the same way we came was quick! Now we went on an almost flat road slowly going down toward Bolzano. Just before the real last descent down to Bolzano starts, there is a "short cut" road over to the road going up to the Passo Nigra/Nigerpass (1688m) that we took after some argumentation from me. The problem was that we were greeted by a sign saying it was 28% up here and Ola was not too keen on trying his luck at this and both thought I knew of this in advance! Which I did not (for once). I started out and shouted to the others that it was merely 23% and Fredrik managed to cycle up too, while we had to wait for Ola who decided to walk up the hardest section. It turned out to be a very sweet short cut road otherwise.
Now our troubles was not over. First there was road work and bad gravel for a kilometre on the Nigra road and then came some long very steep sections around 14%. Fredrik was now the one starting to loose his happiness with steep roads. Eventually we all reached the pass sign and continued over on the flat road to the nearby Karerpass/Pas de Costalongia/Passo (di) Costalunga (1768m). Rain was in the air, but we were lucky to escape it for the whole day.
Fredrik needed water as he was eating "power bars", but then we continued down Val di Fassa in better mood. Karerpass is an odd pass given it has a 3,5 km almost exactly flat top section. Down in Val di Fassa it was clear that Fredrik and Ola were getting very tired ad they decided that they should take the bus back to Corvara from Canazei. It was close to 18:00 when we reached Canazei (1440m), but according to the bus schedule they seemed to be lucky and a bus should leave for Corvara just 15-20 minutes later. We bought a sausage and I said that I thought I would be back while it was light by cycling, so I could as well cycle back. I said goodbye to them and hurried up the Passo Pordoi/(Jouf de) Pordou/Pordoijoch (2239m) as I wanted to get as far up as possible before they caught up with me.
For some reason I felt in good shape (probably because I had went a bit slower tempo than normally) and went really fast up the pass, if I may say so. At least as fast as while on the Maratona race. The bloody bus never showed up and I just had to keep going on in my high speed … . I was getting a bit worried over what may have happened, but buses are often late and this is Italy, so … . I had also met a bus going down and thought it must be that bus which was late. At the top I still had not seen the bus and was suspecting that the schedule might have been incorrect, but I would not help my friends if I returned, so I just went on down to Arabba (1601m), while looking back now and then.
The descent was cold, but I went straight up the climb to Passo di Campolongo/Ciaulonch/Campolongo Sattel (1875m). On this climb one can see the road coming down from the Pordoi pass clearly and I saw no bus coming down. After getting closer to the top of the pass, I noticed briefly a cyclist above me and thought the colours that I could glimpse reminded me of Fredrik. I better go back into full speed and see if that was so before I reached the pass top. And, yes indeed, it was my friends who where getting up there ahead of me and I managed to overtake them just before we reached the pass height.
The bus schedule apparently was from the previous Summer season the sausage man had later informed them. Then they had decided to take a taxi up to the Pordoi pass and they had apparently passed me by with enough time to get down before I could spot them at the Pordoi pass. Still I was down in Corvara before them! ;-) – Things like that is what makes one endure the hardships of climbing passes like these! :-)
We had a nice late dinner again this evening. The next morning I would continue on my Alps trip and leave the Dolomites.