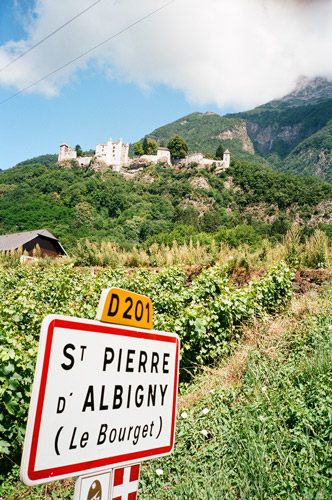 Finally the good nice weather was back and I decided to not complain about hot weather from now on (it is always more bearable than cold and rain). After a decent breakfast in Faverges (510m), I had a very nice start up the easy and low Col de Tamié (907m). I also went around a the hill with a fortification on it there to visit the nearby Collet de Tamié (955m) (no views from this pass itself though).
The road down from Col de Tamié was nice and here I met several bicyclists. I took some minor roads down (a bit up and down I think) toward the west (through Cléry). I followed the D201 to St-Pierre d'Albigny where I had a photo. I also called home from a very warm telephone booth here around. One funny thing I saw along this road was that they had automat (machine) where you could insert coins and get bread! (An alternative solution for small villages without their own bakery perhaps!) I had thought this road down the valley would be rather flat, but there were a lot of ups and downs along the road to Montmélian (290m).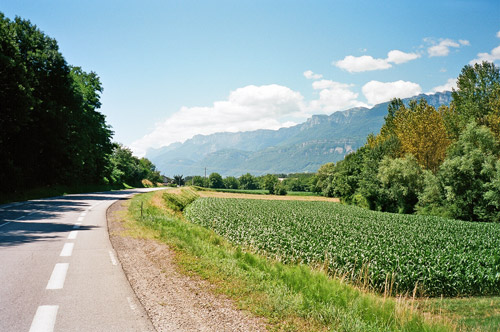 I had my first break in Montmélian and bought a sandwich, pastry and coke (think they had a special price for it) at a pastry shop in the centre. Then it was down to the valley floor and more heat. on crossing over the valley floor toward Pontcharra (255m), I took another photo of the Chartreuse range that I was approaching now.
From Pontcharra I went up to a crossing near Barraux (332m) but looked wrong on the map and went down again (I thought I was on the D9 above here) to Les Granges (260m), where I started to climb steeply back up to the D9 and La Flachère (420m). I had thought there should be a road continuing more or less straight up through La Flachère, but I think I went back and forth through the village three times! before I figured out that maybe it was the unsigned road going up to a church there and it was. This bit is quite steep and could be avoided by going back on the D9 further than I tried. Then I continued up on the continually steep D282 (road numbers are interesting to keep note of when planning travels in France).
After climbing out of the worst heat lower down, the road got almost flat for a while and it was lovely here with a perfectly asphalted road. After Belle-Chambre the road continues steeply up to Col de Marcieu (1061m). I think this pass taken via the road I went up from Les Granges through La Flachère, must be one of the harder climbs in this part of the French Alps. I had another photo at this pass.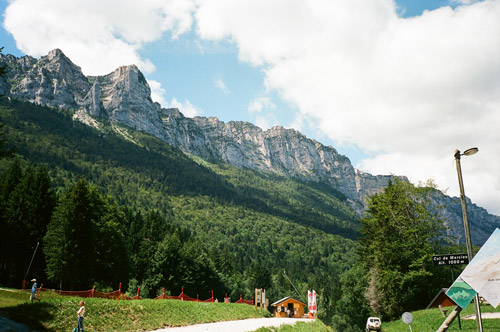 I stopped somewhere along the very nice high road up here in Les Margains (perhaps) to buy an ice-cream before descending to the crossing (944m) with the road up to Col du Coq (1434m). The climb up to Col du Coq must be really popular as it is rather spectacular going up this side from (north of) Grenoble. The last part of the climb was a bit steep, but the road was good and wide.
The road on the other side soon turned really bad and narrow and I even had to climb steeply later so I was almost up at the pass height again. At St. Hugues (875m) the road becomes better, but here I turned off the road to make a short-cut over to the next pass. The next pass was the famous Col de Porte 1326m), which is on the main road to the Chartreuse from Grenoble. The road up here should not be much of a climb and this road was fine, but without any nice views. I went a bit too fast and managed to even make this small climb a bit hard. From the Col de Porte another road goes even higher up to Chalets de Charmant Som (1669m) (below the peak with the same name) and I think this is the highest paved road in the Chartreuse making it a real climb from down in Grenoble (213m).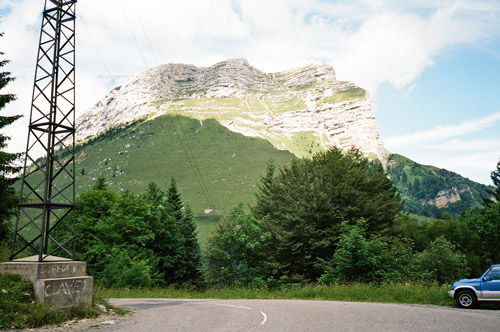 From Col de Porte it was a nice and easy all downhill ride to Grenoble. Moreover, by taking the right turns I could collect with ease (for once) three additional cols on the way down: Col de Palaquit (1154m), Col de Vence (782m) and Col de Clémencière (622m). Just before reaching the town I stopped for a photo of Grenoble (below).
I zig-zagged my way through the busy town and know that somehow I should get over on the other side. When getting close to where the climb up the next mountains should start I stopped to eat something again. I never came across any nice grocery on my way through Grenoble and found no other inviting place along the road I took and now I found myself in some of the (probably) worst suburbs. I went into an Ed supermarket (one of the very cheapest (in every way)). As usual one cannot really find anything to buy for only one person in places like these, but I figured that buying a pack with three Magnum-like ice-creams was cheaper than simply buying one Magnum ice-cream elsewhere and a 1,5 litre coke was cheaper here than buying a 33 cl coke elsewhere, so I just told myself "think big". I also had no problems quickly eating up three Magnum ice-creams (one was finished before I had paid for it :-)). The best place outside to sit and eat was at a bus stop by the busy road outside (as this seldom happens during my trips, it was almost exotic ;-)).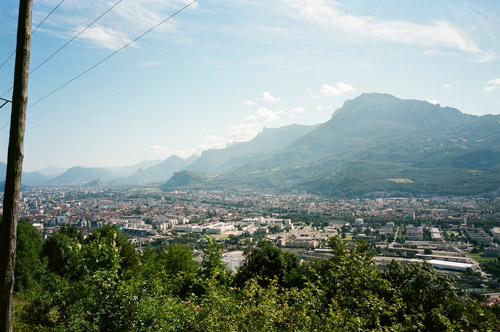 I was starting to worry about getting stuck in Grenoble though, which is not exactly a place one would like to stay at (from what I saw of it anyway). It was now already 19 pm, but I was determined to get out of there. Still I did not know exactly where I was. I had first planned to take the scenic D106 via St. Nizier de Moucherotte (1168m), but left it for another time as my main goal was to get as far as possible today and if possible get through the famous Gorges de la Bourne. So I aimed for taking the easiest road up. I think I figured that I was on the D1532 by looking at the map and the bus stop map (in the area of Fontaine). I also thought there was no pass on the road over St. Nizier de Moucherotte, but I now see that there is a pass very close to the road at the top on a side road to Le Goulet (1140m) (next time maybe).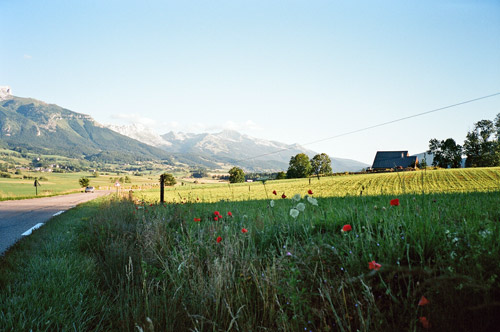 I went toward Sassenage (203m) and stopped to wash my bicycle at a car wash on the way there. At the start of the climb on this evenly steep and, wide and very good road (D531) toward Lans-en-Vercors, I passed by a couple with real touring equipment and the guy managed to keep up with my speed for some time, much to my amazement. Then I raised my speed a little and said goodbye and I managed to keep this raised speed all the way up to Lans-en-Vercors, much to my amazement again (but this time over myself). I was not more than an hour until I reached the crossing with the road from St. Nizier de Moucherotte at Lans-en-Vercors (1004m). So now it was 20:00 in the evening but it was still a bit sun up here and I had a photo soon here after on the lovely plateau. I was very happy to have gotten up here. It is pretty strange that this passage does not have a pass name as it is a pretty obvious, although gigantic, saddle pass.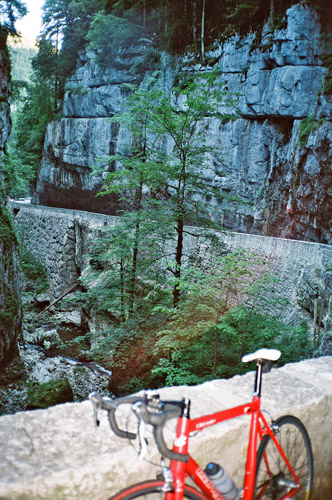 Villard de Lans looked a bit gloomy in the shadow here around now this late and it was also pretty cold up here. Since it was still light outside, I decided to get down the Gorges de Bourne, hoping I would find a place to stop at sooner or later and that it would be a somewhat quick road as it would be downhill. The gorges are really worth seeing, even though I had thought it would be even more spectacular (in my imagination). As it was a bit dark in here, my photos was not perfect and it was also a bit easy to find good places for taking photos. There are also some traffic on this narrow road! The road was a bit rough here and there because of all rockfalls.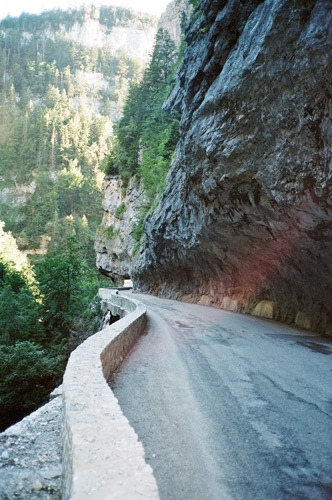 The road through the gorge only descends slowly so one does not gain any real speed down here, but I was not feeling like being in a hurry any longer anyway. Eventually I came down to Choranche and it seemed like I more or less had reached the bottom and end of the road. I noticed people were sitting eating at the restaurant there and noticed it was a hotel, so I jumped off and asked whether they had a room. They had and I stayed. It turned out they had really good food here and this was the best food I had during the tour. They also had the best service, by a very attentive staff, quite unlike most other places in France that I have stayed at. The hotel room was pretty average, but this place I would recommend very highly! See: Le Jorjane (very difficult to find through Google – Google is generally of little use for finding good hotels).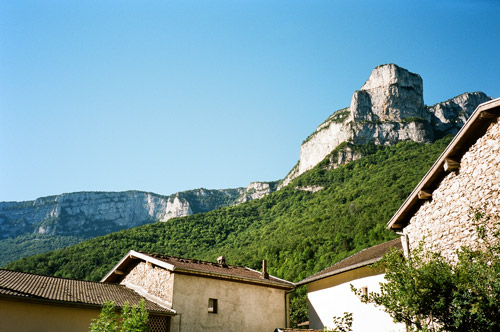 Lots of photos here, so hope you are not using inferior browsers like Internet Explorer or Opera to browse these pages! The last photo was taken the next morning from outside the hotel.