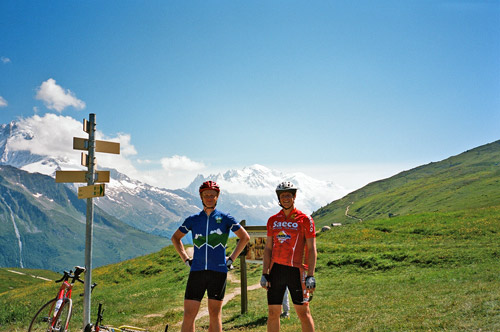 Today I slept long and well. This was the rest day for me (which I had not planned ahead to take). I had come up with some ideas for the day. An idea was to climb a col that I had not planned to do, like Col de l'Arpettaz (1581m) from Ugine and return. The english guy (Phil) had a road bike, I first heard, but then it turned out that he only had a mountainbike on the way to meeting him, so I had to come up with some other idea not involving going too far away from Chamonix. Why not try the gravel road to Col de Balme (2191m) above Argentière, I thought, and have another +2000m pass on my list.
We agreed to try that, but we had to be back somewhat early as he needed to do some further work later in the day. It is pretty easy to get up to the end of the asphalt road, but Phil was already a bit tired. He decided to take the cable car up to the plateau above. I thought maybe I could cycle part of the track up there so I went up the track but it was too bad and they were also working on improving it which made it mostly impossible to use with a road bike. It was a quick hard walk up to the less steep landscape from where we both could cycle. At the junction for Col de Balme it turned out that the gravel road there was less good than the one to Col des Posettes (1997m) and it was also longer. We decided to be happy with visiting the later col instead even though it was irritatingly just below 2000m ;-).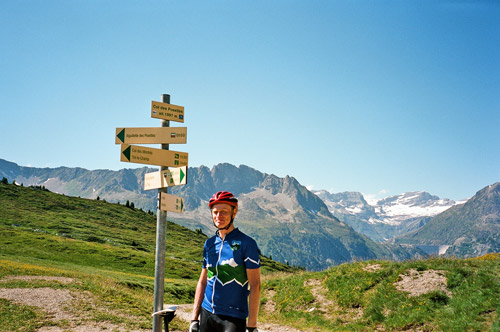 Even on the gravel I was quicker up to the pass than mountainbike guy. There were really lovely views from the pass over the Mont Blanc range and we had a couple of photos there as you can see. We thought about descending the other side of the Posettes pass and the road looked good initially, but someone suggested it might not be so good all the way and there was a cable car here. As it was a rest day, I did not care much about taking the easy way down and we took the cable car down, which seemed like a good idea from the view we had of later sections of the track down there (which was also quite long). We got the ride for free.
Then we climbed back over Col des Montets (1461m) and was soon back in Chamonix again just in time. Phil has now apparently gotten a real bicycle (a good one, I mean) and made a longer tour on his own, so maybe I have to come back and give him a second chance!? ;-)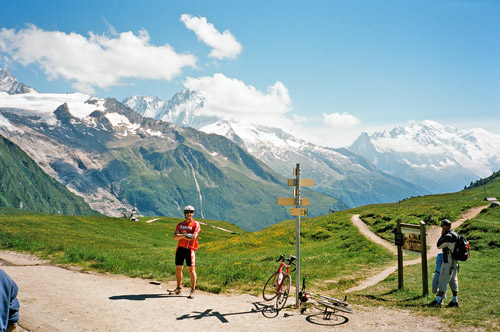 We went and had dinner at quite good (but not very expensive) restaurant run by swedish people (apparently), but my sister had never been there before during the three years she had stayed there. And we had a beer or two in a nearby bar (that seemed to be a very small popular dance place also). We talked with some other locals (also not French …) – an older American man and a younger Moroccan guy who worked at the bar (I think). I mentioned how very bureaucratic things could be in France (which I mostly just have heard about though) and that it is not easy to get things done in France, but the Moroccan guy said that then I must not have been to Morocco … . (Which I have not, but as they also have some nice asphalted pass roads up in the Atlas range, maybe I should go there one day.)