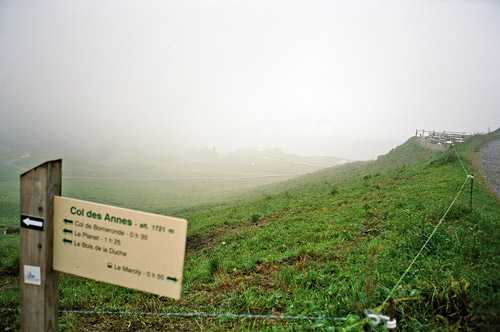 I was sleeping too long this day and only got away just before 12 in the middle of the day. I just managed to visit a bicycle shop in nearby Les Houches on my way down the valley (it is a bit up and down for cyclists) to Sallanches. I needed yet another tube although I did not get any flat on the gravel at the Possettes pass the day before. The man who own the house where my sister stayed had been going his much longer tour than me the day before and we discussed this briefly and then asked me what I did and, well, he of course thought I must have said something wrong. I had to tell him that I walked a lot, though he still thought it crazy to even think of getting up the Possettes pass ;-).
I went down to Cluses (482m) on the busy road down there and there a few raindrops started to find there way to me. I had thought about taking the road over Romme, which should be nice, but as the weather looked worst up there, I decided that I better skip this (I actually started out on the road to Romme, but turned around). The alternative (main) road to Col de la Colombière/d'Auferrand (1613m) goes mostly through woods up the valley until it meets the Romme (1297m) road at Le Reposoir (966m). Here the landscape opens up and the road becomes more narrow and unevenly steep. Near the pass it unfortunately started to rain enough so that I had to put on the windjacket and even though this pass is quite nice, it was not the object of any good photos this day, unfortunately.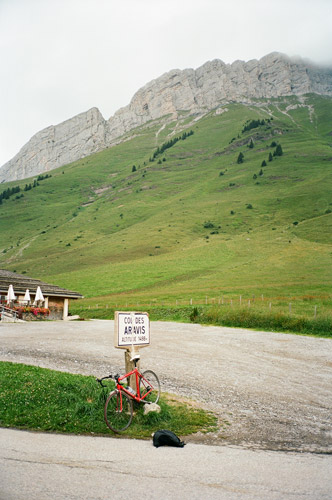 It was very wet down to Le Grand-Bornand (923m) where there seemed to be some kind of festivities, which came across as having an unlucky timing for the people there. I continued ahead not to get colder as I was on my way up a side valley here to one of the only two French passes I still had to climb in order to have climbed all paved passes above 1700m in the Alps. This limit was set conveniently delimited to 'above' 1700m, as I know of two cul-de-sac passes that are paved to exactly 1700m in the French Alps that I still have not been to and also in order to avoid having to take a stand on whether the famous Col de Joux Plane (1700m) should be included in my list or not, as it is in fact not on the road as the sign there suggests. (Another reason for not including lower passes is that under 1700m you will find a lot of much less interesting passes (even if many are interesting). Yet another reason is that it becomes ever more complex to keep a list of still lower passes that could be claimed to be correct and exhaustive.)
There was a recent addition to the paved pass roads in the Club des Cent Cols catalogue for France (the Chauvot), namely Col des Annes (1722m). So this pass I just had to climb now, no matter what the weather was like. Few passes are easily "collected" I have come to realise over and over (despite that some may look like they would be rather easy and on the way to/from other passes and so on). This pass proved to be quite steep at first when climbing out of the valley floor by a golf course. The road surface was wet (it was raining slowly) and there were a lot of cow dung on the road, so I had to carefully look where I was cycling. Then the road was a bit more ramp-like and full with drainage gullies. At the pass itself was a farm and the pass is on a gravel parking lot by the farm. It was misty as you can see in the first photo above. Some of the houses up here had a nice special look (a bit like the houses I saw on the south side of the Col de Pontis (1301m) in 2004?). The continuations from here are only gravel roads or tracks/paths, so I returned back down again (carefully).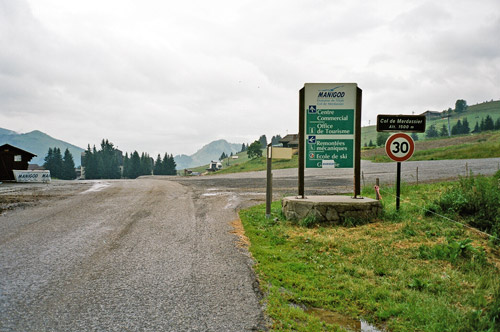 Anyway I had made this pass but was a bit unlucky with the weather. Now back in Le Grand-Bornand I was even more cold, and had no desire to stop at all. After a while I came to a pass sign Col de St Jean de Sixt (956m) and was happy to find a pass I had not found out about in planning the trip. It looked a bit spurious and thought that maybe it was not in the Cent Cols catalogue, but it was indeed there (I had simply missed it for some reason). I was on my way now to a more famous pass in the area (at least among bicyclists) – Col des Aravis (1486m). There was nearly no downhill ride before this climb started (starts from fr. 887m) and a bit up this easy side of the pass, the road that I was really going to take was going off. (There are many roads here around and many passes.) It felt a little unnecessary to go back and forth up this pass considering the poor weather, but it was not raining right now and it was almost dry on the roads, so I went up as I know the pass looks rather nice and I wanted to have been there. Col des Aravis is in the second photo here.
The hairpins back down was a breeze though and then I started a bit happy up the next pass as I thought that maybe there would be no more rain today and that I was finally on my way out of these mountains. The short climb (fr. 1219m) up to Col de la Croix Fry/de Manigod (1467m) is not much to write about from this side. Just before the pass is a road that goes around a peak to yet another pass – Col du Merdassier (1500m) – which I thought I had to visit as it was so close by and that maybe I would not come back again. Irritatingly it started to rain again on this very short stretch. The rain stopped at the pass and I had a photo there to make sure I remembered having been there. It seemed unlikely (as the map shows) that this road really does not continue down the other side and there was plenty of cars going on this wide road here, but I turned around.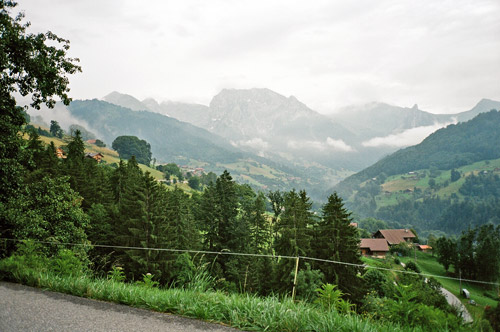 The way down from Col de la Croix Fry/de Manigod was quite nice and this was one of the best surprises during the day. This is probably the nicest of the passes in the region (on this side). I stopped a bit lower down and took a photo, but the clouds always loomed low, still I think you can guess that it is quite nice here (last photo).
From Manigod I had originally planned to go via Plan-Bois and bag yet another col on that little road, but it was getting late and the road seemed not too interesting.
I was content with taking the easy road over Col du Marais/de Serraval (833m) down to Faverges. I thought I had miseed to climb another pass on the way down by not going via Col de l'Èpine (947m) on the D162 down there as I took the more direct D12 road down, but now I noticed (while zooming in on the viamichelin.com map) that I instead went over yet another very minor pass – Col des Essérieux (763m).
For some reason I decided to stay at the Logis de France in Faverges. The price made me think twice though, but I could get dinner for not so much extra and then it almost made sense to me. This had a bit of old world charm to it as well, so I decided to spoil myself by staying there. The dinner was good, but still I went out for a (not so good) kebab on the village afterwards. (Somewhat boring village.)