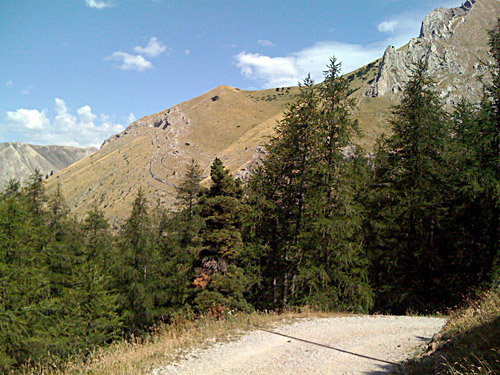 At breakfast I mentioned that I was going to get up to Col de Gleize and the lady there pointed out that it was the Pic du Glieze that was quite visible from where I had my breakfast and also noted that the road up there would be hard going, but she did not look like a cyclist, so I did not believe it would be harder than I could guess on my own. It was another sunny day and I decided to not make detours to nearby passes and risk that I did not reach the destination I had in mind for the day. which was Le Bourg-d'Oisans. So today was a little shorter than usual, partly because I arrived a little too late in Le Bourg-d'Oisans to climb yet another pass I thought I could perhaps do this day.
The road up to Col de Gleize/Chaudun (1696m) starts at Col Bayard (1248m), which is the highest point on the Route Napoléon from Grenoble to Nice. I had thought that this major road would not be steeper than 8% as there are heavy lorry traffic on this road, but there is at least one ramp above 12% up to Col Bayard on this side and the other side from Gap also has at least one section at above 10% and that side is more steep on average. Now, the climb from St. Bonnet starts at ca. 970m and is thus a short climb with less than 300 height metres to climb. Just as you reach Col Bayard (you can almost see the sign from here) there is a little tiny road – the last tiny road taking off west before the pass on the north side. This little road looks quite bad at first with many potholes and patched asphalt, but it soon becomes better. There is just a few trees at the start and then you are totally exposed to the elements. The climb to Col de Gleize/Chaudun (1696m) should also be short and easy, but it soon becomes clear that this is a pretty steep road and it might last longer than you would have thought. It can be hot here and there is no trace of any water along the road (in Summer anyway). It is 4.5 km at 10% on average and will likely make you tired before you reach the pass.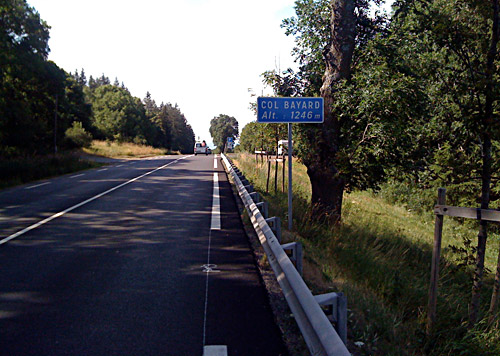 From Col de Gleize/Chaudun there is a gravel road continuing, but there is a bar across the road and a sign informing mountain bicyclists that they are not welcome here. How lucky that I am not a mountain bicyclist then! I continued up to the next nearby pass ca. 1.5 km further up the road – the Col du Milieu (1738m). From here one has nice views ahead and one could possibly get some other good views by continuing down to the next pass a little further ahead –Col de Chabanottes/Challanotte (1663m) – which leads to the abandoned village of Chaudun (abandoned already in 1895). (Mountain bicyclists can turn down a road from Col de Gleize going south.) The third photo here was taken at Col de Gleize looking back east.
I had thought to visit at least one more pass in the area, but decided to go back down to make sure I had time enough to do the essential climbs on my list. On the way back down to Corps (940m), I found that the road is not descending forever and there are some ups and downs on this road. I stopped in Corps for an ice cream and coffee at a small café in the small town. Then I went up on the road to N.D. de la Salette (1757m).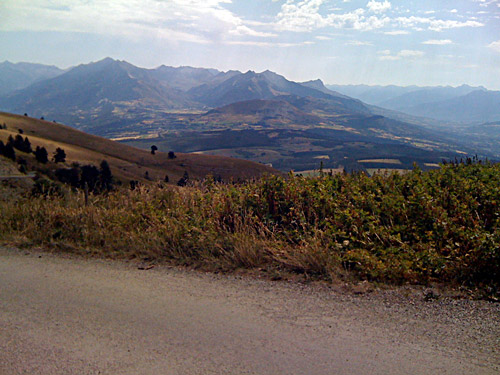 This climb is a bit unusual in some ways. The climb is flat until you come to a bridge across the river here (Pont de Gournier (968m)), then it starts to climb a bit steeply, but this soon ends as you arrive at a small graveyard with a Canadian flag (god knows what that is about). There are some tiny groups of houses here and there in this area. Then you sort of go around a mountainside while climbing and now it is steeper again, but after a few final houses it becomes a rather moderate climb all the way up to the two passes along the way up to the destination. The first pass is the most obvious one – Col des Prés Salés (1554m). The second one is only a spur in the mountainside called Col de l'Homme (1650m). This last one I think had a sign, but cannot remember seeing a sign for the first pass. The last little stretch up to the basilica of Our Lady of La Salette is steep again. The upper part of the climb is lovely in open landscape.
Unfortunately there is no road continuing up to any of the passes just above on the crest of the mountains that you have climbed, but the closest pass up there is only 1.5 km away from the highest point (1780m) that you could reach on your race bike and the paths up here are often cyclable with mountain bikes (which I have read about). You are not supposed to bicycle in the church area, but the church workers might look the other way if you do not disturb all the tourists and visitors coming here by cars and buses. Water can be found up here in a fountain.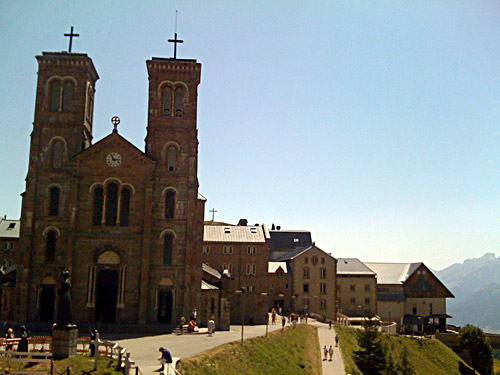 It was a nice and fast ride back down to Corps. Then I followed the main road until the first turn-off north of Corps on a small road with almost no cars to Ste Luce. After Ste Luce (water) there is a very short steep pull to Col de l'Holme (1207m) on a not so good road. But the road improves a lot and on the other side of the pass it had been newly asphalted on a long flat section which is wooded. Then I turned right up toward the next pass – Col de Parquetout (1398m). I was not too interested in collecting extra passes this day, but could not resist to get up to a nearby pass. The road is not signposted for anything, but you could suspect this is the one to take if there should be an asphalted road taking off left of this road. The tiny road that climbs to Col de Pierre Grosse (1322m) is newly asphalted for the most part, but with some gravel on, unfortunately. The asphalted road continues up toward a radio/TV tower of some kind, but I did not continue, although views could be better up there. There are no views at this pass, but anyway it did not take more than 10 minutes to collect this pass.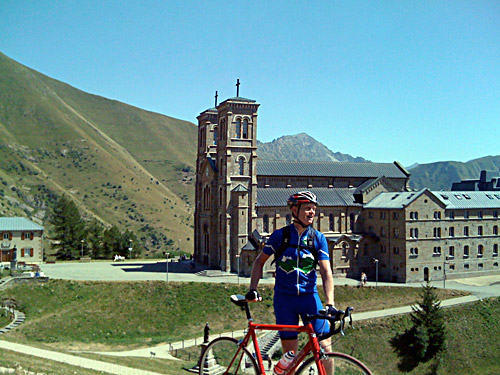 Back to the Parquetout road, which here starts to climb steeply up to a pass sign (I left out this photo). However, the steepest ramp is still ahead up to the highest point where there is also a walker sign for the pass and which may be the true pass. Now, in all honesty, you should really climb the other side as that is one of the hardest climbs in France. This is a very steep climb from Les Angelas (736m). For 5.5 km it is above 11% on average. It was fun descending though. Parquetout only had about one nice view along the road, where I took the photo presented here, just below the top on the north side.
I had difficulties finding water along the road up to Col d'Ornon (1367m), but I stopped for an ice cream and coca-cola at a bar in Le Périer. There are no shops in Entraigues, that I had hoped for, and none along the way to Le Bourg-d'Oisans (as far as I could make out). Probably you had to go to nearby Valbonnais when coming down the Parquetout to find a grocery shop.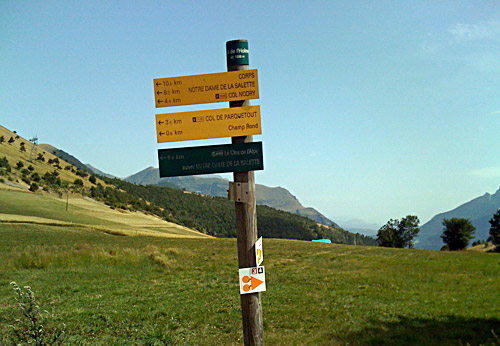 Then I went in a quite good speed all the way to the top of Col d'Ornon. It was actually first in the very last section that I had to use the small front chain ring as it is not a very steep climb. I had thought to get up to Col du Solude (1680m) from Le Bourg-d'Oisans (717m). I could have taken off on the descent from the Ornon pass and climbed the south side of this pass over to Le Bourg-d'Oisans, but I knew it would be much nicer to get over this pass in the opposite direction. However, when I was down in Le Bourg-d'Oisans it was already 19 pm and in order to get something to eat at the hotel I stayed at for the night I would need to get back around 21 pm, and the climb and descent might take 3 hours, so I decided against doing this climb and take it a bit easy this day. Also it gets dark around 21 pm. In retrospect, I could have gone up to Oulles on a nice little climb on the way down to Bourg-d'Oisans or if I had been better on calculating the times for the different climbs, I could have climbed a few passes around Col Bayard in the morning.
I decided later in the evening to stay at the hotel in Bourg-d'Oisans for two nights after some calculating and changing of plans. The idea had originally been to stay here 2-3 nights anyway. The hotel (Le Florentin) was fine and they were used to having a lot of cyclists staying at the hotel. I had a room with shower in the corridor. I think the owners were Dutch. The dinner was quite good. The next days will bring even nicer photos, so keep on reading!